Crockpot Keto Cabbage Roll Soup – Flavorful, Filling, & Easy to Make!
This keto cabbage roll soup will warm you to your bones this winter season!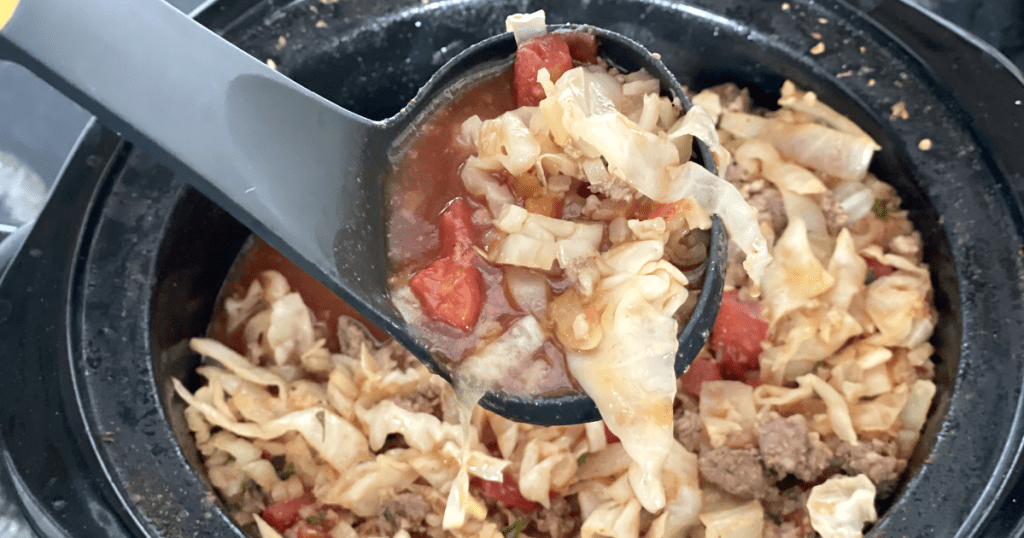 Cabbage roll soup to the rescue!
We're official in peak winter season and my favorite thing about the cooler temps are the warm and comforting keto soups that become a regular staple in my recipe routine. 🍲 This low-carb take on a classic cabbage roll is also transformed into a dish you can scoop up with a spoon. I think you might even love this rendition even more than its original form!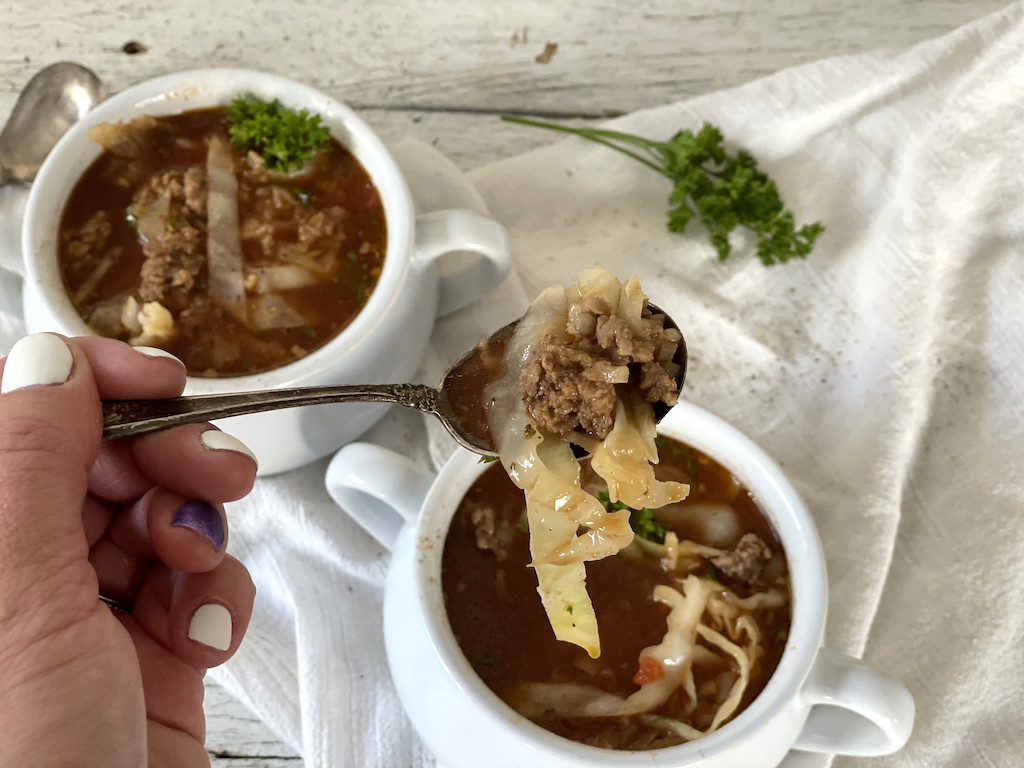 You'll love how satisfying and filling this soup is.
For this recipe, I used both sausage and ground beef, because sausage in soups is the best thing ever. It's also made with beef stock, which adds a little more richness to the taste than broth. And don't skimp on the seasonings! Paprika is key to getting the flavor just right.
When you're taking a look at the nutrition, I need to preface that a cup and a half has 12.9 grams of net carbs. The carbs come from canned tomatoes, tomato paste, onion, and cabbage. But also take note of the high protein and fat content of a serving as well, and the fair amount of fiber at 4.7 grams. The protein, fat, and fiber will help to keep blood sugars stable, meaning that this soup should not kick you out of ketosis.
Tips for making the most amazing Crockpot slow cooker keto cabbage roll soup:
You could use all ground beef or all sausage for this soup if you have a bigger preference for one or the other.
If you're a garlic person (like me!), double the amount of garlic cloves to eight.
Depending on your taste buds, you may need to add more salt.
I sautéed the cabbage before adding it to the slow cooker to speed up the cooking process and to help avoid getting that boiled cabbage consistency. This is totally optional as it does add to the prep time but definitely worth it in my opinion.
This will keep in the fridge for 5 days or you can freeze it for up to 3 months.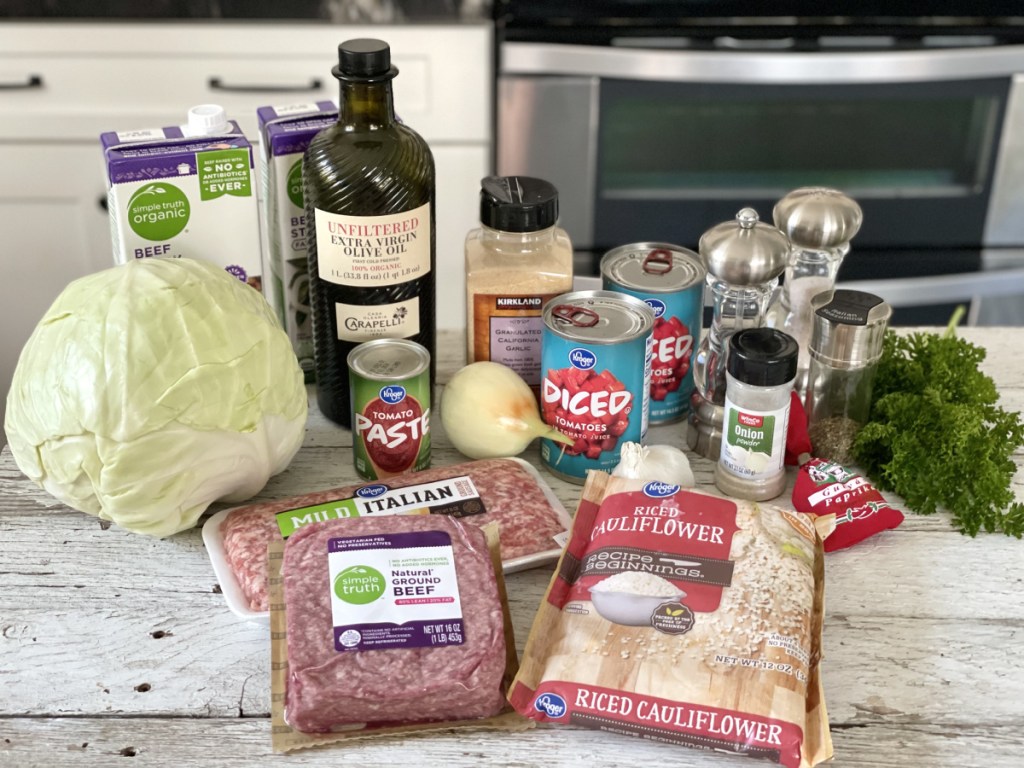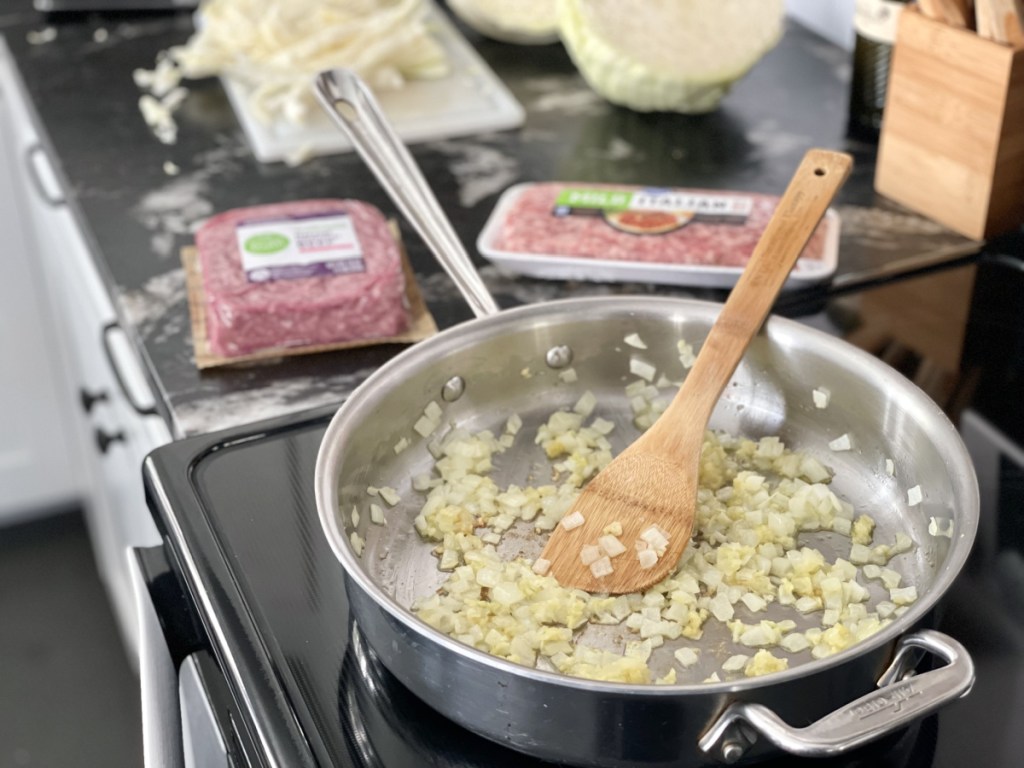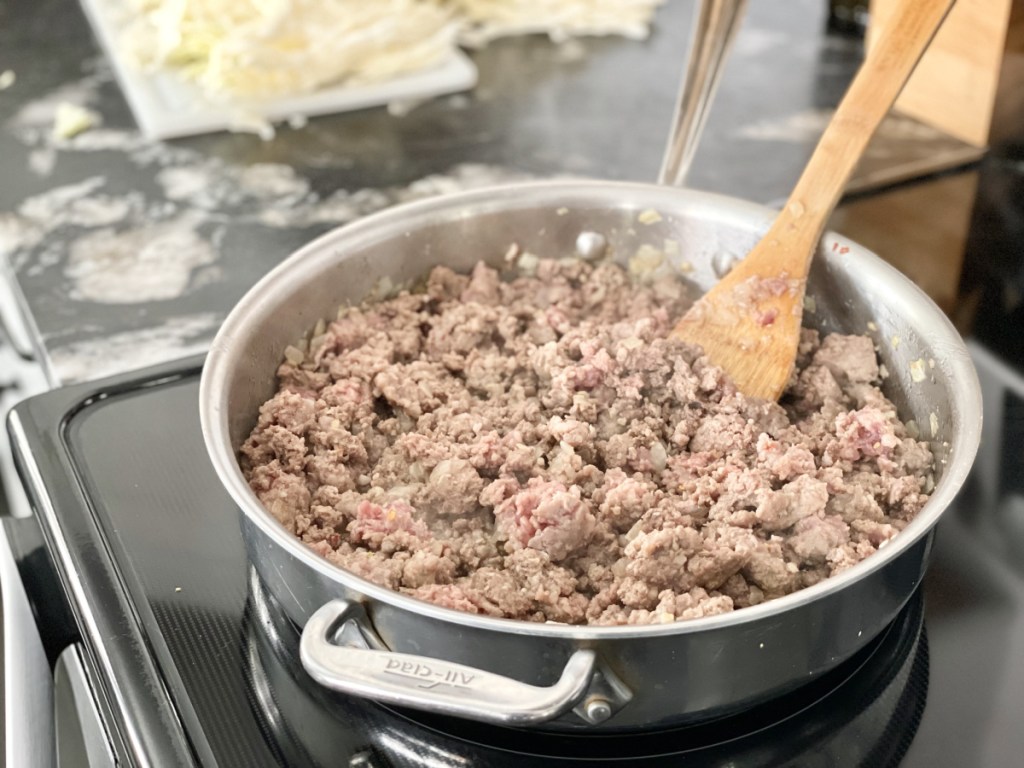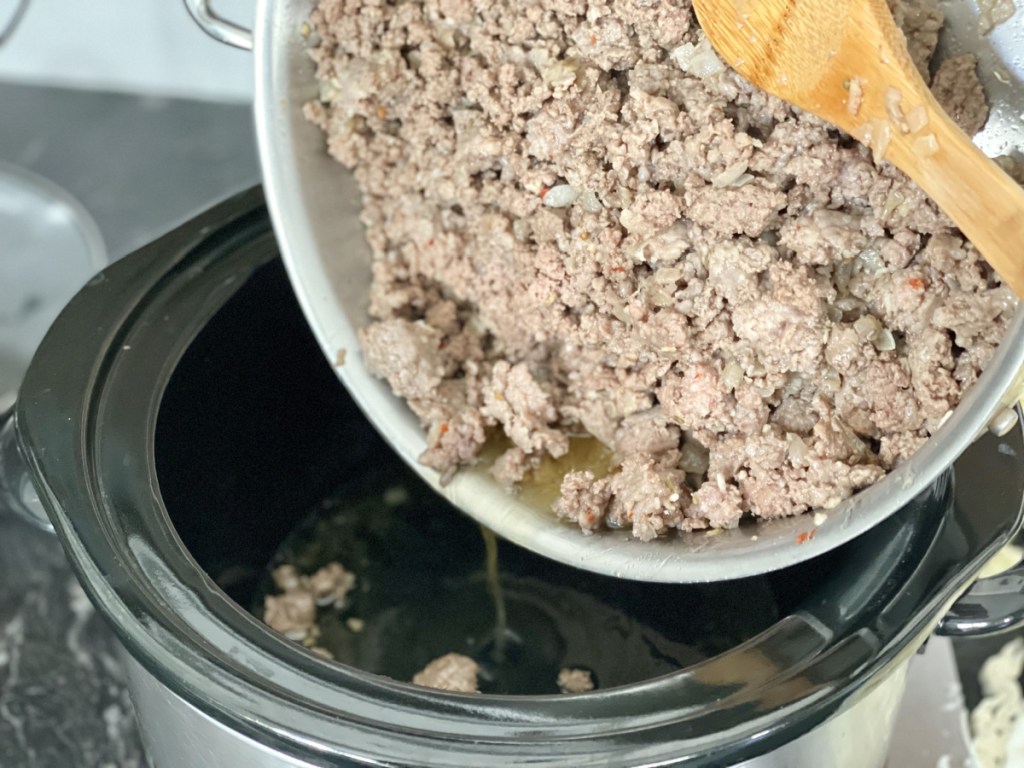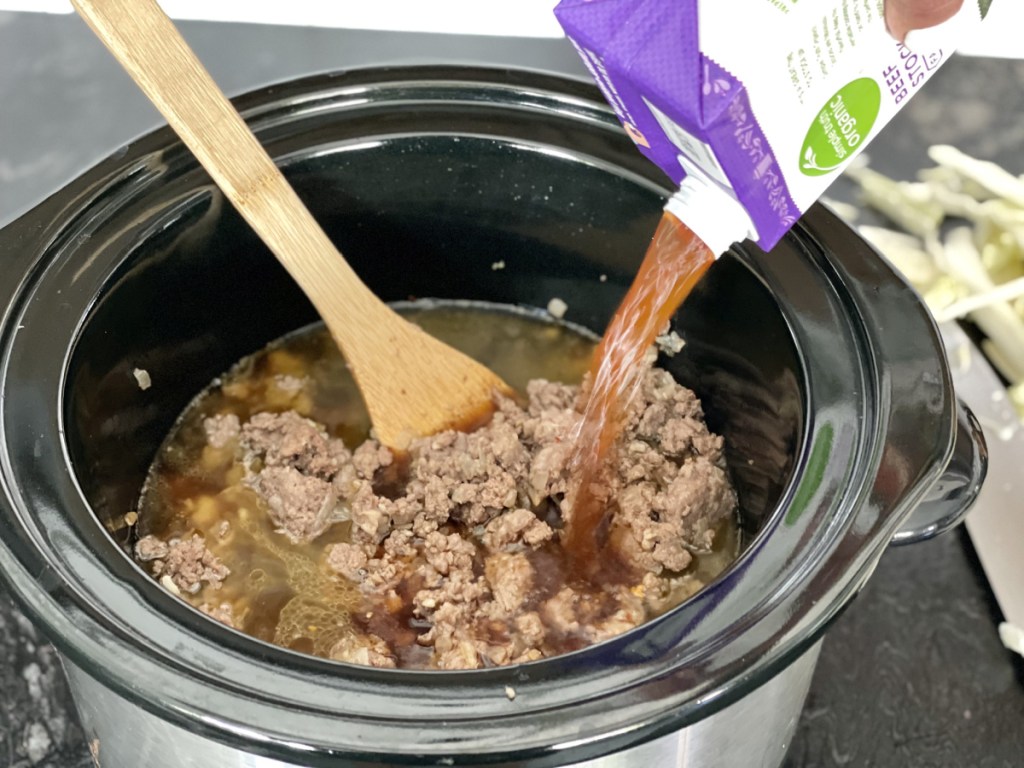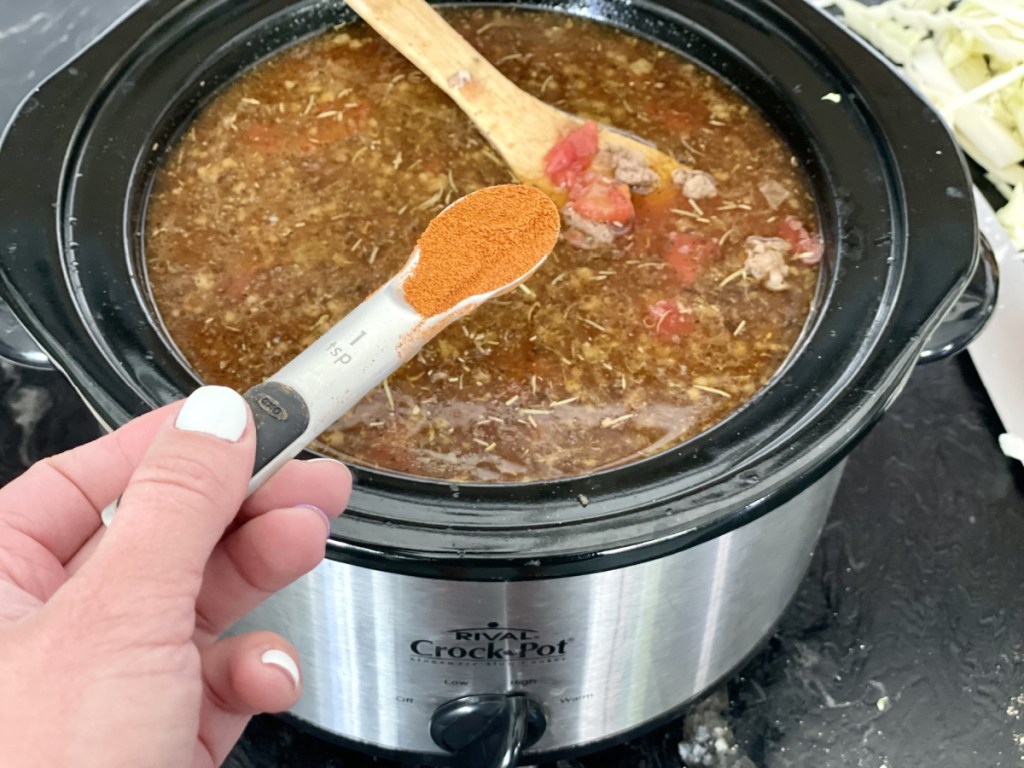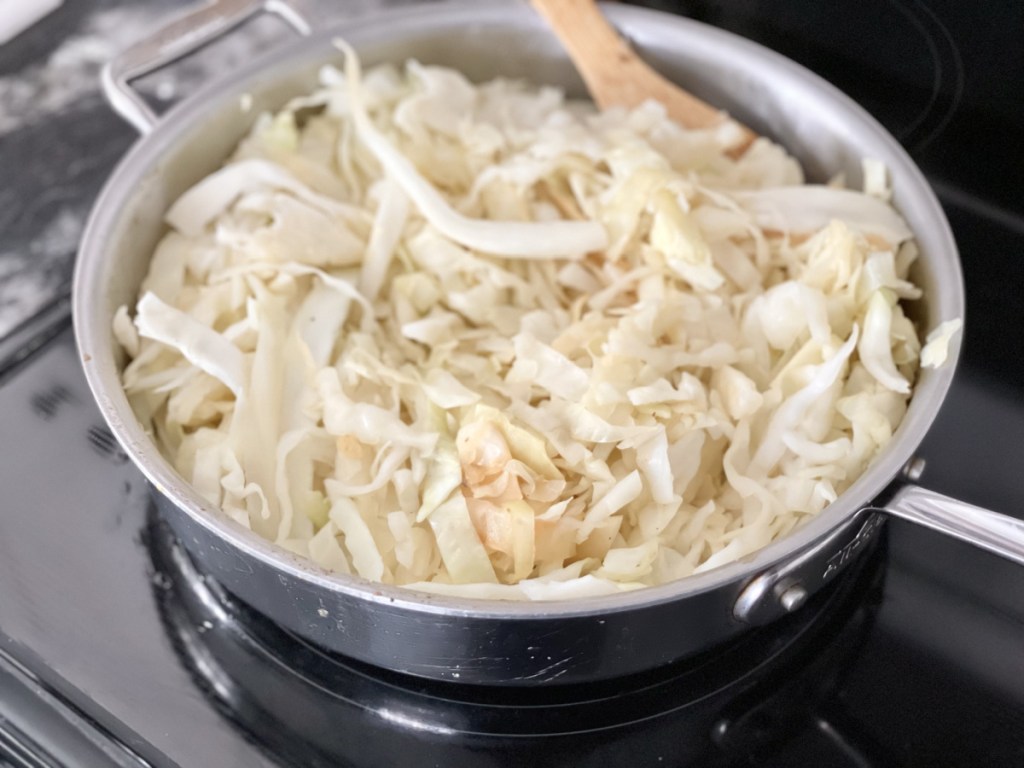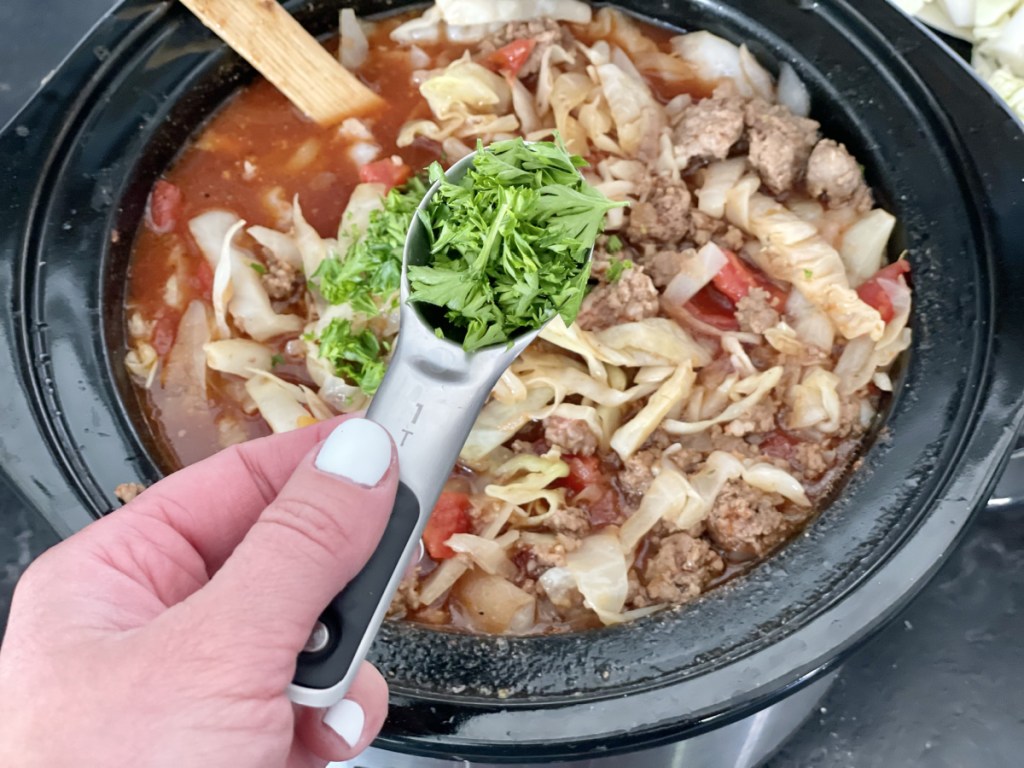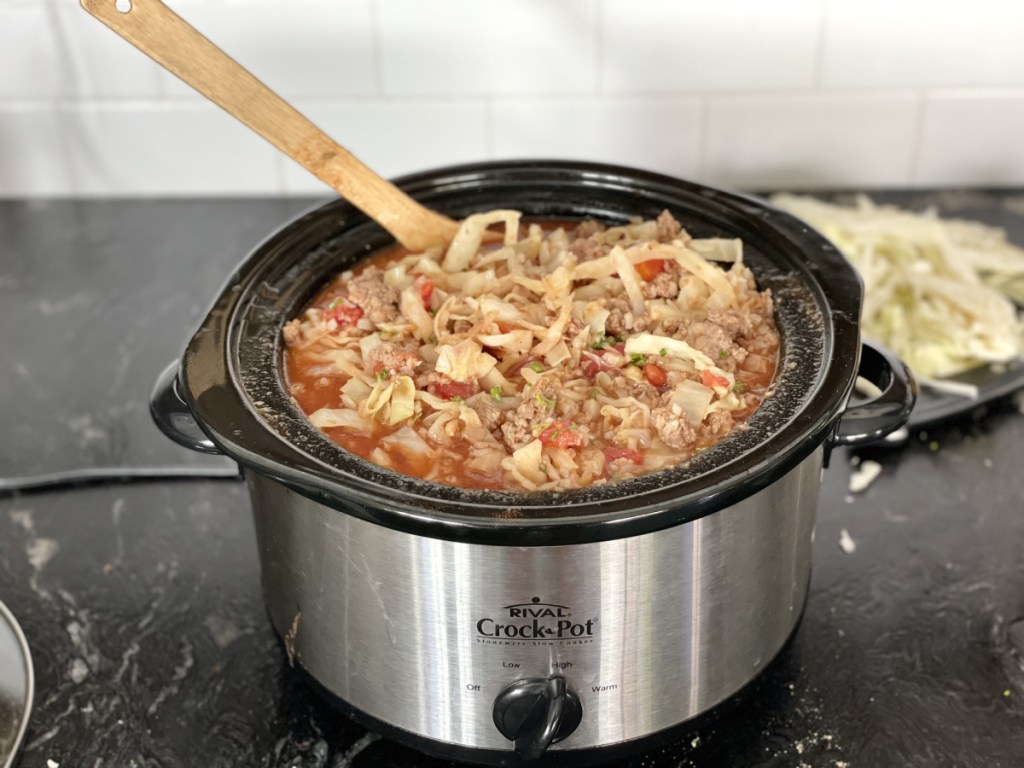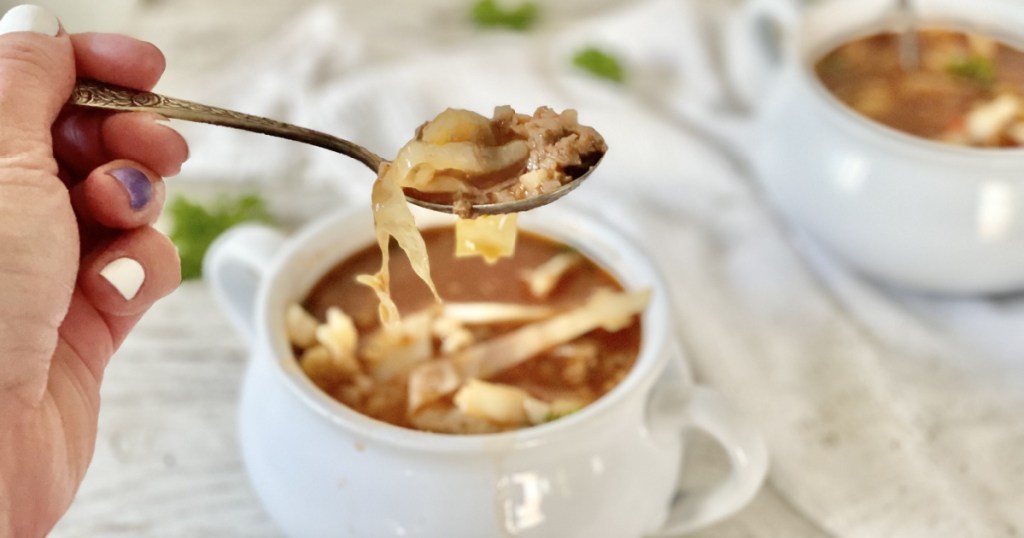 ---
Print
Crockpot Keto Cabbage Roll Soup
yield: 10 SERVINGS
prep time: 20 MINUTES
cook time: 4 HOURS
total time: 4 HOURS 20 MINUTES
Made with ground beef, sausage, onions, garlic, tomatoes, cabbage, and seasoned to perfection with paprika.
Ingredients
2 tablespoons olive oil
1 small onion, diced
4 garlic cloves, minced
1 pound ground beef (80/20)
1 pound sausage
2 teaspoons garlic powder
1 teaspoon onion powder
1 teaspoon salt
1/2 teaspoon black pepper
3 tablespoons fresh parsley, chopped (1 tablespoon dried)
1 small head of cabbage (1/2 large head), halved, sliced thin
Directions
1
Heat olive oil in a large skillet over medium heat. Sauté onion and garlic until the onion is translucent.
2
Add the ground beef and sausage to the skillet and cook until browned, about 10 minutes.
3
Transfer the meat mixture to the slow cooker.
4
Add in the beef stock. Start by adding in 4 cups of beef stock. If you have room in your slow cooker after adding the remaining ingredients, you can add up to 2 additional cups of beef stock at the end.
5
Pour in the canned diced tomatoes and tomato paste. Stir to combine.
6
Optional step: Sauté the cabbage in the same skillet you used to brown the meat before you add it to the slow cooker. This will help improve texture as it cooks. Complete the remaining steps while the cabbage is sautéing.
7
Add Italian seasoning, smoked paprika, garlic powder, onion powder, salt, pepper, and parsley to the Crockpot slow cooker. Stir to combine seasonings.
8
Next, add the cooked cabbage and frozen cauliflower rice. You can add the additional beef stock at this point if there is still room in the slow cooker.
9
Cover and cook on HIGH for 3 to 4 hours or on LOW for 5 to 6 hours. You could also make this in a large stockpot and simmer on the stove for 30 minutes to an hour. Leftovers can be stored in the fridge for up to 5 days or frozen for up to 3 months. Enjoy!
Additional Notes
Recipe photos and post by Emily Spurlock.
Nutrition Information
Yield: 10 servings, Serving Size: 1 1/2 cups
Amount Per Serving: 375 Calories | 22.2g Fat | 17.8g Total Carbs | 4.7g Fiber | 9.9g Sugar | 25g Protein | 12.9g Net Carbs
---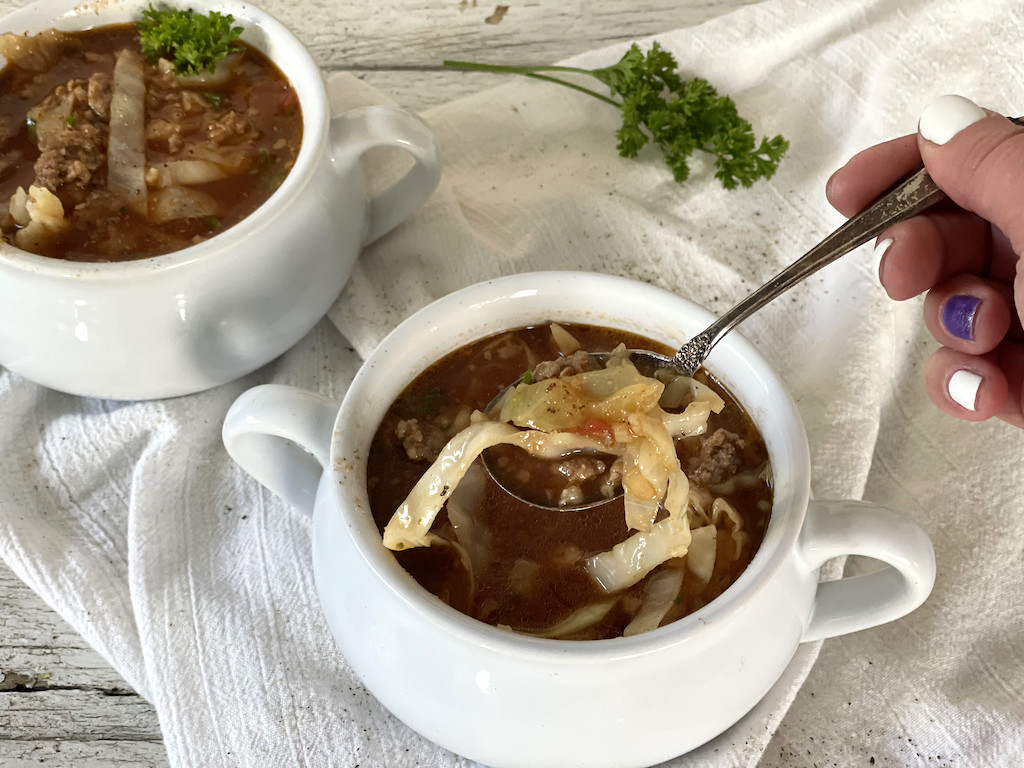 Who doesn't love an easy keto meal?
This slow cooker low-carb cabbage roll soup is going to have a permanent place in my soup line-up. 🤩 It's great for a crowd, leftovers, and freezes well. I hope you enjoy it as much as I do!
My Hip sidekick Emily had this to say after making this cabbage roll soup:
"I love cooked cabbage and this slow cooker low-carb cabbage roll soup hits the spot. I remember my grandma making actual cabbage rolls when I was a kid. They were so good! But if you've ever made cabbage rolls, you know that they are a lot of work, oh my goodness! Making a low-carb cabbage roll soup in the Crock-Pot is a much easier task, and this idea is simple yet so delicious."
---
Ready for soup season? Check out all of our keto soups!