This Sweet & Savory Keto Broccoli Salad Includes Bacon & Cheese!
Looking for the best keto broccoli salad? Look no further, because we've got the recipe for it right here!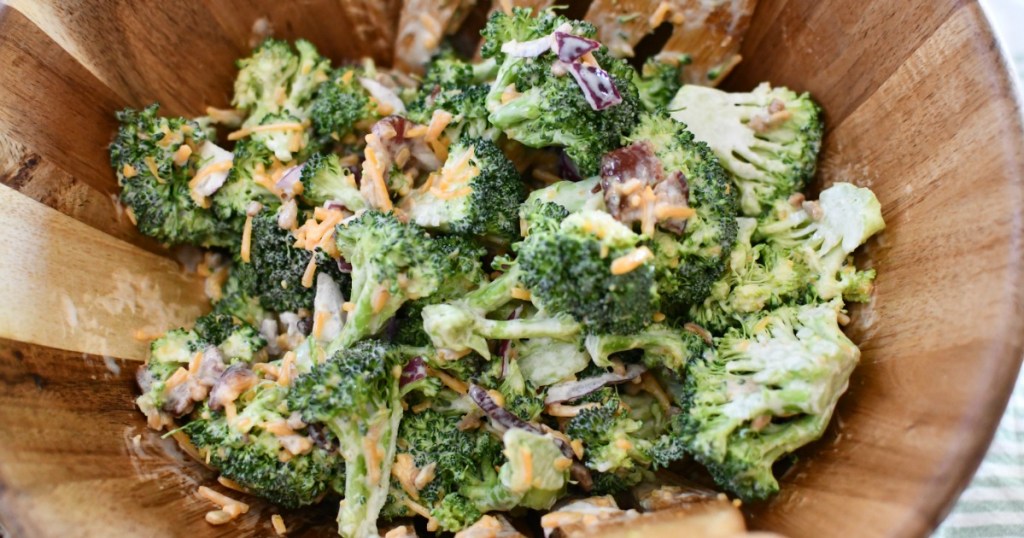 Keto broccoli salad is the ultimate side dish for your outdoor BBQ!
I have made the classic full-carb version for many years for family functions and parties, as it's so delicious and easy to make! Well, I'm happy to proclaim that the keto broccoli salad is just as delicious and only requires one ingredient swap to make it keto — yay!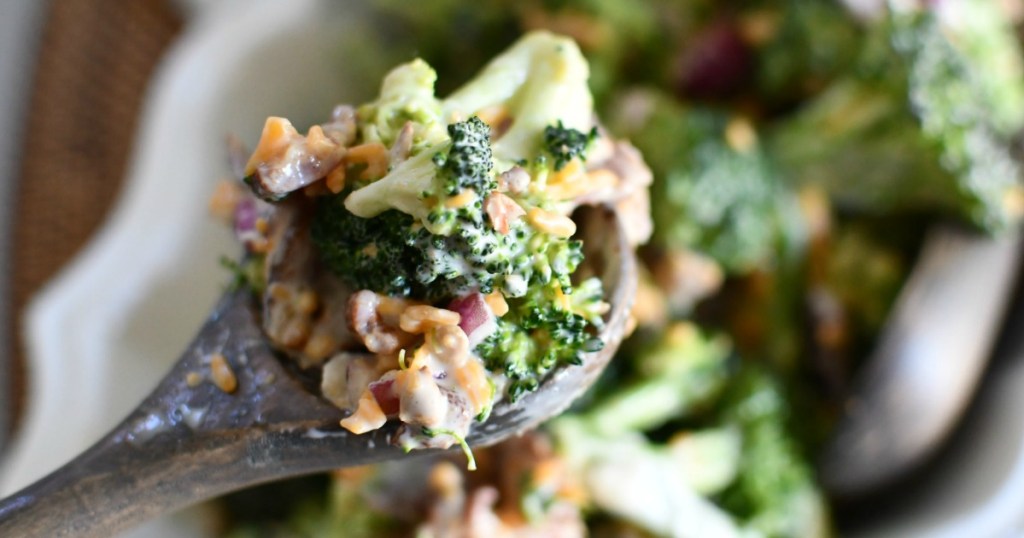 If you're looking for a picnic-perfect low-carb recipe to make this summer, this is it!
This keto broccoli bacon salad has a sweet mayonnaise-based dressing, which is the perfect pairing to the savory bacon and onion. YUM! It's basically my favorite go-to salad recipe that my family loves, and I think yours will, too!
Are you a visual learner? Check out my video below to see me in action making this keto broccoli bacon salad:
---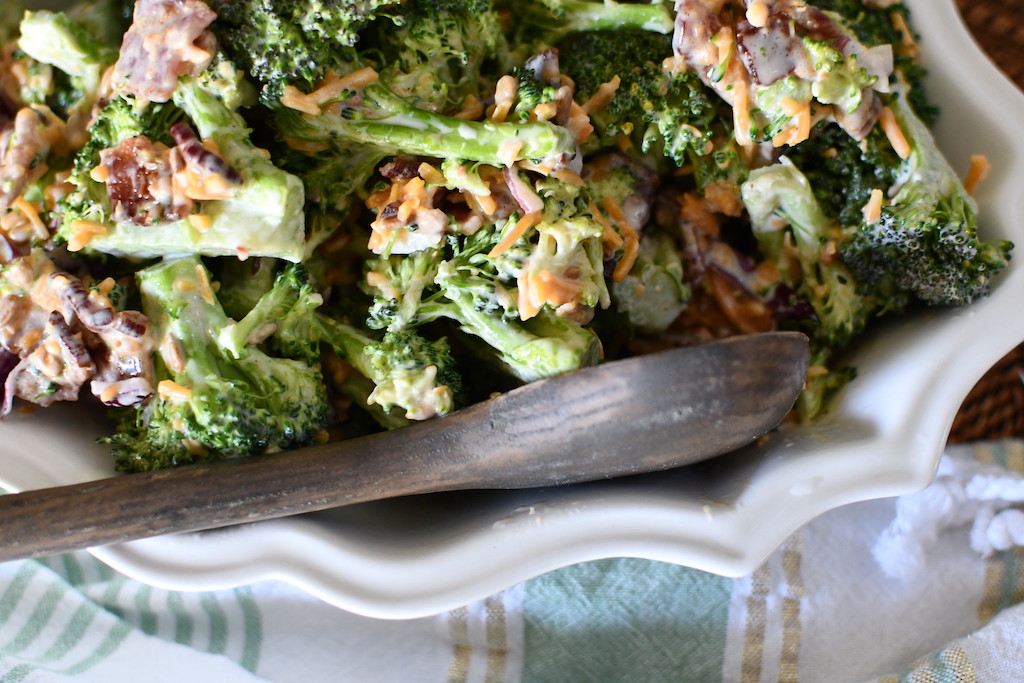 Here are a few recipe tips when making keto broccoli salad:
Instead of sugar, I'm opting for a keto-friendly sweetener. I used Lakanto monk fruit (use code HIP2KETO for 15% off) and loved the result as there was no after-taste at all. In fact, no one would guess this is keto unless you told them!
This salad tastes best when first chilled in the fridge. You can even make it a day ahead and have it ready for the next day, as it gets even more delicious when the flavors marinate together.
You'll want to cook your bacon before starting this recipe. I love using thicker cuts from the butcher department of the grocery store — the bacon adds so much yummy salty flavor! 🥓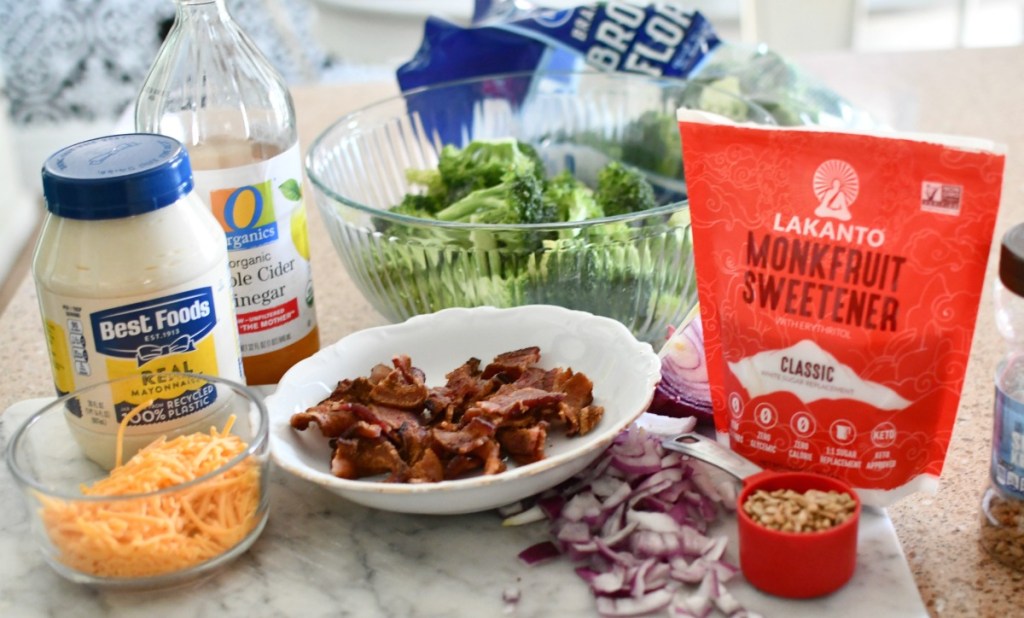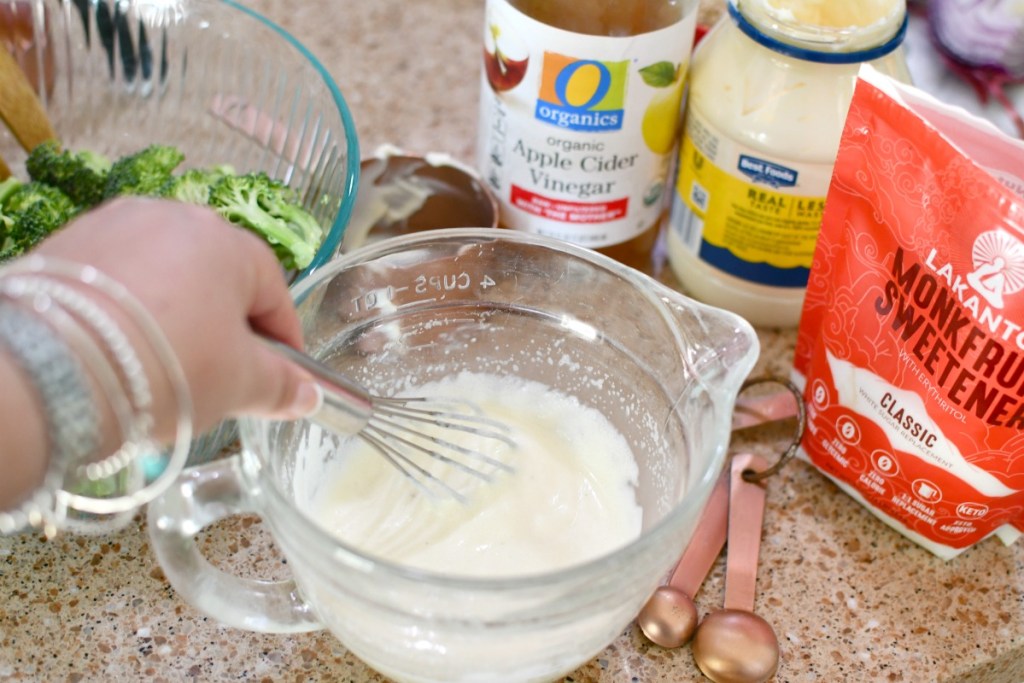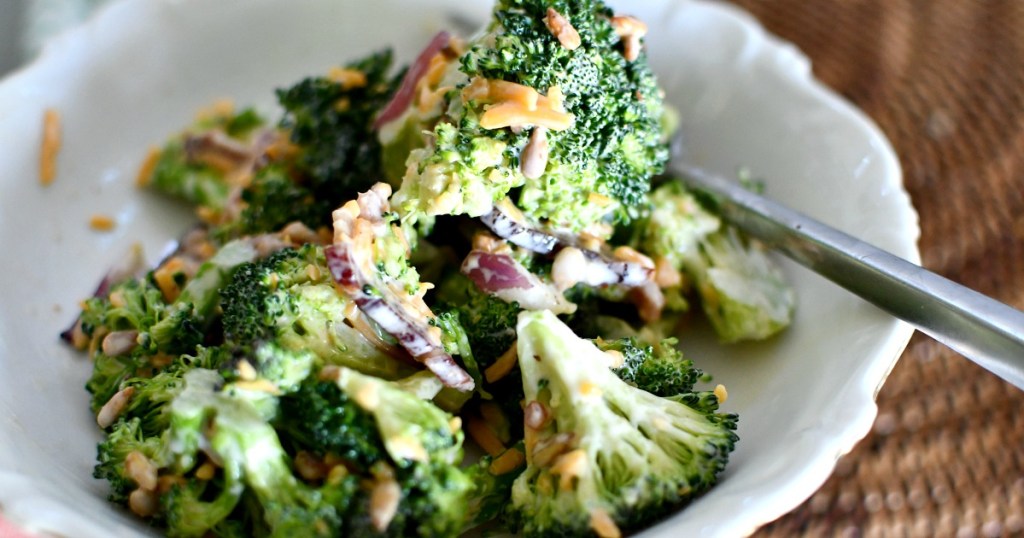 ---
Print
Keto Broccoli Salad
yield: 6 SERVINGS
prep time: 15 MINUTES
cook time: 30 MINUTES
total time: 45 MINUTES
A crunchy salad featuring broccoli with a sweetened dressing, savory bacon, sharp cheddar cheese, red onion, and topped off with sunflower seeds.
Ingredients
For the dressing:
1 cup real mayonnaise
2 tablespoons apple cider vinegar
pinch of salt & pepper
For the salad:
6 cups of chopped broccoli florets (around 18 oz.)
6 slices of cooked bacon, chopped
1 cup shredded sharp cheddar cheese
1/4 cup chopped red onion
1/4 cup sunflower seeds
Directions
1
To a small bowl, add all the dressing ingredients together and whisk until smooth, about a minute.
2
To a large bowl, add all of the salad ingredients, along with the dressing, and toss together until the dressing is all incorporated.
3
Chill for at least 30 minutes before serving. That's it! Now go enjoy a big bowl. 😋
Additional Notes
Don't be alarmed by the high total carb count! Erythritol and monk fruit (the main ingredients in the Lakanto sweetener used) do not affect blood sugar in the same way that regular carbs do, so we subtracted it from the total carb count. You'll see that the net carbs are much lower once you remove the sugar alcohols.
Nutrition Information
Yield: 6 cups, Serving Size: 1 cup
Amount Per Serving: 494 Calories | 46.3g Fat | 16.8g Total Carbs | 3g Fiber | 2.3g Sugar | 8g Sugar Alcohol | 11.3g Protein | 5.8g Net Carbs
---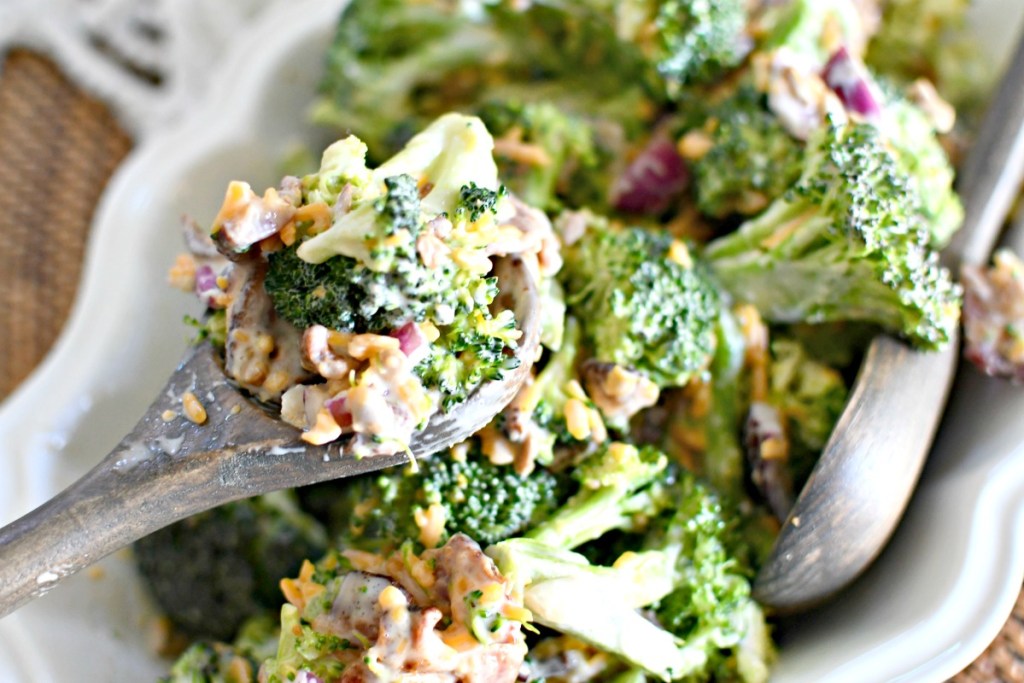 Tangy and crunchy keto broccoli salad rocks!
I love the crispy crunch from the broccoli and bacon with that yummy sweetened tangy dressing. The addition of the sunflower seeds takes this recipe to another level of YUM!
It's a definite winning recipe in my home, and even a little addictive as I could literally eat this all the time. 😄
---
Pizza… as a salad? You've got to try this innovative recipe next!