This Crockpot Keto Beef & Broccoli Tastes Better Than Chinese Takeout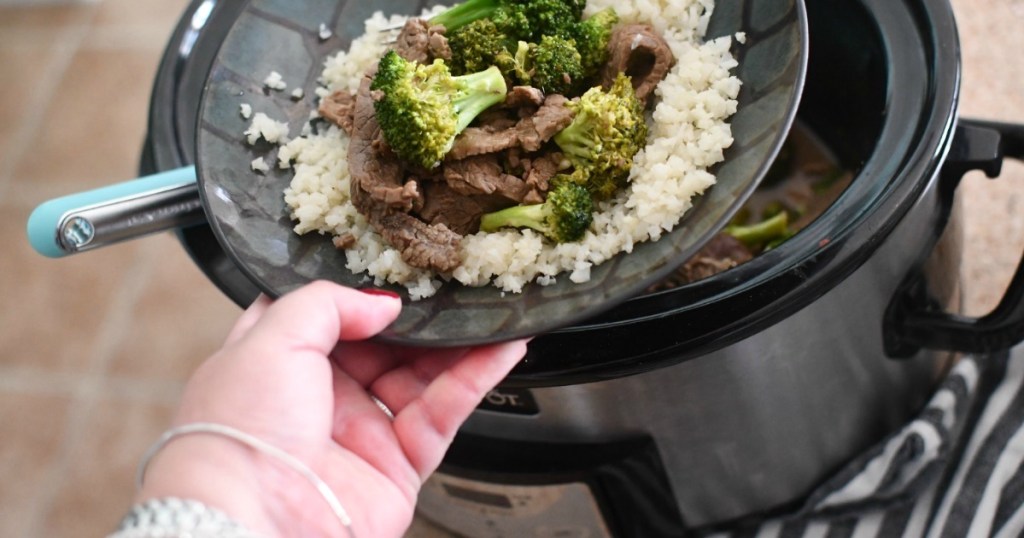 Ready for a yummy keto Crockpot meal idea?
You've gotta try this tasty keto beef and broccoli dinner idea that's super easy to make using your CrockPot slow cooker for convenience. Better yet, it's a recipe the entire family will love!
Not only does it incorporate easy to find ingredients, the result is a yummy sesame ginger beef and broccoli you can serve over cauliflower rice to complete this simple weeknight meal.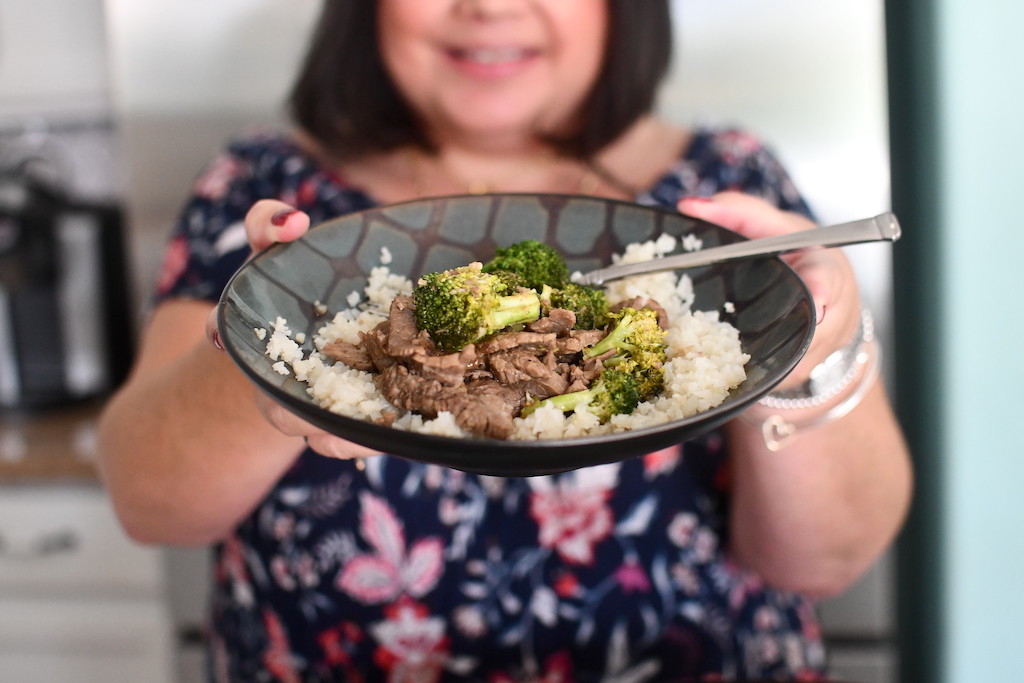 Tips for making keto beef and broccoli in the Crockpot slow cooker: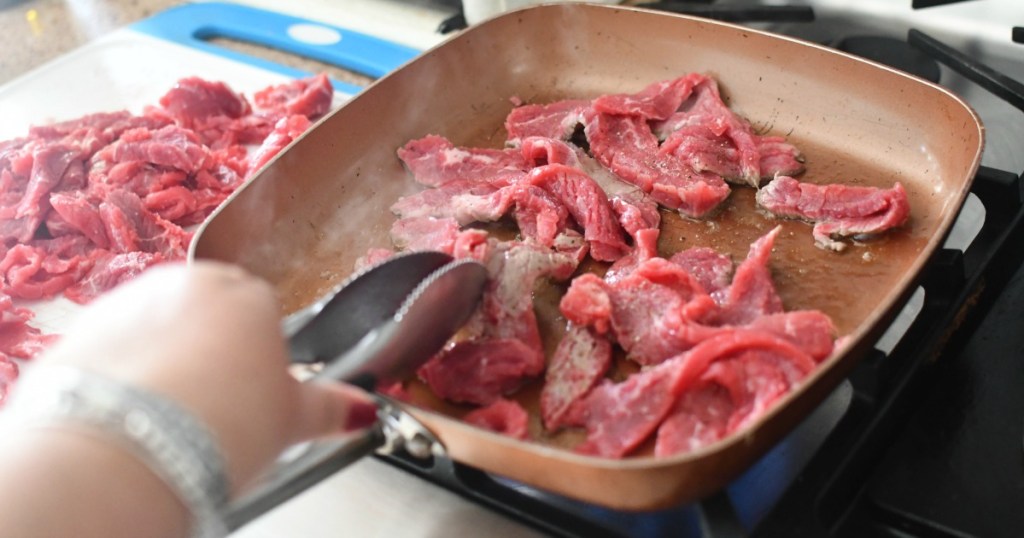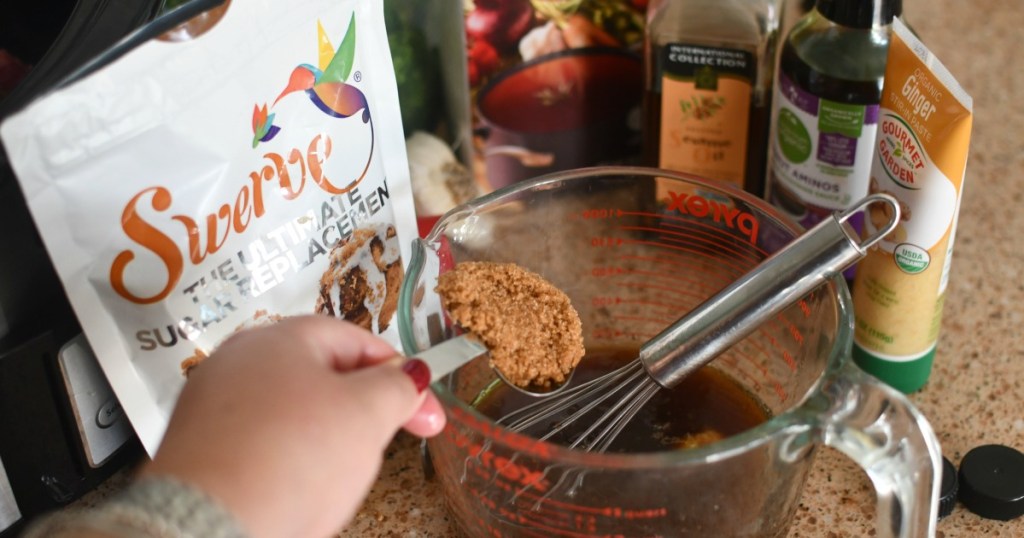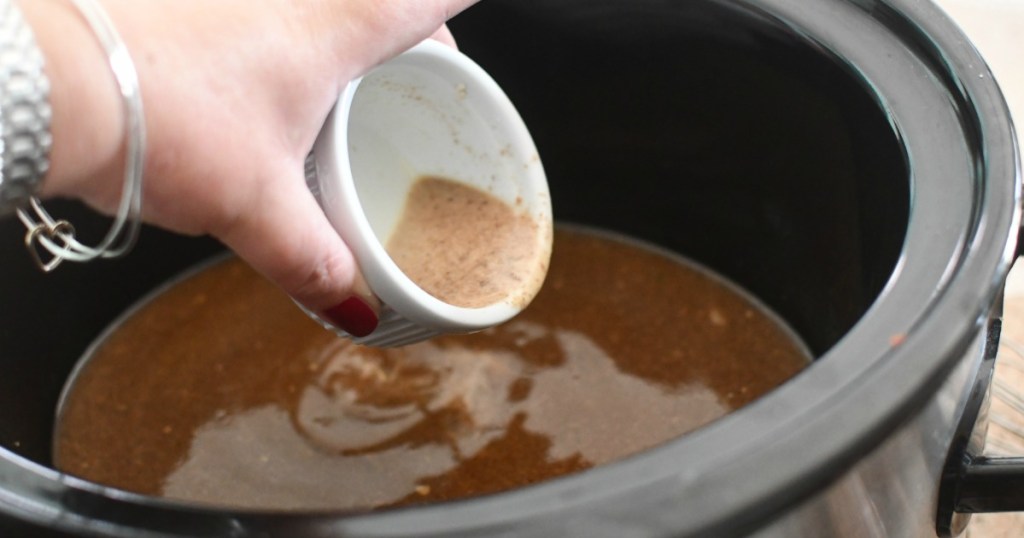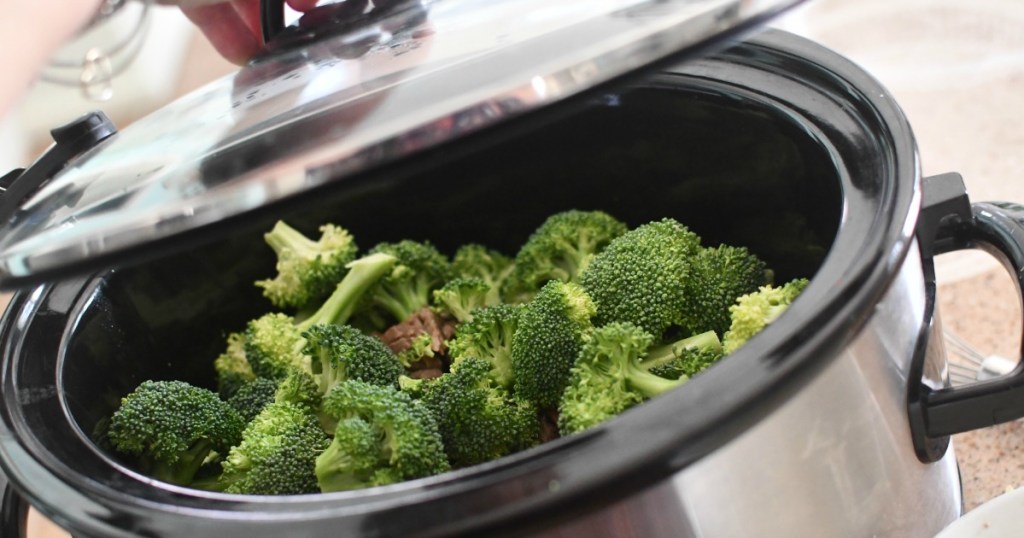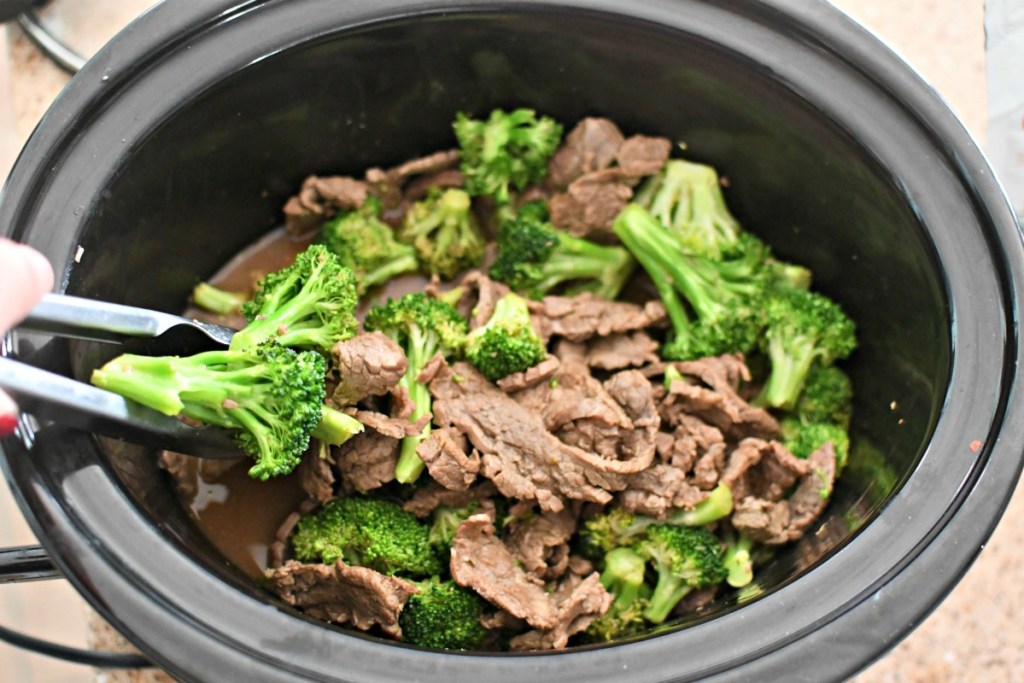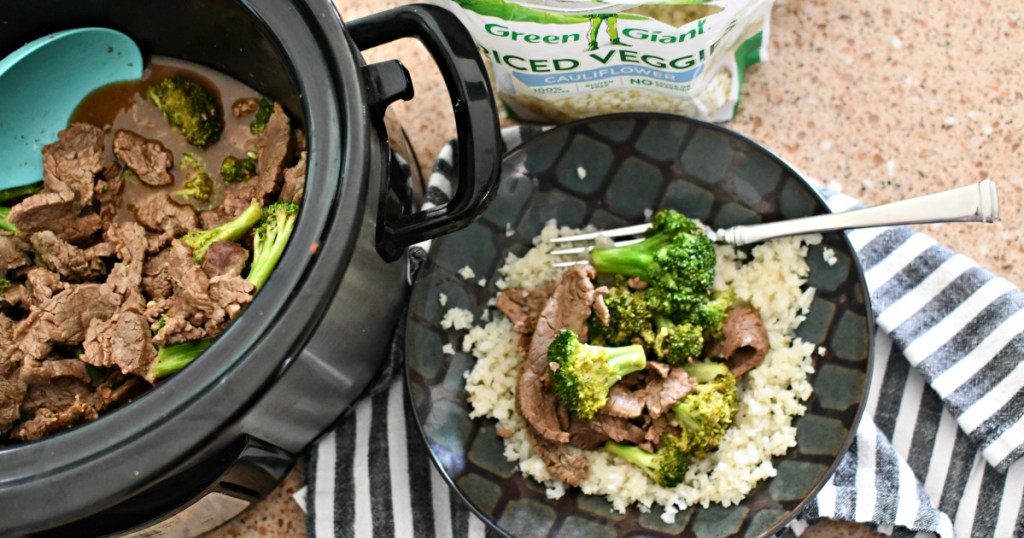 ---
Print
Crockpot Keto Beef and Broccoli
yield: 6 SERVINGS
prep time: 15 MINUTES
cook time: 1 HOUR 15 MINUTES
total time: 1 HOUR 30 MINUTES
Pieces of tender beef and broccoli with a sweet and savory sauce all cooked together using a Crockpot for convenience.
Ingredients
2 pounds flank steak, sliced thin against the grain
1 teaspoon salt
1/2 teaspoon pepper
1 tablespoon coconut oil
3/4 cup beef broth
1 tablespoon sesame oil
3 cloves fresh garlic, minced
1 tablespoon ginger paste
4 cups broccoli florets
Directions
1
Heat your largest skillet on the stove over medium/high heat with coconut oil. Place the sliced meat and cook for a minute or so, in order to brown it. Season with salt and pepper. Transfer the browned meat to the slow cooker.
2
In a bowl, whisk together the beef broth, coconut aminos, sesame oil, garlic, Swerve brown, and ginger paste, until smooth and combined.
3
Pour the sauce over the meat in the slow cooker. Cook on HIGH for 1-1.5 hours, or LOW for 2-4 hours until meat is cooked and tender. Note: times could vary slightly per slow cooker, but 1 hour on HIGH worked perfectly for me!
4
Optional step: Remove the meat, minus the sauce, to a separate plate. Stir together 1 teaspoon Xanthum gum and 2 tablespoons of the liquid from the sauce in a small bowl. Whisk that into the liquid in the slow cooker to thicken the sauce.
5
Add the broccoli and the meat back into the slow cooker. Cook everything on high for another 20 to 30 minutes or until the broccoli cooks and the sauce slightly thickens. Serve alongside cauliflower rice if desired.
Nutrition Information
Yield: 6 cups, Serving Size: 1 cup
Amount Per Serving: 350 Calories | 17g Fat | 16g Total Carbs | 1g Fiber | 12g Sugar Alcohol | 34g Protein | 3g Net Carbs
---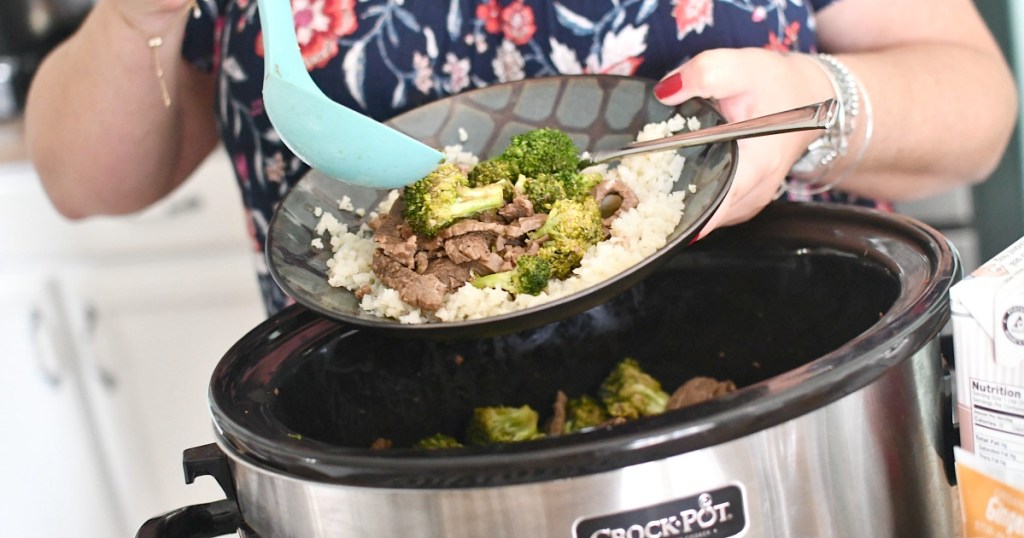 Keto beef and broccoli was a hit with my family!
Sometimes my kids aren't fans of keto meals, and this one was a winner with everyone, which always makes for a less stressful dinnertime. The sauce has a savory-sweet taste and really makes this meal special. Make sure to spoon extra sauce over the meat and broccoli when serving. 😋
See what my taste tester teammate, Jenna, had to say about this recipe:
"The whole family loved this meal! I don't think I've ever used the CrockPot to make anything in an hour before! I love the use of the tubed ginger paste — I have never tried that before and it worked beautifully! It was so much easier than grating ginger.
Overall, I loved the flavor of the sauce! I put mine over cauliflower rice and it was delicious!"
---
Make YUMMY keto lettuce wraps that taste just like PF Changs!