Keto BBQ Brisket Chaffles are Here!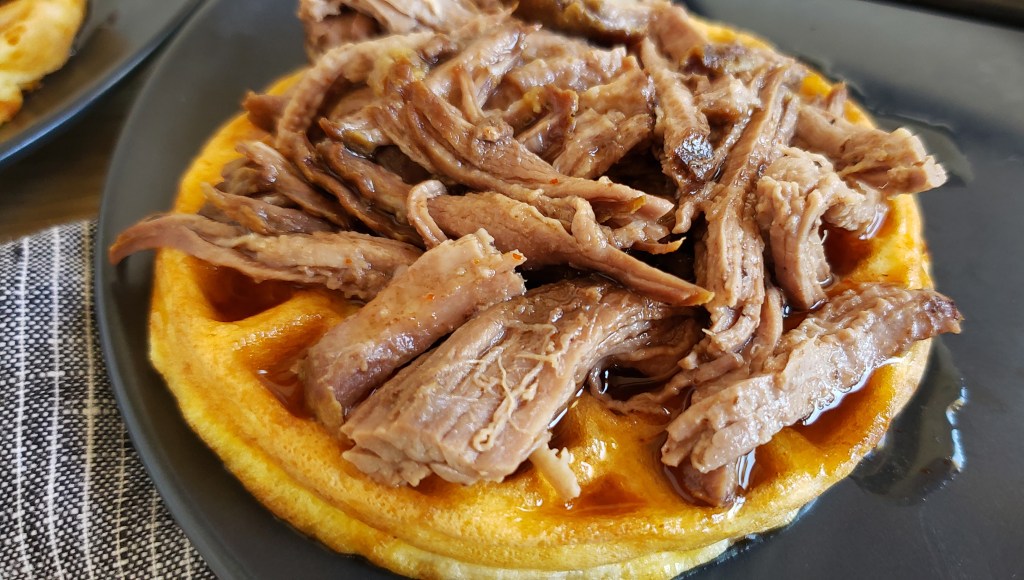 This fabulous, over-the-top keto BBQ brisket chaffle will have you dancing in the kitchen!
It's all here! Savory, sweet, and spicy, along with the secrets to making brisket fork tender, juicy, and delicious.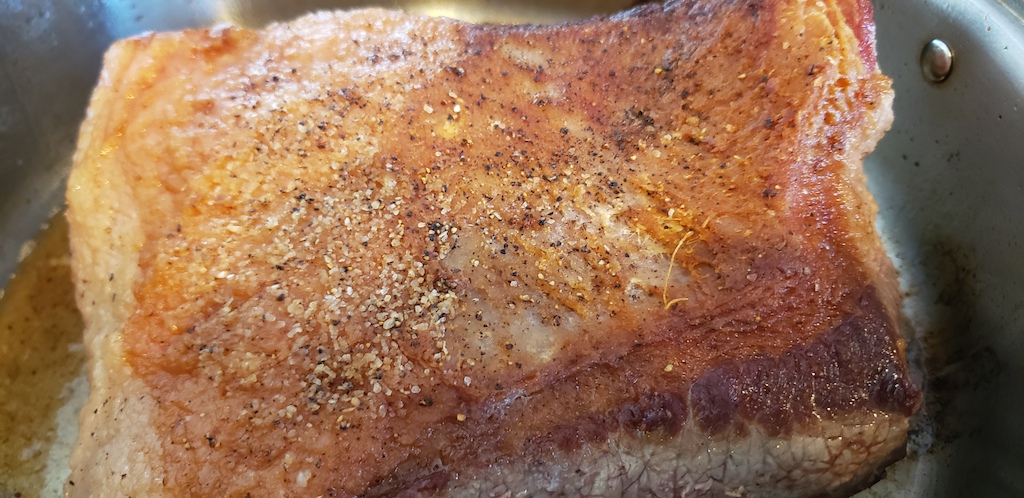 Everything you need to know about keto BBQ brisket…. especially the low and slow.

Brisket is a cut of meat from the chest of beef cattle. It's outrageously delicious if you cook it properly, and tough and stringy if you try to rush it. Brisket must be braised at a low temperature for a long time to tenderize the meat, but you don't want to overcook it because once it reaches an internal temperature of over 200 degrees F it will start to be overcooked.
Pitmasters are especially picky about the best internal temperature, and I've heard everything between 180 to 205 degrees Fahrenheit, but that's a huge difference! I estimate your brisket will need to roast for about 60 to 75 minutes per pound depending on the thickness of the cut.
I typically roast my BBQ brisket to an internal temperature of 185 to 190 degrees Fahrenheit and it seems perfect to me. If you don't already have an instant-read thermometer then go ahead and grab one. I truly think it's the best kitchen tool for cooking meat.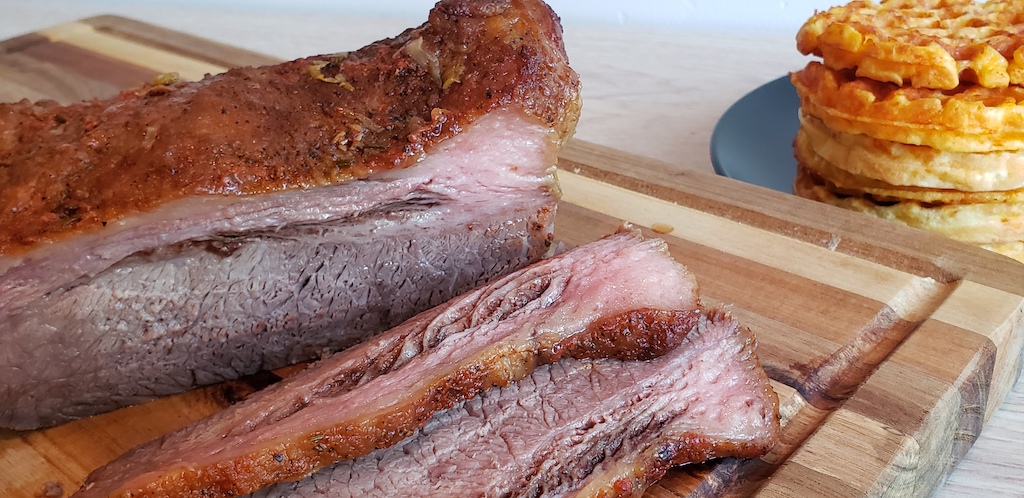 Tips for making the best keto BBQ brisket chaffle:
It's worth repeating: don't rush the process. Low and slow is the best way to cook a keto BBQ brisket.
Brisket tastes better the next day. It allows the flavors to develop and meld.
Ina Garten, the Barefoot Contessa advises, "Sprinkle the brisket with 2 teaspoons salt, wrap it well and refrigerate it overnight. This is more important than you think!" That's because you are essentially dry brining the meat, which tenderizes it and seals in the juices. If you have time, definitely dry brine, but if you're pressured for time, feel free to skip this step.
Since you're taking the time to make a really tender BBQ brisket, you can slice and serve it for dinner and make brisket chaffles within a day or two.
Before refrigerating the brisket, whether raw or cooked, always wrap it tightly in plastic wrap to seal in the delicious juices.
Consider getting tomato paste in a tube. Yep, just like toothpaste. It's perfect for recipes that only need a couple of ounces from the 6oz can. It's more expensive ounce for ounce, but when you consider the leftover tomato paste that's been tossed out because you only needed it for one recipe, it's worthwhile.
If you don't have a mini waffle iron, just use the one you have. It works just as well; the only difference is you won't get a perfect circle. Preheat per the manufacturer's instructions before adding in the chaffle mixture.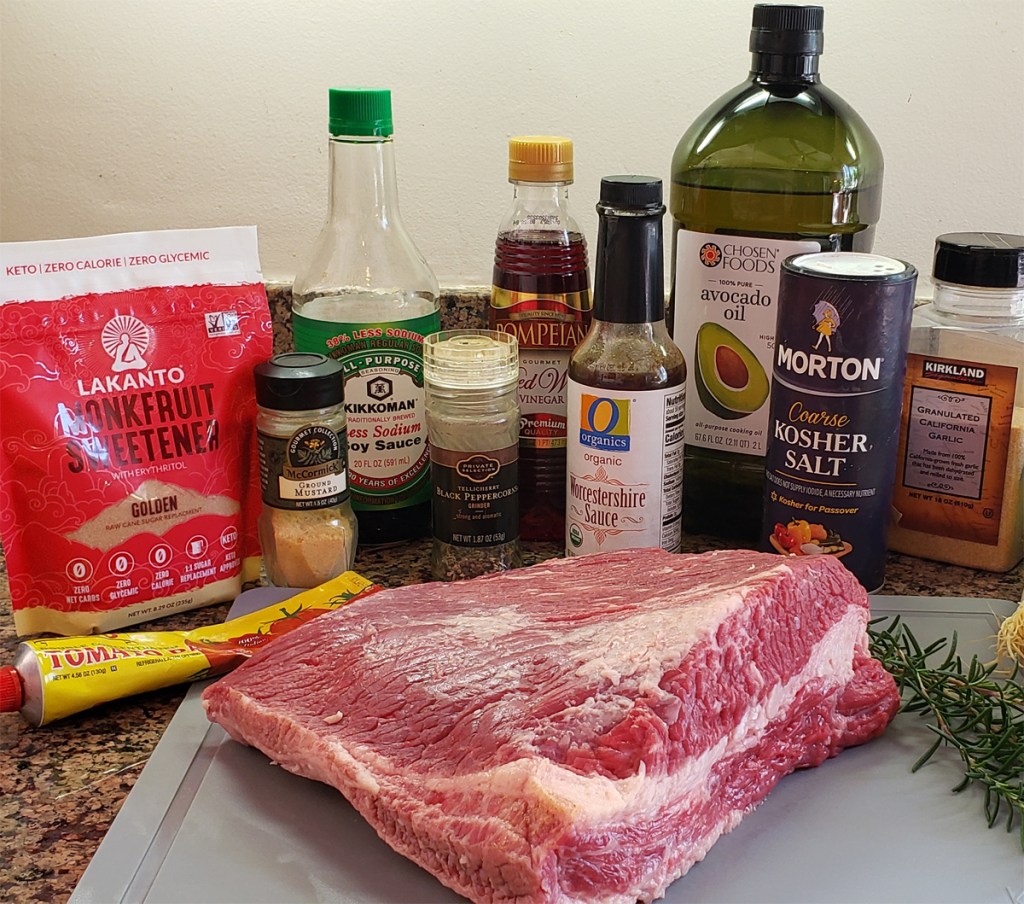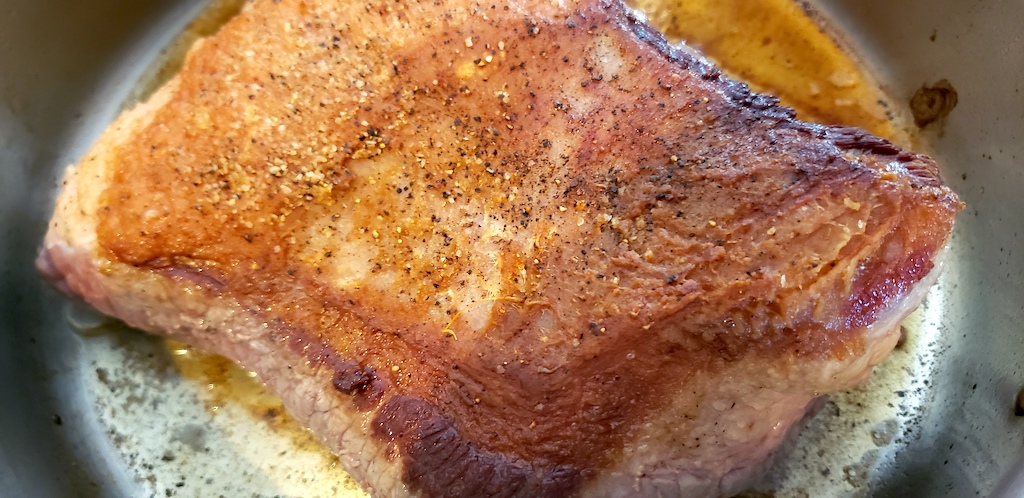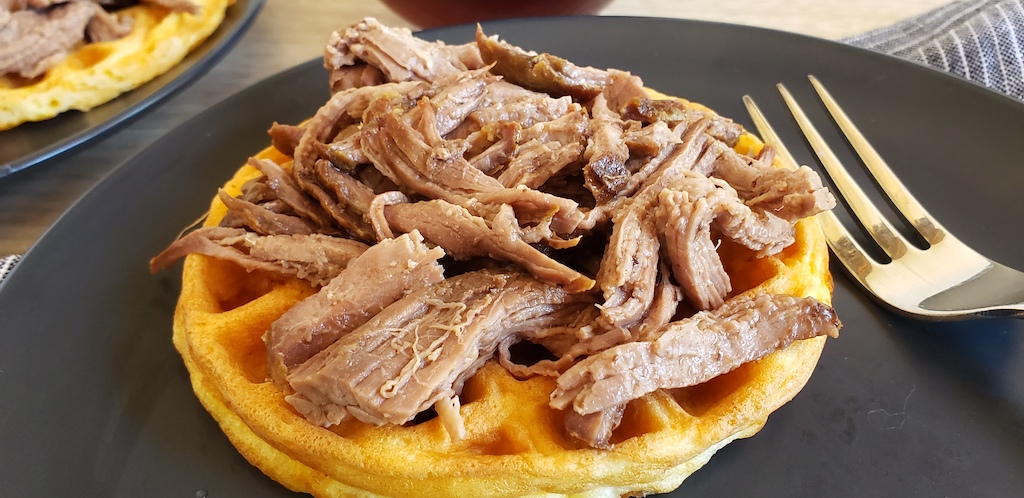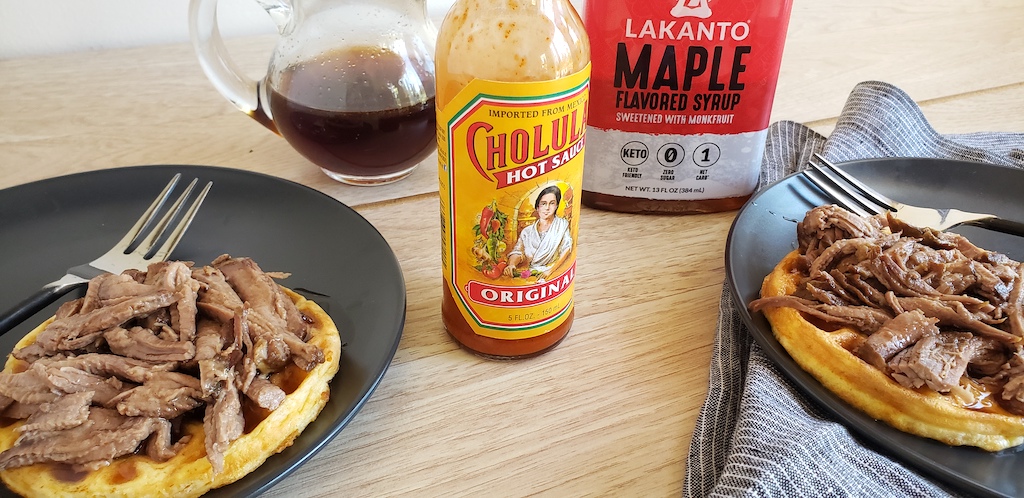 ---
Print
Keto BBQ Brisket Chaffle
yield: 8 SERVINGS
prep time: 30 MINUTES
cook time: 4 HOURS
total time: 4 HOURS 30 MINUTES
Enjoy a tender braised keto BBQ brisket and turn leftovers into a breakfast chaffle you'll want to make again and again.
Ingredients
Brisket seasoning mix:
2 teaspoons red wine vinegar
1 teaspoon dried crushed rosemary or 2 1/2 teaspoon fresh, very finely chopped
1/2 teaspoon dried mustard
1/2 teaspoon garlic powder
Brisket:
3 - 3.5 pound brisket, preferably flat cut
3/4 teaspoon black pepper
Cheddar Chaffles:
4 eggs
2 cups sharp cheddar, finely grated
Maple Hot Sauce:
Directions
1
To make the brisket seasoning mix:
Whisk together all ingredients in a small bowl and set aside. You will use this seasoning mix after you brown the brisket. If you choose to dry brine the brisket, cover and refrigerate the seasoning mix until ready to use.
2
To make the brisket:
Rinse brisket in cold water and blot with paper towels. Coat the entire roast with kosher salt. Wrap tightly in plastic and refrigerate for 6 or more hours.
If you don't have the time for this step, salt the entire brisket and go to the next step.
3
When you're ready to cook the brisket, sprinkle with pepper and preheat a heavy-bottomed skillet or Dutch oven with 2 tablespoons oil over medium heat. When oil shimmers, add brisket and brown for about 5 minutes on each side.
4
Preheat the oven to 225 degrees Fahrenheit. If you browned the brisket in a skillet, move to a roasting pan with the fat cap on the top. Pour seasoning mix over the meat, and cover with foil, leaving space between the meat and the foil. If you used a Dutch oven, the fat cap on the brisket should be on top, then pour seasoning mix over the meat and cover. Move brisket to the preheated oven.
Roast for about 4 hours or until the internal temperature reaches 185 to 190 degrees F. (This timing is based on a 3 1/4 pound brisket that was about 2 1/2 inches thick, but the internal temperature is always the best way to tell when the roast is done.)
5
When done, place brisket on a cutting board and cover loosely with foil so the meat can rest for at least 30 minutes before slicing. Slice against the grain of the meat.
6
To make the cheddar chaffles:
It's easiest to work with the chaffle mixture by combining 1 egg with 1/2 cup of cheese to make 2 chaffles.  If you mix all the eggs and cheese in one bowl, you're less apt to get an equal distribution of ingredients.
Preheat mini waffle maker for about 30 seconds. Whisk 1 egg with 1/2 cup cheese and add half the mixture to the preheated waffle maker. Bake for about 3 minutes or until it stops steaming. Repeat based on the number of servings you're making.
For more details about how to make chaffles, check out our Easy Keto Chaffle Recipe (3 Ways!)
7
To make the maple hot sauce:
Combine the keto syrup and hot sauce in a small bowl or syrup pitcher. Taste and add additional hot sauce if desired. Microwave for 30 seconds or more and serve warm. You should have enough syrup to pour 2 tablespoons on each serving.
8
To compose the chaffle:
Put several brisket slices on top of the chaffle and drizzle with about 2 tablespoons maple hot sauce. Serve with additional keto maple syrup and hot sauce on the side. Enjoy!
If you are using brisket that has been refrigerated, gently sprinkle with a teaspoon or less water and microwave each serving for 5 to 7 seconds, just enough to warm the meat.
Nutrition Information
Yield: 8 servings,
Amount Per Serving: 574 Calories | 32.5g Fat | 14.2g Total Carbs | 3.2g Fiber | .8g Sugar | 8g Sugar Alcohol | 64.2g Protein | 3.1g Net Carbs
---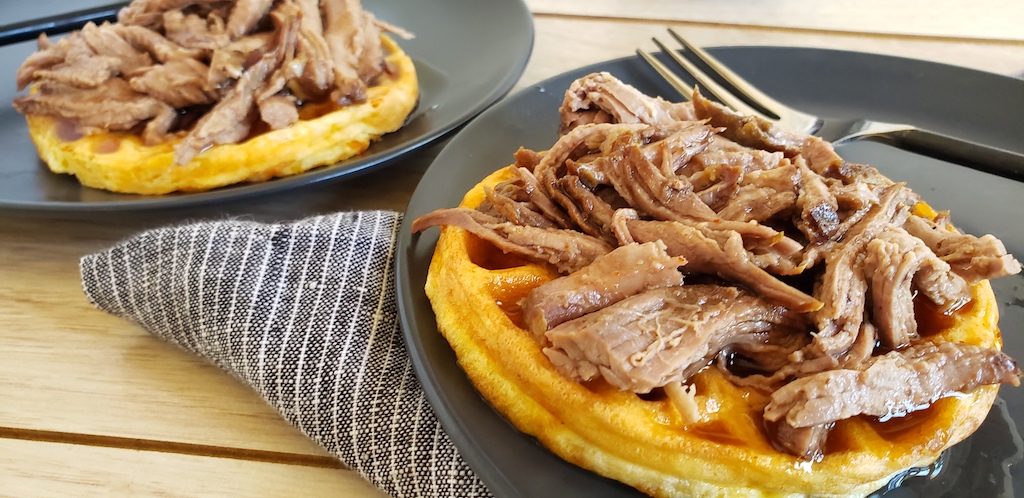 One keto BBQ brisket: two amazing meals!
We recently had some house guests who absolutely raved about the brisket I made for dinner. They liked it so much that I decided to make keto BBQ brisket chaffles for them the next morning. Winner winner brisket dinner!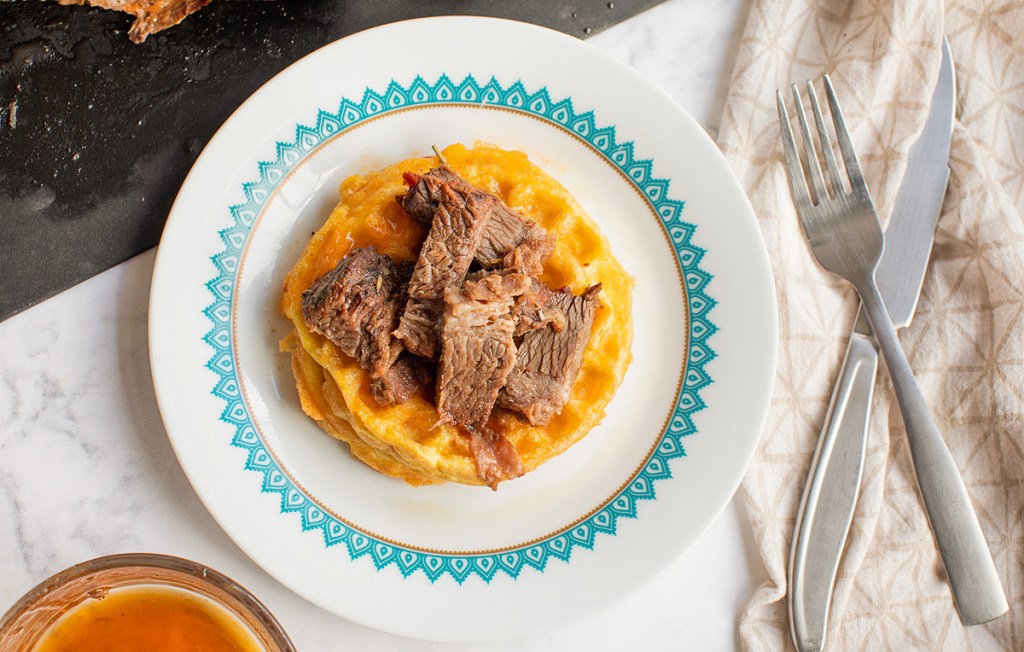 My Hip sidekick Jenna gave this recipe a try and here's what she thought:
"Wow, I mean, WOW! This is such an awesome and tasty dish! It takes a little time to cook the brisket, but trust me, it's so worth it! I love the use of rosemary as I've been really into using it in dishes lately, and this did not disappoint. It truly is as good as it sounds. The chaffles were so easy to throw together, just two ingredients, and they pair so well with the brisket. And that sauce?! I want to eat it on everything, so incredibly delicious!"

---
Make these keto scalloped potatoes as a side dish for your BBQ brisket!