Must-Make Keto Almond Cake with Strawberry Cream Cheese Frosting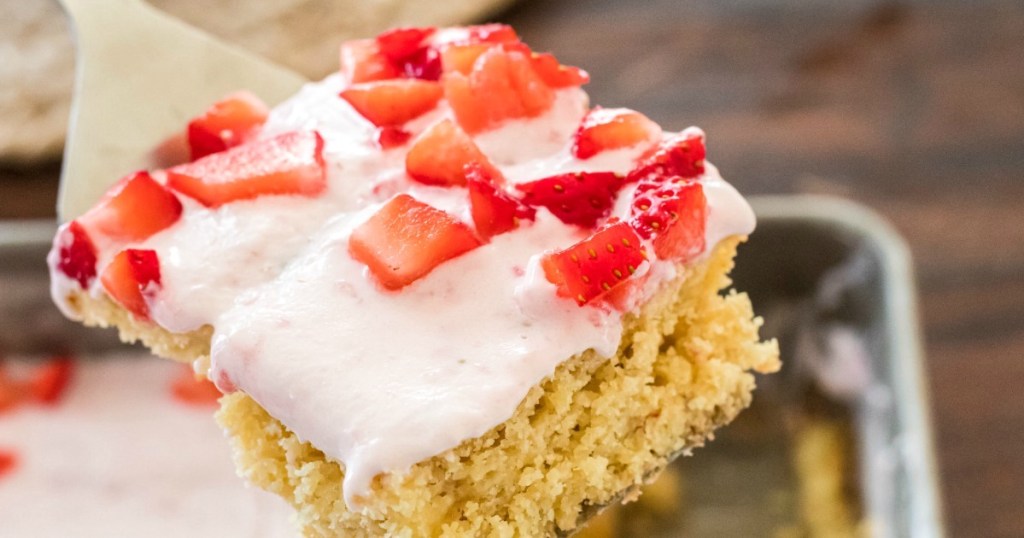 You can have your cake and eat it too!🍰
I was chatting with Collin recently after her vacation and she told me about a yummy low carb almond cake recipe she spotted on the back of a bag of Bob's Red Mill Almond Flour. She tweaked the recipe a little bit and made it for her family and shared her steps with me so I could give it a go and test it for all of you!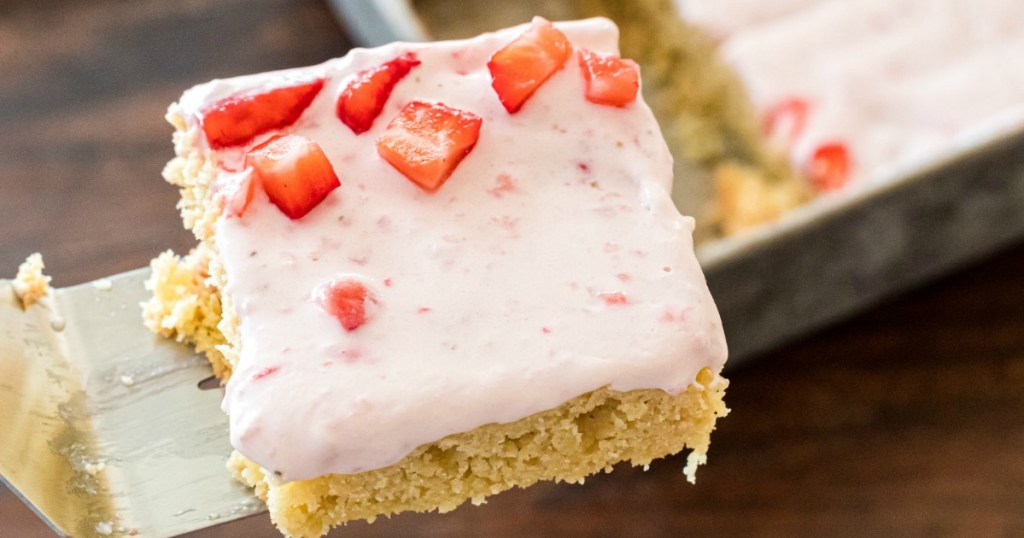 Even Collin's non-keto family members loved this cake, and she thinks you will, too!
I never mind being the guinea pig when it comes to making a cake, sign me up! 😋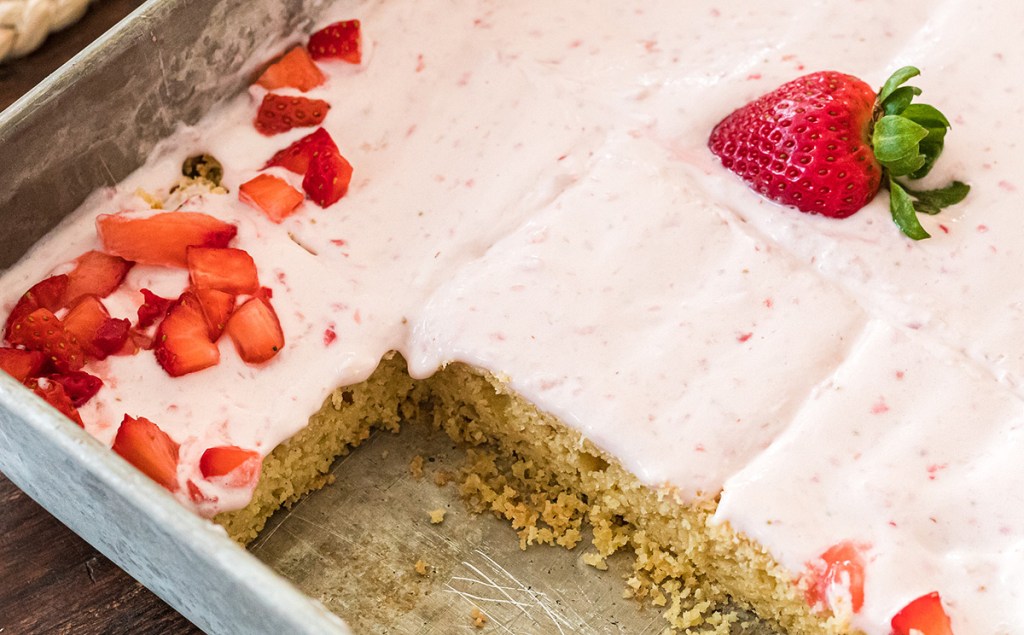 This delicious dessert is a home run when you top it with the keto-friendly berry frosting. I love how easy this cake is to make when my sweet tooth hits, plus it's something the entire family can enjoy without sacrificing a ton of carbs!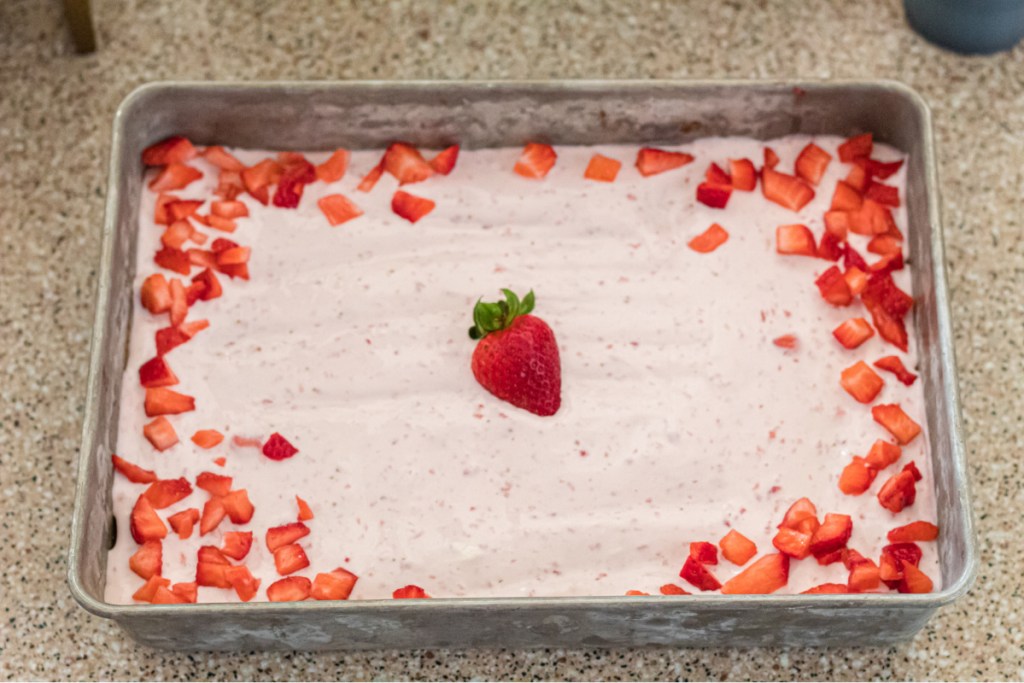 Tips for making the best keto almond cake:
Place a piece of foil over the pan while baking to prevent the top layer of your cake from over-browning.
Remember when working with almond flour, it will still bake even after you take it out of the oven. So make sure to remove the cake from the oven at the 40-minute mark.
Want to change it up? Try using blueberries instead of strawberries, or maybe even a mix of both! 🍓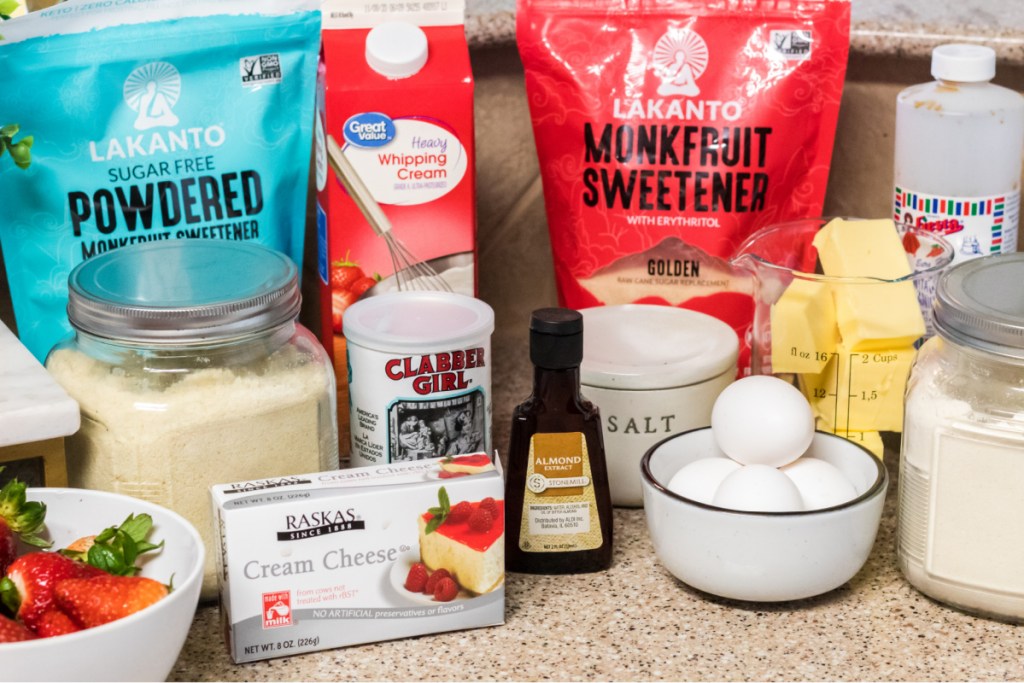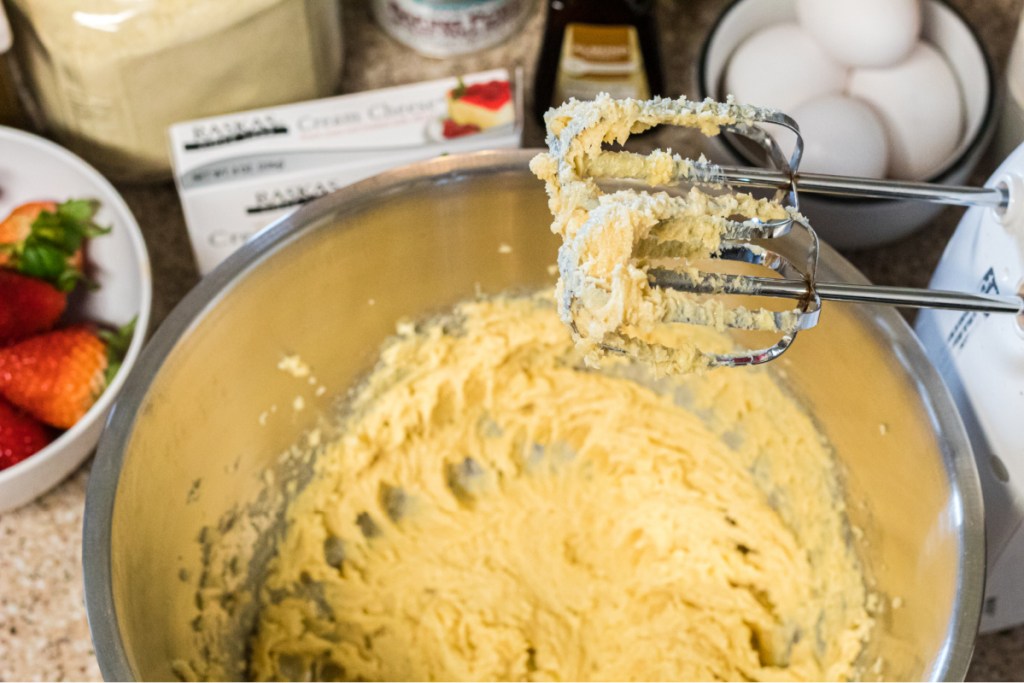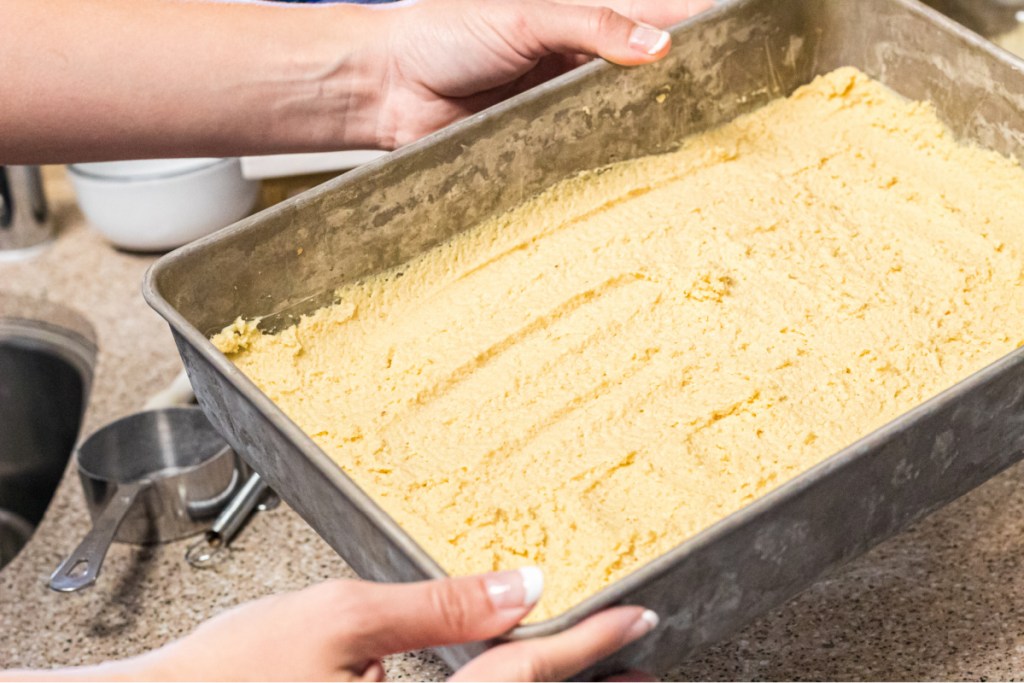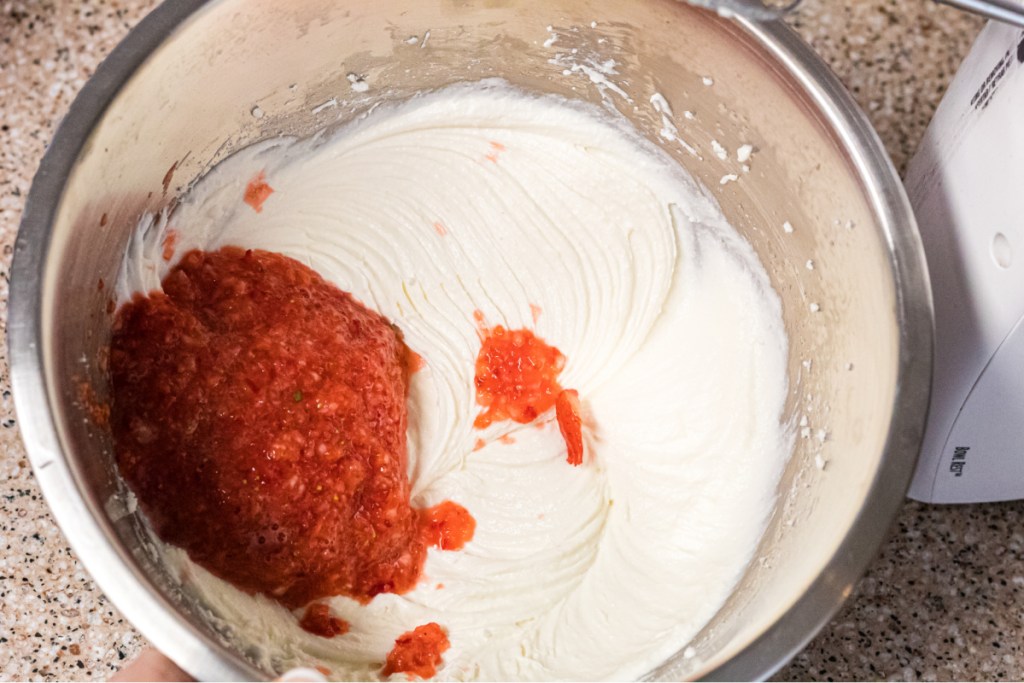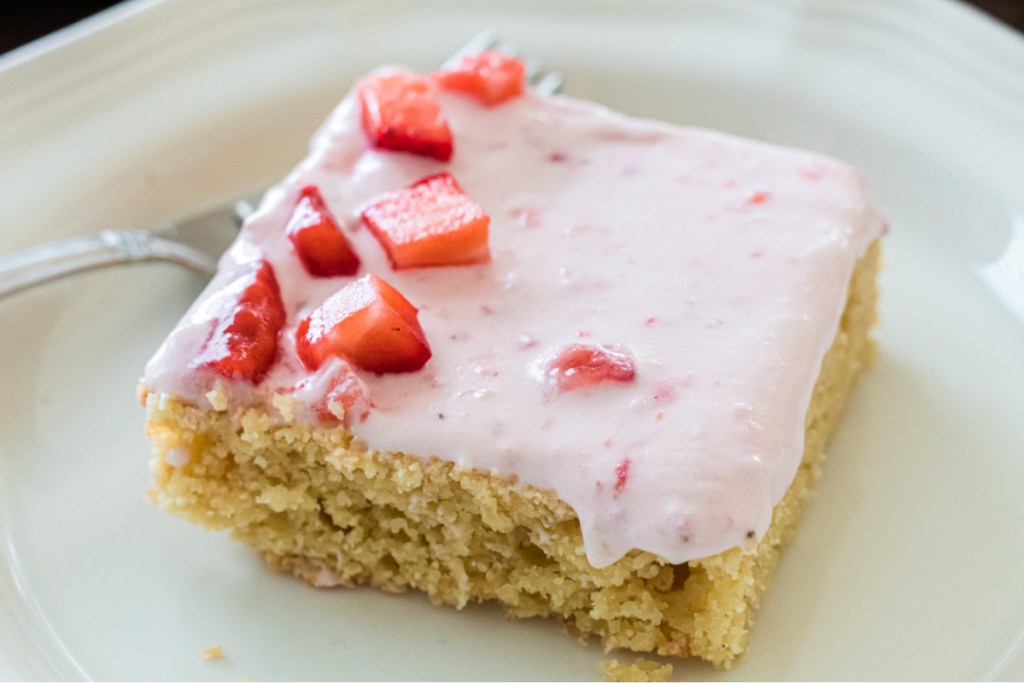 ---
Print
Keto Almond Cake w/ Strawberry Cream Cheese Frosting
yield: 12 SERVINGS
prep time: 15 MINUTES
cook time: 35 MINUTES
total time: 50 MINUTES
This delicious low carb cake is easy to make and will be a real crowd pleaser thanks to the sweet and fruity cream cheese frosting.
Ingredients
Almond flour cake:
1 cup unsalted butter, room temperature
4 eggs, room temperature
1/4 cup water
1/4 cup heavy whipping cream
1/4 teaspoon salt
2 teaspoons baking powder
Cream Cheese Frosting:
8 oz. cream cheese, room temperature
1-2 tablespoons heavy cream
7 strawberries, smashed (I used a food processor, but you can throw them in the blender as well)
Directions
1
Preheat oven to 350 degrees. Grab a 9"x13" pan and grease with butter or oil, making sure all sides and bottom are coated. Set aside.
2
In a large bowl, cream together butter and monk fruit sweetener with an electric mixer for 3 minutes. Continue mixing while adding in water, heavy cream, and extracts. Slowly add in eggs one at a time. Mix for an additional 4 minutes and set aside.
3
In a separate bowl, whisk together flours, baking powder, and salt. Once dry ingredients are mixed together, add to wet ingredients and mix until combined, about 2 minutes.
4
Spread batter in a greased 9"x13" pan. Bake in a preheated oven for 35 minutes. I covered mine with foil to prevent browning.
5
While the cake is baking, prepare the frosting. In a small mixing bowl, add cream cheese and monk fruit powdered sweetener. Cream together with an electric mixer for about 2 minutes. Slowly add in heavy cream and smashed strawberries.
6
Remove cake from oven and let the cake cool completely before frosting.
7
Frost cake and top with diced strawberries. Enjoy!
Nutrition Information
Yield: 12, Serving Size: 1
Amount Per Serving: 355 Calories | 32g Fat | 23.1g Total Carbs | 3.3g Fiber | 15.6g Sugar Alcohol | 7g Protein | 4g Net Carbs
---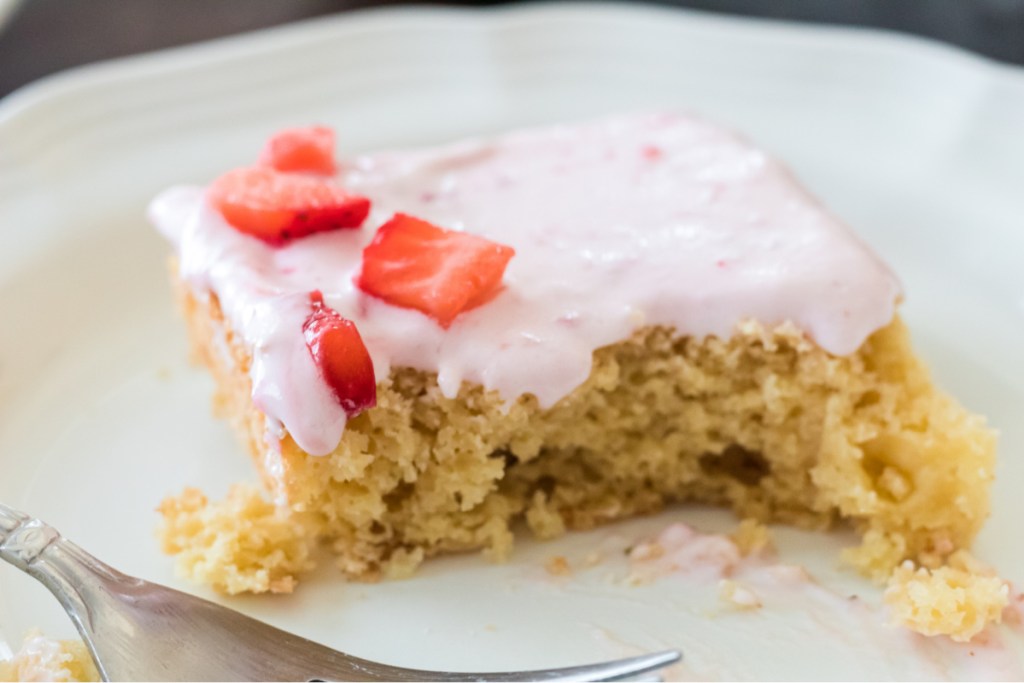 This cake would be a great recipe to add to your holiday menu as it is a crowd-pleaser even for the non-keto family members… they'll never know it's low carb!
The topping is so yummy, you could eat just the frosting alone as a quick little treat. Shhh…I won't tell anyone! 😉 I sometimes like to make a batch and use the frosting as a dip for fresh strawberries.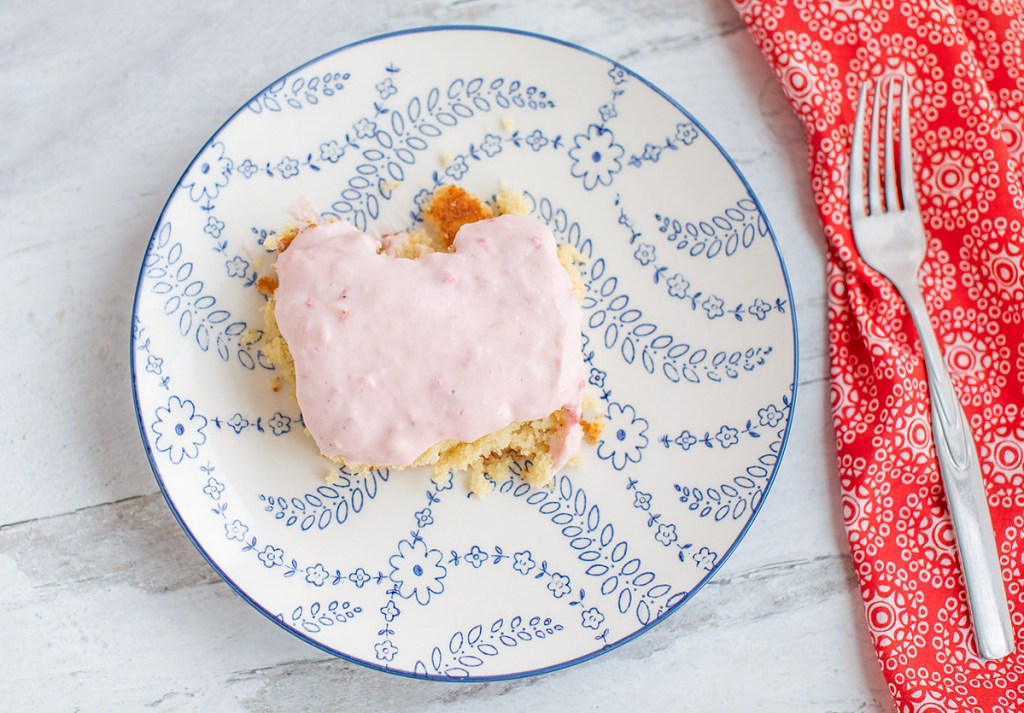 My team member, Jenna, gave this recipe a test for me, and here's what she had to say:
"This cake was so yummy but I have to say the real star of this recipe is the berry cream cheese frosting. It was absolutely incredible and I could not stop eating it! I love the use of the smashed strawberries, the flavor was such a treat for my sweet tooth."
---