How to Make Fried Eggs with Cheese the Best Breakfast Imaginable
Have you ever tried fried eggs with cheese? It takes eggs to a whole other level!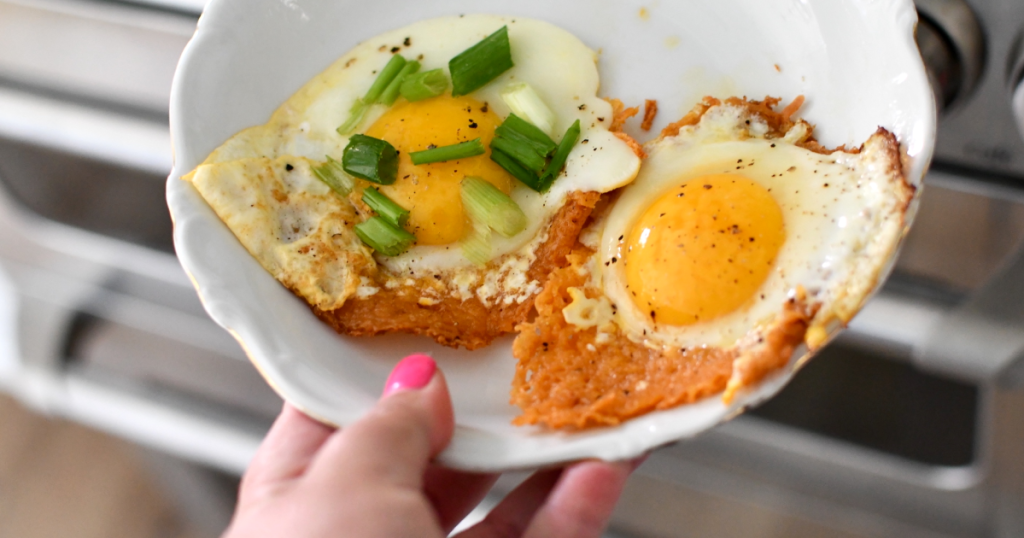 Need to step up your egg game?
Do you ever find yourself getting bored with eggs? It's probably one of the most common complaints I hear on keto. "I'm so sick of eggs!" 📣 Well, let me introduce you to fried eggs with cheese, with a little more to it than just sprinkling on some cheddar shreds.
This take on the traditional fried egg breakfast is sure to convince you to go back to eating eggs every morning! They are so good, so simple. My husband has been asking for them on a regular basis since I made them for him.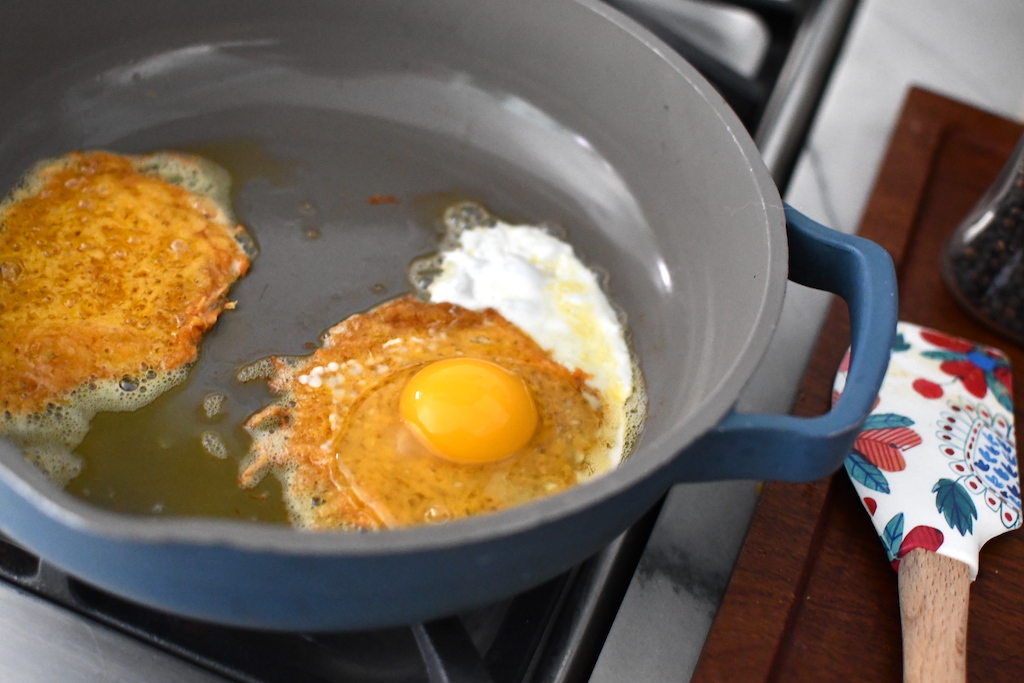 Make breakfast fun again with these fried eggs with cheese!
To make these fried eggs with cheese, you first start by placing shredded cheese in the hot skillet. You let the cheese melt and then crack your egg on top of the cheese.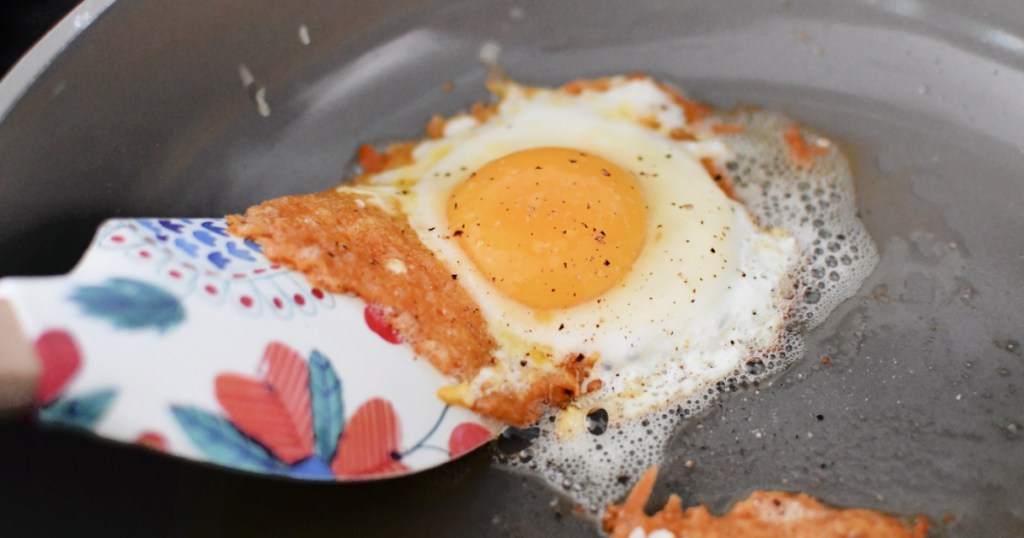 Cook your egg to your desired level of doneness while the cheese ends up a crispy layer of bliss! You can keep a runny yolk or cook even further like the picture below – it's totally up to you!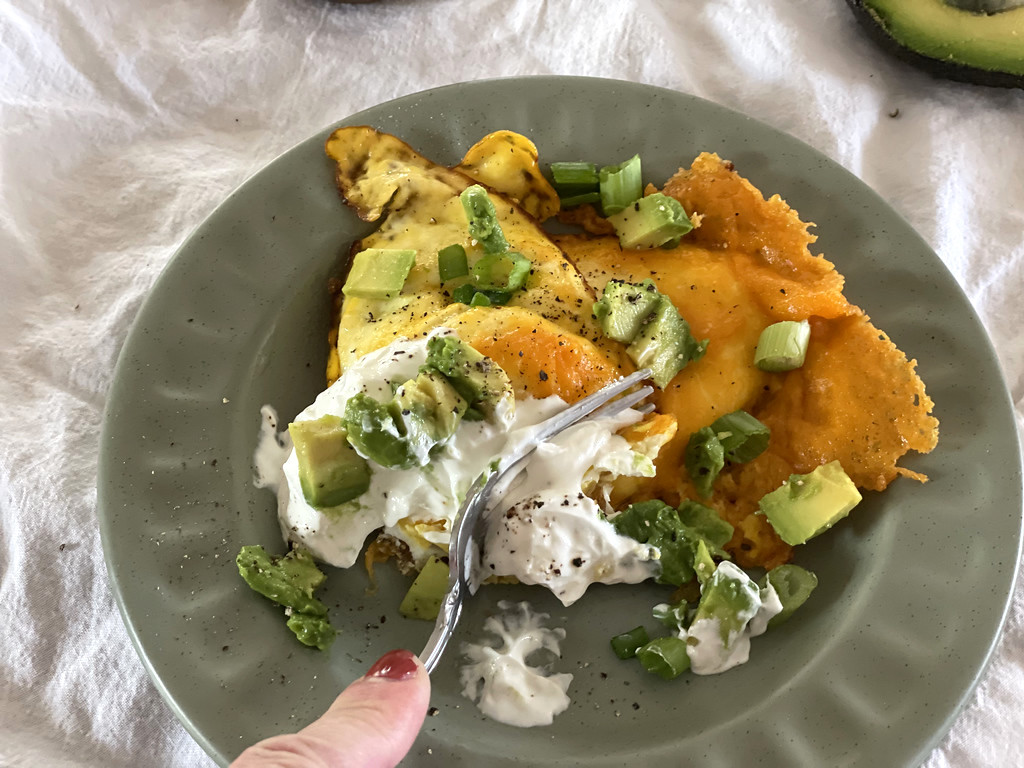 Tips for making the best fried eggs with cheese:
You can use any kind of cheese. I went with cheddar because I love cheddar with eggs but Swiss, Colby Jack, Parmesan, etc. would all be delicious!
Depending on how you want your eggs cooked determines how long you let the cheese melt. If you want over-easy eggs, let the cheese melt longer before you crack your eggs over it. If you want over-hard eggs, you don't need to let the cheese melt as long to get crispy cheese.
I used a non-stick skillet to make the eggs you see pictured in the post. I've also made these fried eggs with cheese in a cast iron skillet and had success, too. No need to grease the pan because the cheese has enough grease in it to keep it from sticking. If you want to add some butter though, I wouldn't object!
To make these eggs even better, finish them with your favorite toppings! Sour cream, avocado, salsa, green onions, or dare I say even more cheese! 🧀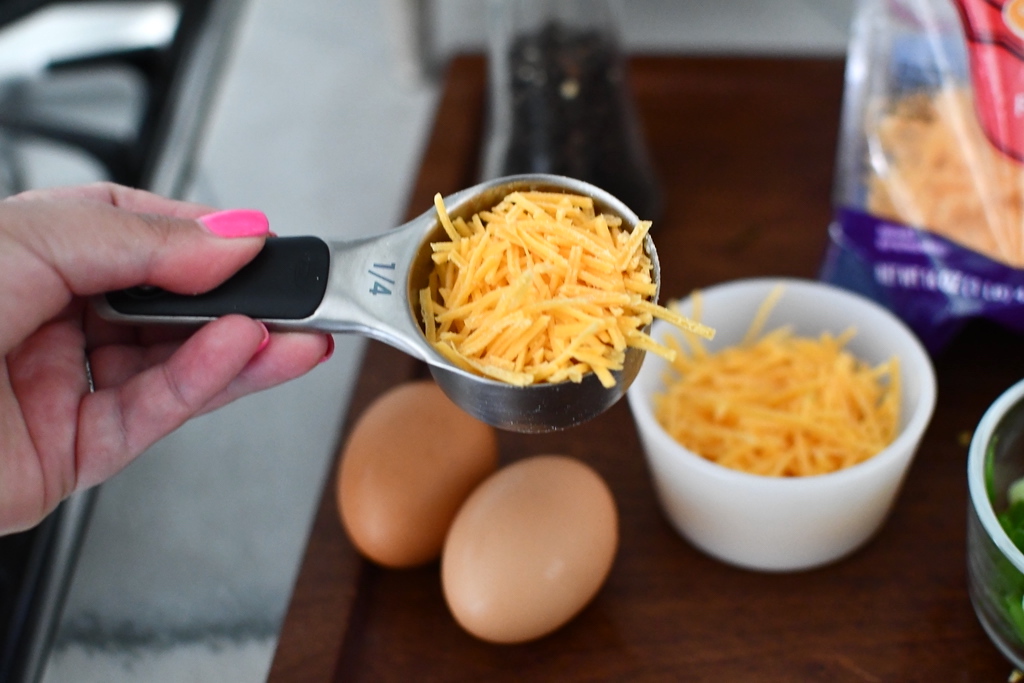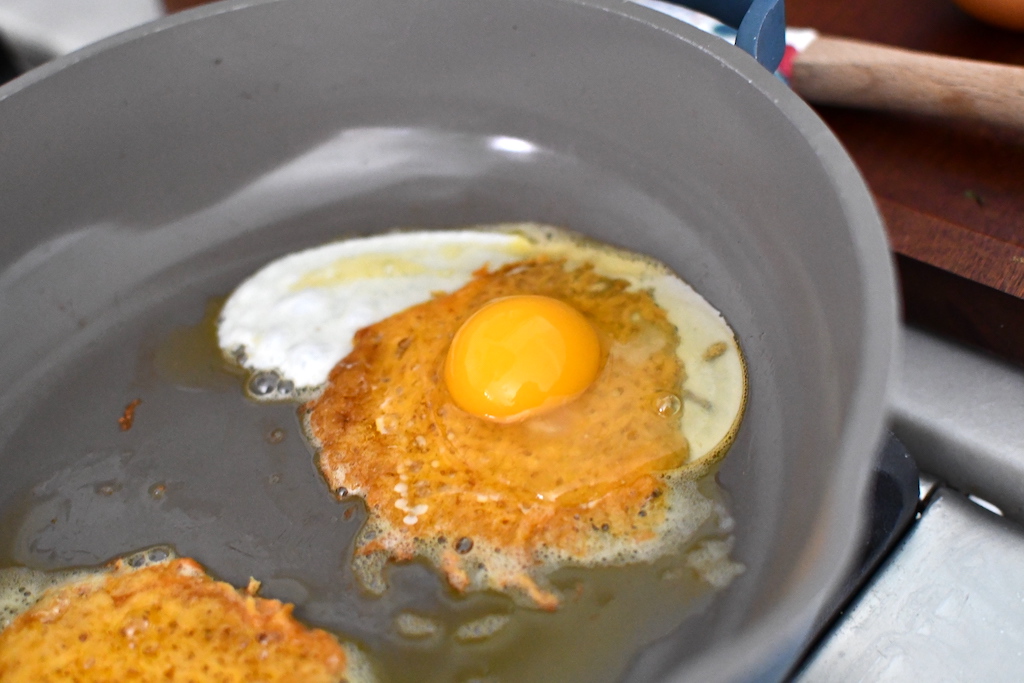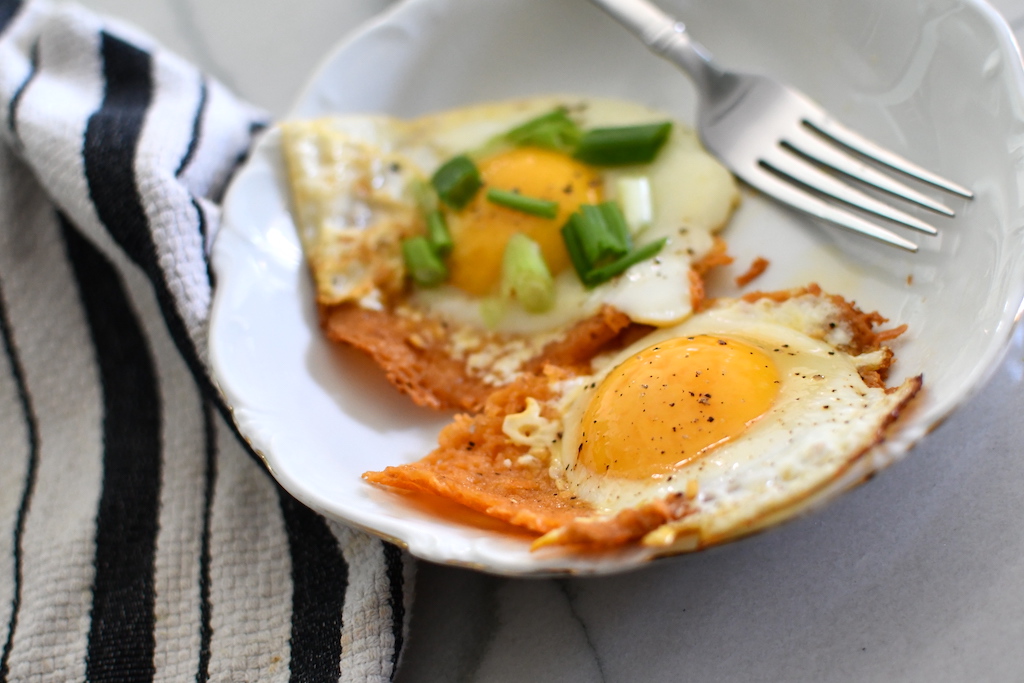 ---
Print
Fried Eggs with Cheese
yield: 1 SERVINGS
prep time: 2 MINUTES
cook time: 5 MINUTES
total time: 7 MINUTES
Fried egg cooked on top of melted cheese until the cheese is perfectly crispy.
Ingredients
1/2 cup shredded cheddar cheese
2 eggs
salt and pepper, if desired
optional toppings: avocado chunks, sour cream, green onion
Directions
1
Heat a medium-sized skillet over medium heat.
2
Once hot, place 1/4 cup of shredded cheese on the skillet and slightly flatten out the cheese to form a circle, about the size of a small corn tortilla. Repeat with the remaining 1/4 cup of cheese.
3
Let the cheese melt for 1 to 3 minutes and then crack your egg directly over the melted cheese. If you want an over-easy egg, let the cheese melt for closer to 3 minutes. If you want an over-hard egg, let the cheese melt for about 1 minute or so. Add salt and pepper if desired.
4
Cook your eggs for 3 to 5 minutes and then flip over if you'd like your egg cooked more (and not runny). Cook until eggs reach desired doneness, up to an additional 2 to 3 minutes, and then remove from skillet and serve. Top with sour cream, green onions, avocado, etc if desired. Enjoy!
Nutrition Information
Yield: 1, Serving Size: 2 eggs with cheese
Amount Per Serving: 356 Calories | 27.6g Fat | 2g Total Carbs | 0 Fiber | .5g Sugar | 24.3g Protein | 2g Net Carbs
---

Look forward to your mornings again!
This is the type of breakfast that will have you excited for the first meal of the day! Fried eggs with cheese are my new go-to breakfast and I don't know if I can go back to fried eggs and simply topping them with cheese.
I feel like the cheese must be fried first — I can't live without the crispiness and it's exceptionally delicious! 🤤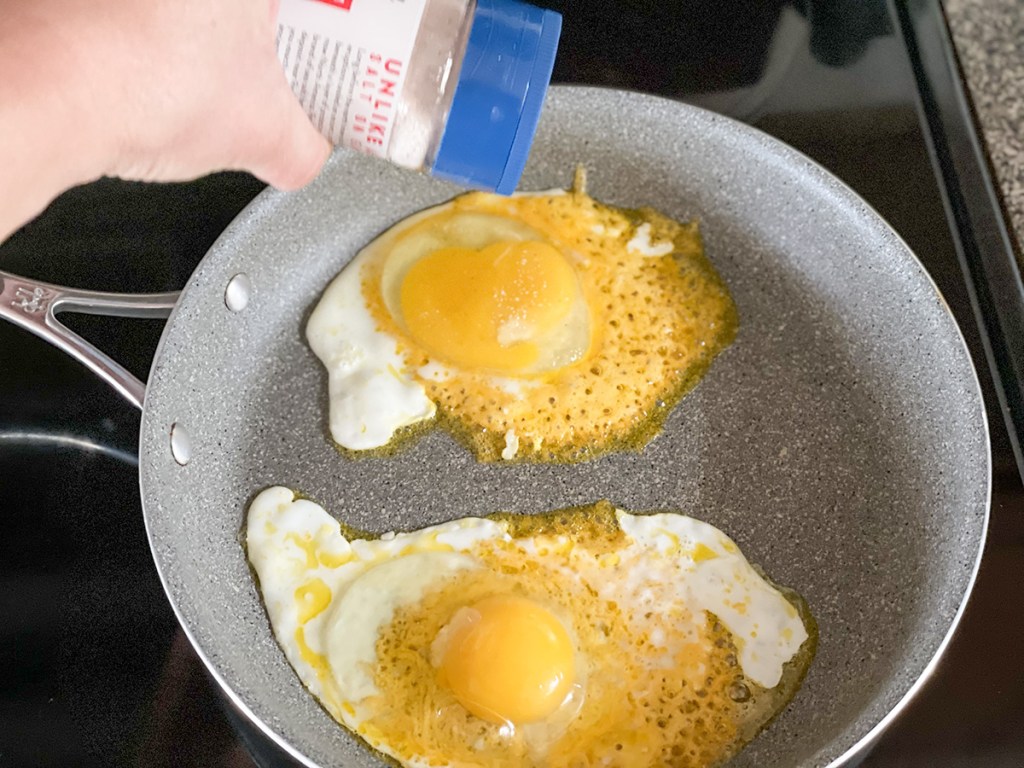 Here's what my Hip sidekick Jenna thought about these fried eggs with cheese:
"What an amazing breakfast this was! My daughter and I make a lot of eggs, sometimes for breakfast, sometimes just for snacks 😂 and this recipe is mind-blowingly good! That cheese crust on the eggs takes breakfast to a whole new world. I will definitely be adding this simple twist on eggs with cheese to our weekend breakfast plans regularly."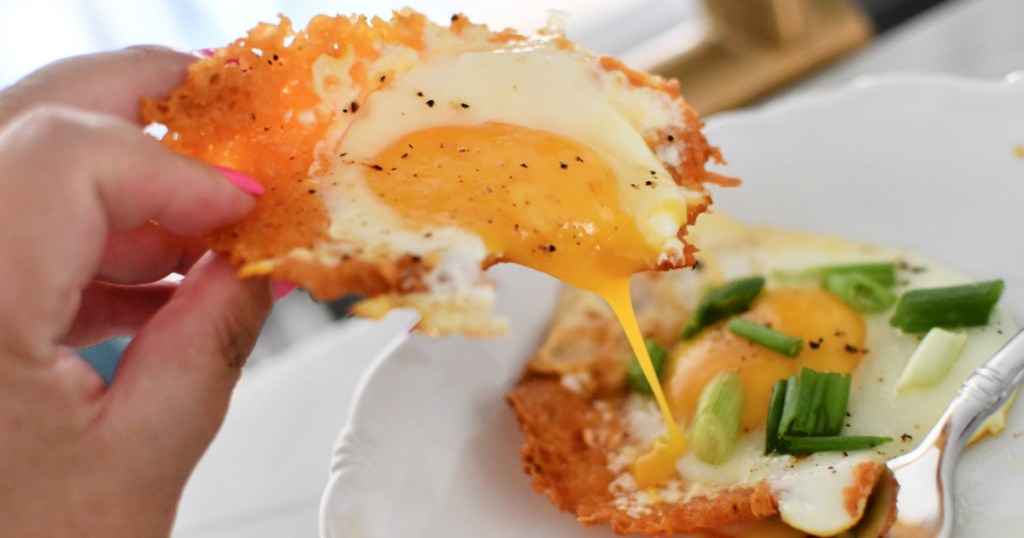 Check out what my Hip sidekick Lina had to say after making this recipe:
"Oh my, I am in LOVE with this cheesy goodness. I love how my sharp cheddar cheese created a crispy crust that is a perfect background for an over-easy egg. This was a filling and quick breakfast that I will be for sure making again. Funny how something so simple can taste this perfect!"
Another Hip sidekick, Soleil, couldn't resist trying out these eggs. She mixed it up by adding salami on top of the cheese and pesto to the eggs. YUM!!!
"These eggs and I are in a very serious committed relationship. I took a whole photoshoot with these eggs like I'd never be able to eat again! My roommate took the other egg off my plate and screamed that he "can see the gates of heaven!" You need to eat these eggs!"
---
Looking for more amazing keto breakfast ideas? Try our best keto waffles!