French Press Cold Brew is the Easiest Way to Satisfy Your Chilled Coffee Cravings
Try French Press cold brew to enjoy a chilled cup of coffee in the morning.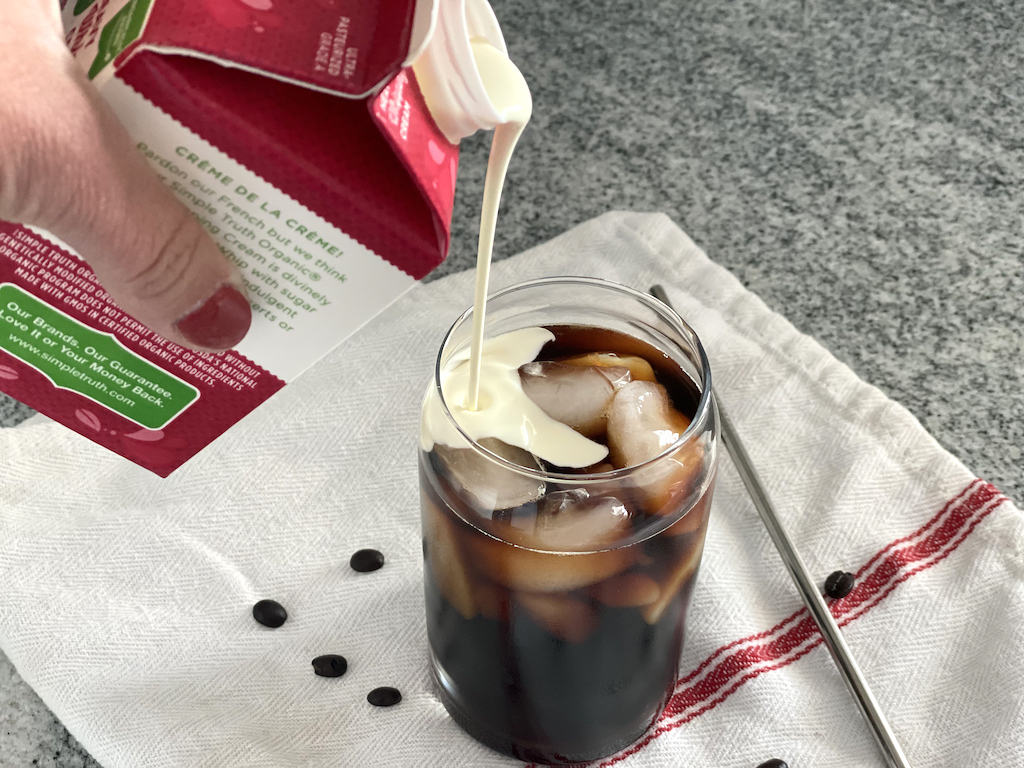 In the mood for a cold brew?
You're in luck! Cold brew coffee is a deliciously smooth caffeinated beverage that's keto! This method uses a French Press coffee maker which is a great tool in achieving bold, but not bitter, cold brew.
It's super easy and takes less than five minutes to prep. The only hard part is waiting for your cold brew to steep.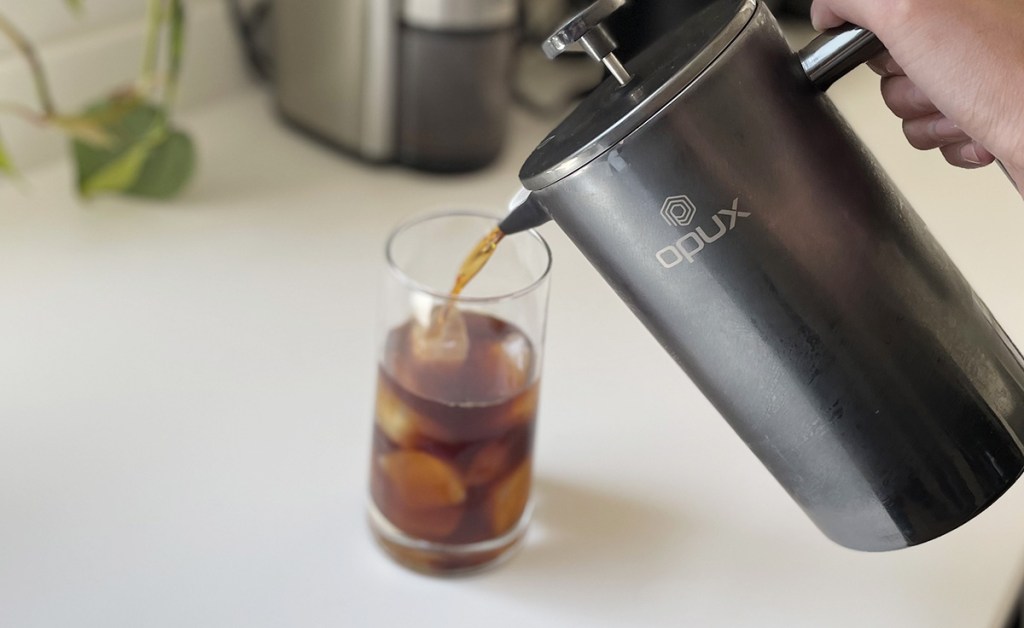 Our best advice is to allow the coffee to brew overnight so that you can enjoy your cold brew once ready in the morning. It lasts for up to two weeks, but it's best to enjoy it within the first several days of brewing. Plus, I doubt it won't get sipped up after you enjoy a glass!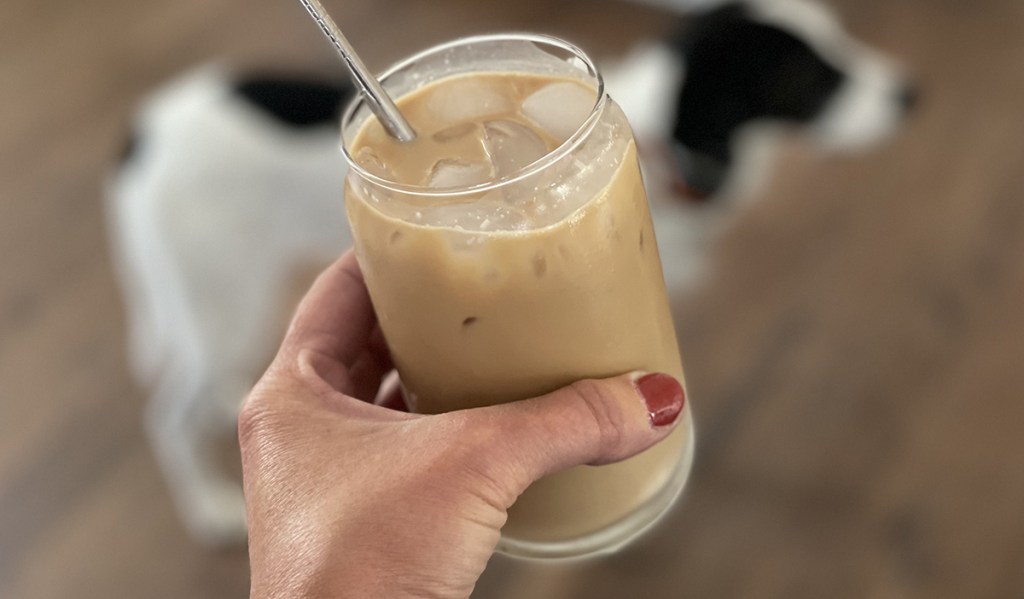 What's the difference between iced coffee versus cold brew?
The biggest difference is that iced coffee is brewed hot and instantly poured over ice. It's light and often sweetened. Cold brew is not brewed hot (hence "cold" brew); it takes between 12 and 16 hours to brew at cold or room temperature. It's low in acidity resulting in a slightly naturally sweet taste, and can last up to two weeks in the fridge!
So, you can brew iced coffee in your own home with a regular coffee maker, but you'll need a French Press to make the kind of cold brew we're talking about today. We love preparing chilled coffee this way since it's a natural fit for keto! You can achieve a smooth, slightly sweet flavor without adding sugar.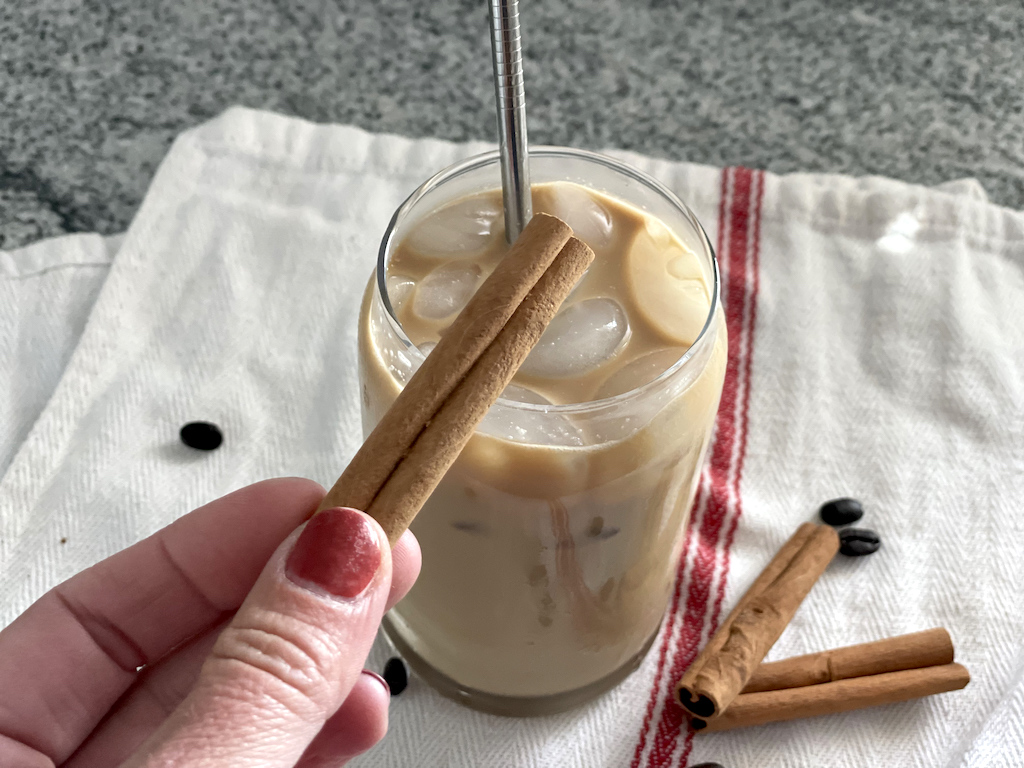 That said, you can always add in heavy cream, keto sweeteners, or even some cinnamon if straight black coffee isn't your preference. 😉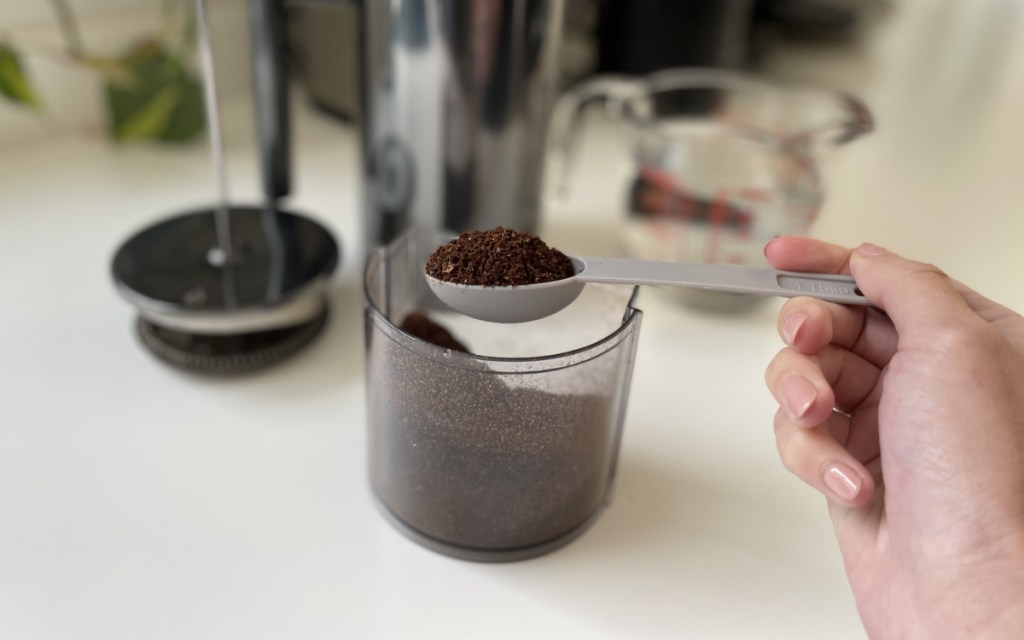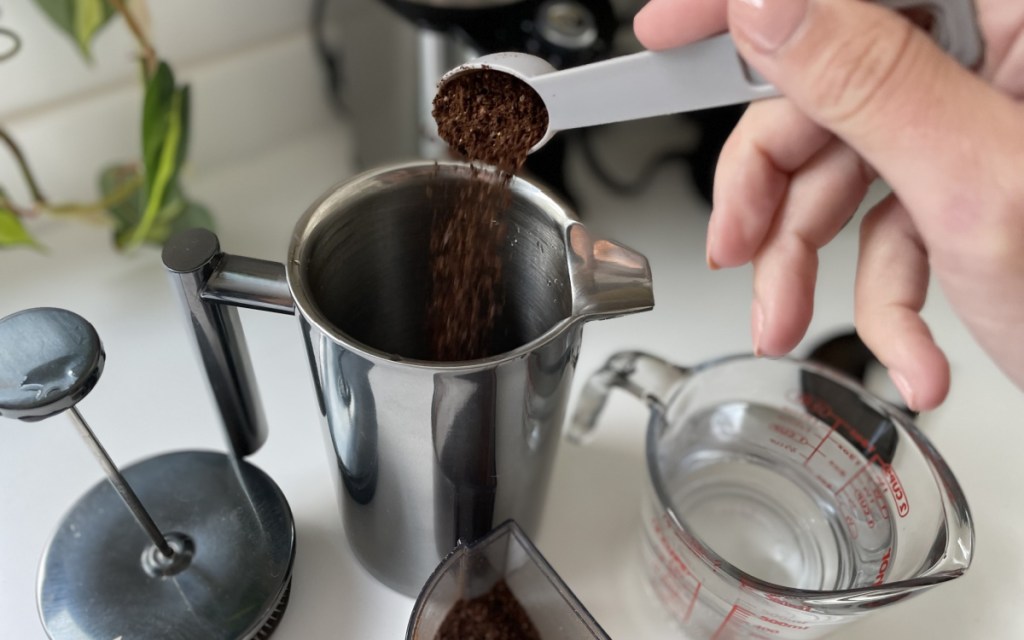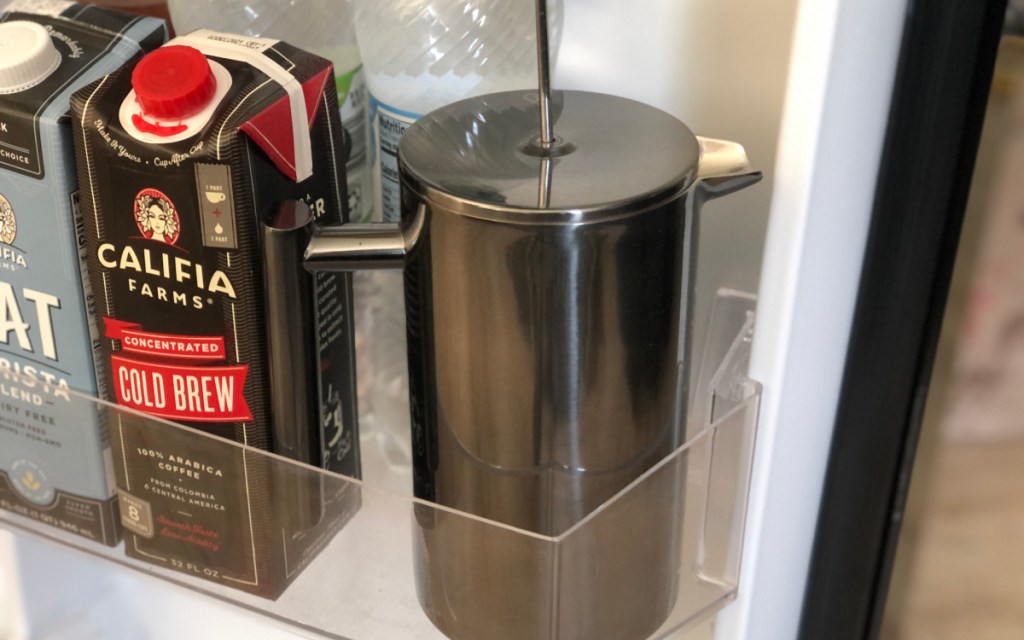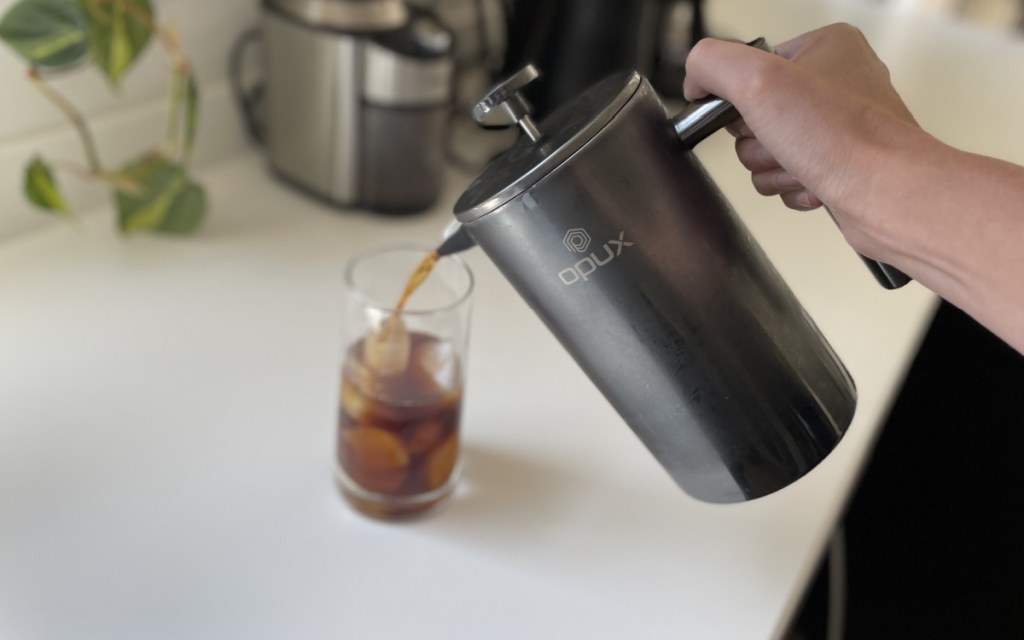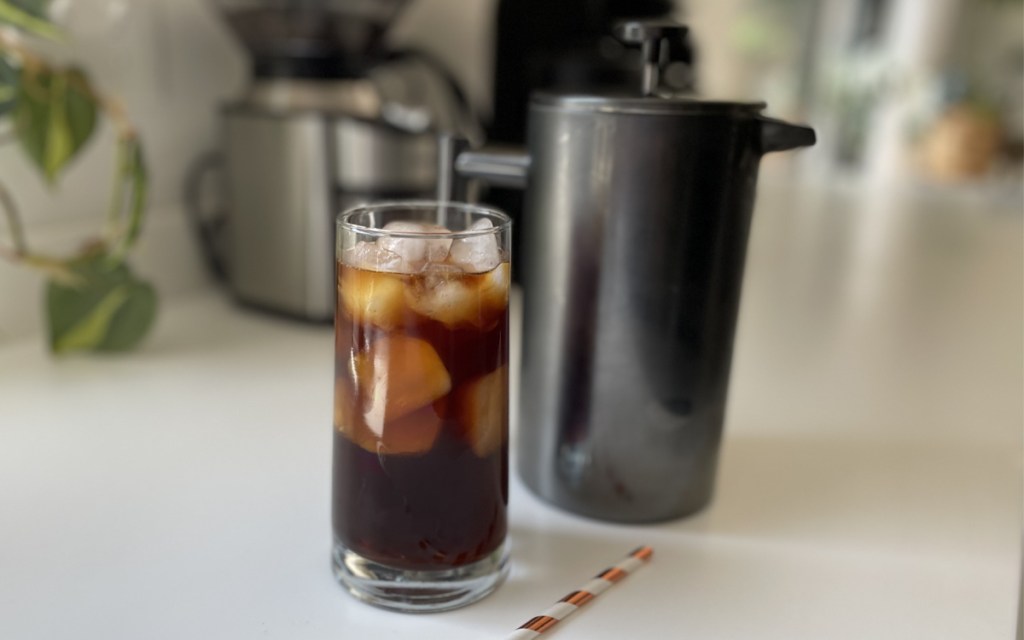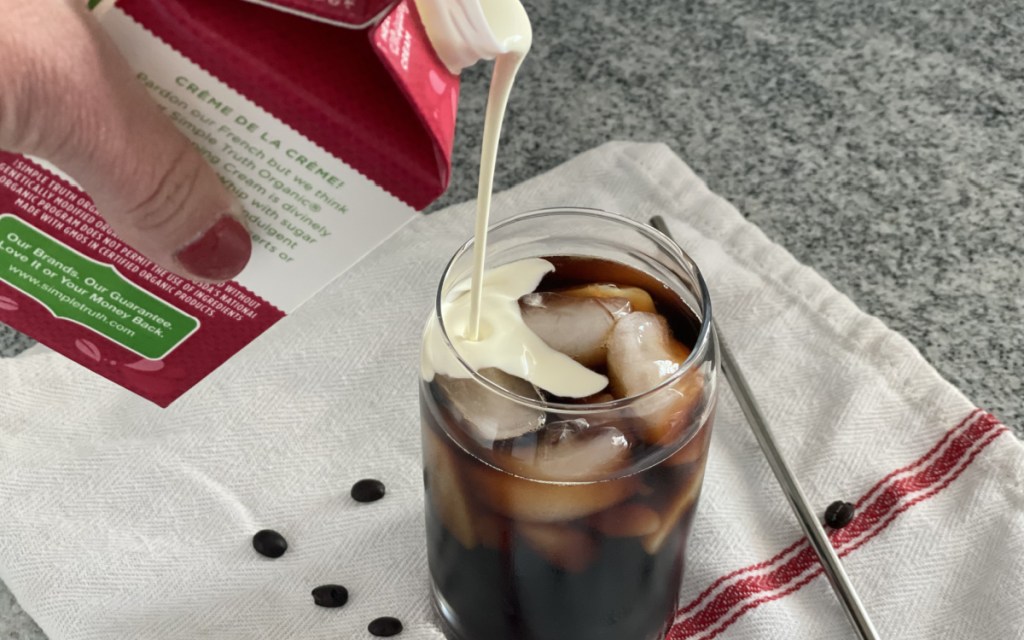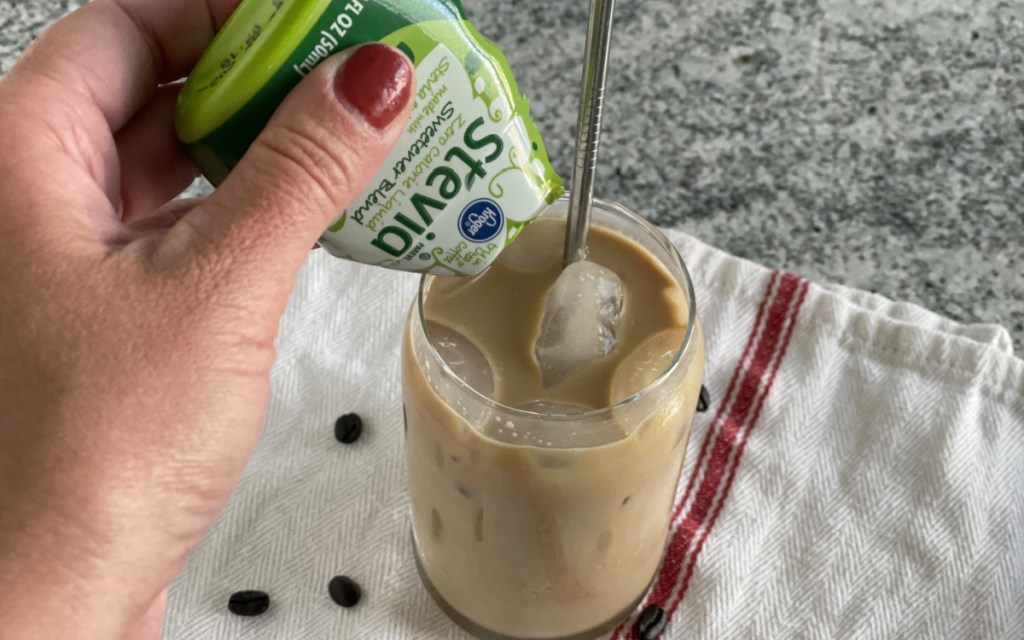 ---
Print
French Press Cold Brew
yield: 3 SERVINGS
prep time: 5 MINUTES
total time: 5 MINUTES
Sip on a refreshing, energetic glass of cold brew with minimal effort, courtesy of a French Press coffee maker!
Ingredients
French Press coffee maker
8 rounded tablespoons medium/coarse ground coffee (or about 100g, if using a coffee scale)
4 cups of water
heavy cream, keto coffee creamer, keto liquid sweetener, keto coffee syrups, and/or cinnamon (optional)
Directions
1
Add your ground coffee into the French Press coffee maker.
2
Slowly pour your water over the ground coffee. Gently stir the coffee grounds to make sure they've all been submerged.
3
Place the French Press lid back on top without plunging down in the fridge. You can also cover loosely with plastic wrap if space does not allow for the tall, unplunged top. Alternatively, you can leave it on the counter covered at room temperature. Let brew for at least 12 hours and up to 16 hours.
4
After brewing is finished, slowly push the plunger down to strain the coffee grounds from the cold brew. Enjoy with or without ice, and feel free to add heavy cream, your favorite keto creamer, keto sweetener (confectioners or liquid sweetener will dissolve best), keto coffee syrups, and ground cinnamon (or a full stick for stirring) if desired. Enjoy!
Nutrition Information
Yield: 4, Serving Size: 1
Amount Per Serving: 5 Calories | 0 Fat | 0 Total Carbs | 0 Fiber | 0 Sugar | 0 Protein | 0 Net Carbs
---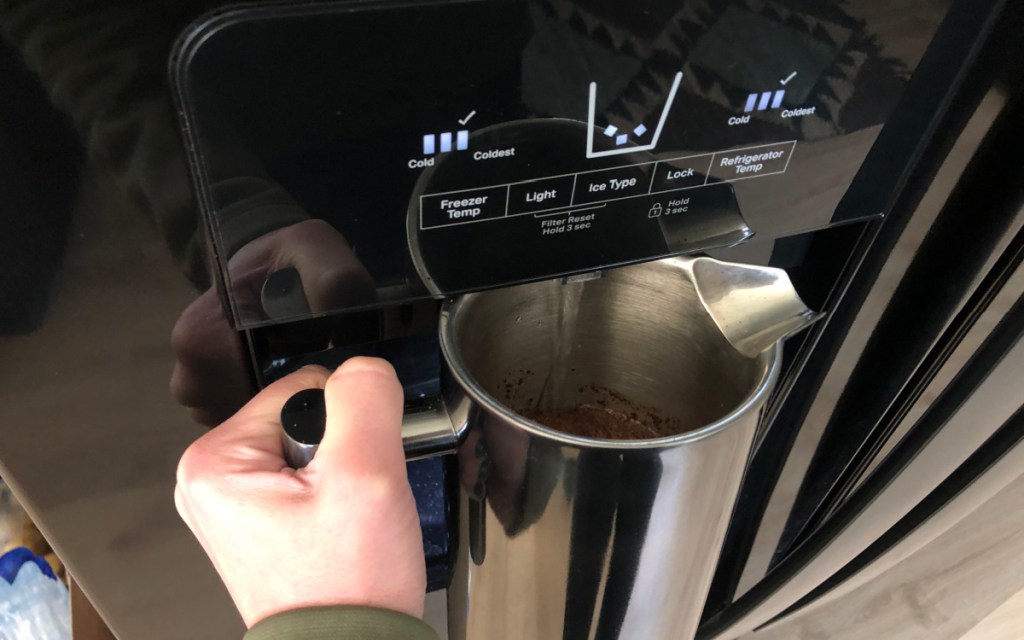 Helpful tips on how to make French Press Cold Brew:
We recommend an insulated French Press for durability and to keep your coffee nice and cold. The insulation is also great if you ever decide to brew hot, too! Check out the Mueller French Press for a highly rated option. We've also heard great things about this Takeya cold brew maker, too!
I recommend using fresh grind beans in a medium/coarse setting. Using an electric burr grinder will be the quickest method, but manual grinders work as well. Pre-ground regular coffee will also work, but it won't have the best flavor and could potentially end up acidic.
The ratio I used was 2 rounded/heaping tablespoons per 1 cup of water. There are plenty of ratios out there on the web, with most measuring the grounds in grams using a scale (the coffee connoisseurs' way to measure). I don't have a scale, nor patience, so I use this ratio for a balanced cup of cold brew, but feel free to experiment based on how bold or mellow you prefer your chilled coffee.
When you fill your French Press with water, try to use filtered water for the best flavor. You can use tap, but since the water is not getting boiled, it's best to use filtered.
For the best timing, get your cold brew ready for steeping while you're making dinner. This way, it'll be perfect to drink by the morning!
Don't dump the coffee grinds down the garbage disposal! Instead of breaking apart like most foods, coffee grounds stick together when exposed to water. This can clog and damage your sink, so it's best to discard in the garbage.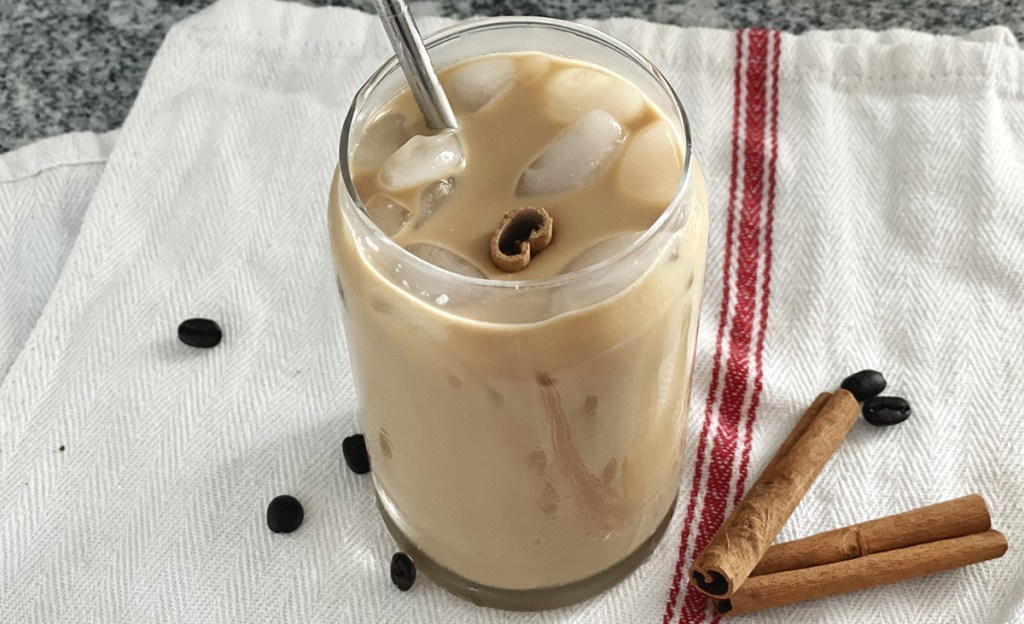 Sit back and relax with your glass of French Press cold brew!
This is such a refreshing way to enjoy your morning cold brew. As mentioned, feel free to jazz up your cold brew however you'd like! You can add in heavy cream or a keto coffee creamer, your favorite keto-friendly sweetener (liquid or confectioners dissolve best), keto coffee syrups, or even stir in some ground cinnamon or use a cinnamon stick to infuse extra flavor. The possibilities are endless!
Let us know how you take your cold brew!
---
You have to try our keto iced chai tea next!