Baked Egg Ham and Cheese Cups | Grab-and-Go Keto Breakfast Recipe
This keto breakfast recipe features baked egg, ham, and cheese cups!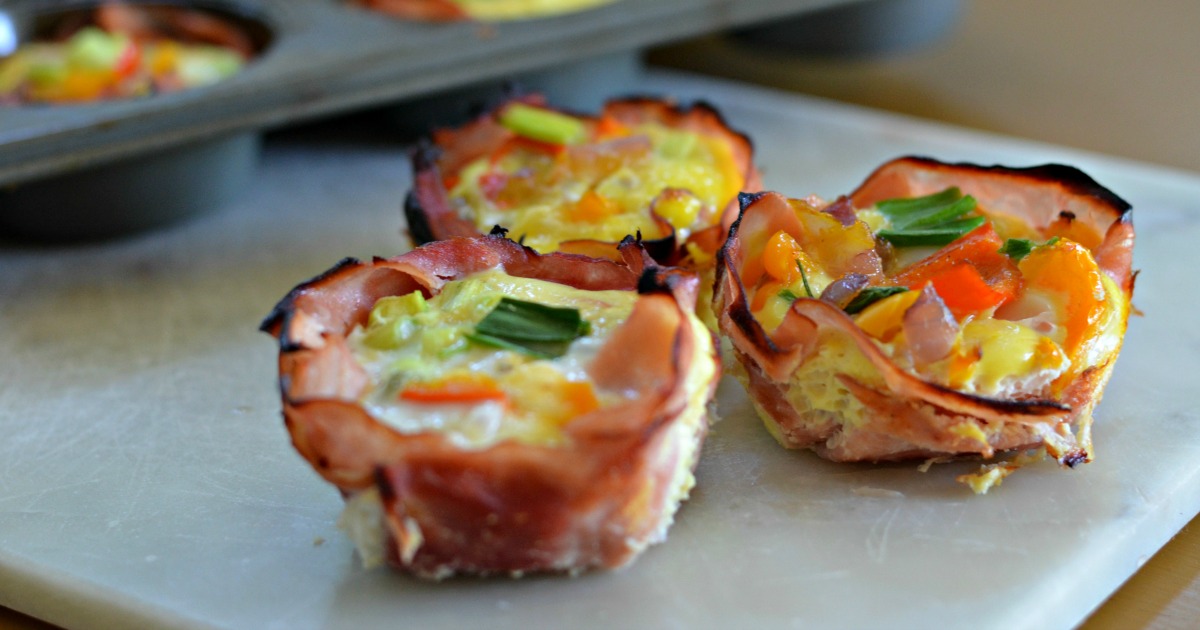 These baked egg ham and cheese cups are such a healthy make-ahead keto breakfast idea (or even lunch idea) that'll make your day run a little smoother! Just grab a muffin tin and fill it with ham, eggs, cheese, and any veggies you'd like. Enjoy them right away or as a delicious and easy to re-heat keto breakfast option later!
These egg cups are convenient and extremely delicious.
I love this recipe idea because it's so versatile! Just swap out veggies based on which add-ins you prefer and customize with ingredients your family loves. You can even use cooked bacon or crumbled breakfast sausage instead of ham. I'm definitely trying that next. 😋
These bites are pretty irresistible, so make sure you're making enough to satisfy your taste buds!
Tips for enjoyin our egg ham and cheese cups as a keto breakfast recipe:
Want to raise the heat? Try adding some spice with a few red pepper flakes!
If you don't like ham, try using turkey for the cup. The net carbs will be approximately the same!
Feel free to add any toppings you like! This can become an extremely dynamic recipe to cater to everyone's taste buds.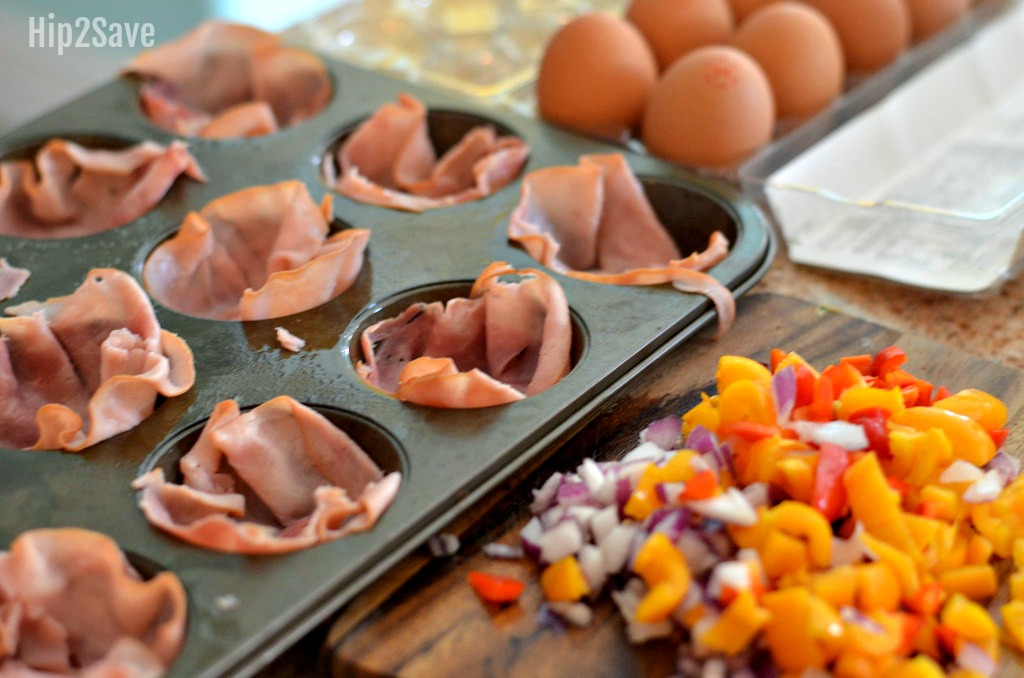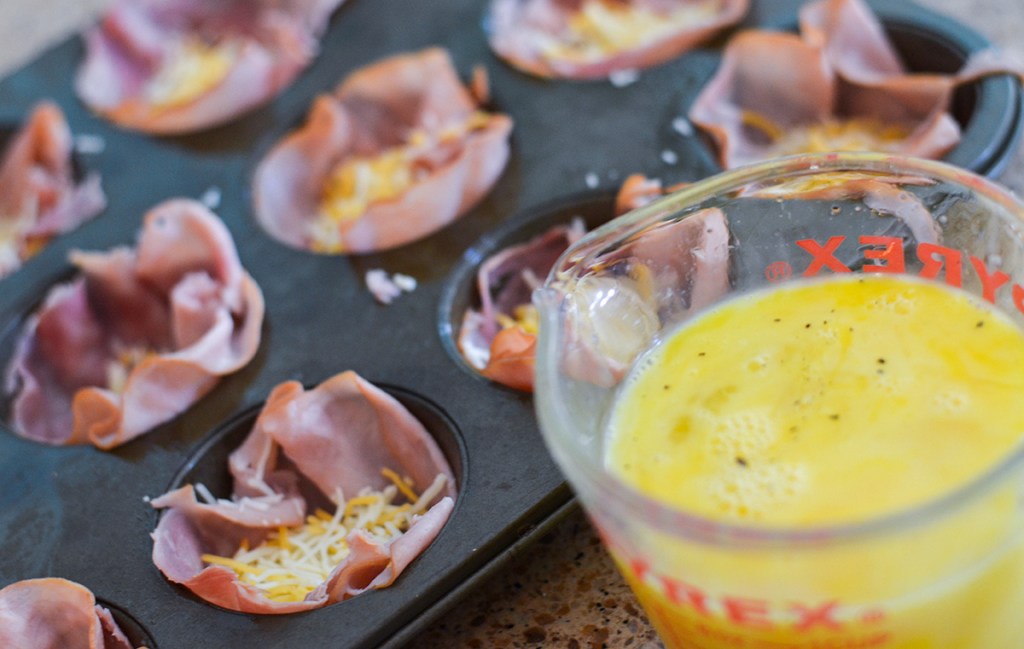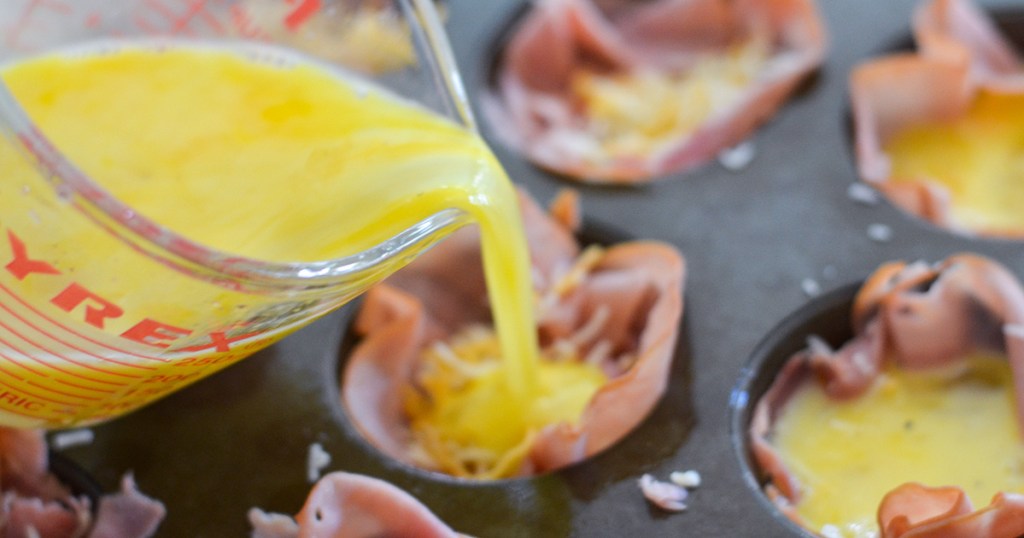 ---
Print
Baked Egg Ham and Cheese Cups
yield: 12 SERVINGS
prep time: 10 MINUTES
cook time: 15 MINUTES
total time: 25 MINUTES
This is an easy and tasty make-ahead keto breakfast recipe!
Ingredients
10 large eggs
12 slices of deli ham
1/2 cup cheddar cheese, shredded
1 cup diced veggies (I used bell peppers, red onion, and green onion)
nonstick spray for muffin tin
salt & pepper to taste
Directions
1
Preheat the oven to 400 degrees.
2
Spray muffin tin with nonstick spray. Place a piece of ham in the bottom of each cup.
3
Add a little shredded cheese to each cup. Whisk eggs together, salt and pepper to taste, then pour into each cup.
4
Chop and sauté veggies for a few minutes with a small amount of olive oil (or the oil you prefer), and add salt & pepper to taste.
5
Add a little of the veggies to the top of each cup.
6
Bake at 400 degrees for about 15 minutes until eggs are set. Makes 12 individual-sized cups. Enjoy!
Nutrition Information
Yield: 12 servings, Serving Size: 1 egg ham & cheese cup
Amount Per Serving: 157 Calories | 10.4g Fat | 2.5g Total Carbs | 0.6g Fiber | 0.2g Sugar | 12.9g Protein | 1.9g Net Carbs
---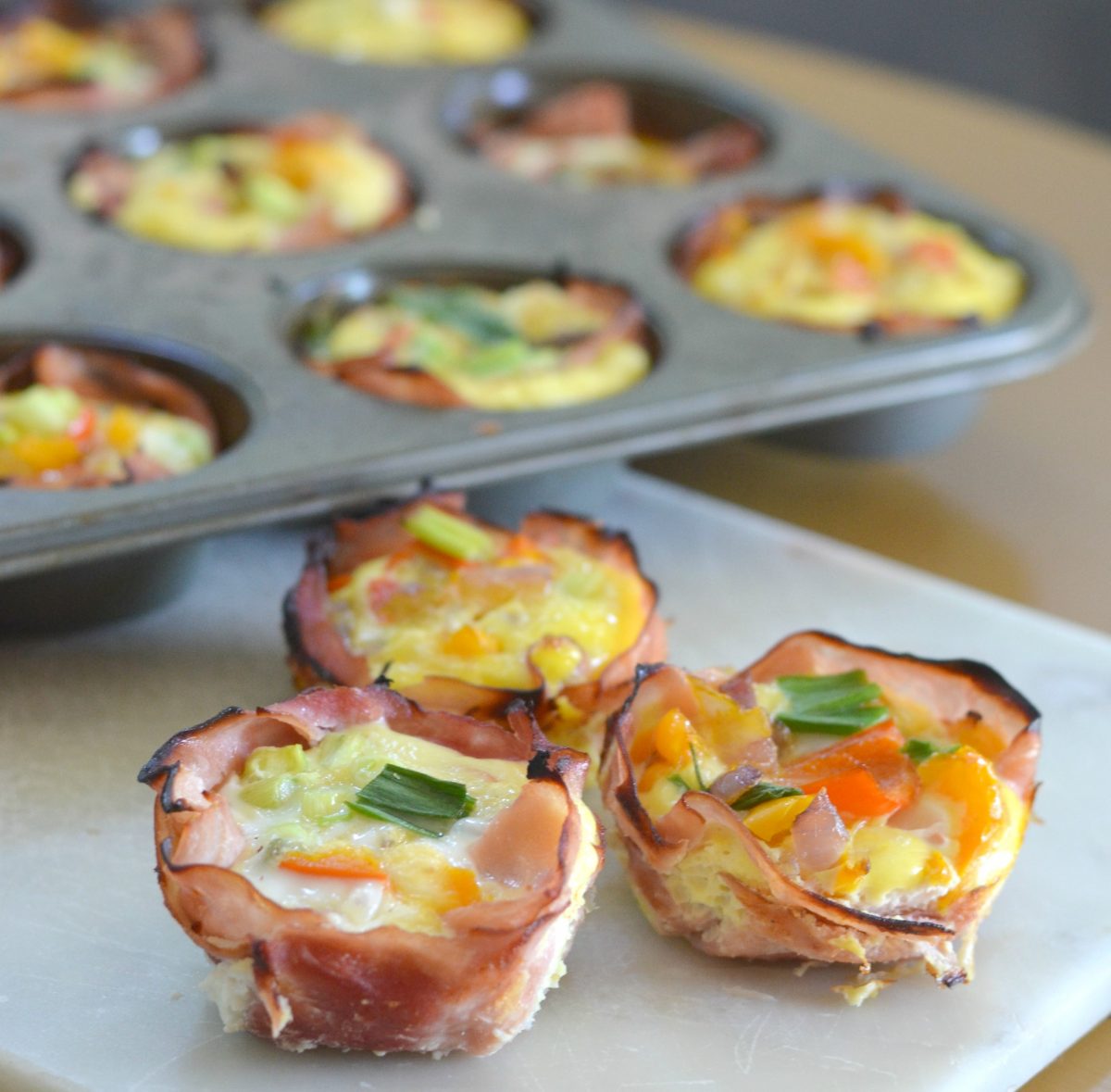 How easy and simple are these?!
Your egg ham and cheese cups can be reheated in the microwave for a quick and filling breakfast. Just grab and go! And of course, it's a tasty breakfast option even if you're not cutting carbs as well. It reminds me of those Starbucks egg bites, just with a twist!
These easy and cheesy cups are the perfect keto breakfast recipe and an all-around favorite! Even if you're not on the go, these tasty bites make a perfectly balanced meal right at home.
---
Make these scrumptious grab-and-go keto cinnamon rolls if you're in the mood for something sweeter!