You'll Want to Drizzle This Easy Chimichurri Sauce on All Your Keto Meals!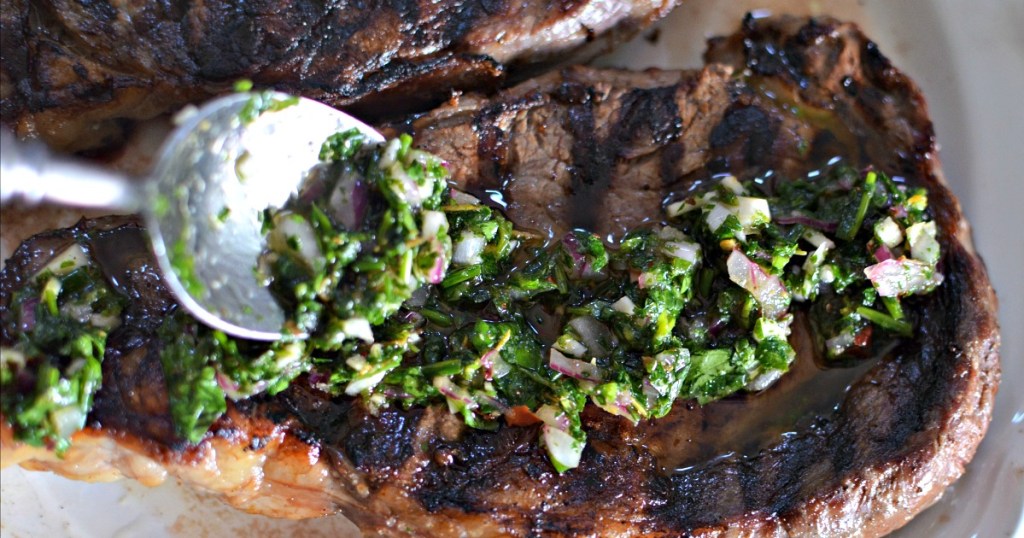 Want an easy and fresh way to brighten and flavor any piece of meat or fish?
Consider whipping up this super easy and delicious keto chimichurri sauce using fresh herbs, garlic, onion and vinegar/oil to drizzle on top of fish and meat for lots of added flavor and texture. Chimichurri has origins from Argentina and is typically served with steak, but it's also great on grilled fish and chicken.
I have always wanted to try making my own sauce, and I'm so glad I did because the process is so EASY and consists of mostly chopping! The best part is you can really customize it to what herbs you have on hand and/or what's growing in your garden.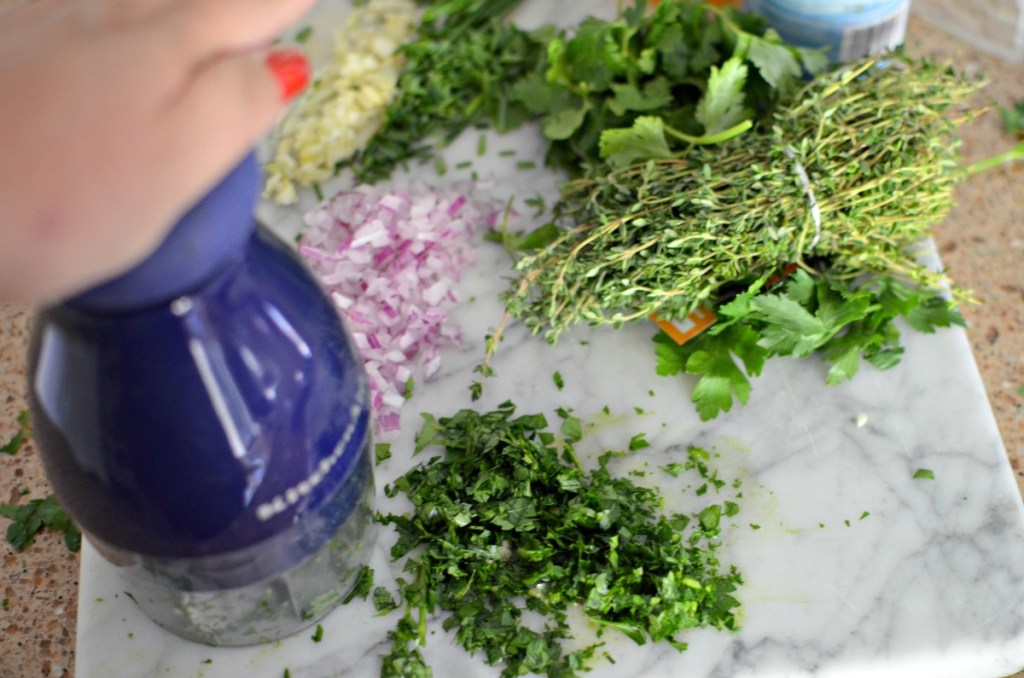 Hip Tips:
---
Use a chopping tool or food processor for convenience. I enjoy using this handy food chopping tool for recipes like this because it's quick and easy to wash afterward.


---

Make extra and freeze for a later date. This is a great way to use up fresh herbs before they go bad! Double or triple the recipe and place into ice cube trays. Freeze and save in an airtight container for up to 3 months. Defrost and use again for another meal.


---

This could also be a great meat or fish marinade idea instead of just a sauce. Marinate your meat for 30 minutes to an hour before grilling.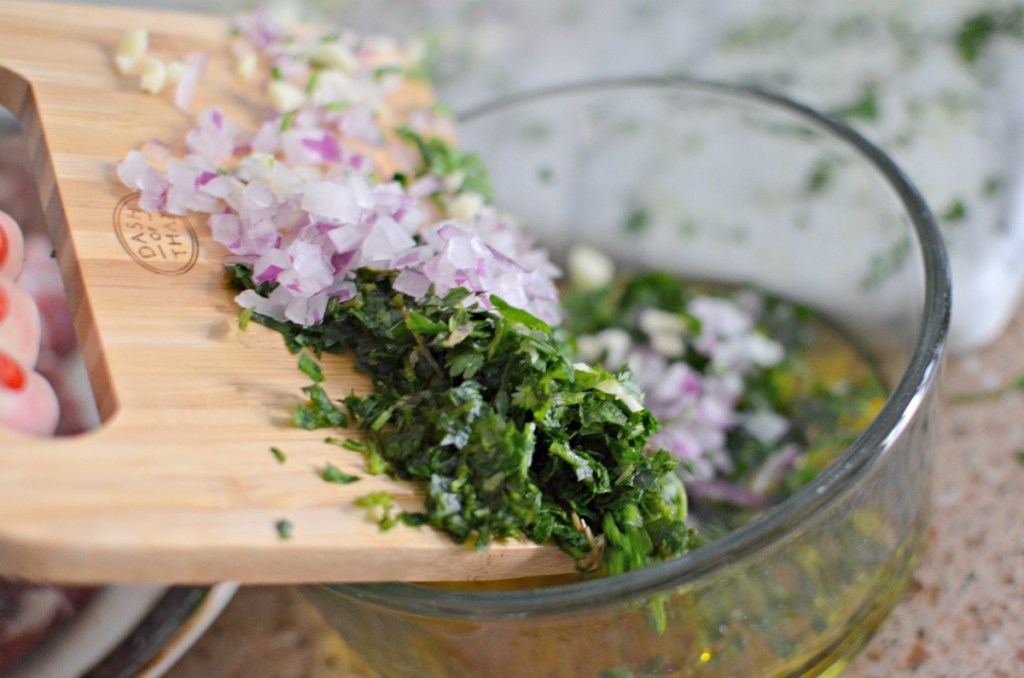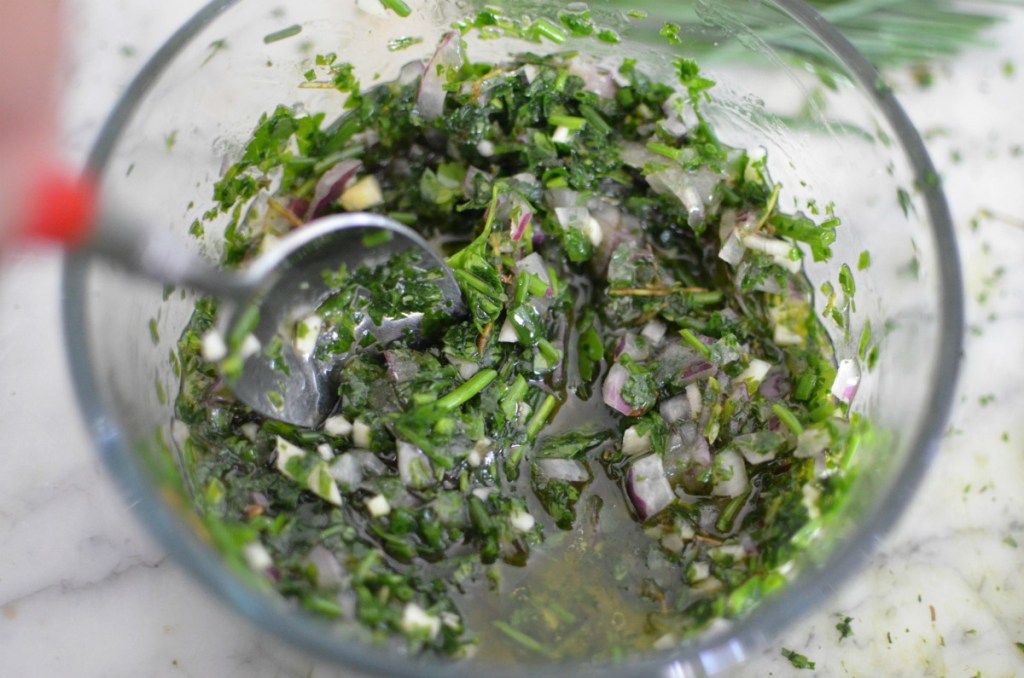 ---
Print
Fresh Herb Chimichurri Sauce
yield: 8 SERVINGS
prep time: 15 MINUTES
total time: 15 MINUTES
Finely chopped parsley and other fresh herbs mixed with olive oil and vinegar for a flavor packed sauce perfect to serve with fish, beef, and chicken.
Ingredients
1/4 cup freshly chopped parsley
1/4 cup freshly chopped cilantro
2 tablespoons fresh thyme
2 tablespoons fresh chives
2 tablespoons finely chopped purple onion
2 garlic cloves, chopped
1/2 cup olive oil
2 tablespoons apple cider vinegar
pinch of salt
Directions
1
Chop and mix all ingredients together in a small bowl. Serve over steak, fish, or chicken after grilling.
Nutrition Information
Yield: 1 cup, Serving Size: 2 tablespoons
Amount Per Serving: 123 Calories | 13g Fat | 1g Total Carbs | 0g Fiber | 0g Protein | 1g Net Carbs
---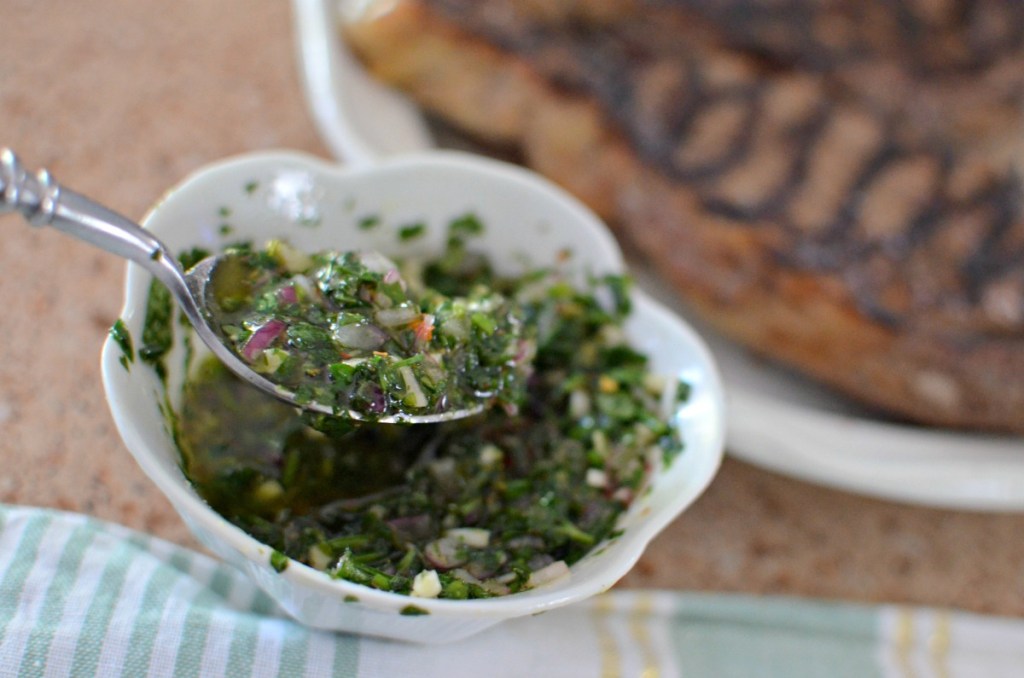 OMG… what a flavorful yet simple sauce!
We enjoyed this sauce over some grilled steaks recently and I'll definitely be making it again. I'd love to try it on a nice piece of grilled salmon – yum!
---
You've Gotta Try This One-Pan Keto Chicken Pesto and Veggies Recipe!