No-Fail Oven Baked Salmon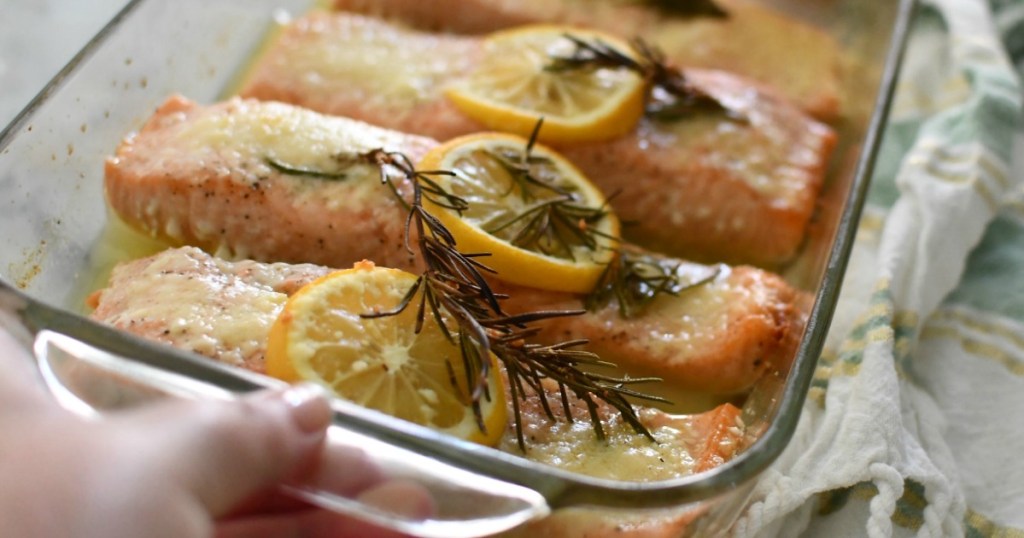 Love a delicious salmon meal?
Salmon is one of my favorite things to order at a restaurant, and it's also surprisingly simple to make at home! My family loves oven baked salmon, and if yours does too, this keto recipe is super easy to make any night of the week.
I haven't always been confident at cooking fish, but lately I've enjoyed cooking it more often (like this amazing keto lemon caper halibut) and have been quite impressed with the results, and also surprised at how quick and easy it is to cook fish.
Today I'm sharing Collin's favorite baked salmon recipe!
Here's what she had to say:
"Previously when I would try to cook salmon… well, it would either be overcooked, undercooked, or somehow I would just make sure it wasn't edible. 😬 However, with this no-fail salmon recipe, you'll feel like you're dining at a restaurant. It's also super simple to make and doesn't require very many ingredients. And did I mention it's delicious?!"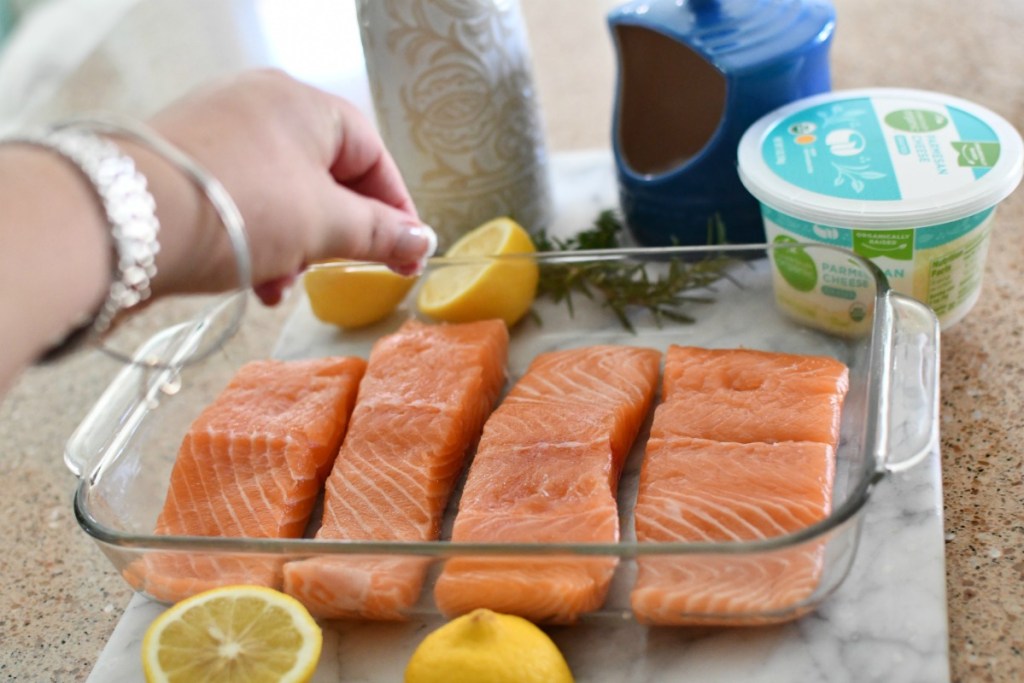 Recipe tips when baking no-fail salmon:
This idea is so easy to adapt and season to taste. I used a few sprigs of fresh rosemary since it's what I had on hand, but you can definitely use any herbs on hand as desired.
Instead of olive oil try using real mayonnaise! That's another way I love to bake salmon. It makes it nice and caramelized.
My favorite kitchen tool for using fresh lemon in recipes is a citrus press like this! It makes it super easy to squeeze out fresh juice.
Adding grated parmesan cheese at the end is completely optional, but adds yummy flavor and texture!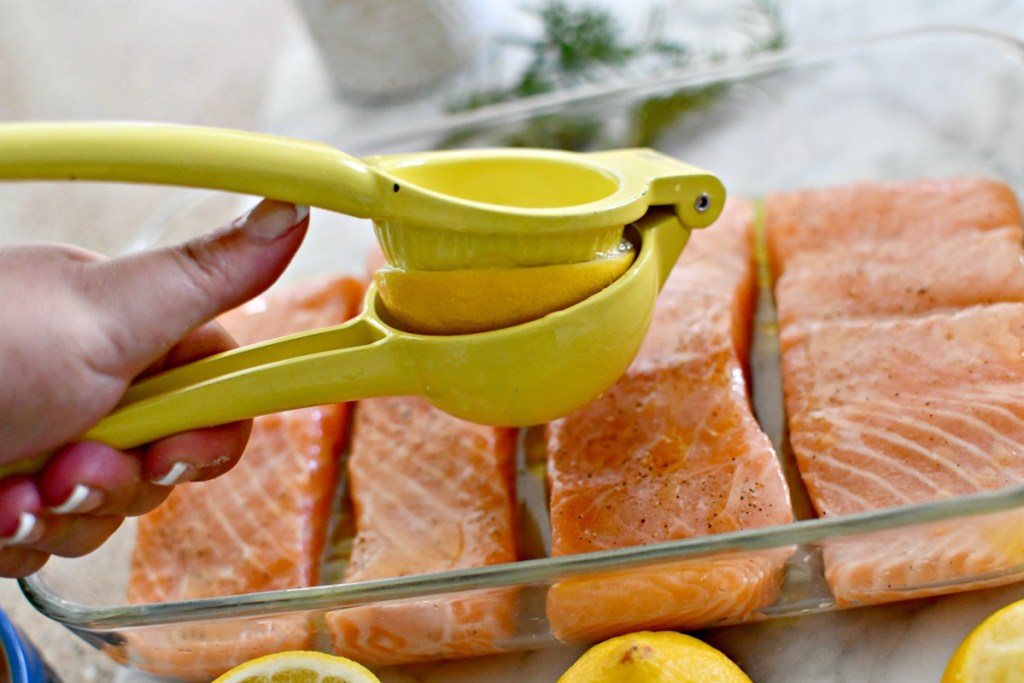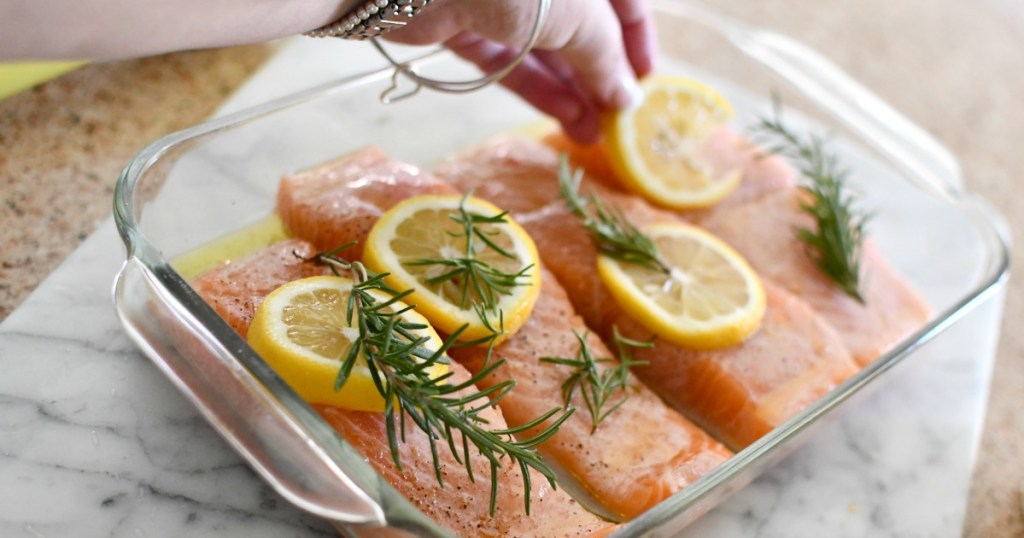 ---
yield: 4 SERVINGS
prep time: 5 MINUTES
cook time: 25 MINUTES
total time: 30 MINUTES
Flaky baked salmon with lemon and parmesan cheese. It's such an easy recipe, anyone can make it!
Ingredients
4 - 6 oz. salmon fillets
pinch of salt
pinch of pepper
freshly squeezed juice from 1 lemon
4 teaspoons olive oil
4 lemon slices
4 sprigs of rosemary (or other herbs of choice)
4 tablespoons grated parmesan cheese
Directions
1
Preheat oven to 375 degrees.
2
Place salmon fillets in a small casserole dish or glass baking dish. If you purchased salmon with skin, place the fillets skin side down (the skin easily peels off after it has been baked).
3
Generously salt and pepper the salmon.
4
Squeeze the juice of one lemon over the salmon and then drizzle olive oil over everything.
5
Add a slice of lemon and rosemary over each piece of fish (optional).
6
Let marinate in the fridge for about an hour. If you don't have an hour, just marinate for as long as you can. It will still be delicious even without marinating at all.
7
Cover baking dish with aluminum foil and bake for about 20 to 25 minutes or until fish easily flakes with a fork. Remove foil and turn up the heat on the oven to 425 degrees.
8
Add grated parmesan cheese to each piece of salmon. Bake for another 2 to 3 minutes until the salmon starts to look a little crispy.
9
Remove from the oven and serve right away. Yum!
Nutrition Information
Yield: 4 salmon fillets, Serving Size: 1 fillet
Amount Per Serving: 374 Calories | 20g Fat | 0g Total Carbs | 0g Fiber | 46g Protein | 0g Net Carbs
---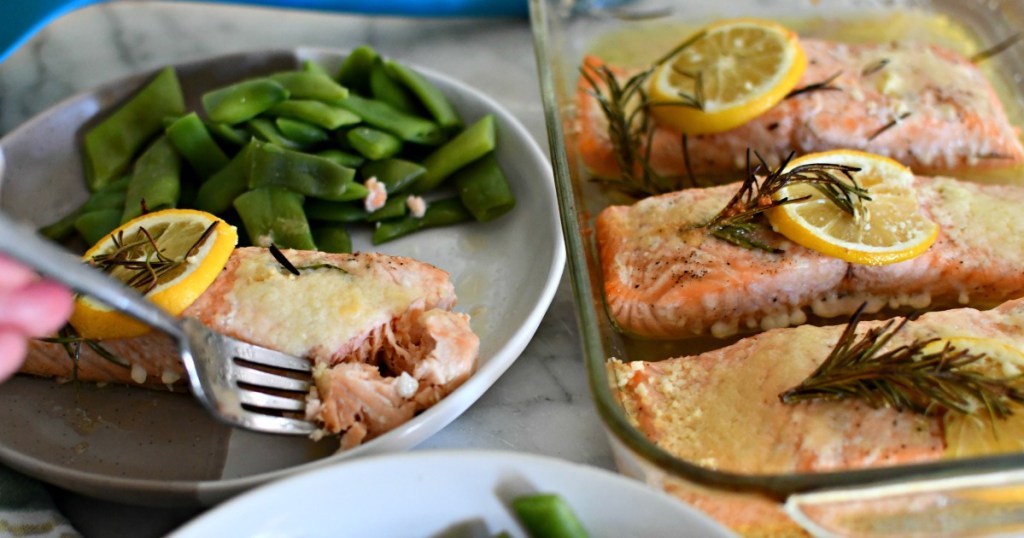 What an easy and healthy meal!
If you're hesitant about making fish at home or think you don't like salmon, I highly suggest you try this simple oven baked recipe as you may change your mind. My family loved it, and this is pretty much a no-fail method.
If you're like me and having major quarantine cooking fatigue, add this to the rotation! 😂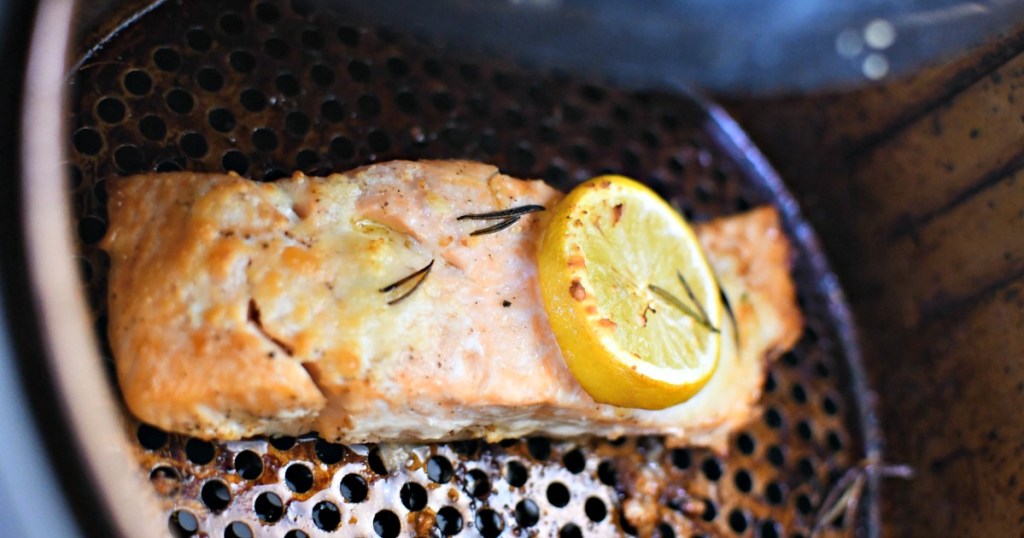 Also, I wanted to mention that if you happen to have leftovers, try warming up salmon using the air fryer! Usually reheated fish isn't my favorite, but I tried reheating in the air fryer and loved how it came out sizzling and delicious. I just drizzled a little more olive oil and heated it up for a few minutes – and it was so good!
In fact, I think I may try this recipe exclusively using my air fryer next time!
---
Love salmon? Give this cilantro pesto salmon a try next!