Easy Duck Breast Recipe with Brussels Sprouts & Mashed Cauliflower
This easy duck breast recipe is out of this world delicious!
Feel fancy without feeling overwhelmed thanks to this naturally keto dinner recipe.
Imagine a hot plate of pan-seared duck breasts topped with garlic sauce and served with Brussels sprouts cooked in the rendered duck fat along with garlic mashed cauliflower. Are you drooling yet?! Get ready to be wow-ed not only by the succulent flavors of this dish, but also by how surprisingly simple it is to whip up!
Honestly, I never knew how easy it truly is to make duck or how easy it is to find duck at my local grocery store. At my local grocery store, you can actually find them frozen in a 14 ounce package with two duck breasts. The duck breasts had the skin on them, which is definitely what you want.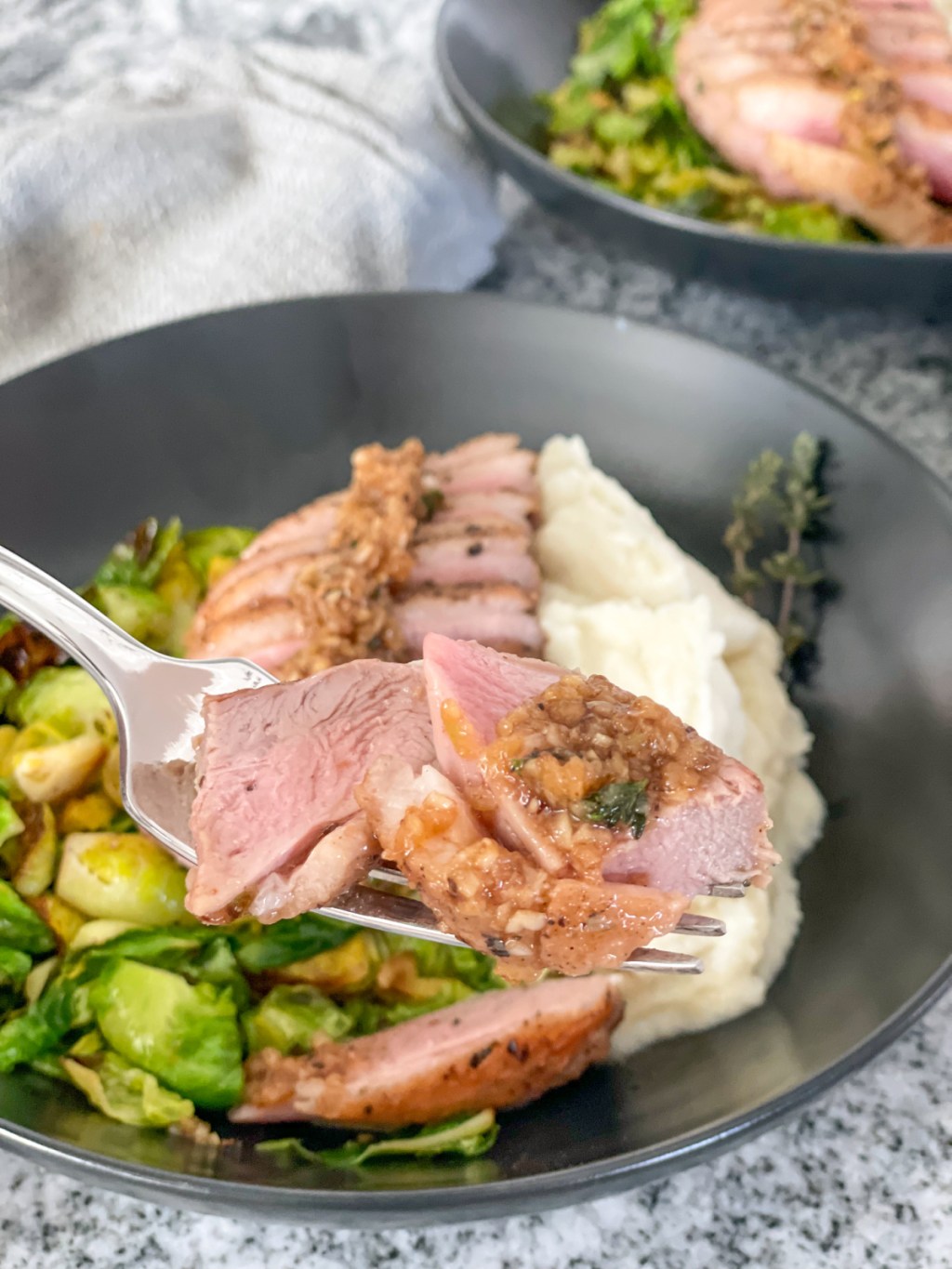 How to prepare duck breasts
I did a lot of research before creating this easy duck breast recipe. While I've eaten a lot of duck (hello duck confit), I'd never cooked it myself. There are a few key steps to take when preparing duck breasts.
Duck needs to be brined. If you can find frozen duck, as I did, it comes in a salt solution. I did a dry brine and let it rest in the fridge before pan-cooking it.
Here's what to know about pan cooking duck:
Cook duck cold. You put the cold duck breasts in a cold pan and then turn the pan on.
Score the skin before you cook it. This helps evenly cook the skin and lets the fat drain. You'll pan fry it skin side down first.
Cook low and slow. Because duck skin is so fatty, you need to cook it slowly over low heat. You're basically rendering the fat. And make sure you utilize all that fat when you cook the Brussels sprouts!
Duck can be rare to well-done depending on your preference.
Let the duck rest for 10 minutes before you slice it.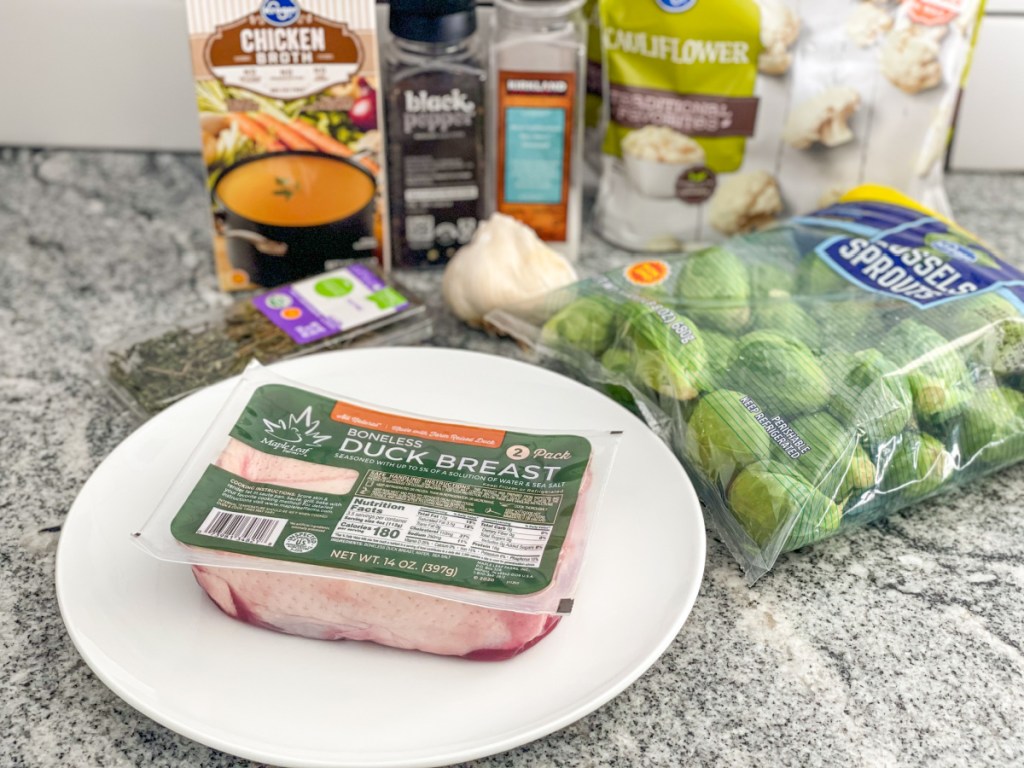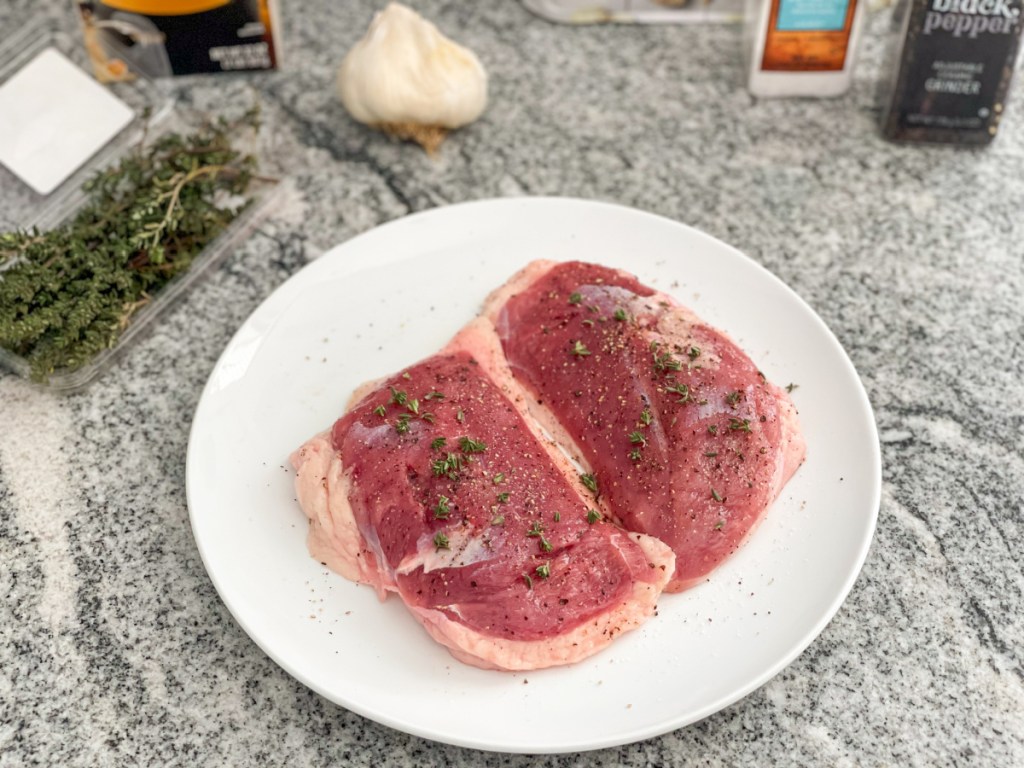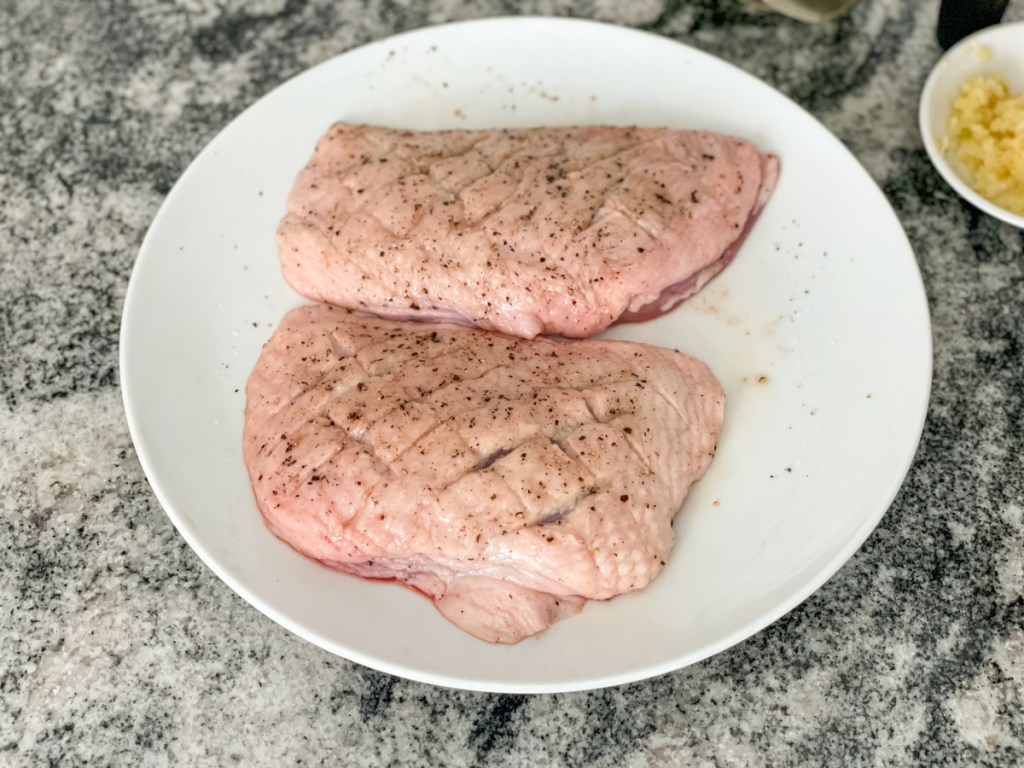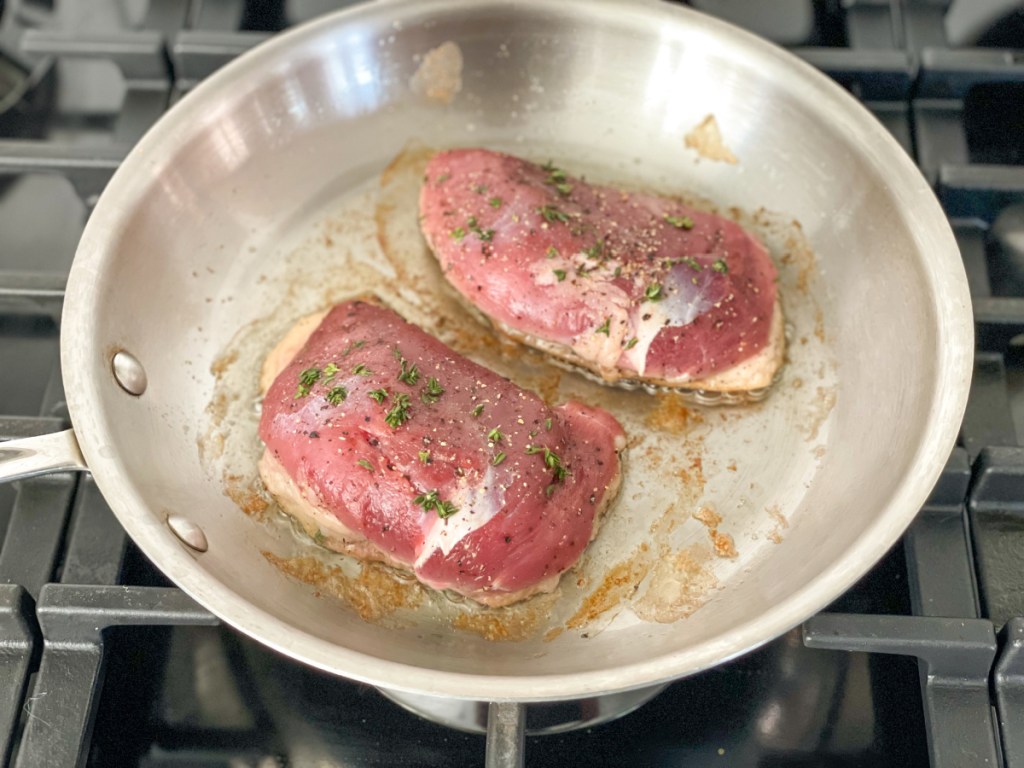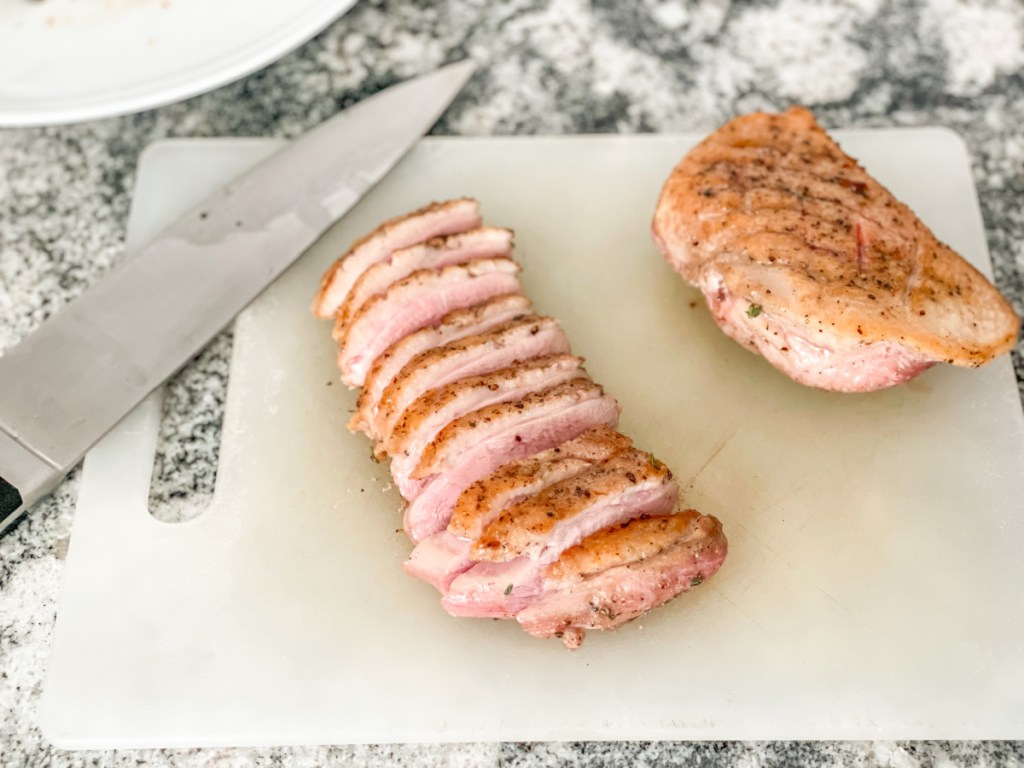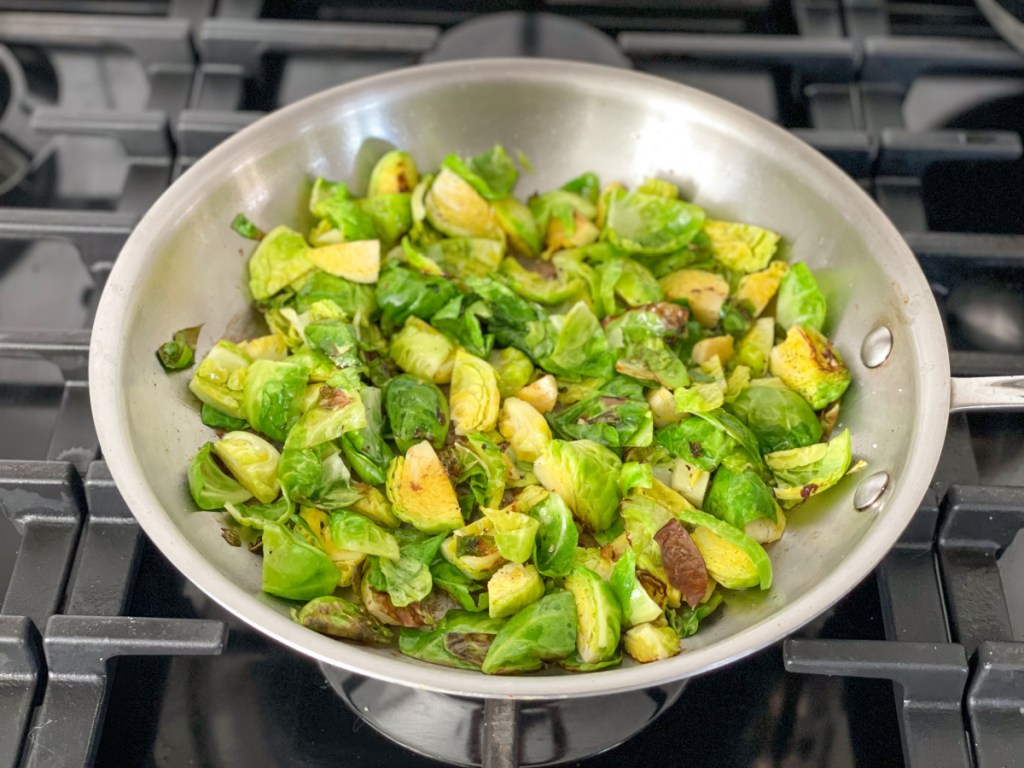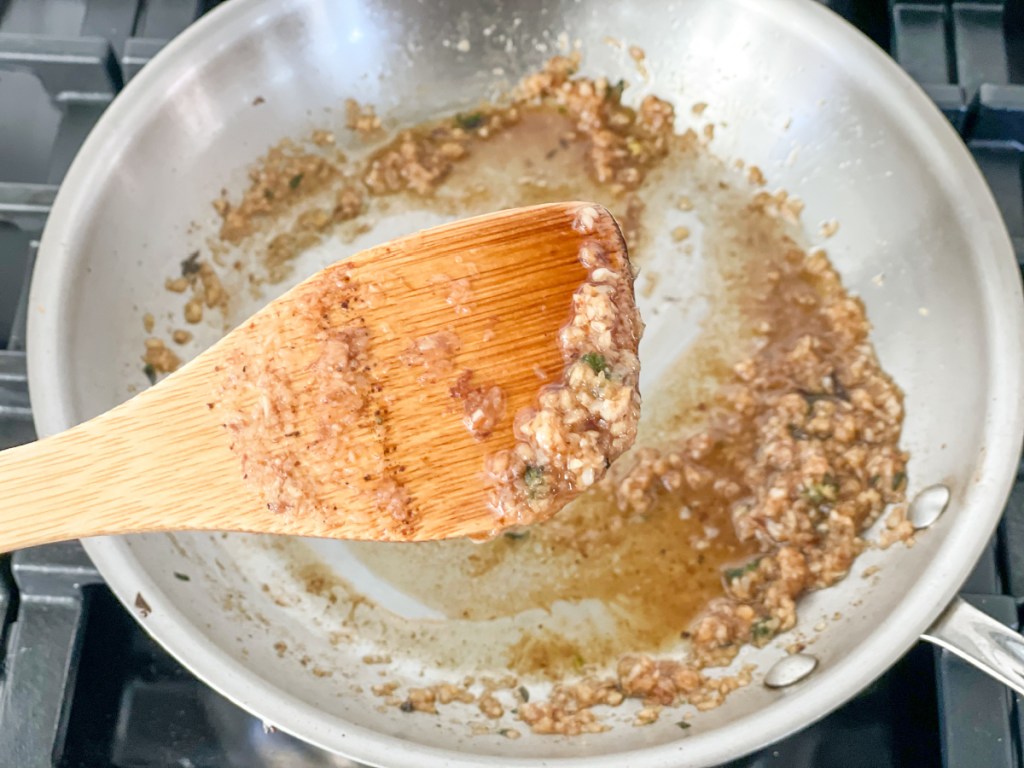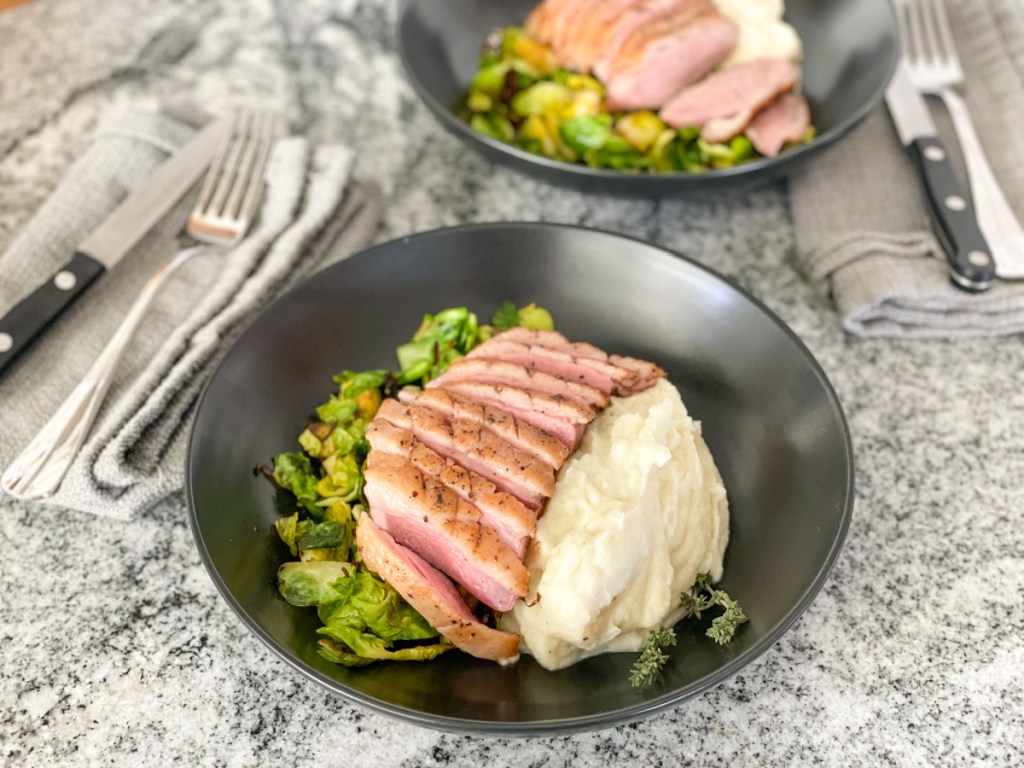 ---
Print
Easy Duck Breast Recipe
yield: 2 SERVINGS
prep time: 30 MINUTES
cook time: 20 MINUTES
total time: 50 MINUTES
Pan-seared duck breasts served with Brussels sprouts cooked in the rendered duck fat and garlic mashed cauliflower.
Ingredients
Duck:
2 duck breasts (I used a 14 ounce package Maple Leaf Farms)
1/2 teaspoon salt
1/4 teaspoon pepper
1 teaspoon fresh thyme leaves
Brussels Sprouts:
2 cups Brussels sprouts, quartered
1/4 teaspoon salt
1/8 teaspoon pepper
Garlic glaze:
5 garlic cloves, minced
1/2 teaspoon thyme leaves
1/2 cup chicken broth
Garlic Mashed Cauliflower:
2- 12 ounce bags frozen cauliflower
2 tablespoons butter
1/2 teaspoon salt
1/2 teaspoon pepper
2 teaspoons garlic powder
Directions
1
To prepare the duck:
If your duck came frozen, defrost it in the fridge the night before. Remove the duck breasts from the package and pat dry with paper towels. Season the breasts (not the skin) with salt, pepper, and fresh thyme. Let rest for at least one hour in the fridge.
2
Score the skin of the duck breasts in a cross-pattern. Place the duck breasts skin-side down in a large skillet (not pre-heated). Turn the heat on the skillet to low and cook for 15 minutes. Just leave the duck breast in the skillet, do not flip it yet. You'll start to hear a sizzle around 5 minutes. Around 10 minutes, you can drain some of the fat from the pan and set it aside for cooking the Brussels sprouts.
3
After 15 minutes, flip the duck breast over and increase heat to medium-low. Cook for 5 minutes for rare, 7 for medium, and 10 for well-done. Remove the duck breasts from the skillet and let rest for 10 minutes. Slice against the grain after resting.
4
To make the Brussels sprouts: 
Add the quartered Brussels sprouts to the skillet along with any of the duck fat you drained from the pan. Increase heat to medium. Season with salt and pepper. Let cook for about 5 minutes, until crisp and starting to brown. Then remove the Brussels sprouts from the skillet and set aside.
5
To make the garlic glaze:
Reduce heat to low. Add the minced garlic to the skillet and sauté for 2 minutes until golden. Add the thyme leaves and then the broth. Increase heat from medium to medium-low. Simmer for 8 to 10 minutes, until the sauce thickens.
6
To make the garlic mashed cauliflower:
Make the cauliflower while the duck is first pan-searing. Steam cook frozen cauliflower in a large saucepan with about a 1/2 cup of water until soft, about 10 minutes. Once soft, transfer the cauliflower to blender or food processor. Add butter, salt, pepper, and garlic powder. Pulse until smooth.
7
To serve, dish up the mashed cauliflower (1 1/2 cups) and Brussel sprouts (1 cup). Set the sliced duck on top of the mashed cauliflower and Brussels sprouts. Top the duck with the garlic sauce. Enjoy!
Nutrition Information
Yield: 2, Serving Size: 1 duck breast with 1 cup of Brussels sprouts and 1 1/2 cups mashed cauliflower
Amount Per Serving: 535 Calories | 33g Fat | 26g Total Carbs | 12.3g Fiber | 6.1g Sugar | 38.6g Protein | 13.6g Net Carbs
---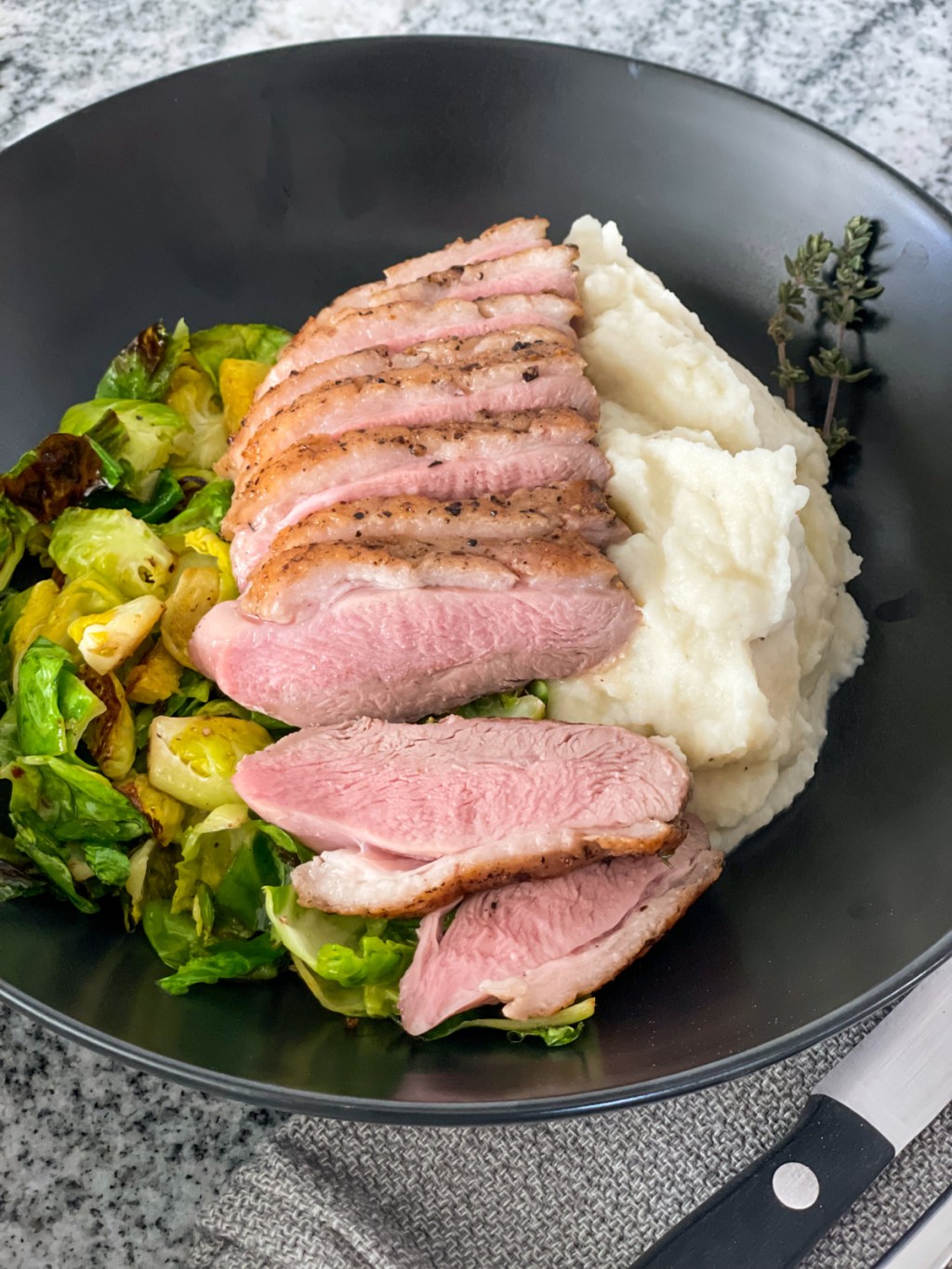 Tips for making this easy duck breast recipe:
I recommend reading through the entire recipe before beginning. Make sure you have everything in place when you start cooking.
As mentioned above, start with cold duck breasts in a cold pan. This is essential (hence, the reminder again here!) 😆
My Hip teammate Jenna had a little trouble with her duck breast browning quite the same way mine did. If you notice the skin isn't browning, increase your temperature from medium-low to medium. You don't want to cook the skin too fast though or the outside will be overdone and the part of the skin next to the meat won't get properly rendered. Pay close attention to how fast or slow the skin is cooking and adjust the temperature accordingly.
Cook the Brussels sprouts in the duck fat while you're letting the duck breasts rest before slicing them. Since they're cut into quarters, the Brussels sprouts will cook in about 5 to 6 minutes.
I know it seems like a lot of garlic in the sauce but it's the perfect amount and oh, so good!
Serve with garlic mashed cauliflower for the most amazing gourmet meal! I make my mashed cauliflower in the blender to obtain the smoothest texture.
If you want the carbs lower for the meal, half the mashed cauliflower and Brussels sprouts. This will reduce the carbs from 13.6 grams to 8.3 grams of net carbs.
If you're a fan of duck, this recipe is for you. If you aren't a fan of duck, this recipe will convert you!
I'll admit that I was a little nervous to cook duck. There are so many different cooking methods, I didn't know which one was best. I was really happy with how this recipe turned out. If you make this easy duck breast recipe, I'd love to know what you think!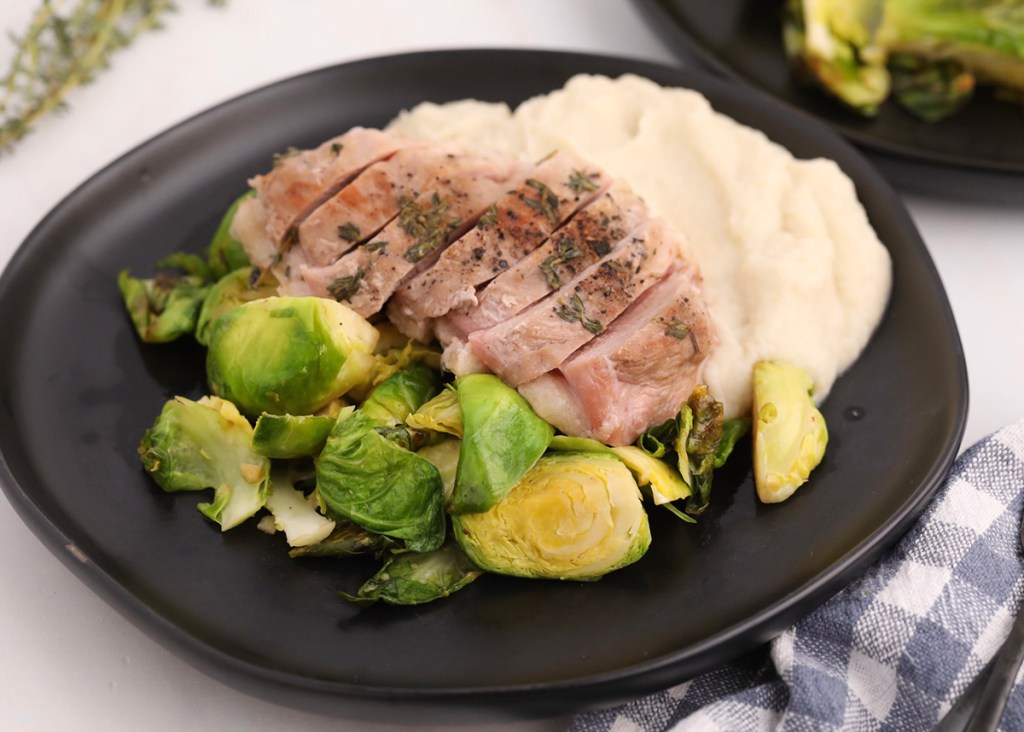 Here's what my Hip sidekick Jenna thought of this easy duck breast recipe:
"Wow! This recipe is absolutely life-changing! I have always been intimidated by making duck, but not anymore! What a fancy and impressive dish, but it was unbelievably easy! Also, Brussels sprouts cooked in duck fat? I never want Brussels sprouts any other way again! This turned out so perfectly and I will definitely be making this again."
---
Need more dinner ideas? Try our Keto Fettuccine Alfred with Sausage and Cabbage Noodles!