Cilantro Lime Chicken Thighs with Chimichurri Sauce – Must Try keto Dinner Idea!
Cilantro and lime, a match made in heaven!

The refreshing, citrusy flavor of cilantro is often paired with lime in many cuisines, such as Mexican, South American, South Asian, and Thai. But did you know that cilantro and coriander are from the same plant? The dried seeds that are ground into a spice are coriander and the green leafy plant is the herb cilantro.
In this keto-friendly dinner recipe, we added coriander to the chicken marinade and used cilantro as the basis of the chimichurri sauce.
Introducing keto cilantro lime chicken thighs with Chimichurri Sauce!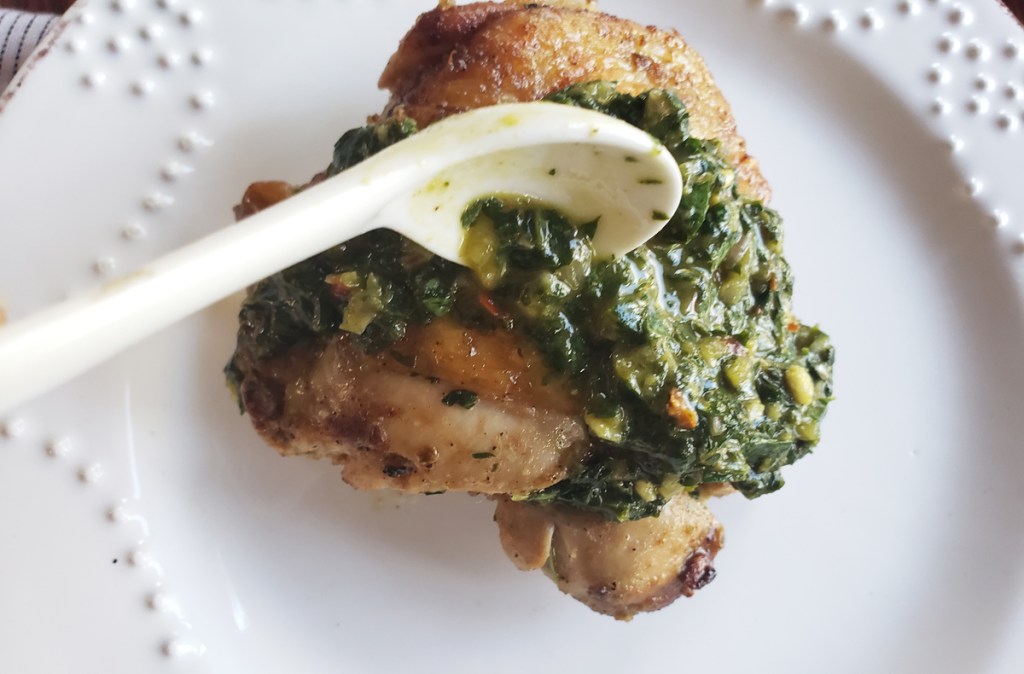 Chimichurri has its origins in Argentina where it's used as a sauce for grilled meats.

It's a flavorful olive oil-based blend of fresh herbs such as parsley, oregano, and/or cilantro with a splash of citrus, garlic, and some hot pepper heat. Once you make it, you'll be hooked because it is such a rich and flavorful sauce that adds so much goodness to meats.
If you have any chimichurri left (which is unlikely), try adding it to salad dressings and marinades for a bold and refreshing blast of flavor.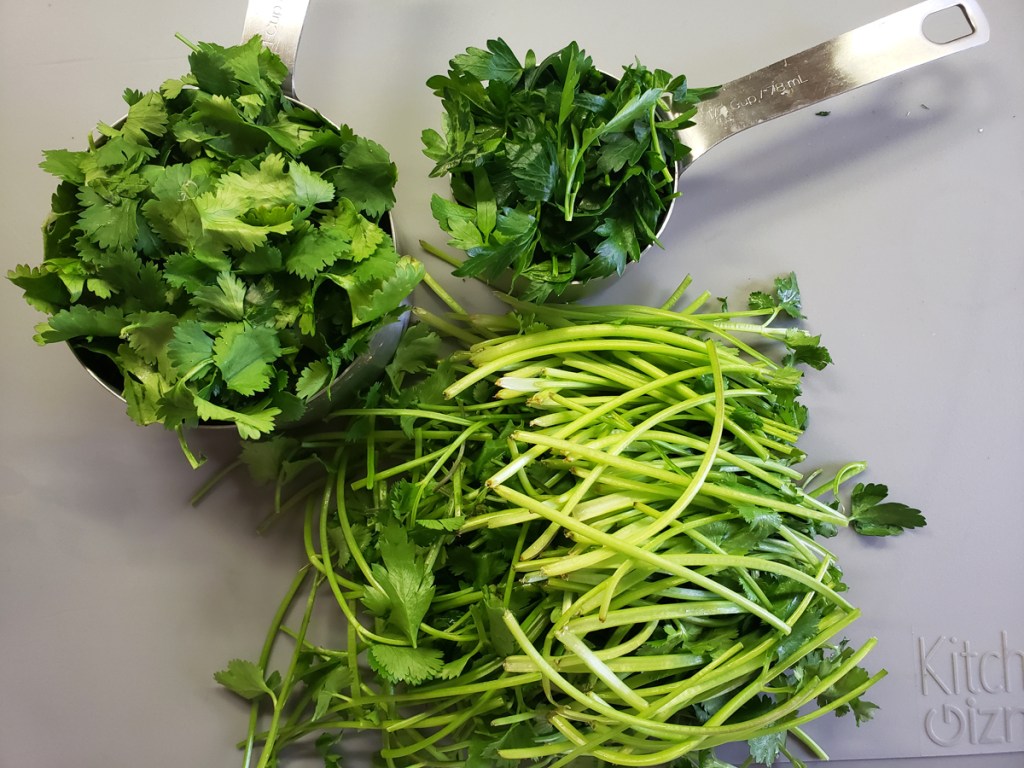 Tips for making the best keto cilantro lime chicken thighs:

Don't shortcut marinating the chicken. Marinate in the refrigerator for a minimum of 30 minutes, but up to 2 hours is even better.
Be sure to strip the leaves from the cilantro and parsley and toss out the stems when making chimichurri.
For the juiciest fruit, select limes that are soft, not hard. The heavier they feel in your hand, the more juice they contain. A variation in color has nothing to do with the juiciness of the lime. The lighter areas on the lime simply indicate where the fruit got more sun. One lime should yield about 2 tablespoons of juice but could be less if the fruit is not ripe. It's best to use fresh lime juice, not bottled — it really does make a huge difference in flavor.
There are no hard and fast rules for chimichurri. If you like more heat, add a bit more crushed red pepper flakes. More salt? Sure, go ahead. More garlic? Yes, please!
In this recipe, I used a food processor, but chimichurri can also be made by hand using a good kitchen knife. Most importantly, don't over-process or too finely chop the leaves. They should be coarsely chopped.
Select a good quality extra virgin olive oil for the chicken marinade and the chimichurri sauce. The luxurious, fruity flavor of good olive oil really shines in chimichurri.
I sauté the chicken in avocado oil because it has a higher smoke point than olive oil, and high heat is necessary when searing.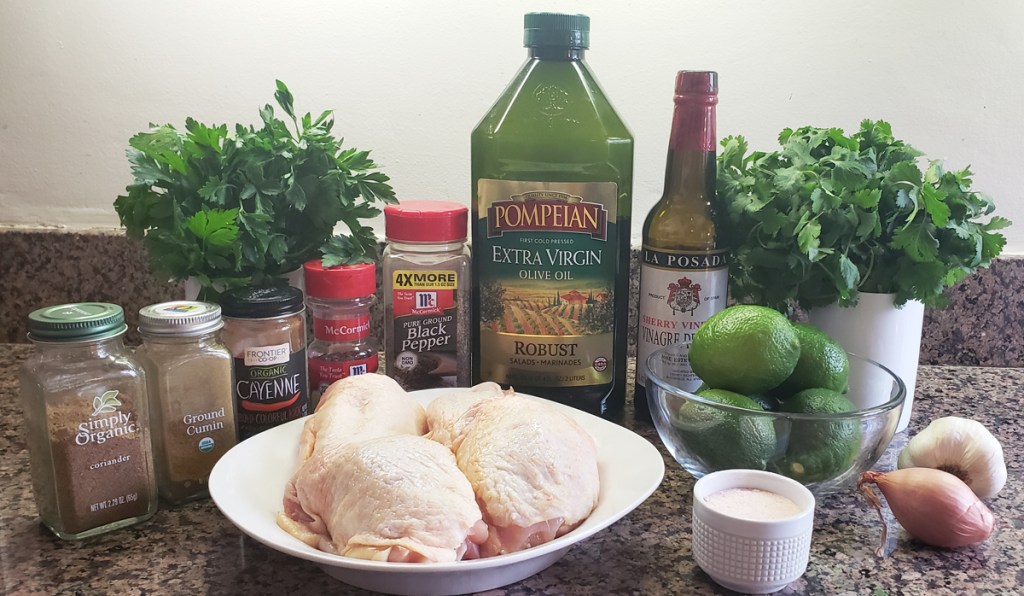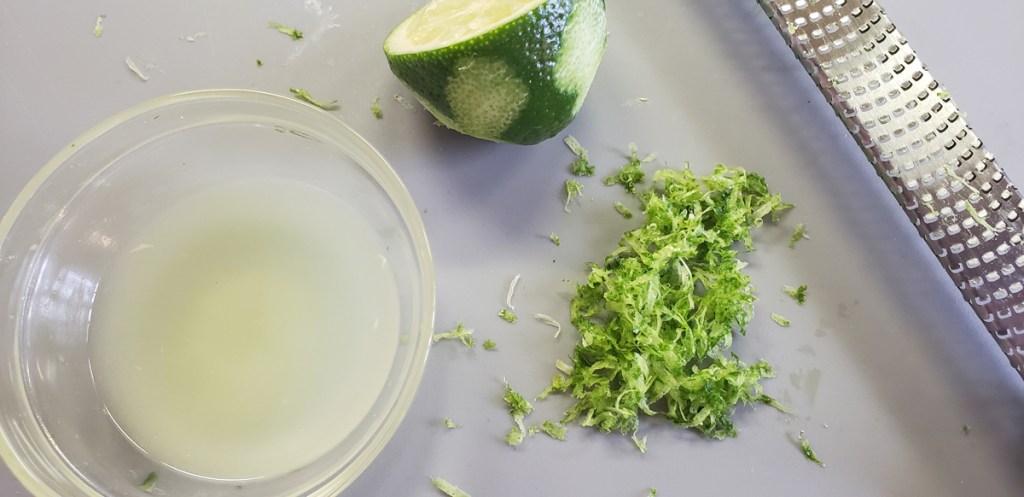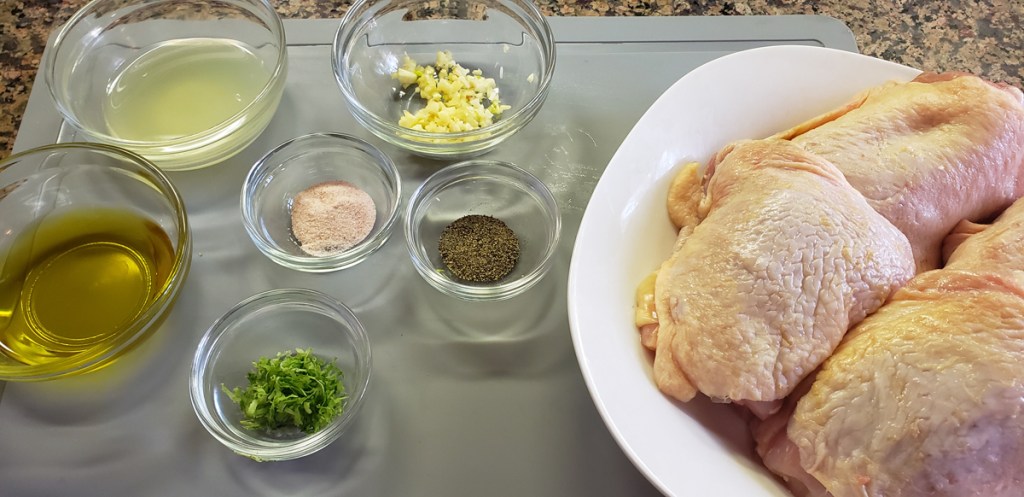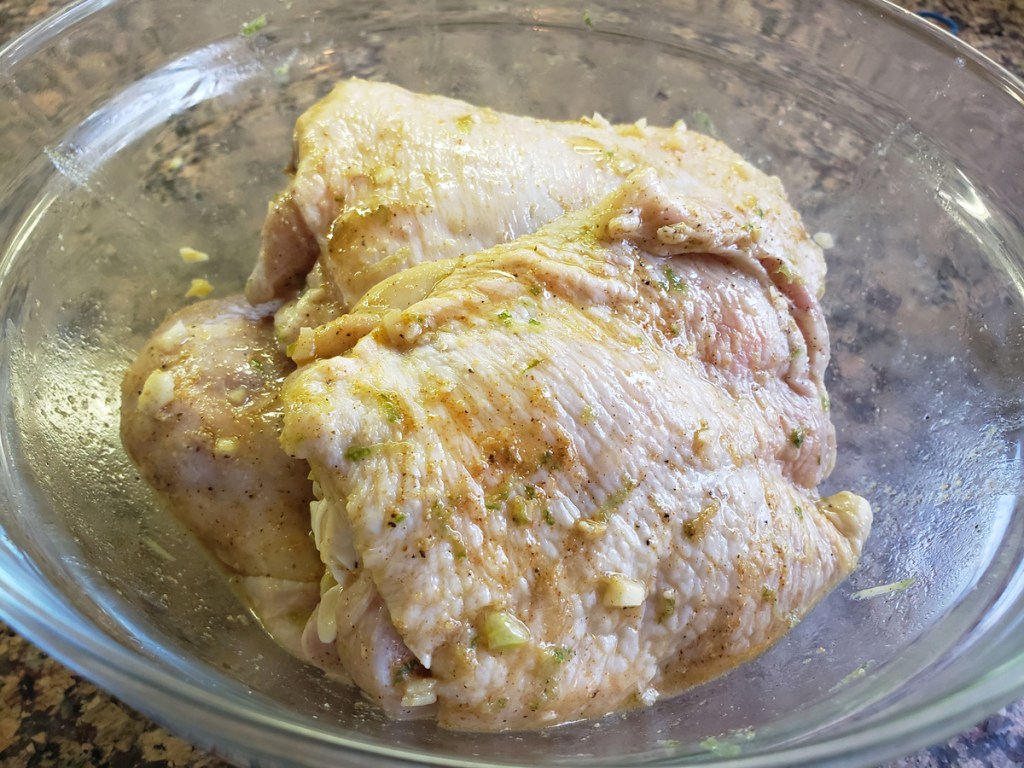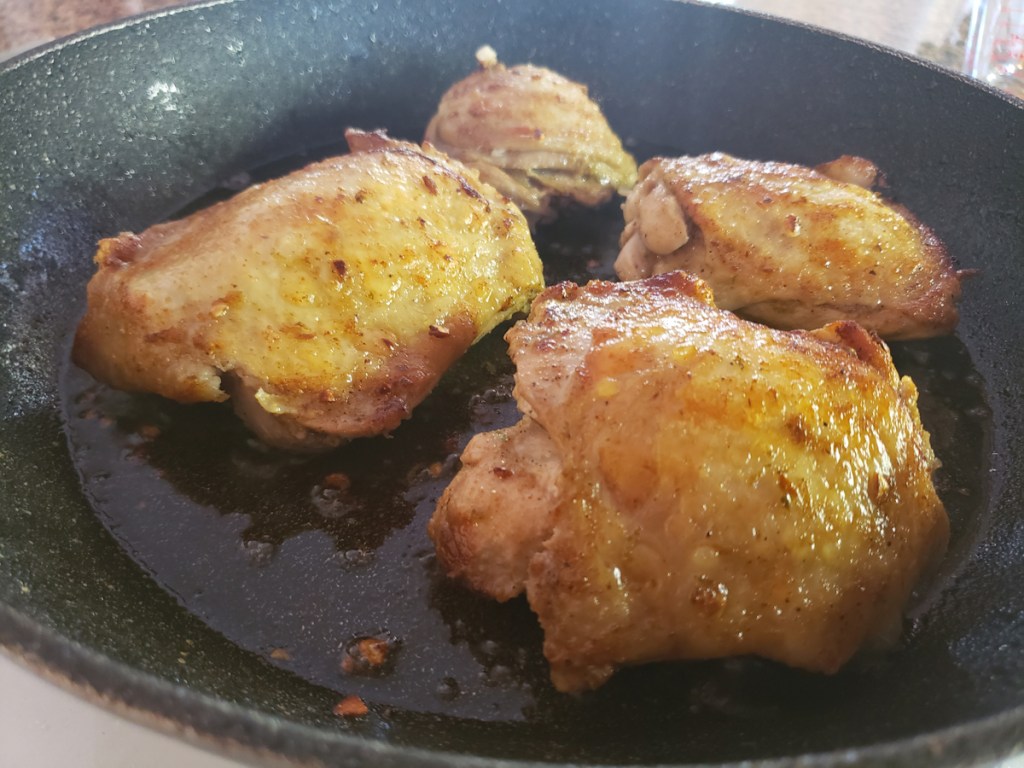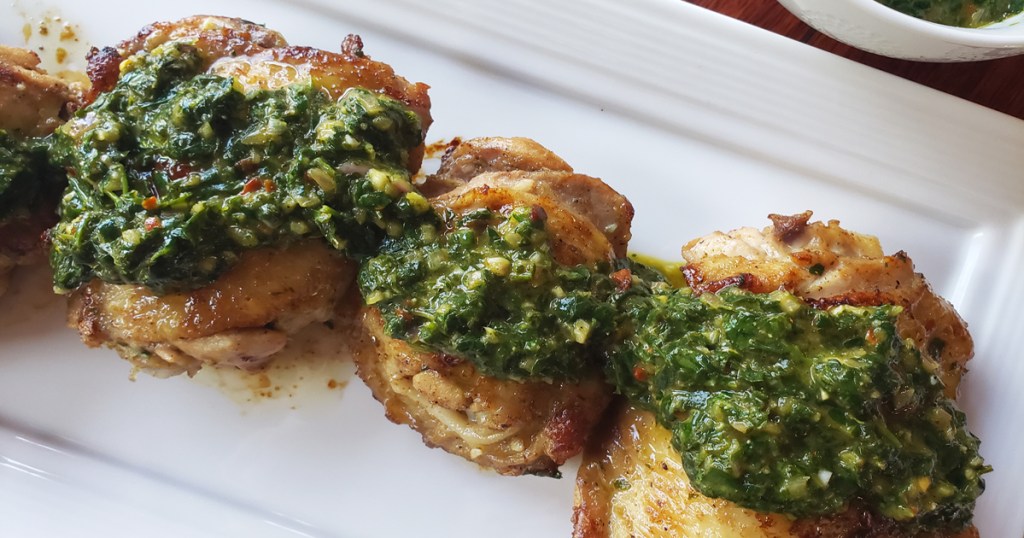 ---
Print
Cilantro Lime Chicken Thighs with Chimichurri Sauce
yield: 4 SERVINGS
prep time: 20 MINUTES
cook time: 25 MINUTES
total time: 45 MINUTES
This vibrant chicken dish is topped with chimichurri, which is layered with contrasting flavors of cilantro, garlic, vinegar, lime, & red pepper flakes.
Ingredients
Chicken Marinade:
2 tablespoons olive oil
2 tablespoons lime juice, freshly squeezed, about 1 lime
1 teaspoon lime zest
2 cloves garlic, minced
1/2 teaspoon cumin
1/2 teaspoon ground coriander
1/2 teaspoon salt
1/4 teaspoon black pepper
pinch of cayenne pepper
4 bone-in, skin-on chicken thighs
2 tablespoons avocado oil, to sauté the chicken
Cilantro Chimichurri Sauce:
1 cup packed cilantro leaves (discard stems)
1/2 cup packed Italian parsley leaves (discard stems)
2 cloves garlic, minced
2 tablespoons shallots or purple onion, minced
1/4 cup olive oil
2 tablespoons sherry vinegar or red wine vinegar
1 tablespoon lime juice, freshly squeezed, about 1/2 lime
1/2 teaspoon red pepper flakes
1/2 teaspoon salt
1/4 teaspoon black pepper
Directions
1
Prepare the chicken marinade:
Whisk together olive oil, lime juice, lime zest, garlic, cumin, coriander, salt, pepper, and cayenne in a non-reactive bowl (glass, stainless steel, or ceramic). Add the chicken and fully coat in the marinade. Refrigerate for 30 minutes to 2 hours or even a bit longer.
2
Make the chimichurri sauce:
While the chicken is marinating, make the chimichurri sauce. Put all chimichurri ingredients in a food processor and pulse until all ingredients are combined. The greens should be chopped, not pulverized. You can also do this step by hand; coarsely chop the greens with a sharp kitchen knife and combine with the remaining ingredients.
3
Cook the chicken:
Preheat the oven to 400 degrees and place the rack in the center of the oven.
4
On the stovetop, preheat an oven-safe skillet or Dutch oven over medium-high heat and add avocado oil. When the oil shimmers, reduce heat to medium and add the chicken. Sauté, skin side down, for about 6 minutes until the skin is crispy and golden. Flip and sauté for 3 to 4 more minutes.
5
Transfer the skillet or Dutch oven to the preheated oven and roast, uncovered, for 10 to 12 minutes until the chicken reaches an internal temperature of 165 degrees.
6
Remove chicken from the oven and top with chimichurri sauce. Serve immediately. Enjoy!
Nutrition Information
Yield: 4 servings, Serving Size: 1 chicken thigh
Amount Per Serving: 324 Calories | 31g Fat | 3.7g Total Carbs | 0.7g Fiber | 0.7g Sugar | 0g Sugar Alcohol | 8.7g Protein | 2.9g Net Carbs
---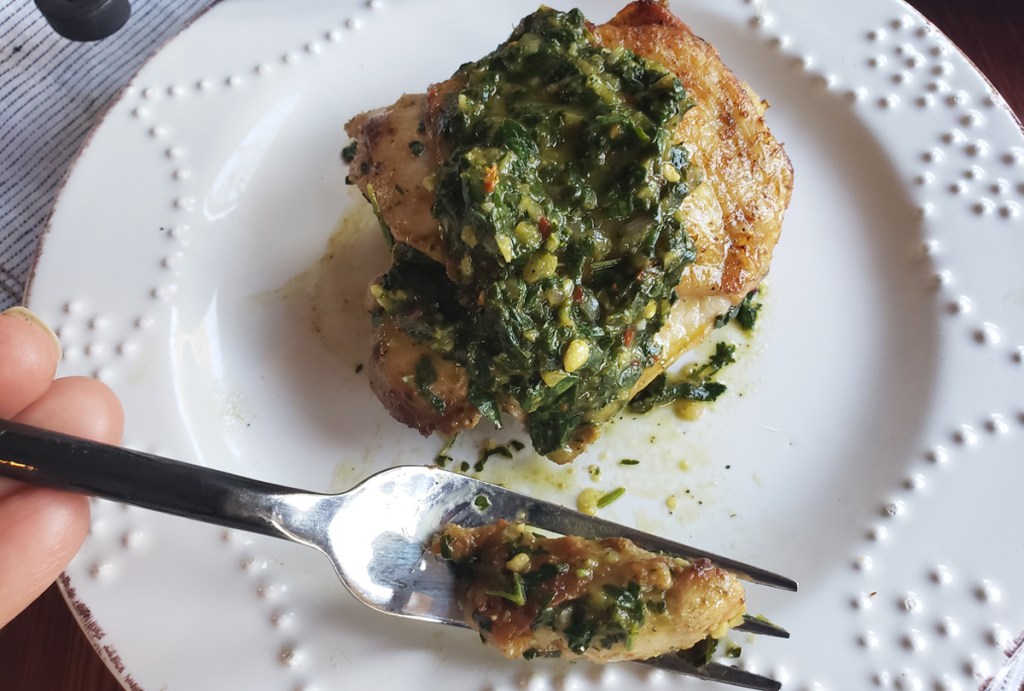 If you love the flavors of cilantro, lime, olive oil, and garlic, you're going to love this sauce.
This dish won rave reviews and accolades from my husband and several friends, all of whom are great cooks. I found myself, with a rubber spatula in hand, scraping every last drop of this luscious sauce from the serving bowl. Sooooo good!!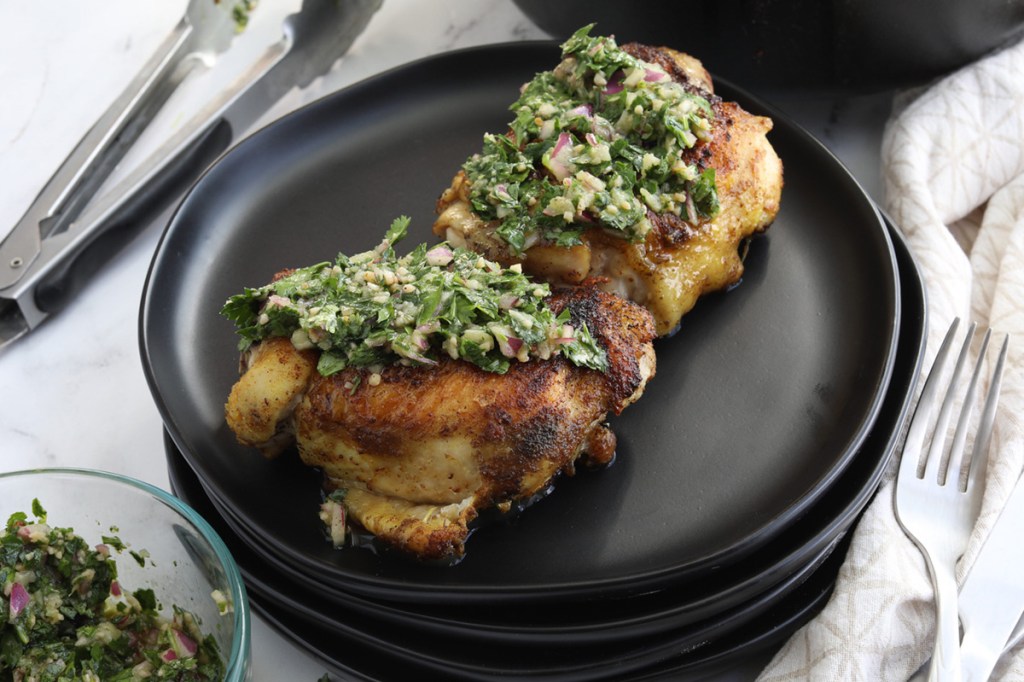 My Hip sidekick Jenna gave this recipe a try and here's what she thought:
"This is such an amazing dish! I don't know which I love more, the crispy chicken skins or the chimichurri. Wow, wow, wow! The kids loved this dish too, I left the chimichurri off of theirs though (they're pickier eaters), and ate the rest of it with a fork like a salad. I am a big fan of this entire dish! This is one of those dishes you could make to impress your dinner guests — it looks very impressive but it is easy to make!"

---
Serve over cauliflower rice or easy keto cauliflower mashed potatoes to soak up every drop of the yummy cilantro chimichurri sauce. Enjoy!