This Easy Keto Cauliflower Fried Rice Recipe is Delicious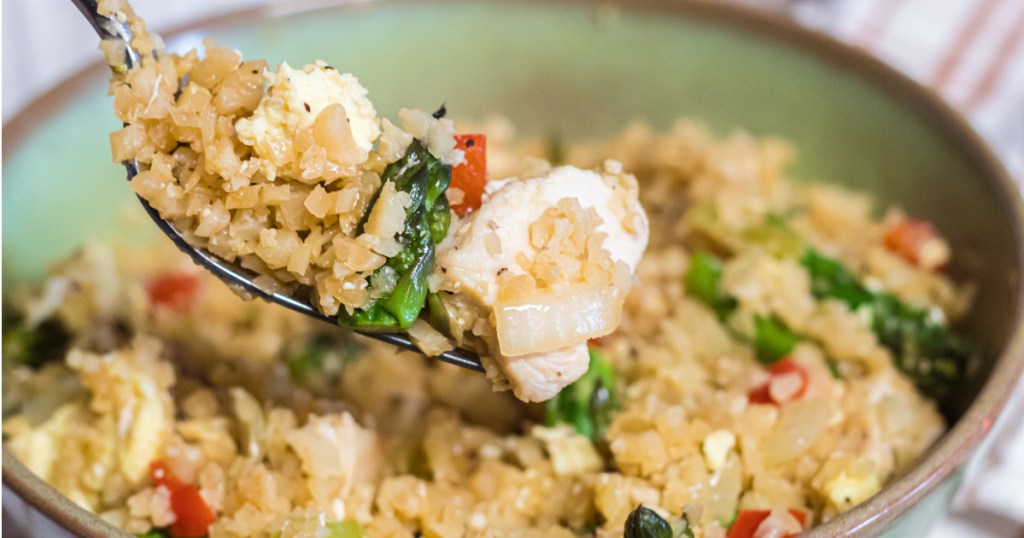 Do you miss fried rice? Are you eating low carb?
You've got to try this delicious keto cauliflower fried rice recipe! It's a simple idea my entire family enjoys every time I make it. I also love that it's a great way to use up veggies that you may already have on hand!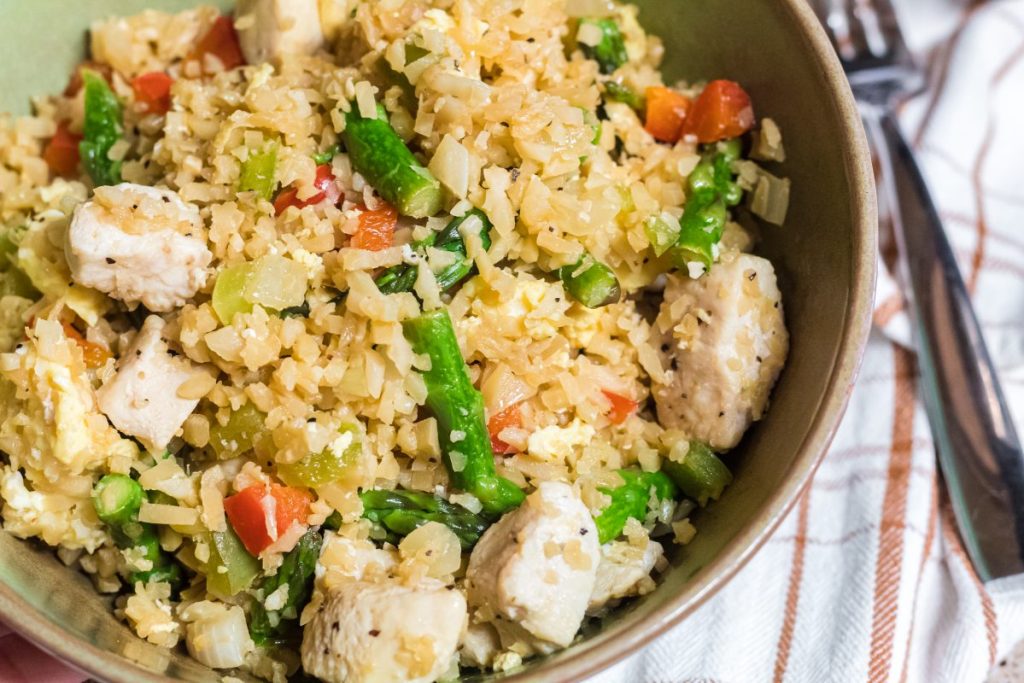 Here are a few recipe tips to keep in mind when making keto cauliflower fried rice:

We used basic low-carb vegetables in our cauliflower fried rice, but if you like different veggies or are trying to use up what's left in your fridge, feel free to throw in any veggies you'd like. That's why I love making fried rice – it's so versatile.
Not only does this recipe make use of veggies you may already have on hand, but it's also a great way to make use of any leftover cooked chicken breast or rotisserie chicken meat.
You can use fresh cauliflower, or you can opt for a frozen bag instead which will definitely save you on prep time.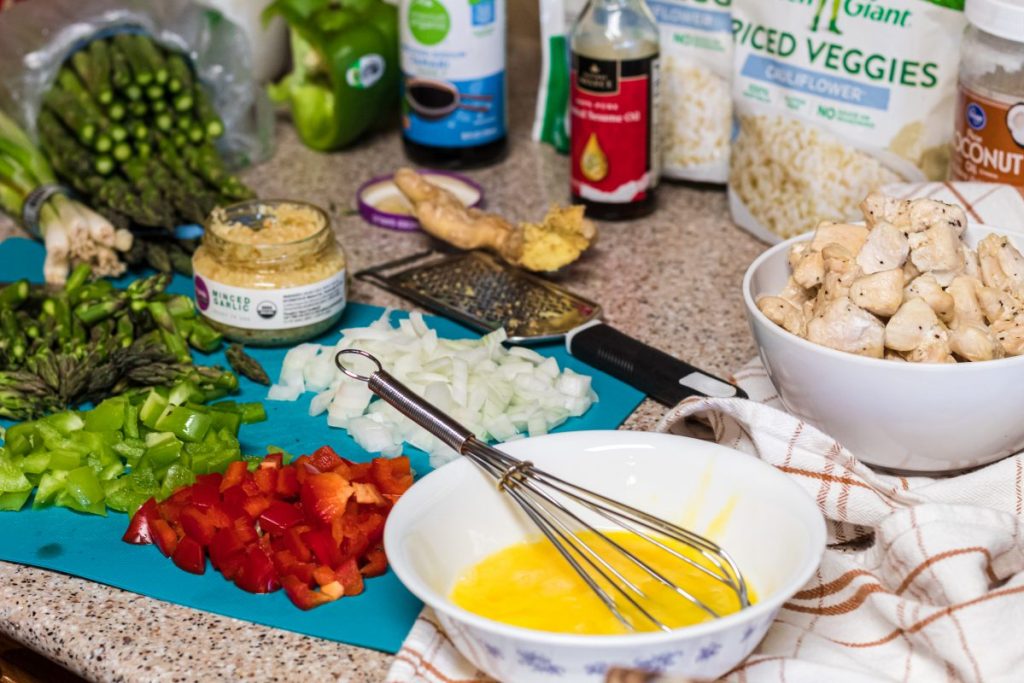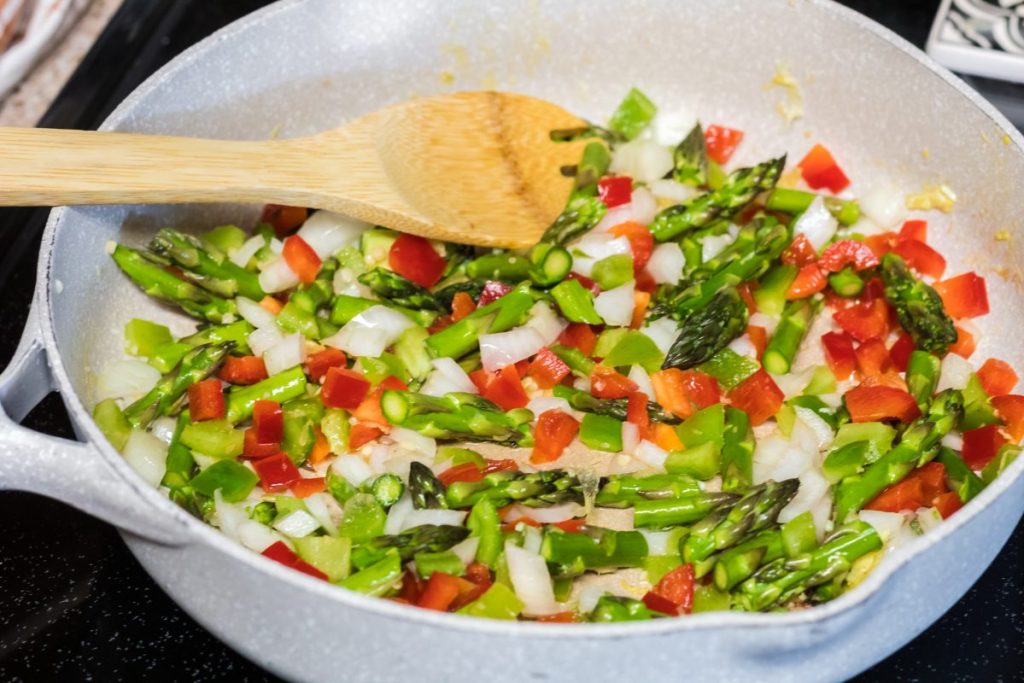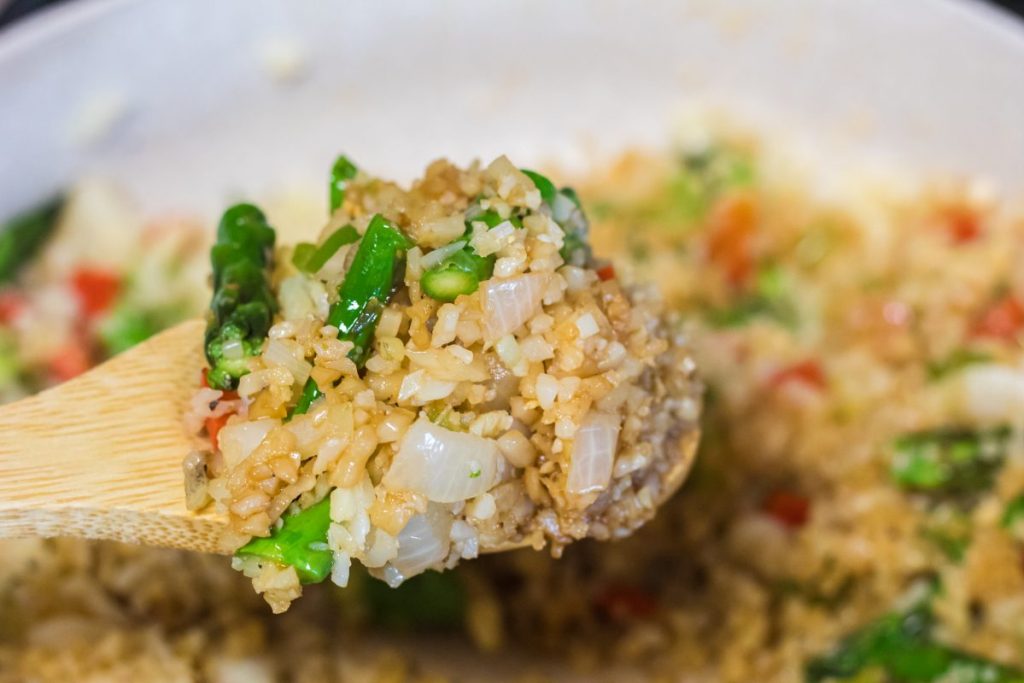 ---
Print
Cauliflower Fried Rice
yield: 4 SERVINGS
prep time: 10 MINUTES
cook time: 15 MINUTES
total time: 25 MINUTES
No need for carby rice grains when you can swap in riced cauliflower for this sautéd veggie skillet.
Ingredients
2 eggs, lightly beaten
1 small onion, diced
2 garlic cloves, minced
1 teaspoon ginger, minced
2 teaspoons coconut oil
1 red bell pepper, diced
1 green bell pepper, diced
1/2 cup asparagus, chopped
16 oz. bag of riced cauliflower (or one medium-sized head of cauliflower riced using food processor or cheese grater)
1 1/2 tablespoons sesame oil
2 cups chicken breasts, cubed and cooked
1 green onion, sliced (optional)
Directions
1
Heat a wok or large skillet over medium-high heat. Add 1/4 teaspoon of sesame oil.
2
Add the eggs and quickly cook. Transfer the eggs to a cutting board, chop, and set aside.
3
Add coconut oil to the skillet. Sauté onions, garlic, ginger, and asparagus for a couple of minutes, stirring constantly.
4
Add cauliflower rice to the skillet and stir-fry until the veggies are tender.
5
Stir the soy sauce or tamari and sesame oil into the mixture and add chopped chicken.
6
Add the egg back into the mixture, and stir well. Add salt/pepper to taste - and possibly more soy sauce/tamari or sesame oil, as desired.
7
Top with chopped green onion. Enjoy!
Nutrition Information
Yield: 4, Serving Size: 1
Amount Per Serving: 168 Calories | 12g Fat | 8g Total Carbs | 4g Fiber | 7g Protein | 4g Net Carbs
---
This keto cauliflower fried rice definitely hits the spots when you're craving a big bowl of carbs! 🍚
The taste and texture are legitimately DELICIOUS! This is a must-try idea that doesn't disappoint. The re-heated keto leftovers are yummy, too!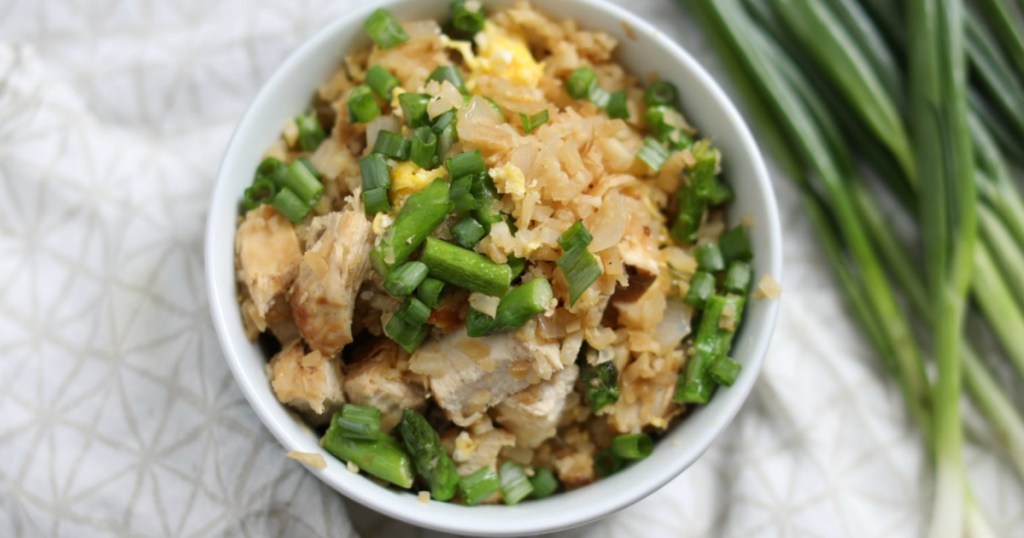 ---