Buffalo Chicken Stuffed Peppers are a Must-Try Weeknight Dinner Recipe
If you need an easy weeknight dinner, these keto Buffalo chicken stuffed peppers are it!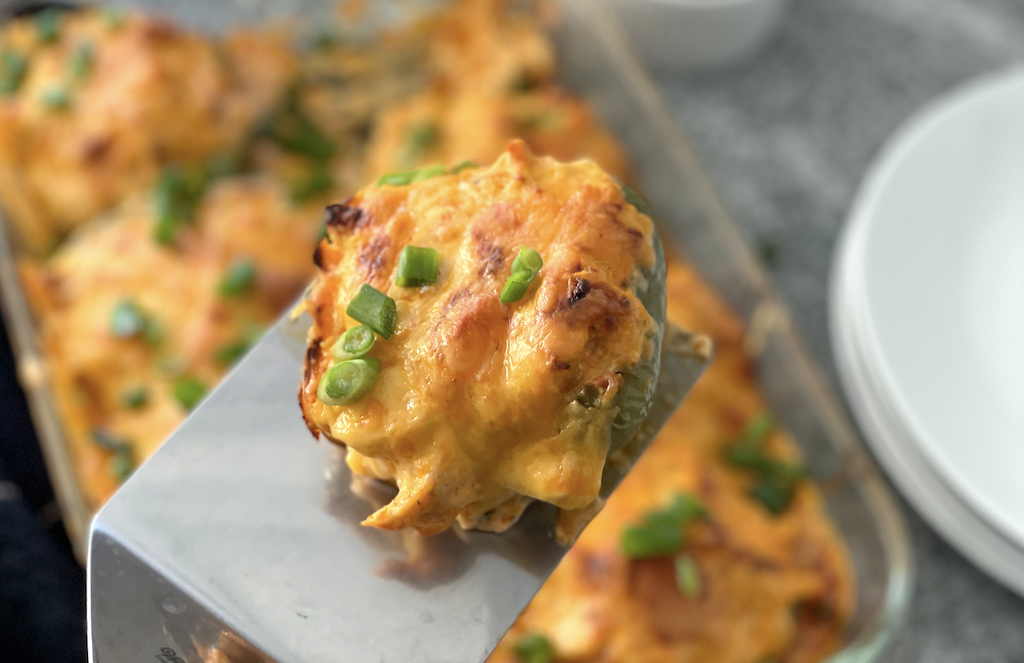 If you love spicy Buffalo chicken, this recipe is for you!
These stuffed peppers are filled to the brim with a rich, spicy Buffalo chicken mixture. All you need are bell peppers, shredded chicken, cream cheese, ranch, blue cheese, and shredded cheddar. Yep, that's it!
We love tasty, quick meals around here. Check out all of our dinner recipes for more keto inspiration. Speaking of inspiration, @wellnessbykay and @ketomealrecipe on Instagram put the idea of Buffalo chicken stuffed peppers in my head and I knew I had to come up with my own version to share with you all!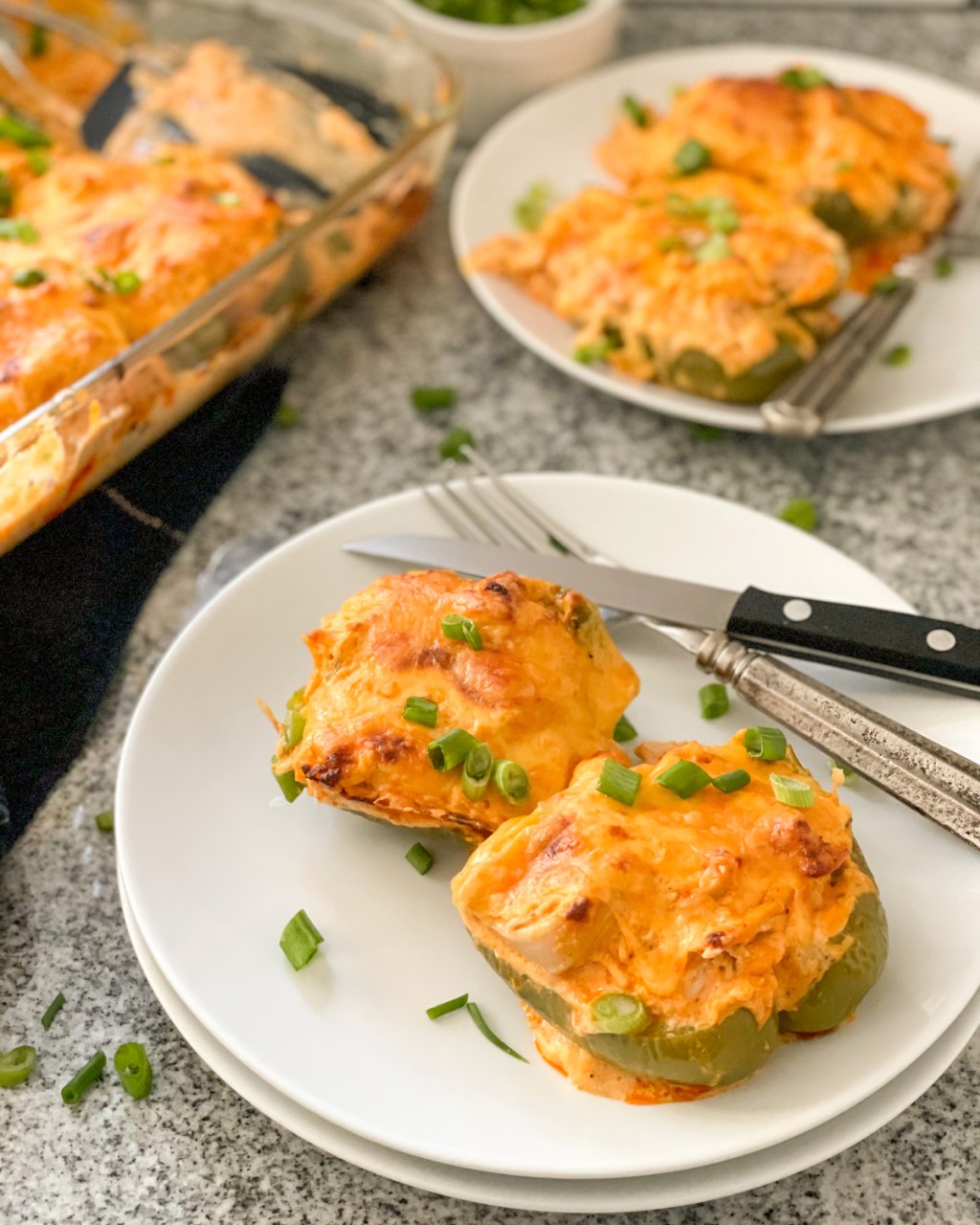 This is hands down one of the simplest recipes and perfect for those busy weeknights.
Buffalo chicken stuffed peppers are my new go-to recipe — I know I say a lot of recipes are my go-to recipes, but this turned out to be such an easy and delicious meal, it's definitely a keeper. Having the chicken cooked and shredded in advance is the key to saving time too.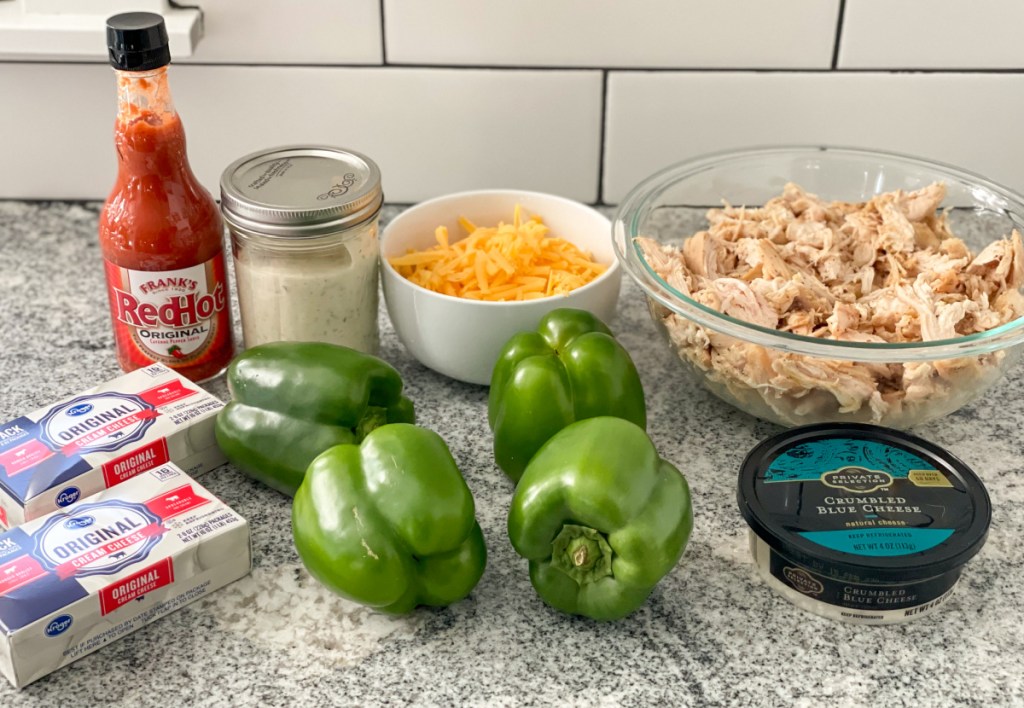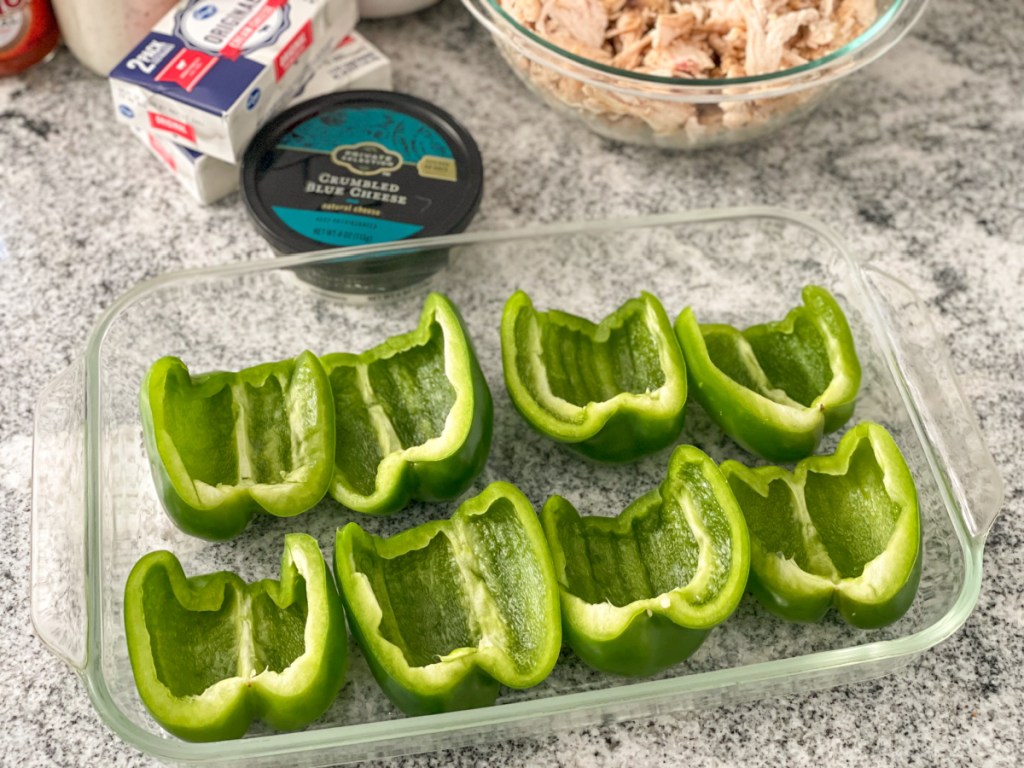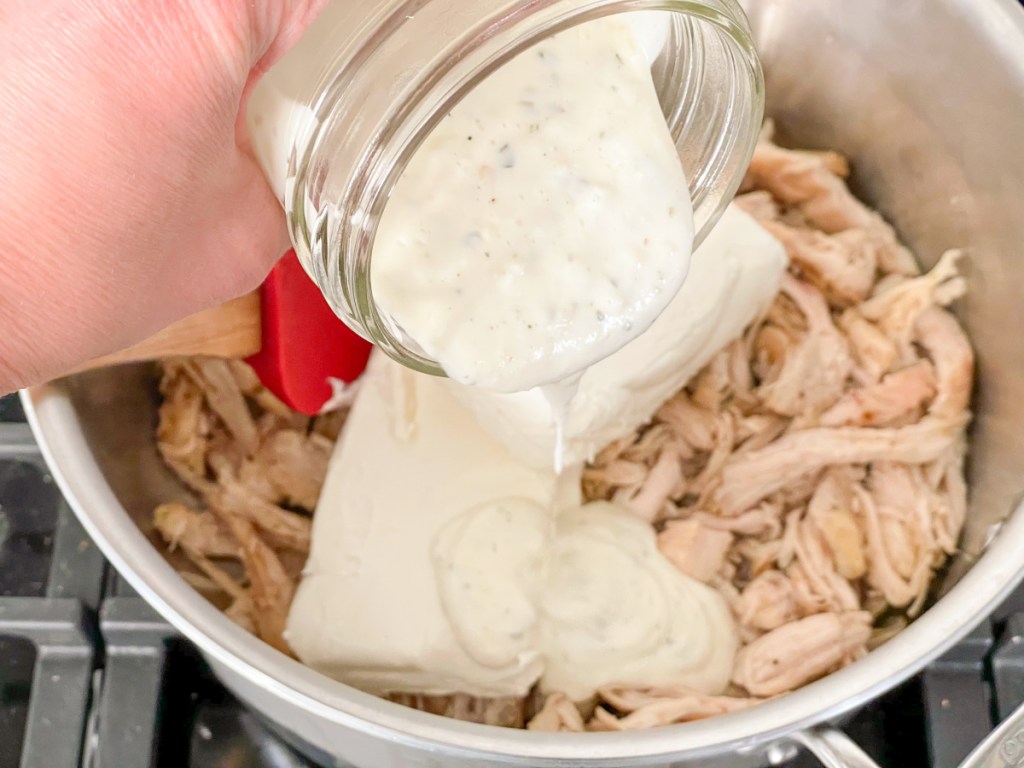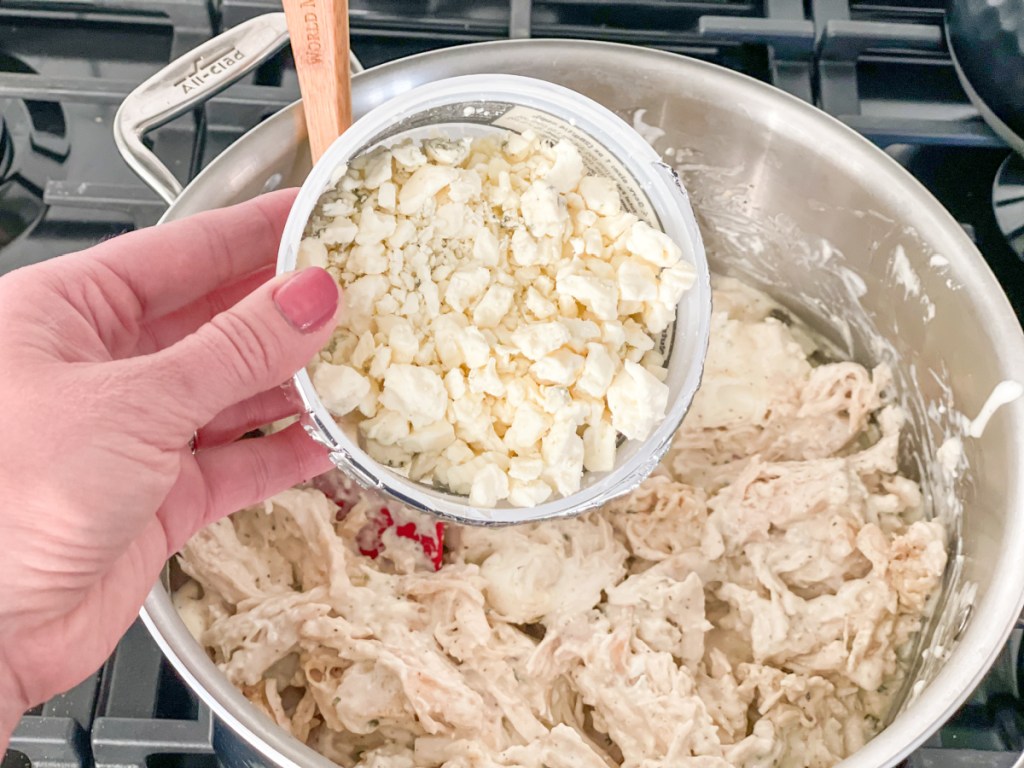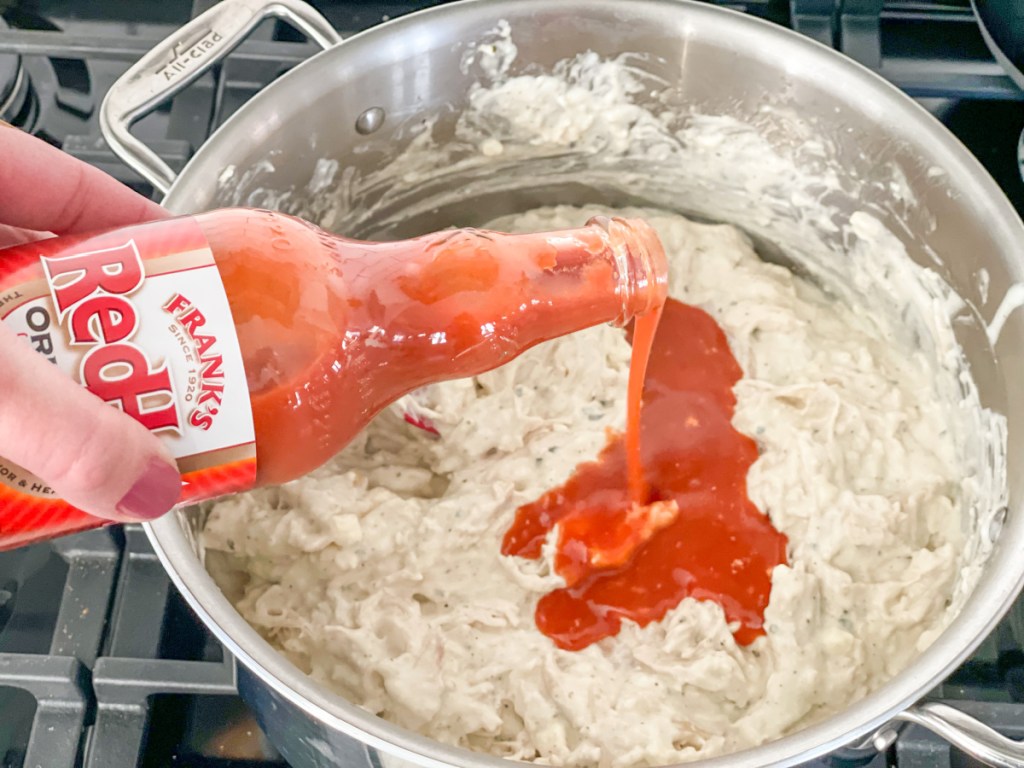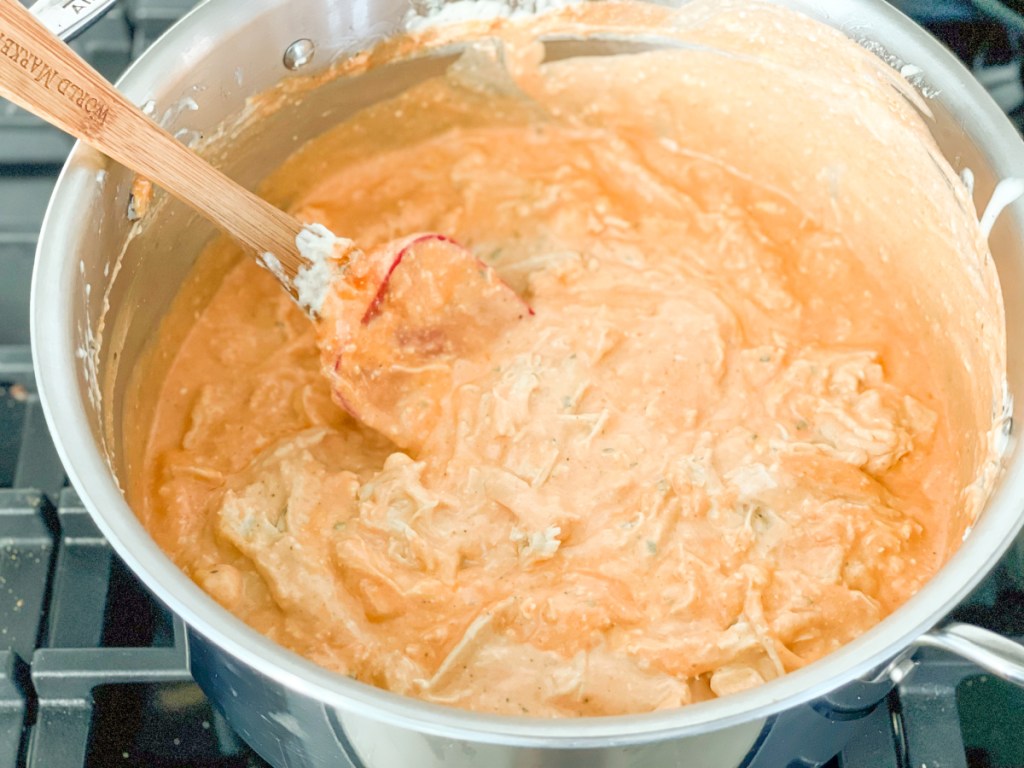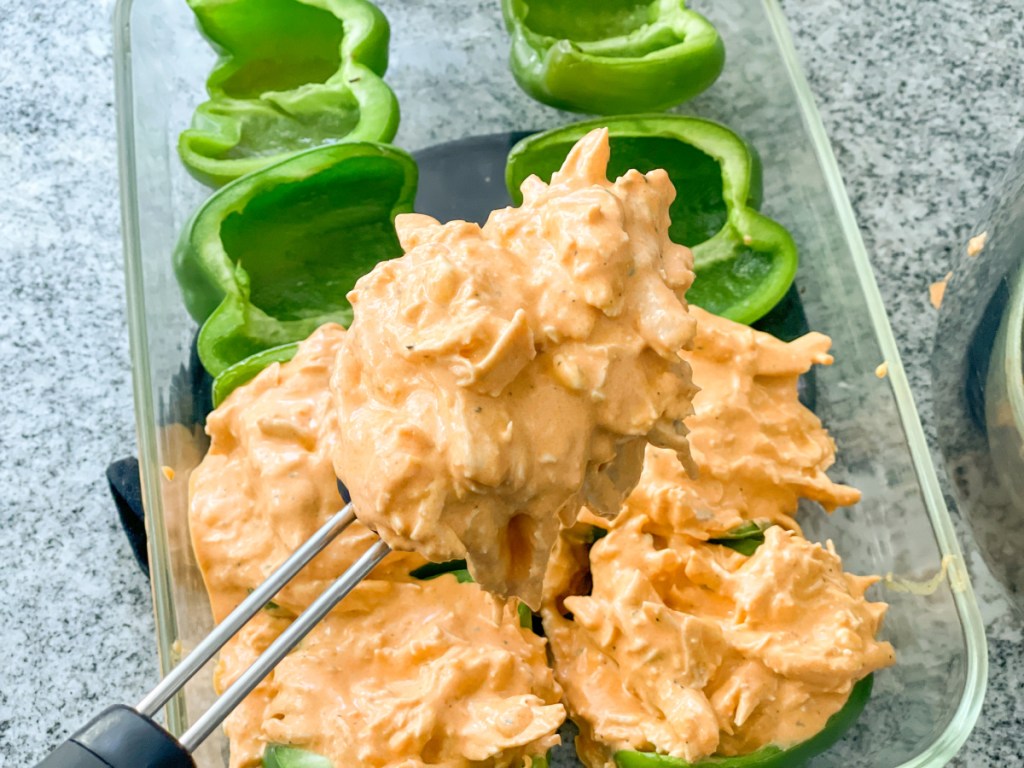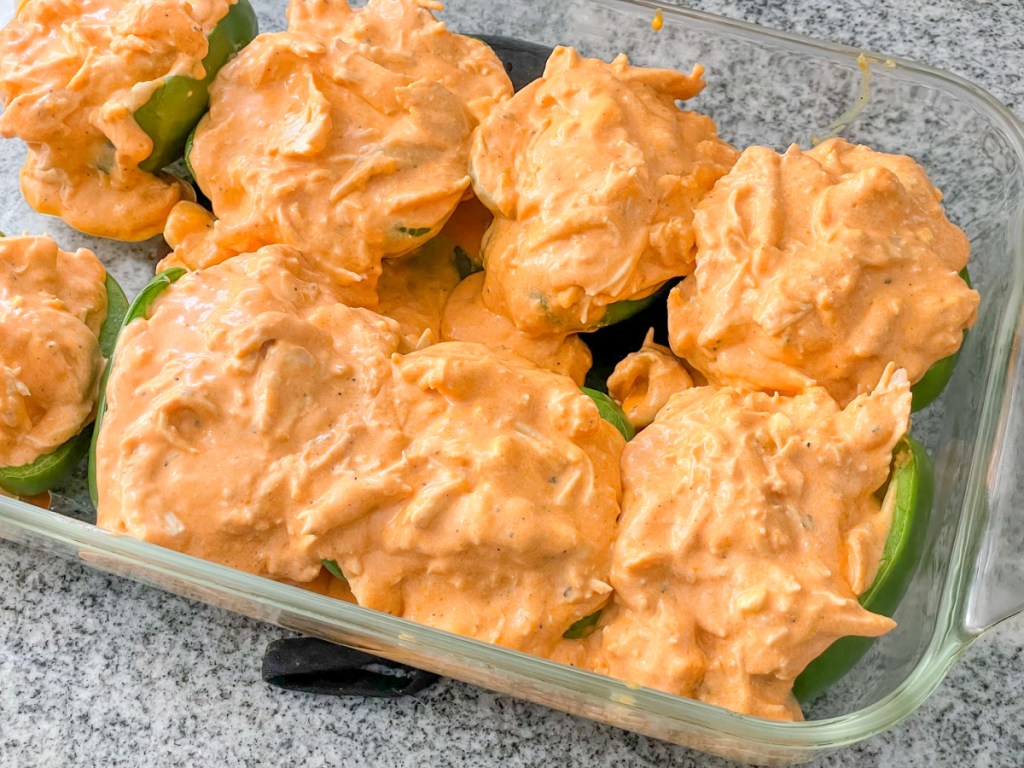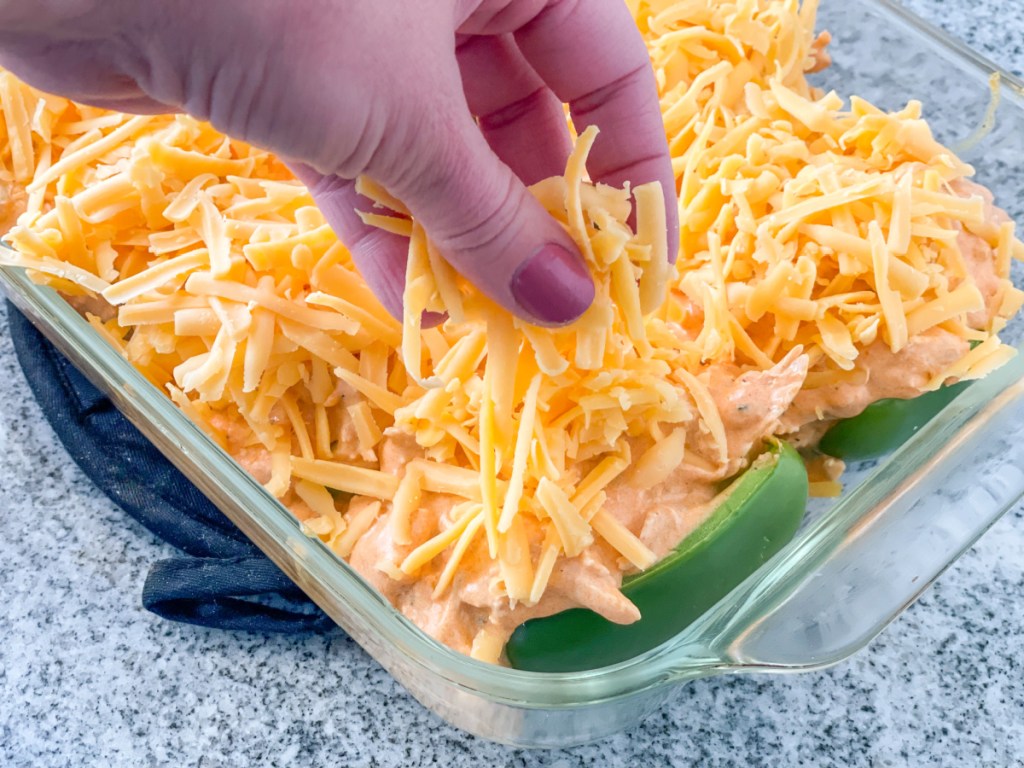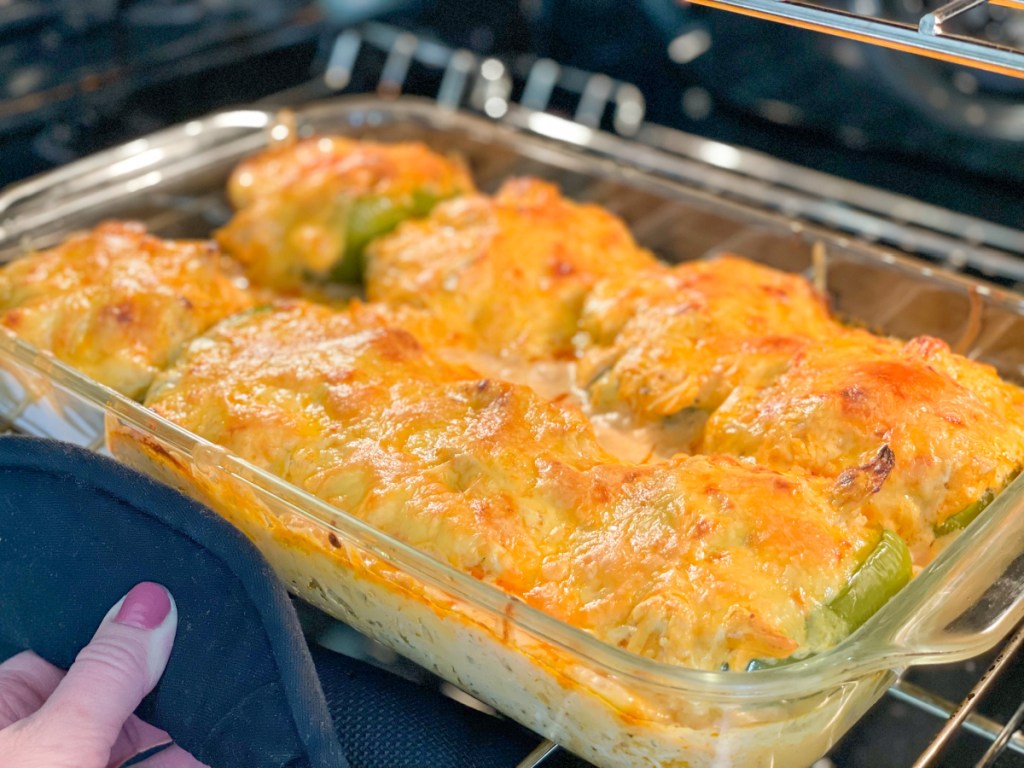 ---
Print
Keto Buffalo Chicken Stuffed Peppers
yield: 8 SERVINGS
prep time: 25 MINUTES
cook time: 25 MINUTES
total time: 50 MINUTES
Green bell peppers stuffed with a spicy, cheesy chicken filling that come together with minimal prep but maximum flavor.
Ingredients
4 green bell peppers, cut in half, seeds and stems removed
4 cups shredded chicken
1 block cream cheese
1 cup ranch
4 oz. blue cheese crumbles
2 cups cheddar cheese, shredded
green onions, chopped, to garnish
Directions
1
Preheat oven to 350 degrees. Place bell pepper halves in a 9x13-inch baking dish. Bake for 20 minutes to soften. Then remove from oven and set aside to stuff.
2
While the bell peppers are baking, make the Buffalo chicken filling.
Heat a large saucepan over medium to medium-low heat. Add the shredded chicken, cream cheese, ranch, blue cheese crumbles, and hot sauce. Stir to combine until the cream cheese has melted and is well incorporated. Let simmer for about 15 minutes, stirring occasionally, to let the flavors meld together.
3
Fill each bell pepper half with the Buffalo chicken mixture, being generous with the filling. Top with shredded cheddar.
4
Bake for 20 minutes then turn to broil on HIGH for an additional 3 to 5 minutes to crisp the cheese. Remove from the oven and let cool for a few minutes before serving. Top with green onions if desired. Enjoy!
Nutrition Information
Yield: 8 stuffed pepper halves, Serving Size: 1 stuffed pepper half
Amount Per Serving: 521 Calories | 39.1g Fat | 6.8g Total Carbs | 1g Fiber | 2.8g Sugar | 35.6g Protein | 5.7g Net Carbs
---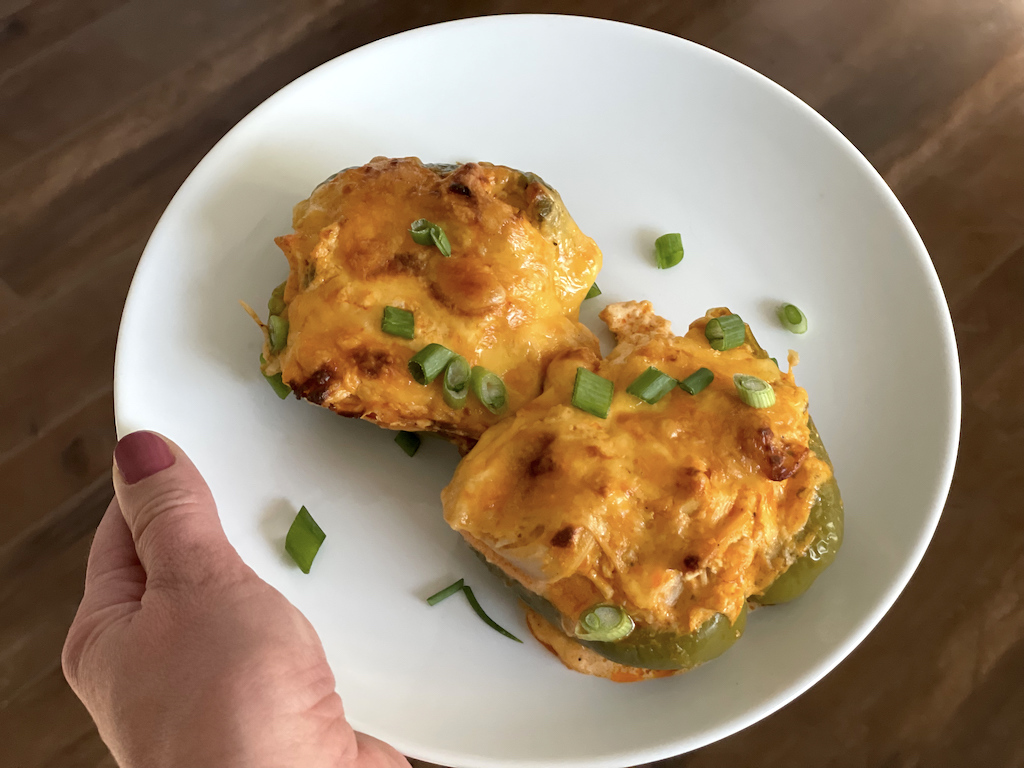 Tips for making the best keto Buffalo chicken stuffed peppers:
You might be tempted to skip precooking the bell peppers but it really does help to soften them up so they're not crunchy when you serve this dish.
Rotisserie chicken would be great in this recipe as another way to speed up the prep!
If you or your family aren't fans of a little heat, cut the Frank's Hot Sauce down to 1/2 cup instead of a cup.
You can store leftovers in the fridge for up to 5 days, and this also freezes well, too.
A serving is the stuffed half of a bell pepper. Depending on your appetite, you might eat two servings. I found myself eating two halves for dinner and one half for lunch.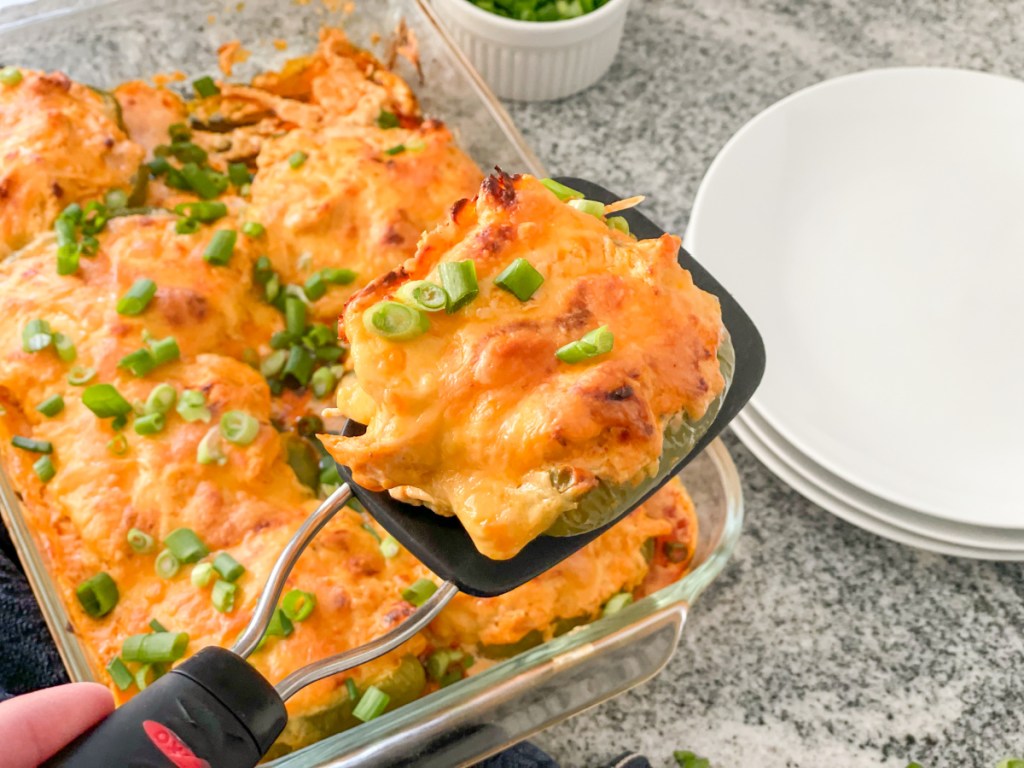 This might be love! 😍
It's not often that I rave about a recipe but these keto Buffalo chicken stuffed peppers are the bomb-dot-com. They didn't last long in my house and the teenager devoured them. Honestly, I was lucky there were leftovers to have for lunch the next day.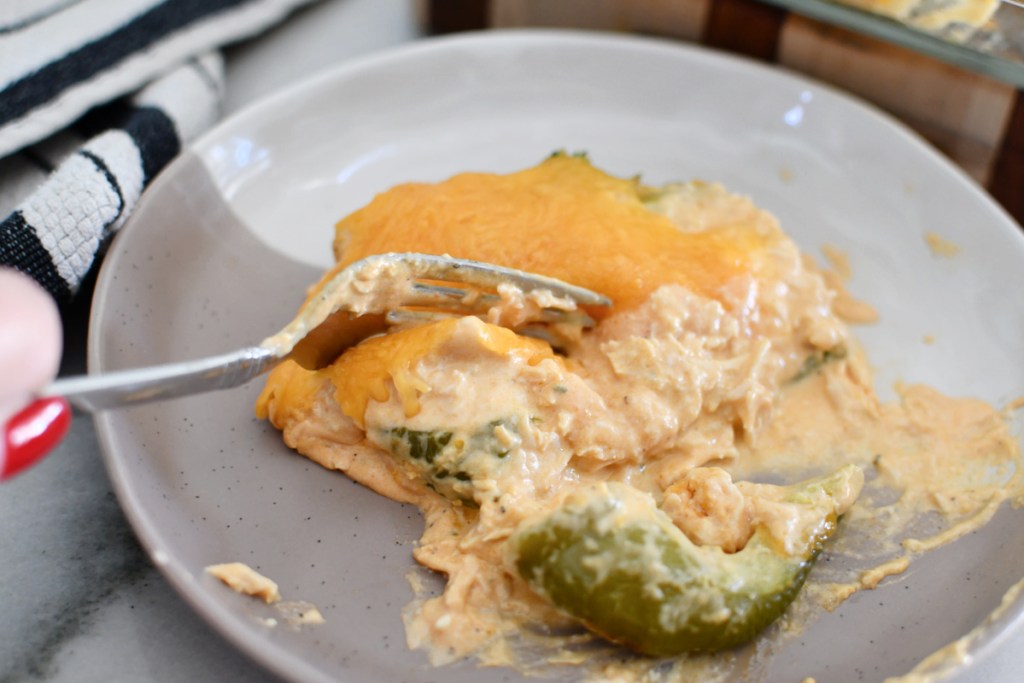 Here's what my Hip sidekick Lina had to say about these keto Buffalo chicken stuffed bell peppers:
"Wow, this is such a fantastic keto dinner. We love Buffalo chicken and the idea of stuffing it inside roasted bell peppers is genius. The ranch and blue cheese flavors are a perfect combo with the hot sauce. This is my new fave keto meal!"
---
Do you love stuffed peppers? Try our recipe for Italian sausage and cauliflower rice stuffed peppers next!