Classic Tomato Pie Is Now Keto-Friendly
This keto tomato pie comes together with an almond flour crust, fresh tomato & basil filling, and a bubbly cheesy topping.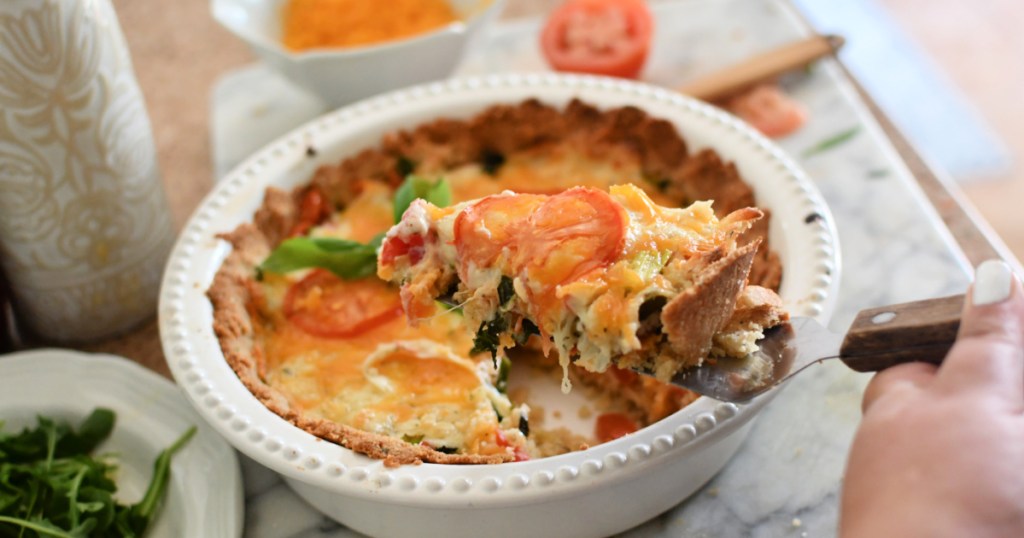 Homemade keto tomato pie is a genius way to use up those sweet tomatoes this summer!
If you have ever had this southern classic with layers of tender tomatoes, basil, and a delicious cheesy filling, then you know how fresh and amazing tomato pie is! And if not, you've got to try this recipe. 🤤
The good news is, it's honestly pretty easy to make a keto version that's both healthy and memorable for dinner!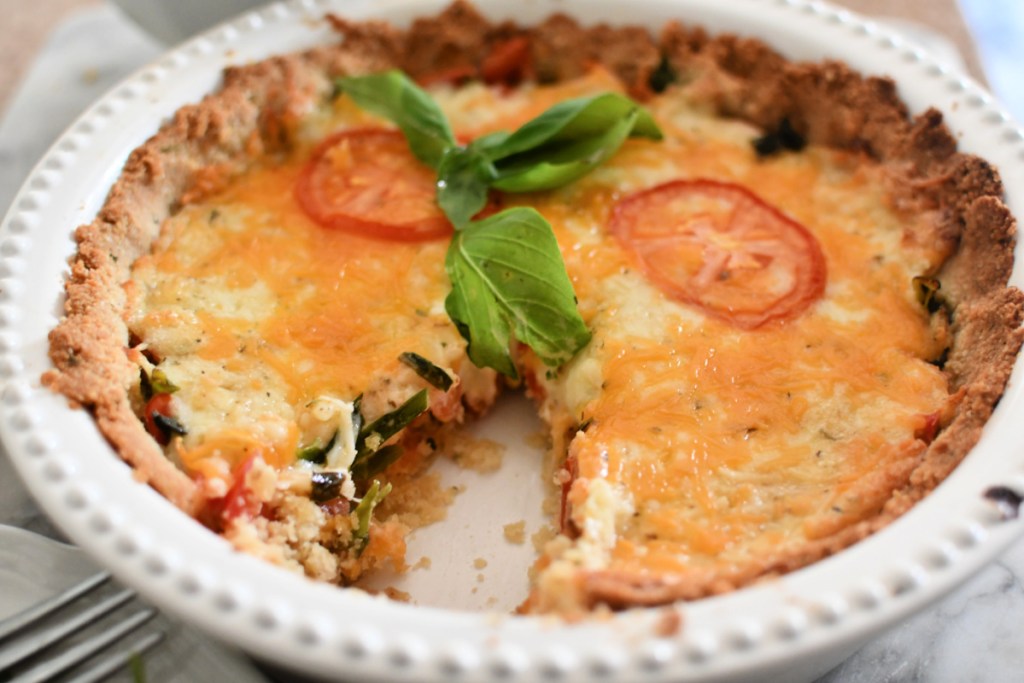 Start by baking a pie crust that is low carb and keto-friendly!
This savory almond flour, coconut flour, and butter crust is easy to press in a pie pan and bake. Then you'll be able to add the chopped tomatoes, mayo, and cheeses. This creamy filling gets baked to bubbly cheesy perfection for a beautiful and tasty lunch, dinner, or unique brunch idea!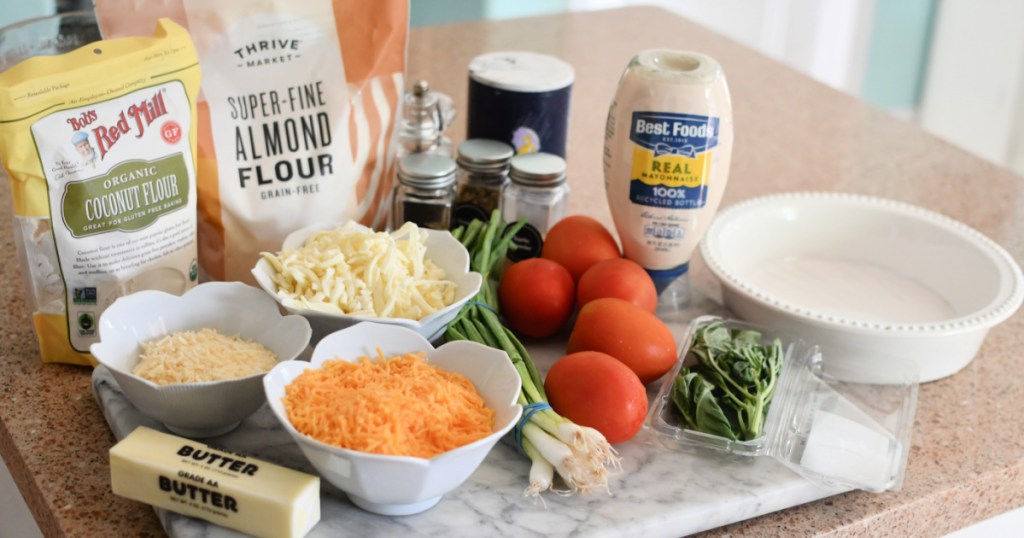 Tips for making delicious keto tomato pie:
Getting most of the moisture out of the tomatoes is super important for the success of this recipe to avoid an overly soggy pie. It should come out juicy, but still not soggy. I cut my tomatoes in half and removed all the watery pulp and seeds. I also blotted them dry with paper towels.
I used a few Roma tomatoes, but if you'd like to use another variety, feel free to do so, especially if you have a garden with ripe tomatoes to use up this time of year!
The cheeses in this pie can be swapped out for your favorites. I used sharp cheddar, mozzarella, and parmesan shredded cheeses, though I think goat cheese, Gruyere, or pepper jack could also be yummy options!
I like to serve tomato pie on top of a bed of arugula lettuce with a drizzle of olive oil and red wine vinegar. This step is optional, but it is so YUM!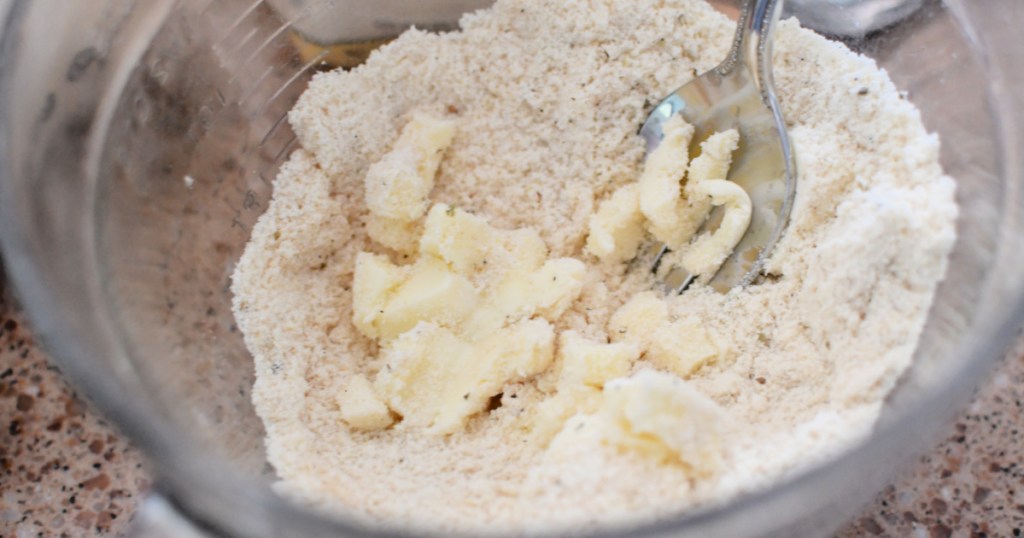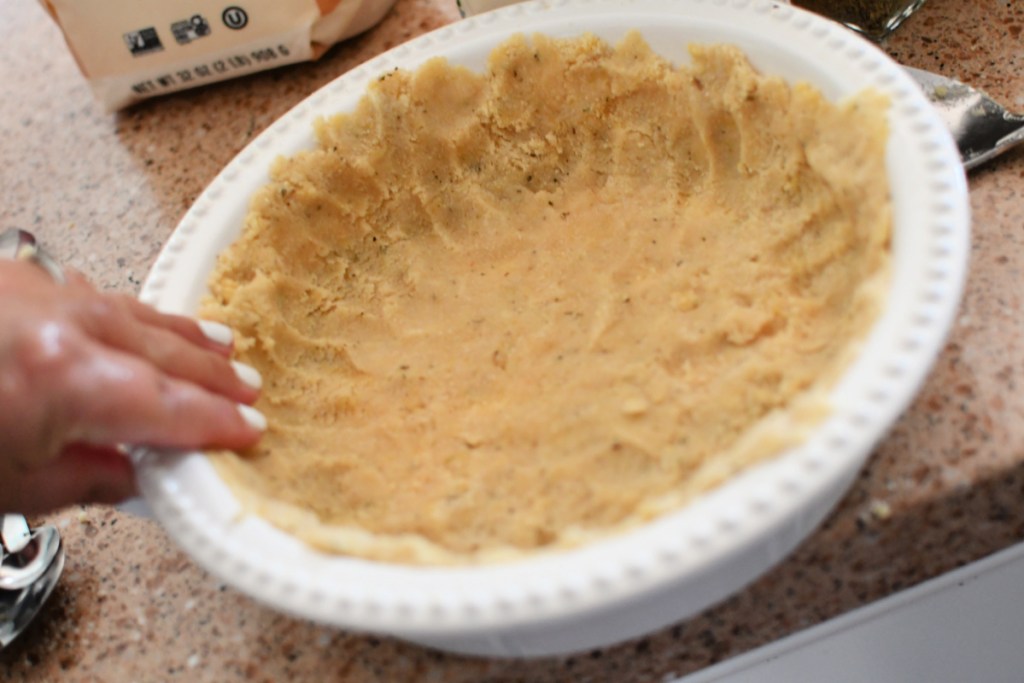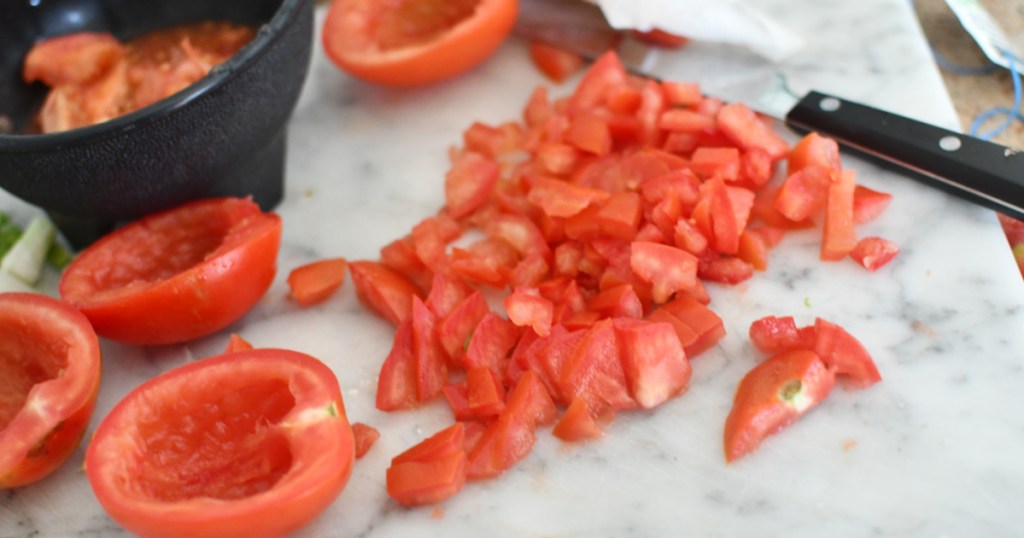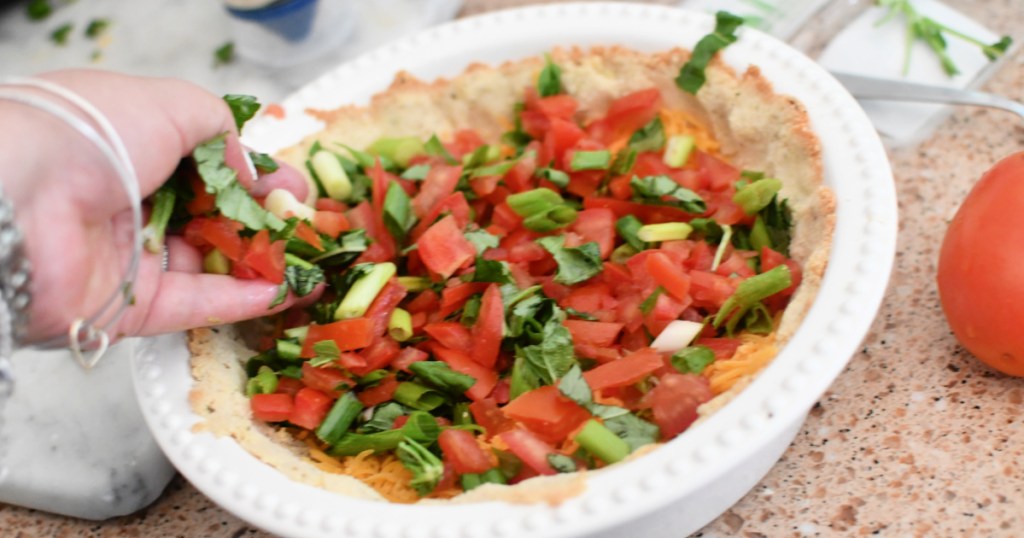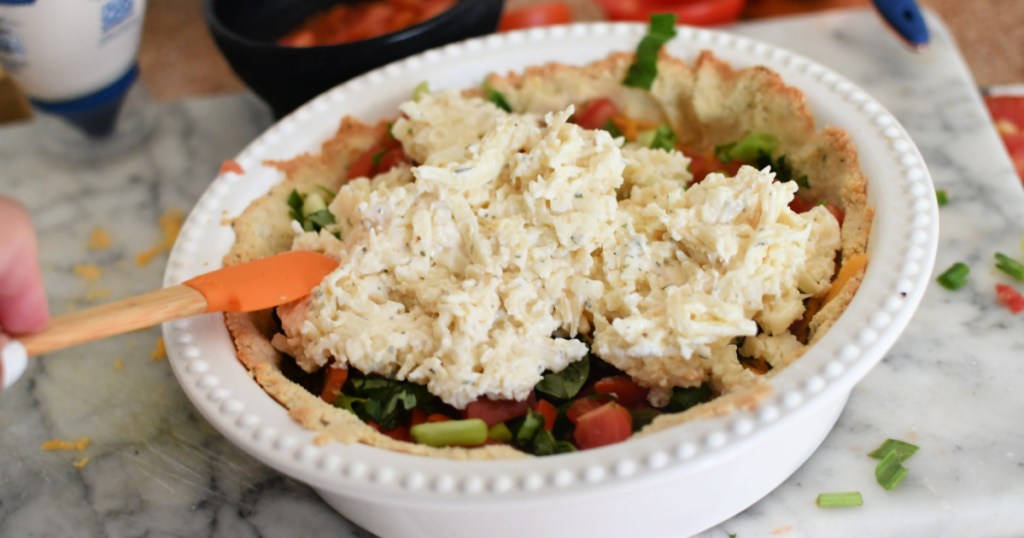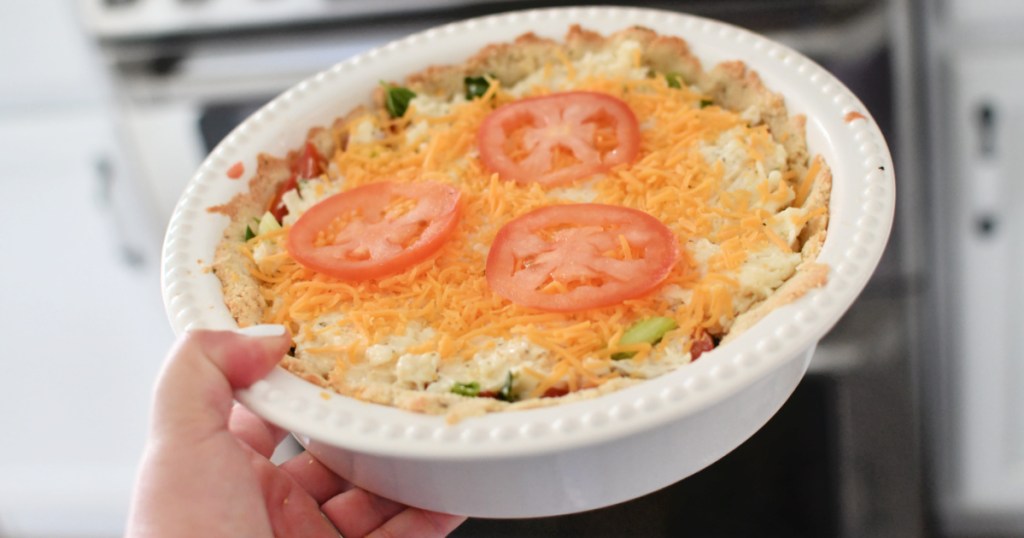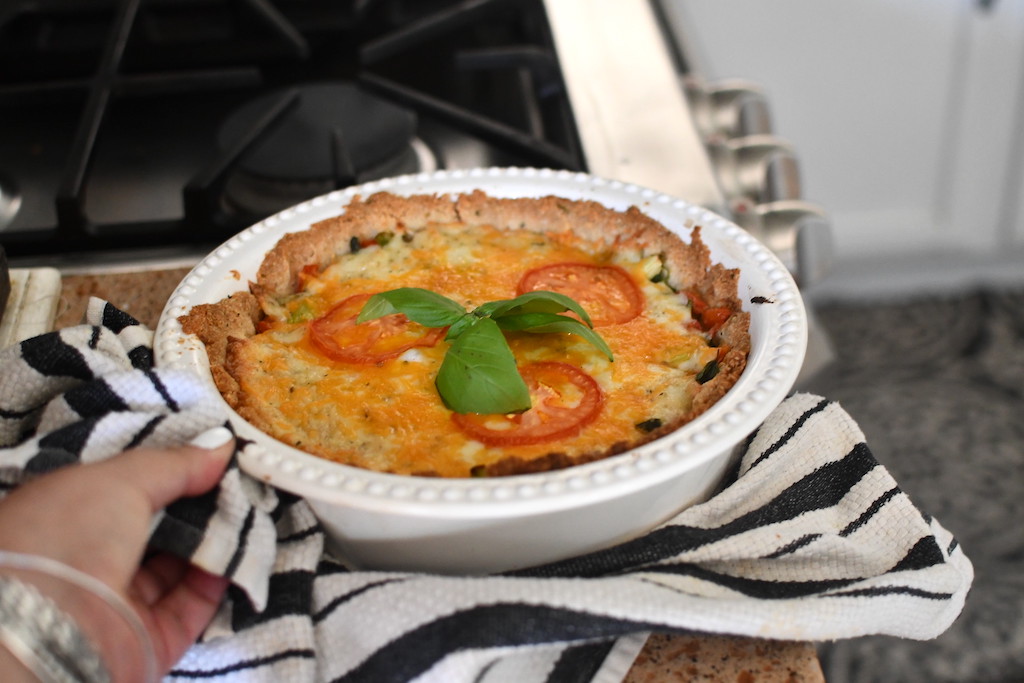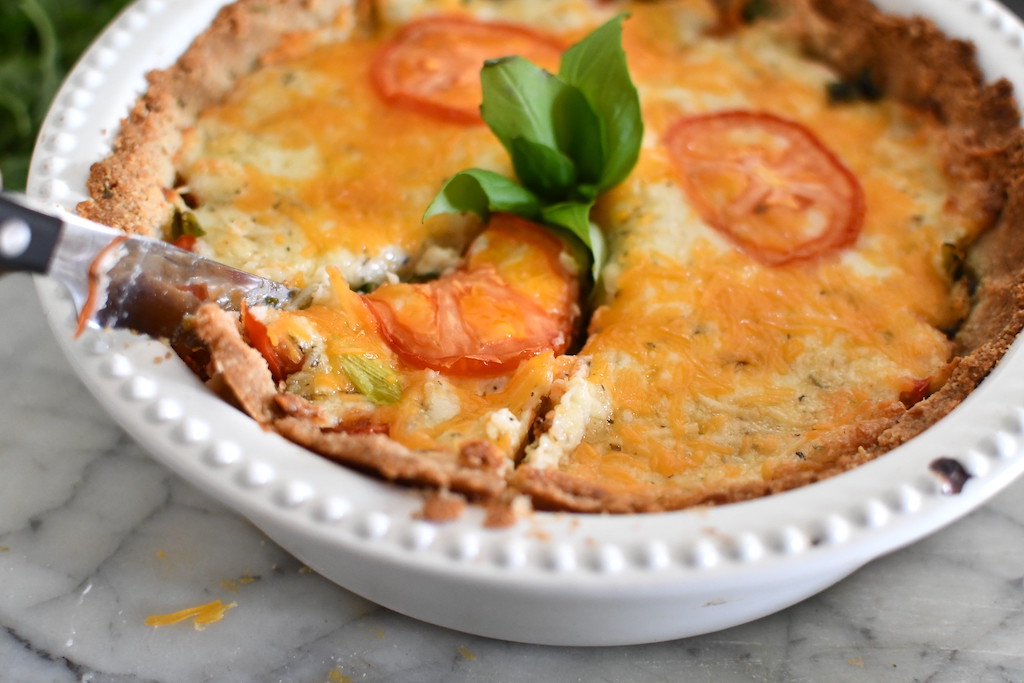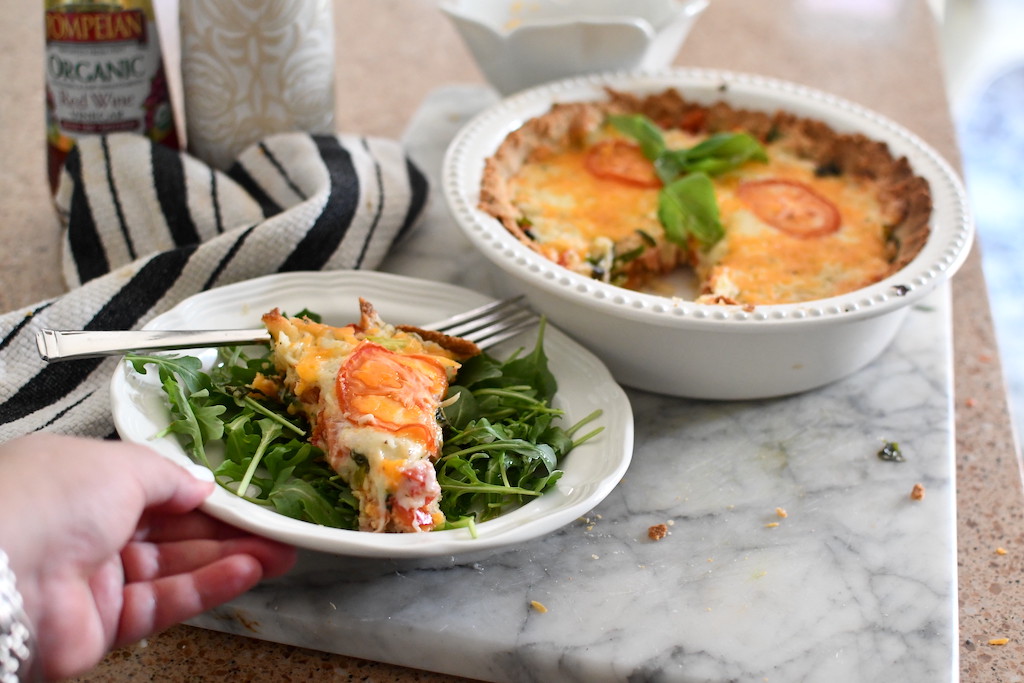 ---
yield: 6 SERVINGS
prep time: 20 MINUTES
cook time: 50 MINUTES
total time: 1 HOUR 10 MINUTES
This keto tomato pie comes together with an almond flour crust, fresh tomato & basil filling, and a bubbly cheesy topping.
Ingredients
For the crust:
1/2 teaspoon salt
1/4 teaspoon pepper
1/2 teaspoon dried oregano
1/2 teaspoon garlic powder
5 tablespoons butter, cold yet softened a bit
1 egg
For the pie filling:
3 Roma tomatoes, diced
1/2 cup basil, chopped
3 green onions, sliced
1 1/2 cups sharp cheddar cheese (divided)
3/4 cup mayonnaise
1 1/2 cup mozzarella cheese, shredded
1/2 cup parmesan cheese, shredded
1/2 teaspoon garlic powder
1 teaspoon Italian seasoning
Directions
1
For the crust: 
Preheat the oven to 375 degrees and grease a 9-inch pie pan.
2
To a mixing bowl, add the almond flour, coconut flour, salt, pepper, oregano, and garlic powder, then combine.
3
Cut up the butter and add to the mixture. Incorporate the butter into the dry mix using a pastry cutter or a large fork.
4
Add in the egg and stir all together. Press the crumbly mixture together with your hands to form a dough. Transfer it to the pie pan and press it evenly into the pan. Use a fork to poke a few holes in the crust at the bottom.
5
Bake the crust for about 10 minutes until slightly browned. Let cool.
6
For the filling:
Cut tomatoes in half and scoop out the watery flesh and seeds. Dice and blot with paper towels to get as much moisture out. On the cutting board, combine diced tomatoes, basil, and onion.
7
To the crust, add 1 cup of the shredded cheddar cheese and spread evenly. Top with the diced tomato mixture.
8
To a bowl, add the mayo, mozzarella, and parmesan cheese. Mix together along with the garlic powder and Italian seasoning. Spread the mayo and cheese mixture onto the pie.
9
Sprinkle with the reserved 1/2 cup shredded cheddar. Decorate the top with a few paper thin slices of tomato, if desired. 
10
Turn down the oven to 350 degrees. Bake the pie for 35-40 minutes until the pie is bubbling and browned.
11
Let cool, slice, and serve warm or at room temperature. As an idea, serve on top of arugula lettuce with a drizzle of red wine vinegar and olive oil. Enjoy!
Nutrition Information
Yield: 6 slices, Serving Size: 1 sice
Amount Per Serving: 550 Calories | 43.0 Fat | 16.8g Total Carbs | 7.2g Fiber | 7.1g Sugar | 26.7 Protein | 9.5g Net Carbs
---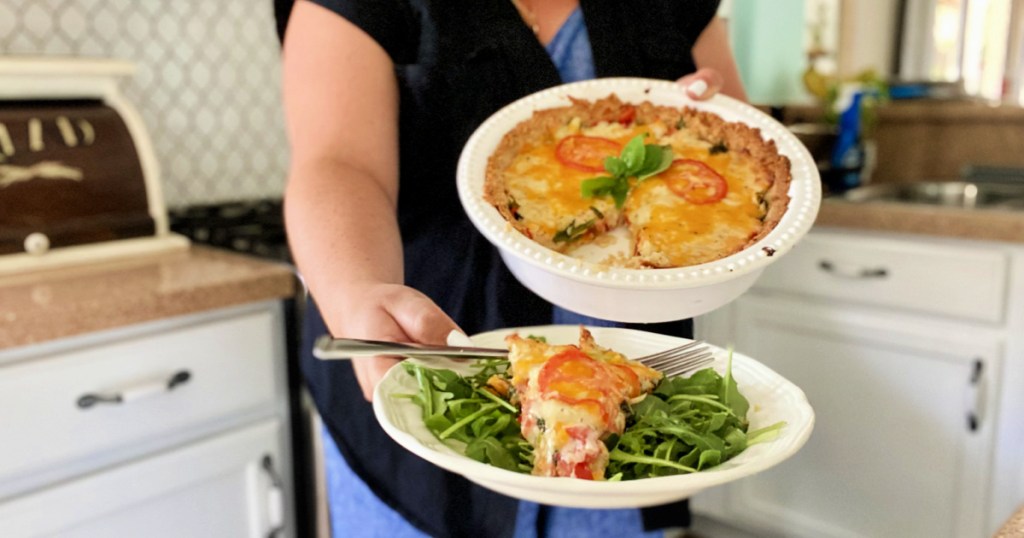 Keto tomato pie is honestly perfect for any meal!
I loved the creamy cheesy topping with the roasted tomatoes and buttery crust. Everything about this pie is delicious and I love that it takes advantage of tomatoes being at their peak ripeness!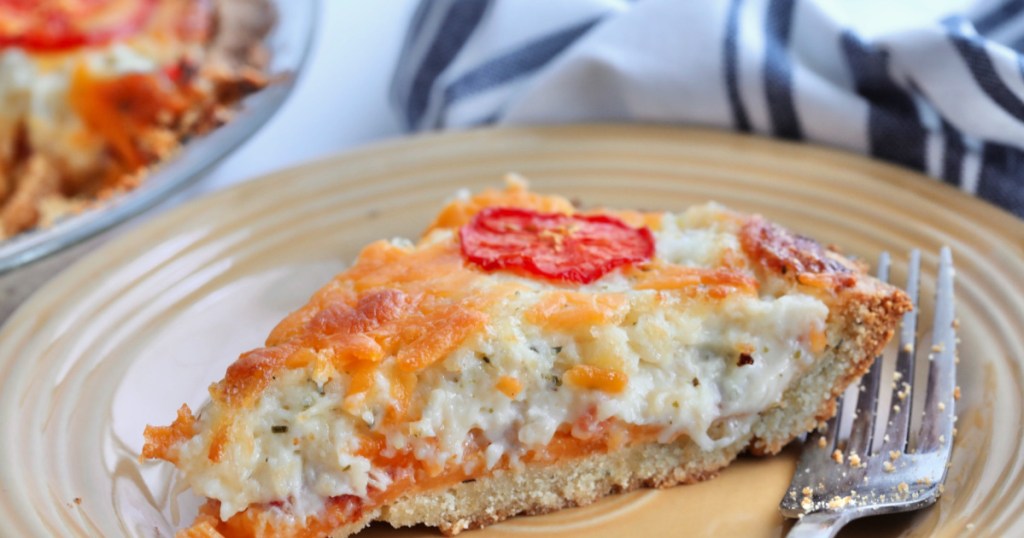 Check out what my teammate Jenna had to say after making my keto tomato pie:
"I have honestly never tried tomato pie before, but this is amazing with so much flavor! And a savory pie for dinner? Yes please! I am a big fan of this recipe. The kids said it's like Chicago-style pizza and ate it right up. It has enough cheese so they didn't even ask about the tomatoes LOL! We will definitely be making this one again. And the best part, it re-heats nicely and feeds the whole fam."
---