Mix Balsamic Vinegar and Sparkling Water for a Refreshing Seltzer Sipper… Seriously!
Have you tried the trending balsamic vinegar and sparkling water drink?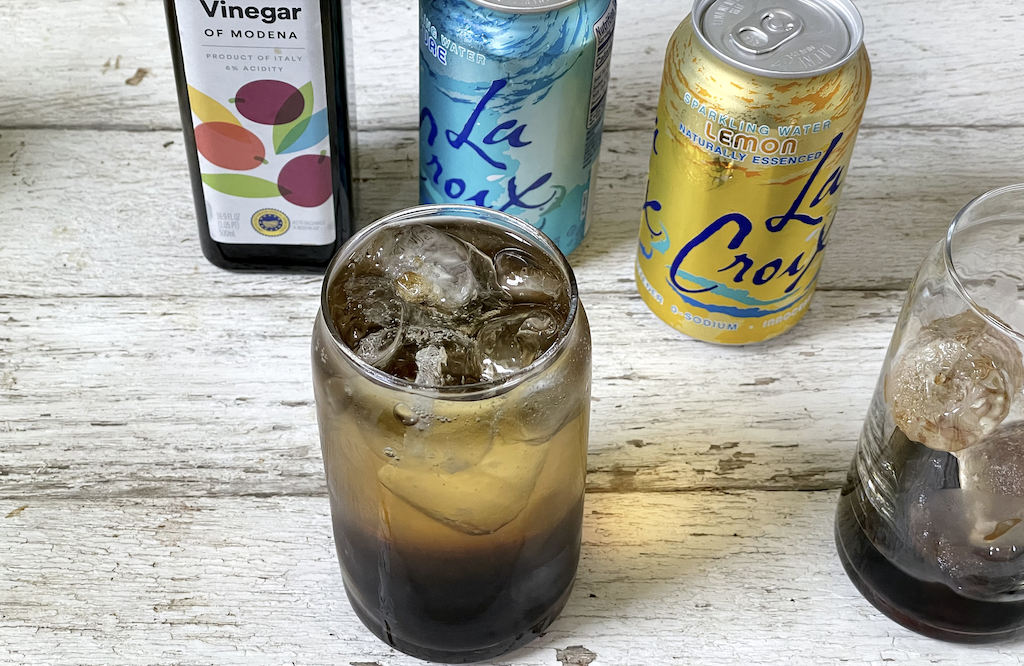 Sparkling water and balsamic vinegar?!?!
Yep, it's a thing! Don't knock it 'til you try it! While it does sound like it might not be the most appealing thing in the world, trust us when we tell you that it's actually pretty tasty. The key is to get just the right amount of vinegar, plenty of ice, and enjoy this drink chilled.
To keep this drink keto-friendly, I used 1 tablespoon of balsamic vinegar and 1 tablespoon of red wine vinegar instead of all balsamic vinegar. One tablespoon of balsamic has 3 grams of carbs and we figured 6 grams of carbs was a little on the high side for a beverage.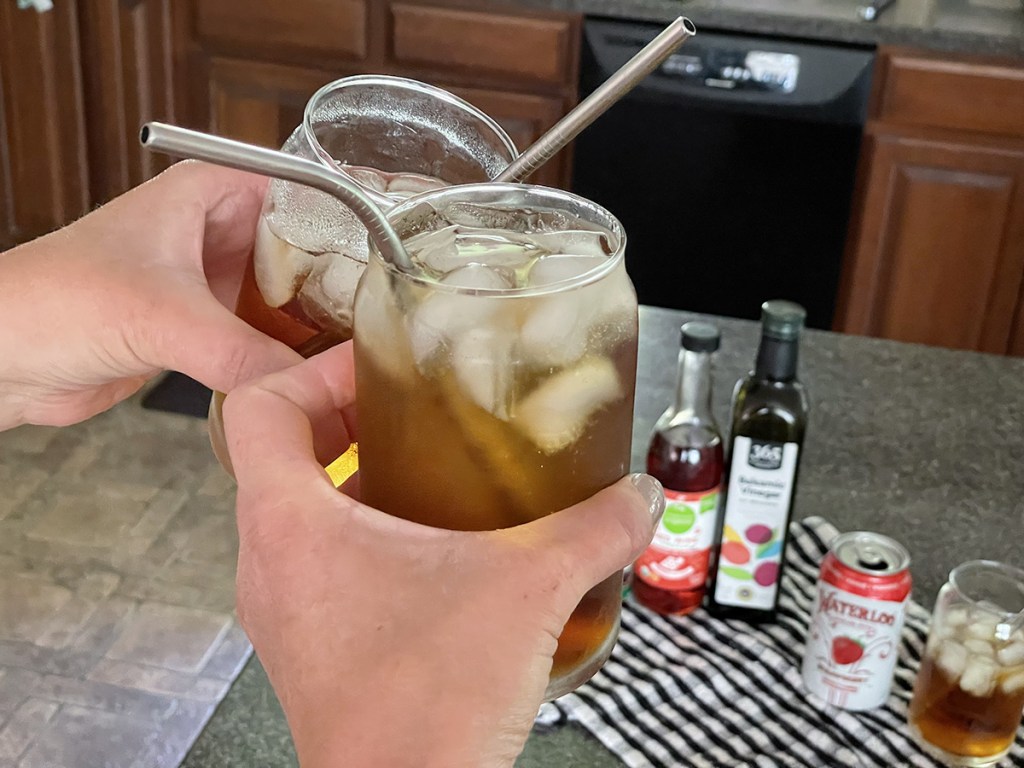 Cheers to "Healthy Coke"
You might have seen this drink on social media last year with the hashtag #healthycoke so we're sharing it again with summer on the way. In all honesty, this drink tastes nothing like a Coke, it just looks like Coke.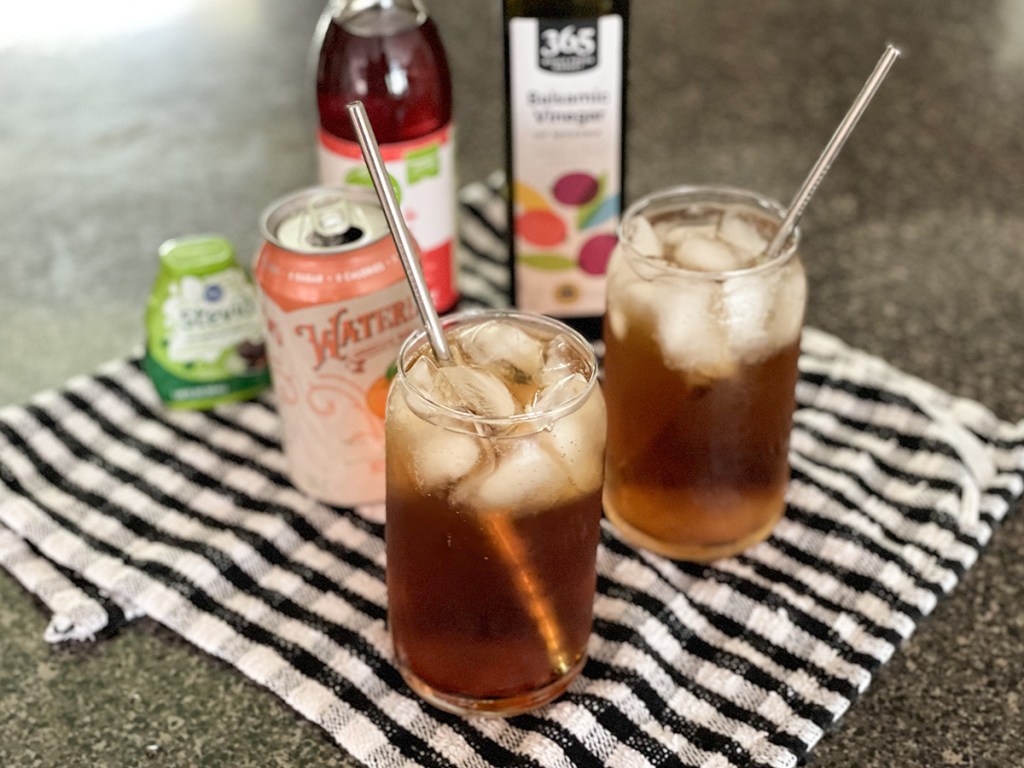 Tips for making the best balsamic vinegar and sparkling water refresher:
The original version of this drink uses all balsamic vinegar. Just note, if you go that route, it's going to be higher in carbs. I tried 2 tablespoons of balsamic with Pure LaCroix and thought it tasted pretty good!
Any flavor of sparkling water works. I did like the Waterloo Peach and Waterloo Strawberry flavors the best for this drink! Think of a perfectly ripe peach grilled on the barbecue and then drizzled with balsamic vinegar or a fresh strawberry spinach salad topped with balsamic vinaigrette.
This tastes so much better when served over ice — it makes all the difference!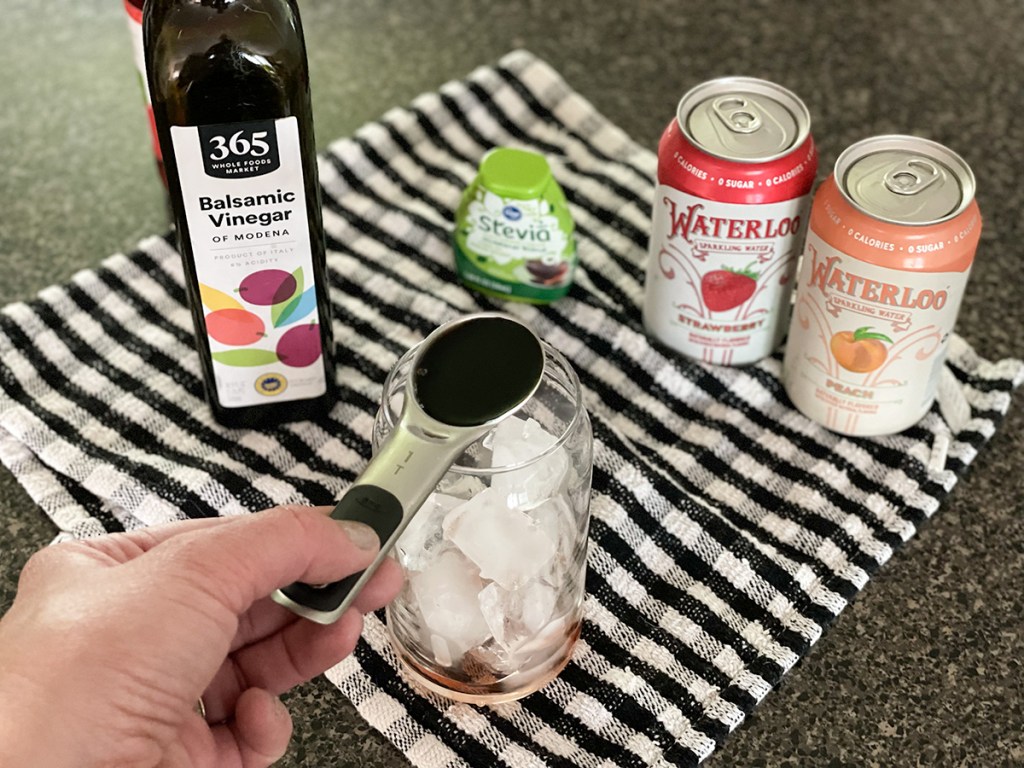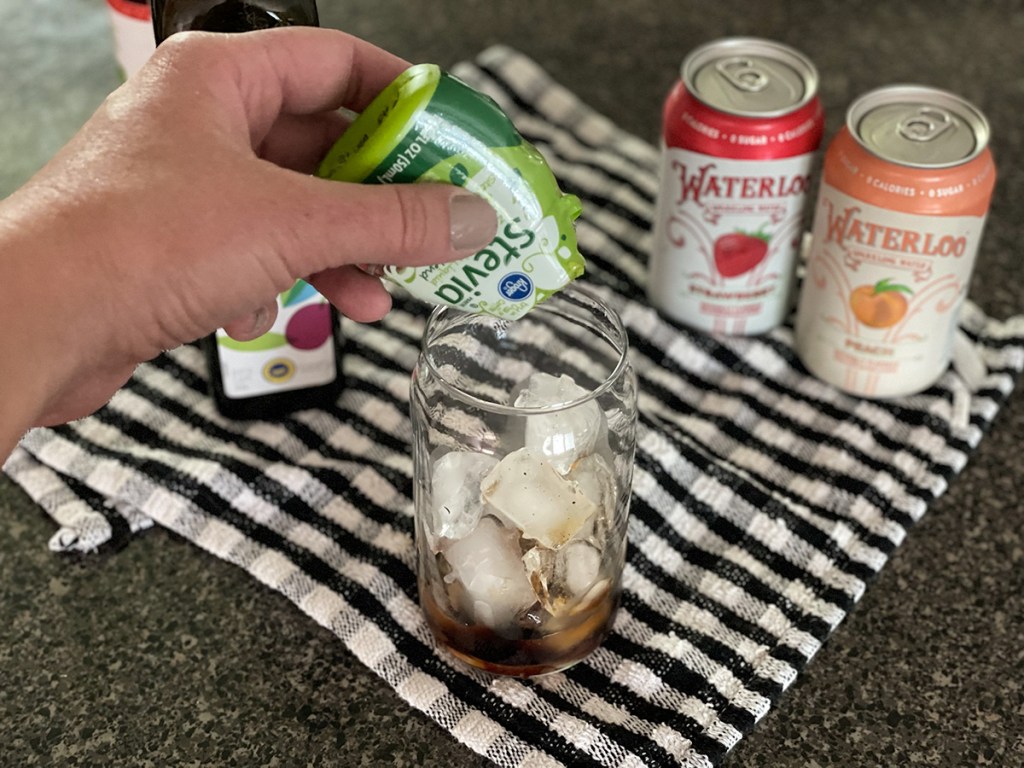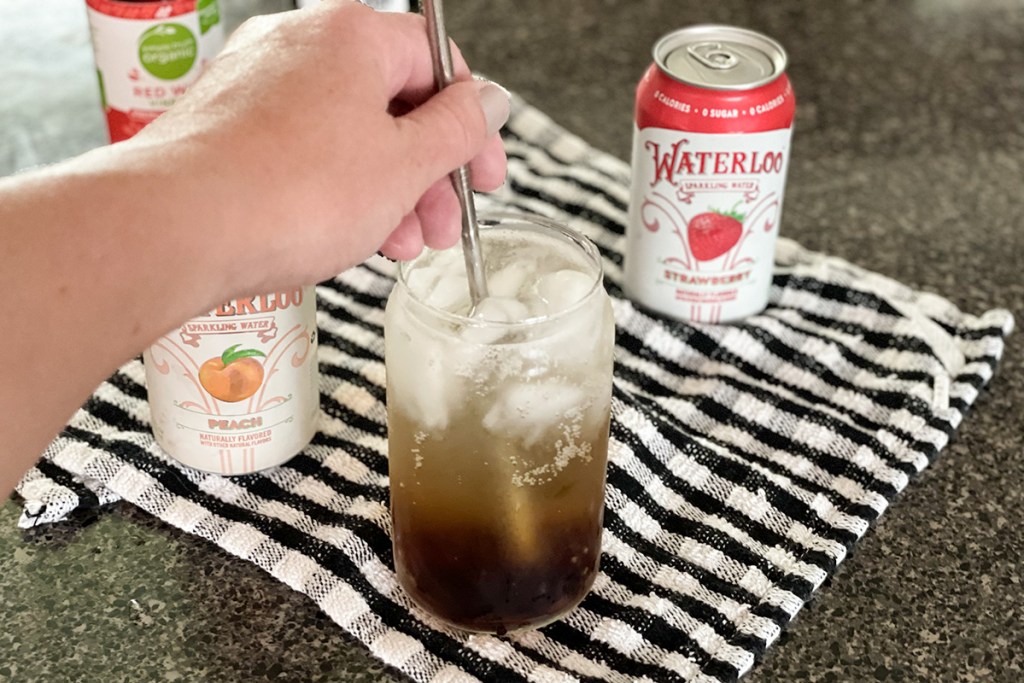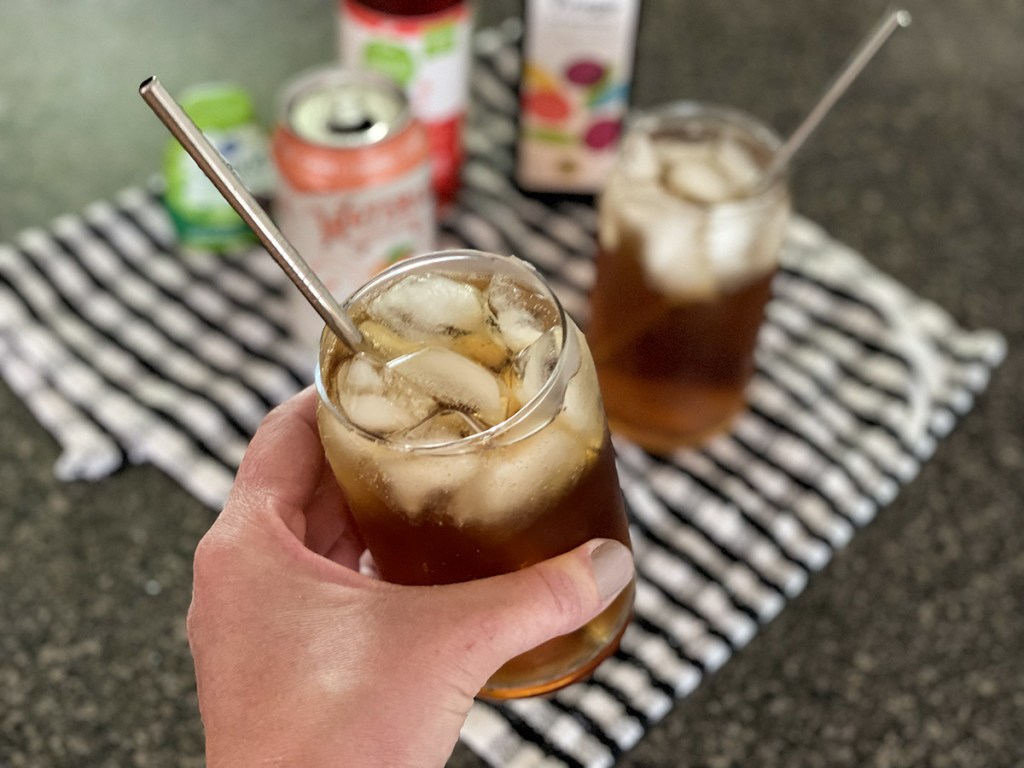 ---
Print
Balsamic Vinegar and Sparkling Water Refresher
yield: 1 SERVINGS
prep time: 2 MINUTES
total time: 2 MINUTES
A splash of balsamic and red wine vinegar with sparkling water of choice, sweetened with a squeeze of stevia for the perfect summer drink.
Ingredients
1/2 cup to 1 cup of ice per preference
1 tablespoon balsamic vinegar
1 tablespoon red wine vinegar
1 squeeze of liquid stevia (or more per preference)
12 oz. can sparkling water such as Peach or Strawberry Waterloo
Directions
1
Fill a 16-ounce or larger glass half full of ice.
2
Add balsamic vinegar, red wine vinegar, and liquid stevia to the glass.
3
Pour the sparkling water into the glass over the ice and vinegar. Stir to evenly mix up the vinegar with the sparkling water. Enjoy!
Nutrition Information
Yield: 1 serving, Serving Size: 1 drink
Amount Per Serving: 15 Calories | 0g Fat | 3g Total Carbs | 0g Fiber | 3g Sugar | 0g Protein | 3g Net Carbs
---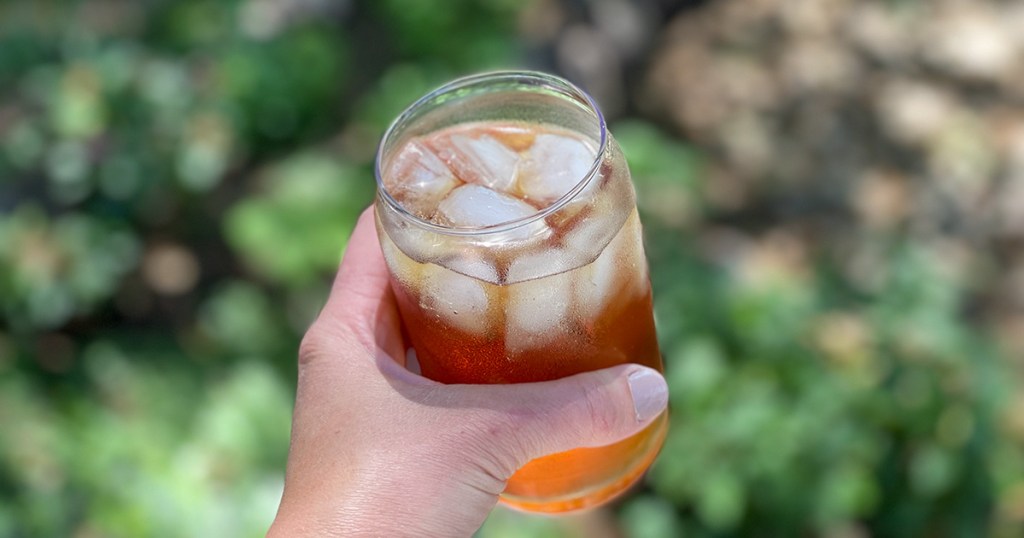 Who knew this would be so popular?
Let us know if you've tried this trendy drink! We'd love to know what you think! What's your favorite flavor of sparkling water to use? How much vinegar do you add? Have you tried all balsamic? What about red wine vinegar? Or even apple cider vinegar?
Leave your feedback in the comments so we can try more variations!
Here's what my Hip sidekick Jenna had to say about the balsamic vinegar and sparkling water refresher:
"WOW! I can't believe how good this stuff is! The flavor is so refreshing and it's mind-blowing that it is keto, and double-mind-blowing that it is made with vinegar! I made two servings and ended up drinking them both without sharing. So I had to make more for the kids. I made one with a tangerine sparkling water from Target and it was good, then made it with a Meyer lemon one and it was even better!"
---
Looking for more fun summer keto drinks? Check out our Chick-fil-A Keto Frosted Lemonade copycat recipe!