This Keto Lemonade is SO Refreshing & Totally Sugar Free!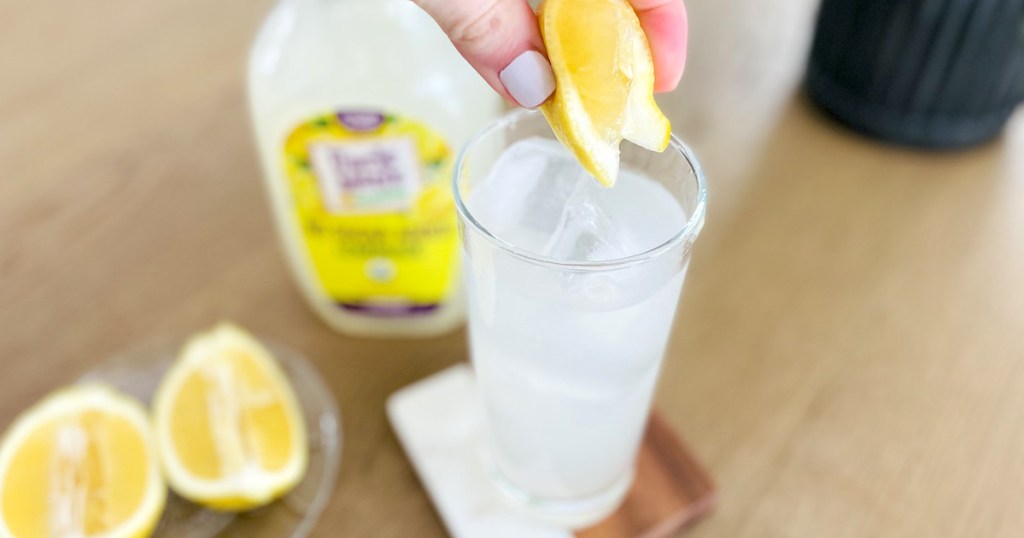 Lemonade can be keto too. 🍋
You may not think of lemonade when you think of a delicious keto drink to quench your thirst, but thanks to Uncle Matt's Organic sugar-free lemonade, the possibilities are truly endless. 😍
---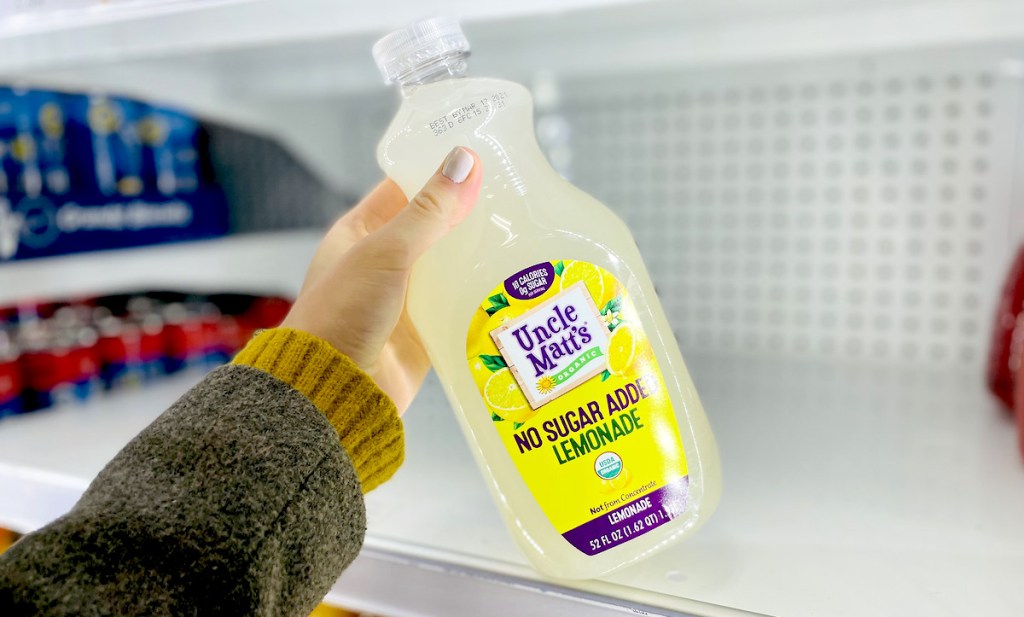 I was just in Target the other day when I saw this bottle of Uncle Matt's Organic No-Sugar-Added Lemonade (unfortunately, it's currently unavailable online), and considering it's keto-friendly and there was only one left, I knew I needed to snatch it up and give it a try!
Summer or not, lemonade is always a good idea. 😏
It's not often I drink much else besides coffee, black tea, and water, so if I'm going to treat myself and break away from routine, you better believe it's going to be amazingly guilt-free and delicious. 🙌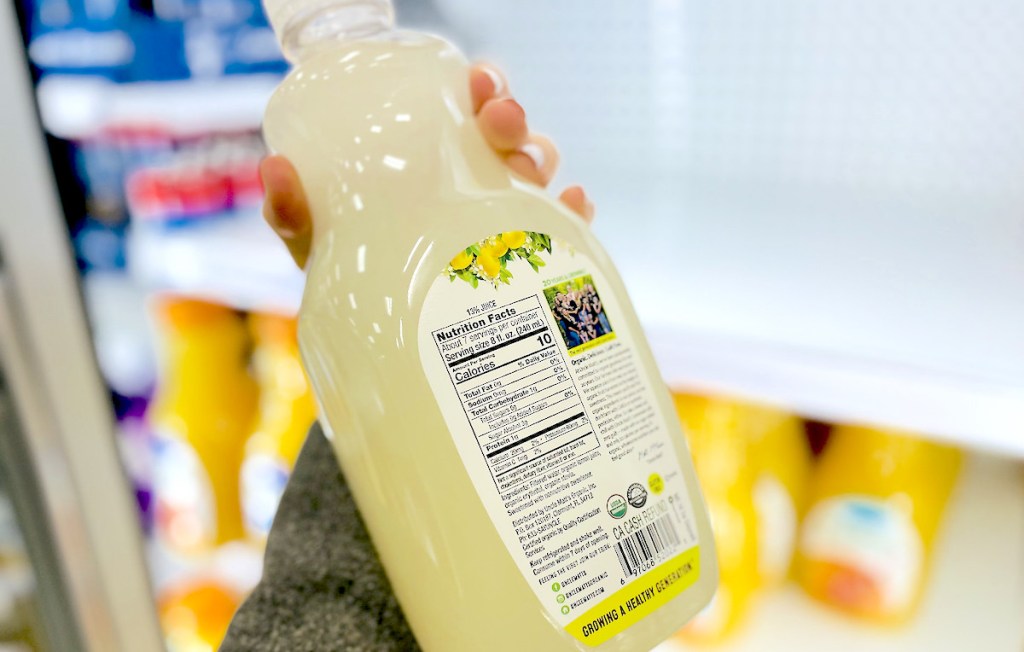 This keto lemonade is sugar-free, non-GMO, organic, and just 10 calories per serving! Plus, I love that the ingredients are super clean. Here's everything that's in it:
Filtered water
Organic lemon juice
Organic erythritol
Organic Stevia
Let's take a quick look at the nutritional info:
Serving Size: 8 fl. oz. | 10 Calories | 0g Fat | 1g Total Carbs | 0g Fiber | 0g Sugar | 3g Sugar Alcohol | 1g Protein | 0 Net Carbs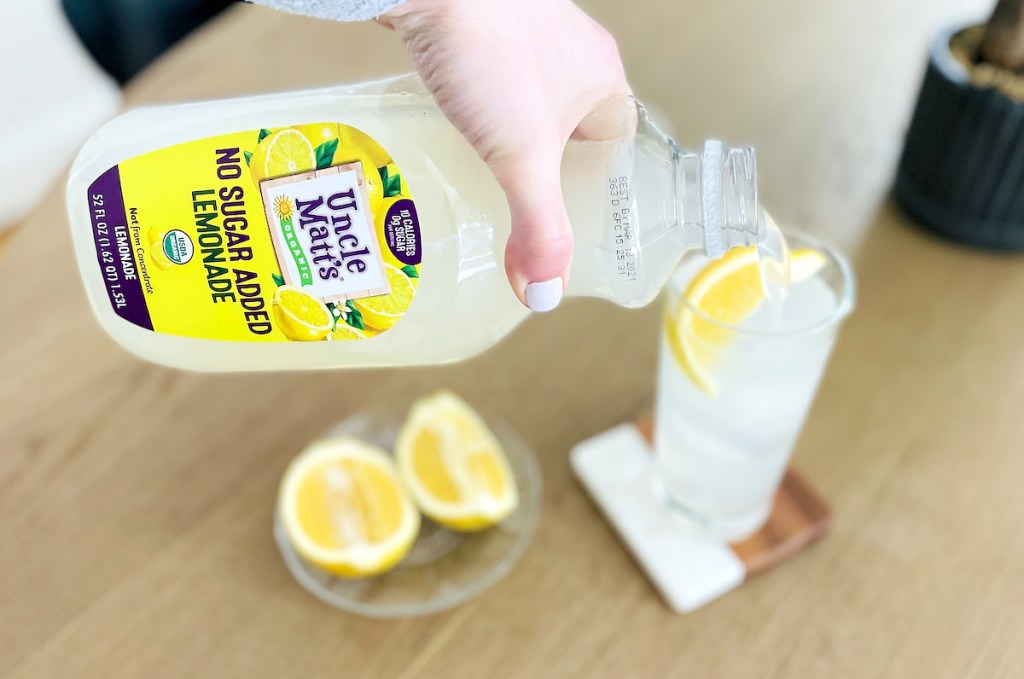 I really love the tartness of lemons so I was so ecstatic to try this keto lemonade drink and crossed my fingers it would be as great as I hoped! 🤞
So what did I think of Uncle Matt's sugar-free lemonade?!
It's so refreshing & tasty! 😍😋
This drink actually tastes like a sweet & tart lemonade thanks to the Organic Stevia and Organic Erythritol. However, it doesn't have a horrible aftertaste which I find pretty common with most keto-friendly sweeteners. That said, you can notice the sweet taste while sipping on this drink, but it's just enough to liven up the drink and might even make you think you're cheating on keto. 🤯
Even sweeter, the lemon flavor is SPOT ON.
The organic lemons used to make this sugar-free lemonade means it's not from concentrate (YAY!), so you'll get to indulge in flavors of real lemon that is tart and just so irresistibly refreshing – just the way I like it! 🙌
Like I said in the beginning, the possibilities with this sugar-free lemonade are truly endless! Since my tastebuds aren't used to consuming sweeteners (especially in a drink) I found it to be even more enjoyable over ice and with a 50/50 ratio of water to sugar-free lemonade. Essentially, this also cuts the nutritional value in half!
I also kicked it up a notch the other day and enjoyed it with some La Croix which put this lemonade on another level of refreshing! This leads me to believe there are so many keto drink possibilities and you can believe I'll be trying them all once summer hits! 🔥🍋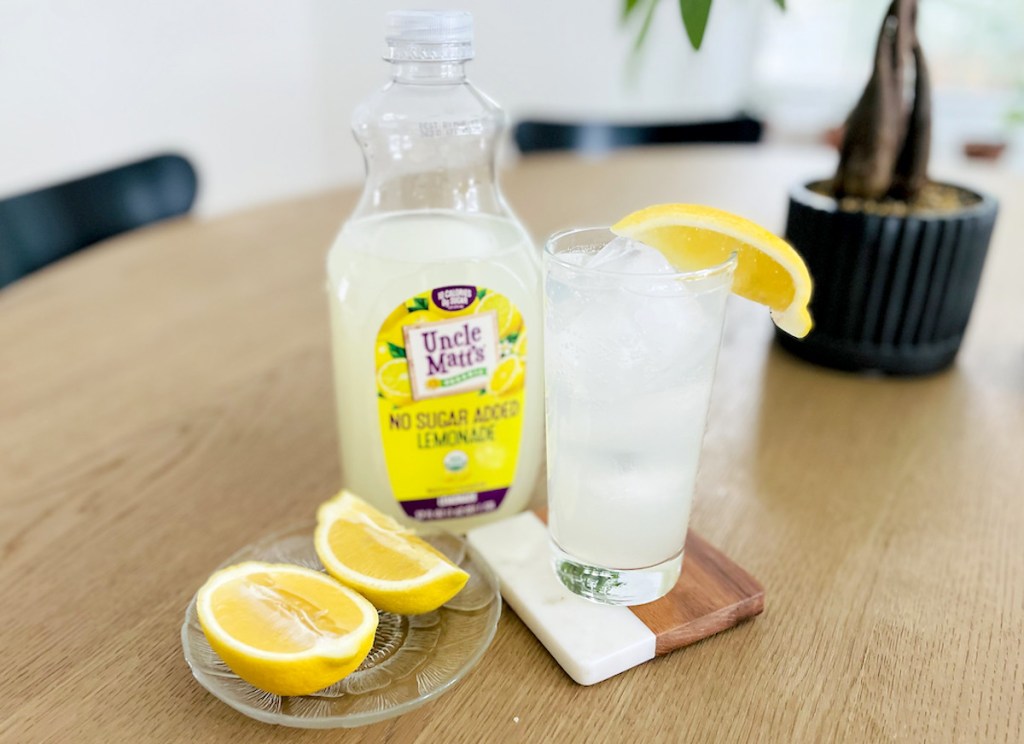 Here's where you can buy some of this Keto Sugar-Free Lemonade:
I found Target to be the most common and accessible place to buy this keto lemonade, but unfortunately, we noticed it's unavailable online, so there's a chance it could be soon discontinued. 😞 If you're able to purchase it in the store, it should be priced around $4.49 per bottle and if you have a RedCard, you can score an additional 5% off your purchase!
However, given the low stock and unavailability online, here are some other retailers who may have it in stock according to Uncle Matt's website:
Small local Farmer's Market Stores (varies by region & location)
*Note that these stores sell Uncle Matt's products, but whether they carry the sugar-free lemonade will vary by each store and location. Please call your local store before heading to the store or check their online inventory to avoid any disappointment.
---