We Love Fat Snax Keto Cookies & They're Included in the NEW Butter Box!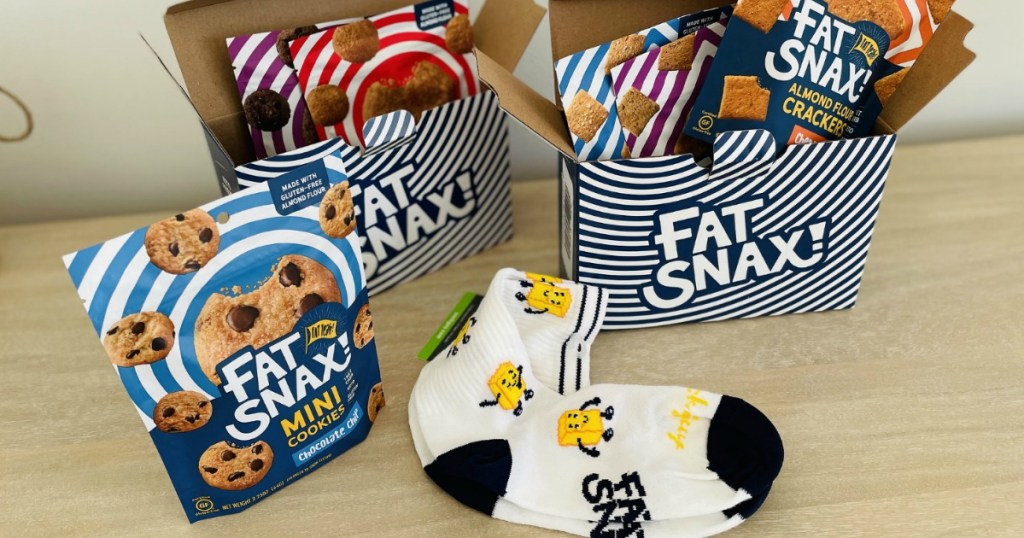 Cure your sweet tooth!
If you've got a craving for something sweet, then we have just the keto snack for you! These yummy Fat Snax Mini Cookies deliver the flavor without all the added carbs!
And if you're already a fan of the delicious Fat Snax crackers, they've come up with just the treat for you—The Butter Box! This bundle packages up a variety of almond flour crackers, their mini cookies, and you'll even get a pair of novelty Butter Socks! How fun! 🧈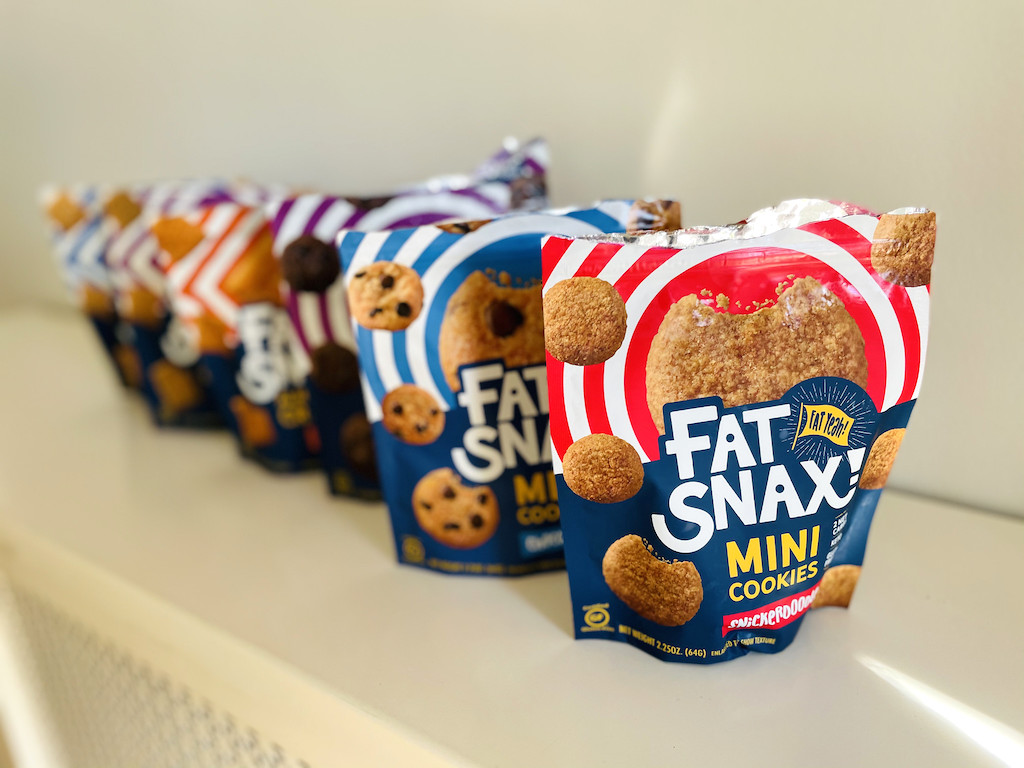 We've got a deal for ya, too!
For a limited time, you can save an additional 20% off your Fat Snax purchase when you use promo code HIP2KETO at checkout. Note that shipping is free on orders of $50 or more.
Get The Butter Box to try both the Fat Snax Mini Cookies and Crackers!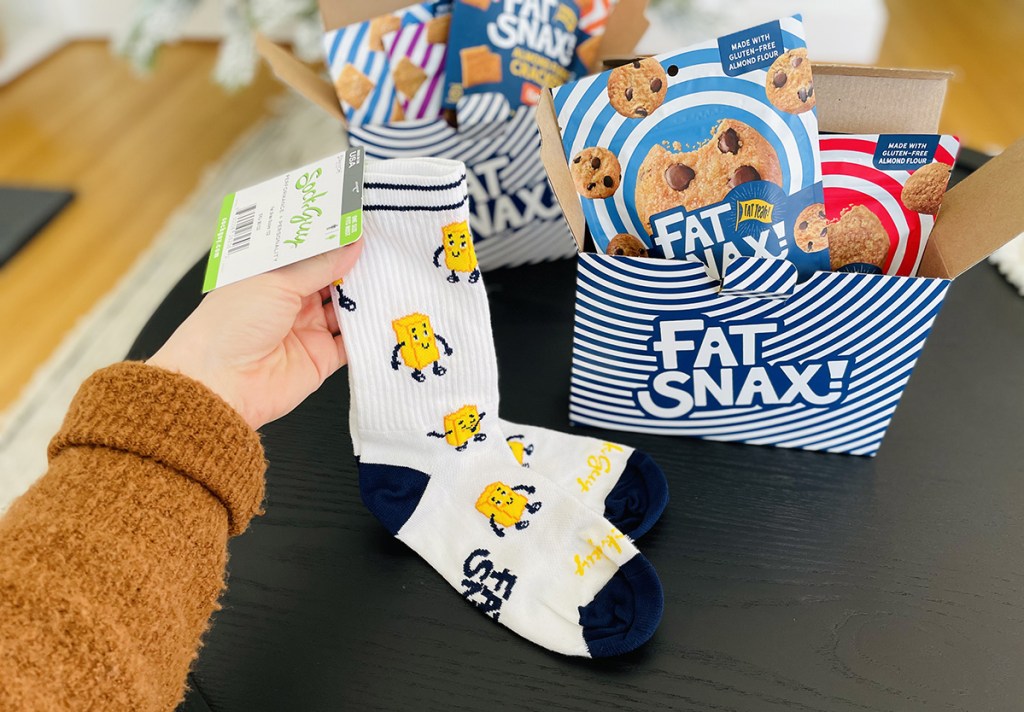 Fat Snax – The Butter Box – Only $29.99 shipped!
Bundle is already discounted with 20% off + you'll receive a 3-count variety of mini cookies, a 3-count variety of crackers, and a pair of butter socks!
---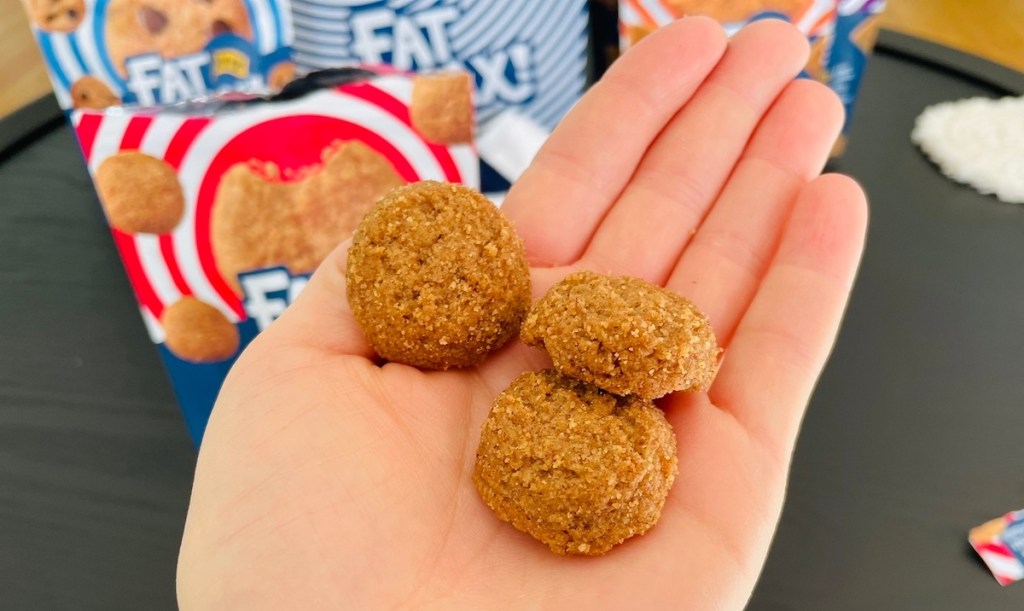 In addition, check out this deal you can score on Fat Snax Mini Cookies:
Or grab 2 boxes of Mini Cookies & save even more with this deal:
2 Boxes of Fat Snax Mini Cookies (16 packs) $56.98
Save an extra 5% OFF + Free Shipping when you buy 2 boxes
Score an additional 20% OFF with promo code HIP2KETO
Final cost just $45.59 shipped, that makes each pack only $2.85!
*To claim these deals, you must order with the "one-time purchase" option when adding to your cart.
---
Let's talk about these delectable cookies…
I was immediately head over heels for these little cookies! Their texture is perfect and the flavors are just so delicious! Best of all, I didn't get a weird after taste with ANY of them (or the crackers for that matter), which I find absolutely incredible because I always tend to get a weird after taste with any sweet keto foods.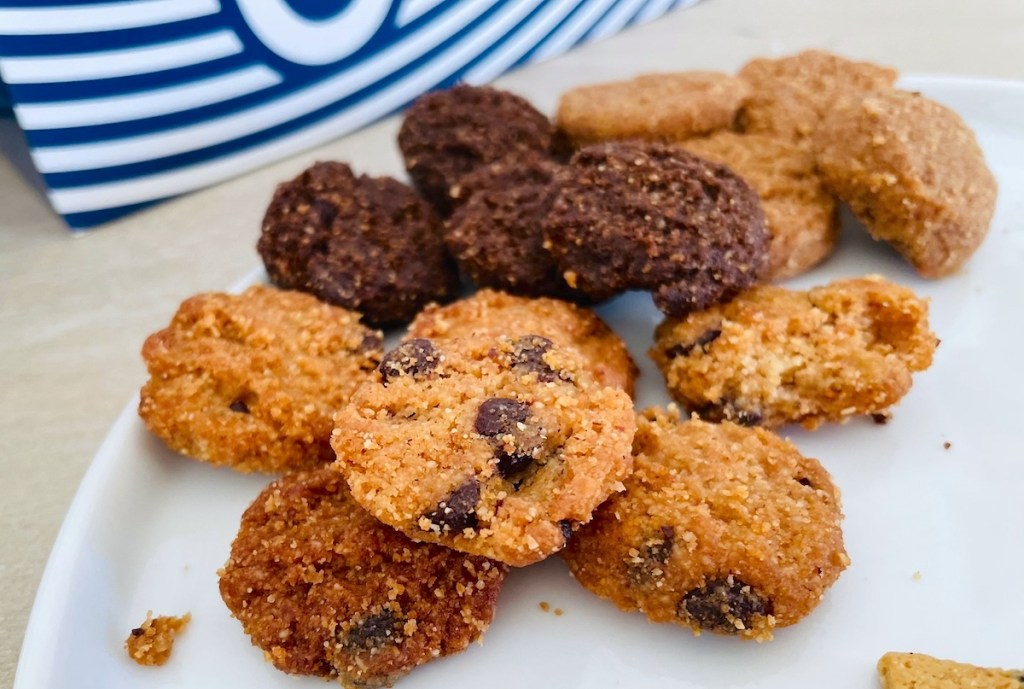 There are three Fat Snax Mini Cookie flavors to choose from: chocolate chip, double chocolate chip, and snickerdoodle. Fat Snax has totally knocked it out of the park with these flavors so the only problem you'll have is deciding on which flavor to grab! 😋
"These little cookies are so good, and totally hit the spot when I'm craving something sweet but don't feel like making a keto dessert." – Collin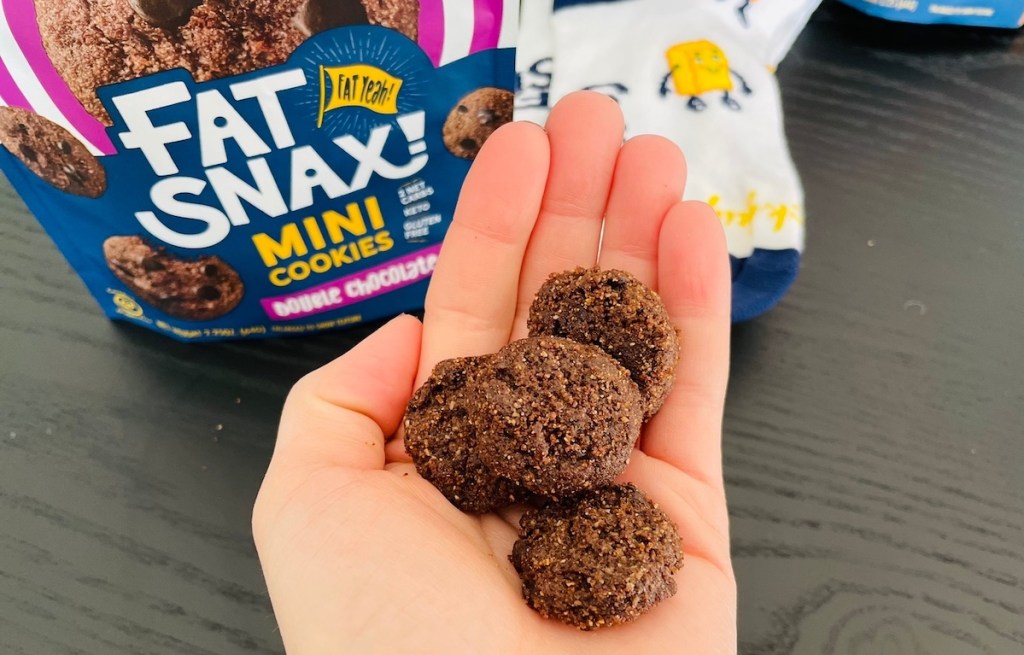 Here's my breakdown of the flavors available:
The Chocolate Chip Mini Cookies tasted just like Chips Ahoy cookie right down to the delicious crumbly texture which would go perfectly with a cold glass of milk. I was immediately taken back to my childhood eating these and once again cannot even believe they're keto!
The Double Chocolate Mini Cookies weren't too chocolatey which I really appreciated not being a huge chocolate fan. These were light and yummy with the perfect amount of cocoa flavors.
The Snickerdoodle Mini Cookies left me speechless and totally stole the entire show! They tasted JUST like the crumble topping on a coffee cake which happens to be one of my favorite indulgences. I found myself wanting to eat the entire bag in one sitting!
---
Fat Snax Mini Cookies Nutrition: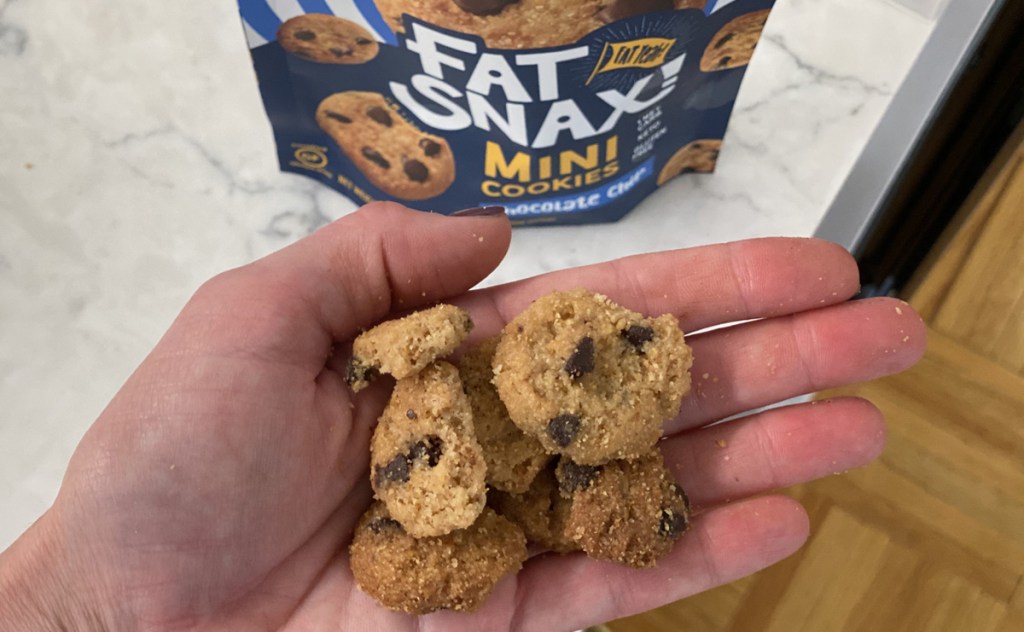 Serving Size: 7 Pieces | 170 Calories | 16g Fat | 11g Total Carbs | 4g Fiber | <1g Sugar | 6g Sugar Alcohol | 4g Protein | 1g Net Carbs
---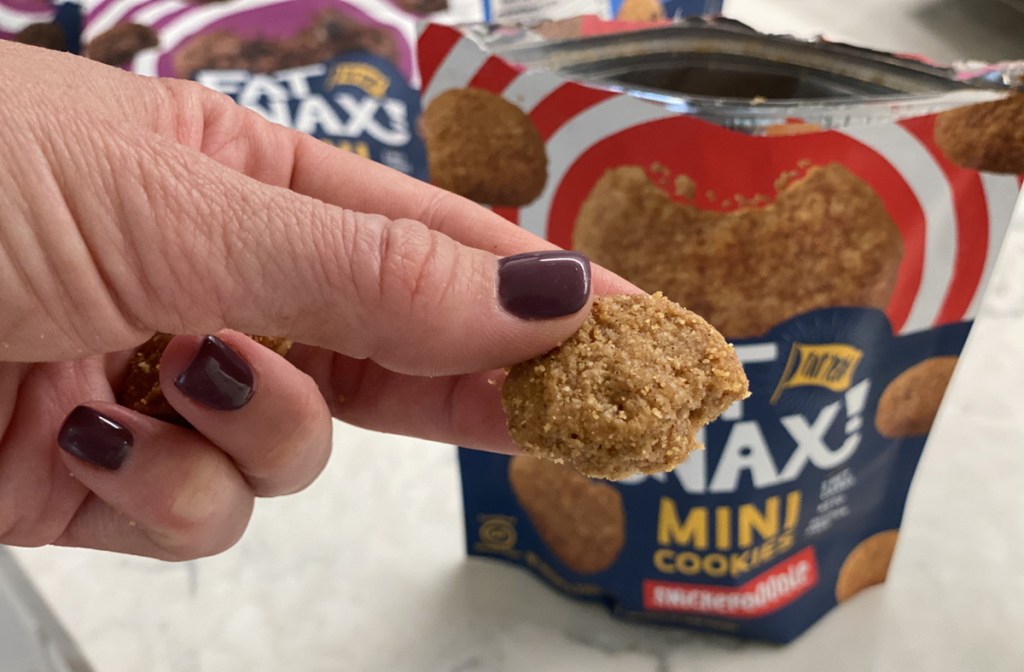 Serving Size: 7 Pieces | 180 Calories | 17g Fat | 10g Total Carbs | 3g Fiber | <1g Sugar | 5g Sugar Alcohol | 4g Protein | 2g Net Carbs
---
Serving Size: 7 Pieces | 170 Calories | 15g Fat | 12g Total Carbs | 4g Fiber | 0g Sugar | 6g Sugar Alcohol | 4g Protein | 2g Net Carbs
---
Craving sweets? Try one of our easy keto dessert recipes!