Are El Fluff Keto Bakery Chocolate Chip Cookies Worth The Hype? (Spoiler Alert: Oh My… YES!)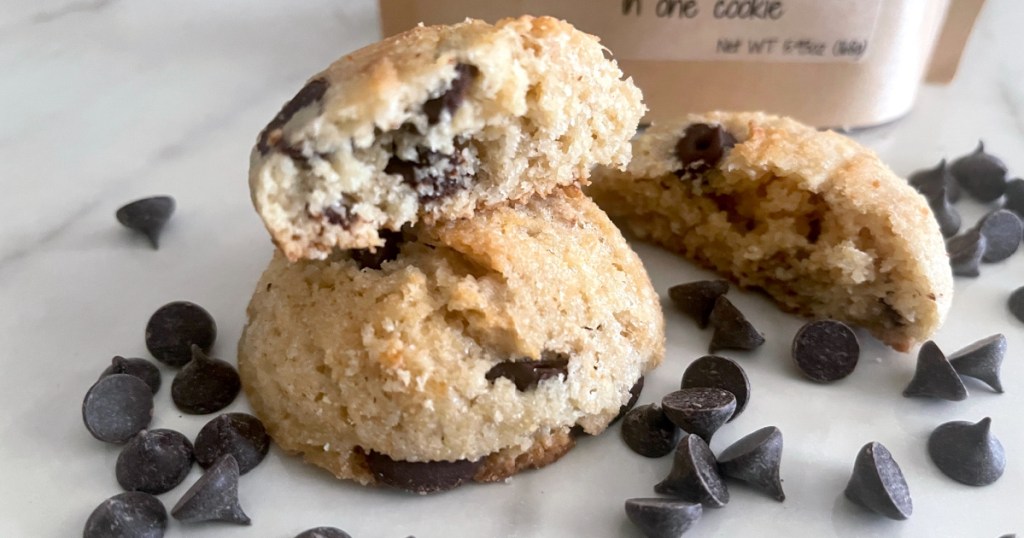 Calling all keto cookie monsters!🍪
There's really nothing better than a delicious chocolate chip cookie! If you're like me, you don't always have time to whip up a fresh batch of low carb cookies at home. Convenience is key for me, and I'm always looking for ready-to-go keto snacks I can munch on during my busy workdays.
Recently, I grabbed a bag of the El Fluff Keto Bakery Chocolate Chip Cookies, and OH MY… they did not disappoint!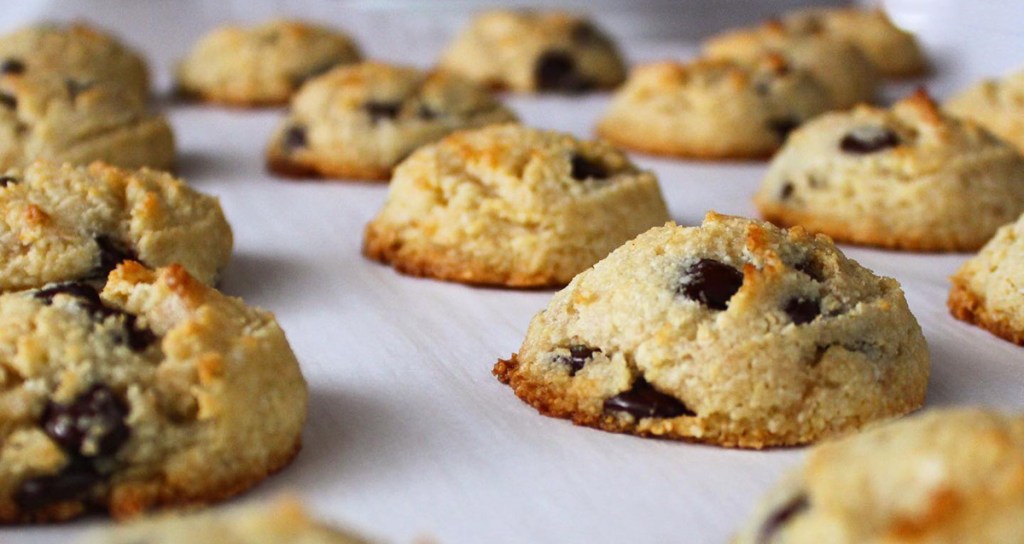 El who?
El Fluff Keto Bakery is a family-owned business based in Woodland, California, and specializes in gluten-free, keto-friendly desserts. If you're lucky enough to live close by, you can order donuts, cupcakes, cookies, conchas, pizza crusts, and scones for local delivery.
If you're like me and don't live in the area, you can order their delicious keto chocolate chip cookies and have them shipped to you. Sadly, their other menu items are not currently available outside of their local delivery area.
---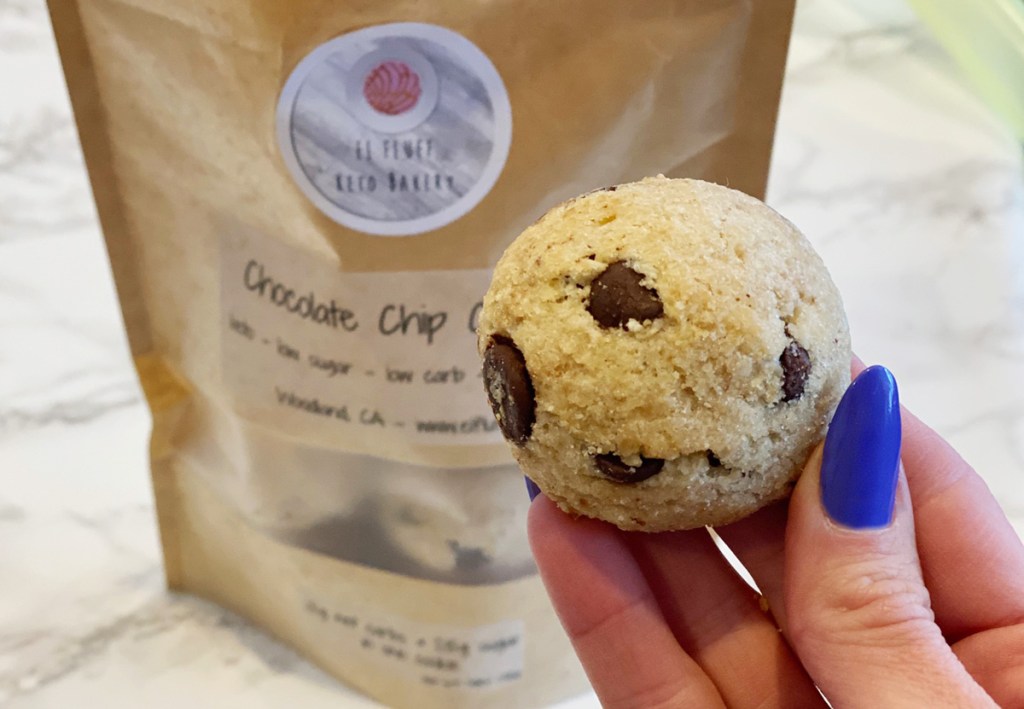 El Fluff Keto Bakery Chocolate Chip Cookies Nutrition
Serving Size: 2 Cookies | 226 Calories | 17.7g Fat | 7g Total Carbs | 3.9g Fiber | 0.3g Sugar | 4.5g Protein | 3.1g Net Carbs
Ingredients: Almond flour, Swerve, butter, Lily's chocolate chips, eggs, coconut flour, pure vanilla extract, baking powder, baking soda, xanthan gum, kosher salt, eggs, milk, nuts.
---
What I personally love about these yummy El Fluff keto chocolate chip cookies is that the ingredients are pretty clean as far as keto treats go. They remind me of a cross between a muffin and a cookie, as they are a little softer than similar cookies I've tried such as High Key cookies.
I mean, you can't go wrong with a chocolate chip cookie clocking in at just 1.5g of net carbs each!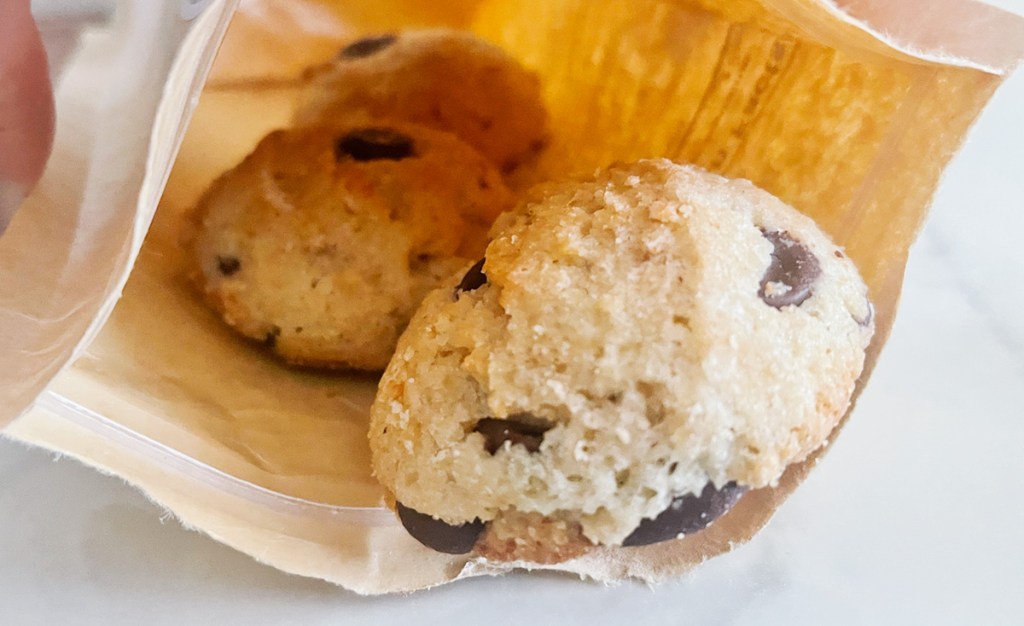 Coffee & cookies? ☕️🍪
I find that just one cookie is actually satisfying, even though they are a little on the smaller side, they're super thick and puffy. They for sure have a sweet taste from the Lily's chocolate chips and Swerve sweetener used in the recipe. I think they'd be great to have with a cup of coffee if that's your thing, I'm one of the few weirdos that doesn't drink it! I know, I know. 🤦🏻‍♀️🤣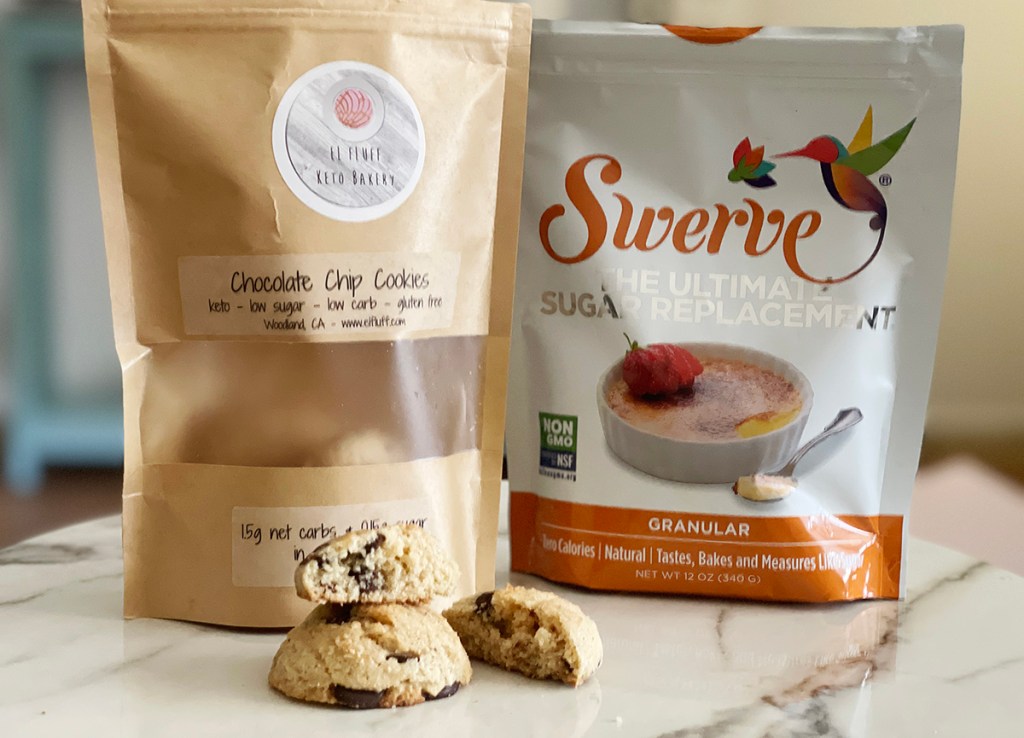 Full disclosure: I will say that these cookies are on the pricey side at $19.99 per 10-piece bag. They're quite a bit of a splurge, however, El Fluff recently announced that they have partnered with Swerve to drop the price of their keto chocolate chip cookies to $13.37 per bag. Shipping will run you $6.99 and is free with the purchase of three bags, so that's your best bet to save a little more money.
To get the most bang for your buck (and enjoy lots of delicious keto cookies!), do this:
---
Here's what a few other cookie monsters have to say about El Fluff Keto Bakery Cookies…
"I've tried the chocolate chip cookies and the chocolate cupcakes and I can't wait to try the rest of their menu. It's that delicious… I would definitely recommend this to all my friends and family."
"These are so good! I tried the chocolate chip cookies and cupcakes. They are the best I've ever had, keto or not. I will definitely be ordering more."
"Omg so delicious!! Feel like I'm cheating and I'm not, they are that good!! I loved the chocolate chip cookies and blueberry scones so much. I just ordered a double order again!! I highly recommend them!"