New Keto Deals You Can Score at Whole Foods Market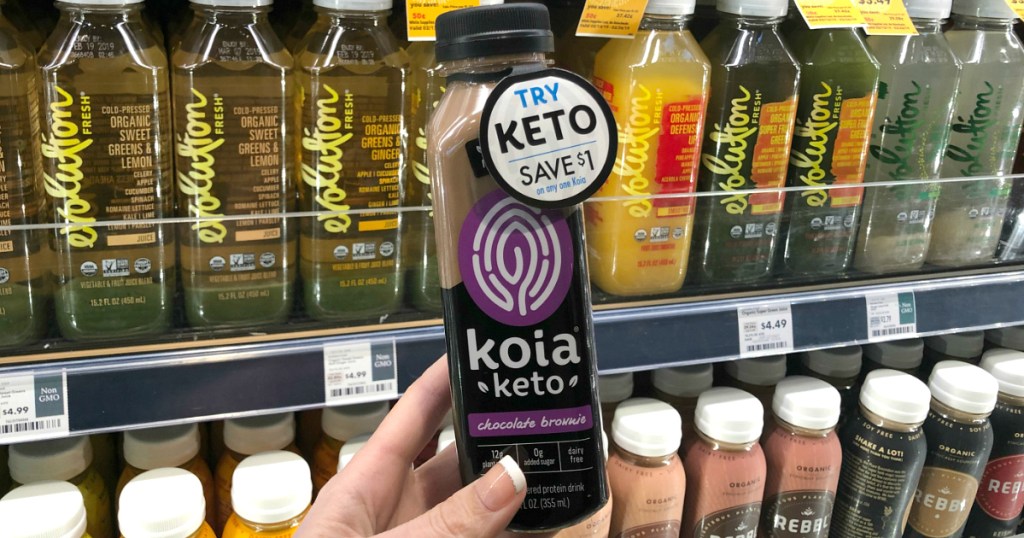 If you're a Whole Foods Market shopper, add these new keto deals to your February shopping list (Pssst… some are even Whole Foods Market exclusive foods!). Here are new Whole Foods keto finds we're loving…
Koia Plant Based Keto Beverages $4.99 (regular price)
Use the $1/1 Koia Keto Beverage coupon possibly found on the bottle
Final cost $3.99!
Keto-friendly and dessert-friendly? Plant-based and craving-based? Your sweet tooth won't know what hit it. These Whole Foods Market exclusive protein drinks are so rich and indulgent, you'll wonder how they have no added sugar per bottle. Available in three binge-worthy flavors: Chocolate Brownie, Cake Batte, and Caramel Crème.
Nutrition (12oz bottle): 22g Fat | 5g Net Carbs | 12g Protein | 270 Calories
---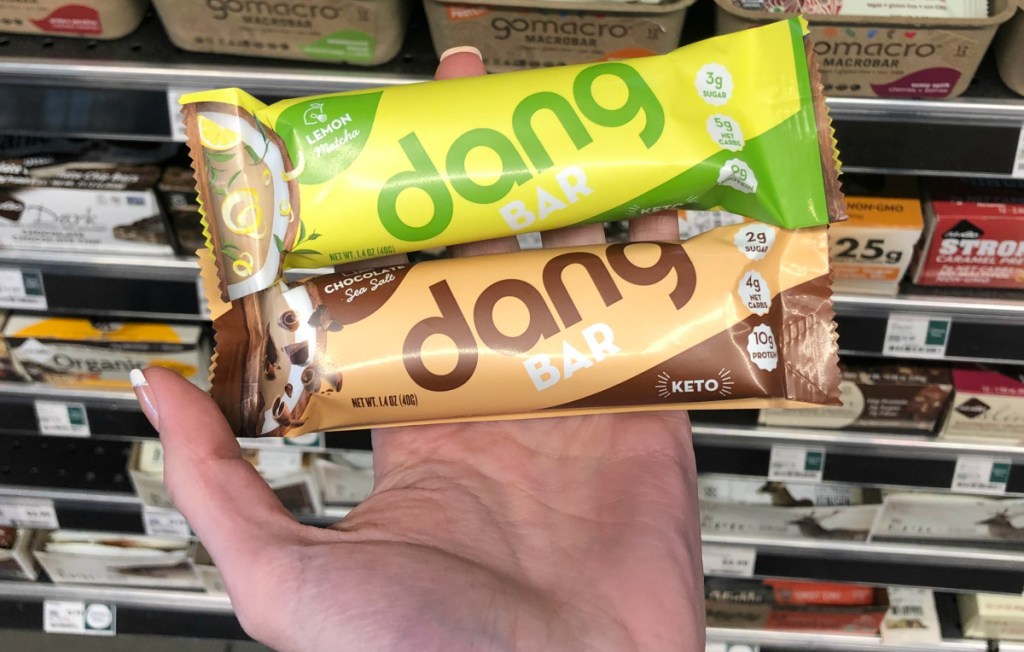 DANG Plant-Based Bar (regular price)
Just $2.49 each!
These high-fat bars are rich with ingredients like almond/cashew butter, cocoa butter, sunflower seeds, and chia seeds. These bars are keto- and paleo-friendly, as well as plant-based, vegan, and gluten-free. Available in Chocolate Sea Salt, Lemon Matcha, and Vanilla Almond flavors.

Nutrition (1 bar): 15-16g Fat | 4-5g Net Carbs | 9-10g Protein | 210 Calories
---
Love Good Fats Plant-Based Nutrition Bars (regular price)
Just $2.49 each!

Whether you follow a keto-friendly or anything-friendly diet, this is a delectable go-to nutrition bar. These bars are exclusive to Whole Foods Market and available in three flavors made without soy: Chocolatey Peanut Butter, Mint Chocolate Chip, and plant-based Chocolate Chip Cookie Dough.
Nutrition (1 bar): 13-14g Fat | 5g Net Carbs | 6-9g Protein | 190-210 Calories
---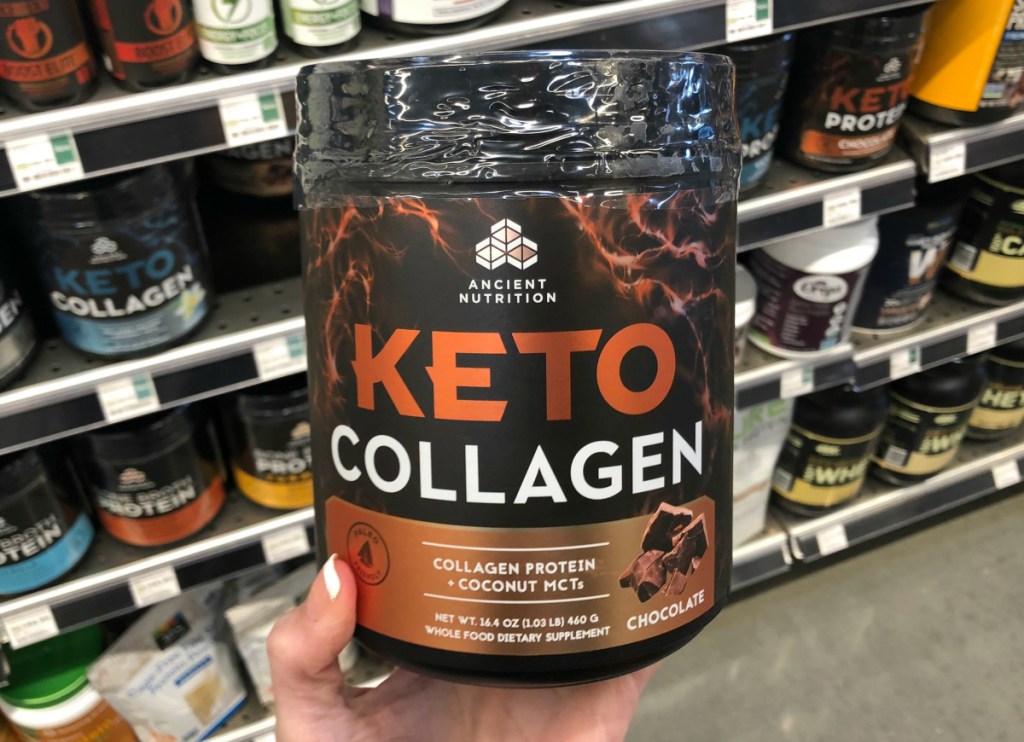 Ancient Nutrition Keto Collagen Protein + Coconut MCTs $44.99-$49.99 (regular price)
Submit for $5 Ibotta rebate whenever you buy any Ancient Nutrition Protein (exp. 8/31/19)
Final cost $39.99-$44.99!
Join the collagen craze! This keto-friendly powder combines forces with MCTs from coconut to take your nutrition to the next level. Weekend warriors, supermoms, and student all-nighters could benefit from these chocolate and vanilla flavors exclusive to Whole Foods Market.
Nutrition (1 heaping scoop): 3-6g Fat | 0-2g Net Carbs | 11-13g Protein | 90-100 Calories
---
Yo Mama's Pasta Sauce 25oz
Just $9.99 each! (regular price)

Each sauce is lovingly crafted with tomatoes, basil, onions, and garlic. They're keto-friendly, paleo-friendly, and family-friendly – available in Original Marinara, Tomato Basil, and Chianti Wine Marinara flavors.
Nutrition (1/2 cup): 4.5-5g Fat | 4g Net Carbs | 1g Protein | 70 Calories
---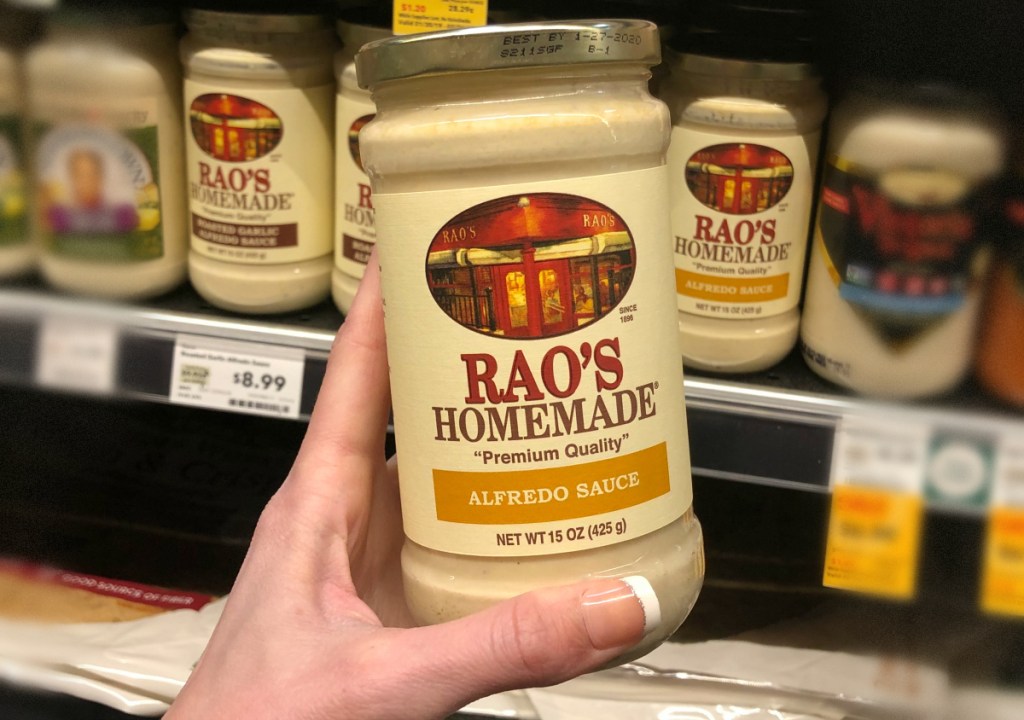 Rao's Homemade Alfredo Sauce 15oz
Just $8.99! (regular price)
Three cheeses. Cream. Butter. Yum! You'll think Sicily was bottled up and sitting at your table. Available in two delicious varieties: Alfredo Sauce and Roasted Garlic Alfredo Sauce.
Nutrition (1/4 cup): 9g Fat | 2g Net Carbs | 3g Protein | 100 Calories
---