Fun Keto FREEBIE — Print Our Goal Progress Coloring Page to Track Your Success!

Visuals make goal setting fun!
Fire up your printer and color the pounds away with our FREE weight loss printable. When you have a goal weight in mind, it's so exciting to track your progress to keep the momentum – and what's more, you can choose more than weight loss as your focus, which makes this process even more fun!
---
Weight loss progress coloring page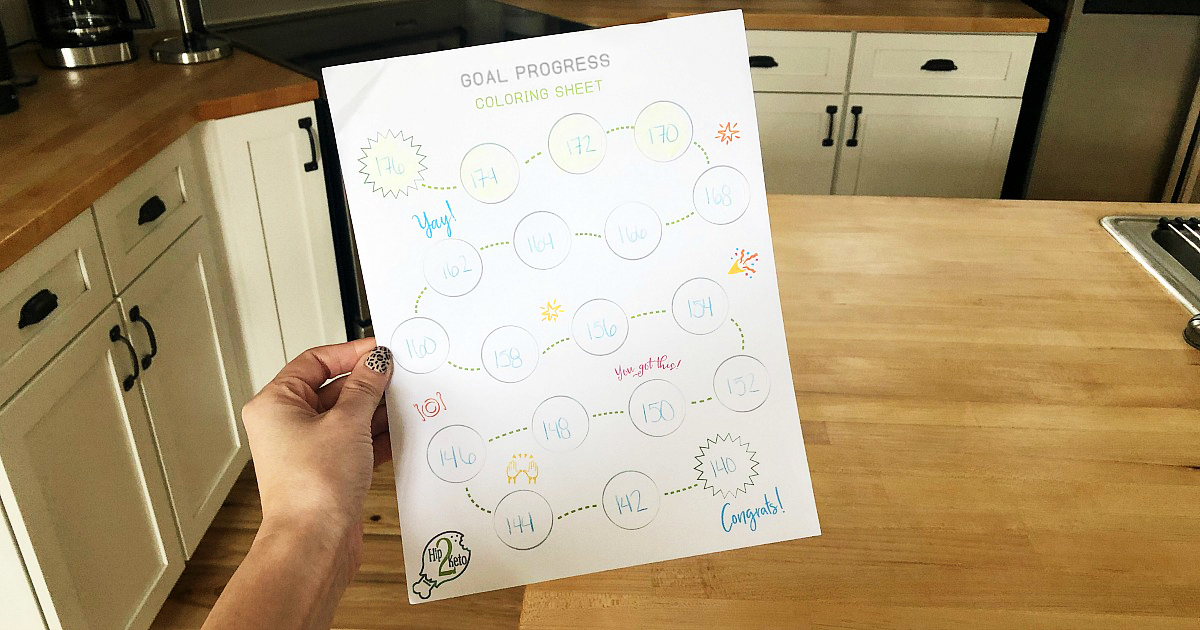 To ensure an even spread for the pounds, use the calculation below:
Fill in the first starburst with your starting weight.
Fill in the last starburst with your goal weight.
Subtract your goal weight from your starting weight and divide by 18.
Starting at your current weight, subtract that number for each circle until you make your way down to the goal weight.
For example: Using a starting weight of 176 and a goal weight of 140, you would end up with 36 pounds to lose. When you divide 36 by 18, you end up with 2 pounds per circle. Starting with 176 in the first starburst, the next circle would be 174, the following 172, the following 170, and so on… until you reach the end goal weight.
Then, simply shade the circle as you hit each weight mark to keep you motivated during your weight loss journey.
---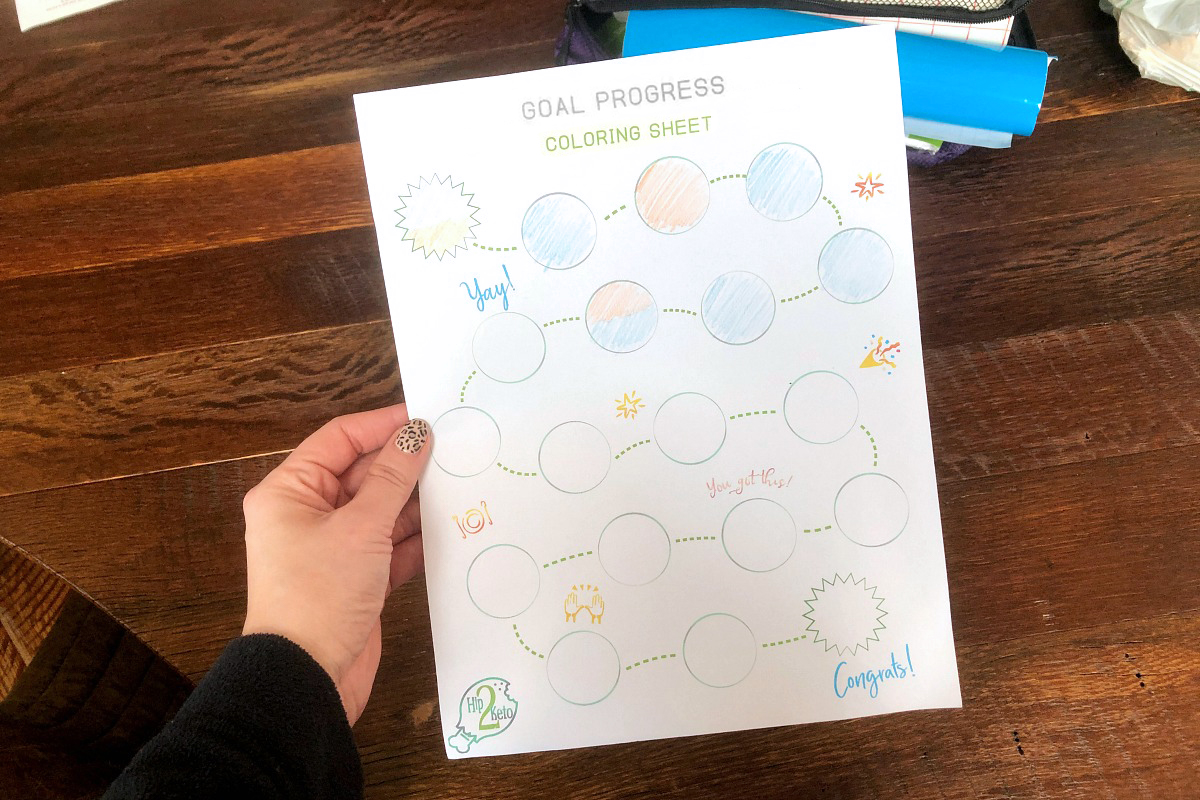 Mental clarity coloring page
Focused on improving your – well – focus? Another wonderful benefit of keto is the cognitive focus that comes with reducing carb and sugar intake. This printable works for improving (and tracking) your mental clarity.
Simply choose a color to represent clarity and a color to represent fog. At the end of each day, shade in the circle with the color that best suits how you felt that day. The goal is to end up with more clarity than fog.
For example: Choose blue for clarity and orange for fog. If you felt focused at the beginning of the day and foggy at the end, you can shade in the circle with half of each color, using the top half to signify morning and the bottom half for night.
---

Mood improvement coloring page
Looking for a mood boost? When you feel good on the inside, you radiate that same feeling on the outside. Track your overall well being and put a focus on the positive factors of keto outside of just weight loss. Plus, visibly see the positive change that happens to your mood can help build the momentum to continue on your keto journey long term.
Similar to the Mental Clarity tracking, you'll assign colors to rate your mood. We personally like using green for "good", yellow for "neutral", and orange for "bad". Then you'll give each day a color rating by shading in a circle. Again, the goal is to have a majority of the circle represent "good" mood days, so if you use the same colors we have, you'll want to see lots of green!
---
Exercise coloring page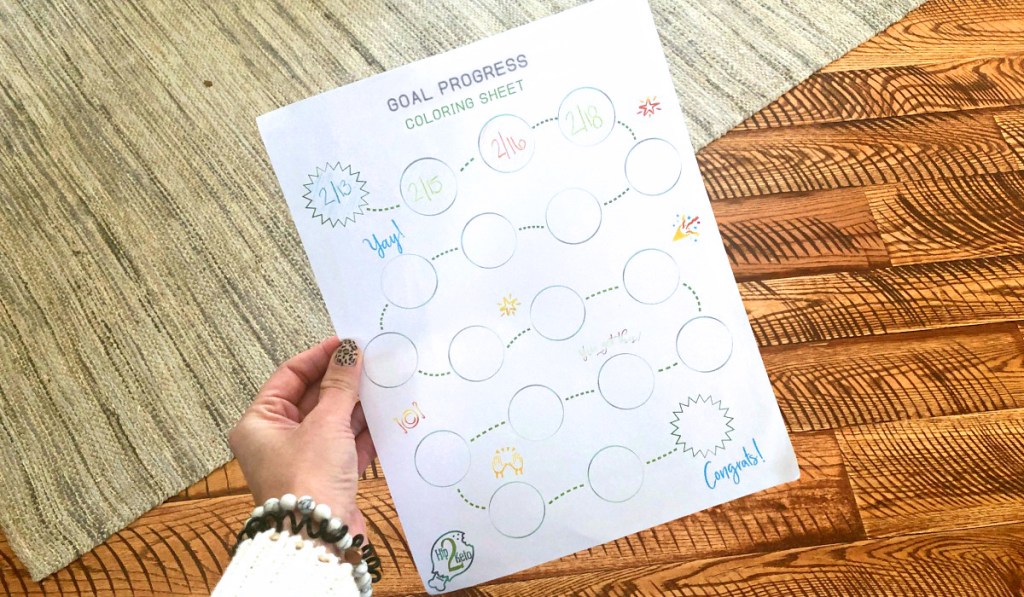 Is your treadmill dusty? Is your gym membership languishing? One of my favorite ways to use this coloring page is to track at least 19, 30-minute exercise sessions per month.
For example: Add the date to the circle as you go, and color each depending on the type of exercise. Walk or hike? Choose green. If you swim, go blue. Try orange for biking, and purple for lifting weights. It also helps to add the duration and distance (where applicable) to each spot. Then keep the completed pages to track how well you did over the year!
Whenever I fill up my chart for the month, I treat myself to something special (non-food), like an extra Netflix binge-watching session. Three completed sheets, and I splurge on something special, like new workout gear! I seriously love having this visual to remind me to keep moving!
---
Download the printable here and get ready to start celebrating your progress! You got this!