Get The Full Picture With This Simple Keto Diet Food Pyramid Graphic (& FREE Printable)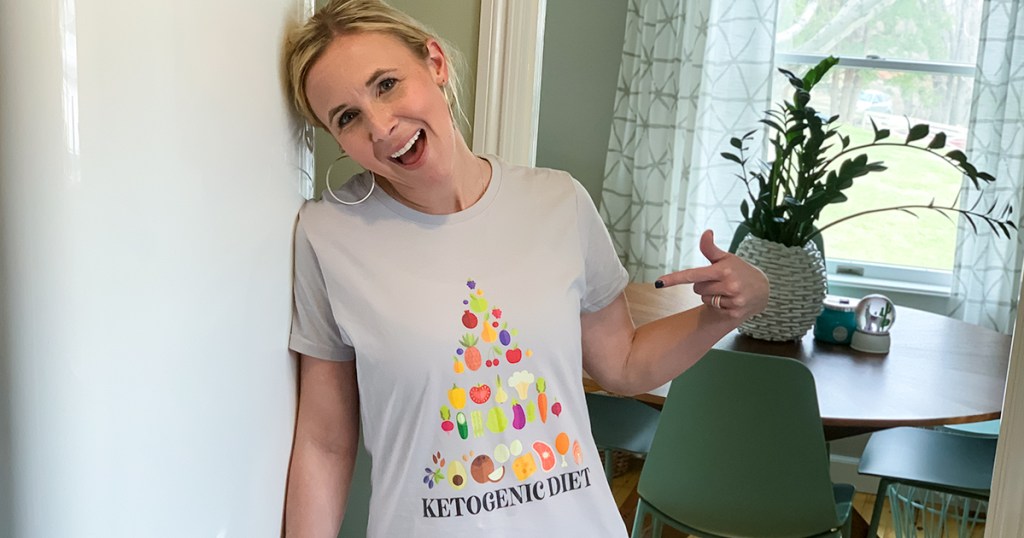 Even emojis make us salivate.
As with any way of eating, the keto diet comes with rules—eat good fats, avoid sugary carbs, and get plenty of water. To help drive your success, we created this simple keto food pyramid, along with a free printable for you to keep! Check it out below!
---

Top Tier
Berries & Moderate-Carb Vegetables – These are what you'll eat the least of on a daily basis due to generally higher carb amounts. These include strawberries, raspberries, blackberries, blueberries, tomatoes, eggplant, and peppers. If your macros allow, you can even include some moderate-carb fruits such as pears or melon when adding them into a dish.

Second Tier
Cheeses, Nuts, & Seeds – Higher caloric counts, a tendency to overeat these items, and food intolerances or allergies put the following foods up toward the top rung: cheddar cheese, parmesan cheese, other aged hard cheeses, bleu cheese, mozzarella cheese, flax seeds, sunflower seeds, chia seeds, peanuts, cashews, and almonds.

Third Tier
Greens & Vegetables — Eat these low-carb, leafy, and healthy vegetables more freely: romaine lettuce, spinach, arugula, bok choy, swiss chard, asparagus, radishes, cucumber, celery, zucchini, cauliflower, and broccoli.

Fourth Tier
Eggs, Meats, & Fish – Protein comprises the fourth tier of the pyramid and contains foods like eggs, bacon, salmon, steak, lamb, chicken thighs, and other fatty meats. Please note you can shoot for leaner meat like grass-fed beef and chicken breasts, but be sure to add fats.

Bottom Tier
Healthy Fats & Oils – The holy grail of keto, fats help satiety, brain function, and make your food taste great! Choose from butter, ghee, olives/olive oil, macadamia nuts/macadamia oil, avocado/avocado oil, coconut oil, and MCT oil.

Beverages
From always to rarely: While these don't appear on the pyramid, it's good to note you can partake in the items at left more frequently than those items on the right: water, tea, coffee, zero-sugar carbonated drinks, dry wines, and clear spirits.

Foods to Avoid
Steer clear of desserts, bread products, grains, rice, pasta, starchy vegetables, processed foods, sugary snacks, and low-fat products.
---
to have this keto food pyramid on hand!