4 Amazing Keto Bakeries That Ship Nationwide
These amazing keto bakeries will ship nationwide and we've even scored you discounts at a few!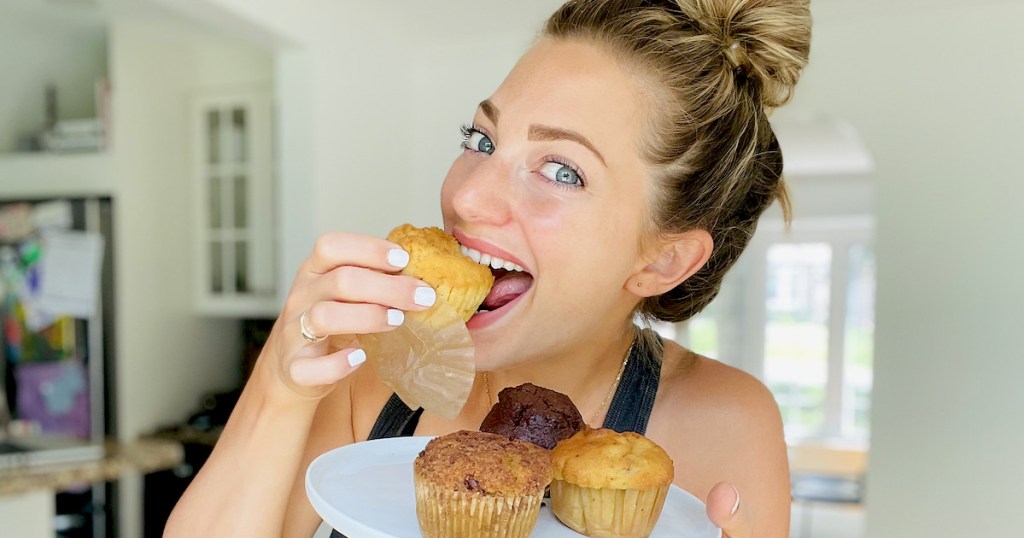 We love convenient sweet treats! 😋
Gourmet cupcakes, muffins, bagels, coffee cake, cheesecake, & fresh baked gooey cookies – these amazing keto bakeries will ship right to your front door!
Looking for keto sweets and treats? Yes, please! 🙋‍♀️ When it comes to sticking to keto, the thought of having some satisfying & totally delicious baked goods may seem like a cheat day. And while we share plenty of delicious recipes, we know sometimes people are strapped for time or simply don't like to bake.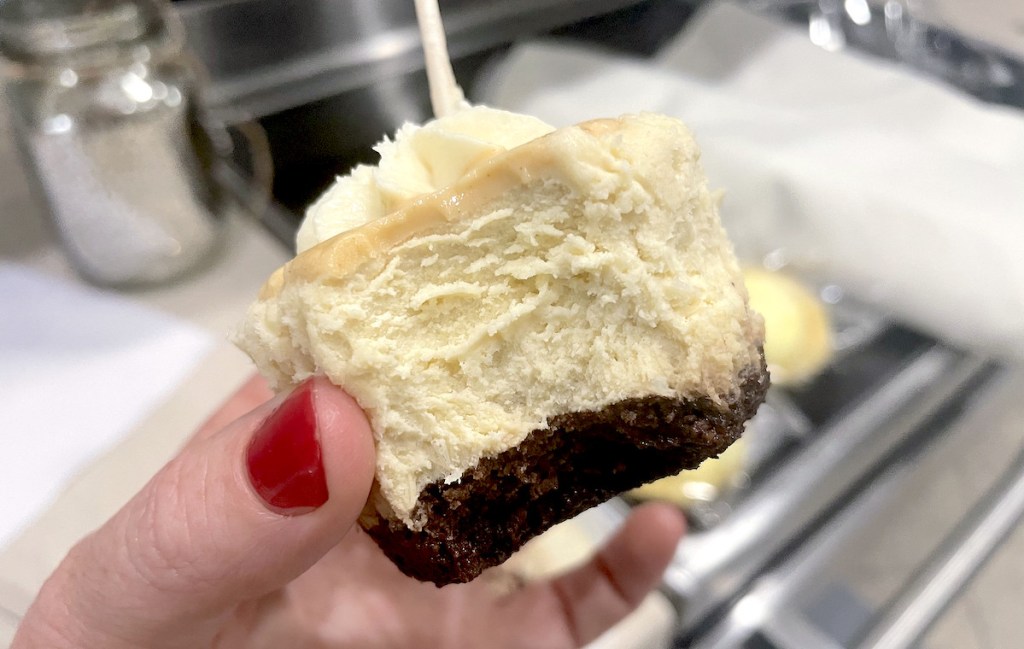 Lucky for all of us, there are some seriously delicious keto bakeries across the country that will ship directly to your door. Get ready to curb that sweet tooth or stock up just in time for your next keto-friendly party, because I'm sharing 5 keto bakeries you're going to love. 😍
---
These are the top-notch keto bakeries we recently tried:
---
1. Wholesome Keto Treats bakery has a large variety of baked goods.
*Ships fresh Monday-Thursday.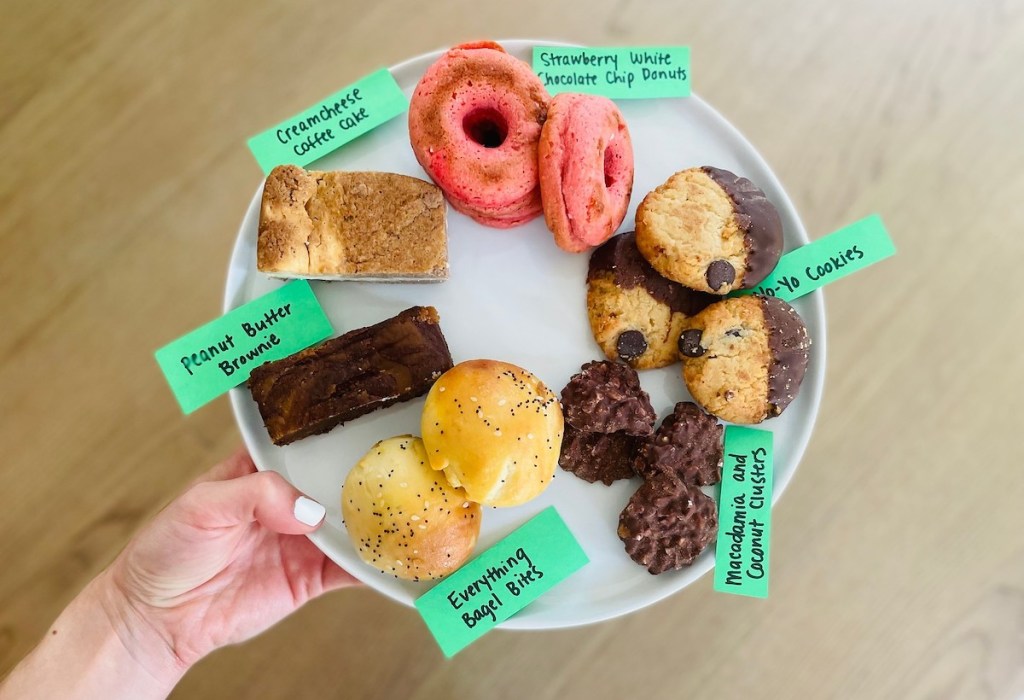 Everything I tried from Wholesome Keto Treats bakery was absolutely incredible! In fact, every time I tried a new treat, I was trying to get the whole family to try them.
I frequently found myself saying, "These literally don't even taste keto… you have to try this!" 😍
They offer a huge variety of keto treats from brownies, bear claws, cheesecakes, pound cake, Swiss rolls, twinkies, macaroons, and the list could go on and on and on! 😍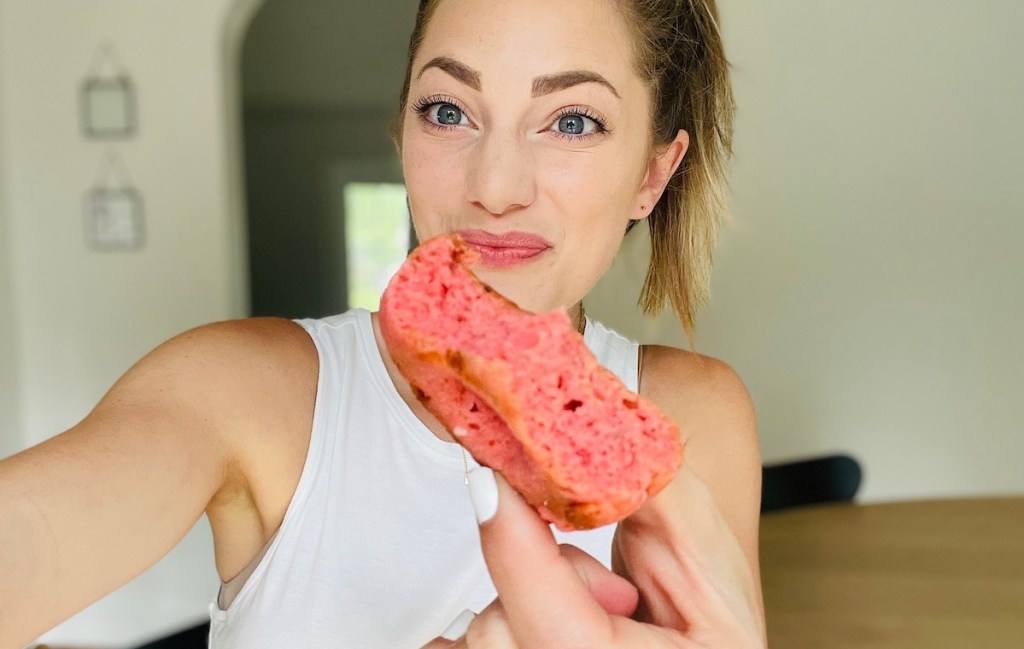 Their Strawberry White Chocolate Chip Doughnuts (just 1.8g net carbs) are completely OUT OF THIS WORLD! 🤤😍 They may not look like much, but one bite out of this doughnut and I was doing my happy taste buds dance (yes, that's totally a thing 🤣). Everything from the texture to the flavor was spot on!
Even my kiddos & significant other who are typically turned off by keto treats absolutely loved our Wholesome Keto Treat delivery! The yo-yo cookies (0.5g net carbs in one cookie) were also a huge hit with everyone and my middle son was obsessed with their coffee cake cheesecake (6.5g net carbs)!
It gets better, friends. Wholesome Keto Treats even has savory breakfast foods.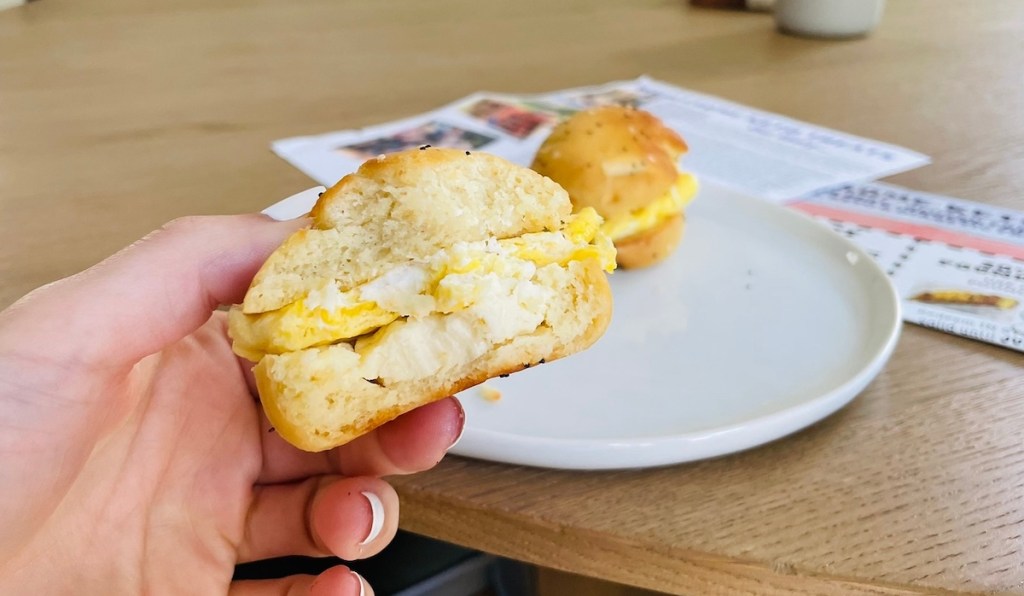 When I saw Wholesome Keto Treat's Everything Bagel Bites (a Dunkin Donuts bagel bites keto copycat), I knew I needed to give them a try. Admittedly, I have no idea what DD's taste like, but all I know is their keto bagel bites are so deliciously satisfying & even more so when I made them into little egg sliders!
Typically I don't even like cream cheese, but the flavors in these bagel bites and the moist texture made me feel like I was eating a cheat meal for breakfast. Not to mention, they're unexpectedly filling despite their small size.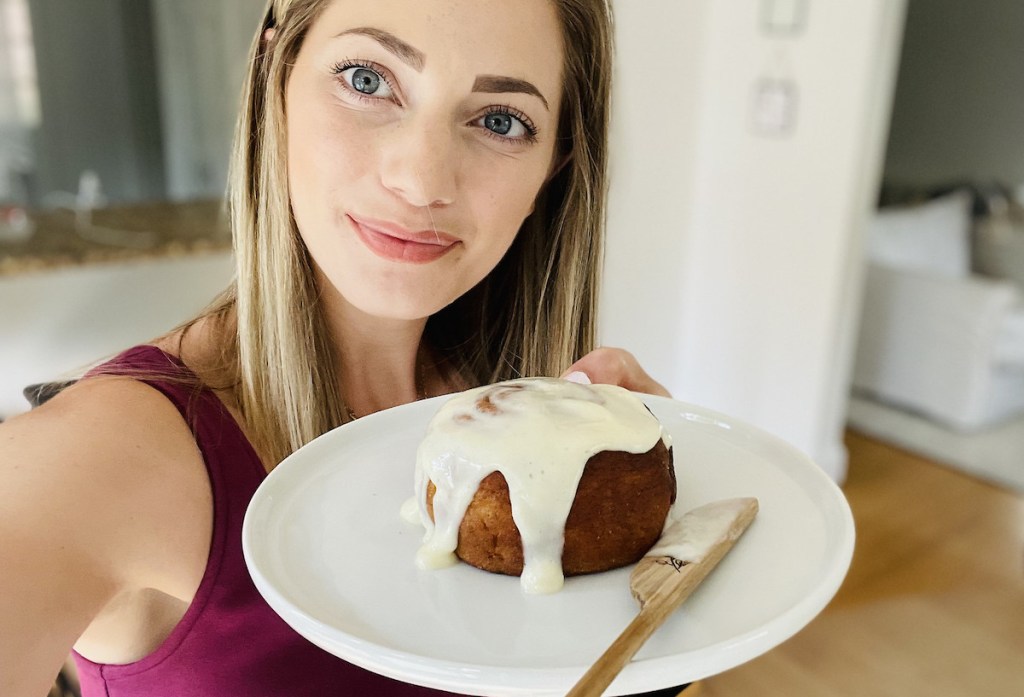 If you're lucky enough to live near their storefront in St. Cloud, Florida, you can also order from Wholesome Keto Treats in-store-only menu where they offer a huge variety of hot foods like a Keto BLT Chaffle or even a 10″ Personal Keto Pizza. The keto options are truly endless!
Oh, and did I mention they have giant keto cinnamon buns too? Don't worry, those can ship to your door too, friends. 😌
---
2. Just Made Keto bakery has delicious & unique make-your-own keto boxes.
*Ships fresh on Mondays.

At Just Made Keto, you can score some seriously delicious keto-friendly, gluten-free, sugar-free, and grain-free treats! They're even available at many store locations in California if you want to pick them up fresh, or orders over $70 ship for FREE!
While they offer other treats like Organic Chocolate Chip Cookies from Encisweets and delicious loaf cakes, what made them stand out among other bakeries for me is their super fun cupcake & muffin kits!
I just had to try all their delicious flavors! 😍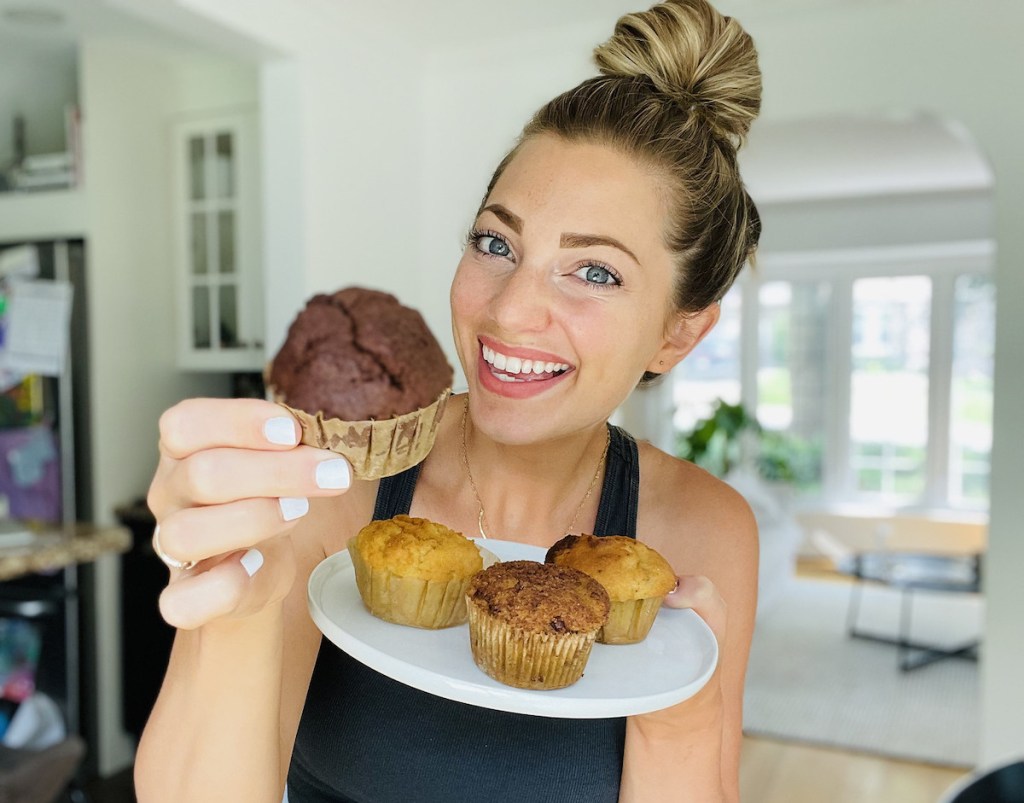 I'm not big on icing, so I skipped straight for their delicious muffins and they did not disappoint! I love that they offer kits, which is a great party idea for birthdays or a fun girl's night. Plus, you can ensure they'll be beautiful for your event since you'll be decorating them yourself!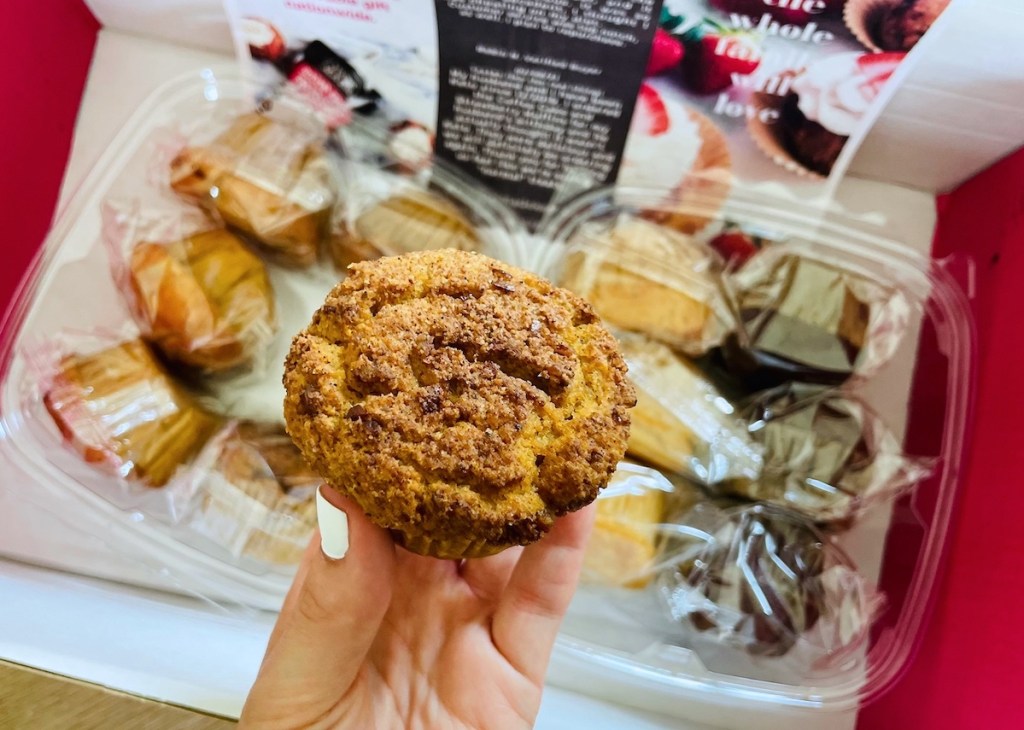 Here are all the flavors I tried:
---
Cinnamon Crumb Cake (1g net carbs) – my favorite among all of the muffins! I'm a sucker for cinnamon crumb cake and this made me feel like I wasn't even eating keto!
Vanilla Coconut (2g net carbs) – second favorite runner-up! This flavor is moist and I absolutely loved the chunks of coconut in each bite!
Double Dutch Chocolate (2g net carbs) – if you're a chocolate lover, you're going to be feasting on these! Even my kiddos loved them!
Strawberries & Cream (3g net carbs) – such a refreshing flavor! They used real chunks of strawberry which added really great texture to each bite.
---
3. Kai's Bakery is my favorite place to grab keto bagels for breakfast & they have a monthly cookie subscription.
*Ships fresh on Mondays & Tuesdays.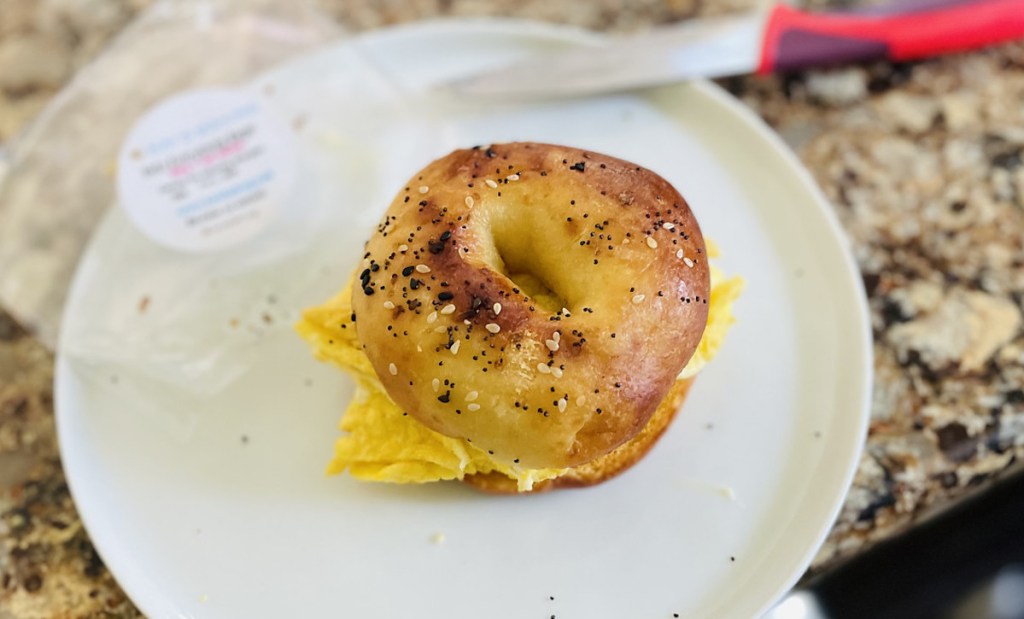 Kai's Bakery is another outstanding keto bakery I recently tried and you can now visit and shop from their flagship location in Houston, TX! 👏
My favorite thing I tried from their keto bakery was by far the everything bagels! They are just 4g net carbs, with a whopping 25-28g protein, and holy keto, they're SO AMAZING! Again, the fact they're even keto totally had me fooled!
Their cookies are totally divine too. 😍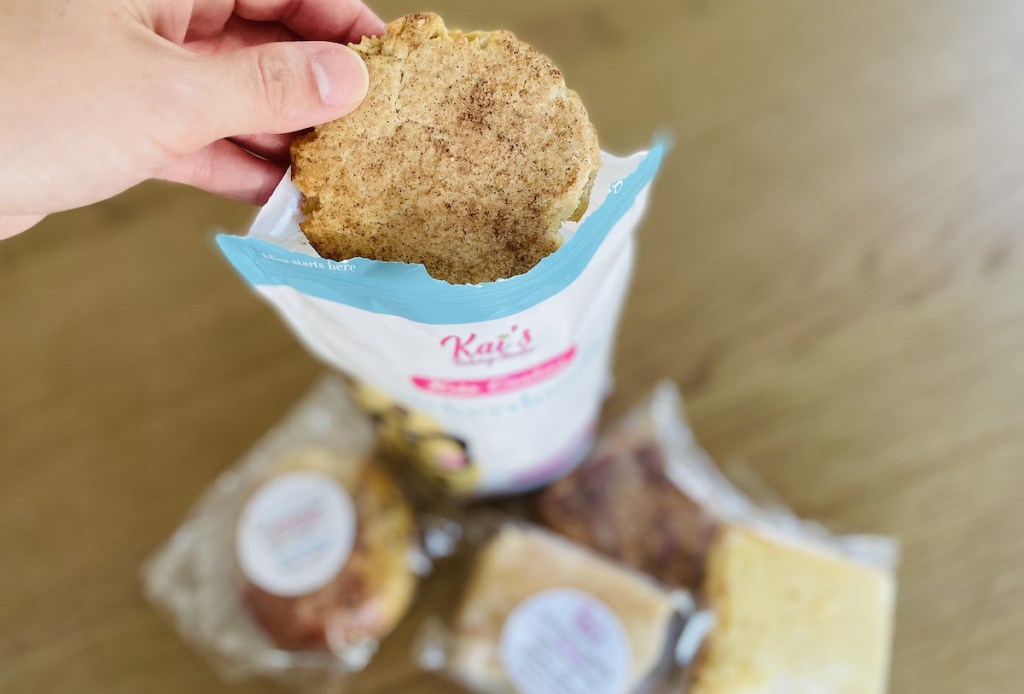 If you're more of a sweet tooth person, you have got to try their Snickerdoodle cookies – just 2g net carbs per cookie and these babies are huge! They're soft & chewy and everything you dream of a keto cookie being. 🙌
You're likely going to want their baked goods on constant stand-by in your home. So in that case, you have got to check out Kai's Keto Klub where you'll receive a half dozen keto cookies or a dozen keto brownie bites and a pack of their keto baking mix! Plus, you'll be the first to try Kai's new keto products & receive exclusive discounts.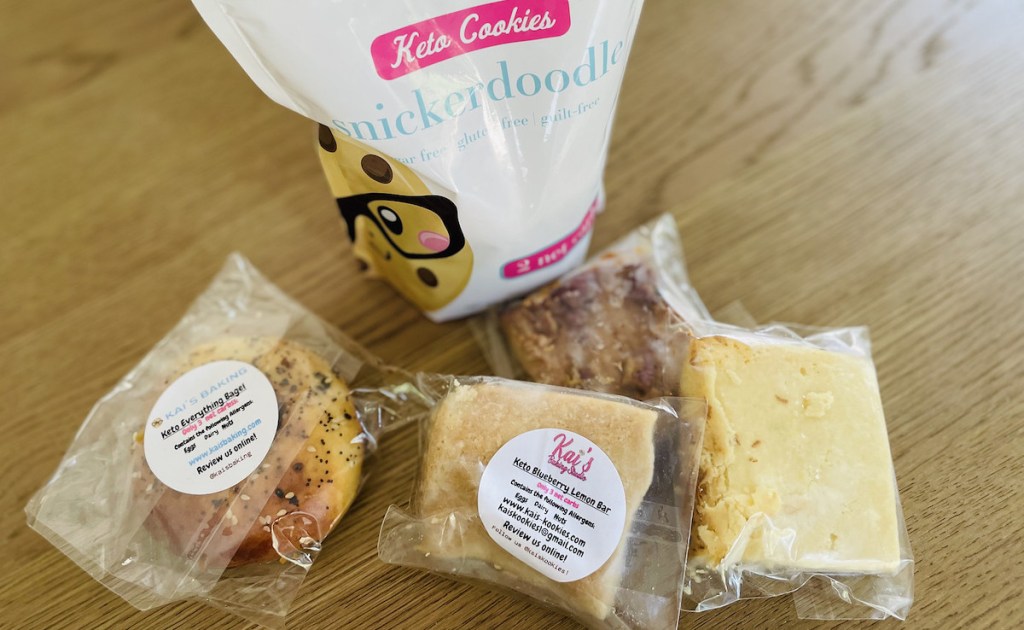 As if this keto bakery couldn't get any better, they even have plenty of other treats for you to stock up your virtual cart with such as keto lemon bars (just 4g net carbs) and keto pecan bars (just 1g net carbs)!
---
4. Awesome Blossom Bakery offers delicious baking mixes that are easy to whip up at home!
*Ships soon after ordering.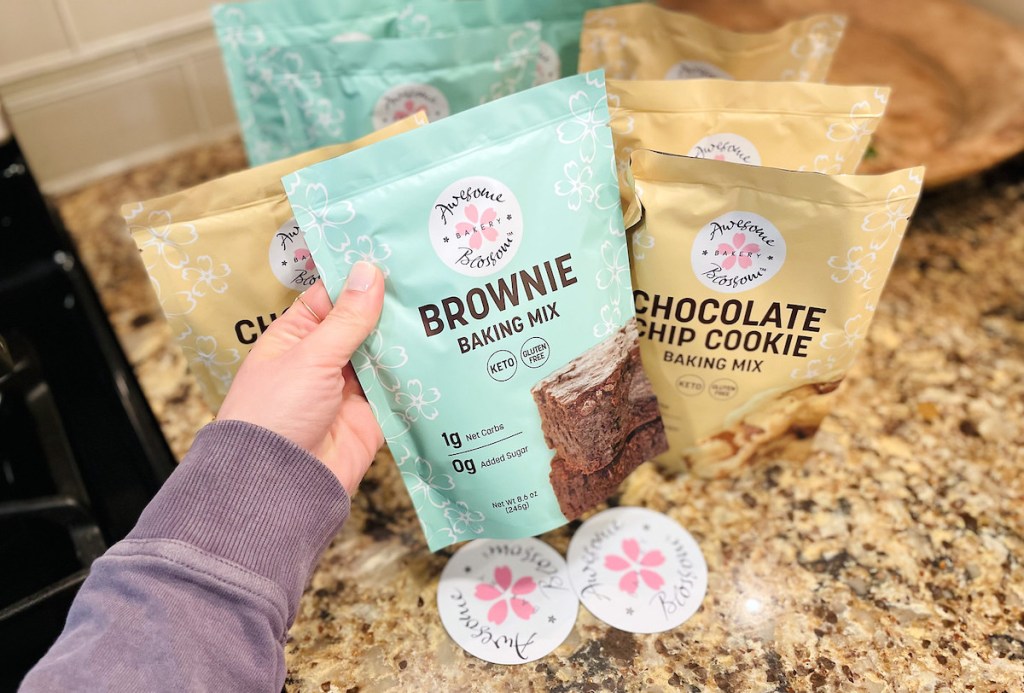 Sometimes just having a couple of FANTASTIC goodies is all you need. Quality over quantity, am I right? 🤩 I caught this company when they were super up and coming last year (before they were even shipping!) so I'm thrilled to share them again after testing out their latest mixes and even took note of their gorgeous new packaging.
They're located in Cincinnati, Ohio, and have their baked goods in various Ohio locations. Lucky for the rest of us out-of-towners, they're now available for national shipping too! Their chocolate chip cookies and brownies came out spectacular and it was an extra special treat to enjoy them while still warm. 😋 Both their brownie and chocolate chip cookie mixes are gluten-free, low-carb, sugar-free, & grain-free.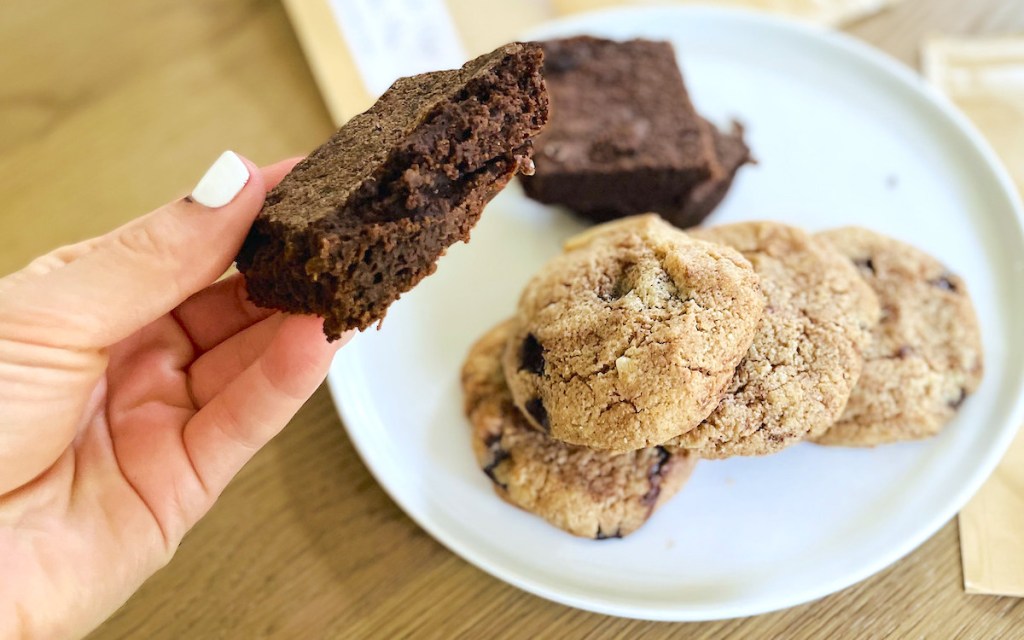 I first tried their brownie mix, which can even be prepared dairy-free, so I was ecstatic about that! They were easy to whip up & I LOVED their rich texture! Again, I felt like I was cheating on keto! Plus, you just can't beat fresh, warm gooey brownies right out of the oven, so there's that! 😍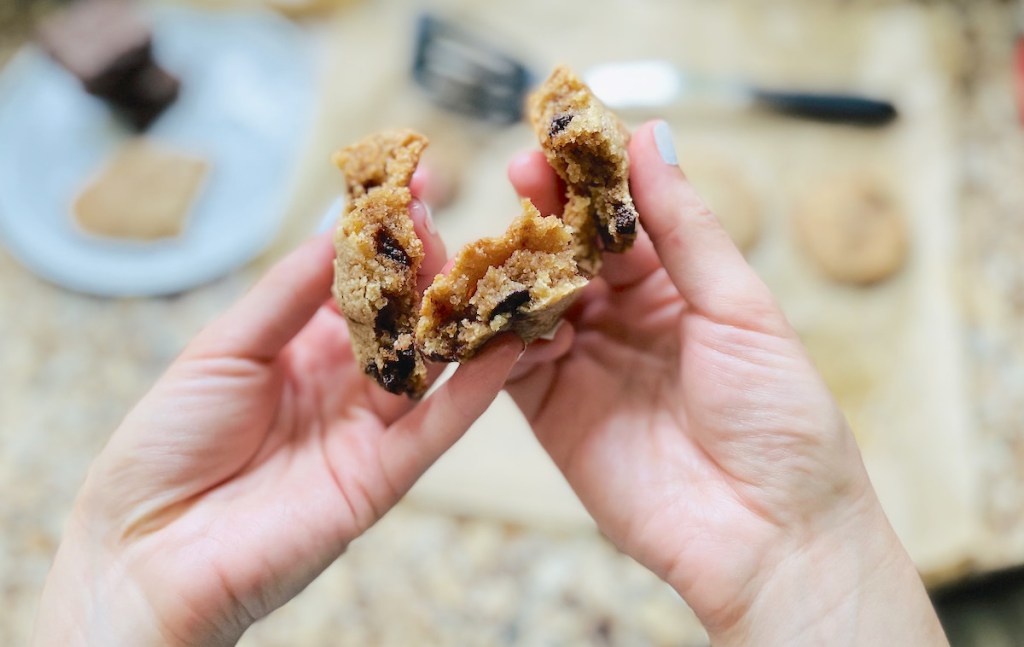 Next up was their chocolate chip cookie baking mix. I wasn't sure these could possibly get any better than their brownies, but holy keto these babies blew everything out of the water! I'd even go as far as to say they're the best keto cookies I've ever had!
Warm, chewy, and absolutely did NOT taste keto. In fact, I could see myself baking these for my annual Christmas cookie bake-off and not even telling a soul they're keto because they're THAT amazing!
---
Make some of these keto treats at home while you wait for your new goodies.