The Best Keto Cereals to Buy & Make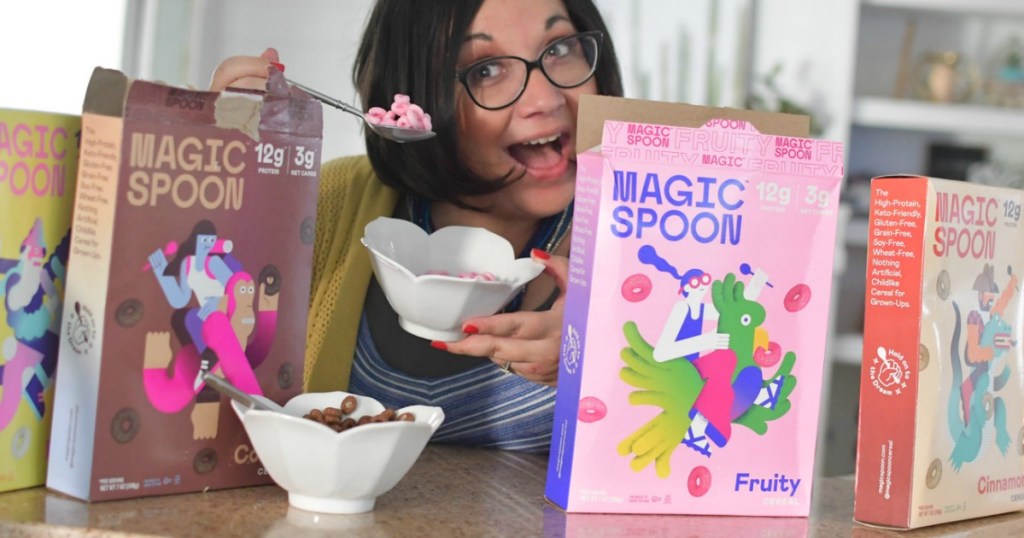 Replacing a sugary, crunchy breakfast cereal with a ketofied version is no easy task, so we set out to find keto cereal options available for the low-carb world—both store-bought and homemade recipes.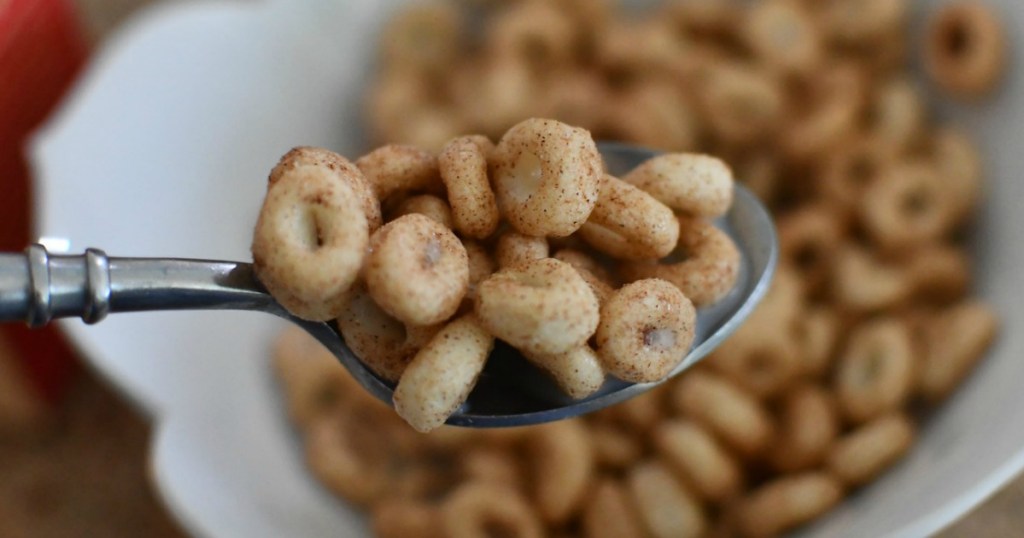 ---
Keto cereals to buy
Magic Spoon Cereal – $39 for a 4-box case (YES, it's pricey but read on for why we like it!)
(Frosted flavor) Serving: 3/4 cup | Calories: 110 | Total Fat: 6g | Total Carbs: 8g (2g fiber, 0g sugar, 3g sugar alcohols) | Protein: 12g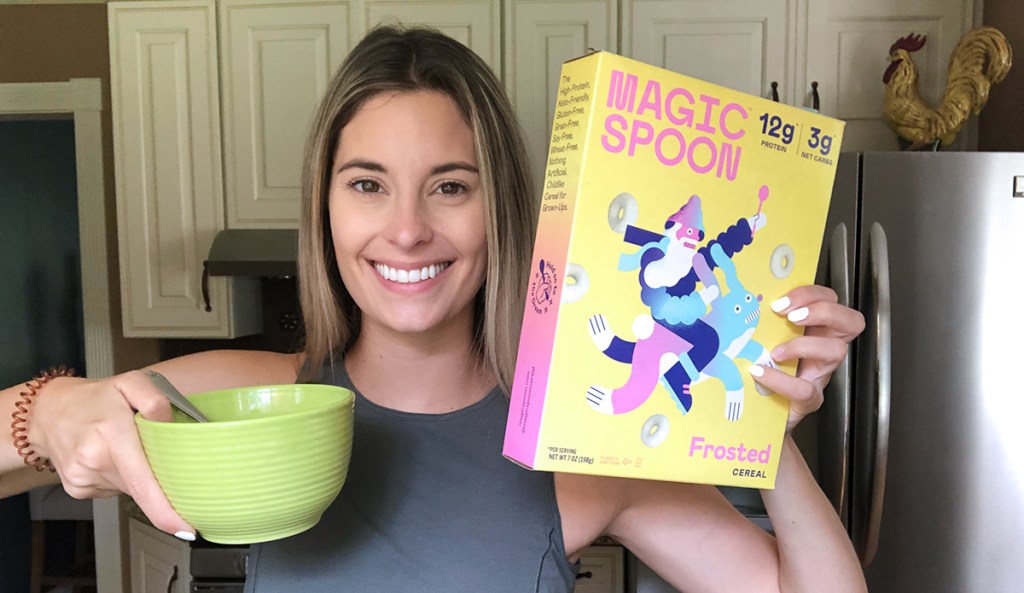 This cereal brand is also a favorite of Collin's along with other members of our team, even those who don't always eat keto! I was pretty blown away at this cereal as someone who just eats gluten-free (I have a hard time with alternative sugars, taste, and texture, as well). It was super crunchy both with milk and without!
"We tried all 4 flavors of the Magic Spoon cereal, and the frosted flavor was my favorite! It tastes like those yummy frosted animal cookies with the sprinkles, but not as sweet! I wasn't able to fool my kids, though, and they wouldn't eat it. My second favorite flavor was the cinnamon. My least favorite was the Fruity — yuck 😆" – Lina

---

"I am incredibly impressed with this cereal! They definitely nailed all four flavors! My favorites were the Cocoa and Cinnamon—they are SO GOOD, and the cereal holds up well in milk. The others are great, too, but the frosted was a bit sweet for me. My kids tried all of them as well and loved the Frosted and Fruity ones the best. The fruity flavor nearly tastes like Fruity Pebbles!" – Erica
---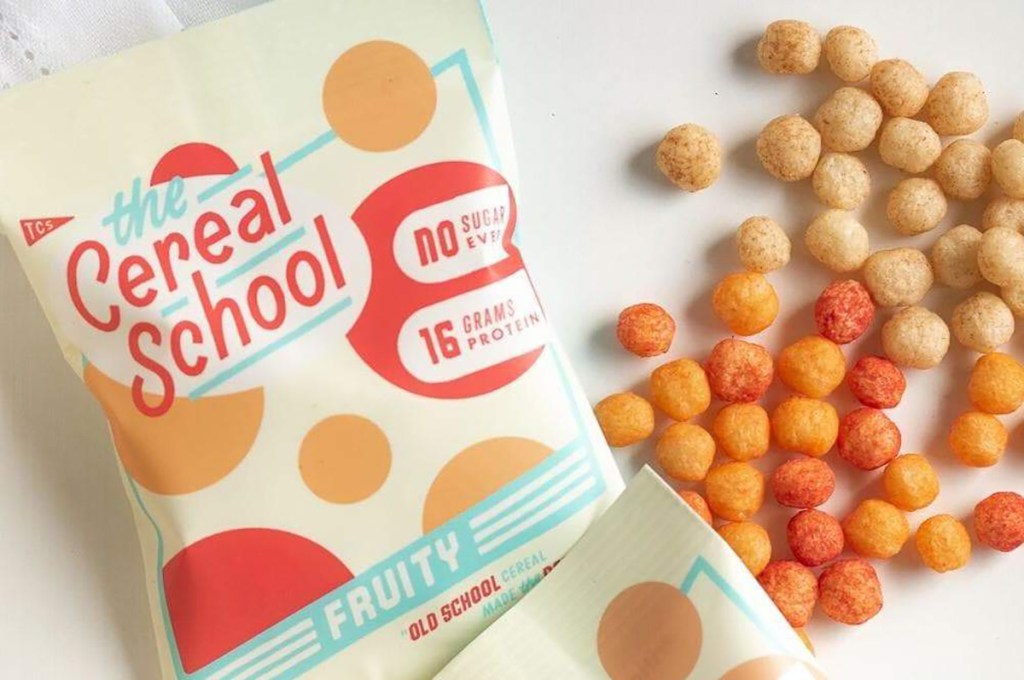 The Cereal School Cereal – $49.99 for 24 single bags
(Cinnamon Bun flavor) Serving: 12g | Calories: 100 | Total Fat: 3.5g | Total Carbs: 1g (1g fiber, 0g sugar) | Protein: 16g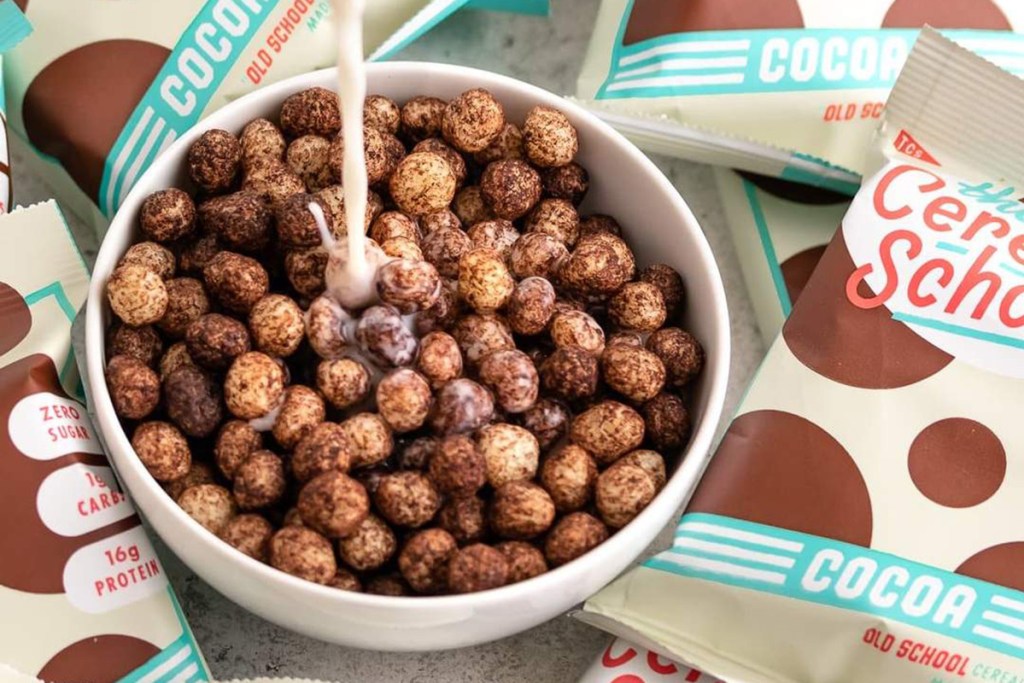 Here's another brand that gives off the sugary cereal vibe, just without all the actual sugar! The Cereal School has crunchy bites available in Cinnamon Bun, Cocoa, and Fruity flavors which come in bowl-sized serving bags.
It's a little pricier than Magic Spoon, but the individual packs make it easy to grab on your way out the door for a quick breakfast.
---
Keto Nut Granola – $12.99 for 11oz bag
Serving: 1 bag (22g) | Calories: 190 | Total Fat: 18g | Total Carbs: 10g (4g fiber, 0g sugar, 4g sugar alcohols) | Protein: 5g
This sugar-free granola boasts almonds, sunflower seeds, pumpkin seeds, pecans, and coconut chips for a healthy bowl of a keto-friendly cereal. In addition to their classic version, this granola comes in Cacao Nut and Blueberry varieties for a slightly sweeter (yet still keto) treat.
Check out this 5-star Amazon review:
So far the best keto cereal I've ever tasted!!! It's so crunchy and flavorful, nothing to compare with other brands! I've been looking for something like this to add to my keto menu and it works just perfect for a healthy, nutritious and keto friendly breakfast !! Highly recommended, GREAT PRODUCT!!!
---
Keto cereal recipes to make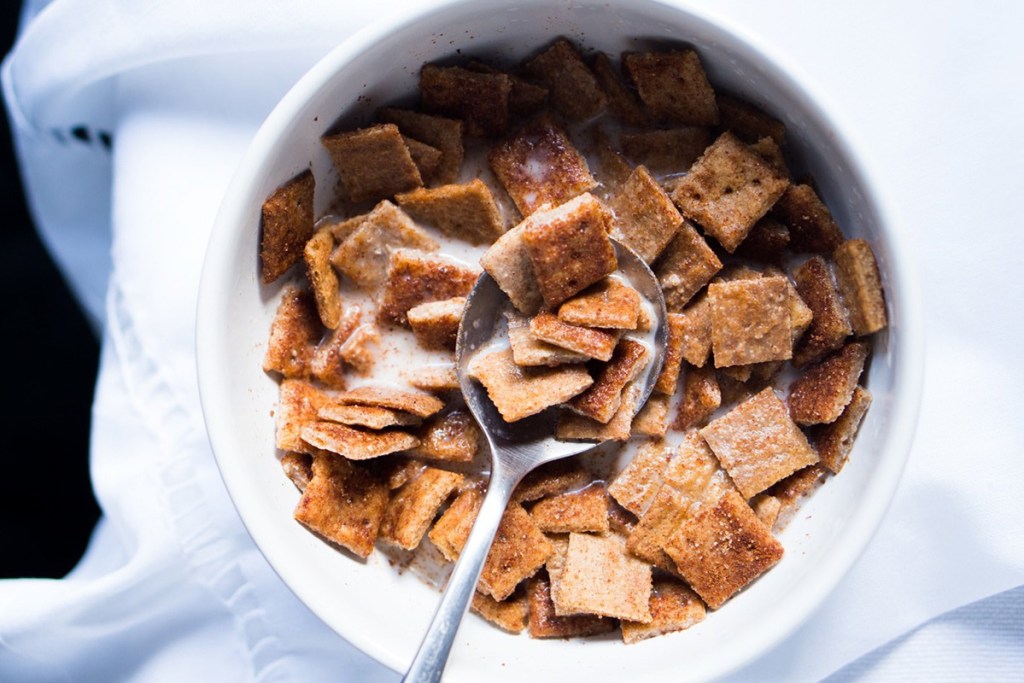 Recipe from Gnom-Gnom (reviewed by Erica on Hip2Keto)
Serving: 40g | Calories: 172 | Total Fat: 16g | Total Carbs: 4g (2g fiber, 0g sugar) | Protein: 4g
Our Hip2Keto team member Erica actually tried this recipe for herself and the results were GOOD! Even her kids approved of the cinnamon sweetness. She shared some of her baking tips to help ensure a crispy, crunchy result if you try this recipe yourself.
---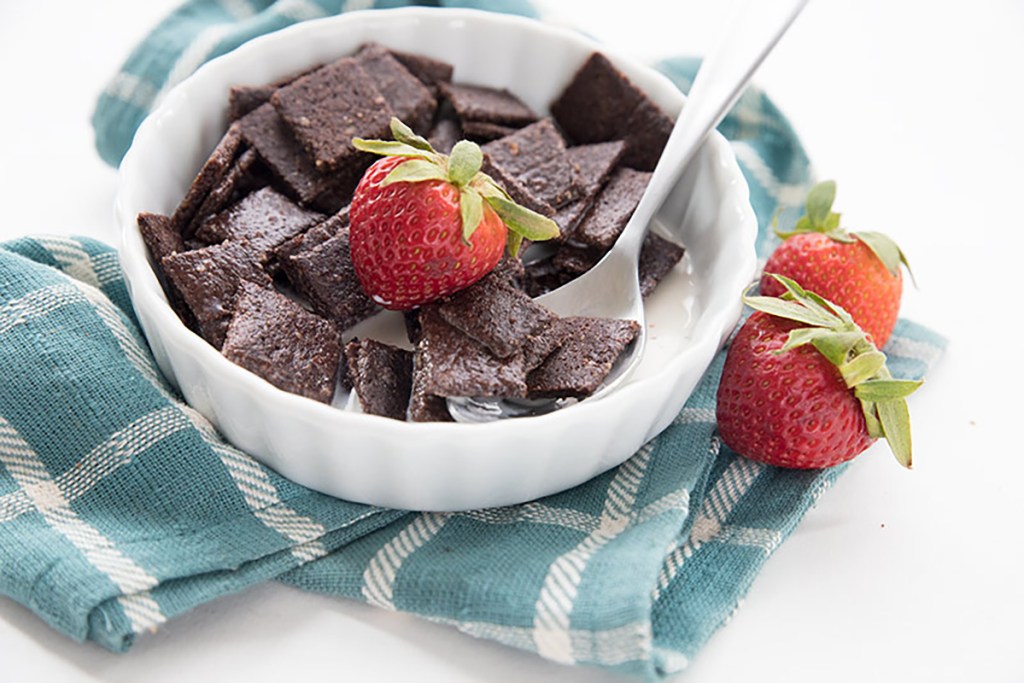 Recipe from All Day I Dream About Food
Serving: 1/3 cup | Calories: 164 | Total Fat: 14.2g | Total Carbs: 6.7g (3.5g fiber, 0g sugar) | Protein: 6.8g
Another kid-approval bowl of keto cereal goodness, but this time with a cocoa twist. This recipe follows a similar process as the cinnamon squares above but uses sunflower seed flour instead of almond (perfect for keto eaters with nut allergies).
---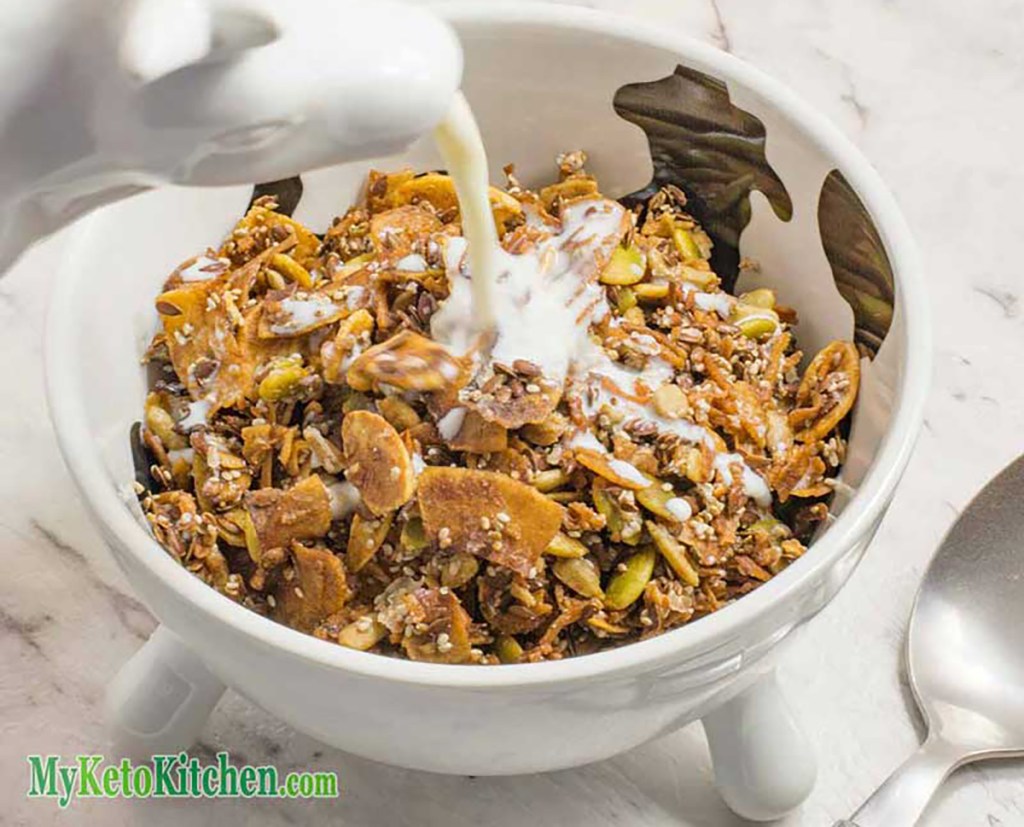 Serving: 1/2 cup | Calories: 244 | Total Fat: 22g | Total Carbs: 9g (6g fiber, 1g sugar) | Protein: 4g
Chockful of coconut, almond, pepitas, and an assortment of other seeds, this healthy granola style cereal is just as good in the morning as it is sprinkled over the top of keto ice cream as a dessert. 😋 Store the big batch of cereal either on the counter or in the fridge if you live in a warmer climate.
---