Stuffed Mini Peppers With Cream Cheese | 4-Ingredient Appetizer Recipe
These keto stuffed mini peppers with cream cheese make the perfect appetizer or snack.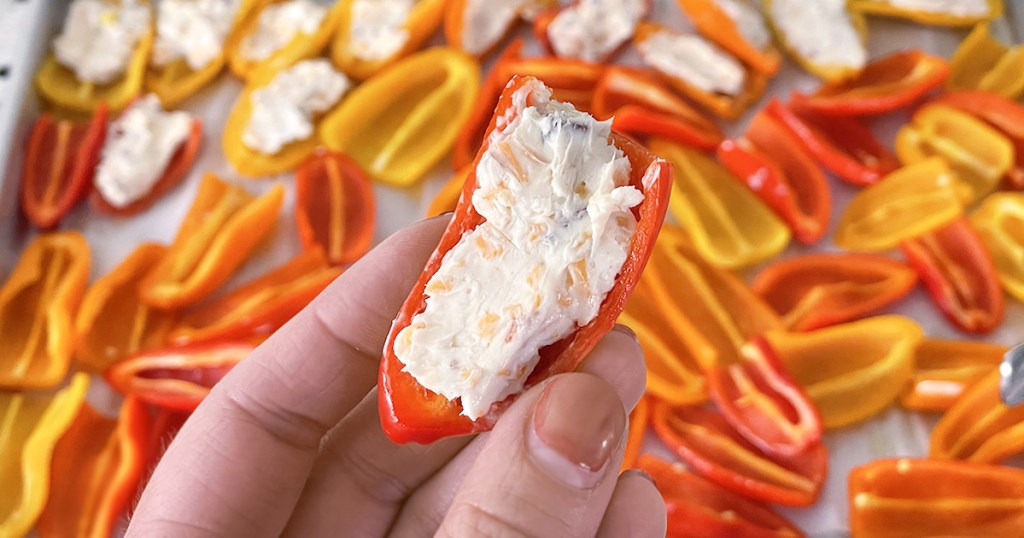 Mini peppers bursting with cheesy goodness. 😋
Cream cheese stuffed mini peppers are one of my favorite snacks and appetizers. The best part is that they're naturally keto-friendly. I stuffed these peppers with cream cheese, bacon, and shredded cheddar cheese, and oh my are they addicting!
Mini peppers are often labeled as "mini sweet peppers" so they do contain some carbs. But keep in mind that they also have fiber and when stuffed have a high amount of fat and protein, so they likely are not going to kick you out of ketosis.
How do you make stuffed mini peppers with cream cheese?
Overall, these are fairly easy to make. Honestly, the bulk of the active work is from cutting the peppers in half which takes the most time. After the peppers are cut, you pre-bake them to prep them for their filling.
While they are baking, you make the cream cheese filling. Then you stuff the pepper halves with the cream cheese mixture, sprinkle some cheese on top, and bake them again. I broiled them for a few minutes at the end to slightly crisp up the cheese and definitely recommend doing the same!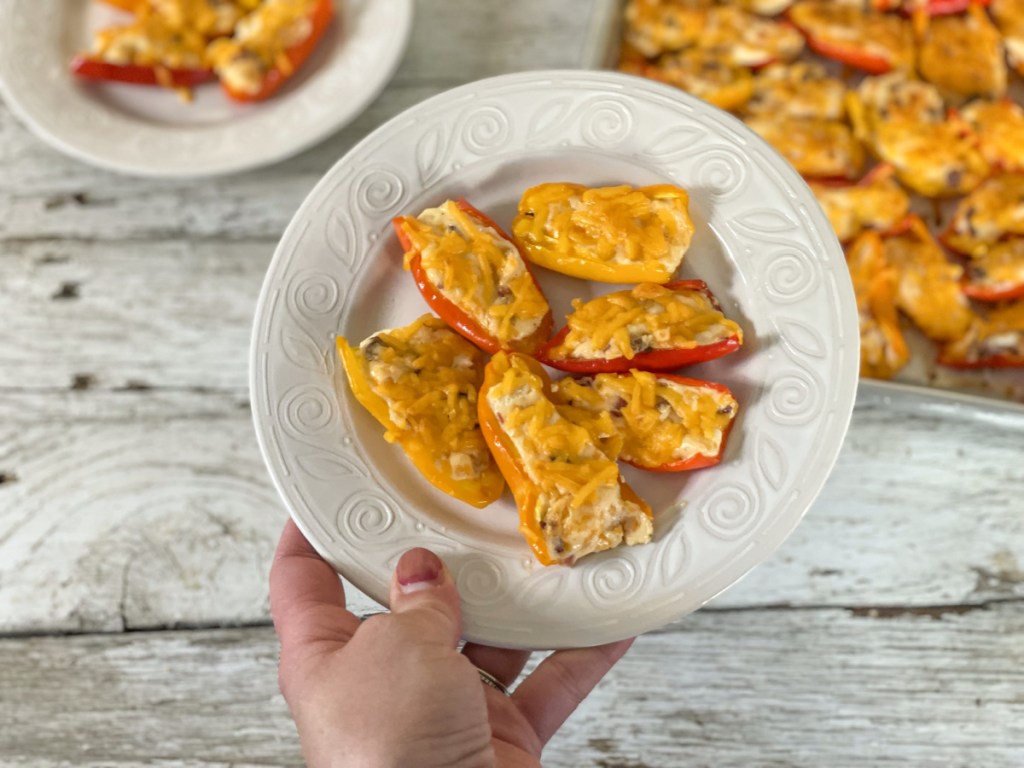 Tips for making the best keto-friendly cream cheese stuffed mini peppers:
It might be tempting to skip the step to pre-bake the mini peppers but don't do it! Pre-baking them helps soften the peppers and makes it so that you don't end up overcooking the cream cheese mixture.
Broil the peppers for a few minutes after baking to brown and crisp up the cheese. It makes them so yummy!
Feel free to add in any additional fillings. You could do green onions, garlic, more bacon, or even a different type of cheese.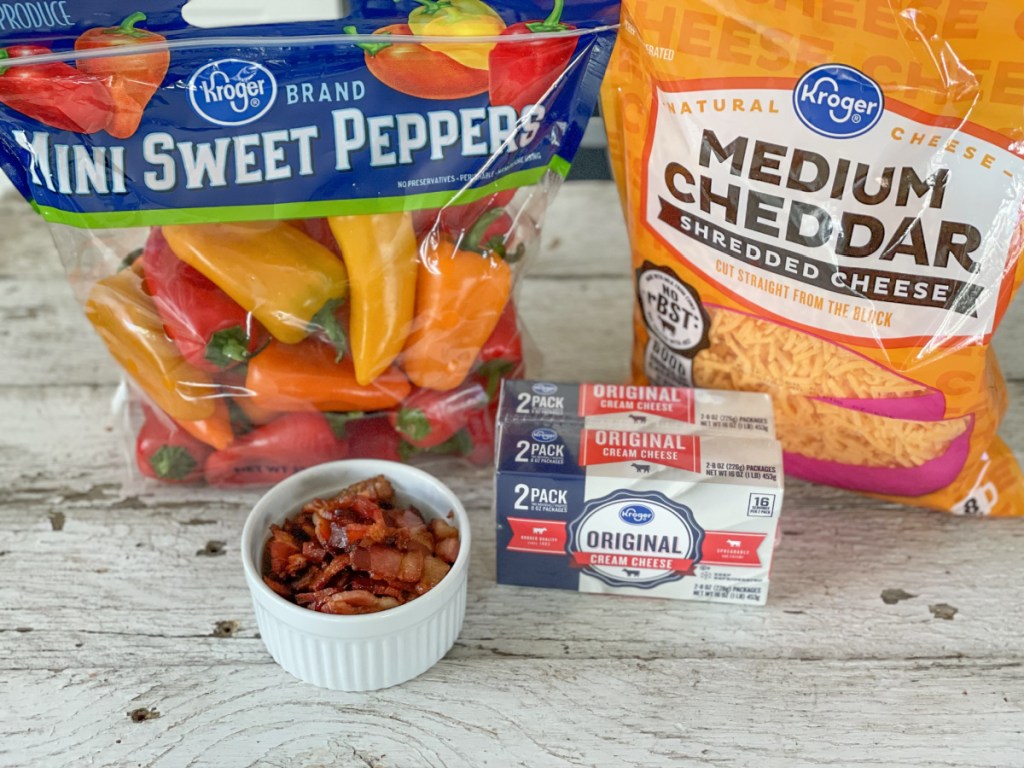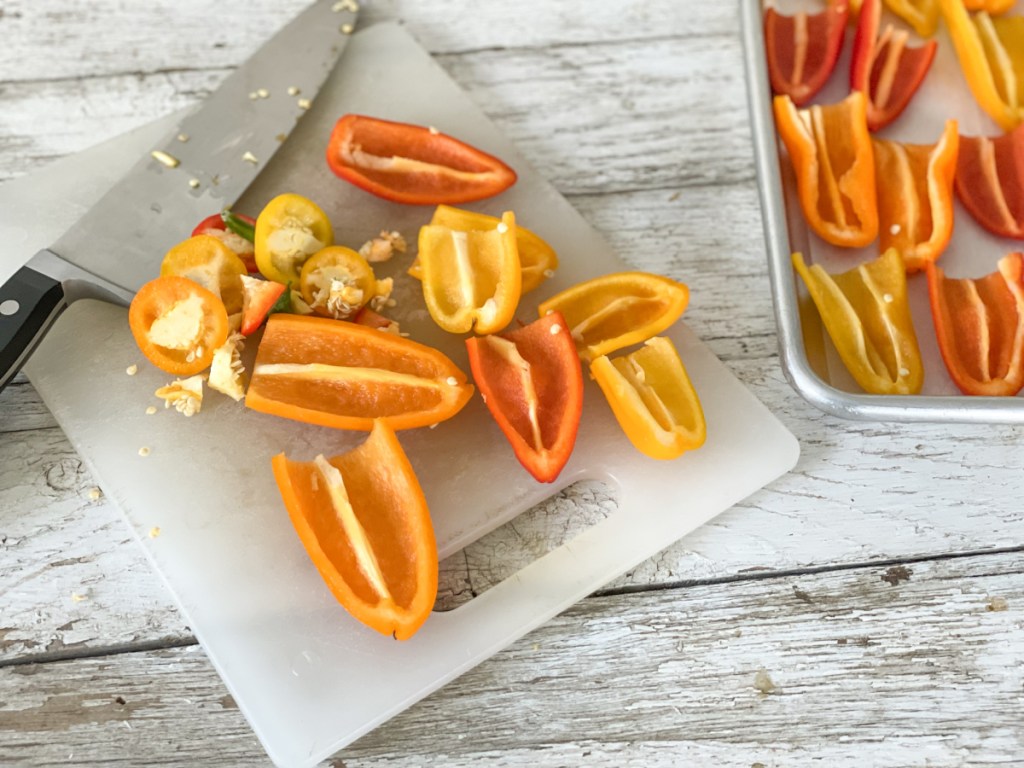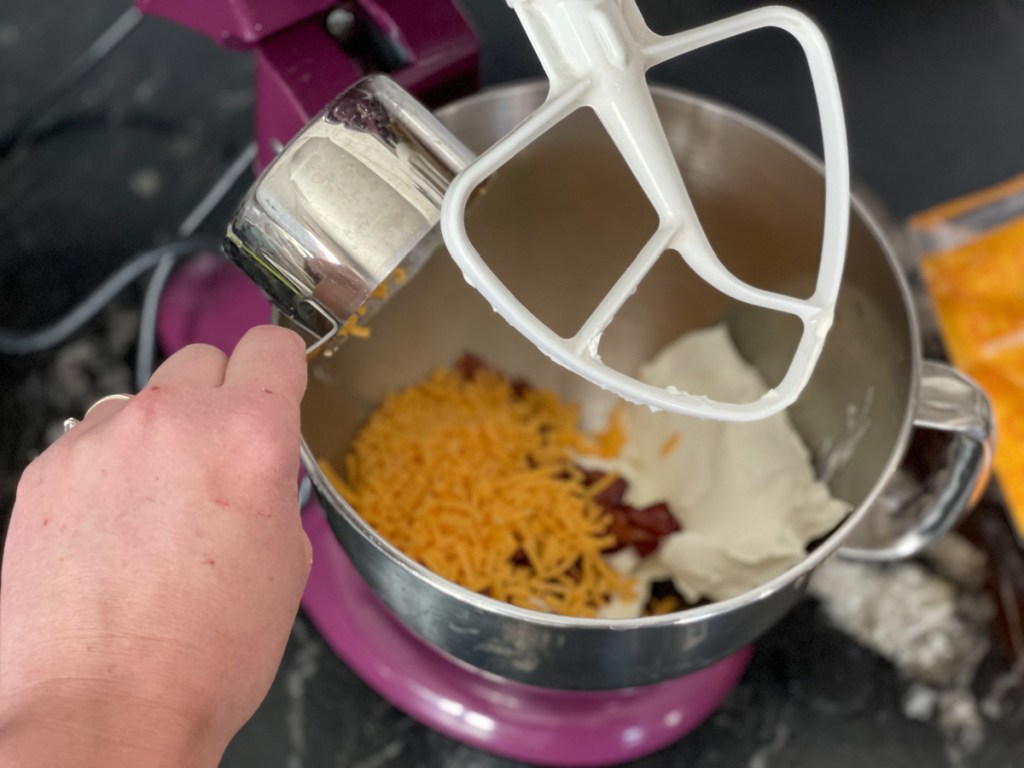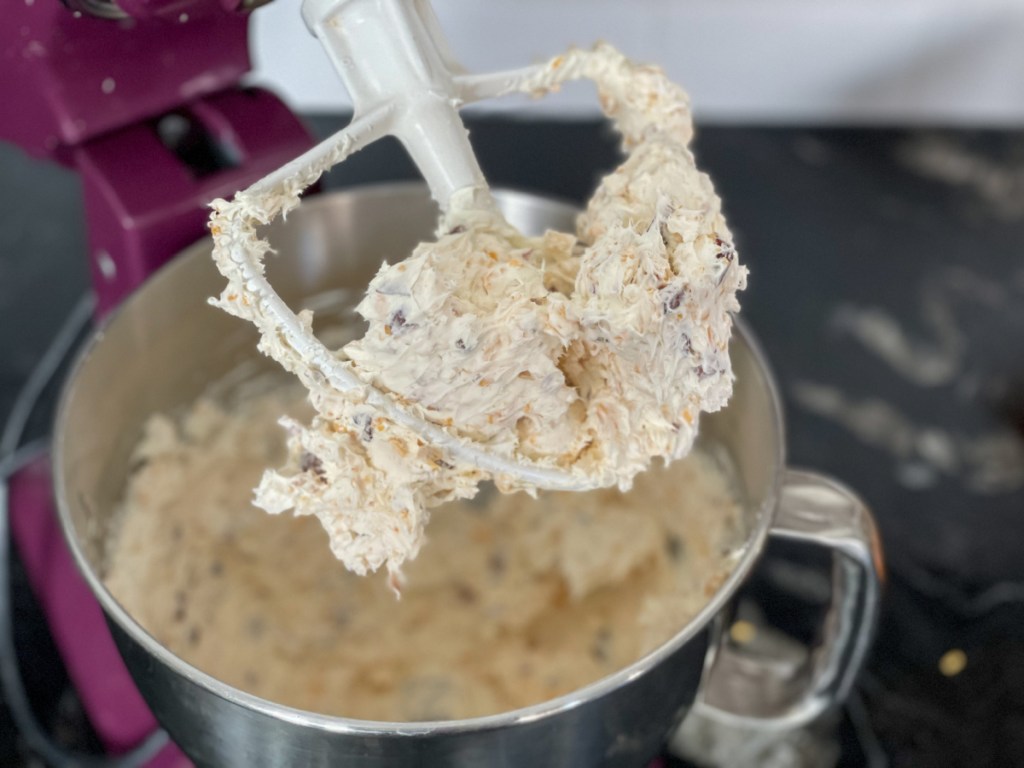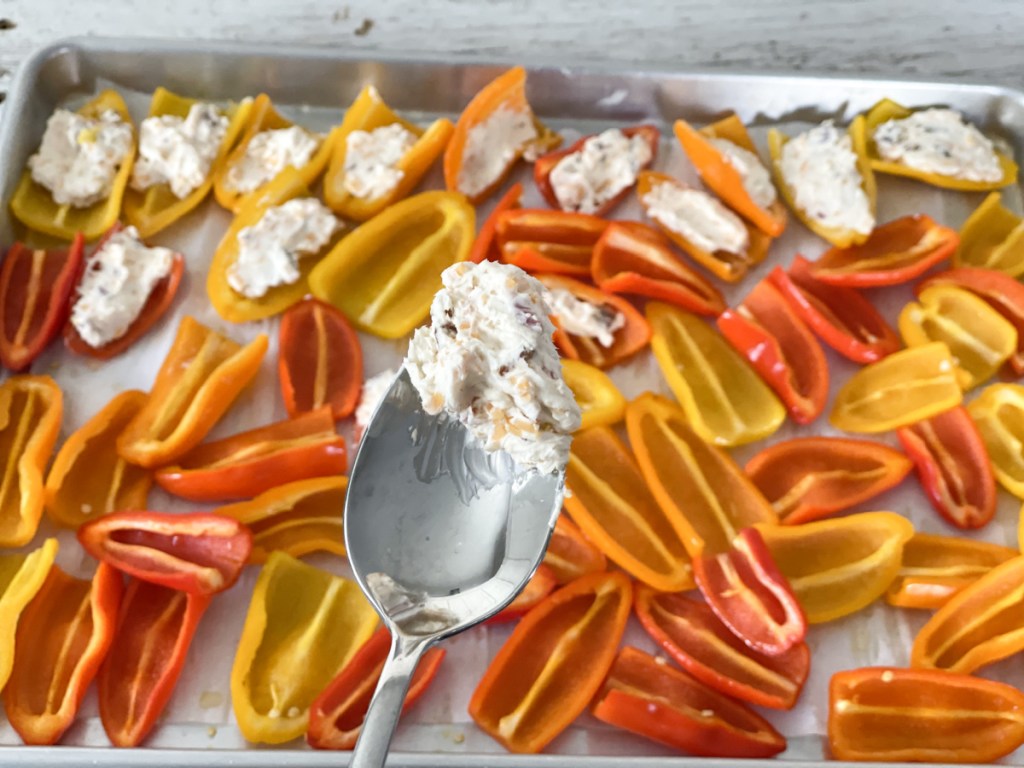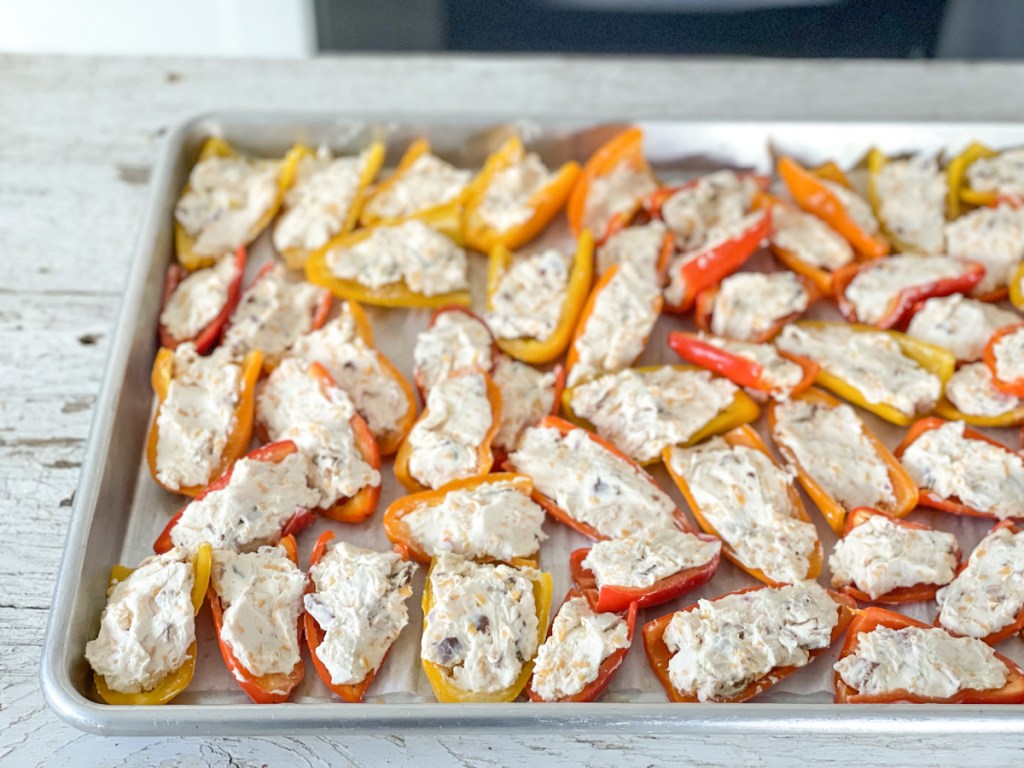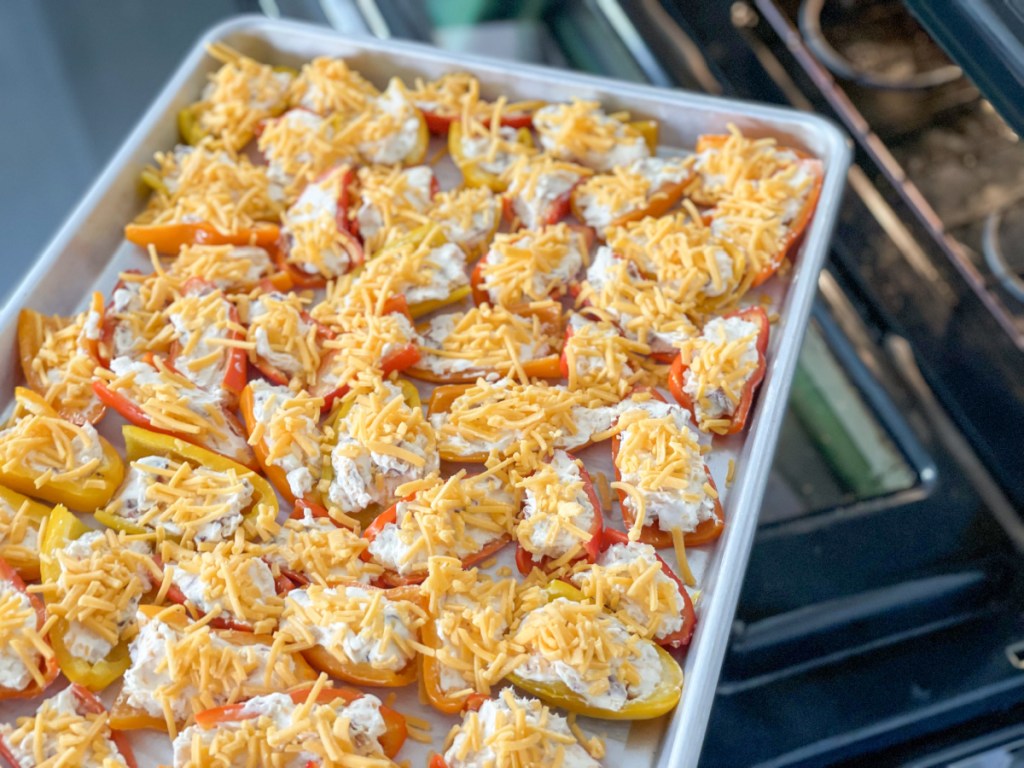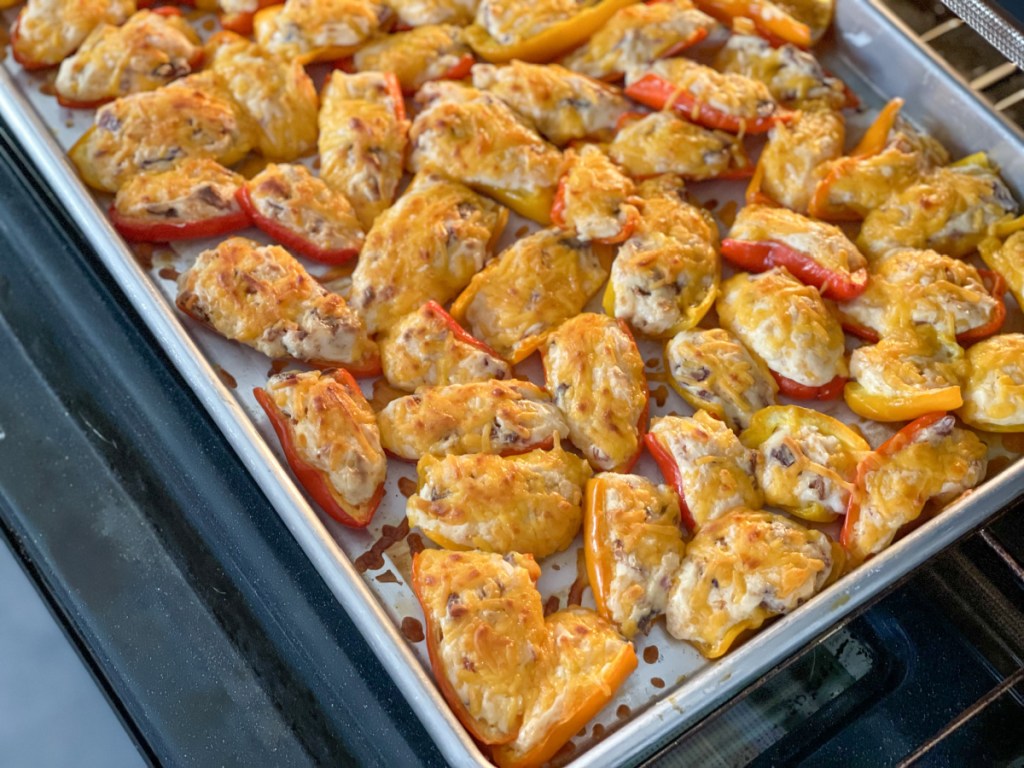 ---
Print
Mini Stuffed Peppers with Cream Cheese
yield: 15 SERVINGS
prep time: 30 MINUTES
cook time: 20 MINUTES
total time: 50 MINUTES
Mini peppers cut in half, filled with cream cheese, bacon, and shredded cheddar and then baked.
Ingredients
1 - 32 oz bag of mini peppers
16 oz. cream cheese, full-fat (2 blocks)
6 slices cooked bacon, chopped
1 1/2 cups shredded cheddar cheese, divided
Directions
1
Preheat oven to 350 degrees. Line a baking sheet with parchment paper.
2
Prepare the mini peppers by cutting off the top of the pepper with the stem. Cut the pepper in half and remove the seeds. Repeat with all the mini peppers.
3
Place the peppers on the baking sheet in a single layer and bake for 10 minutes. Remove the peppers from the oven and let cool.
4
While the peppers are baking, make the cream cheese filling. Using an electric mixer, mix together the cream cheese, chopped bacon, and shredded cheddar cheese. Beat until well combined. Scape down the edges as needed.
5
When the peppers have cooled enough to handle, fill each pepper half with the cream cheese mixture. The amount used per pepper will vary on the size but approximately 1 tablespoon each. You should be able to fill all the pepper halves with the cream cheese mixture with maybe just a few peppers leftover.
6
Sprinkle the stuffed peppers with the remaining 1/2 cup of shredded cheddar cheese. Feel free to use more if desired, just note that it will change the nutrition information.
7
Bake the peppers for 15 minutes, or until the cheese melts. Then if desired, broil them for an additional 2 to 3 minutes, until the cheese is slightly browned and looks like it's getting a little crispy.
8
Remove the peppers from the oven and let them cool for a few minutes before eating. Enjoy!
Nutrition Information
Yield: 10 servings, Serving Size: 4 half peppers
Amount Per Serving: 189 Calories | 16.2g Fat | 4.6g Total Carbs | 1.3g Fiber | 0.5g Sugar | 6g Protein | 3.3g Net Carbs
---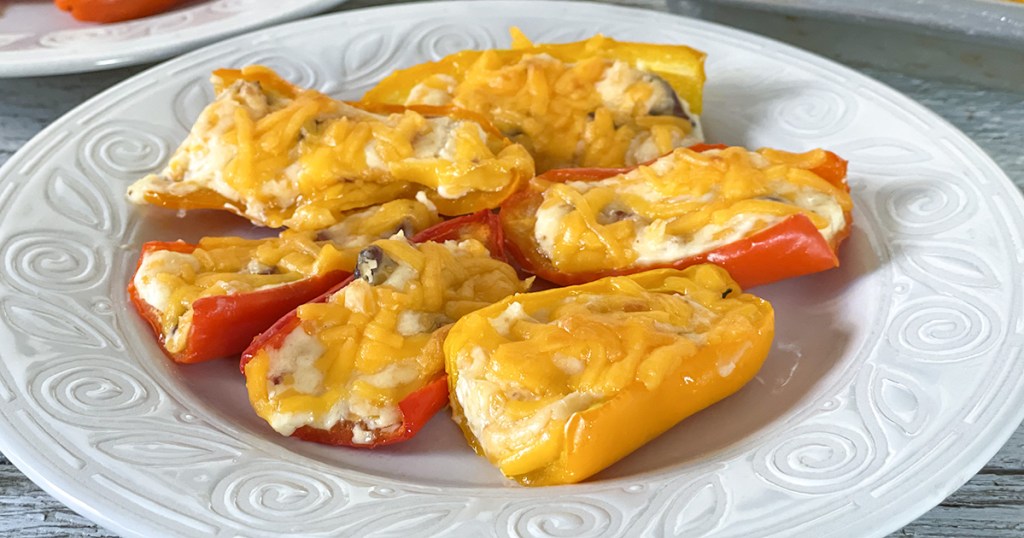 Such a tasty appetizer!
The great thing about this recipe is that it makes so many! I had about 30 mini peppers in the bag I bought so I ended up with 60 halves. This is a great recipe to take to a party and no one will even question if it's keto.
Think of them as non-spicy jalapeño poppers, so they're completely family-friendly!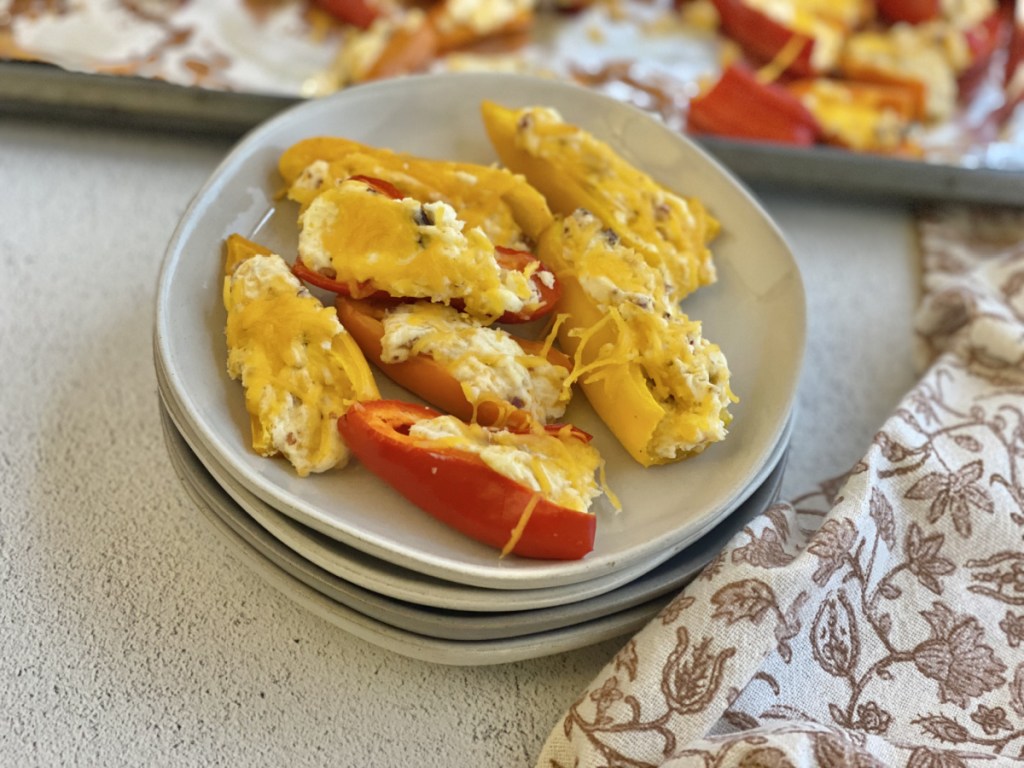 Here's what my Hip sidekick Jenna had to say about these stuffed mini peppers with cream cheese:
"This one was so fun to make, even the kids helped! That filling is just amazing (I may have been eating it by the spoonful while making these 🤪). These are so much better than just eating raw mini peppers. This makes the most amazing snack!
I made them as an appetizer but ended up eating them for dinner, they were just that good! And this recipe makes plenty for the family to enjoy. Every time I see mini peppers on sale at the grocery store, I'll be making this!"
---
Looking for another easy appetizer recipe? Check out these easy 2-ingredient cheese waffles!