Keto Tagalong Cookies (Get Your Girl Scout Cookie Fix!)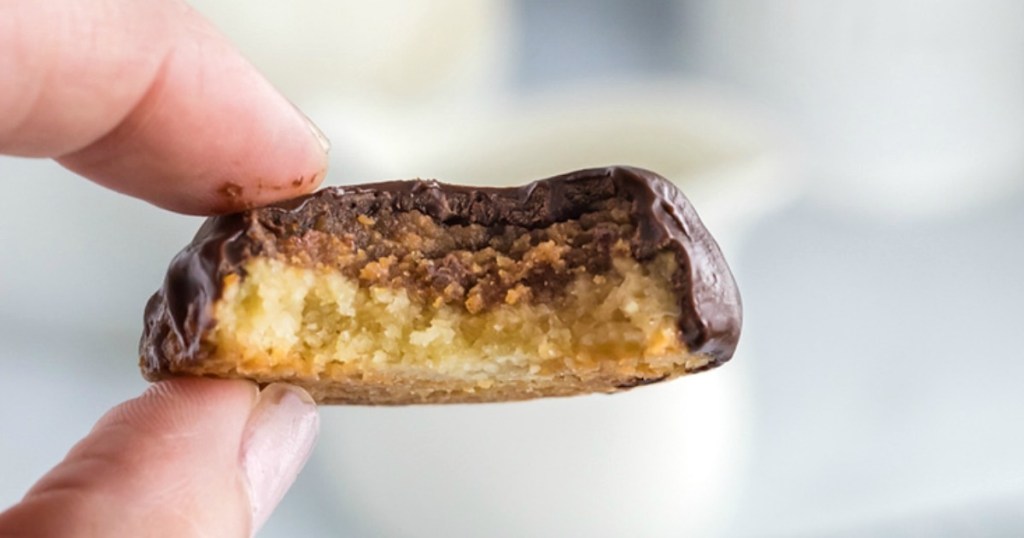 It's Girl Scout cookie season all year long with this keto treat!
Craving those delicious Girl Scout cookies but you're determined to stay on track with keto? Well, this recipe will satisfy both needs! In our keto Tagalong cookies recipe, you'll get to enjoy the sweet combo of rich almond butter and chocolate on top of a crunchy shortbread cookie base—and yes, this guilt-free recipe is in fact low carb!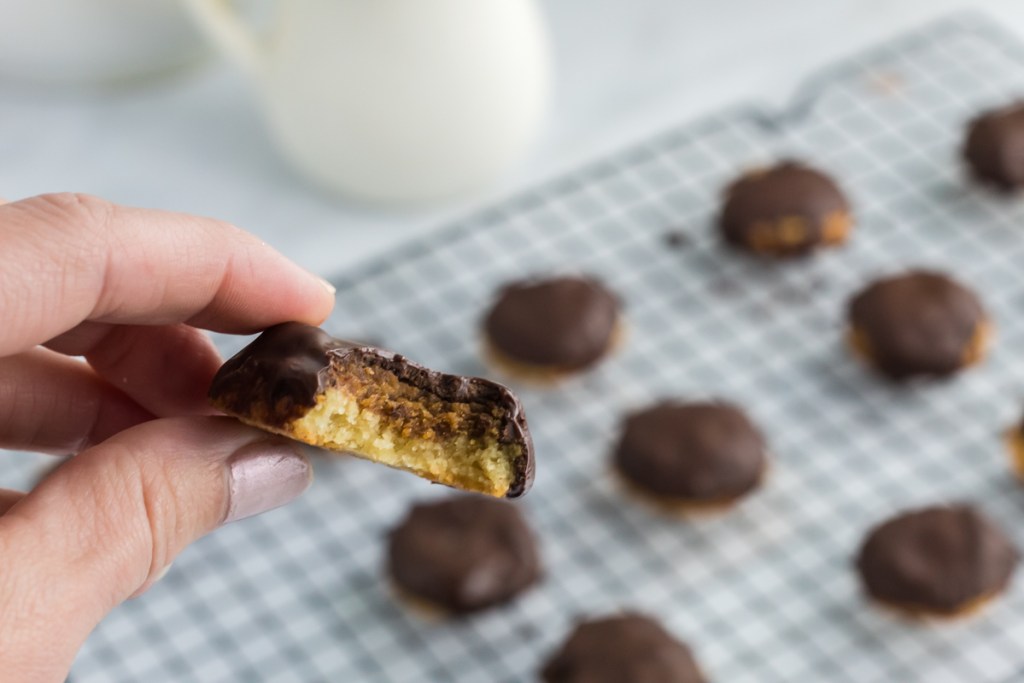 Hip Recipe Tips:
I love using these cookie cutters to create perfectly round cookies, though the set comes with some fun shape options! You can flip the scalloped edge to use the side with a nice clean circle shape (which is what I used for these cookies). If you do not have a round cookie cutter, you can also use a small glass to achieve the same circle cut-out shape.
Dairy-free? You can replace the butter in the Tagalongs recipe with coconut oil.
Rolling out the dough between two sheets of parchment paper is key to prevent any chance of sticking. Plus, it eliminates the need to use extra flour in the rollout process!
Make sure you don't skip the step to press down the center of the cookie with a spoon or thumb. This ensures there's a small well to fill with yummy almond/peanut butter filling!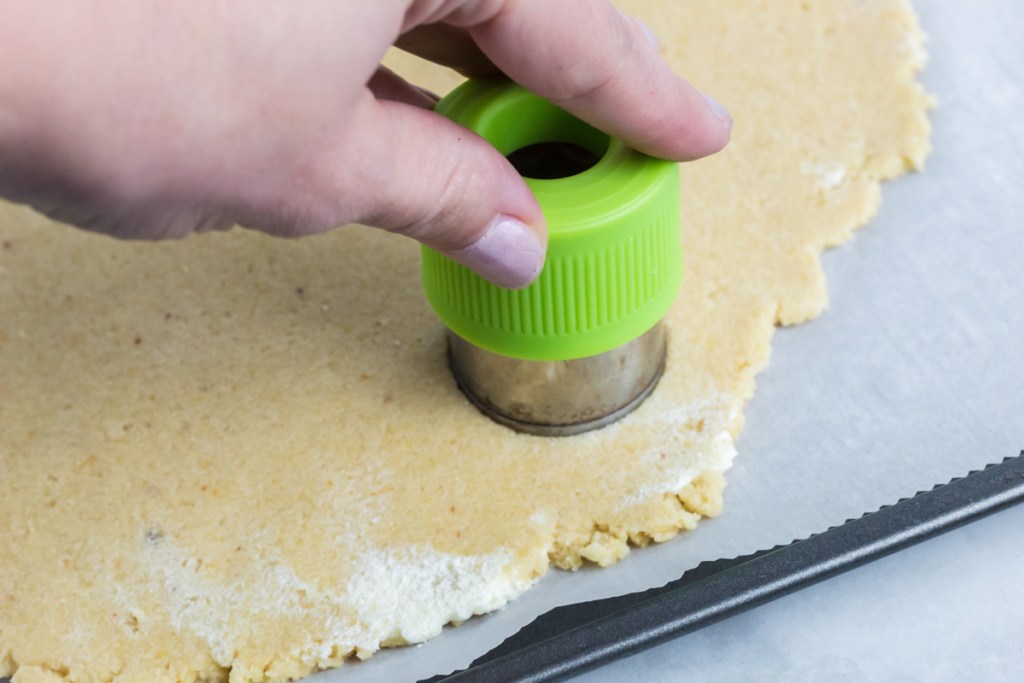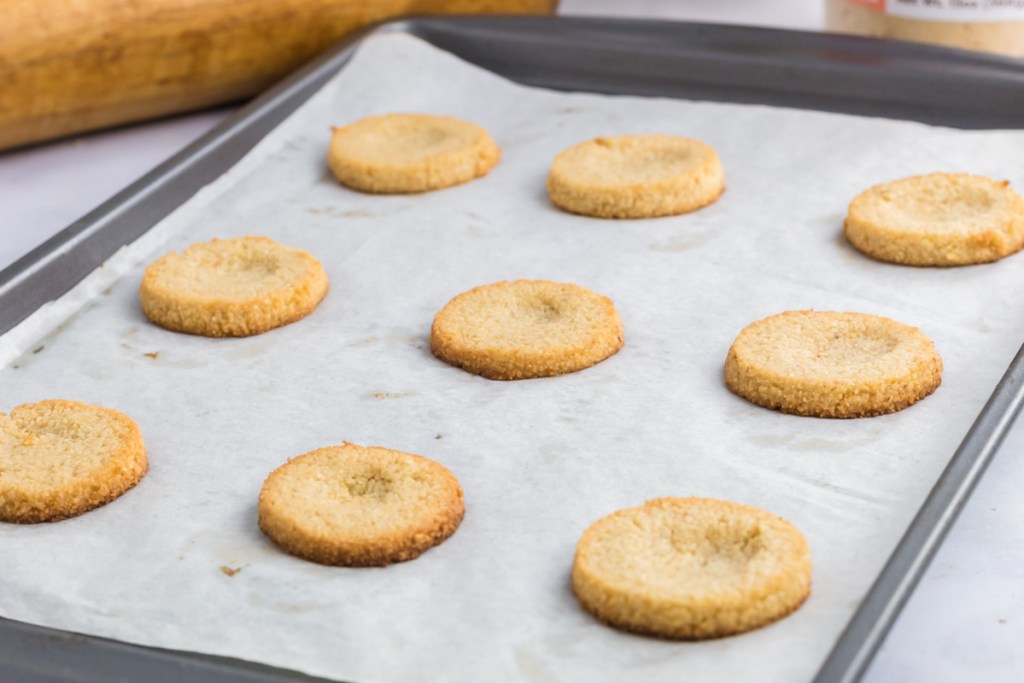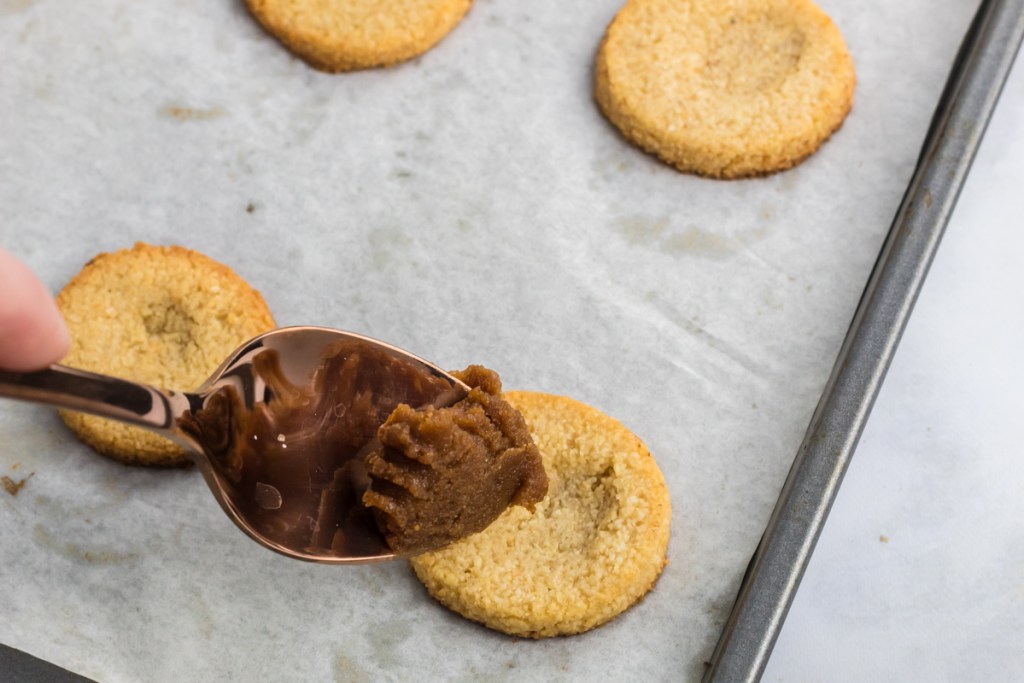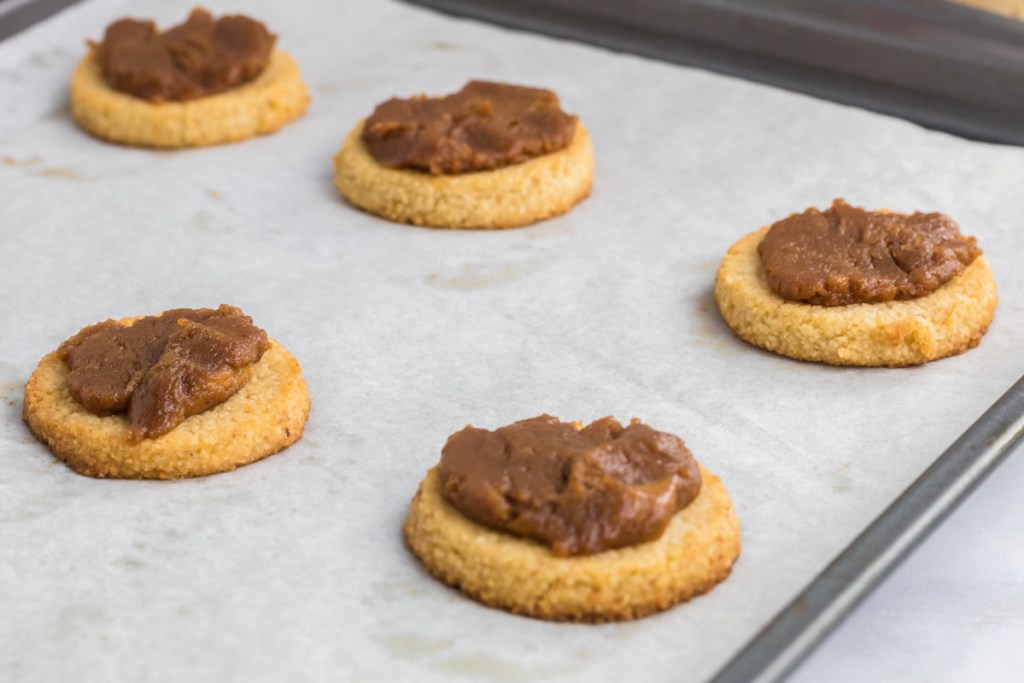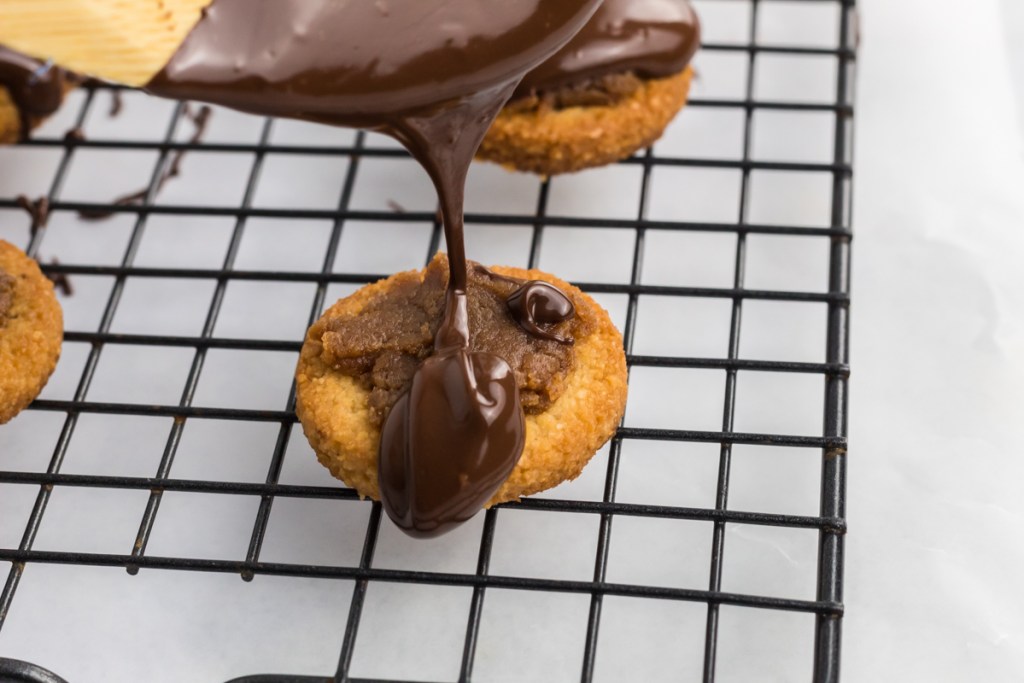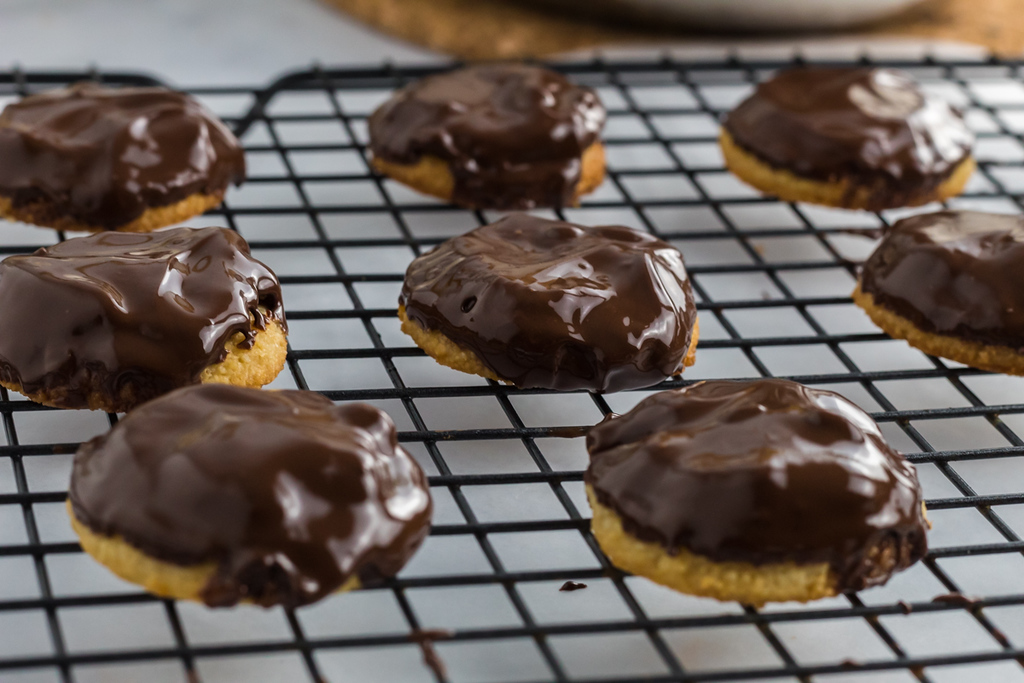 ---
Print
Keto Tagalongs Cookies
yield: 24 SERVINGS
prep time: 40 MINUTES
cook time: 12 MINUTES
total time: 52 MINUTES
A crunchy shortbread cookie topped with an almond and peanut butter layer covered in rich chocolate—a take on the classic Girl Scout cookie!
Ingredients
Shortbread Cookie:
1/2 cup unsalted butter, softened
1/2 tablespoon vanilla extract
2 cups super fine almond flour (like Bob's Red Mill)
pinch of salt
Almond Butter Filling:
1/2 cup almond butter
1 tablespoon vanilla extract
1 tablespoon water
1 teaspoon butter, softened
1 teaspoon liquid stevia
Chocolate Topping:
1 teaspoon coconut oil (optional, but yields a smoother chocolate coating)
Directions
1
To make the shortbread cookies:
In a large bowl, combine butter, erythritol, and cream together on low speed for two minutes until fluffy.
2
Slowly add in salt, almond flour, and vanilla extract. Mix on low until the dough has formed a soft ball. Keep in mind that the dough will be sticky.
3
Place dough between two pieces of parchment paper and roll out making sure dough is no thinner than 1/4". Place parchment paper on a baking sheet and chill for at least 20 minutes. Having a firm dough will help cut out the cookies.
4
Preheat the oven to 350 degrees. Line a baking sheet with parchment paper and set aside.
5
Cut out 1" cookie with a circle cookie cutter. Use a spatula to lift and place cutouts on a lined parchment baking sheet. Using a spoon or your thumb, gently press a small imprint into the center of the cookie to make a well for the filling.
6
Bake in the oven for 10-12 minutes or until the edge turns golden brown. Remove from the oven and let cool on the baking sheet.
7
To make the almond butter filling:
In a small bowl, add all almond butter filling ingredients and mix with a fork. Place in microwave for 10 seconds intervals stirring in between until melted and creamy. This will be a thick caramel-like texture.
8
Add a small dollop of almond butter filling to each shortbread cookie and very gently spread over the cookie with a spoon. The cookies will be fragile if not completely cooled so spread delicately! Move to a cooling rack when finished.
9
To make the chocolate coating:
Melt chocolate chips in the microwave in 15-second intervals or in a double boiler until completely melted. Add in 1 teaspoon of coconut oil to help smooth out chocolate for a thinner consistency (optional).
10
Spoon chocolate over the cookies to create a thin, even layer of chocolate on top that just starts to run down the side. You can also dip the top of the cookie directly into the chocolate, though cookies may still be too delicate. Avoid lifting the cookies off the cooling rack until the chocolate has completely set. You can also put them in the fridge to cool if you'd like them to set faster.
Nutrition Information
Yield: 24 cookies, Serving Size: 2 cookies
Amount Per Serving: 199 Calories | 17g Fat | 15g Total Carbs | 3g Fiber | 8g Sugar Alcohol | 5g Protein | 4g Net Carbs
---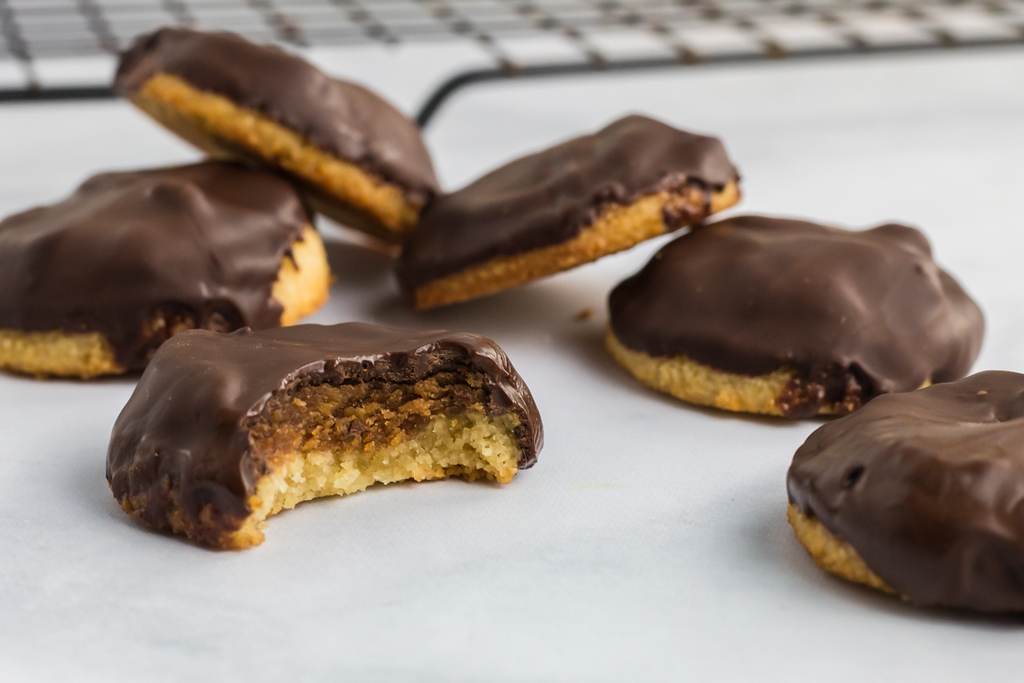 Don't be alarmed by the high total carb count!
Fiber and erythritol (the main ingredient in Swerve) do not affect blood sugar in the same way that regular carbs do, so we subtracted them from the total carb count. You'll see that the net carbs are much lower once you remove the sugar alcohols and fiber.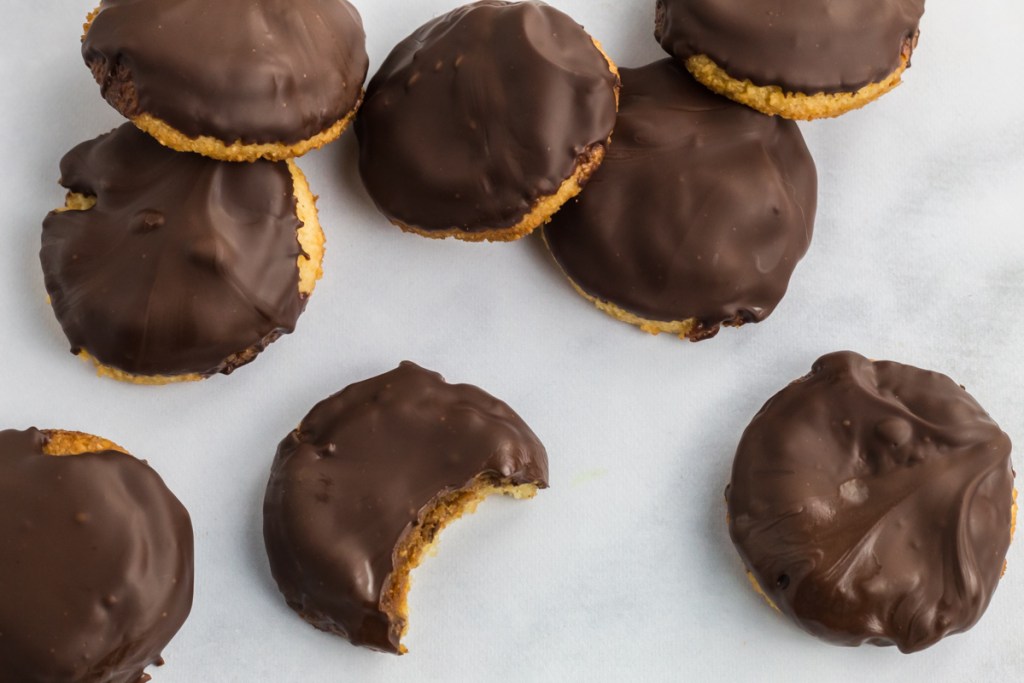 Keto or not, these cookies are a treat for everyone!
Just one bite and you'll be in peanut butter chocolate heaven—and you'll love that the cookie base gives a little crunch to the treat! Sorry Girl Scouts, but you've met your match with our homemade keto Tagalongs recipe!
---
Can't get enough Girl Scout cookies? Try these Keto Thin Mints next!