We Took IKEA's Official Swedish Meatball Recipe & Made it Keto-Friendly!
Flavorful keto meatballs complete with a rich sauce, based on IKEA's official Swedish Meatballs recipe.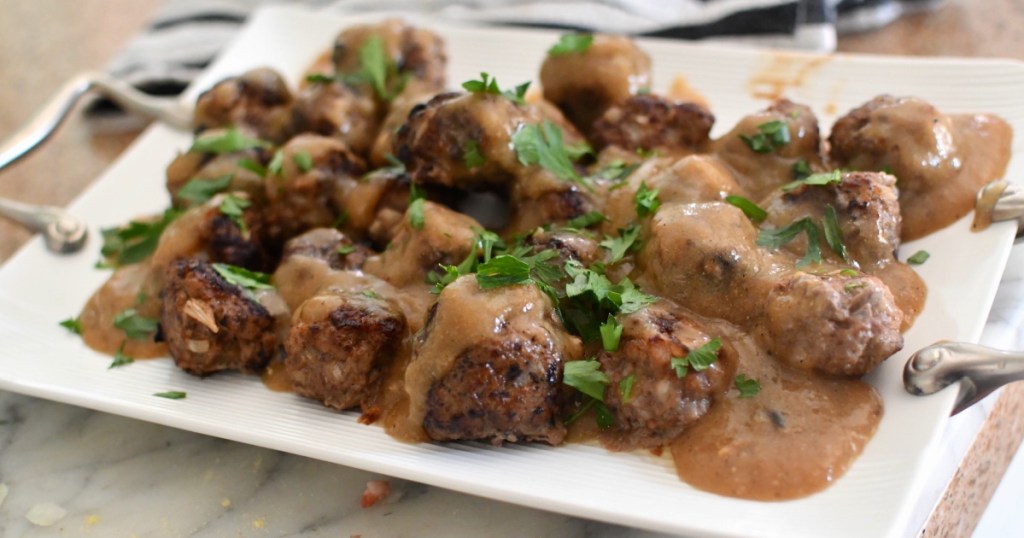 Do you love famous IKEA Swedish meatballs for dinner?
Well, guess what?! We've made our own keto Swedish meatballs version (& accompanying sauce!) that are so delicious, you won't even be able to tell the difference from the original!
When IKEA released its secret recipe for their famous Swedish meatballs, we noticed quickly that they're unfortunately not keto-friendly. Bummer! No worries though, as we came up with a low-carb keto version that is sure to impress your family at dinnertime!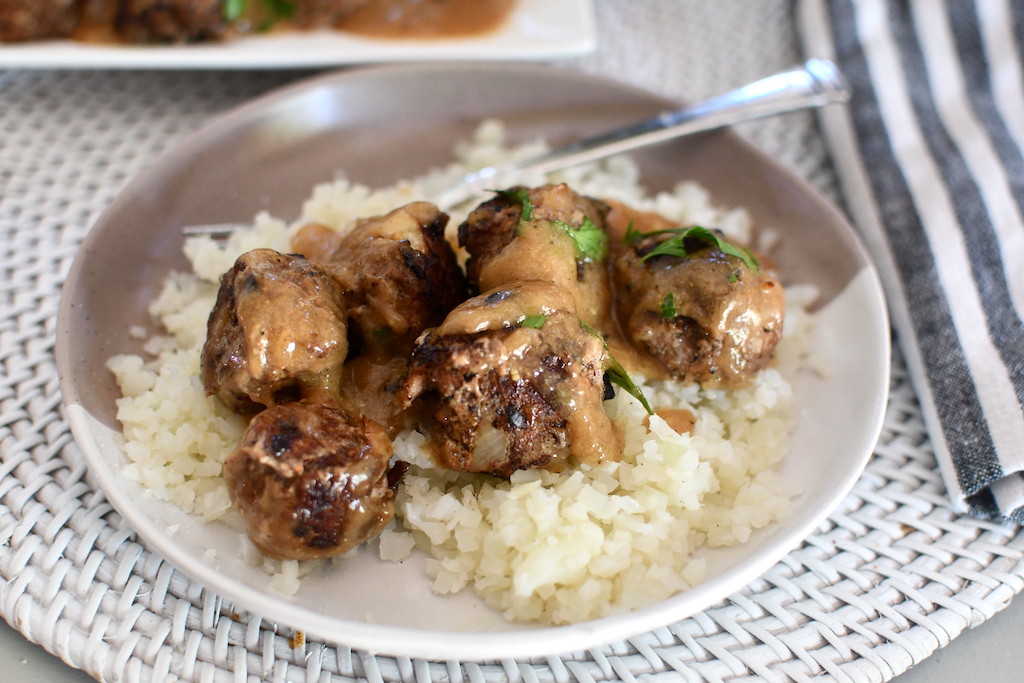 I am telling you, this meal is the definition of comfort food! These savory meatballs are so darn good, and something interesting to add to your keto weekly meal rotation!
Tips for making the best keto Swedish meatballs:
I suggest letting the meatballs chill in the fridge for about an hour after forming so they won't fall apart while cooking. You could even make them the day beforehand as a meal prep step to save time.
I'm a fan of cast iron so I seared the meatballs in the pan, then made the famous sauce in the same pan after to really get that deep, delicious flavor.
Can I skip the xanthan gum? Unfortunately no, because this is what makes the sauce thicken beautifully like gravy! Xanthan gum acts as an emulsifier and a binder and adds volume to gluten-free and keto baked goods.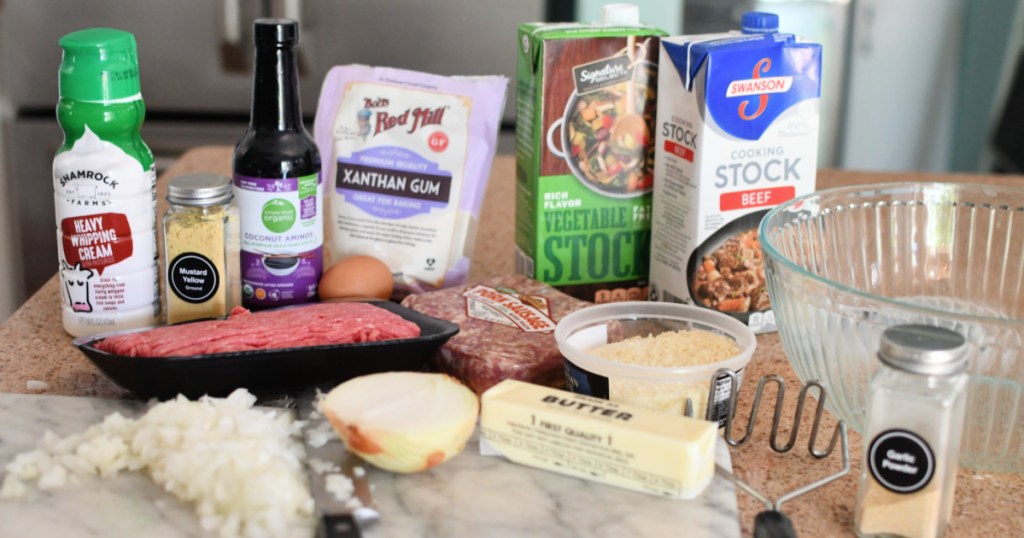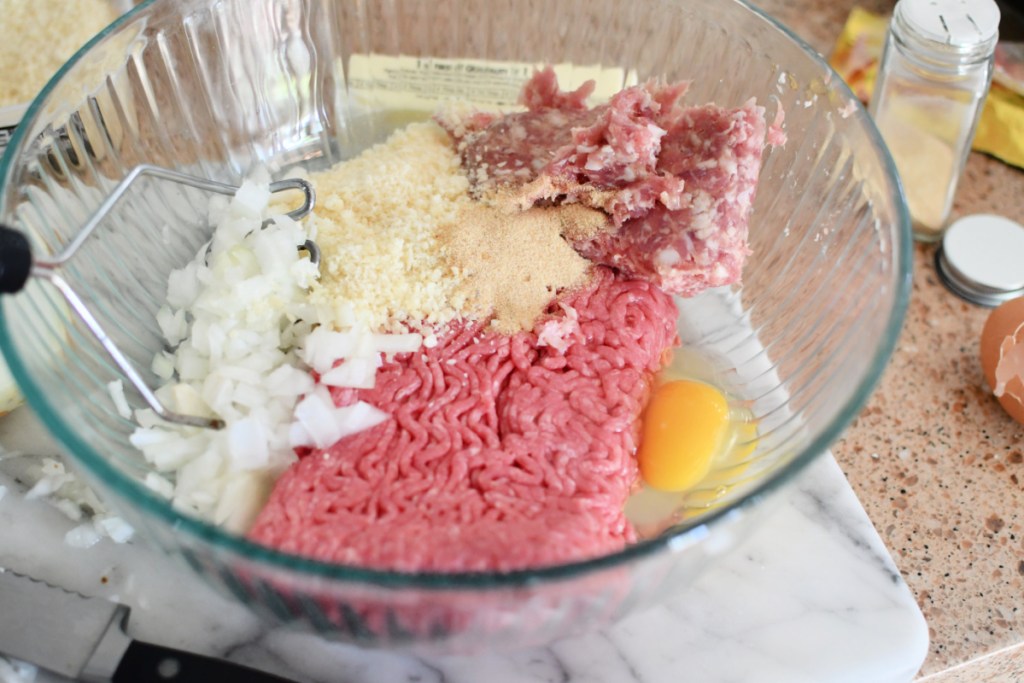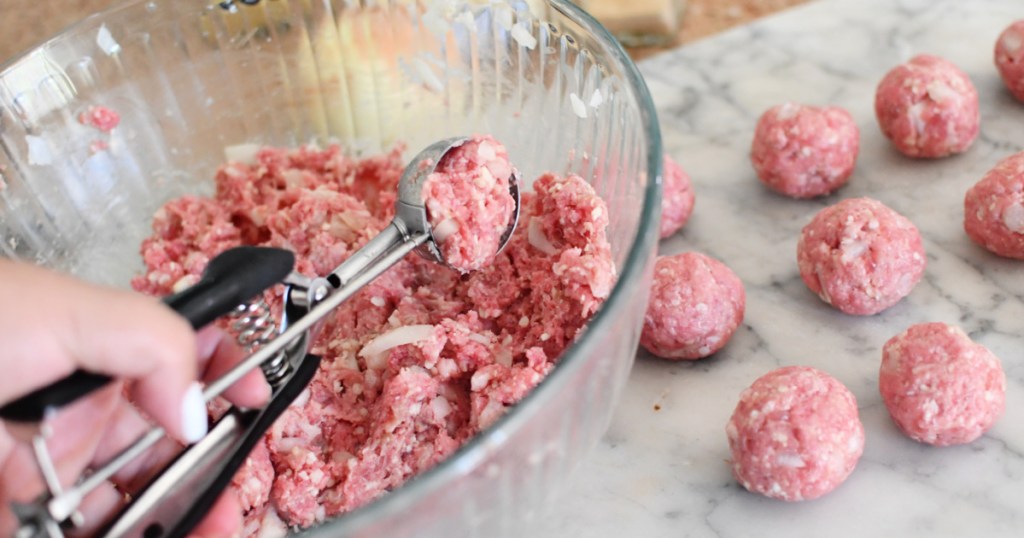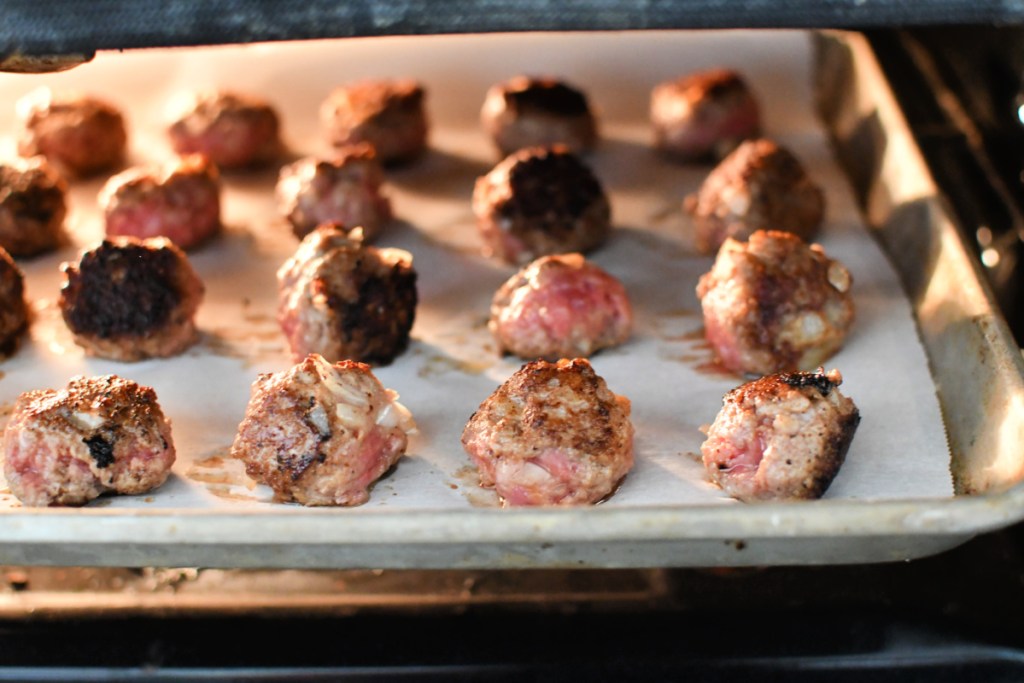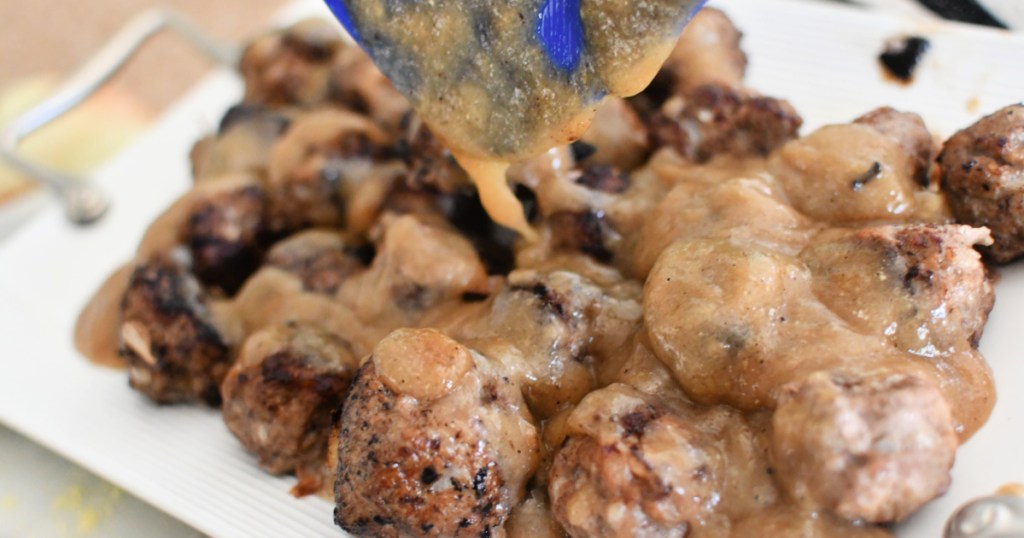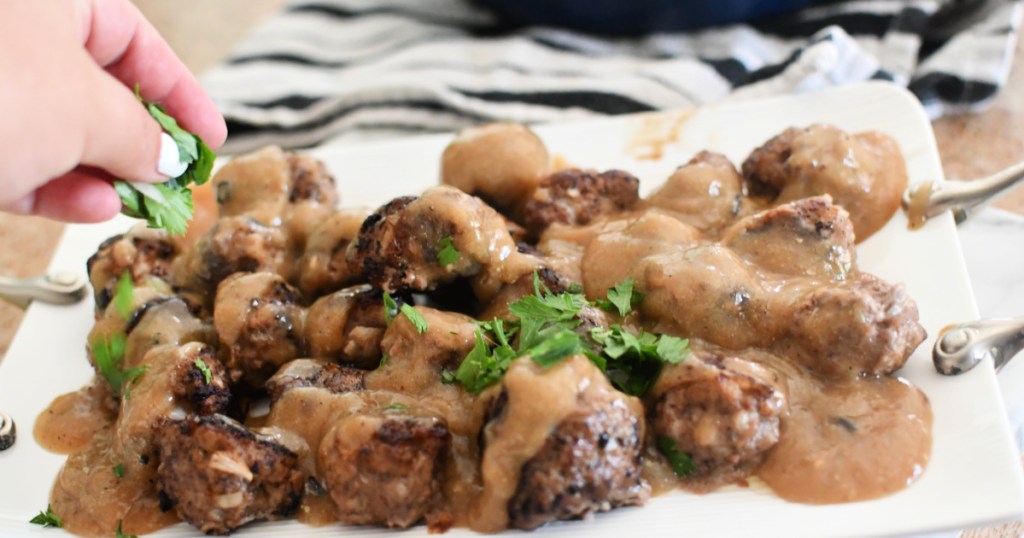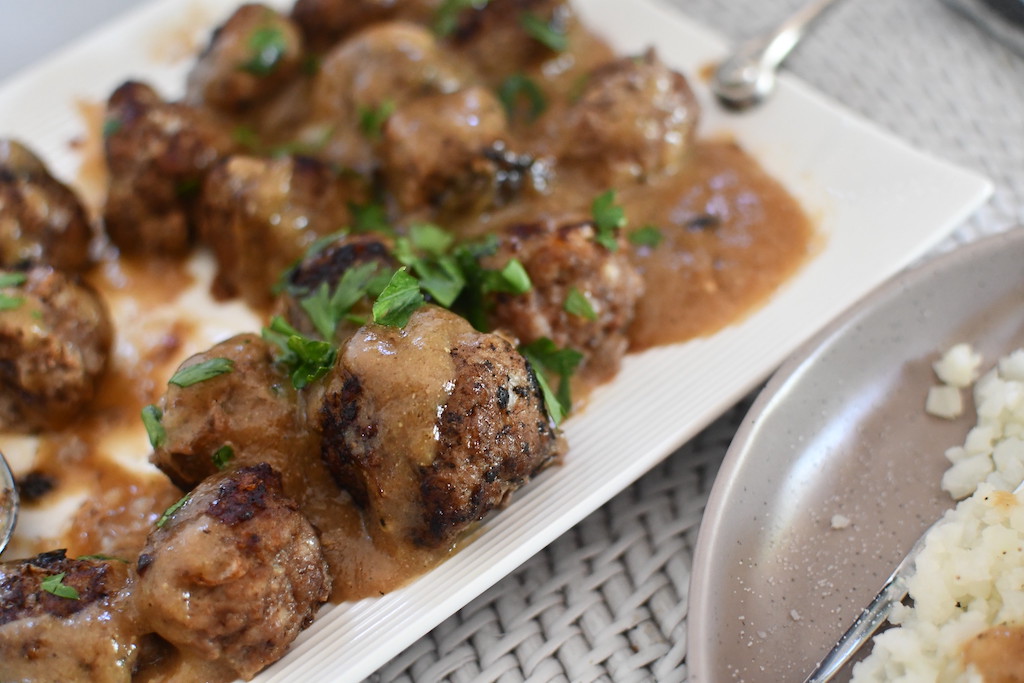 ---
Print
IKEA Inspired Keto Swedish Meatballs
yield: 5 SERVINGS
prep time: 20 MINUTES
cook time: 50 MINUTES
total time: 1 HOUR 10 MINUTES
Flavorful meatballs complete with a rich sauce, based on IKEA's official Swedish Meatballs recipe.
Ingredients
Swedish Meatballs:
1 pound ground beef
1/2 pound ground pork
1/2 onion, diced
1/2 cup grated parmesan cheese
1 egg
4 tablespoons heavy cream
1 teaspoon garlic powder
1/2 teaspoon salt
1/2 teaspoon pepper
Swedish Sauce:
3 tablespoon butter
1/4 cup heavy cream
1 teaspoon ground mustard
Directions
1
Preheat the oven to 350 degrees. Line a large baking sheet with parchment paper and set aside.
2
In a large bowl, add all the ingredients together for the meatballs and mix. Use a potato masher or your hands to combine everything together. Divide meatball mixture out into about 1" meatballs using a spoon or small cookie scoop. I was able to get 25 out of one batch.
Tip - I recommend letting the meatballs chill in the fridge for at least 2 hours so they don't fall apart while cooking.
3
Place a large cast-iron skillet over medium heat and add 2 tablespoons of oil. Once the oil is hot, place meatballs in the skillet to sear on all sides. It should take about 1 minute to sear each side.
4
After all the sides have seared, place meatballs on the lined baking sheet, and put in the preheated oven for 25 minutes.
5
While meatballs are in the oven, drain the cast-iron skillet of any leftover grease and then use the same skillet for the sauce. Over low-medium heat, add butter and xanthan gum and whisk until it has reached a slow simmer.
6
Add in beef and vegetable stock, and whisk for about 2 minutes. Then add in coconut aminos and ground mustard.
7
Slowly add in the heavy cream while whisking and let simmer for 5 minutes. The sauce will thicken, but if it is too thick, you can add an extra tablespoon of stock to thin it out.
8
Plate meatballs on a platter and pour the sauce over top. Top with freshly chopped parsley if desired. Enjoy!
Nutrition Information
Yield: 25 meatballs, Serving Size: 5 meatballs
Amount Per Serving: 582 Calories | 43.7g Fat | 4.9g Total Carbs | 0.2g Fiber | 2.0g Sugar | 0g Sugar Alcohol | 41.1g Protein | 4.7g Net Carbs
---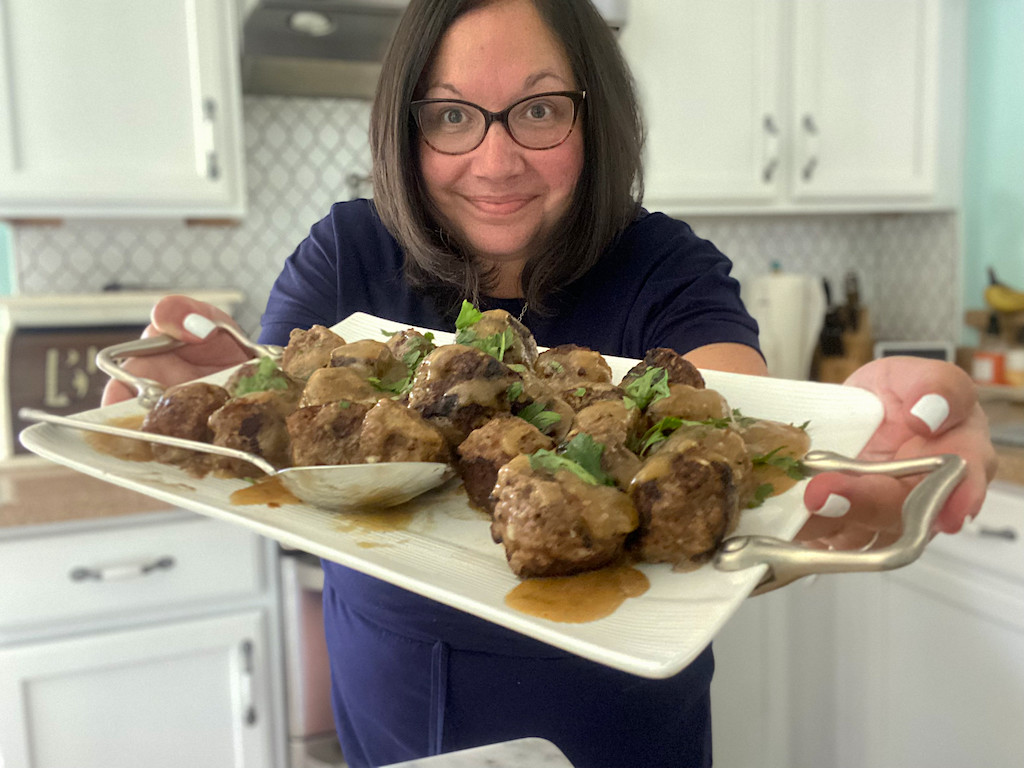 Keto copycat success!
These keto Swedish meatballs will definitely give IKEA a run for their money, and the low-carb sauce is really the winning piece of this dish! It's super creamy thanks to the cream and butter, plus it's got a punch of flavor from the ground mustard. I literally could just drink the sauce – it's THAT good!
With only 4.7g net carbs per serving, these hearty meatballs are the perfect keto dish that'll satisfy a hungry appetite. I hope you try them out yourself!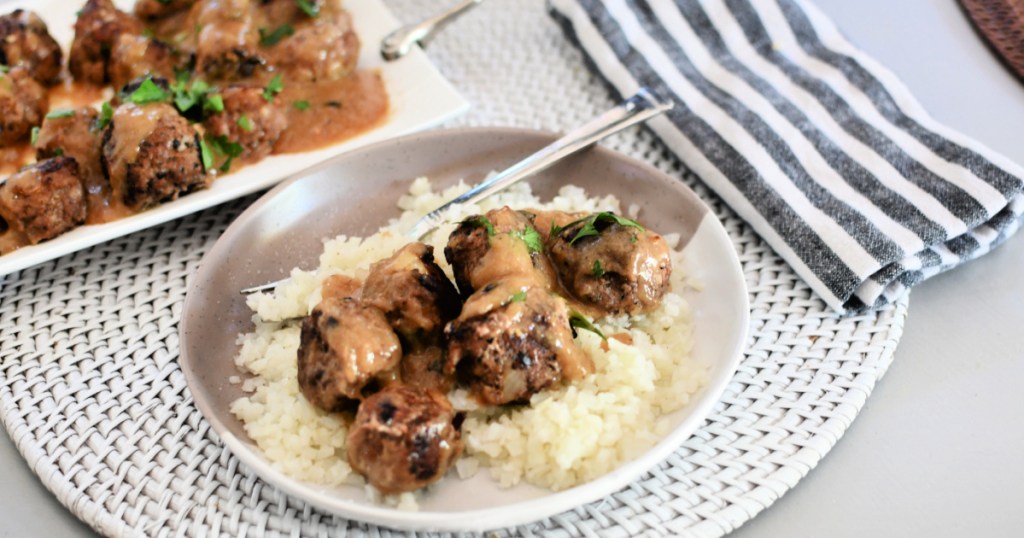 ---
Check out more amazing copycat recipes from our favorite restaurants!