Keto Strawberry Blondies (Just 3g Net Carbs)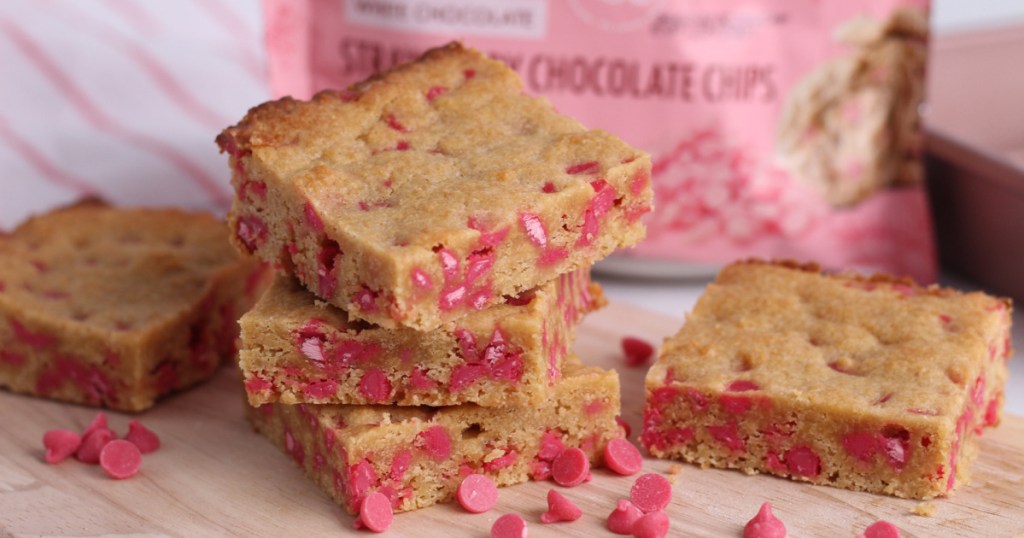 So berrylicious!🍓
Blondies are one of my FAVORITE desserts to make, and this recipe has an added pop of strawberry flavor that you're going to love. I used the new ChocZero strawberry chips in this keto blondie recipe and I was so impressed with how they turned out. I'm already obsessed with all of the ChocZero chocolates, but this one may just be my new favorite!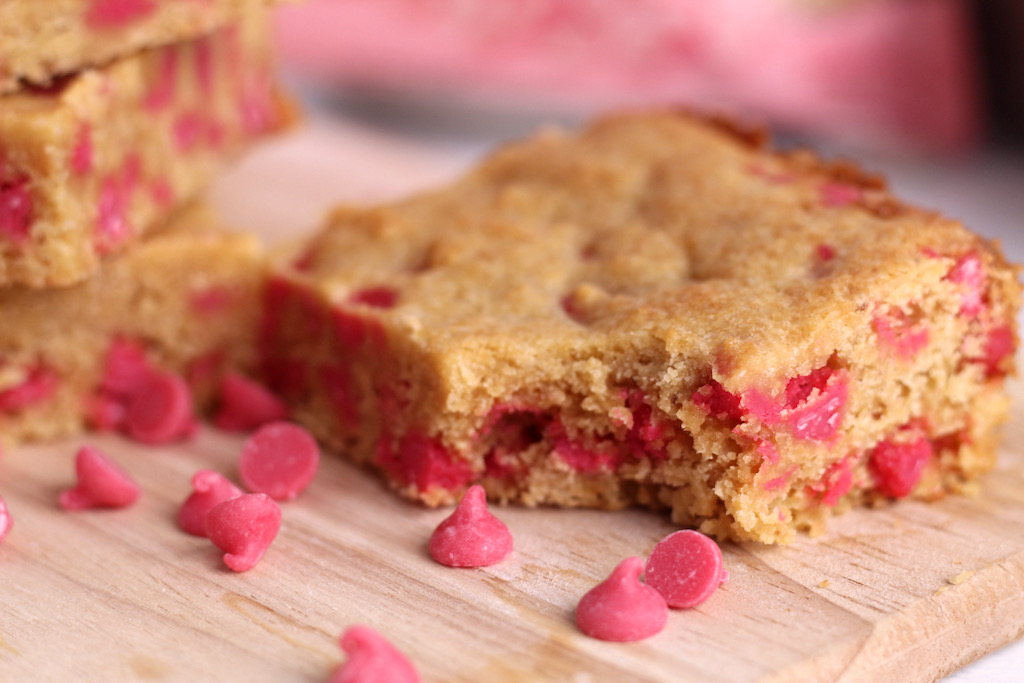 Blondies gone keto!
If you've never had a blondie, then you're in for a super sweet treat! Blondies are basically a brownie minus the chocolate, with the flavor coming from brown sugar. Since we're living the keto life, we'll swap out the carb-heavy brown sugar for zero carb Swerve brown sweetener in order to get that traditional blondie flavor without all the added sugar.
Tips for making the best keto strawberry blondies:
I kept this recipe in line with the traditional style blondie, but you can change it up by adding macadamia nuts, or even unsweetened coconut to this combination. These additions would pair amazingly with strawberry flavors.
Make sure you remove your keto blondies from the oven at the 25-minute mark. Yes, they may appear to be undercooked, but trust me, they will firm up after 30 minutes to an hour. You don't want to over-bake these at all, plus a blondie is supposed to be soft and chewy.
I used a maple extract which accents the strawberry flavor perfectly. Don't have any maple extract on hand? No worries! You can try using your favorite extract that you already have in your pantry to enhance the flavor profile.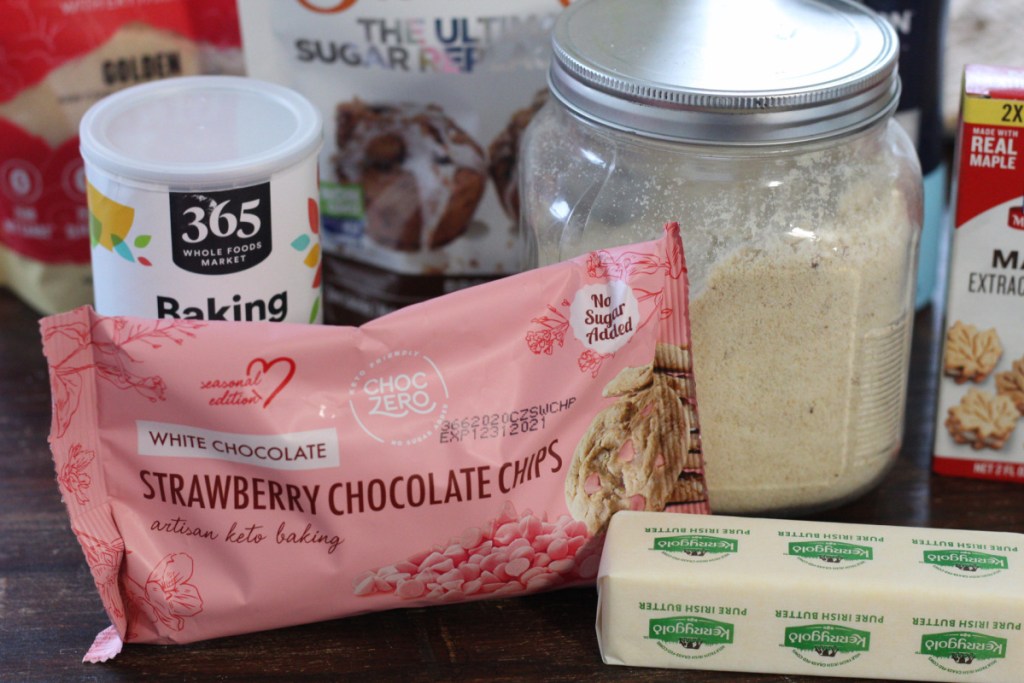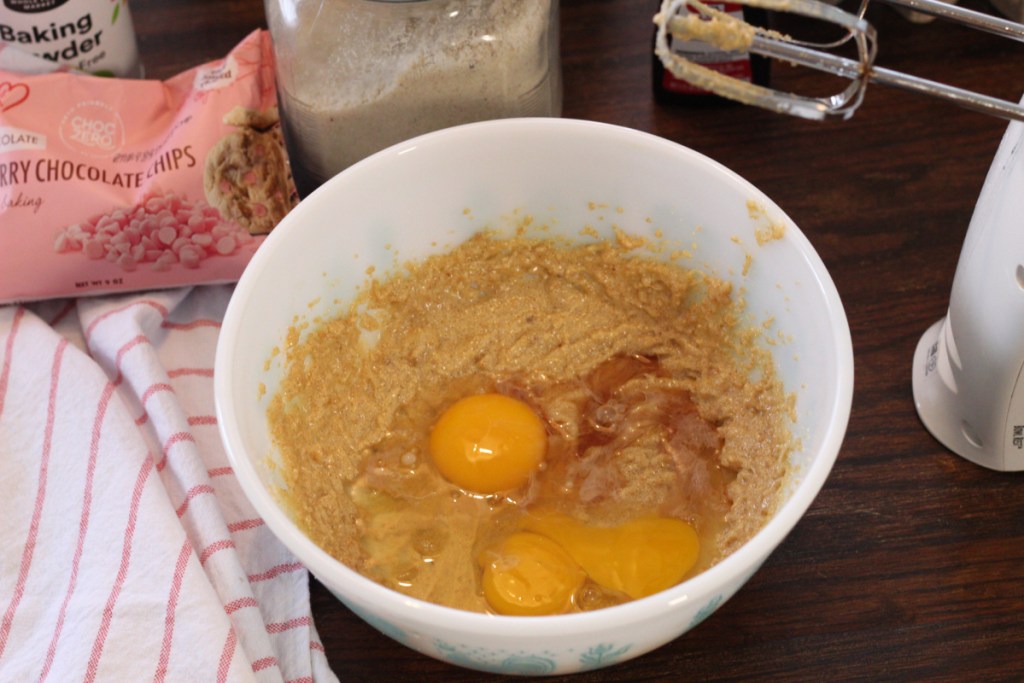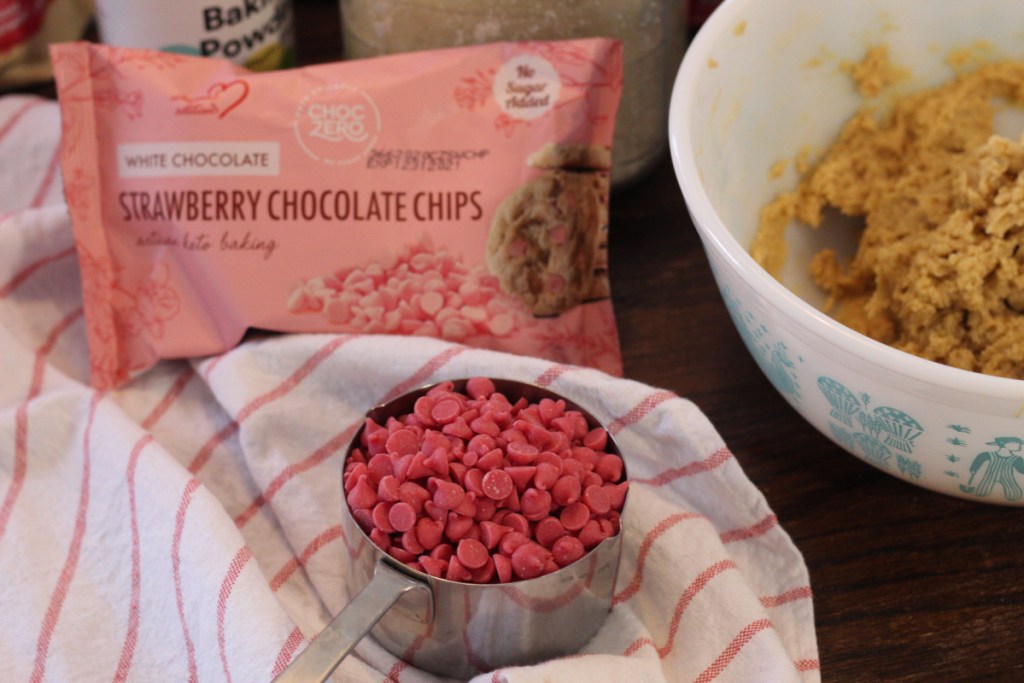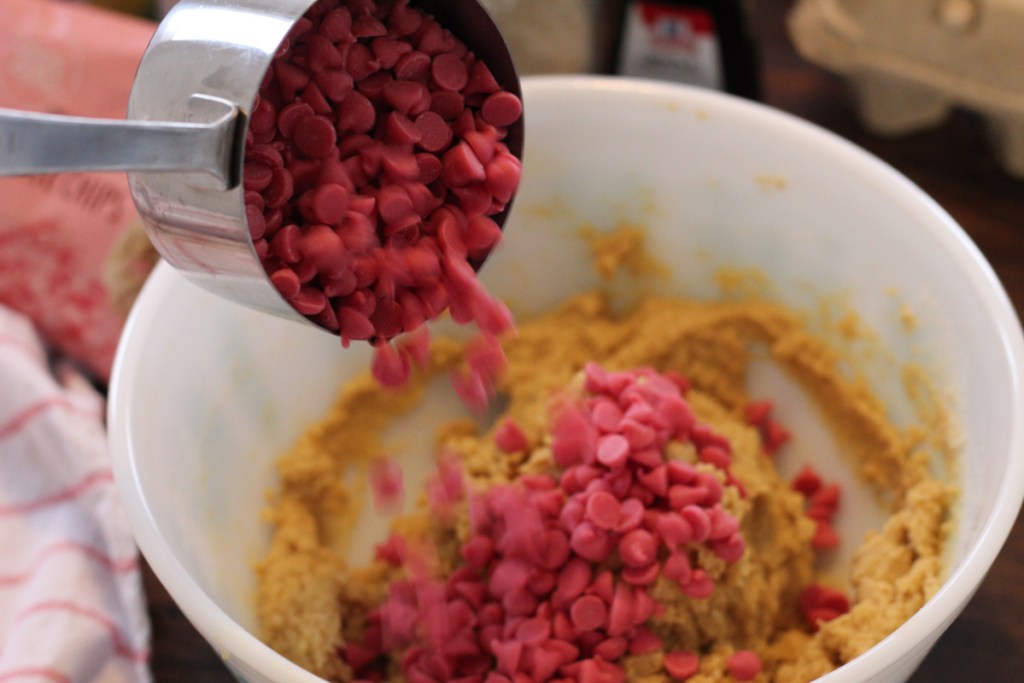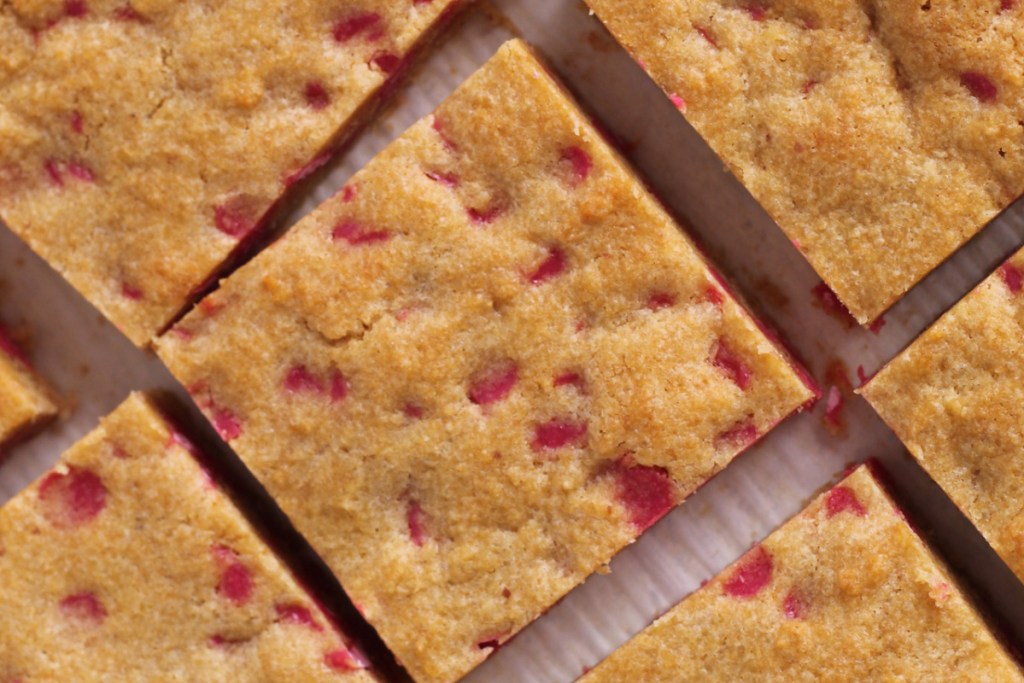 ---
Print
Keto Strawberry Blondies
yield: 9 SERVINGS
prep time: 10 MINUTES
cook time: 25 MINUTES
total time: 35 MINUTES
Soft and chewy low-carb blondies get a fresh and fruity twist with the addition of new strawberry chocolate chips from ChocZero!
Ingredients
1/2 cup unsalted butter, melted
2 eggs, room temperature
1 1/2 teaspoon baking powder
1/4 teaspoon sea salt
Directions
1
Preheat oven to 350 degrees. Place parchment paper in a 9x9 baking pan and set aside.
2
In a mixing bowl, cream together butter, keto brown sugar, and monk fruit until creamy, about 2-3 minutes.
3
Add in eggs and maple extract. Stir until combined. Set bowl aside.
4
In a separate mixing bowl, whisk together almond flour, baking powder, and sea salt.
5
Add dry ingredients to wet ingredients and mix them together until completely combined.
6
Fold in strawberry chips to batter. Pour batter into lined baking pan.
7
Bake in preheated oven for 25 minutes.
8
Remove from oven and let cool for 1 hour before slicing. It's important to let them cool for this long so that they set up nicely. Enjoy!
Nutrition Information
Yield: 9 squares, Serving Size: 1 3"x3" square
Amount Per Serving: 314.6 Calories | 27.5g Fat | 28.6g Total Carbs | 9.6g Fiber | 2.1g Sugar | 0g Sugar Alcohol | 15.9g Erythritol | 6.7g Protein | 3.1g Net Carbs
---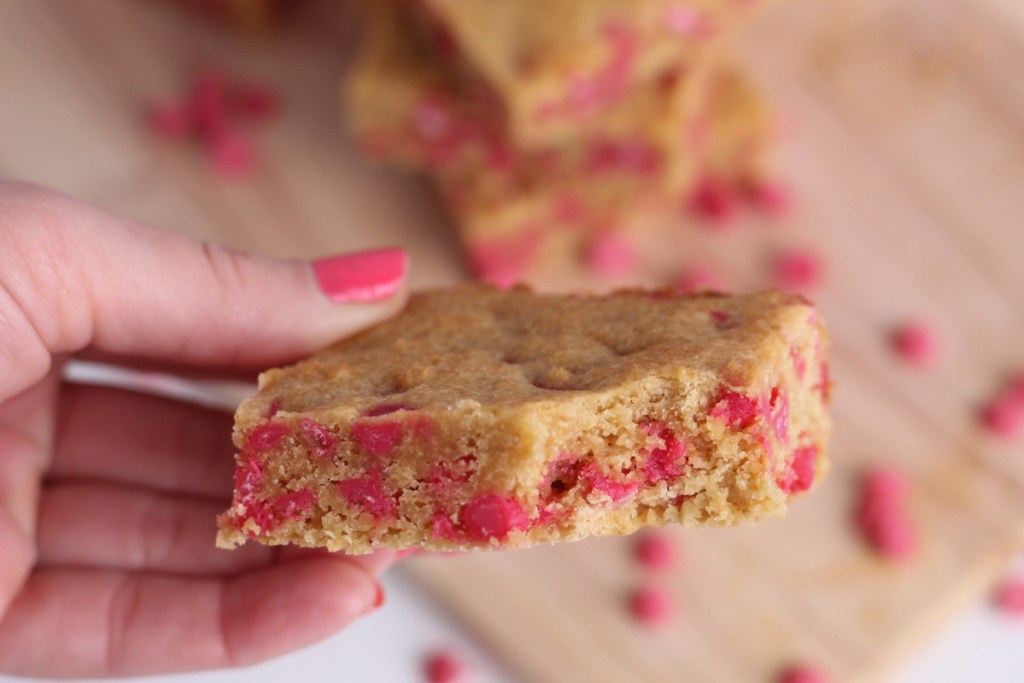 Bring on summer!
These keto strawberry blondies sure are giving me summer vibes with their fresh and fruity taste. They'll be an awesome low-carb dessert for our cookouts this summer.
Make a batch and let me know what you think, I bet ya can't eat just one!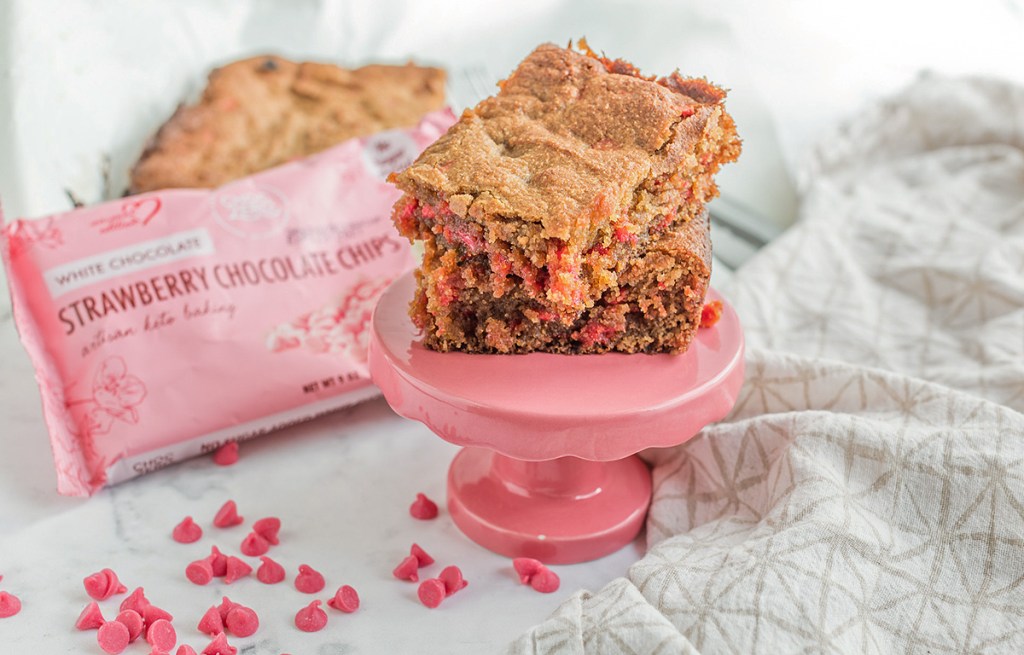 Here's what my teammate Jenna had to say after making these keto strawberry blondies:
"I really enjoyed the strawberry flavor of these keto blondies! In fact, don't think I've ever tried strawberry chips in a recipe before so this was fun to try. I love every ChocZero product I have tried (and I've tried a lot), you really can't tell they're low carb. It's amazing how well the chips bake and melt. I love a good blondie, and this keto recipe is excellent!"
---