This Keto Spaghetti Squash Chicken Alfredo Skillet is the BEST!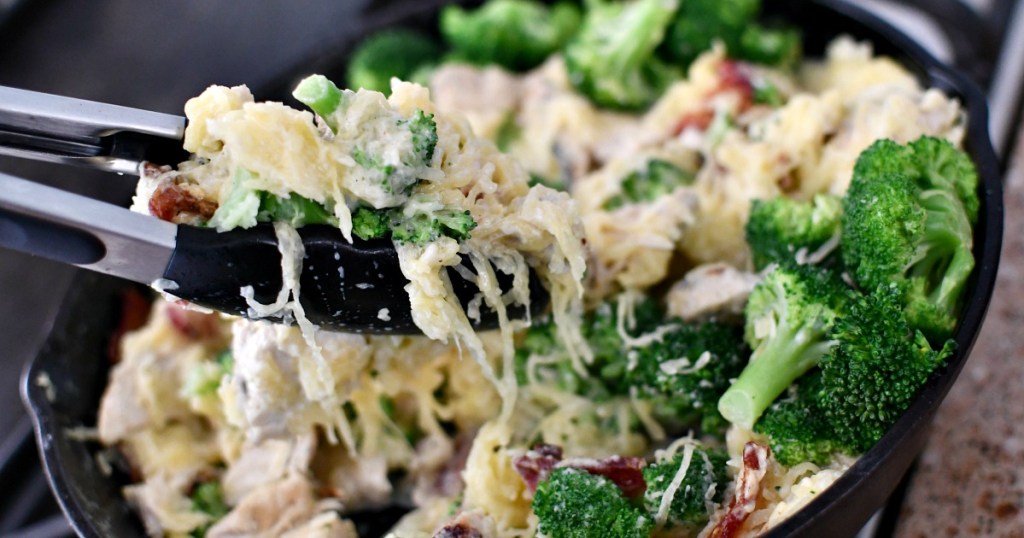 Love spaghetti squash and want to use it in a keto recipe?
You have to try roasting a spaghetti squash, then throwing it in a skillet with a quick, homemade keto alfredo sauce. I also added cooked bacon, chicken, and broccoli for an over the top keto meal experience! In fact, this may be my personal favorite low carb meal idea I've EVER made. It's super creamy, rich, and satisfying – a must-try keto dinner idea for sure.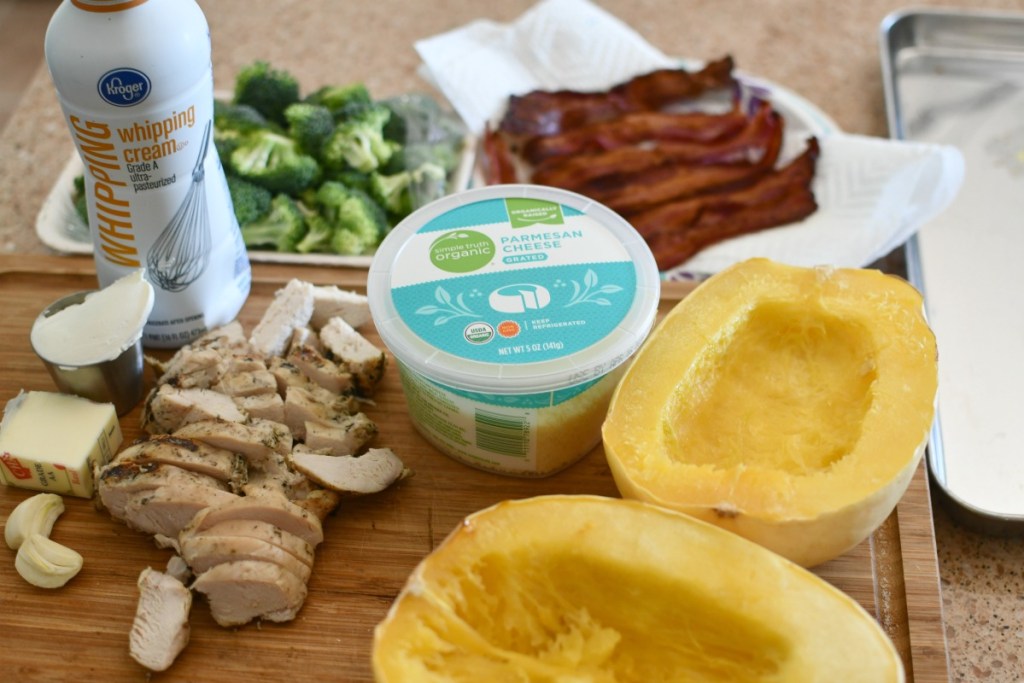 Hip Recipe Tips:
I like roasting spaghetti squash in the oven. If you want to try using your Instant Pot to cook a squash instead, cut it in half, remove the seeds, and cook it on high for 7 minutes with a cup of water inside the pot. This could be a little bit of a time saver if you're in a hurry.
I used a couple of small grilled chicken breasts, but if you have a leftover rotisserie chicken, that'd be perfect as well.
This dish makes yummy leftovers, too. If the sauce thickens too much, try adding a tablespoon or so of chicken broth when reheating.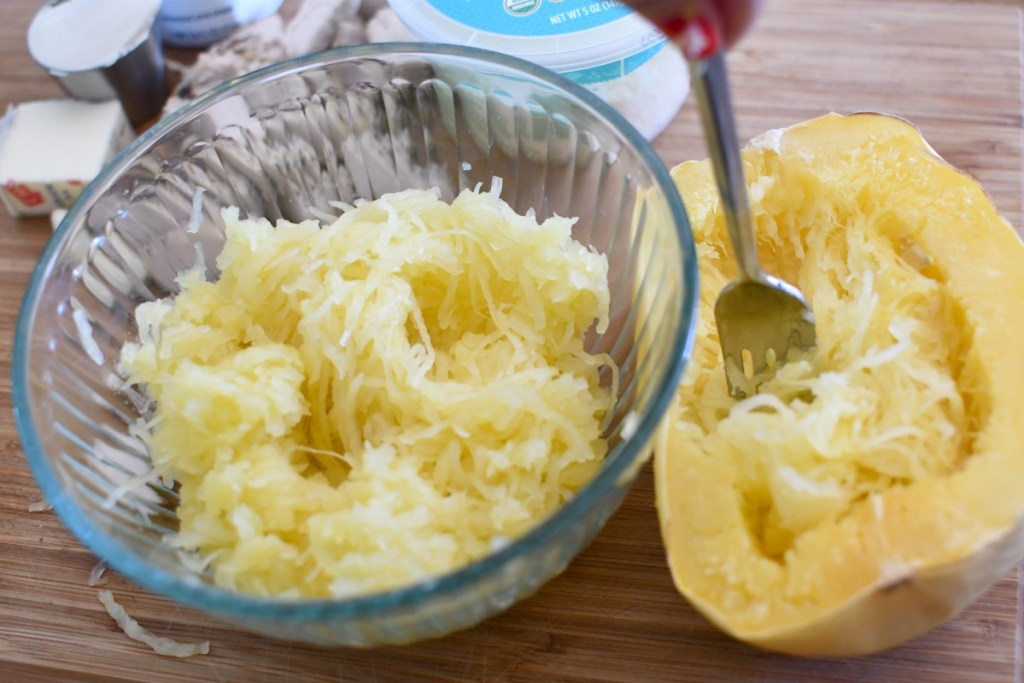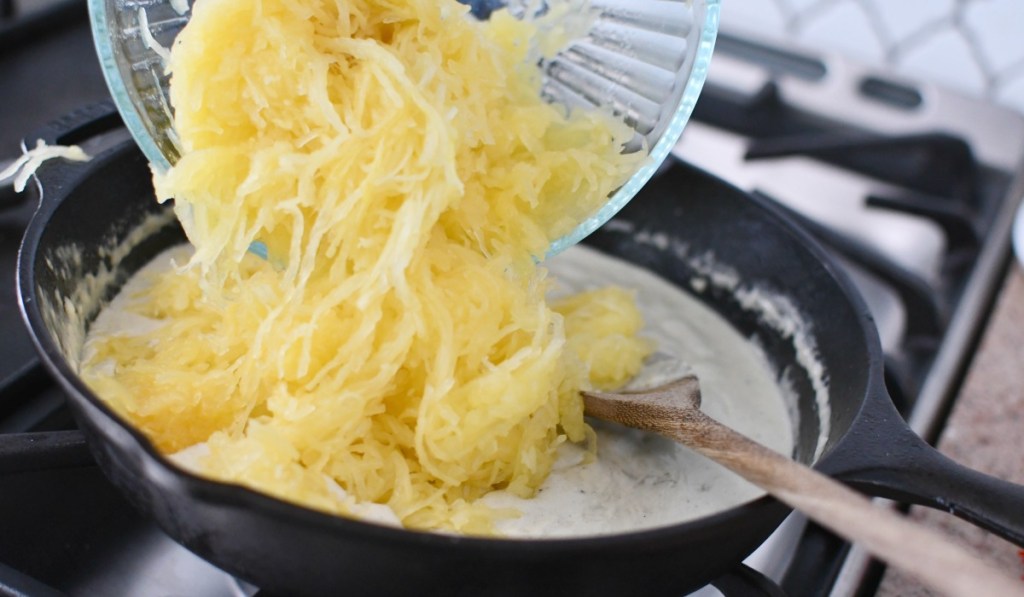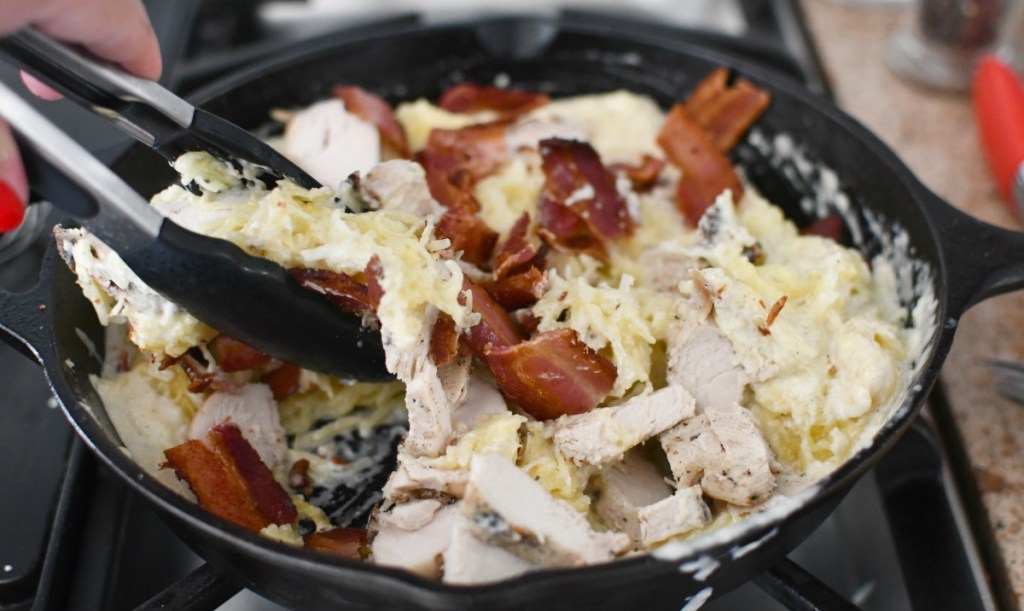 ---
Print
Keto Spaghetti Squash Chicken Bacon Alfredo Skillet
yield: 4 SERVINGS
prep time: 15 MINUTES
cook time: 55 MINUTES
total time: 1 HOUR 10 MINUTES
This hearty skillet meal has roasted spaghetti squash with a rich creamy alfredo sauce, pieces of bacon, chicken, and broccoli.
Ingredients
For the Spaghetti Squash:
2 pound spaghetti squash (yields about 2.5 cups cooked)
1 teaspoon olive oil
pinch of salt & pepper
For the Skillet:
2 tablespoons salted butter
2 tablespoons cream cheese, room temp.
2 cloves fresh garlic, minced
1/2 cup heavy whipping cream
3/4 cup grated parmesan cheese
pinch of salt and pepper
1/2 pound grilled chicken breast, cooked
7 slices of bacon, cooked
8 oz fresh broccoli florets
Directions
1
For the Spaghetti Squash:
Preheat the oven to 400 degrees. Slice the spaghetti squash in half lengthwise. Scoop out the seeds in the middle. Coat the inside of both halves with olive oil, salt and pepper.
2
Place the halves, facing down, onto the baking sheet pan. Bake in the oven for about 35-45 minutes until golden brown and fork-tender. If the strands release easily from the skin, it's ready! Remove the strands, place in a bowl, and set aside.
3
For the Skillet:
To a large skillet, melt the butter and cream cheese together on medium heat. Also, add in the garlic, and cook until fragrant, about 1 minute, while stirring.
4
Add heavy cream, and stir in parmesan cheese a little at a time, stirring until incorporated. Reduce heat to med/low and let melt and thicken for 5-7 minutes. Season with a pinch of salt and pepper.
5
Add in the roasted spaghetti squash and chicken to the skillet and stir to incorporate sauce.
6
Steam the broccoli in the microwave for 3 minutes, then add it to the skillet. Cut the cooked bacon into pieces and also add it to the skillet. Stir everything with tongs to incorporate sauce and serve warm. Enjoy!
Nutrition Information
Yield: 4 servings, Serving Size: 1.5 cups
Amount Per Serving: 413 Calories | 28g Fat | 10g Total Carbs | 1g Fiber | 29g Protein | 9g Net Carbs
---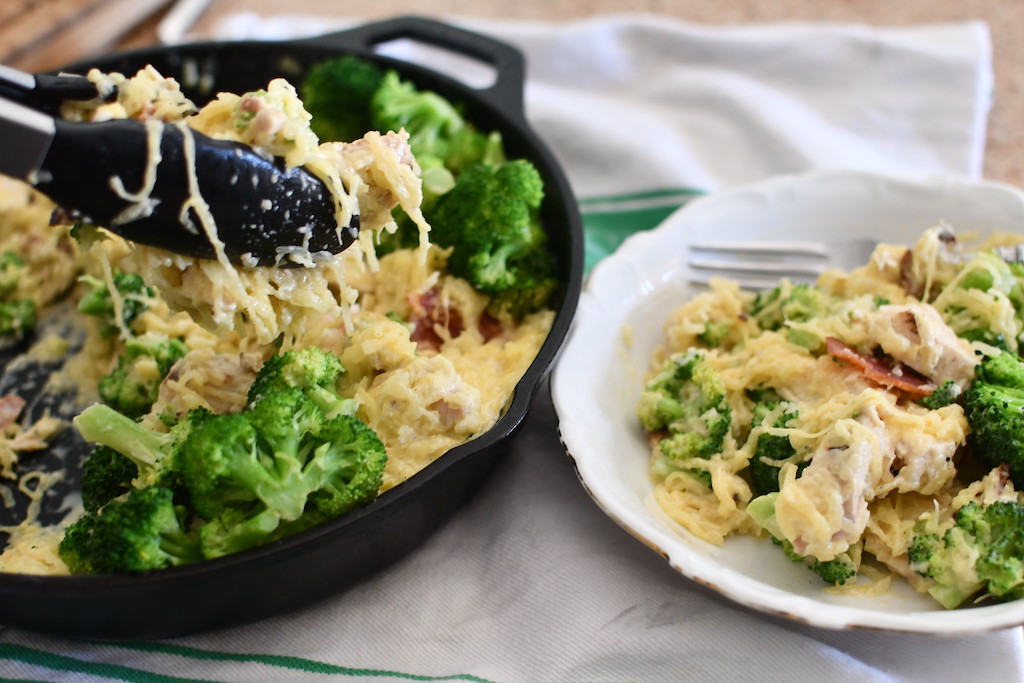 This hearty spaghetti squash meal is the BEST!
I love how cheesy and creamy the sauce is with the spaghetti squash. It's super filling and comforting. Even though it does take a bit to prep the spaghetti squash, I guarantee it will be 100% worth it!!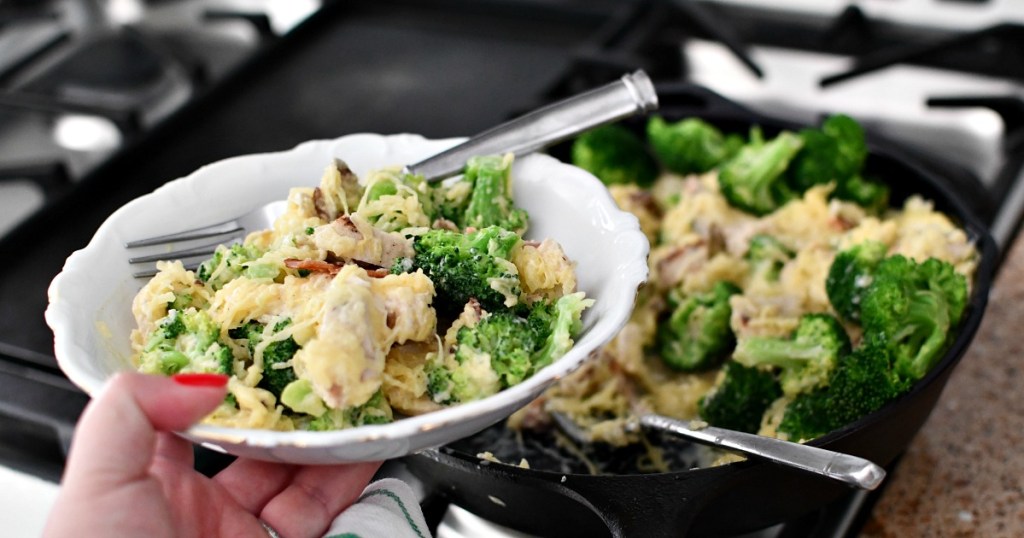 ---