Keto Pumpkin Chocolate Chip Cookies are Perfect for the Fall Season
Keto Pumpkin Chocolate Chip Cookies are an easy-to-bake treat!

Love the yummy combination of chocolate and pumpkin together?
Attention, cookie lovers! You can bake delicious keto pumpkin chocolate chip cookies that taste AMAZING! These cookies are gooey, soft, and guilt-free! Plus, they happen to be easy to make and something to add to your fall baking list of goodies.
If you're craving chocolate, these addicting cookies will do the trick! For this recipe, we are adding pumpkin puree and pumpkin pie spice to our keto chocolate chip cookies.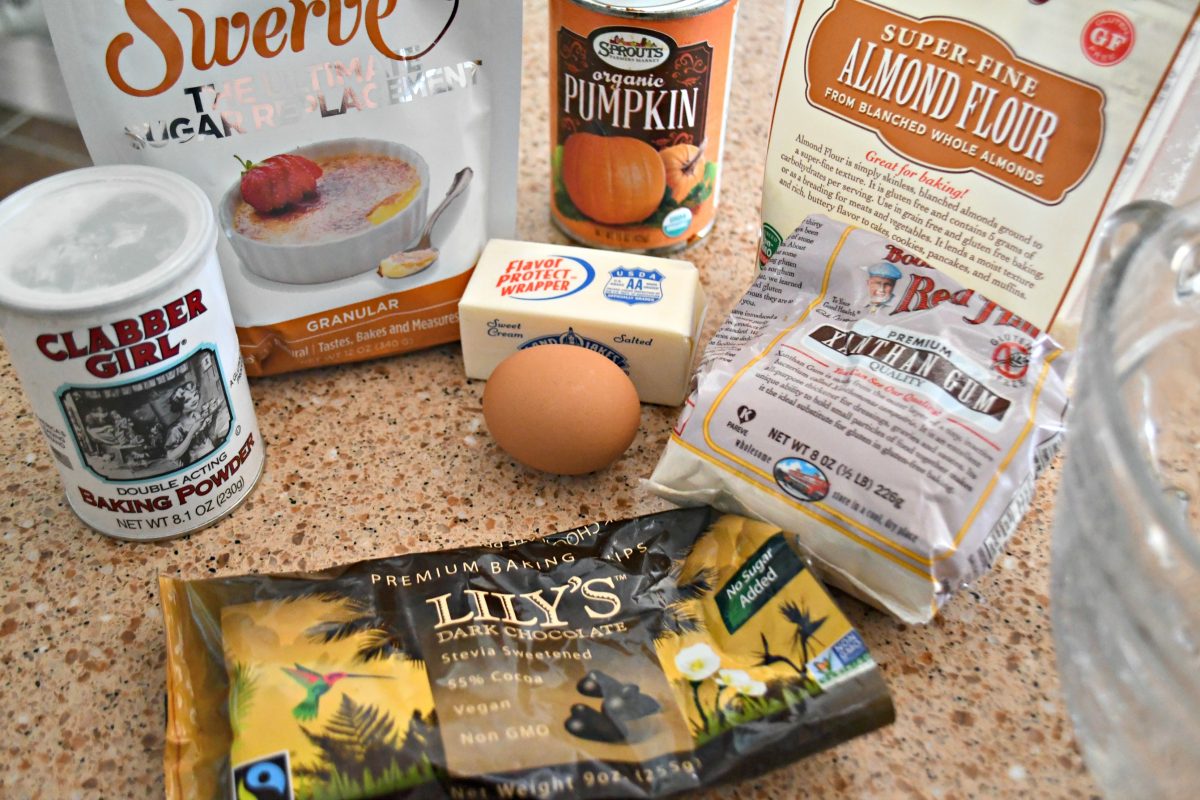 Keto cookie ingredients are key!
You'll for sure need to use sugar-free chocolate chips, and we recommend Lily's Chocolate chips which are sweetened with stevia. They are so YUM!
You'll also need some almond flour as a replacement for traditional flour, and also a sweetener. I like to use Swerve granular when baking cookies, but you can sub in your favorite sweetener. Visit our Keto Sweetener Conversion Guide for how to substitute with different sweeteners.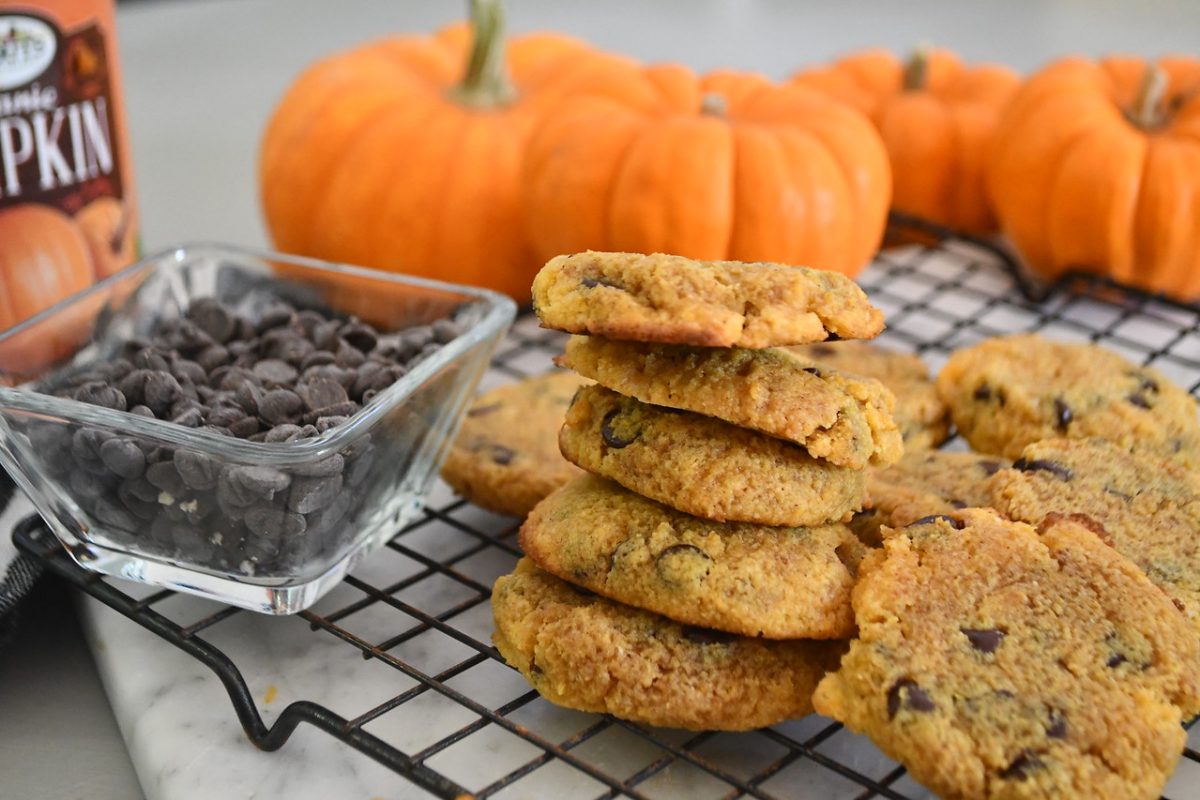 Hip Tips for Baking Keto Pumpkin Chocolate Chip Cookies:
Leave your butter out at room temperature so it is softened. Do NOT heat or melt your butter in any way as this may leave your batter runny or too liquidy.
Remember to flatten your cookies or else they won't spread flat on the pan.
Since these cookies are softer, let them cool for at least 7 minutes before transferring them as they may fall apart while still warm.
These are perfect for any fall gatherings you have coming up. It would also be a fun idea to try using fresh pumpkin you may have leftover from carving!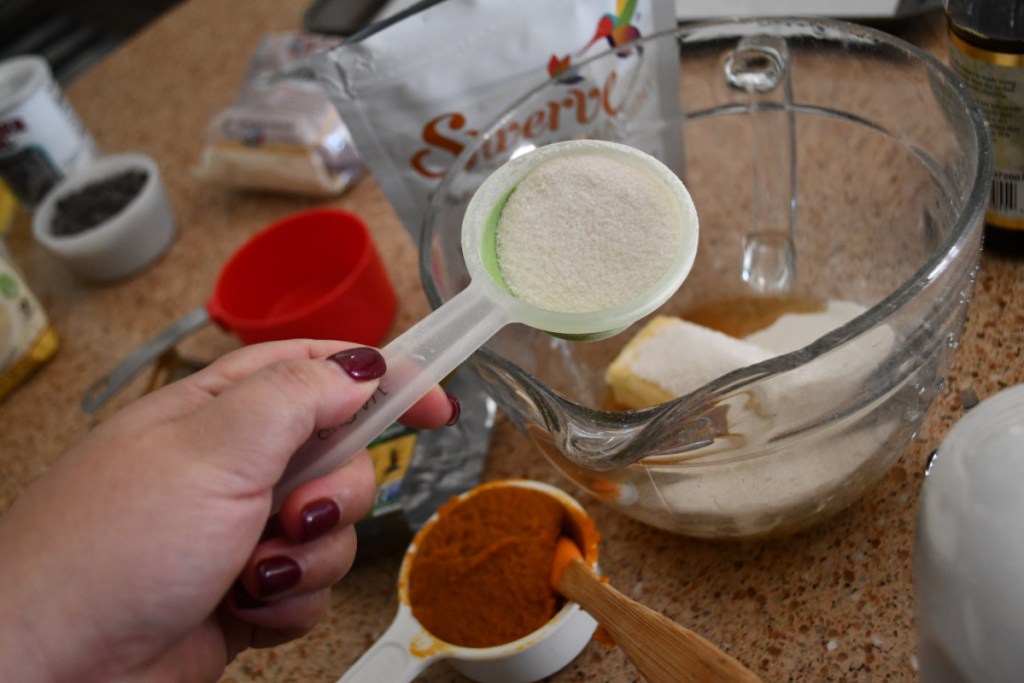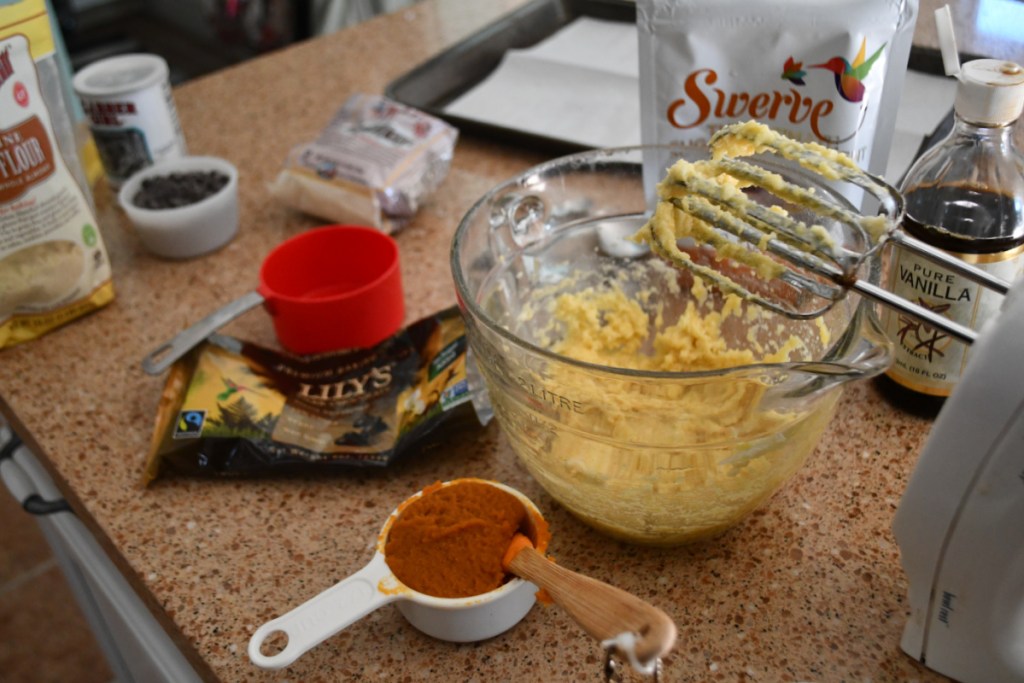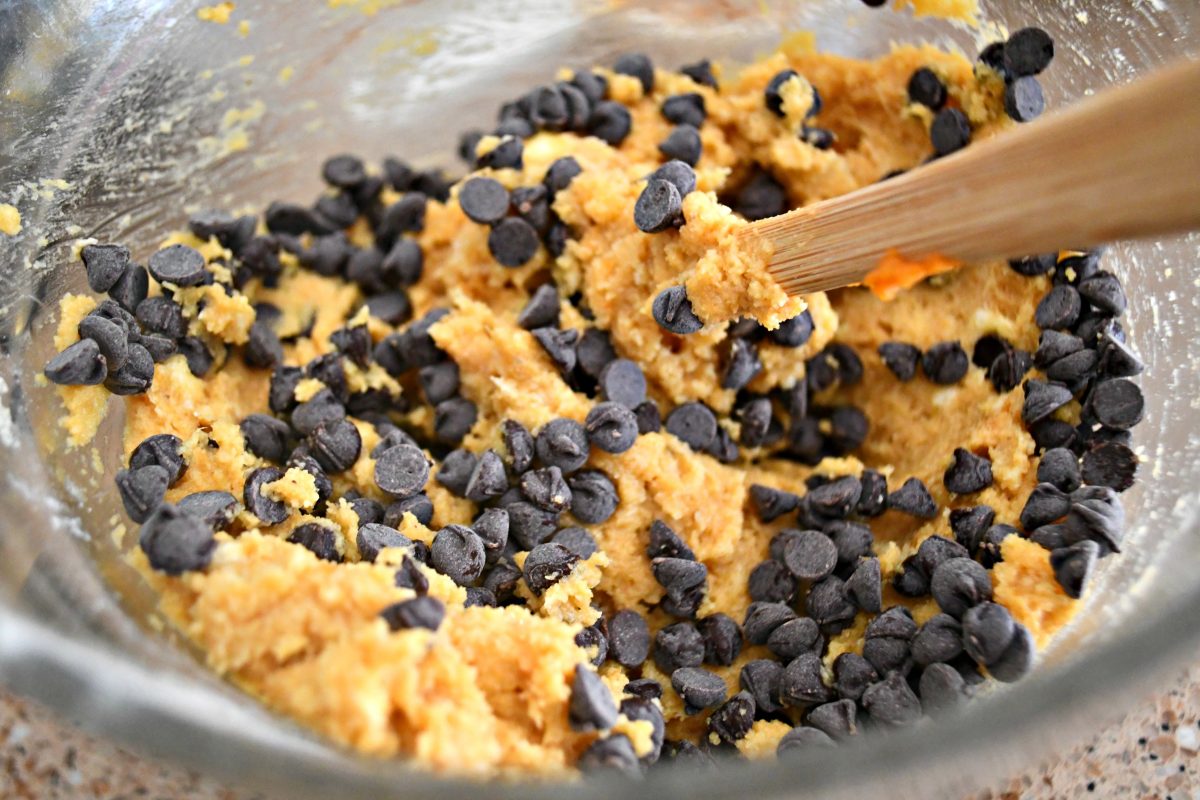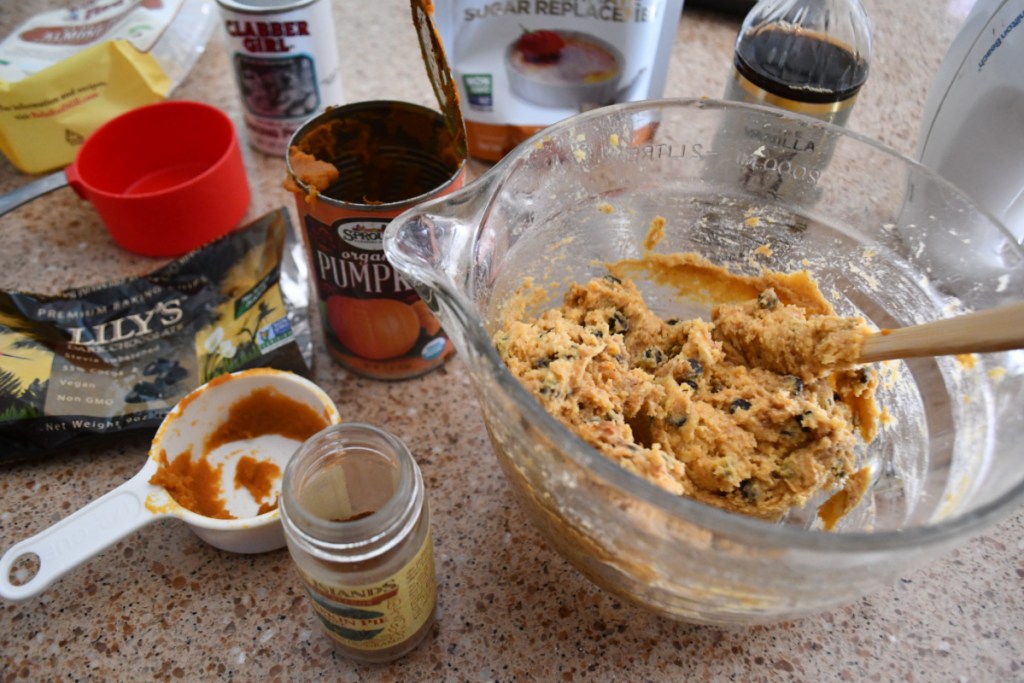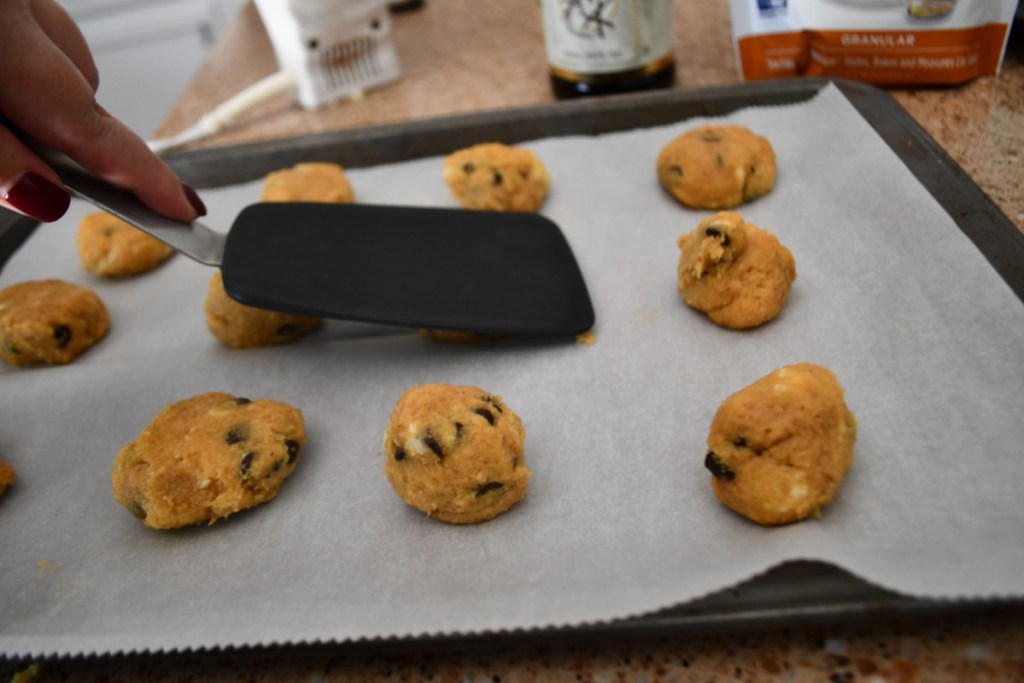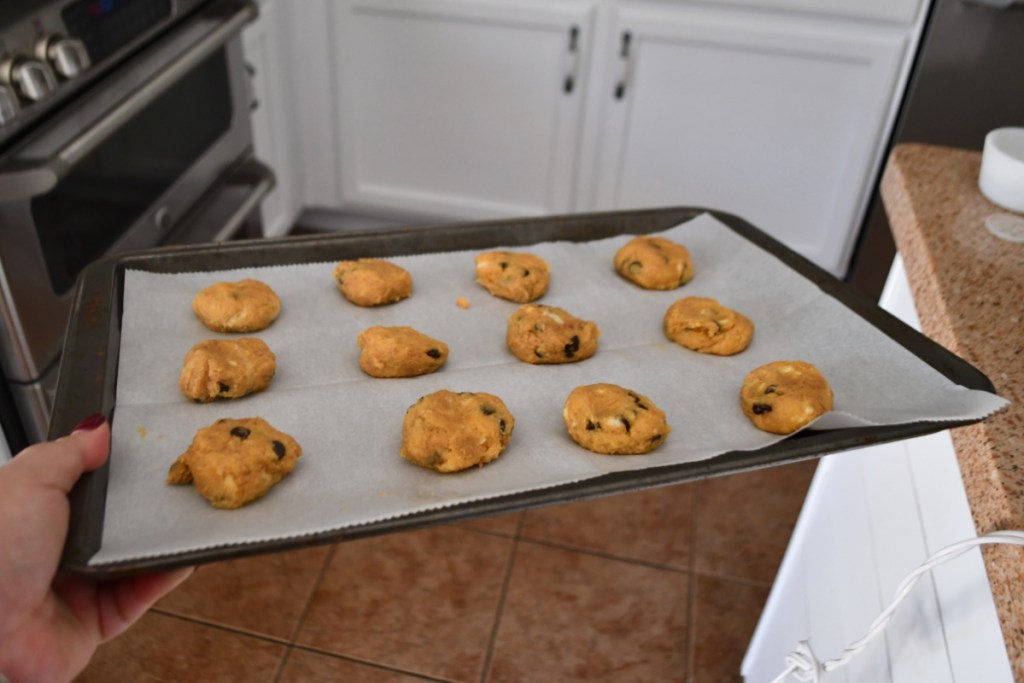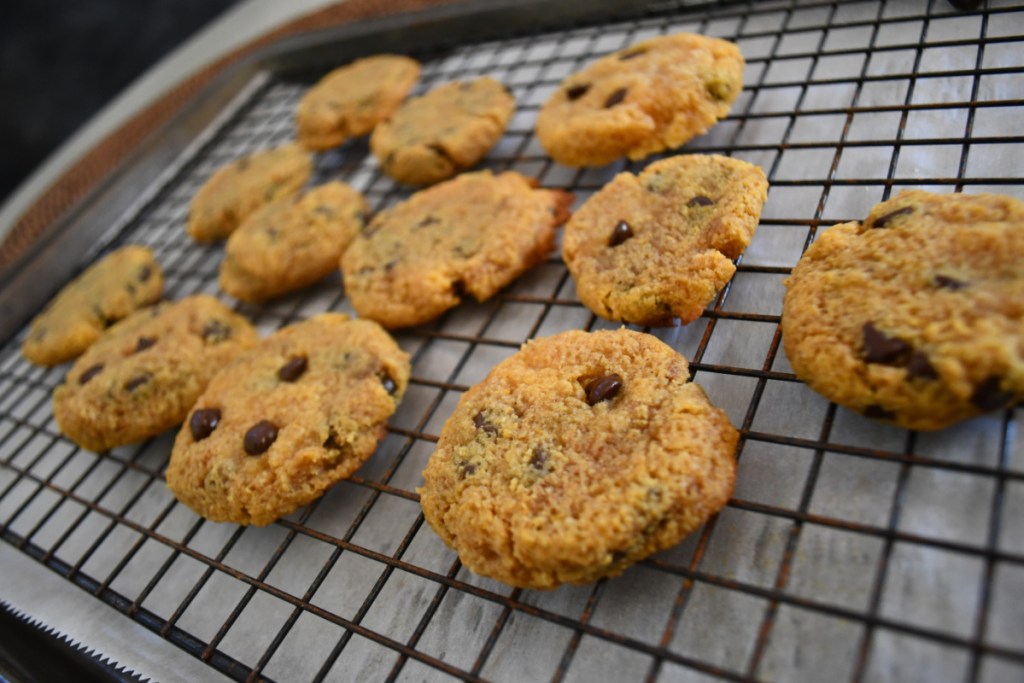 ---
Print
Keto Pumpkin Chocolate Chip Cookies
yield: 12 SERVINGS
prep time: 15 MINUTES
cook time: 18 MINUTES
total time: 33 MINUTES
Soft and chewy pumpkin cookies that are an easy-to-bake treat!
Ingredients
1/2 cup butter, softened (room temperature)
3/4 cup Swerve granular
1 teaspoon vanilla extract
1 large egg
1/2 cup pumpkin puree
1 teaspoon pumpkin pie spice
1 1/2 cups almond flour
1/2 teaspoon baking powder
1/2 teaspoon xanthan gum
1/4 teaspoon salt
3/4 cup Lily's sugar free chocolate chips
kosher salt for topping (optional)
Directions
1
Pre-heat oven to 350 degrees. Prepare a baking sheet by covering it with parchment paper.
2
Using a hand mixer, beat together softened butter (do not melt or heat the butter), Swerve granular, egg, and vanilla extract until combined and creamy. Mix in pumpkin puree and pumpkin pie spice.
3
Add in almond flour, baking powder, xanthan gum, and salt.
4
Mix ingredients using a spoon until a dough forms. Mix in chocolate chips last.
5
Divide dough into 24 balls and flatten each one a little using the back of a spatula. (The dough won't spread much unless flattened a bit.)
6
Bake for 18 minutes or until slightly browned and cooked through.
7
Allow cooling on the baking sheet for 7-10 minutes then transfer to a cooling rack and let cool further. Sprinkle the top with a little salt (optional). Enjoy!
Nutrition Information
Yield: 24 small cookies, Serving Size: 2 cookies
Amount Per Serving: 97 Calories | 8.6g Fat | 10.1g Total Carbs | 0.9g Fiber | 2.5g Sugar | 0.1g Sugar Alcohol | 1.8g Protein | 9.1g Net Carbs
---
Don't be alarmed by the high total carb count!
Fiber and erythritol (the main ingredient in Swerve) do not affect blood sugar in the same way that regular carbs do, so we've subtracted them from the total carb count. You'll see that the net carbs are much lower once you remove the sugar alcohol and fiber.
---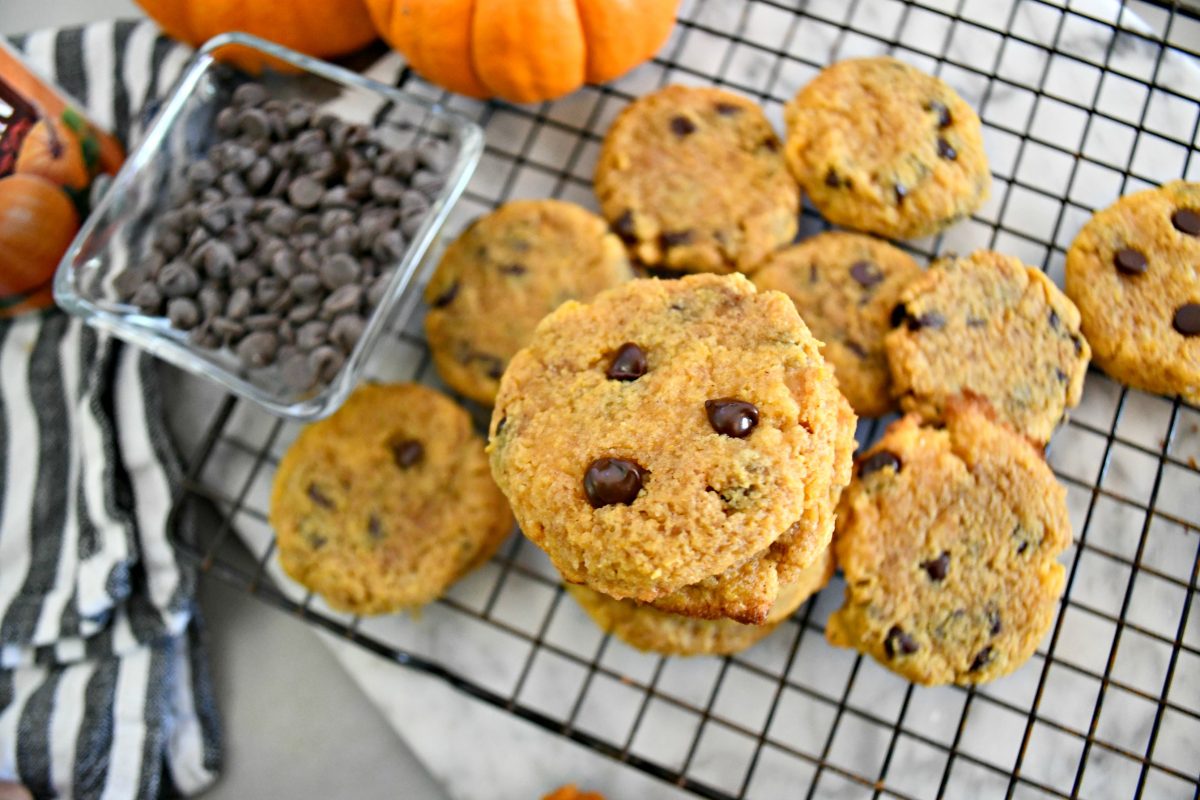 Yummy cookie heaven!
Oh my goodness, these are an awesome treat! So perfect for fall, and such a perfect family-friendly dessert idea! Have your kids help with this easy one-bowl recipe! SO fun.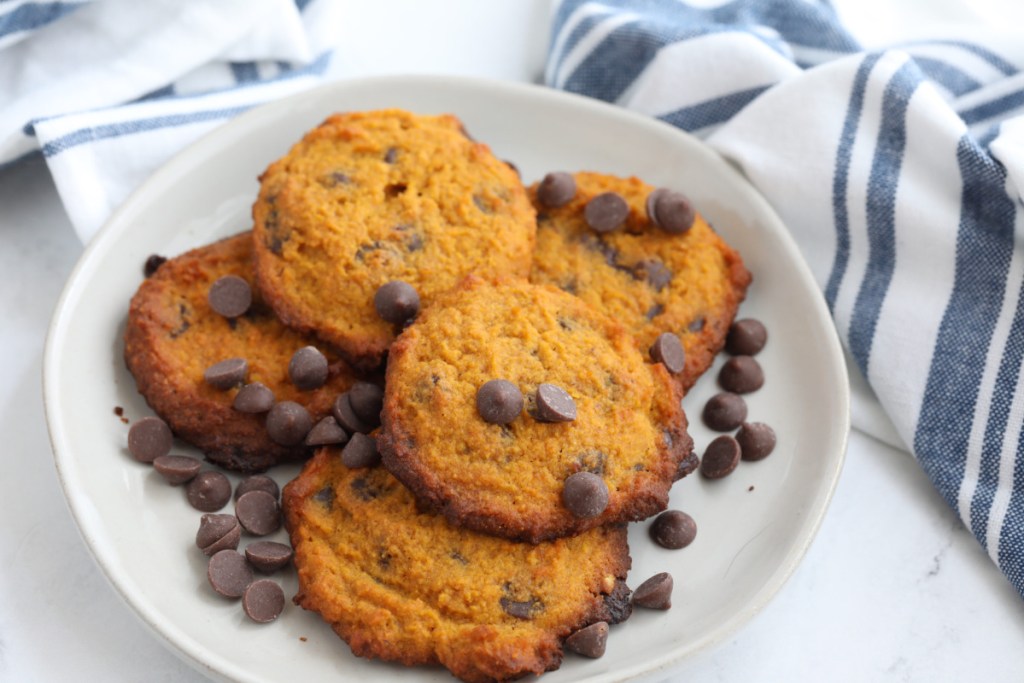 My Hip sidekick Jenna tried out these cookies, too, and here's what she had to say about them:
"The whole house LOVED these! The boys ate most of them up before I even got to snap a photo. These kids are sometimes hesitant to eat anything keto because, you know, if it's not full of sugar it can't be good LOL. Well, we all loved these.
I used ChocZero chips instead of Lily's because that's what I had on hand (and those are my favorite), and everyone raved about them. It's beginning to feel like fall here already, so bring on the pumpkin everything! We'll definitely be making these again."
---