Our Keto Pink Drink is the Best Starbucks Copycat Recipe
You'll love our Keto Pink Drink copycat more than the Starbucks original!
It's the perfect summertime keto drink!
Save time and money by making our homemade Starbucks Keto Pink Drink copycat recipe instead of heading out to Starbucks! It's the perfect fresh and fruity keto summertime drink that everyone in the family will enjoy… guilt-free!
I actually like it better than the real thing from Starbucks!
For more copycat drink recipes and keto drink inspiration, check out all of our keto drinks and smoothies.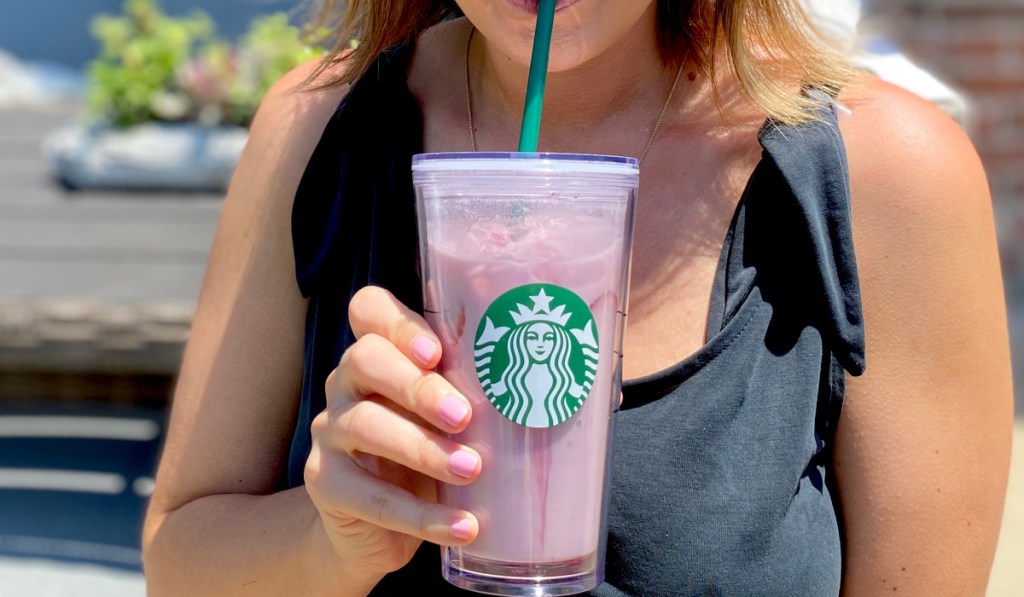 I am a huge fan of making copycat recipes.
Not only is it fun to keto-fy our favorite treats, but making the recipe at home can save you big money! Did you know that a 16 oz. Starbucks Pink Drink Refresher costs about $4.95 at Starbucks while our homemade Keto Pink Drink copycat recipe is less than $1 per 16 ounces?! SAY WHAT?! 😱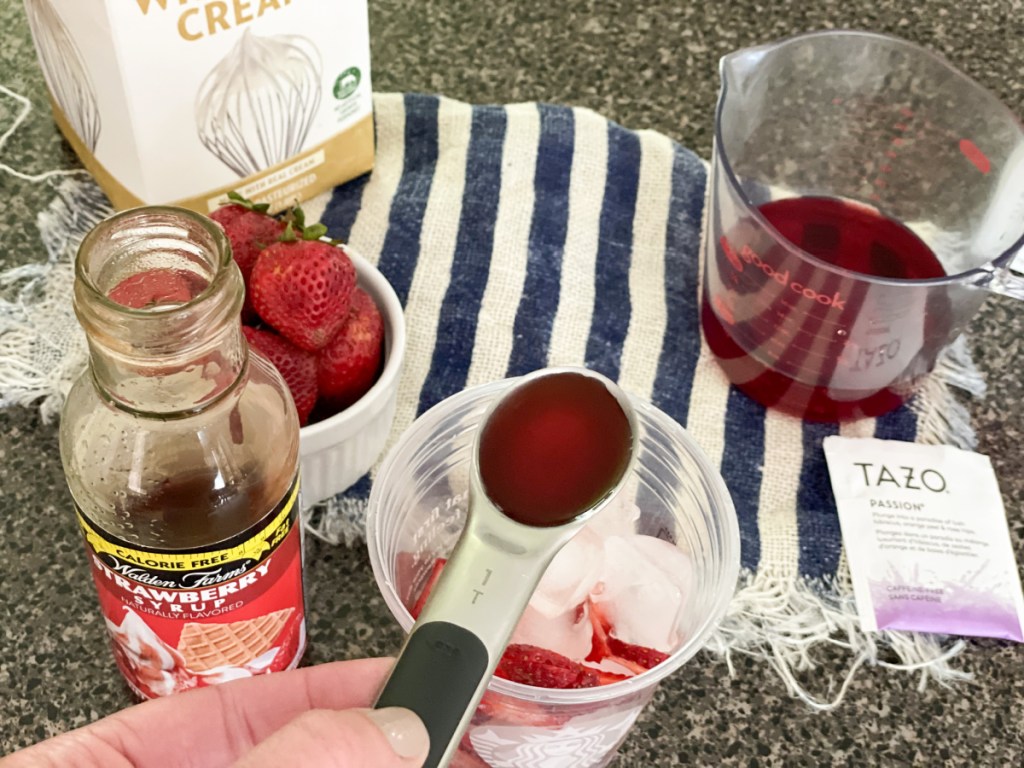 To get a delicious fruity flavor and sweetness without all the sugar, make sure to use a sugar-free strawberry syrup. Amazon has quite a few different options. Finding a good keto-friendly syrup is a huge win, especially since Starbucks packs a whopping 24 grams of sugar in their Grande Pink Drink. Yikes!
We used Walden Farms Sugar-Free Strawberry Syrup in this recipe. As another option, Torani sells sugar-free strawberry syrup and DaVinci also makes a sugar-free strawberry syrup. I've used the DaVinci sugar-free syrups for a keto piña colada, and while a little on the dirty keto side, they're pretty good!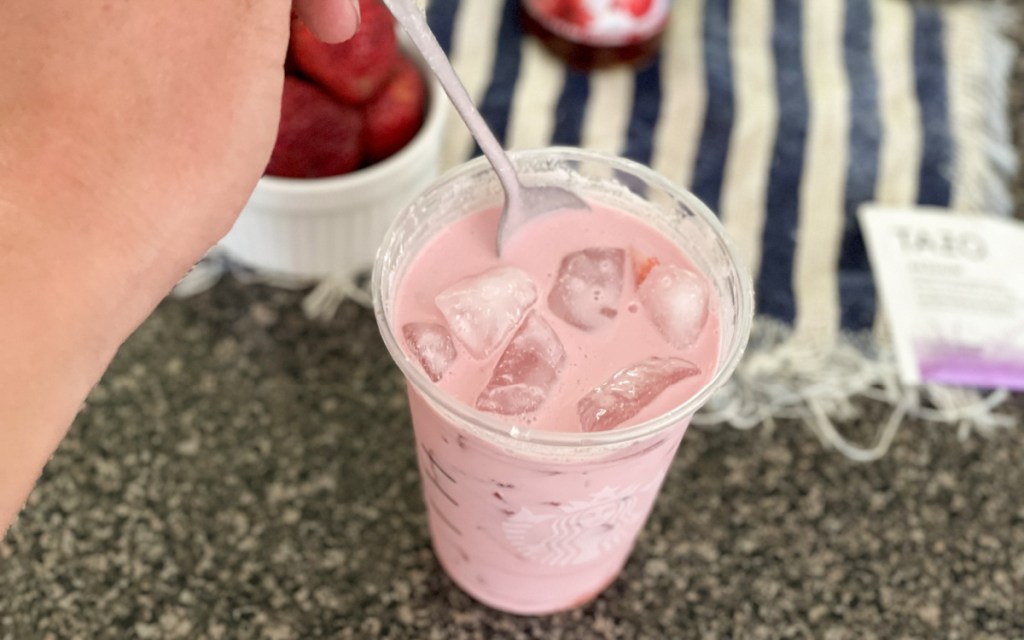 Tips for making the best keto pink drink for a Starbucks copycat:

Make sure your brewed tea is cool before making the drink. If you mix while it is slightly warm, it will curdle the heavy cream.
If you are looking for a dairy-free keto pink drink, replace the heavy cream with full-fat, unsweetened coconut milk.
To really elevate the fruit flavor, I don't skip the sugar-free strawberry syrup. It lends just the right touch of sweetness.
I recommend using 2 Tazo Passion tea bags to brew the tea. I think the stronger tea flavor goes really well with the heavy whipping cream. I brewed 2 tea bags in 2/3 cup of boiling water and then let it chill in the fridge for about 20 minutes with the tea bags. If you don't want it as strong, use 1 tea bag or follow the directions on the box of tea which says to steep 1 to 2 tea bags in 8 ounces of water for 5 minutes.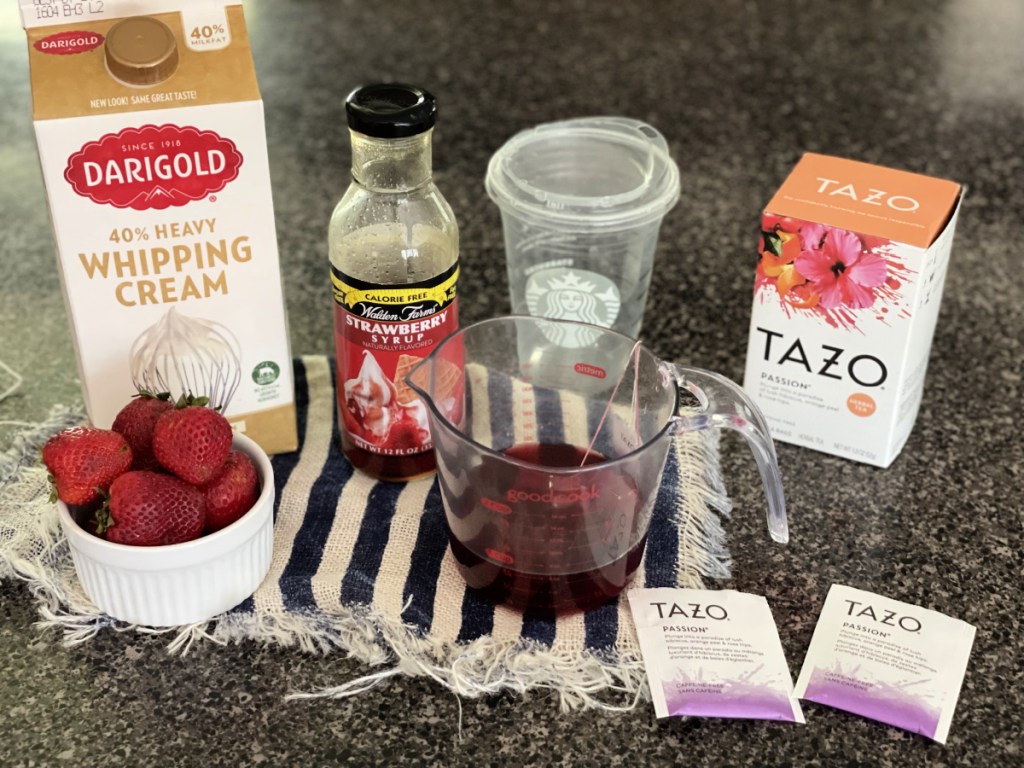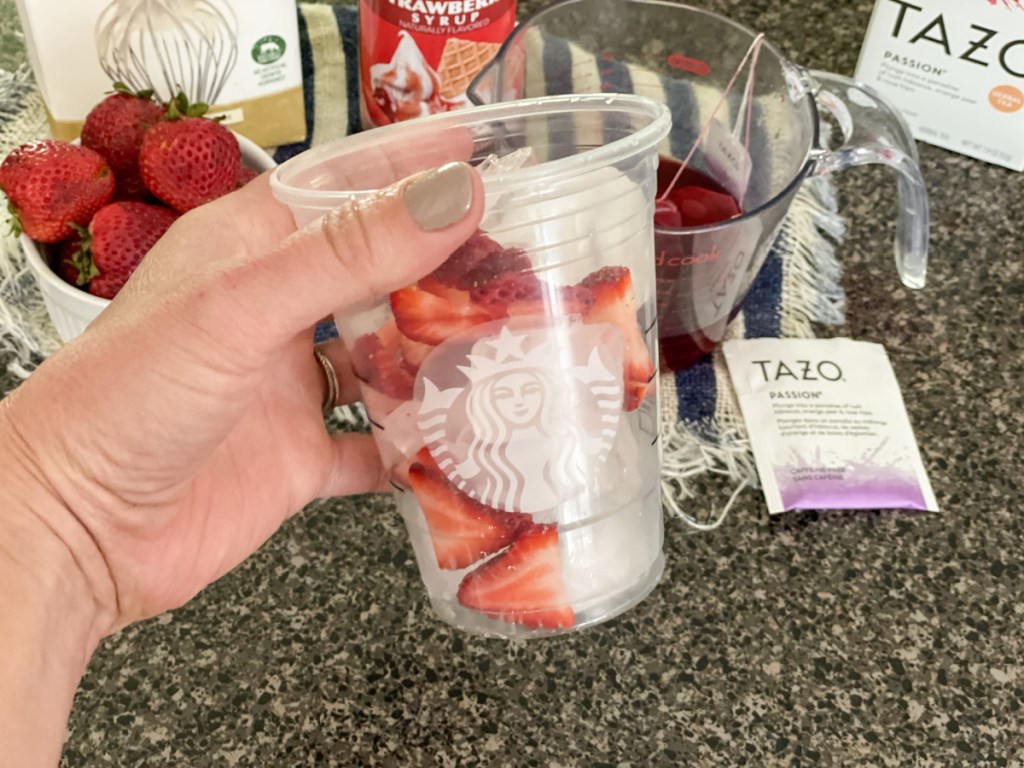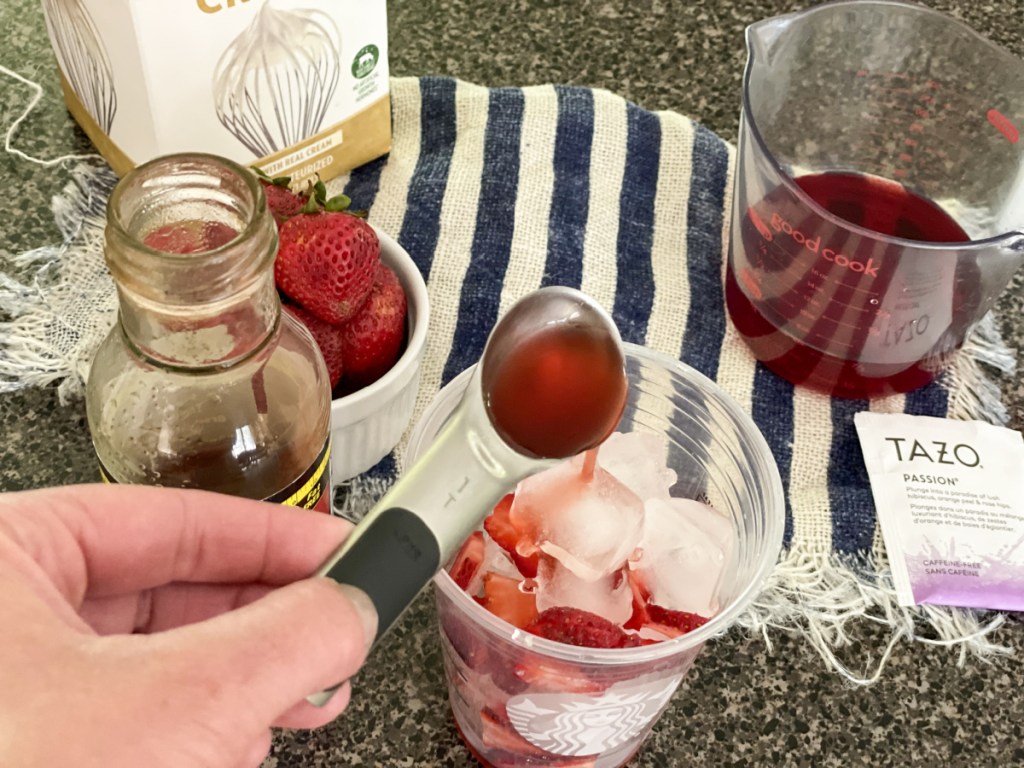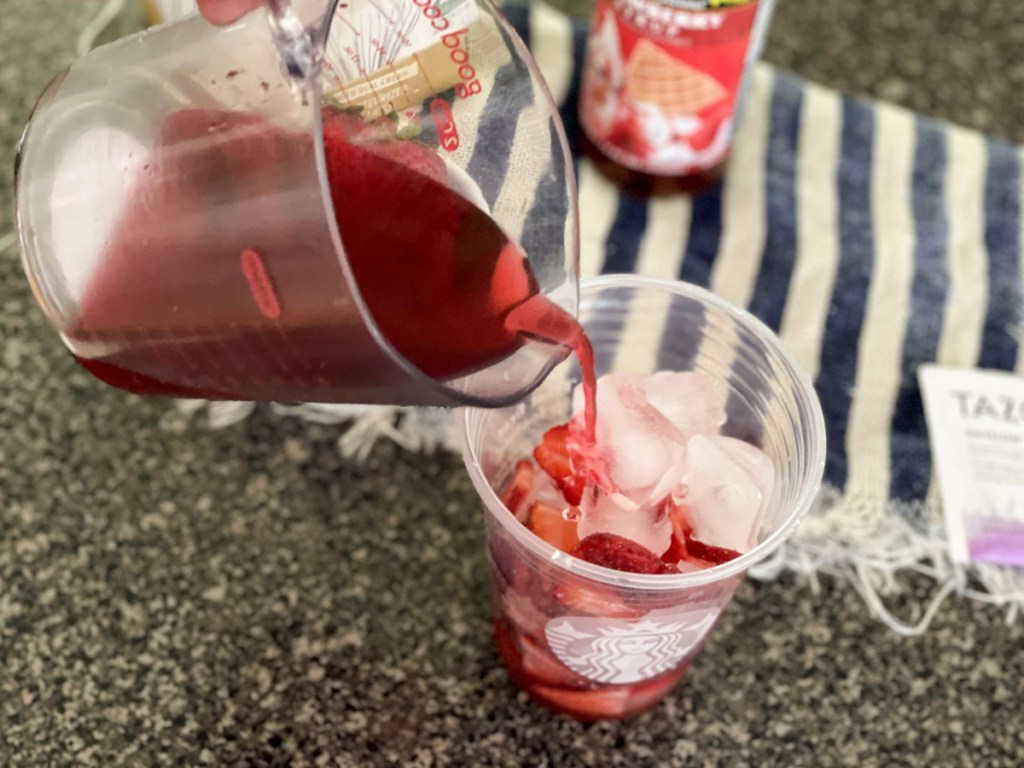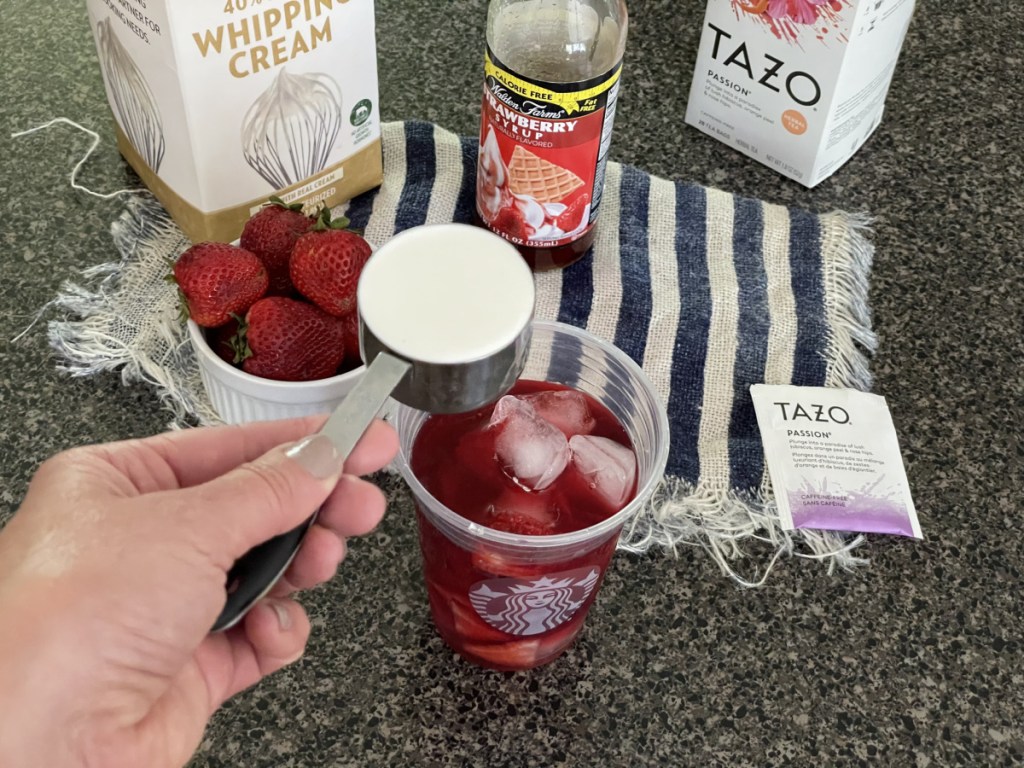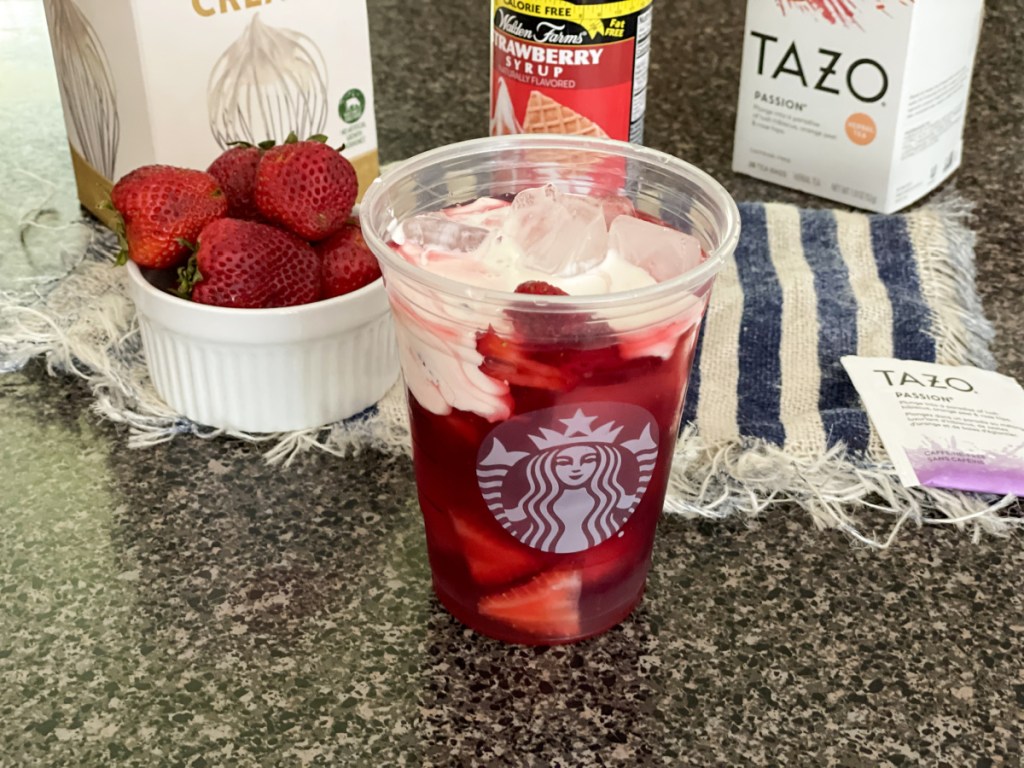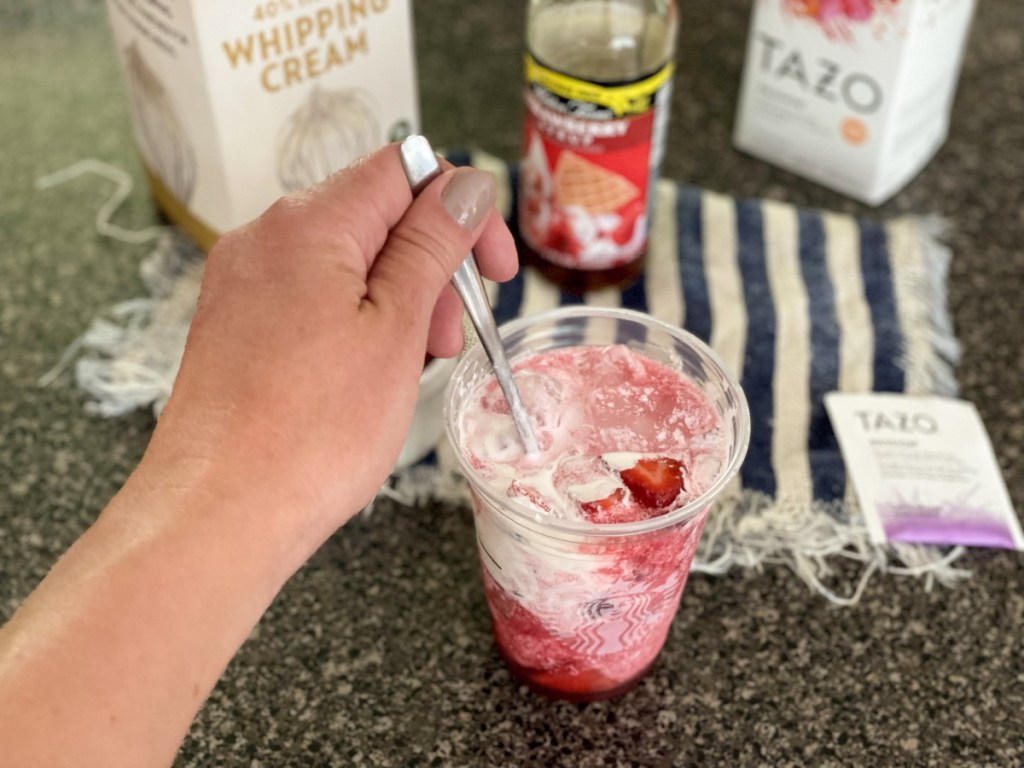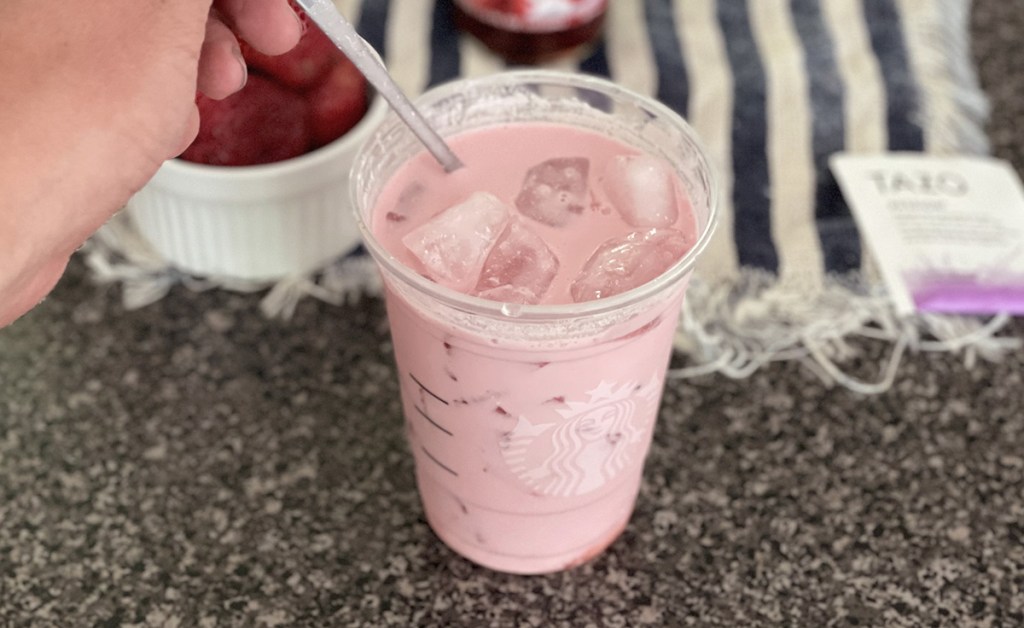 ---
Print
Keto Pink Drink (Starbucks Copycat)
yield: 1 SERVINGS
prep time: 5 MINUTES
total time: 5 MINUTES
Refreshing summer drink without all the sugar that's in the Starbucks version — even the kiddos approve!
Ingredients
3 strawberries, sliced thin (optional)
Ice
Directions
1
Fill 16 oz. glass with ice. Place sliced strawberries throughout the ice.
2
Pour in sugar-free strawberry syrup, chilled brewed tea, and heavy cream. *If you have a shaker, you can shake the drink to mix or just stir with a spoon or straw.
3
Best served and enjoyed ice cold!
Nutrition Information
Yield: 16 oz., Serving Size: 1
Amount Per Serving: 210 Calories | 24.1g Fat | 2.4g Total Carbs | 0.6g Fiber | 0g Sugar | 0.2g Protein | 1.7g Net Carbs
---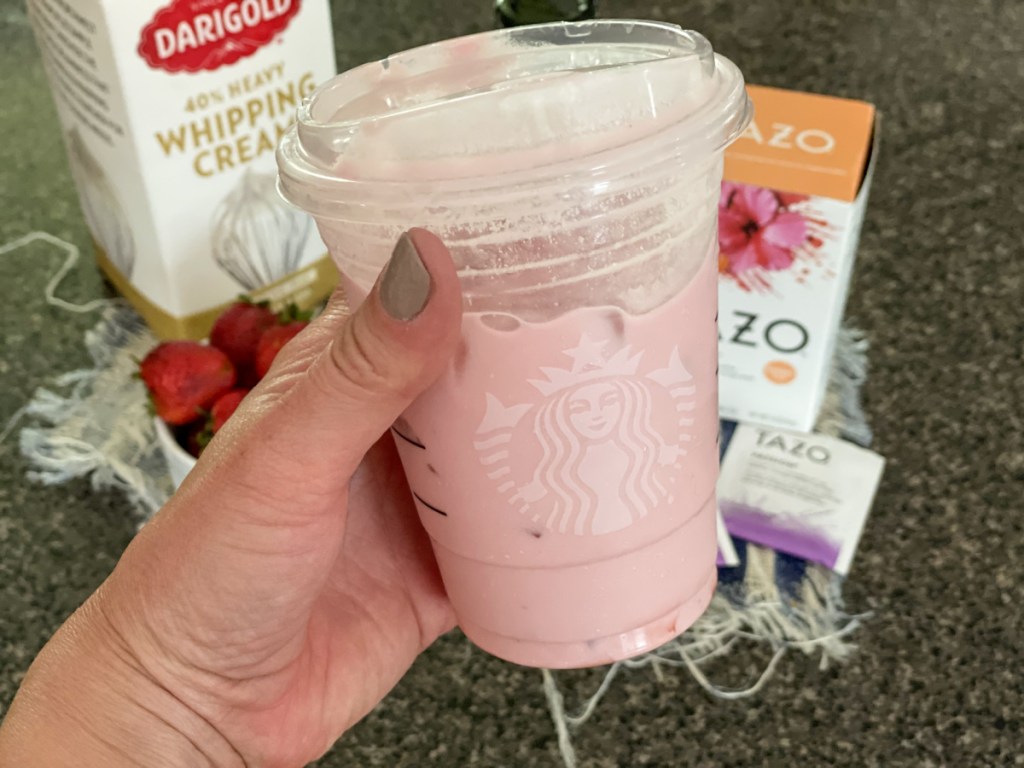 Refreshing, sugar-free, and summer-ready!
*Big sip* ahh… Our keto Pink Drink makes everything cool on a warm day! Make sure you have extra tea brewed because you and your family will want a second cup.
See ya, Starbucks! 👋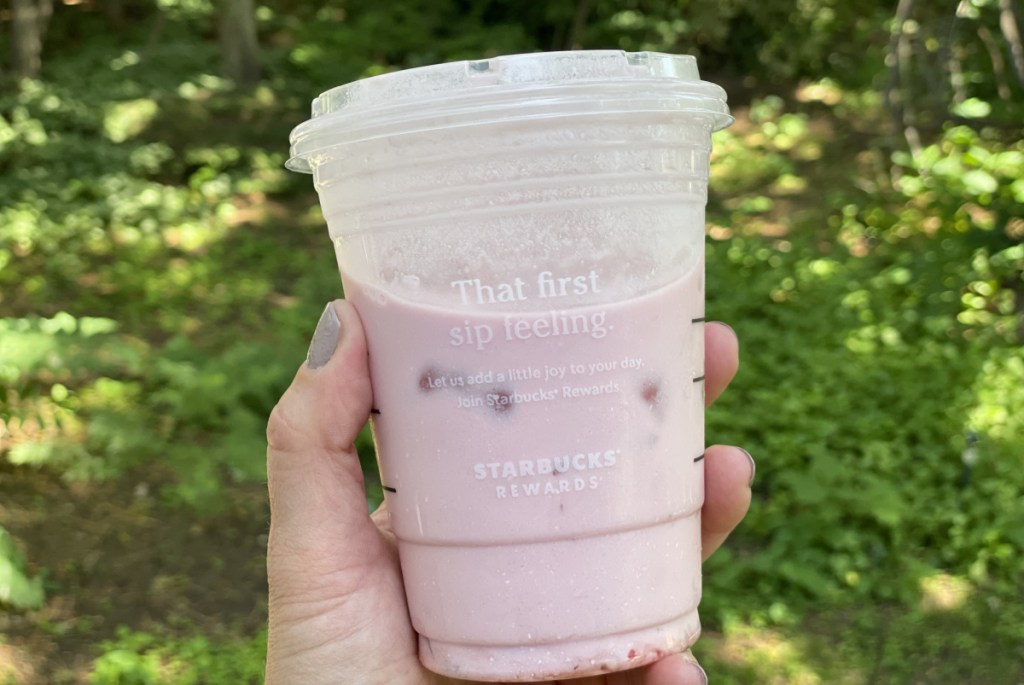 Here's what my Hip sidekick Emily had to say about this keto pink drink:
"Oh my goodness, this is so good! I actually went to Starbucks to try the original Pink Drink before I made our keto version. Let me tell you, this recipe is absolute perfection! So much better than Starbucks! It's the perfect summer drink and I'm going to be making it again and again!"
---
Want a more decadent cool drink? Try our keto birthday cake protein shake.