Easy Keto Mini Cheesecakes with a Cookie Dough Crust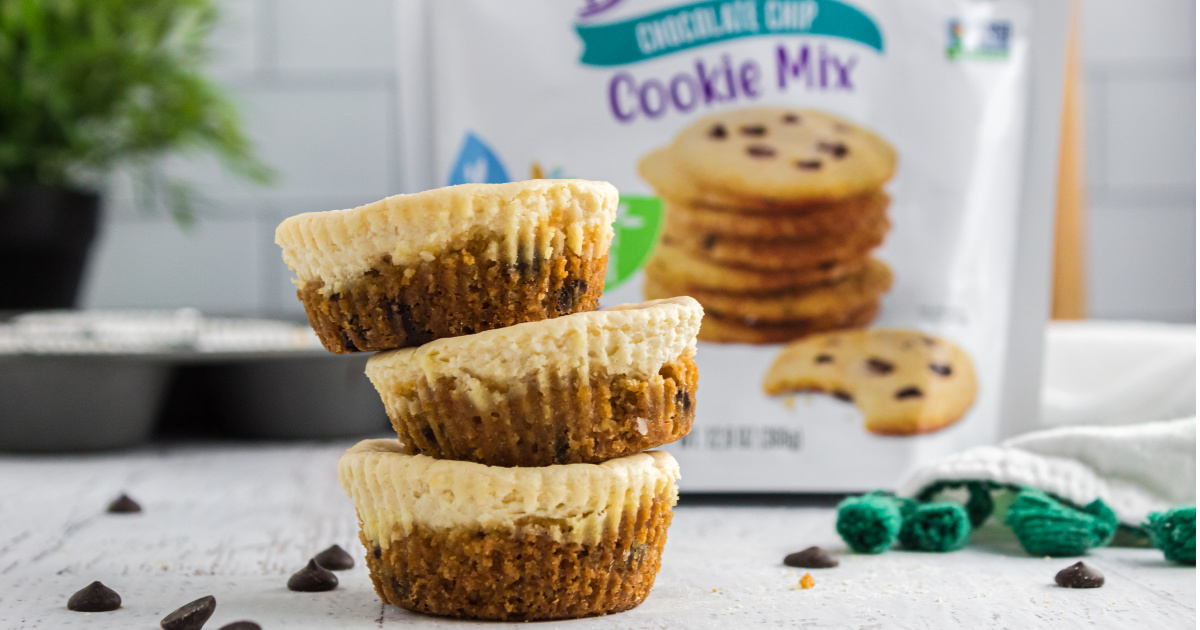 These keto mini cheesecakes are AMAZING!
Baking a cheesecake can be intimidating, but these mini cheesecakes are so easy to make and taste so good!
With the help of Pyure Organic's gluten-free & keto-friendly Bakeable Mixes, whipping up delicious keto mini cheesecakes with a cookie crust couldn't be easier! They're satisfying for anyone who's got a big sweet tooth 🙋‍♀️ without the cooling aftertaste some keto desserts can have. Not only are the Bakeable Mixes sugar free, but they are high in fiber and contain all organic ingredients.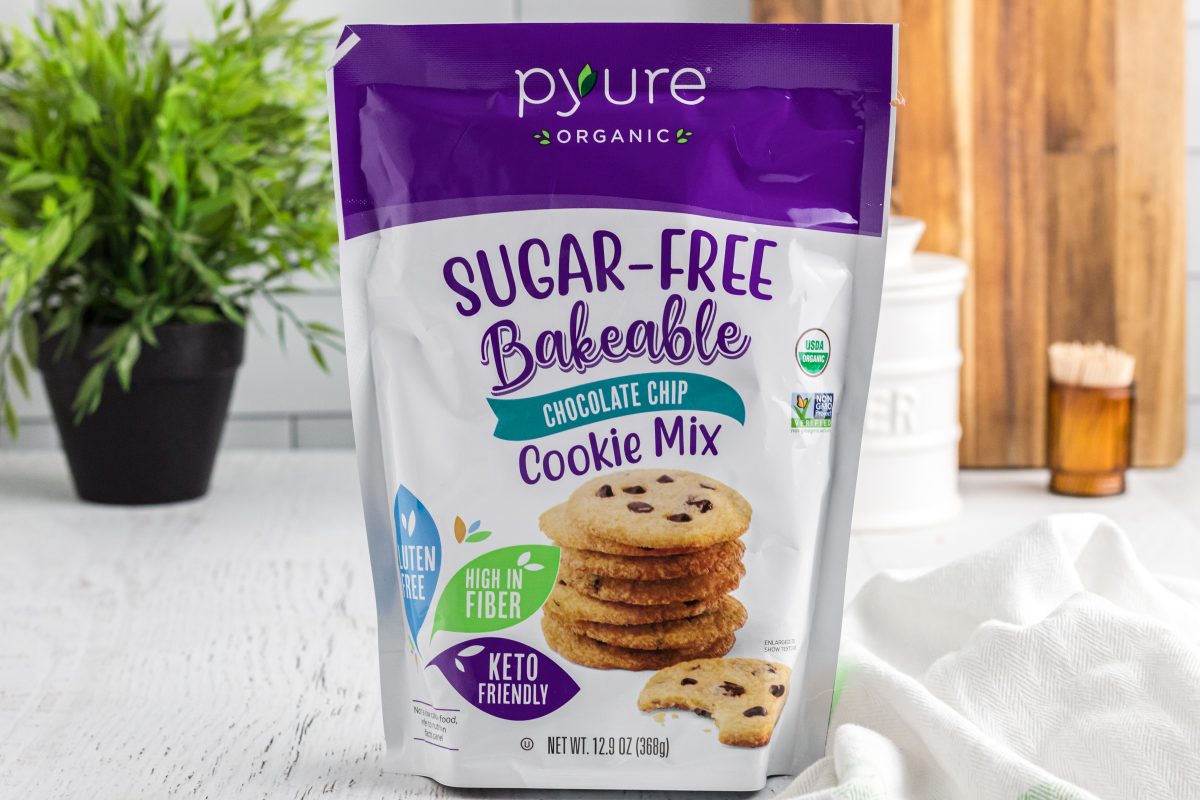 When I came across the Pyure Organic Bakeable Chocolate Chip Cookie Mix, I thought to myself, "how can I turn this up a notch?" I'm a huge cheesecake fan, so the idea crossed my mind about using this mix to create mini cheesecakes with a cookie crust— and BAM! Winner winner!
These mini cheesecakes… and the delicious cookie dough crust are everything.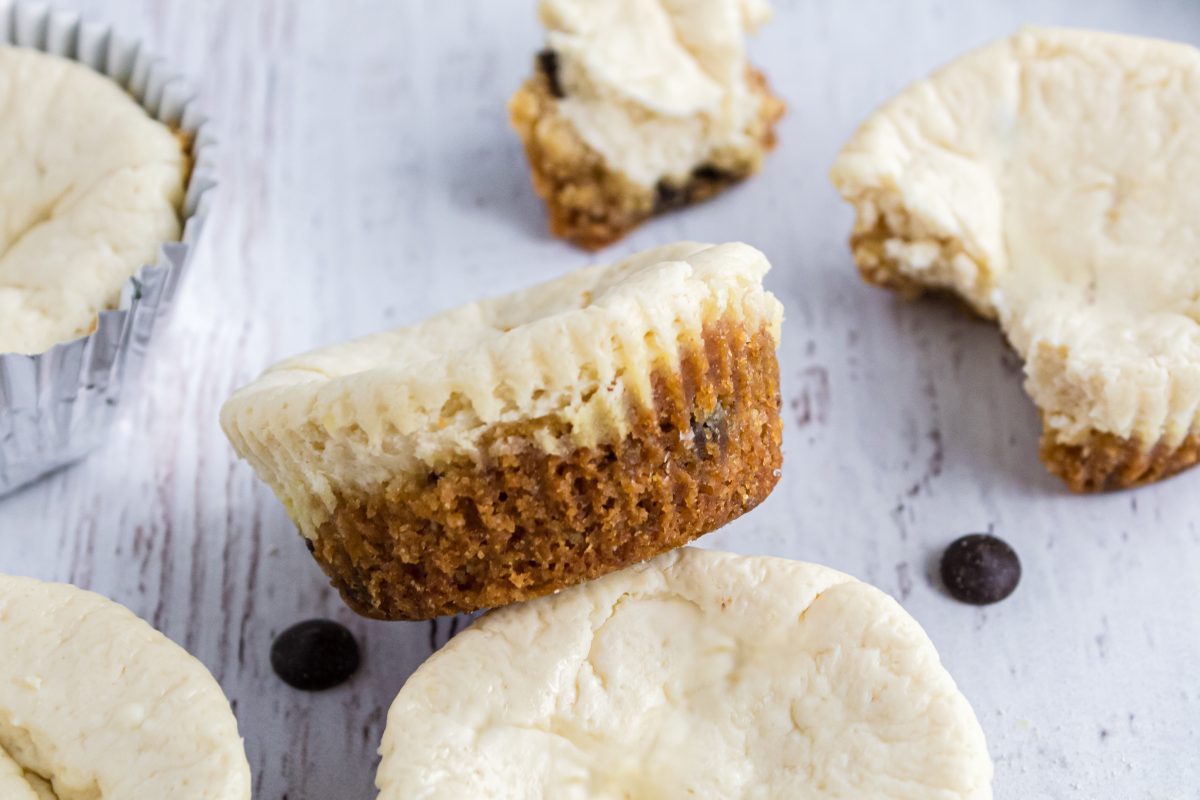 Hip Recipe Tips:
Pyure Bakeable Mixes should be on everyone's radar! They have two varieties available, Chocolate Chip Cookie Mix and Chocolate Fudge Brownie Mix! Pyure has knocked it out of the park with these.
When making the cheesecake filling, make sure the cream cheese and eggs are at room temperature. This will give you a consistent texture throughout your cheesecake.
During baking, avoid opening the oven door as this causes temperature changes, which can result in cracking throughout the cheesecake layer.
As tempting as it will be to gobble these up the minute they're out of the oven, let the mini cheesecakes cool completely and refrigerate for at least 1 hour before digging in.
You will likely have a little leftover cookie dough. Use it to make some extra chocolate chip cookies or freeze it in 1 tbsp-sized balls to bake at a future date.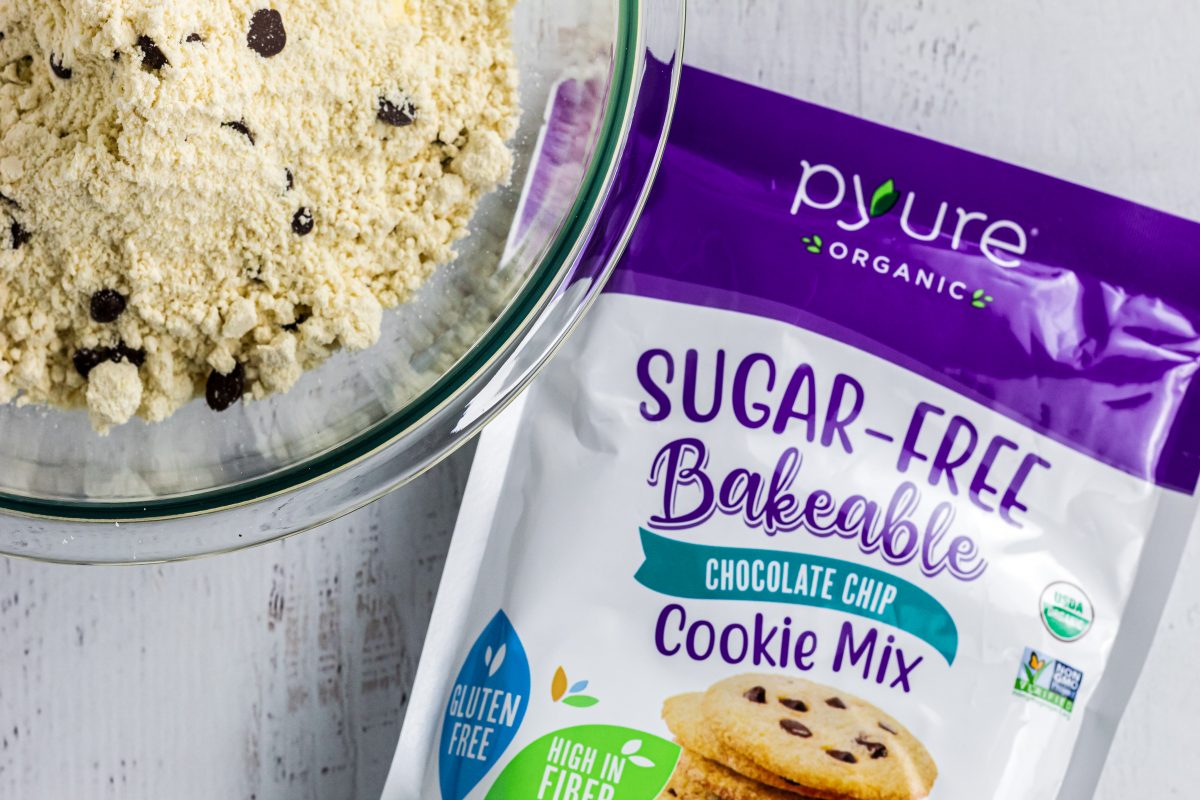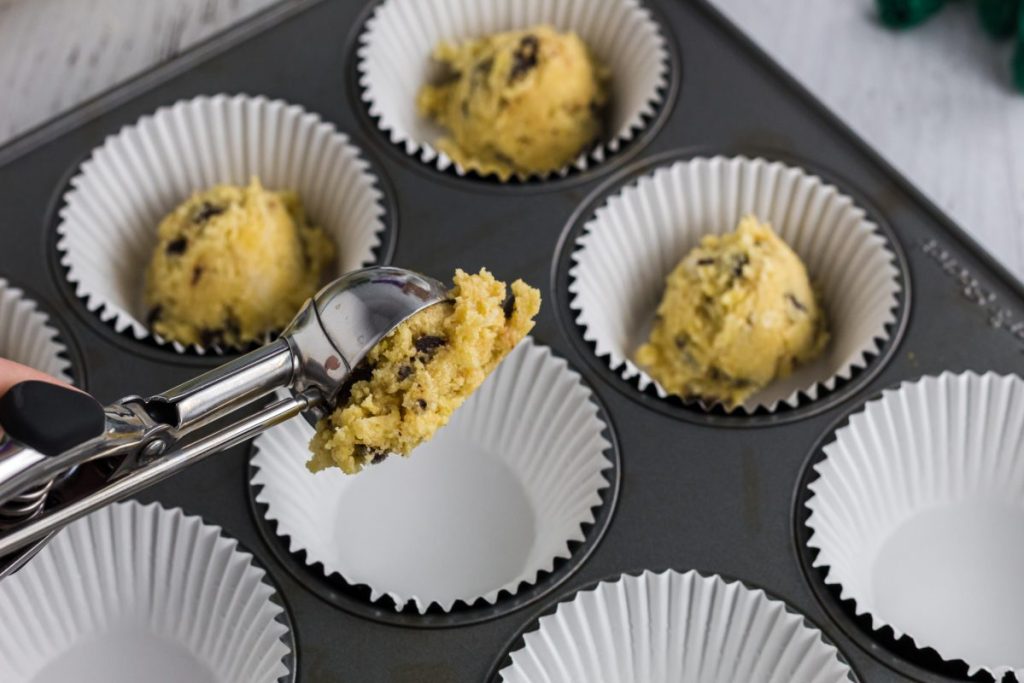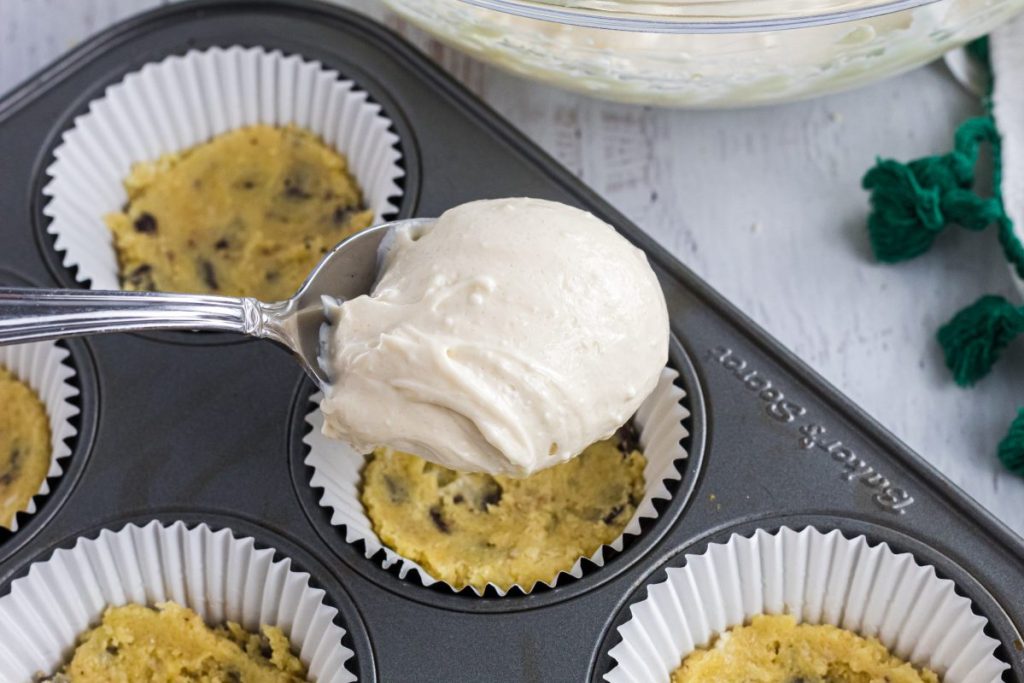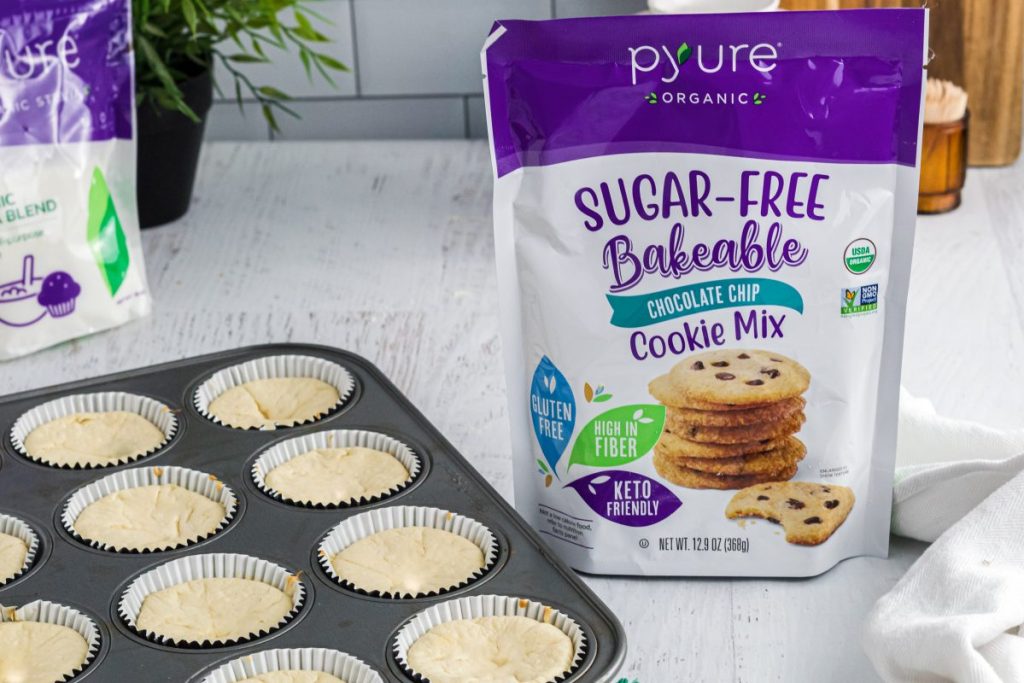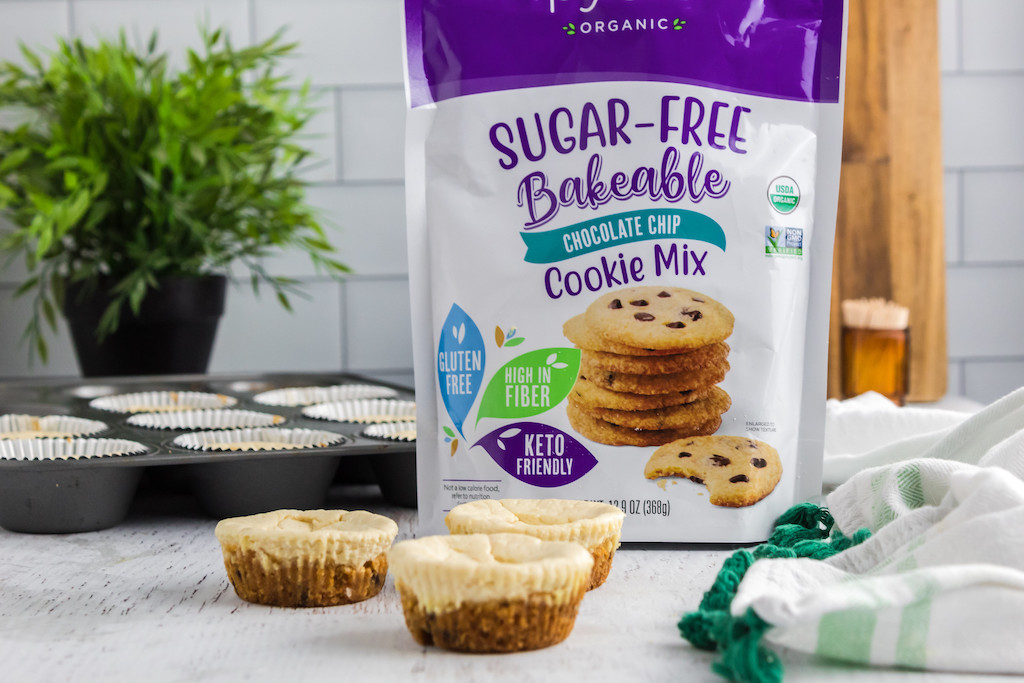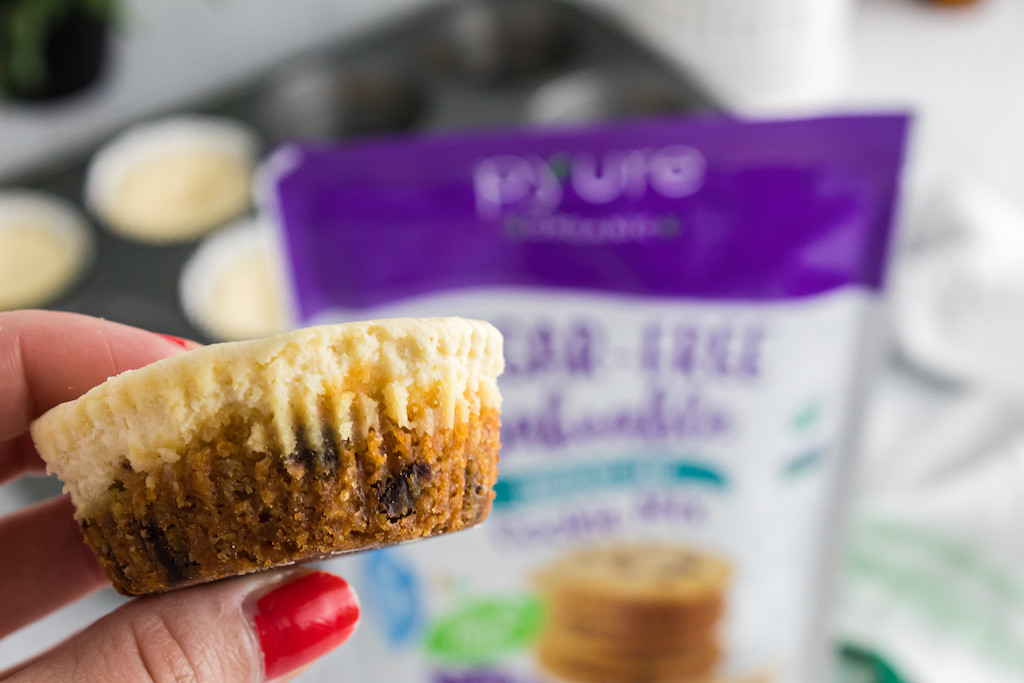 ---
Print
Keto Mini Cheesecakes with a Cookie Dough Crust
yield: 12 SERVINGS
prep time: 20 MINUTES
cook time: 18 MINUTES
total time: 38 MINUTES
A cookie crust with a luscious cheesecake filling makes for the most decadent keto dessert.
Ingredients
Crust:
1 egg
1 stick (1/2 cup) unsalted butter, room temperature
Cheese Cake:
16 oz. cream cheese, room temperature
2 eggs
1/2 teaspoon salt
1 teaspoon lemon juice
1 1/2 teaspoon vanilla extract
Directions
1
Preheat oven to 325 degrees. Line a muffin tin with cupcake wrappers and set aside.
2
In a large bowl, follow the steps to create the cookie dough from Pyure Bakeable Chocolate Chip Cookie Mix. You'll just need to stir the cookie mix, 1 egg, and 1 stick of unsalted butter together.
3
Scoop a heaping tablespoon of cookie dough and place it into the lined muffin tin. Press down firmly with fingers or the back of a spoon. If you notice the dough sticking to your fingers or spoon, dip the spoon or your fingers into some water before pressing down.
4
In a large bowl, add softened cream cheese and mix on low until cream cheese is smooth. Add in room-temperature eggs and continue to mix for about 30 seconds. Next add in granular sweetener, salt, vanilla, and lemon juice. Continue mixing for 1 minute until filling has a smooth consistency.
5
Add cream cheese filling on top of the chocolate chip cookie dough evenly, but also leaving about 1/4" from the top since they will rise a little in the oven.
6
Place the muffin tin in the oven and bake for 17-20 minutes.
7
Remove from oven and allow mini cheesecakes to cool completely. Once cooled, place in fridge 1-2 hours to firm up before serving. Enjoy!
Nutrition Information
Yield: 12, Serving Size: 1
Amount Per Serving: 240 Calories | 18g Fat | 23g Total Carbs | 7g Fiber | 9g Sugar Alcohol | 5g Protein | 7g Net Carbs
---
These delicious mini cheesecakes with cookie dough crust have only 7 grams of net carbs.
Fiber and erythritol (the main ingredient in Pyure) do not affect blood sugar in the same way that regular carbs do, so we subtracted them from the total carb count. You'll see that the net carbs are much lower once you remove the sugar alcohols and fiber.
The Pyure Organic Bakeable Cookie and Brownie Mixes alone have only 5 net carbs per serving.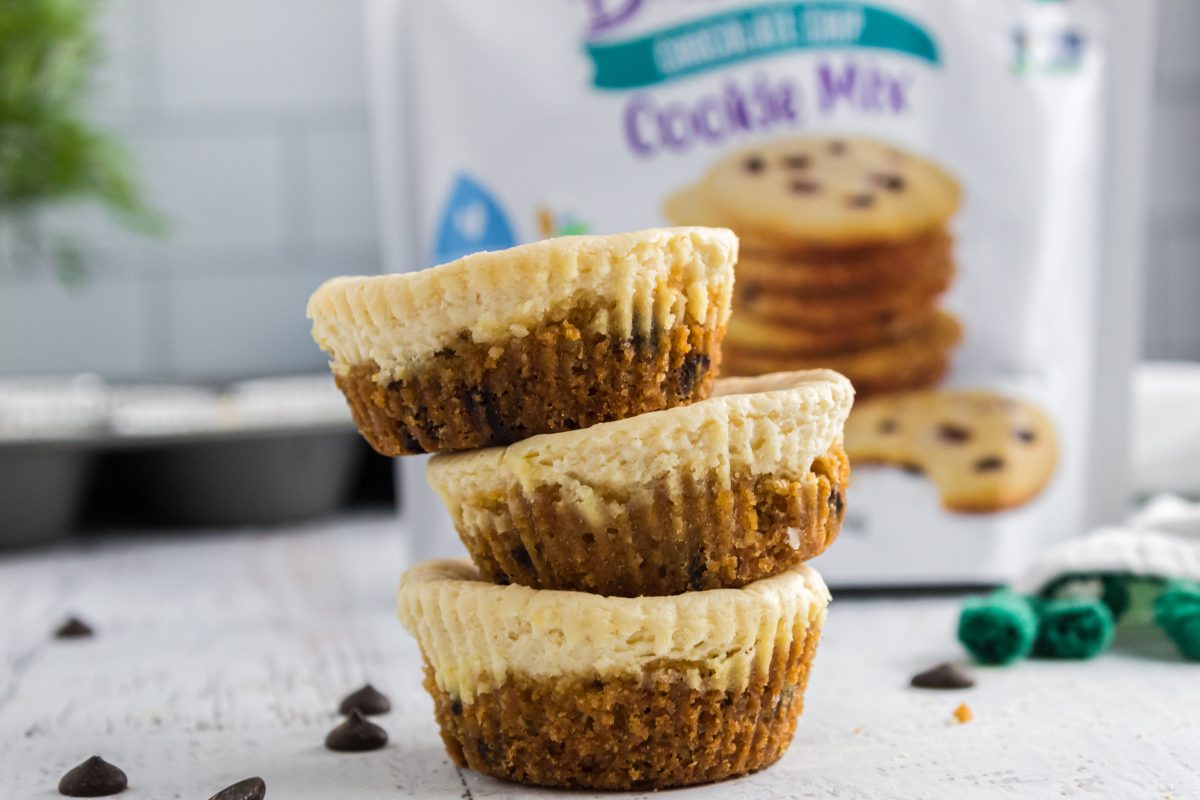 They're almost too cute to eat!
These keto mini cheesecakes are so easy to make (thanks to Pyure's Chocolate Chip Cookie Mix) and so delicious, with a luscious layer of creamy cheesecake filling.
If you happen to have leftovers, the mini cheesecakes can be kept in an airtight container for up to 1 week in the fridge.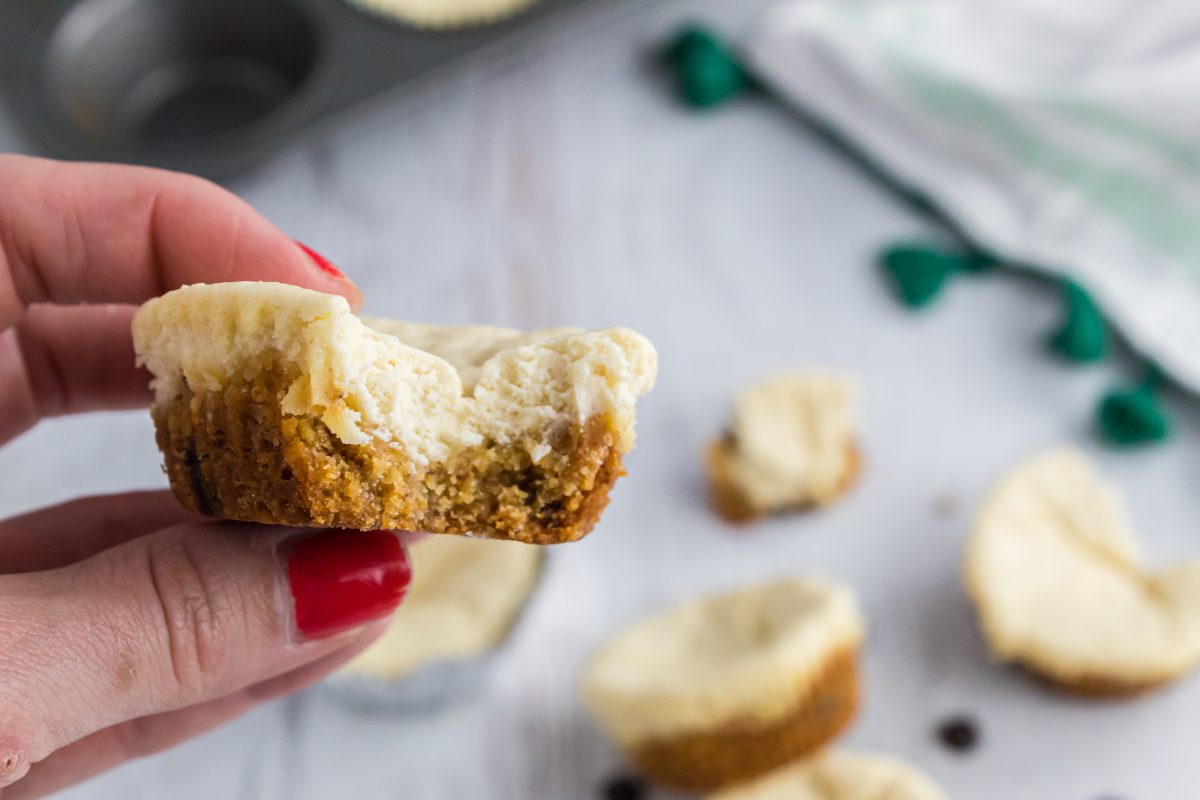 I can't wait to try out the Pyure Brownie Mix next!