Keto Gingerbread Cookies Have Cinnamon, Spice, & Everything Nice… Just No Sugar!
These keto gingerbread cookies make the perfect treat this holiday season!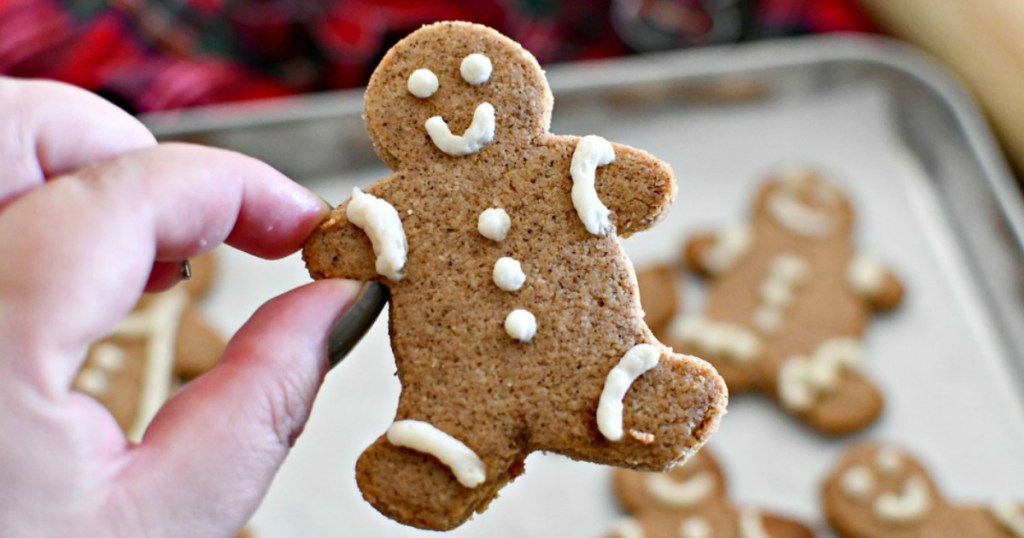 Let the holiday baking begin with a batch of keto gingerbread cookies!
Who loves cookie season? Keto baking can sometimes get a little tricky, but luckily these delicious homemade keto gingerbread cookies are EASY to make! You can even roll them out into adorable little gingerbread men for a yummy, low-carb Christmas cookie idea.
The taste and texture of these cookies are so good and they're brimming with ginger, clove, and cinnamon flavors, just like traditional gingerbread. Plus, if you roll them a little thicker as I did, the texture is soft and a little chewy.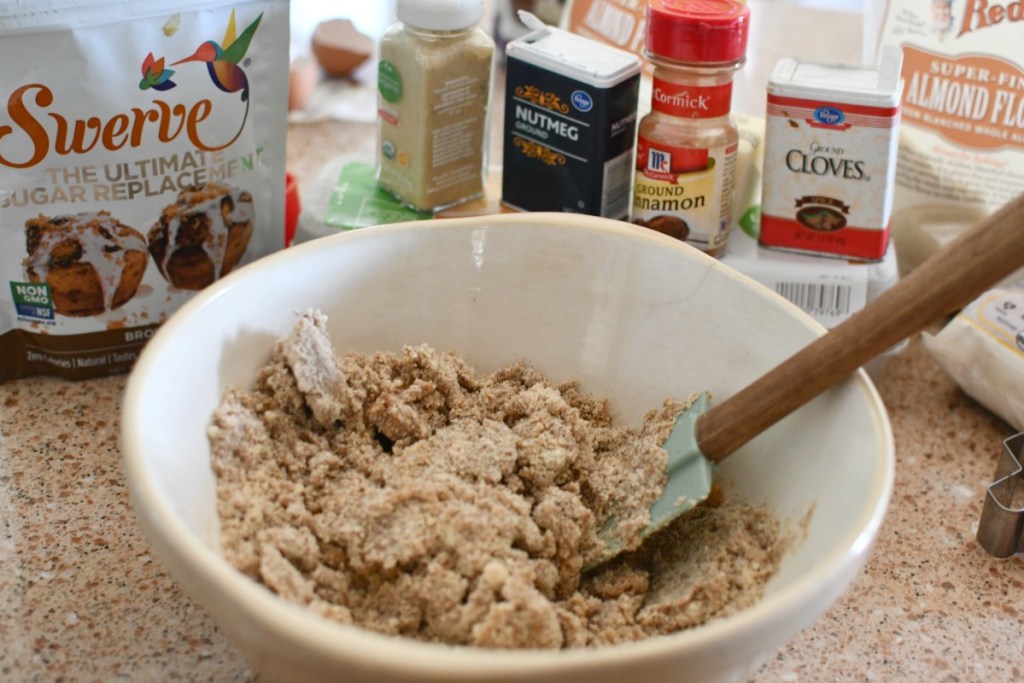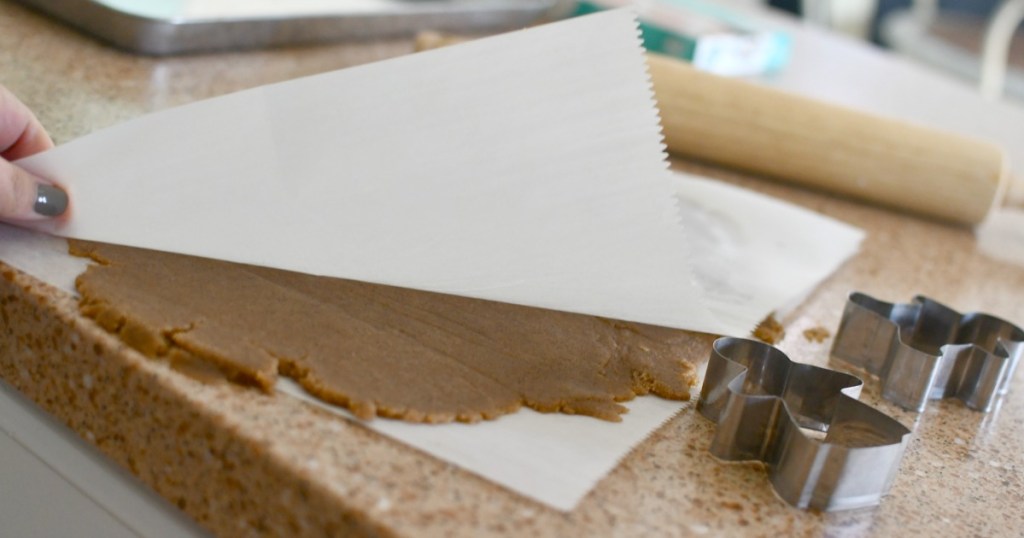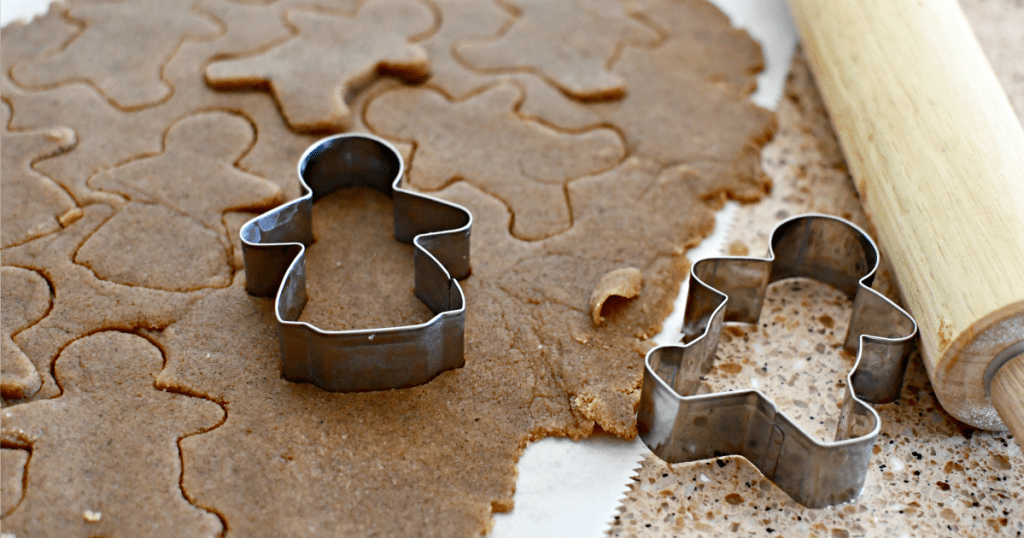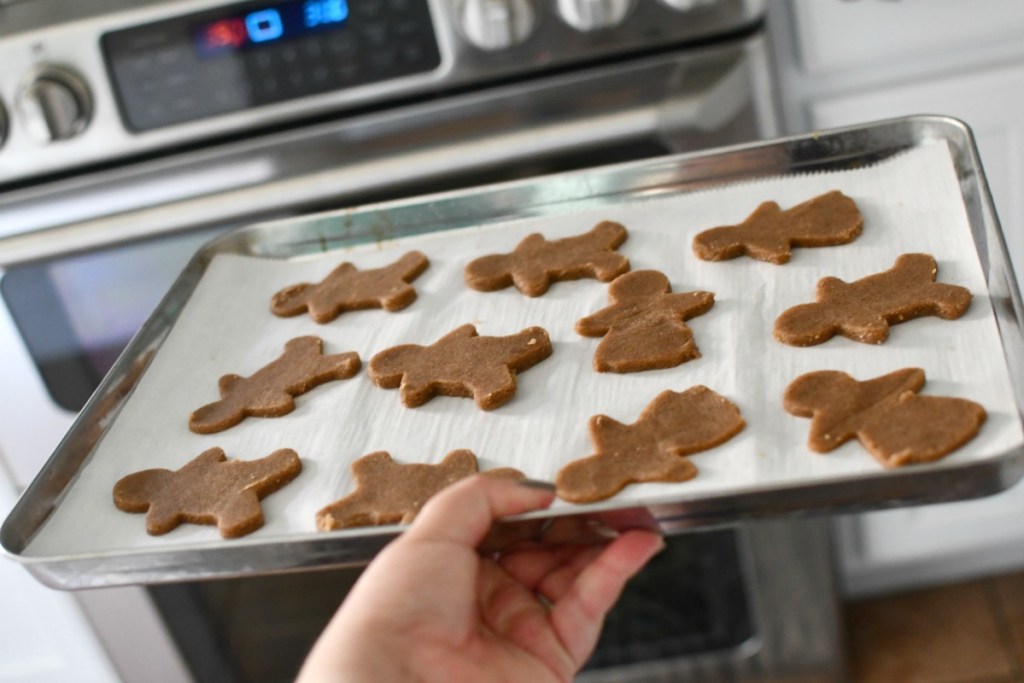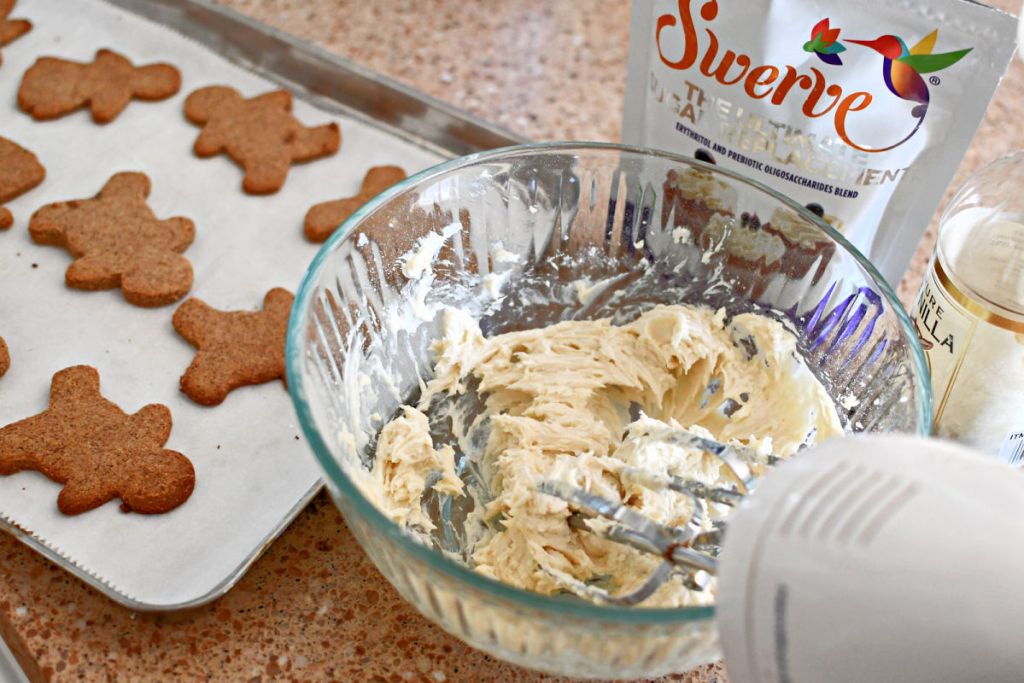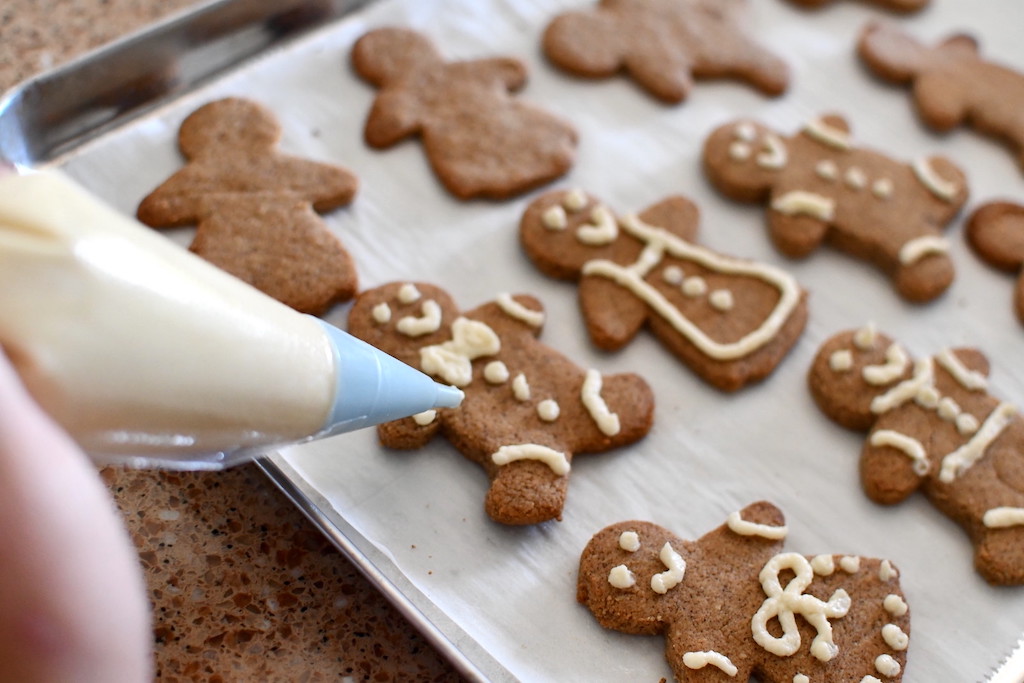 ---
Print
Keto Gingerbread Cookies
yield: 20 SERVINGS
prep time: 30 MINUTES
cook time: 10 MINUTES
total time: 40 MINUTES
This almond flour dough is spiced with clove, ginger, nutmeg, and cinnamon spices for a delicious Christmas cookie recipe!
Ingredients
For the cookies:
1 teaspoon baking powder
1/4 teaspoon ground cloves
1/4 teaspoon ground nutmeg
1 teaspoon ground ginger
1 tablespoon ground cinnamon
1/8 teaspoon salt
1/4 cup butter, softened
1 egg
1/2 teaspoon vanilla extract
For the frosting:
1/2 cup butter, softened
1/4 teaspoon vanilla extract
1 tablespoon heavy whipping cream
Directions
1
In a large bowl, combine the almond flour, baking powder, xanthan gum, and spices together using a whisk or spoon.
2
In another bowl, cream together the butter, Swerve brown, egg, and vanilla extract using a hand mixer.
3
Add the wet ingredients to the dry ingredients, and combine them well using a wooden spoon. Form the mixture into a dough ball. Cover dough with plastic wrap and place in the fridge for at least two hours.
4
Preheat oven to 375 degrees. Cover your baking sheet with parchment paper. Roll out dough in between two pieces of parchment paper to about 1/8-1/4 inch thick. Use cookie cutters to cut gingerbread people. Remove the excess dough in between cutouts and reuse for more cookies.
5
Bake in the oven for 10-12 minutes or until the sides are slightly browned and cooked. Let the cookies completely cool. This is important so they don't break.
6
In a mixing bowl, whip up the frosting ingredients using a hand mixer until smooth and creamy. Place frosting in a pastry bag with a tip and pipe it onto gingerbread cookies. Enjoy!
Additional Notes
Nutrition information without frosting: 97 Calories | 8.5g Fat | 5.6g Total Carbs | 1.4g Fiber | 0.4g Sugar | 3.2g Sugar Alcohol | 1g Net Carbs | 2.7g Protein
Nutrition Information
Yield: 20 4-inch cookies, Serving Size: 1 frosted cookie
Amount Per Serving: 113 Calories | 9.1g Fat | 11.3g Total Carbs | 1g Fiber | 0.9g Sugar | 6.8g Sugar Alcohol | 3.6g Protein | 3.5g Net Carbs
---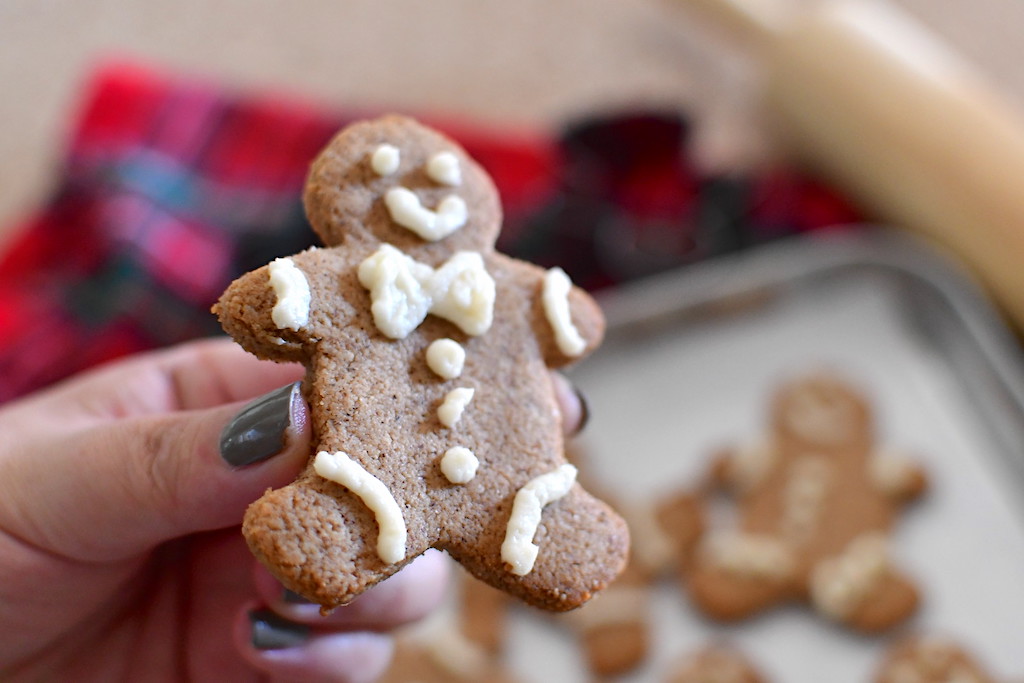 Hip tips for baking keto gingerbread cookies:
Make sure to allow for enough chill time in the fridge for the dough. This will help the dough become more solid and less sticky to roll out into shapes. If you don't have time to chill the dough, try sprinkling coconut flour on your countertop to keep them from sticking.
Roll cookies between two sheets of parchment paper to help avoid sticking. Often the texture of almond flour dough causes it to stick a little. I also cut out the shapes using this gingerbread man cookie cutter on parchment paper and then just shifted the paper onto the baking sheet.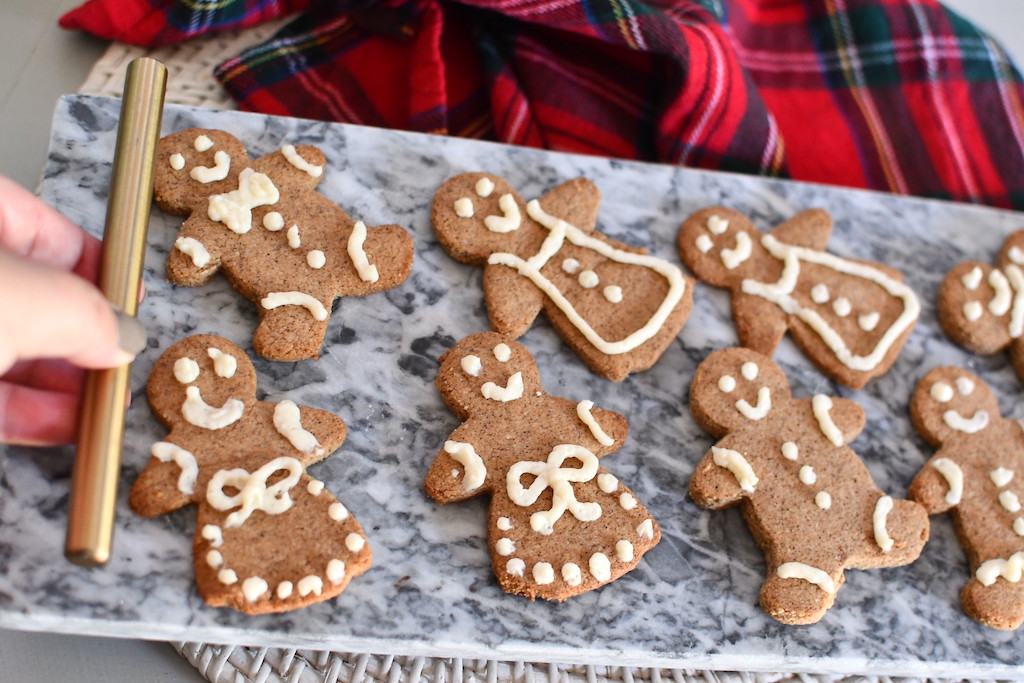 Don't be alarmed by the high total carb count!
Fiber and erythritol, the main ingredient in Swerve, do not affect blood sugar in the same way that regular carbs do, so we've removed them from the total carb count. You'll see that the net carbs are much lower once you subtract the sugar alcohols and fiber.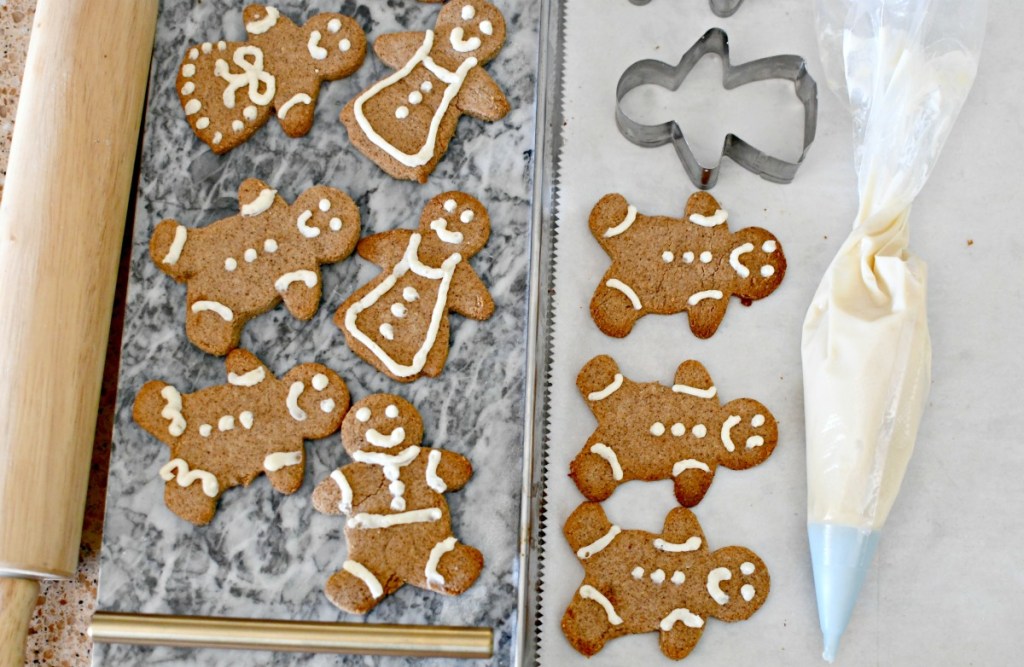 Oh, SNAP… these are great cookies!
I do love a good gingerbread cookie, and if you're craving one, try these! I love that these are simple to make and turned out so cute.
Baking gingerbread cookies is such a fun tradition at Christmas time, and this is a fun keto baking idea to get the family involved – enjoy!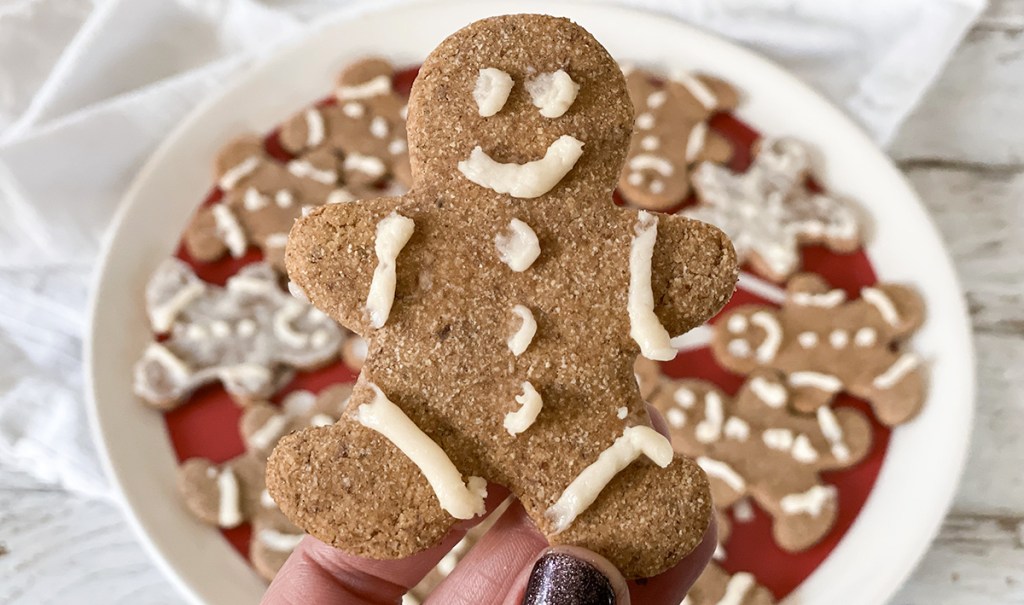 My Hip sidekick Emily loved this recipe for keto gingerbread cookies:
"These cookies are amazing! They taste just like the real thing so you'd never know they're keto! The flavor is perfect and they have a wonderful soft texture. Your kitchen will smell amazing while these are baking!"
---
I hear Santa really wants you to bake these keto sugar cookies, too!