Easy One-Skillet Keto Chicken Fajitas – Have Dinner Ready in 30 Minutes!
The best part about this easy dinner is that you only need one pan to make keto skillet chicken fajitas!
These easy keto chicken fajitas are our favorite one-dish meal!
Everyone loves Mexican food, especially fajitas. I think the best thing about fajitas is that they are so keto-friendly. They are my go-to meal at Mexican restaurants.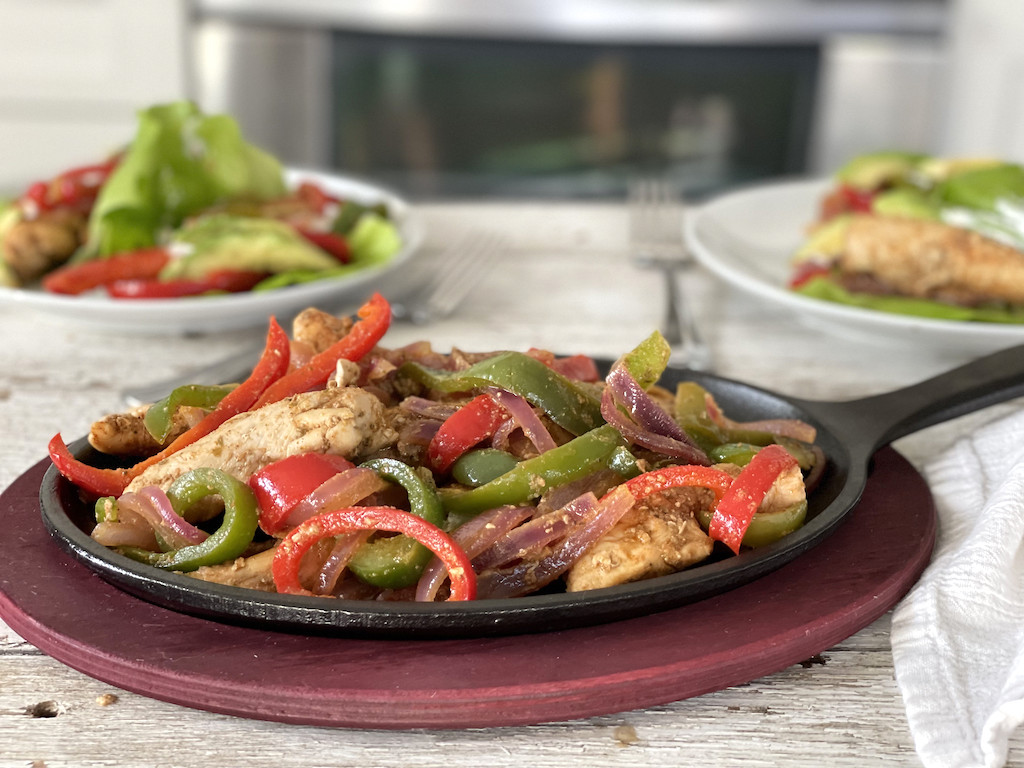 I love seeing them bring out the sizzling skillet of peppers, onions, and chicken, and to stay keto I skip the tortillas, beans, and rice.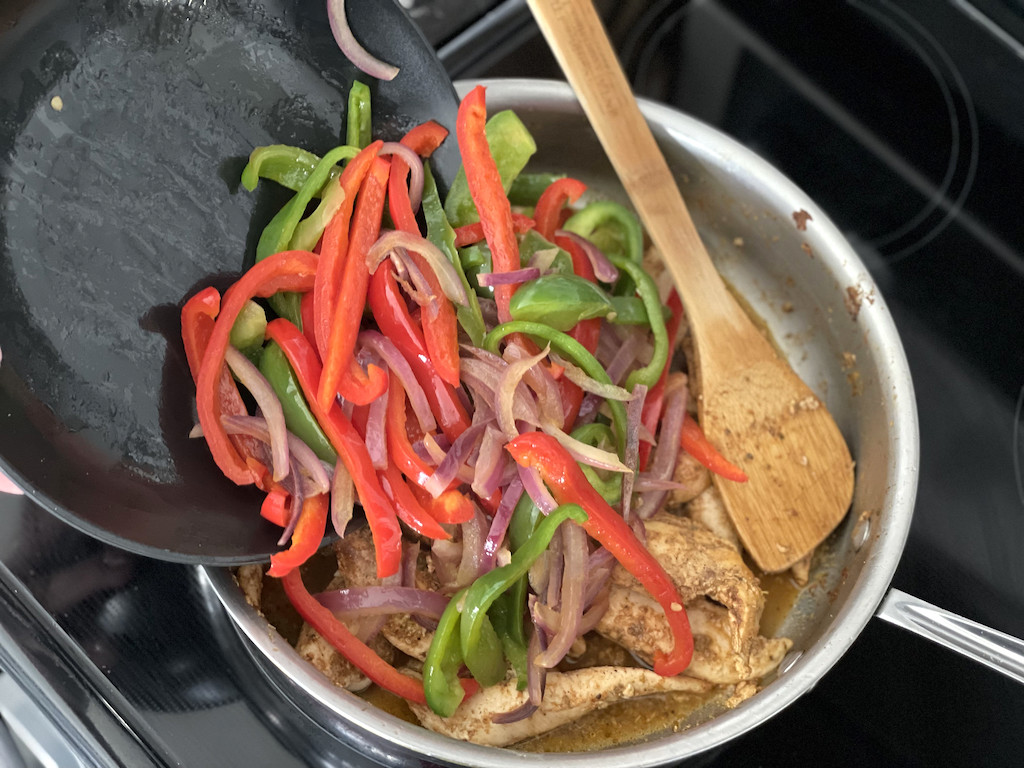 How to make skillet chicken fajitas:
You really only need one skillet to make this recipe and the entire meal comes together in about 30 minutes. You start by sautéing the peppers and onion in olive oil. Then you remove them from the skillet so you can cook the chicken in the same pan. The chicken is pan-cooked to perfection in tasty Mexican seasonings.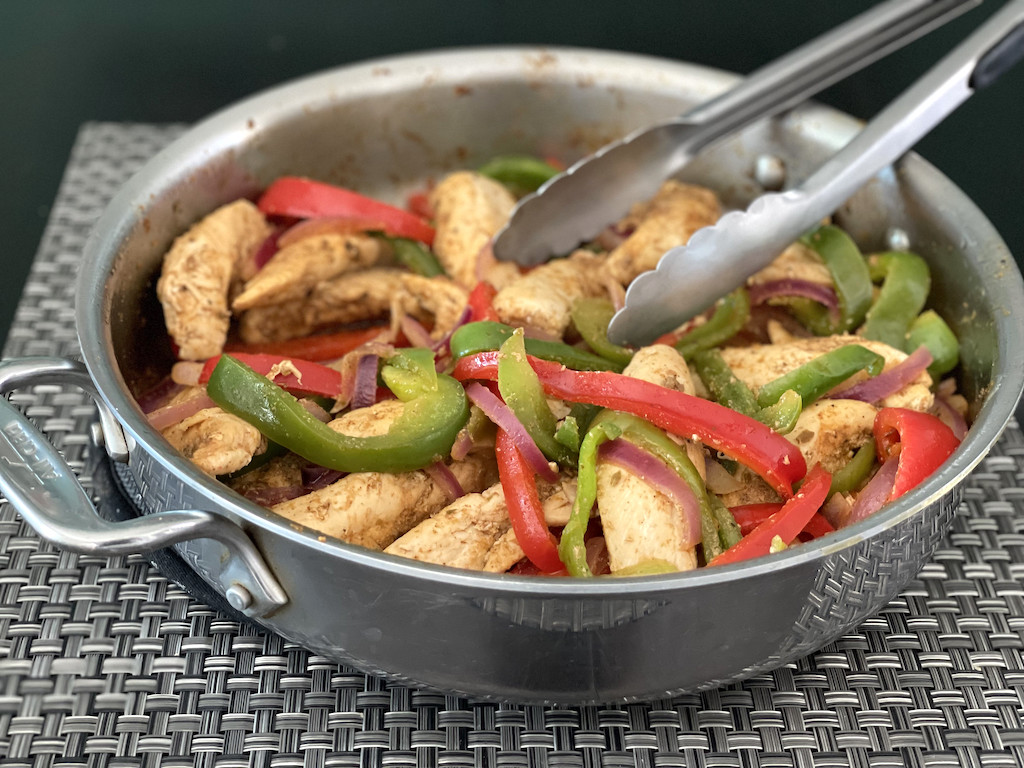 After the chicken is cooked, you add the peppers and onion back to the skillet to reheat them, and that's it! A delicious meal with minimal dishes. 🙌 You can eat the chicken fajitas right out of the skillet, make lettuce wraps, or add them to a salad.
If your family isn't keto, they can use regular tortillas so it's a win for everyone.
Tips for making easy keto chicken fajitas:
To make this recipe really easy, use non-breaded chicken tenders, that way you don't have to cut up chicken breasts. If you do use chicken breasts, cut the raw chicken breasts into strips before cooking them.
If preferred, you can use just green bell peppers instead of a variety of colors. That will actually slightly lower the carb count as a green bell pepper has 4.7 grams net carbs and a red bell pepper has 6.3 grams net carbs. Green bell peppers are typically cheaper too!
I used butter lettuce as my "tortilla" for these fajitas. You could also use romaine or green leaf lettuce.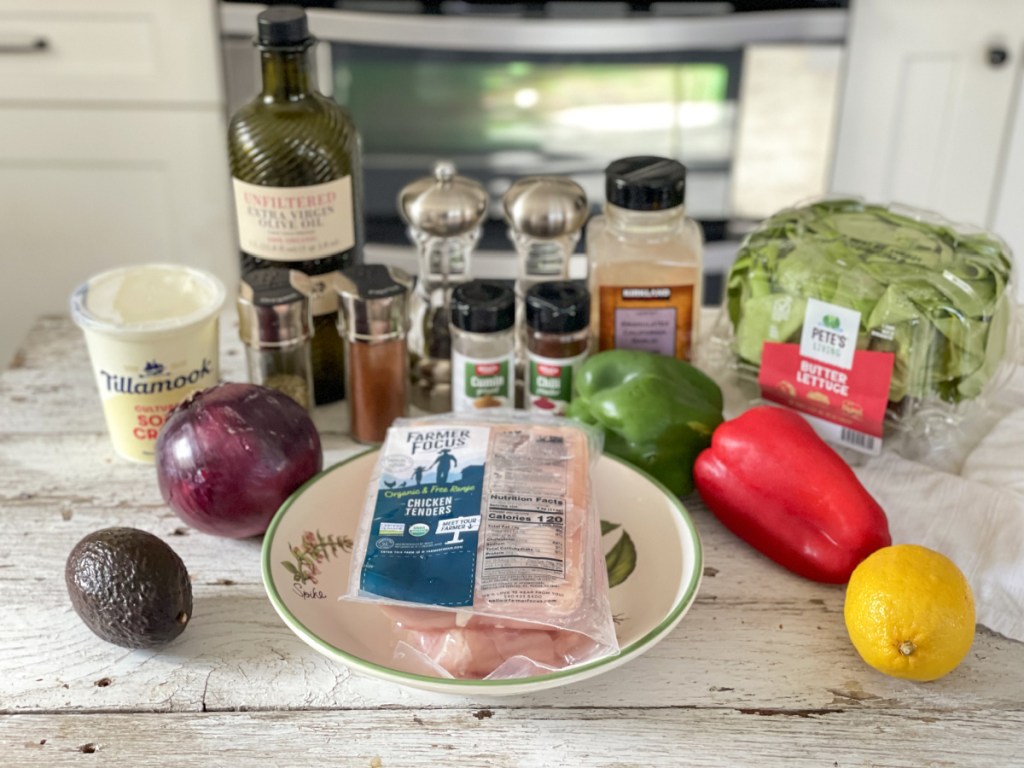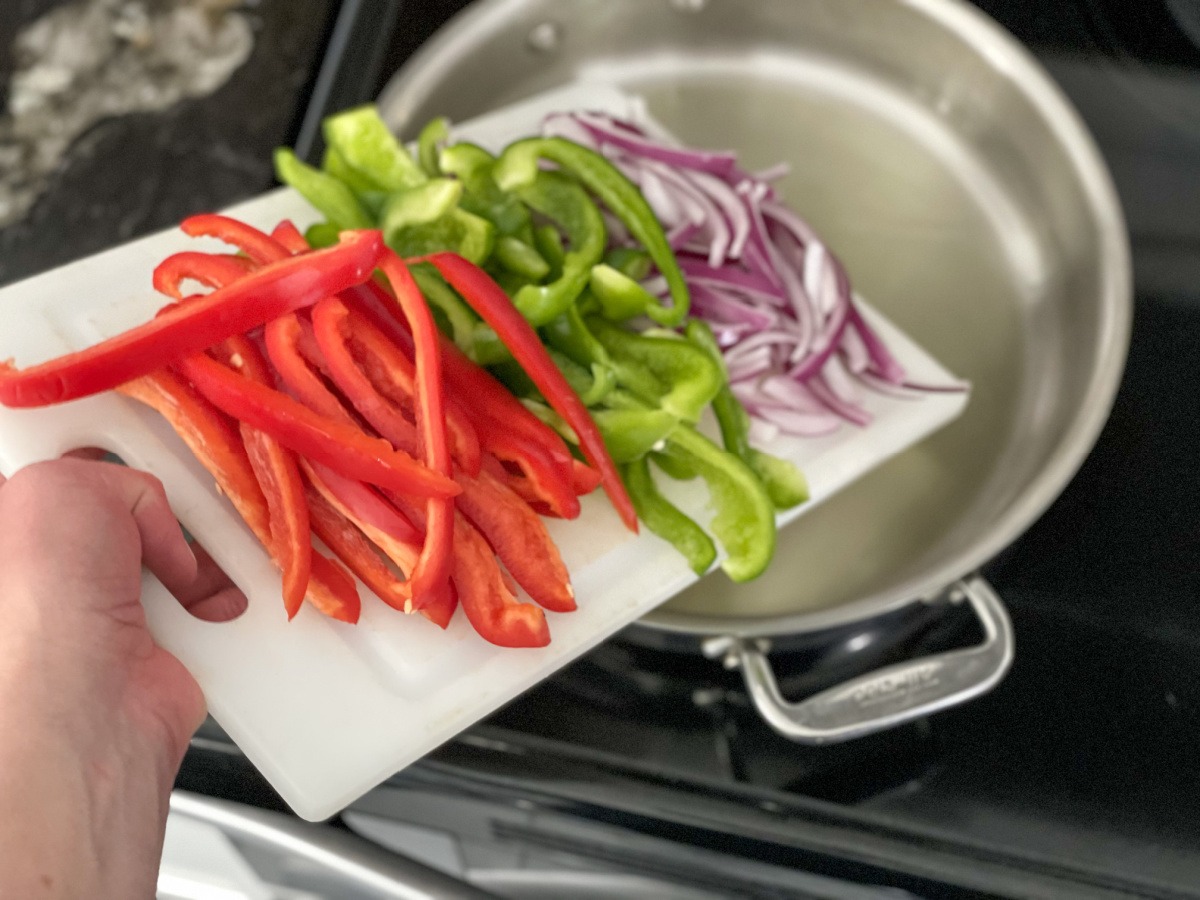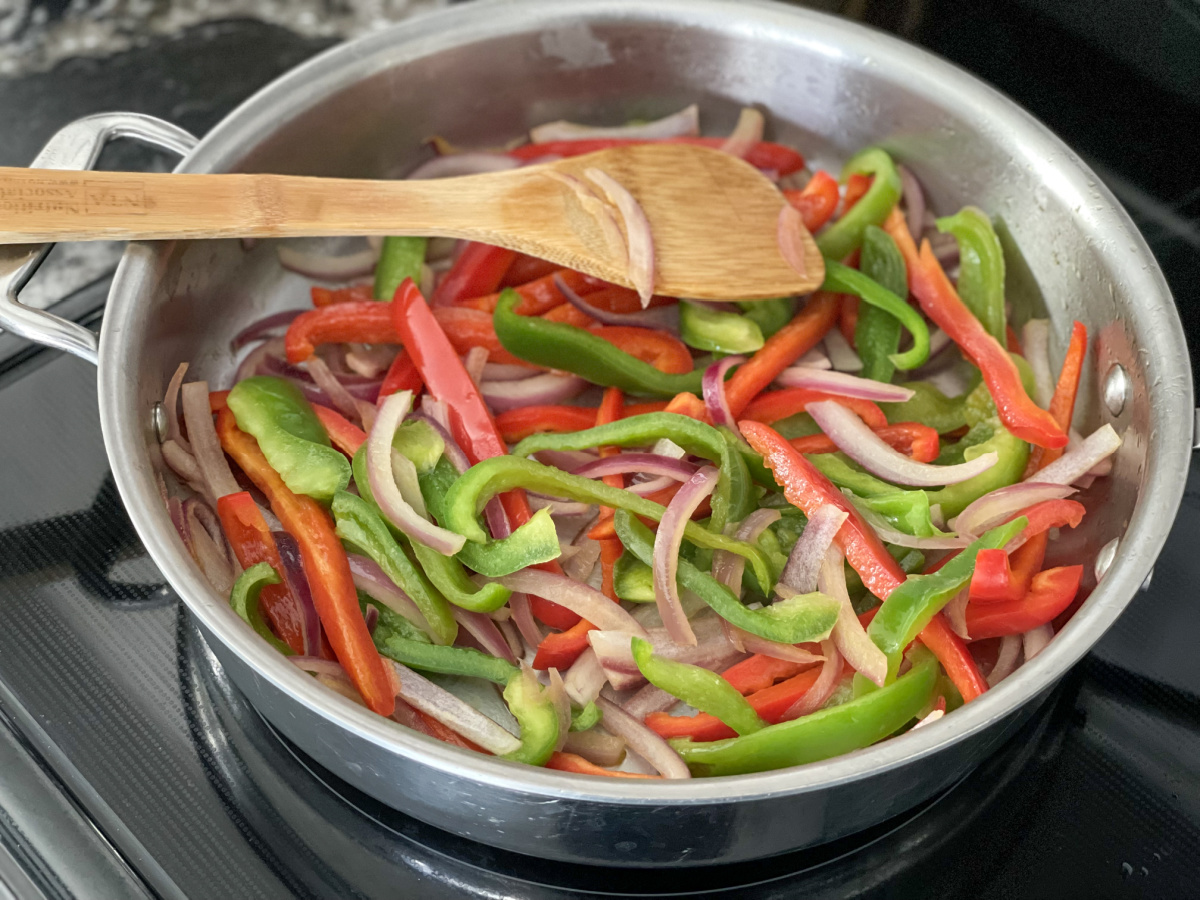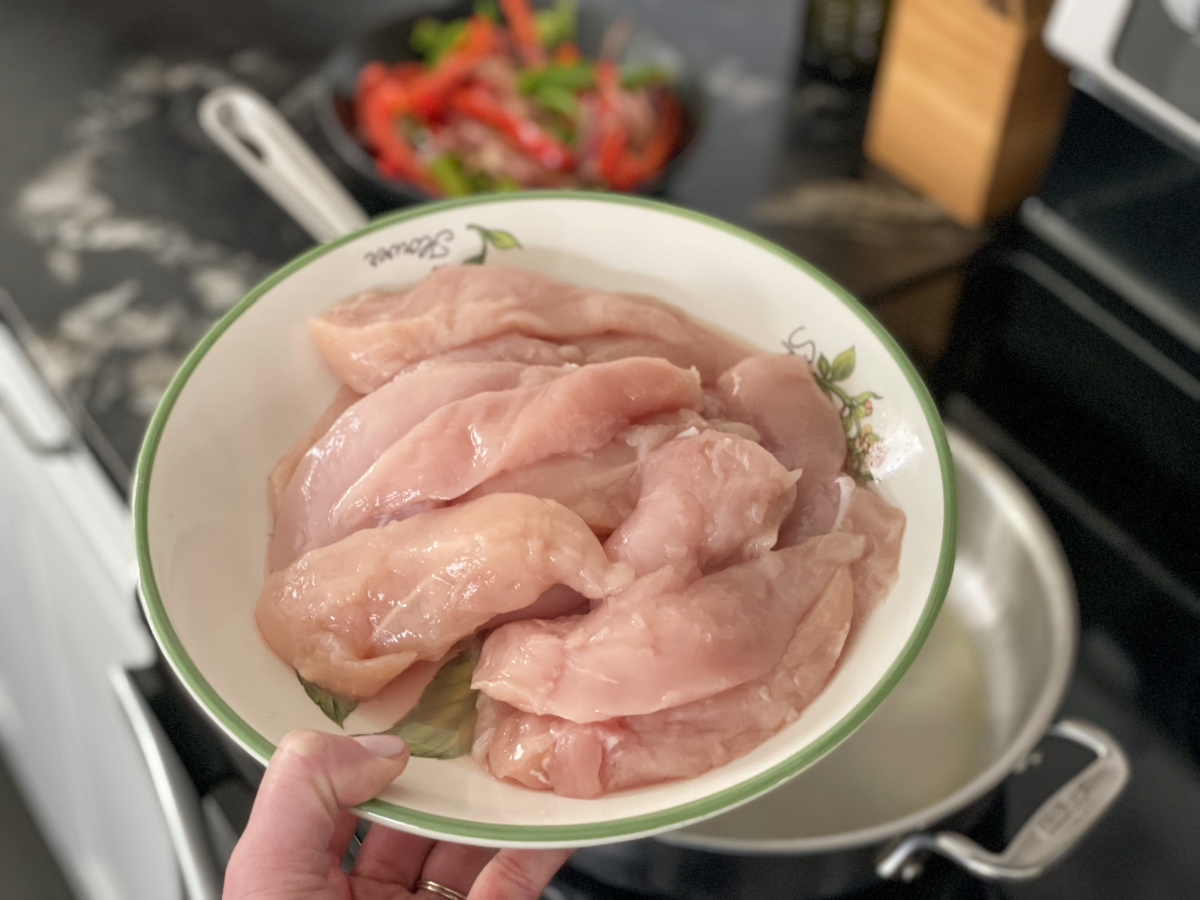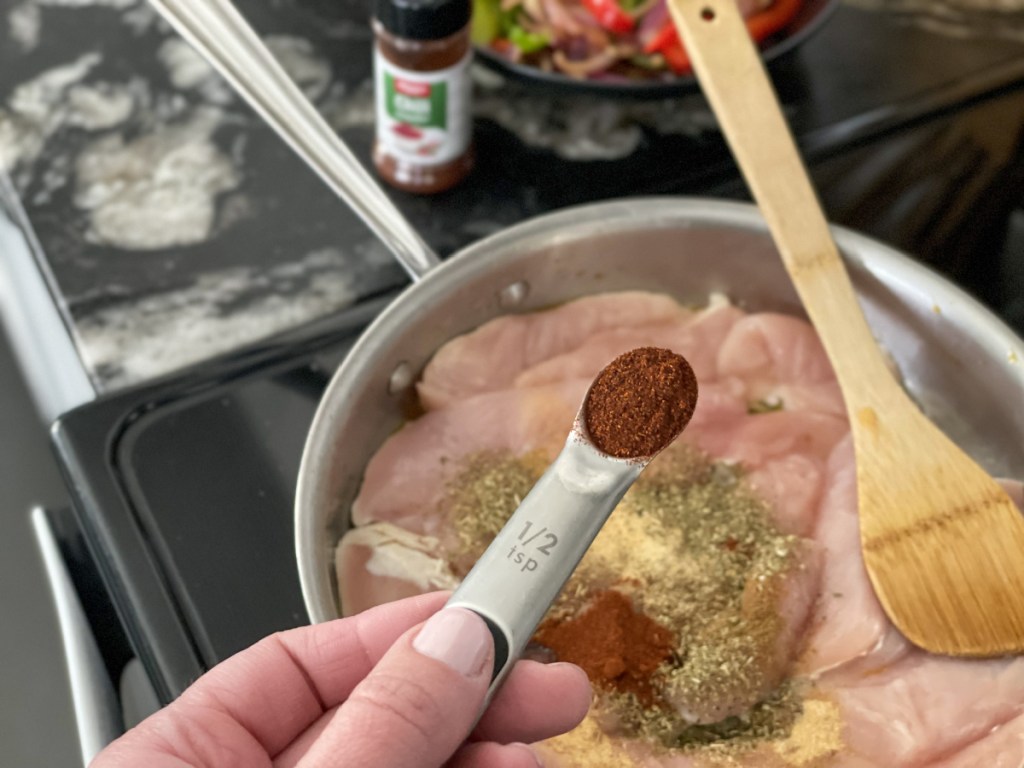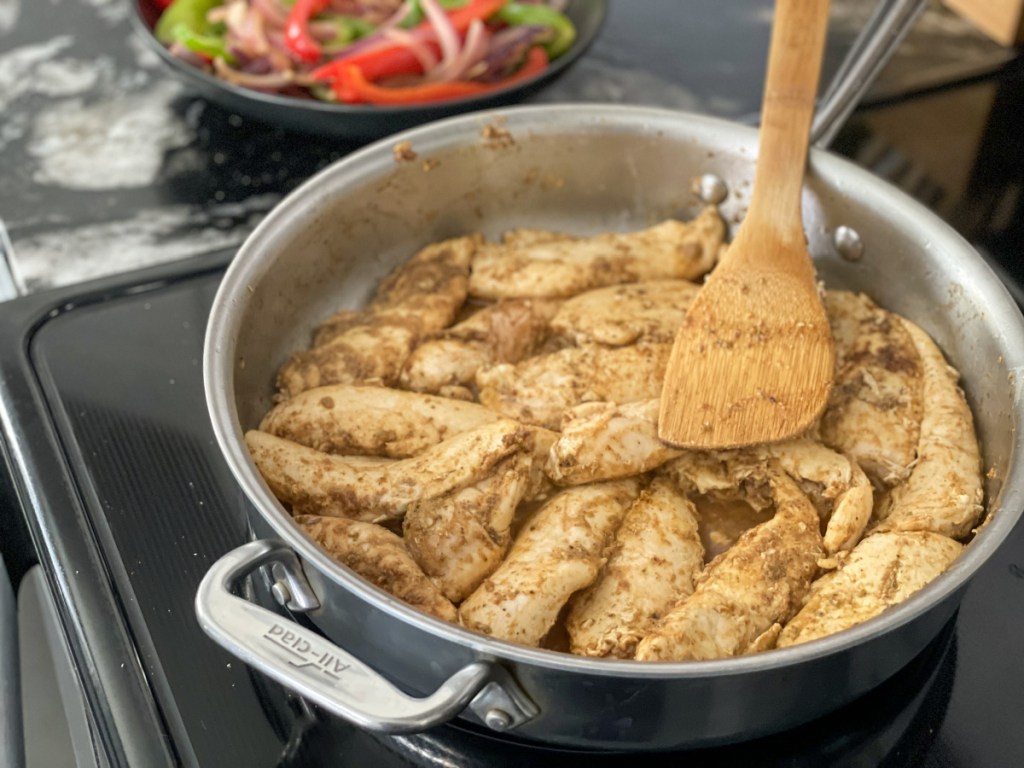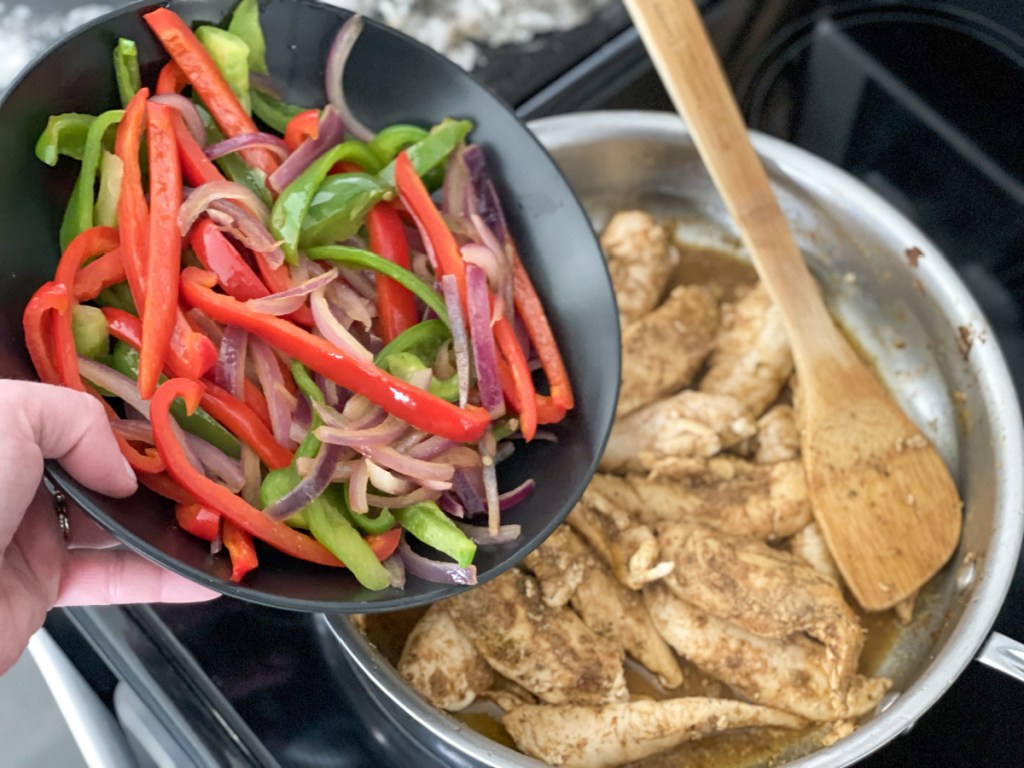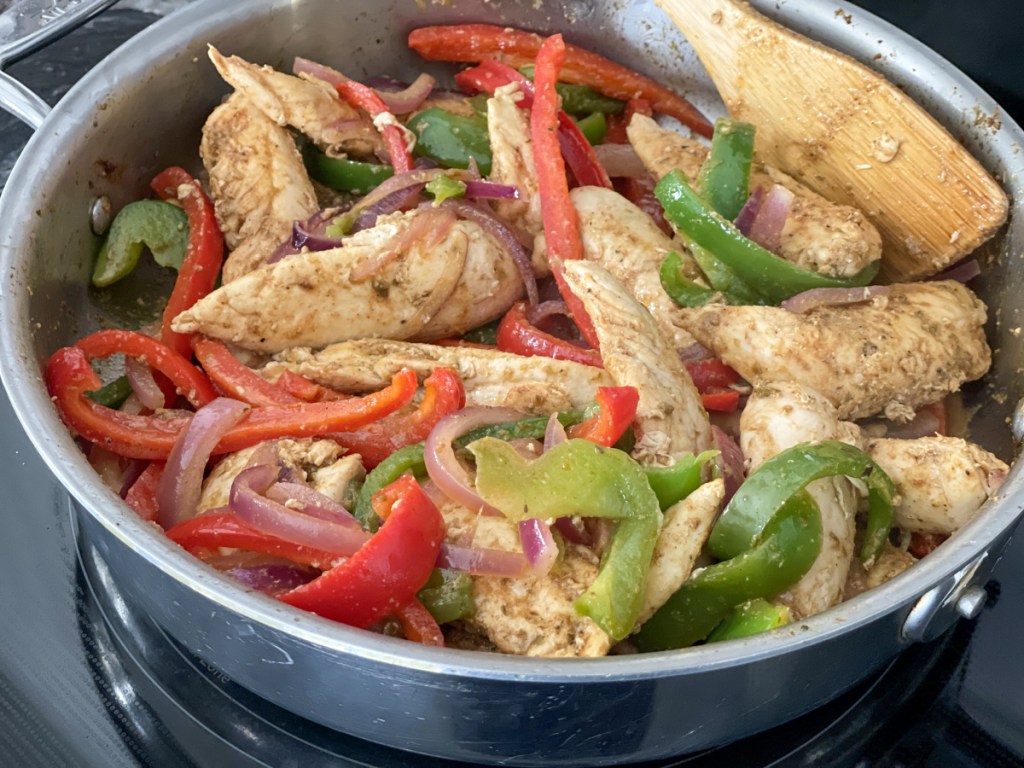 ---
Print
Easy Keto Skillet Chicken Fajitas
yield: 6 SERVINGS
prep time: 5 MINUTES
cook time: 30 MINUTES
total time: 35 MINUTES
Onions and peppers sautéed with chicken and fajita seasonings, all in one skillet!
Ingredients
3 tablespoons olive oil, divided
1 teaspoon salt
1/4 teaspoon pepper
juice from 1 large lemon
Optional toppings for serving:
lettuce for making lettuce wraps
sour cream
avocado
shredded cheese
hot sauce
Directions
1
Slice bell peppers and onion into thin strips.
2
Heat 1 1/2 tablespoons olive oil in a large skillet over medium heat. Once the oil is hot, add the peppers and onion to the skillet. Sauté for 8 to 10 minutes, until slightly soft. Then remove the peppers and onion from the skillet and set them aside.
3
Heat the remaining 1 1/2 tablespoons olive oil in the skillet. Once hot, add the chicken to the skillet along with the ground cumin, garlic powder, oregano, chili powder, paprika, salt, pepper, and lemon juice. Stir to coat the chicken in the seasonings. Sauté for 10 to 12 minutes, until the chicken is cooked.
4
Once the chicken is cooked, add the peppers and onion back to the skillet and stir to combine. Let the peppers and onions reheat for about 3 to 5 minutes and then the fajitas are ready to serve.
5
Serving suggestions: lettuce wraps, sour cream, avocado, shredded cheese, hot sauce. Enjoy!
Additional Notes
Recipe by Lina Darnell. Photos and post by Emily Spurlock.
Nutrition Information
Yield: 6 servings, Serving Size: 1 serving
Amount Per Serving: 258 Calories | 11.1g Fat | 5g Total Carbs | 1.6g Fiber | 2.3g Sugar | 33.3g Protein | 3.4g Net Carbs
---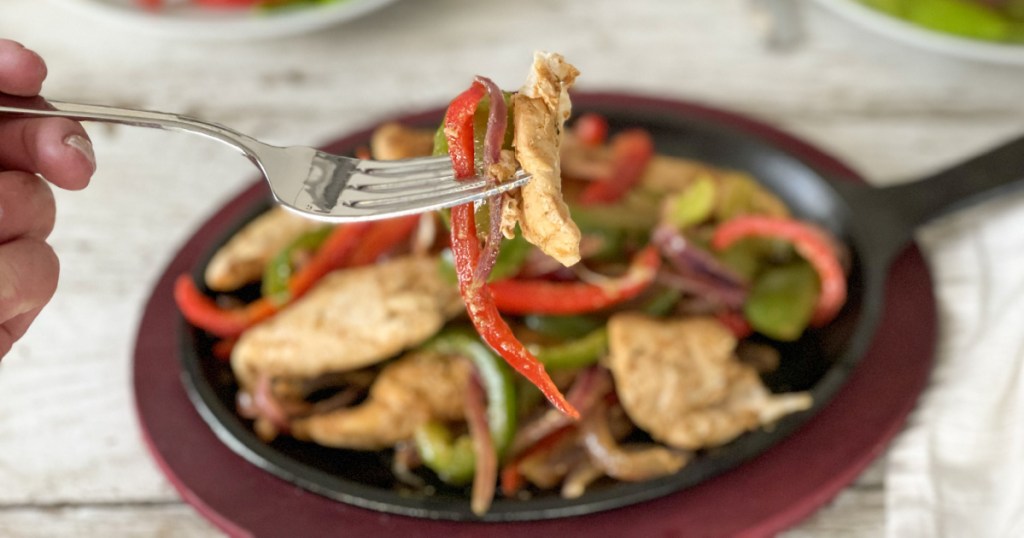 Simple dish but full of flavor.
Easy weeknight meals are the best, especially recipes like these keto skillet chicken fajitas. This comes together in no time and works for everyone, keto or not!
You can feel good about making a healthy dinner with minimal effort!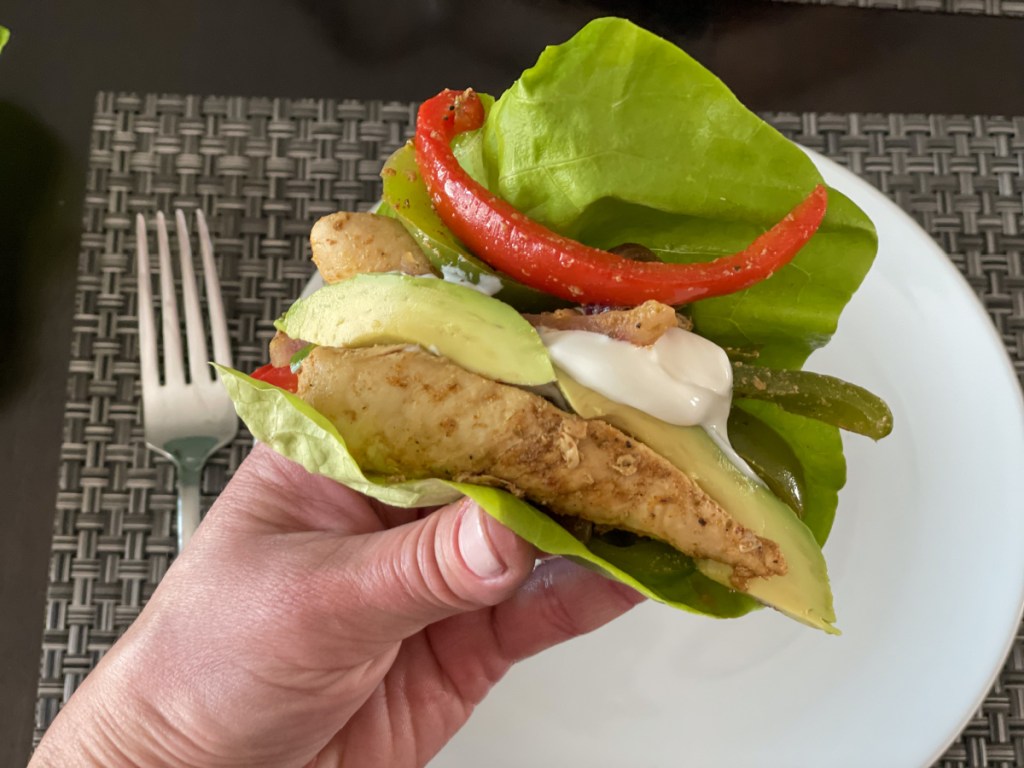 My Hip sidekick Emily had this to say about these one-skillet keto chicken fajitas:
"Easy skillet keto meals are the BEST. I love all the great flavors this version has and the veggies turn out delicious. If you are craving Mexican food, this will hit the spot! Serving it alongside all your favorite toppings is genius too."
---
Looking for more easy dinners? Check out our recipe for this Easy and Cheesy Keto Hamburger Helper!