Keto Fettuccine Alfredo Cabbage Casserole with Sausage
This keto fettuccine alfredo cabbage casserole with Italian sausage will make you say, "zoodle, who?"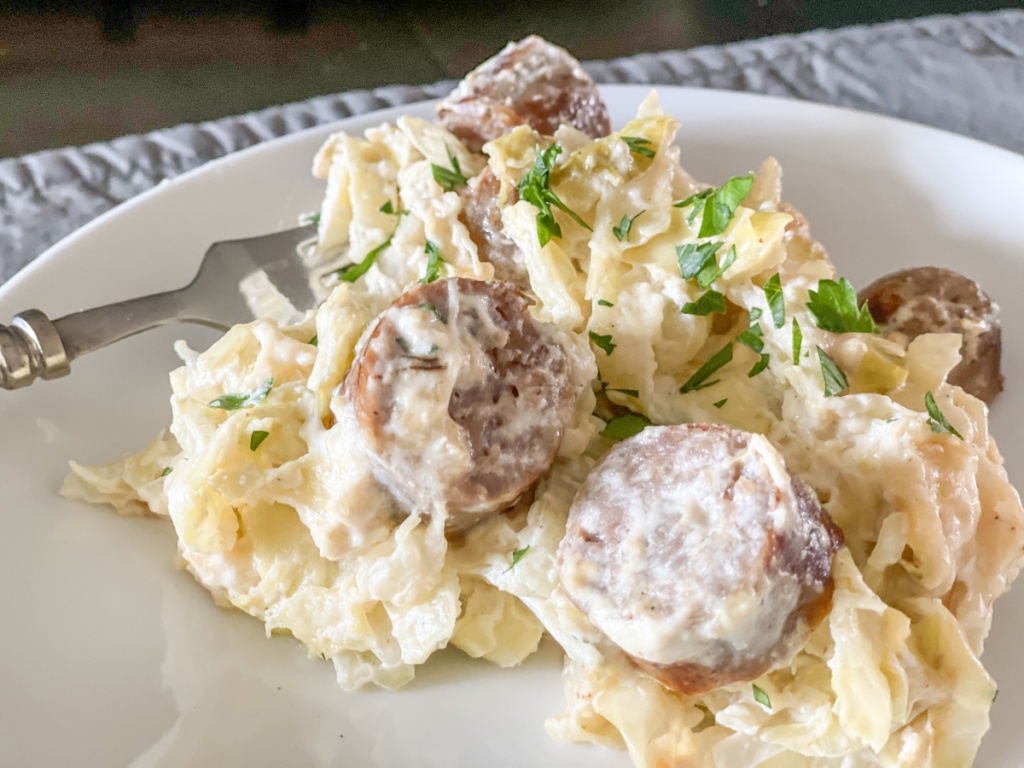 Move over zoodles, cabbage is in the house!
Using cabbage as a keto pasta substitute is my new favorite, and making this keto fettuccine alfredo with cabbage is nothing short of a miracle. I could eat this every night for a week and still want more! The nice thing about cabbage is that it holds up a lot better than zucchini noodles or "zoodles" and doesn't get mushy.
How did we hear about this sausage alfredo cabbage?
Inspired by a now-deleted viral TikTok video, I had to try it out myself and share it! The rich keto alfredo sauce is made from butter, cream cheese, sour cream, and heavy whipping cream. It's seasoned simply with garlic, lemon, salt, and pepper to let the flavors of the sausage shine through. So drool-worthy!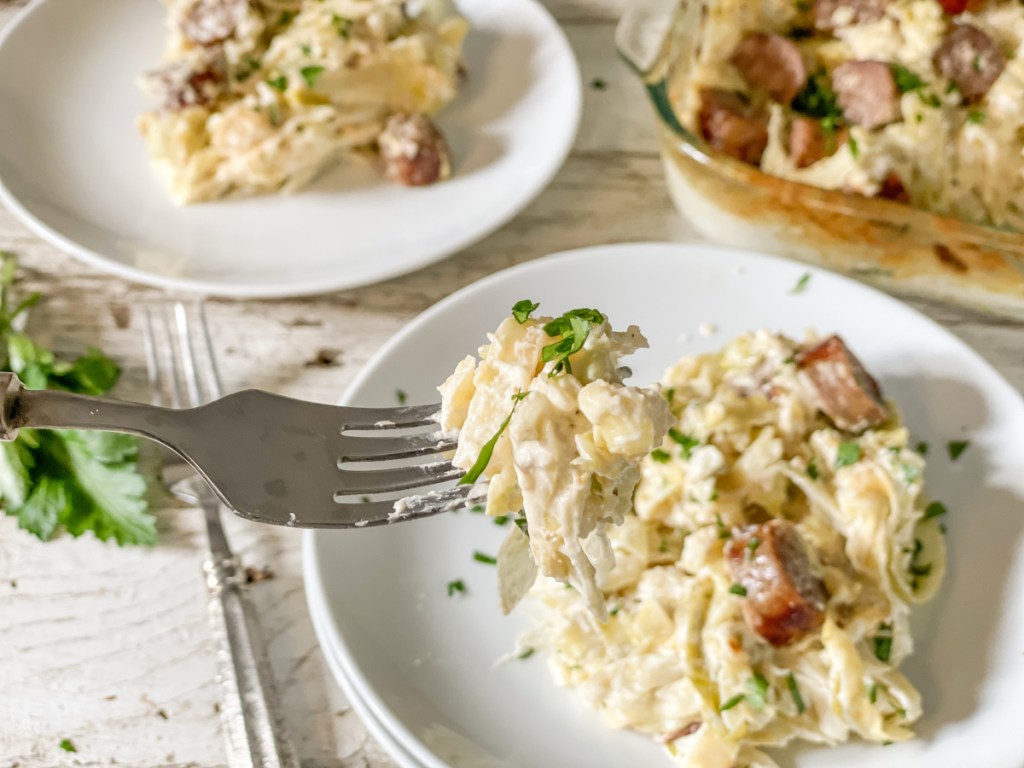 Making this keto fettuccine alfredo casserole is fairly simple.
One of the best things about this meal is that you basically make the whole thing in a baking dish. You put the sliced cabbage, onion, and garlic in the baking dish, then top it with the ingredients that make the alfredo sauce. Then you sprinkle it with the seasonings and throw it in the oven.
While the cabbage is roasting with the alfredo sauce ingredients, you'll get to cooking the sausage. The final step is adding some parmesan cheese to melt over the cabbage alfredo mixture and finishing by topping it with parsley. Trust me, it's amazing!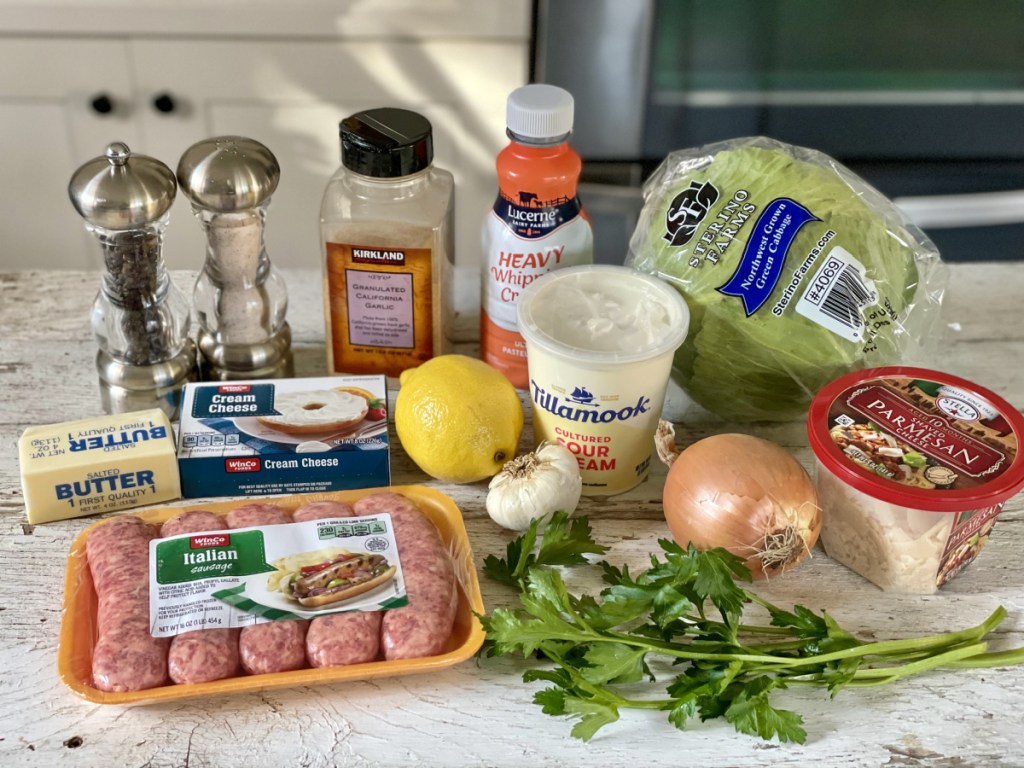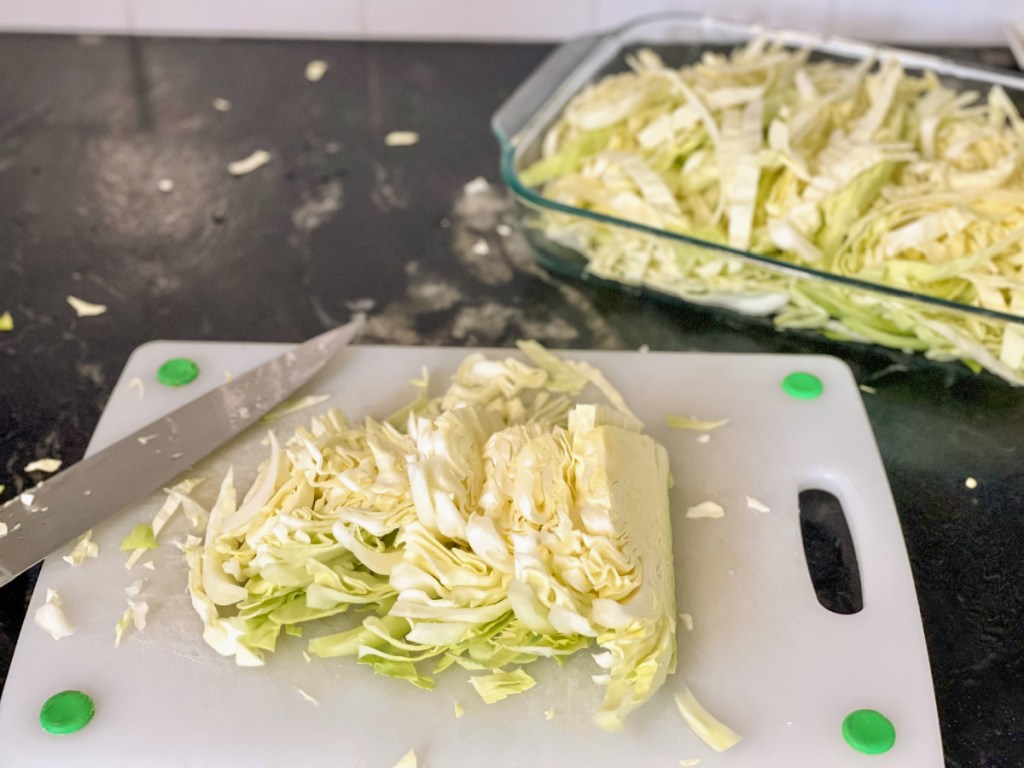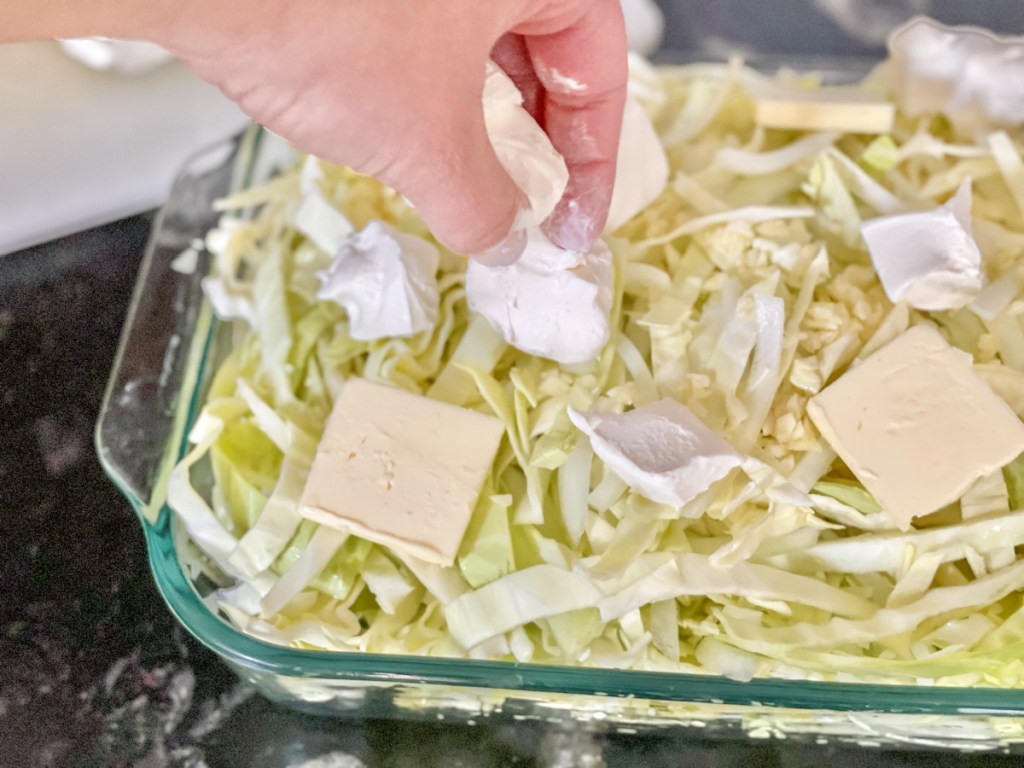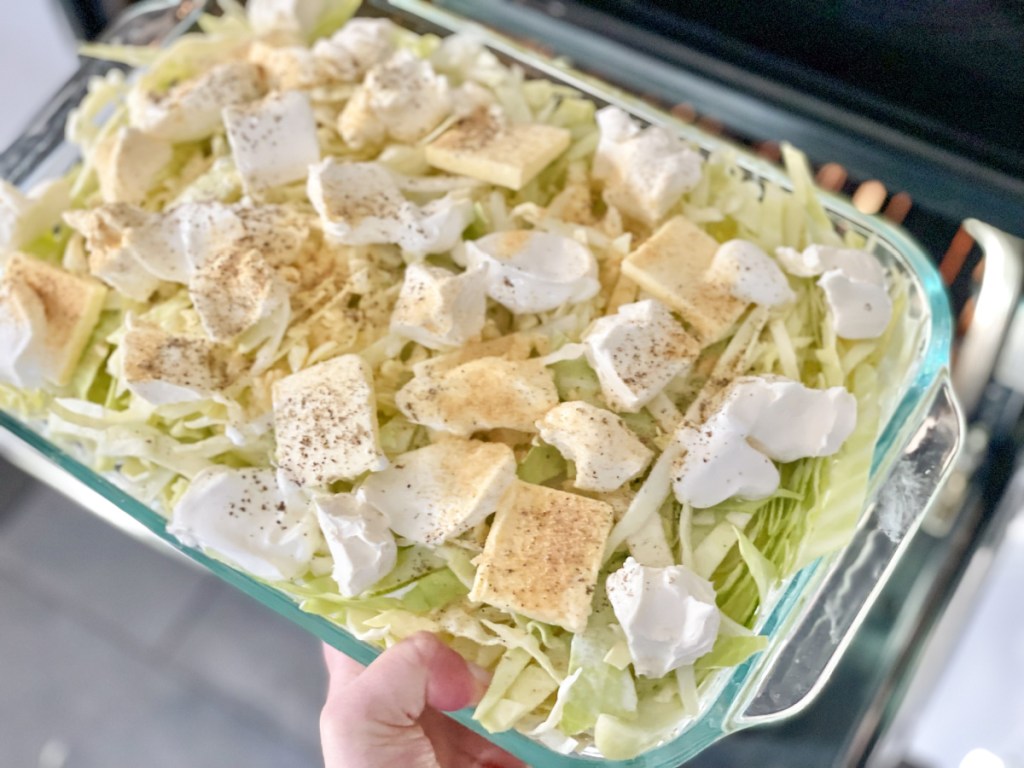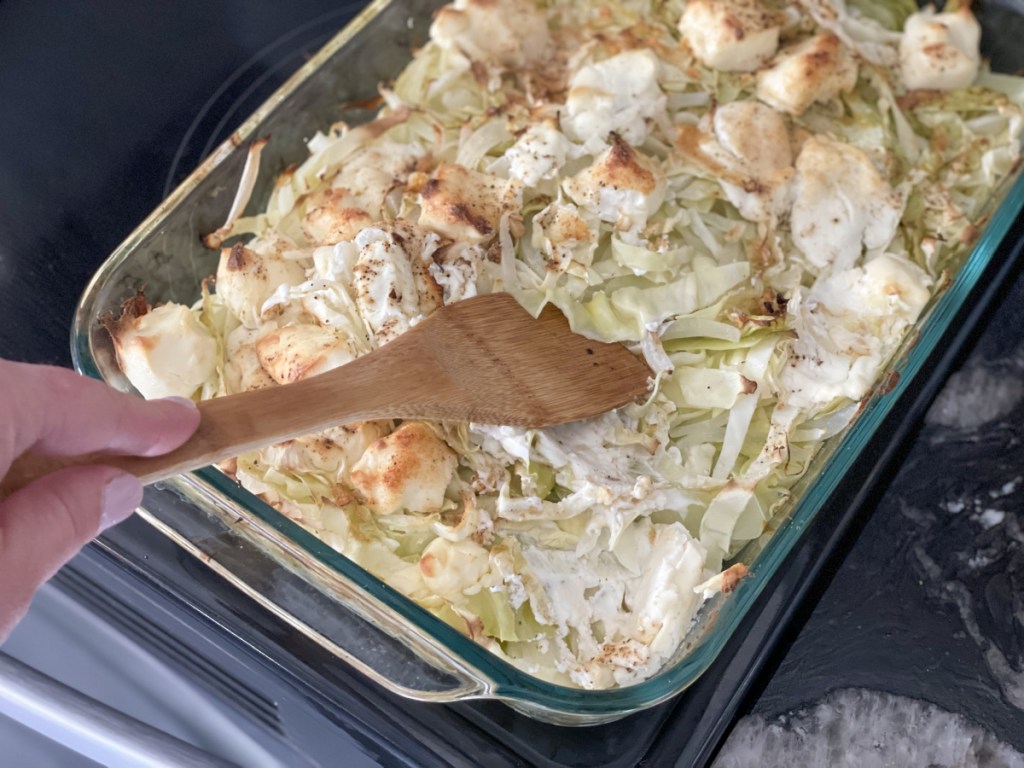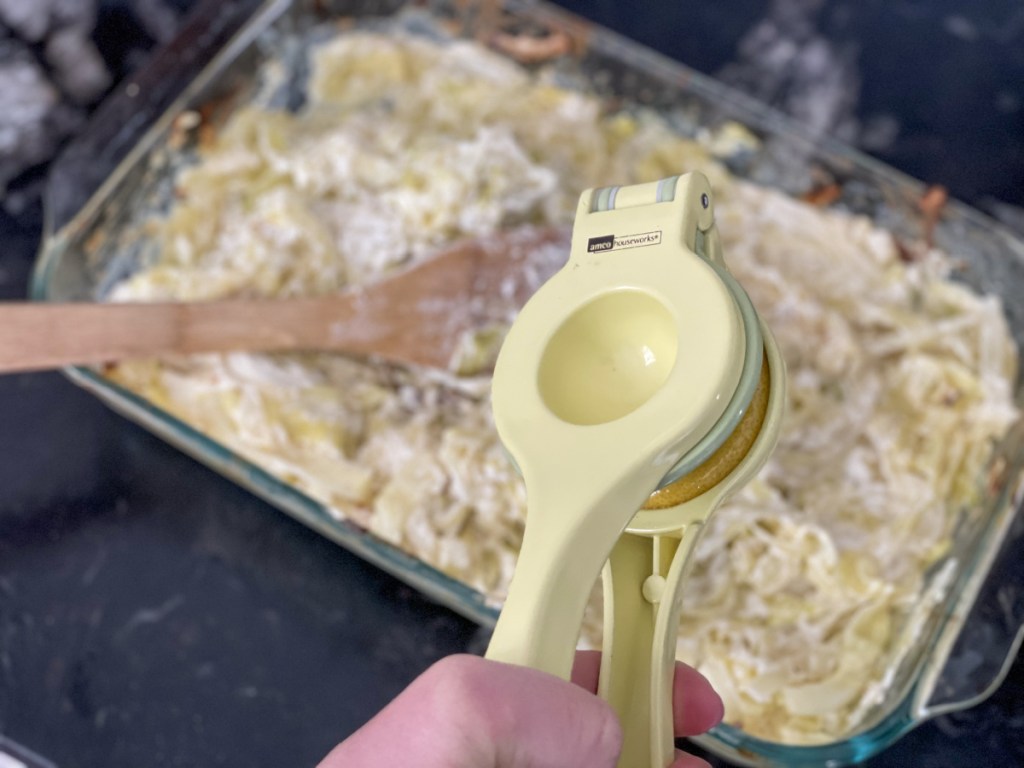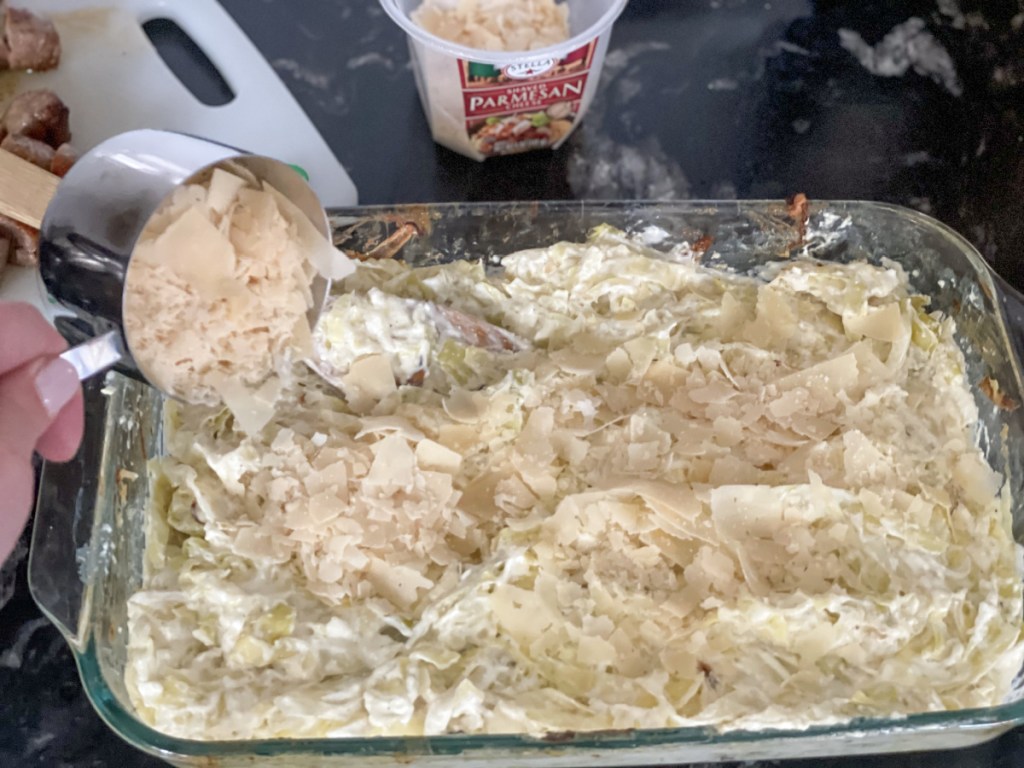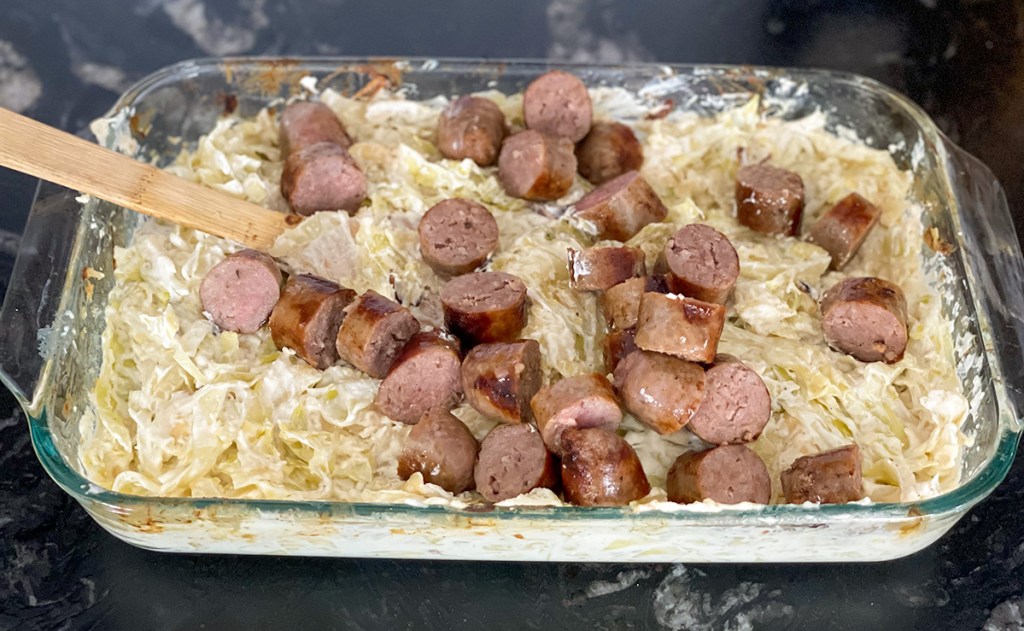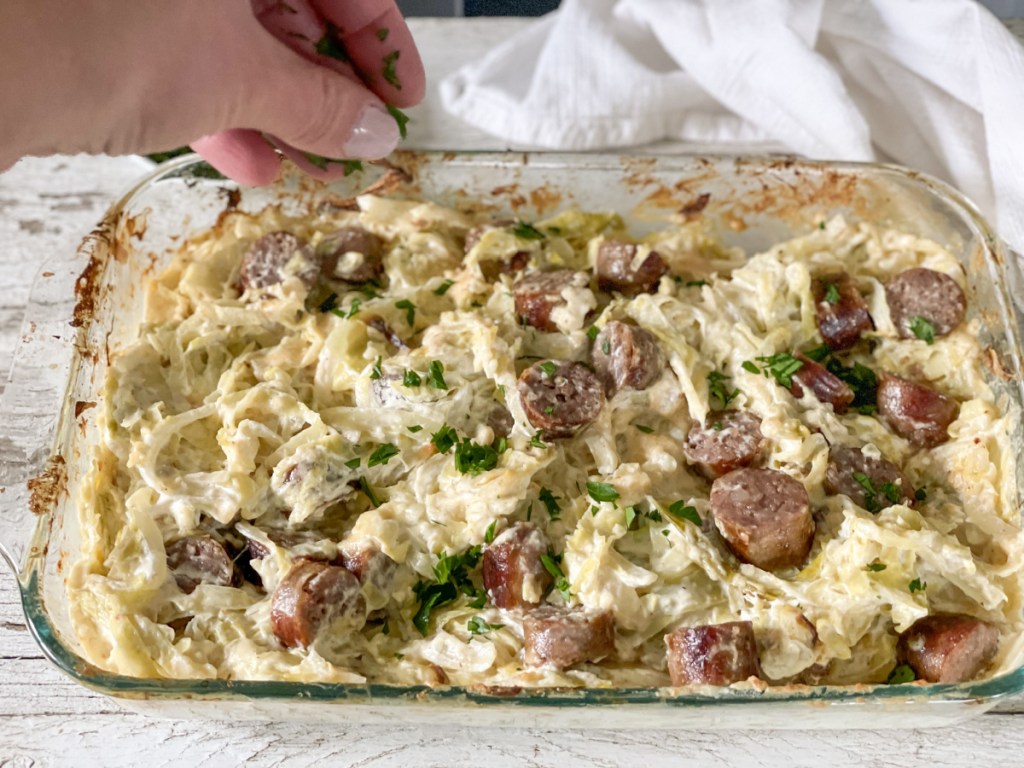 ---
Print
Keto Fettuccine Alfredo w/ Sausage & Cabbage
yield: 8 SERVINGS
prep time: 10 MINUTES
cook time: 45 MINUTES
total time: 55 MINUTES
Sliced cabbage "noodles" roasted with onions, garlic, and a keto alfredo sauce made with cream cheese, sour cream, butter, and heavy whipping cream, then topped with sausage.
Ingredients
1 medium head of cabbage
1 medium yellow onion
4 garlic cloves, minced
1/4 cup salted butter (half a stick) + 2 tablespoons, divided
1/4 cup heavy whipping cream
1/2 teaspoon salt
1/2 teaspoon pepper
1 teaspoon garlic powder
Lemon juice from 1 large lemon
2 tablespoons parsley, chopped, to garnish
Directions
1
Preheat oven to 400 degrees.
2
Slice cabbage into thin strips. Discard large stem pieces. Place in a 9x13-inch baking dish.
3
Slice onion into thin strips and add to the baking dish. Mince garlic and add to the baking dish with the cabbage and onion. Lightly toss to combine.
4
Cut butter into pats and spread evenly over the cabbage. Cut cream cheese into cubes and spread over cabbage.
5
Dollop sour cream evenly over the cabbage. Pour the heavy whipping cream over the cabbage mixture.
6
Sprinkle the salt, pepper, and garlic powder over the cabbage mixture.
7
Bake cabbage for 35 to 40 minutes, until just starting to brown.
8
While the cabbage is baking, cook the sausage links. Melt 2 tablespoons butter in a skillet over medium heat. Place sausages in skillet and brown all sides until fully cooked, about 15 to 20 minutes. Remove from heat and let rest for a few minutes, then slice each sausage link into 6 pieces.
9
Once the cabbage is done baking, remove it from the oven and mix in the lemon juice and parmesan cheese. Top with the sausage pieces and gently mix them in with the cabbage. Place the baking dish back in the oven and bake for another 10 minutes to melt the cheese.
10
While the cheese is melting, chop the fresh parsley. When done, remove the dish from the oven and garnish it with parsley. Enjoy!
Nutrition Information
Yield: 8 servings, Serving Size: 1 serving
Amount Per Serving: 538 Calories | 43.6g Fat | 16.8g Total Carbs | 3g Fiber | 8.5g Sugar | 20.9g Protein | 13.8g Net Carbs
---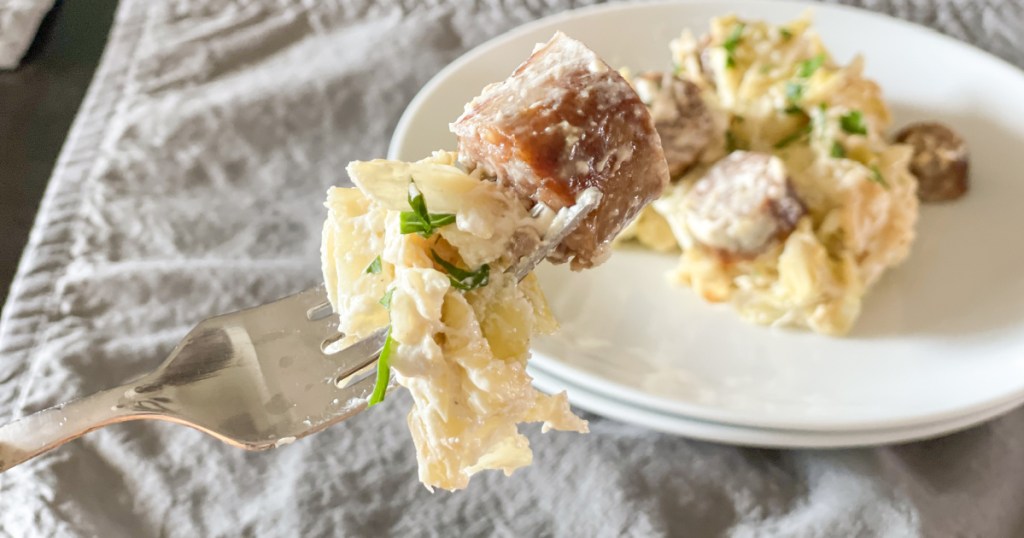 Tips for making the best keto alfredo cabbage with sausage:
Slice the cabbage as thin as you can, about a 1/4-inch thick to make your "fettuccine". Roasted cabbage makes wonderful keto "noodles". Be sure to discard the large, tough stem pieces.
Don't skip out on the lemon in this recipe. It adds a wonderful brightness to the dish. You could use 3 tablespoons of bottled lemon juice if you don't have a fresh lemon.
I used Italian sausage but you can use any sausage links; brats or even kielbasa will work!
So tasty and filling!
This keto sausage alfredo with cabbage is so satisfying. I wasn't joking when I said I could eat it every night! The keto alfredo sauce takes the prize with this dish, and of course, the cabbage noodles are incredible. They're so good, I might not ever use zoodles again.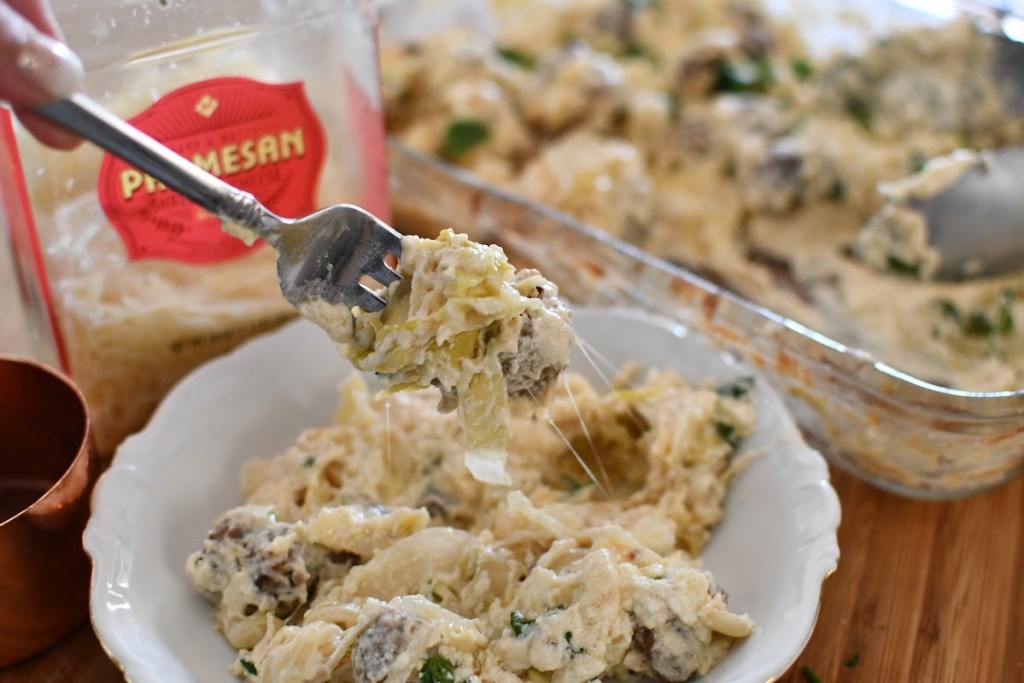 My Hip sidekick Lina made this recipe and here's what she had to say:
"Wow, this keto sausage cabbage alfredo was so AMAZING!! You won't miss the traditional noodles with yummy tender roasted cabbage. It's so much cheese which is super fantastic and filling! The sausage just throws it over the edge delish. You can even try smoked sausage which would be yummy. Honestly, this is one of the best keto meals I've had and it's a must-try. Plus having it made in a casserole dish is super easy and convenient!"
---
Looking for more keto inspiration, check out our recipe for keto sausage stuffing!