Best EVER Keto Cream Cheese and Chicken Sausage Stuffed Bell Peppers
Cream cheese and chicken sausage stuffed bell peppers will have you going back for more!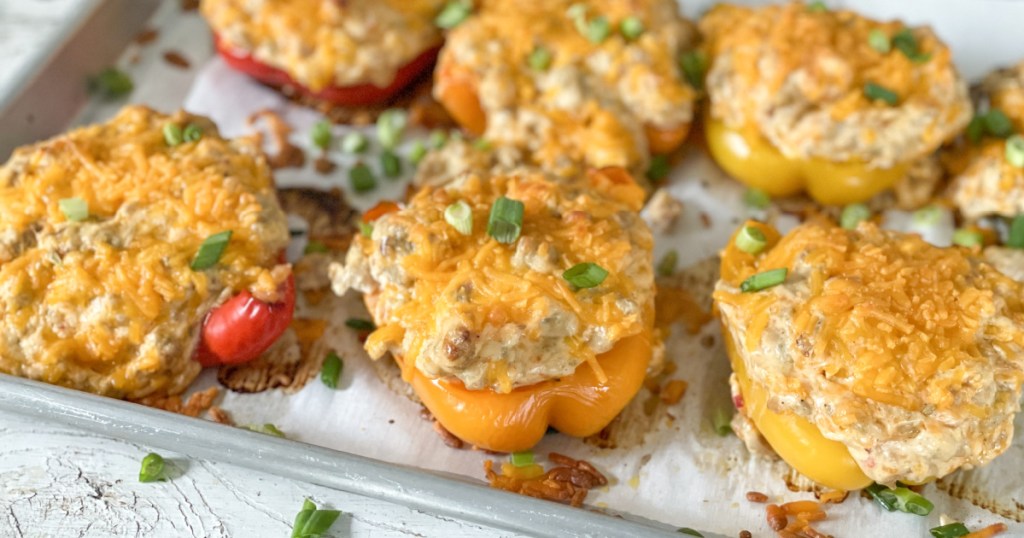 A new twist on a classic recipe.
I've made a lot of stuffed peppers over the years but this is the first time I've ever used chicken… well chicken sausage. Let me tell you, it turned out delicious! In fact, it's probably one of the best stuffed pepper recipes I've ever made. I usually use ground beef for stuffed peppers so it was fun to try something different.
I served these to my friends during our monthly ladies' night and got rave reviews! I think it's safe to say this recipe is definitely a keeper. 👏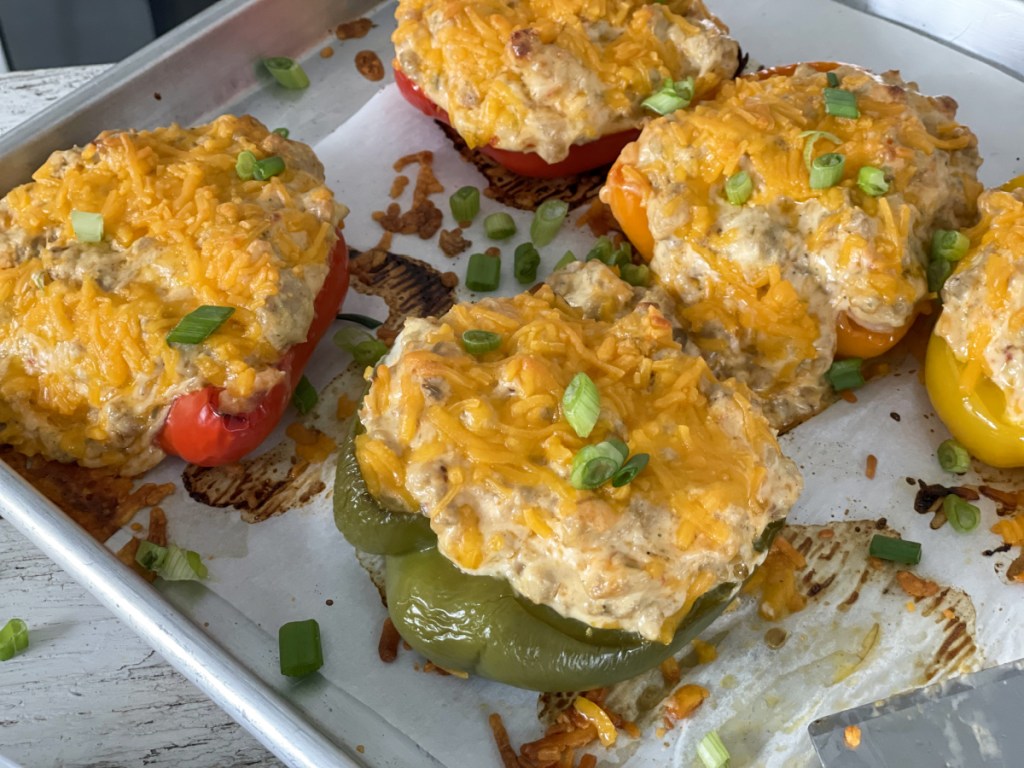 Feed a crowd with this chicken sausage and cheese stuffed pepper recipe.
The best part about this recipe is that it makes eight servings. To me, one stuffed half pepper is pretty filling. If you're really hungry, you might be able to eat two. This recipe is great for a big family or if you're having company over for dinner.
Even better, making these cream cheese and chicken sausage stuffed bell peppers is fairly easy and it's something that you could prep in advance. Assemble the stuffed peppers ahead of time and then bake them right before dinner. It's a dinner party recipe that lets you enjoy your company while serving up a wow-worthy dish, too!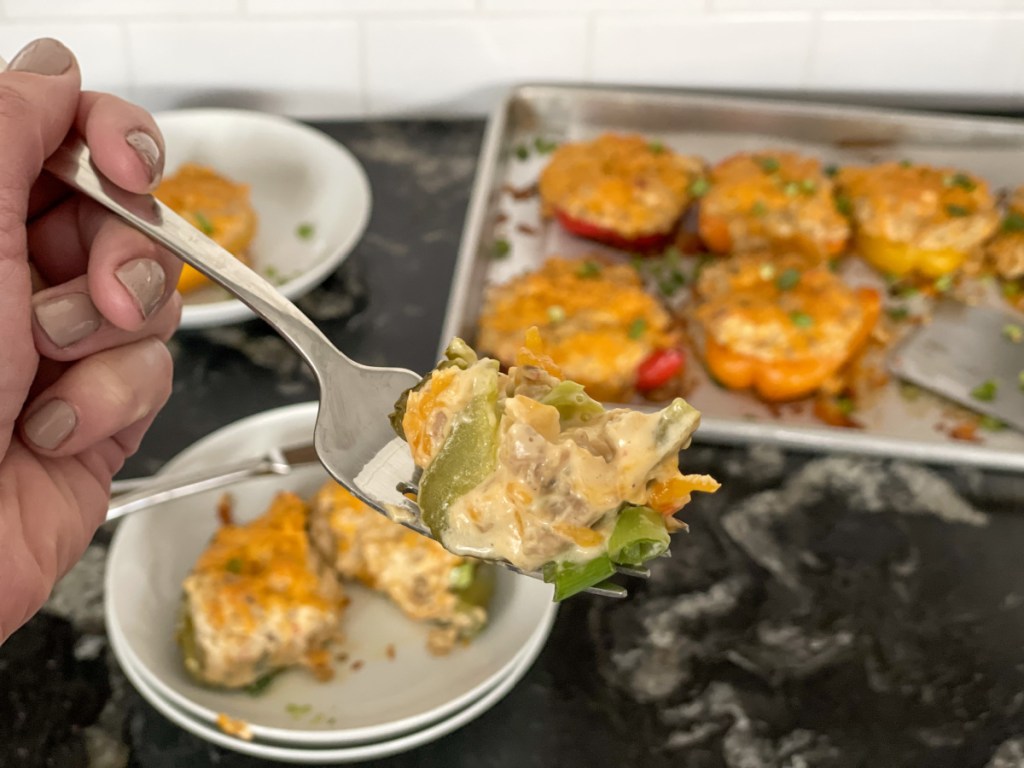 Tips for making the best cream cheese and chicken sausage stuffed peppers:
Don't skip prebaking the bell pepper. If you stuff the peppers raw, they don't cook through enough when you bake them with the filling.
The filling is simple and perfect. If you want to mix it up, you could try a spicy chicken sausage or add red pepper flakes. My favorite chicken sausage is Isernio's!
I definitely recommend broiling the stuffed peppers at the end of the baking time. The crispy cheese on top makes the dish!
If you have leftovers, this dish reheats great. Leftovers are good for 5 days in the fridge or you can freeze them for up to 3 months.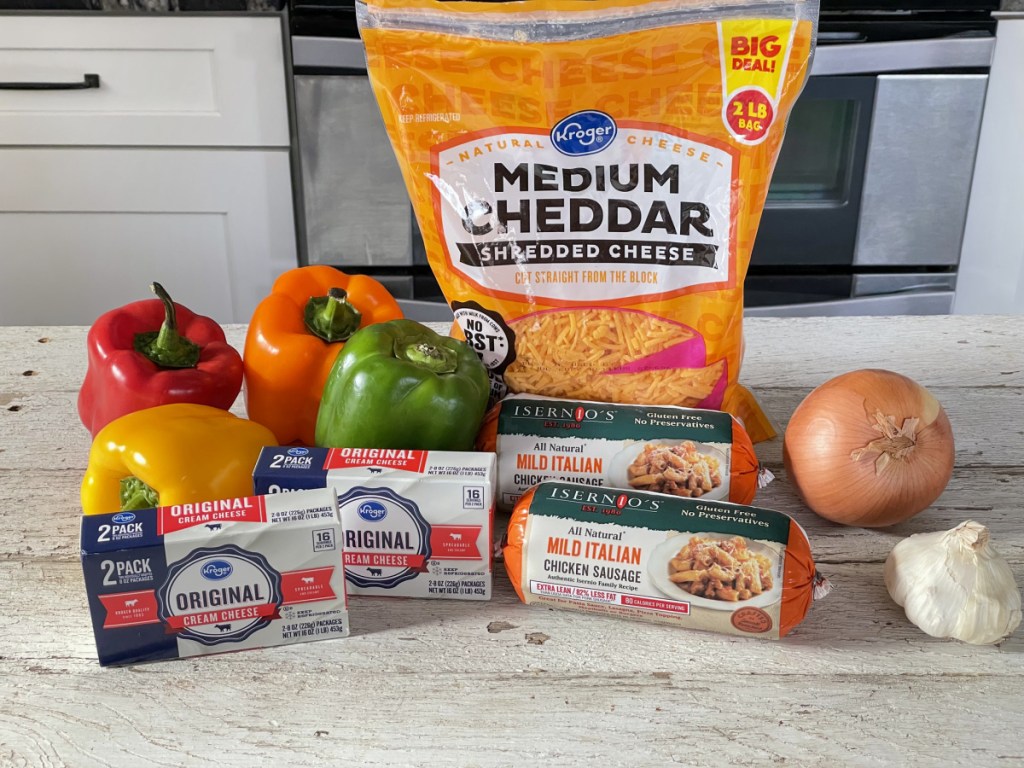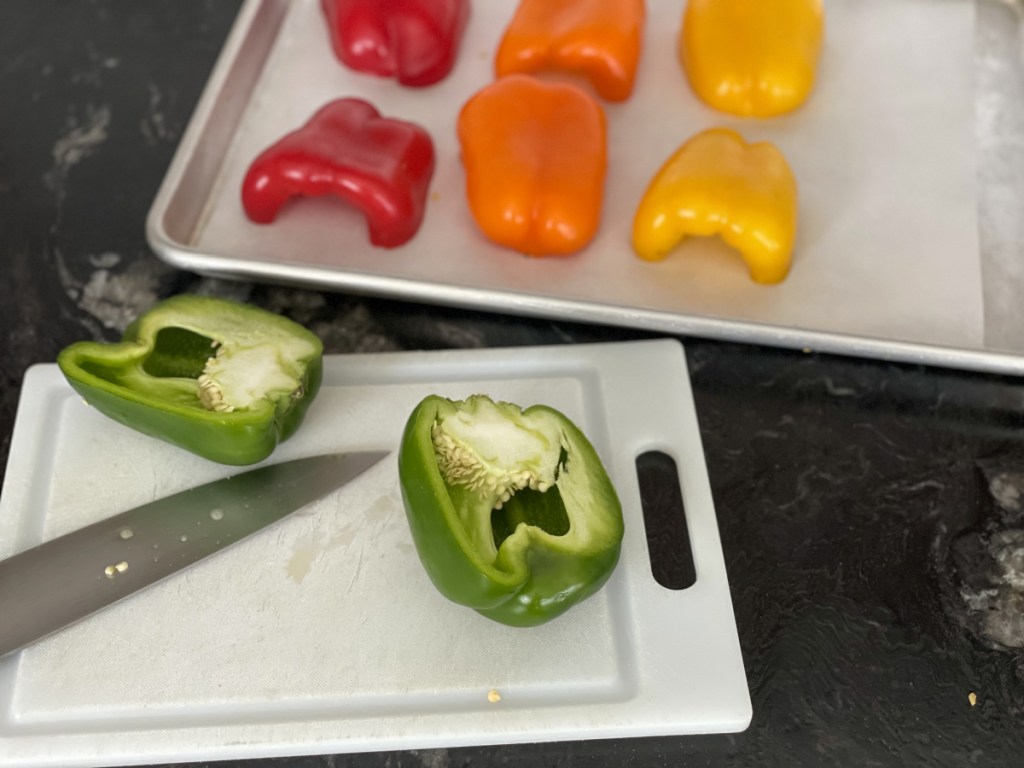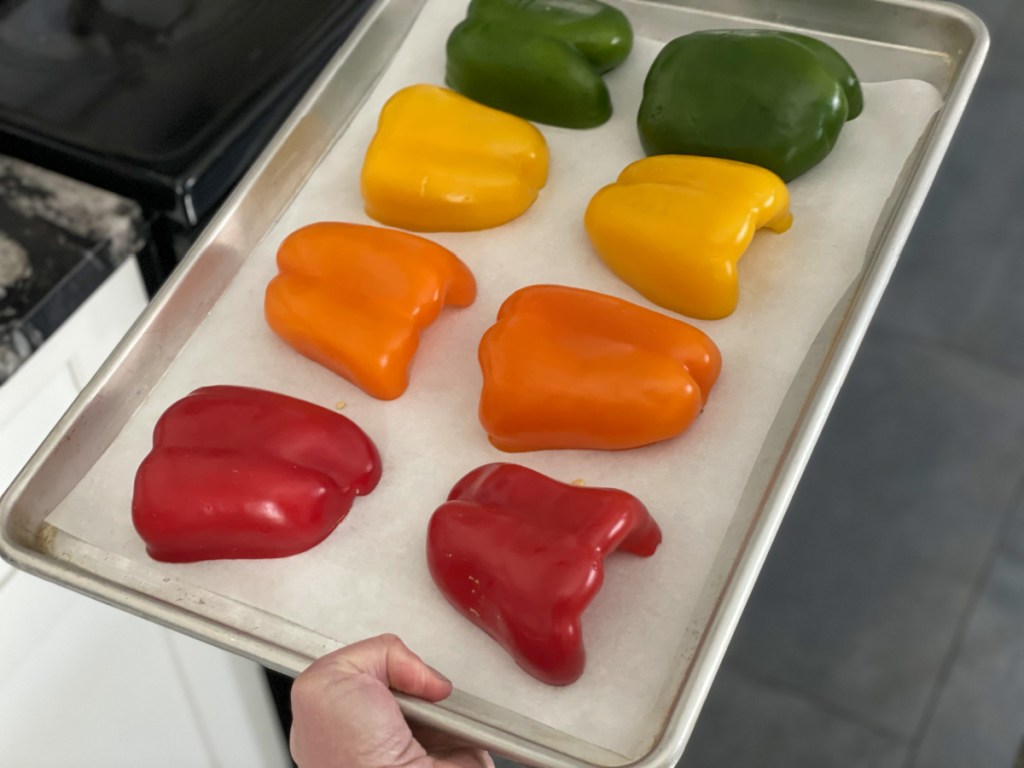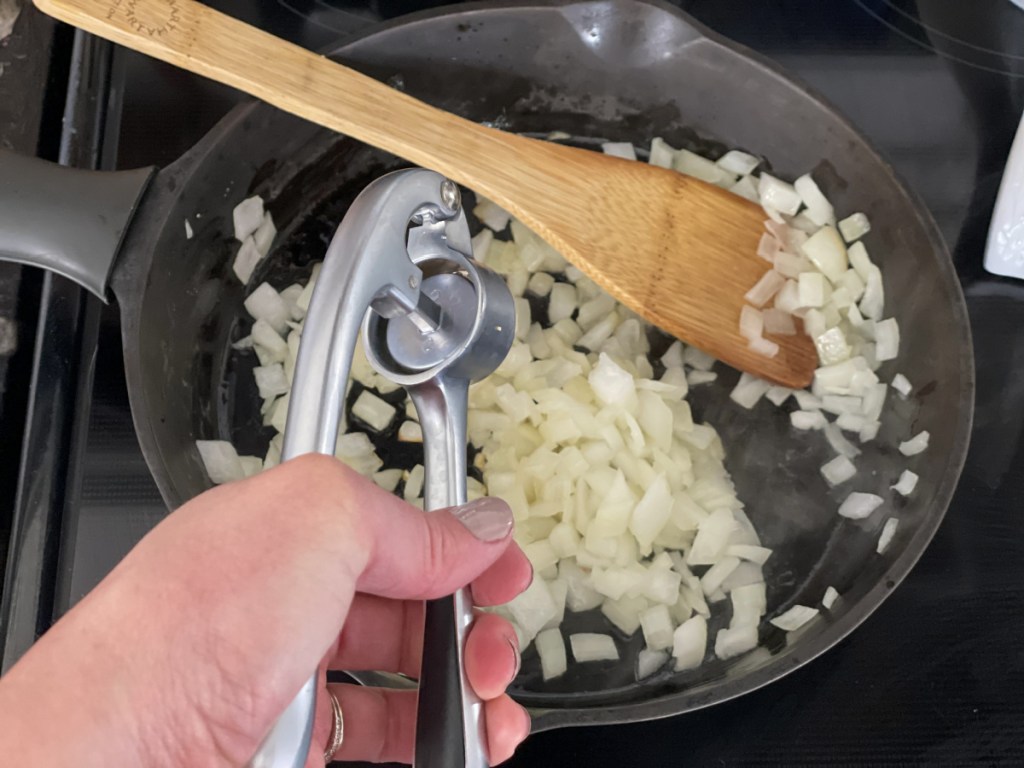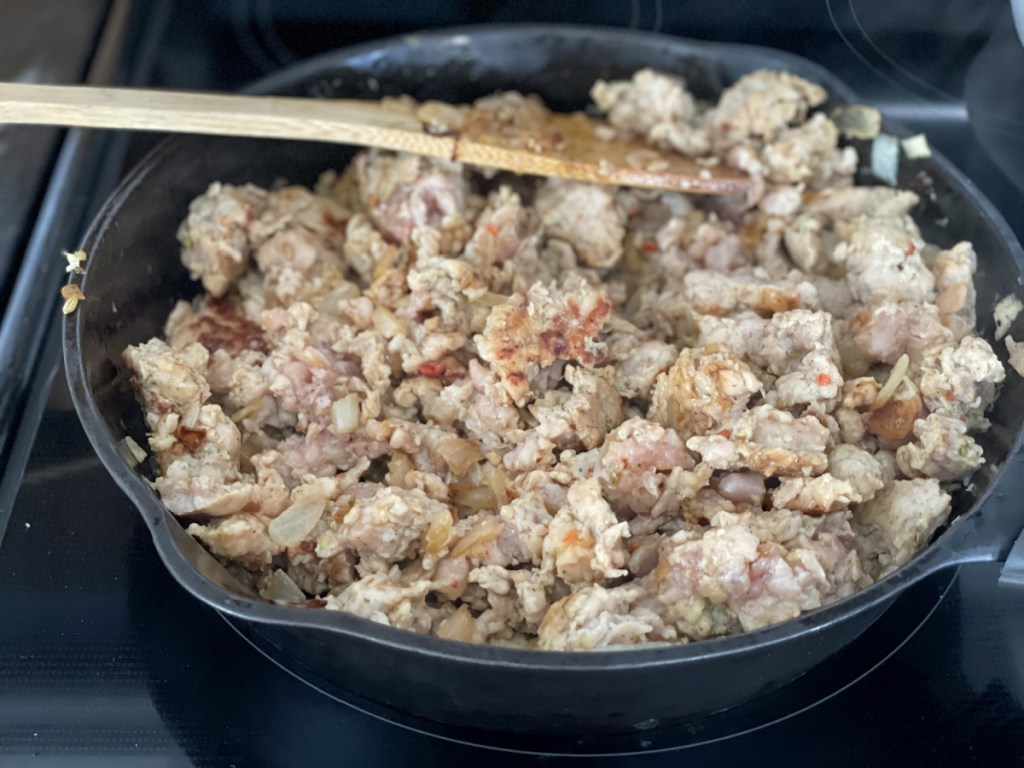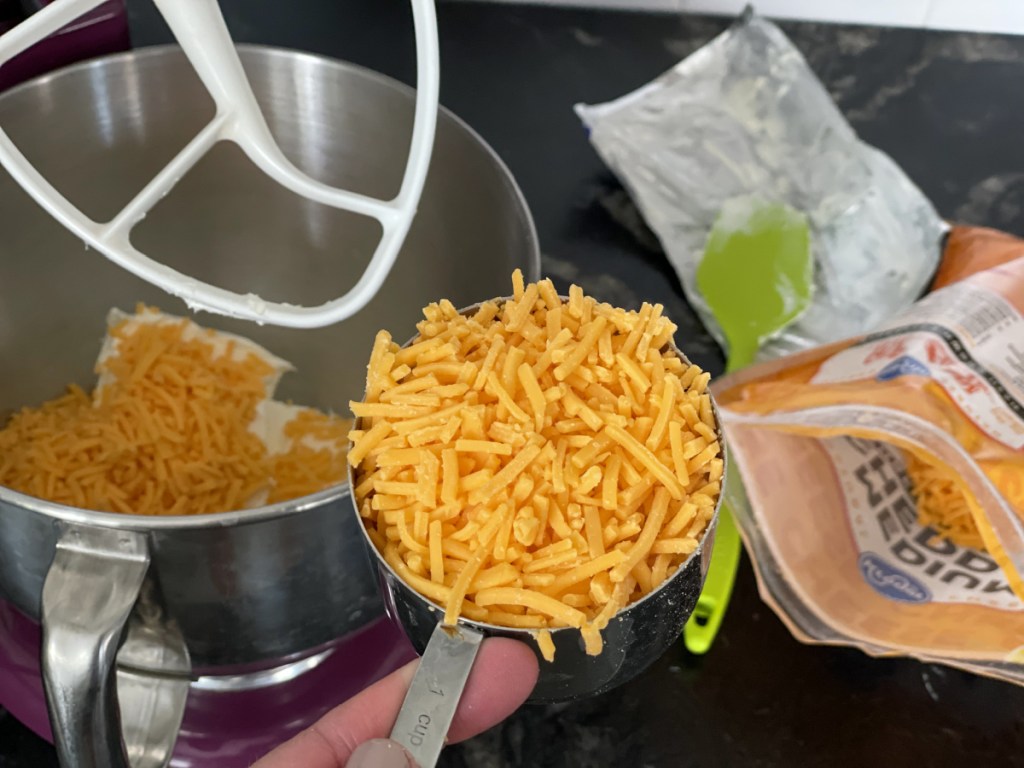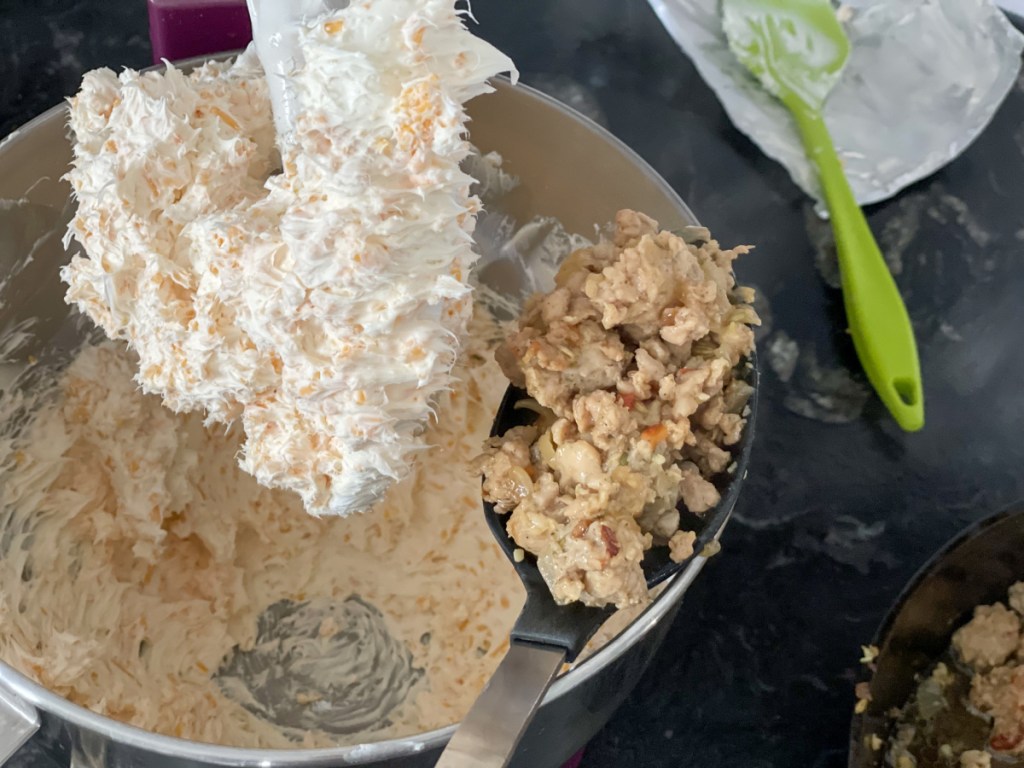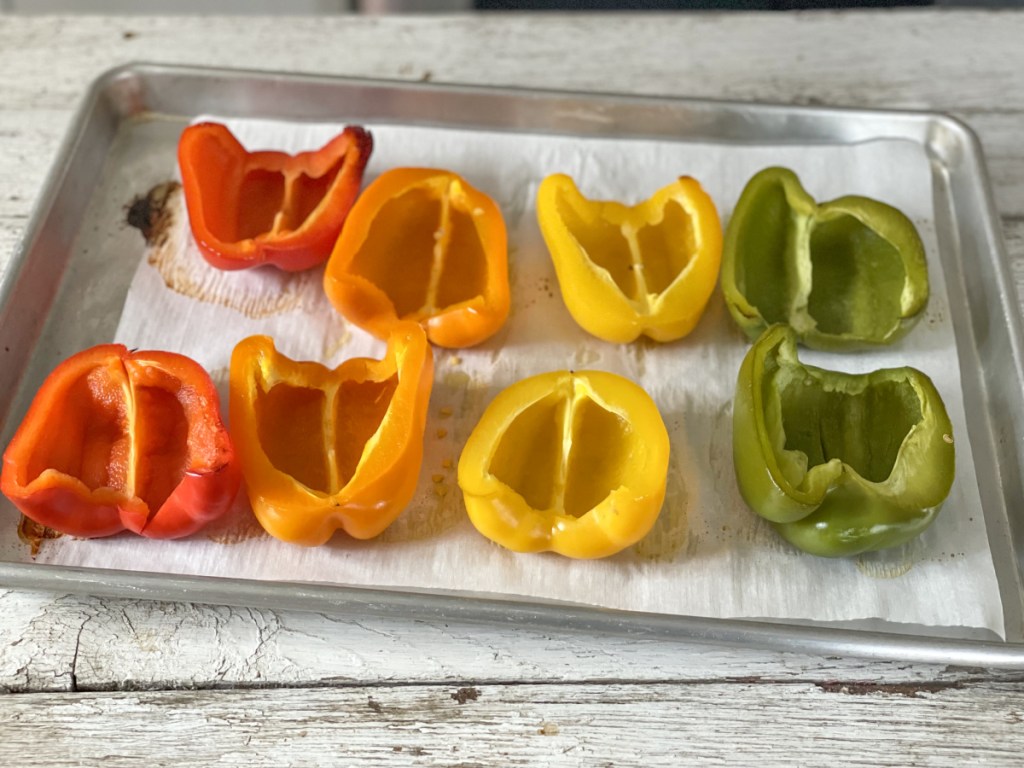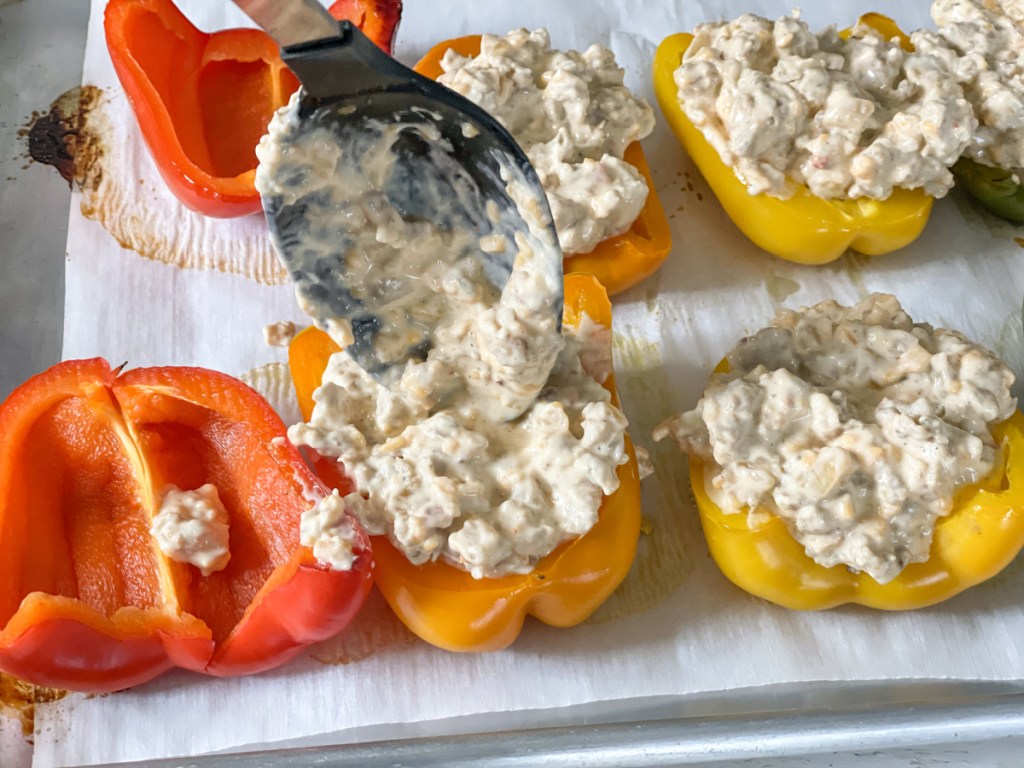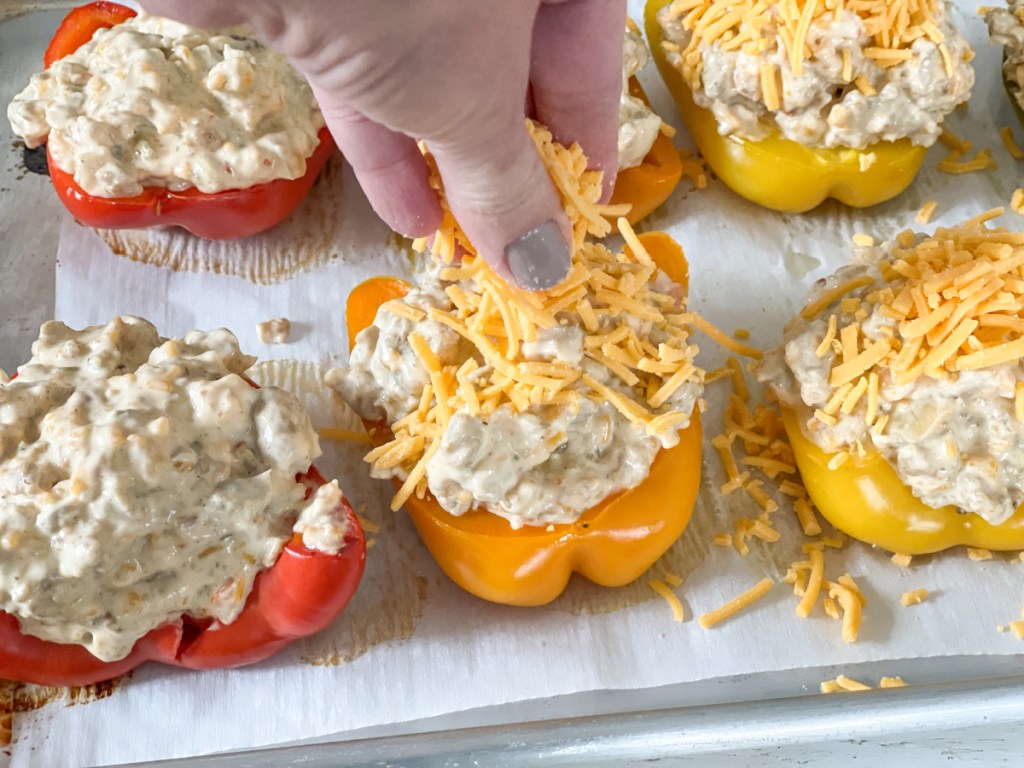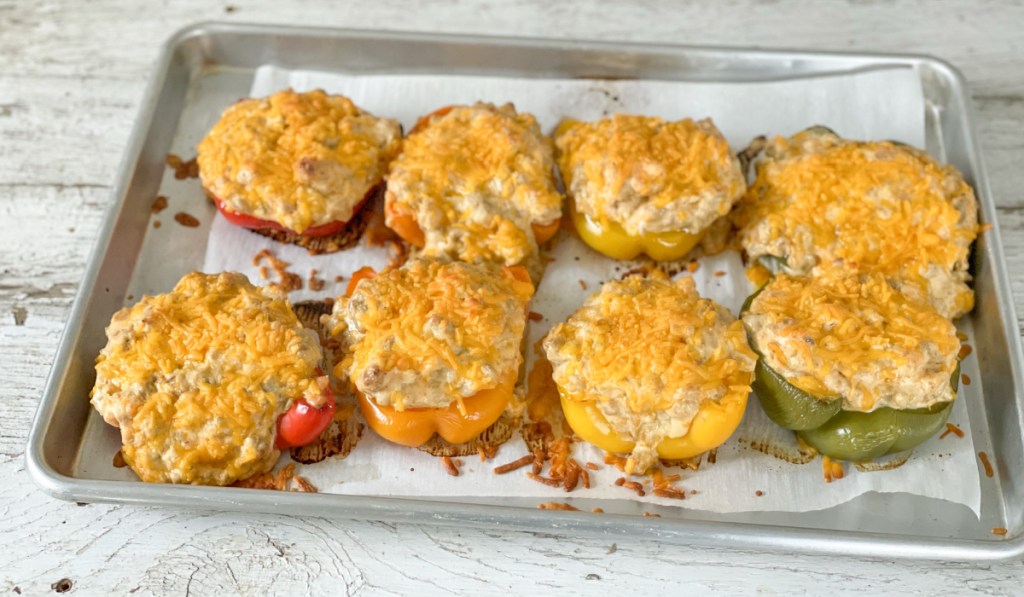 ---
Print
Cream Cheese and Chicken Sausage Stuffed Bell Peppers
yield: 8 SERVINGS
prep time: 30 MINUTES
cook time: 25 MINUTES
total time: 55 MINUTES
Bell peppers filled with a cheesy cream cheese and chicken sausage mixture.
Ingredients
4 bell peppers, any color
1 tablespoon avocado oil
1 medium onion, chopped
4 garlic cloves, minced
2 pounds chicken sausage
16 oz. cream cheese (2 blocks)
3 cups shredded cheddar cheese, divided
Directions
1
Preheat oven to 350 degrees. Line a baking sheet with parchment paper.
2
Cut the bell peppers in half and remove stems and seeds. Place the bell pepper halves cut side down on the baking sheet. Bake for 25 minutes. Then remove from oven and let cool.
3
While the bell peppers are baking, heat avocado oil in a skillet over medium heat. Sauté the onion for 5 minutes and then added the garlic and cook for another 2 to 3 minutes.
4
Add the chicken sausage to the skillet with the onions and cook until browned, about 10 to 15 minutes. When the chicken sausage is cooked, remove the skillet from the heat and let it cool for about 5 minutes.
5
While the chicken sausage is cooling, mix the cream cheese and 2 cups of shredded cheddar together using an electric mixer until well combined. Then add the chicken sausage to the cream cheese mixture and mix well.
6
Fill the bell pepper halves with the cream cheese and chicken sausage mixture. You'll use all the mixture, dividing it evenly between the bell pepper halves. Top the stuffed peppers with the remaining 1 cup of shredded cheddar cheese.
7
Bake the stuffed peppers for 25 minutes, until the cheese has melted. You can then broil them for 2 to 3 minutes to get the cheese crispy. Enjoy!
Nutrition Information
Yield: 8 servings, Serving Size: 1 stuffed bell pepper half
Amount Per Serving: 441 Calories | 35.8g Fat | 7.8g Total Carbs | 1.1g Fiber | 4.1g Sugar | 22.2g Protein | 6.6g Net Carbs
---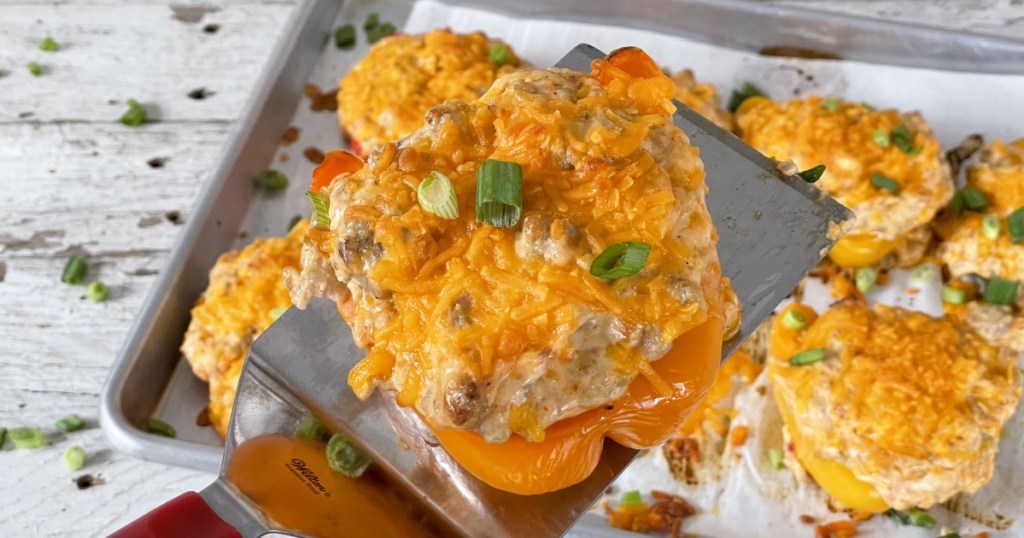 Cheese, cheese, and more cheese… 🤤
I ate these cream cheese and chicken sausage stuffed peppers for dinner, not one night, not two nights, but three nights in a row, and didn't get tired of them!
Cheese lovers especially will love this recipe as the filling has cream cheese, shredded cheddar cheese, and then it's topped with more cheese. It really doesn't get any better than that. 😉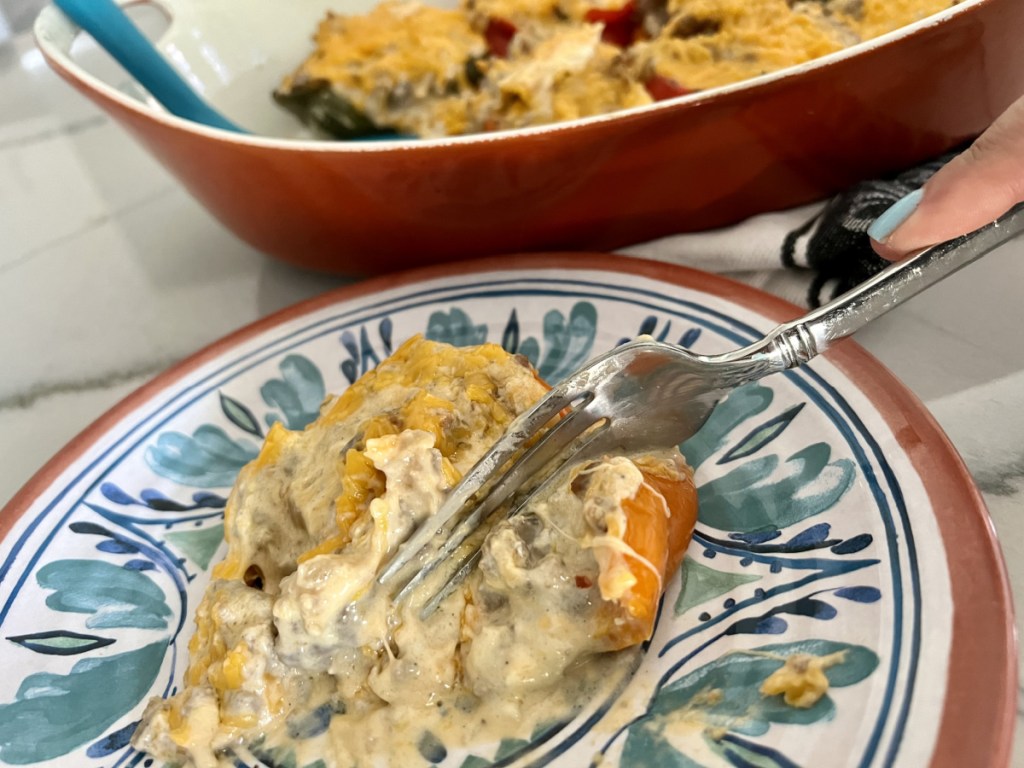 Here's what my Hip sidekick Lina had to say about these cream cheese and chicken sausage stuffed peppers:
"This is one of the BEST keto meals I have ever had and I could just eat that filling by the spoonful. It tastes so delicious with the sausage and cream cheese, and I love it as a satisfying and easy to make dinner. I am thinking you can even do a spicier version with a roasted poblano chile or hatch chile. 🌶
My husband was super impressed with this meal. I highly recommend making it ASAP!"
---
Looking for more dinner ideas, check out our keto shepherd's pie!