Bacon Wrapped Sausage Stuffed with Cheese and Jalapeños
You can't go wrong with bacon wrapped sausage, especially when you stuff it with cheddar cheese and jalapeños!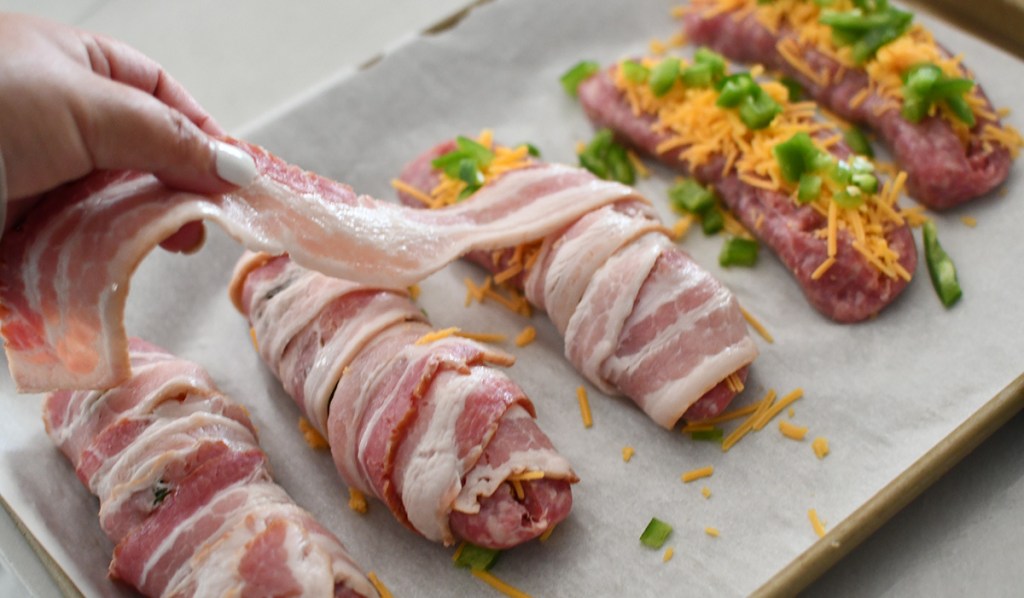 Need a fabulous yet, very simple dinner idea? We've got you covered with bacon wrapped sausage!
Team member Erica came up with this brilliant dinner idea! 👏 It stemmed from random ingredients in her fridge that needed to be used before they went bad. What better way to make dinner, right?!
On a side note, if you've ever come up with an amazing dinner recipe from an assortment of haphazard ingredients you had on hand, we'd love to hear about it!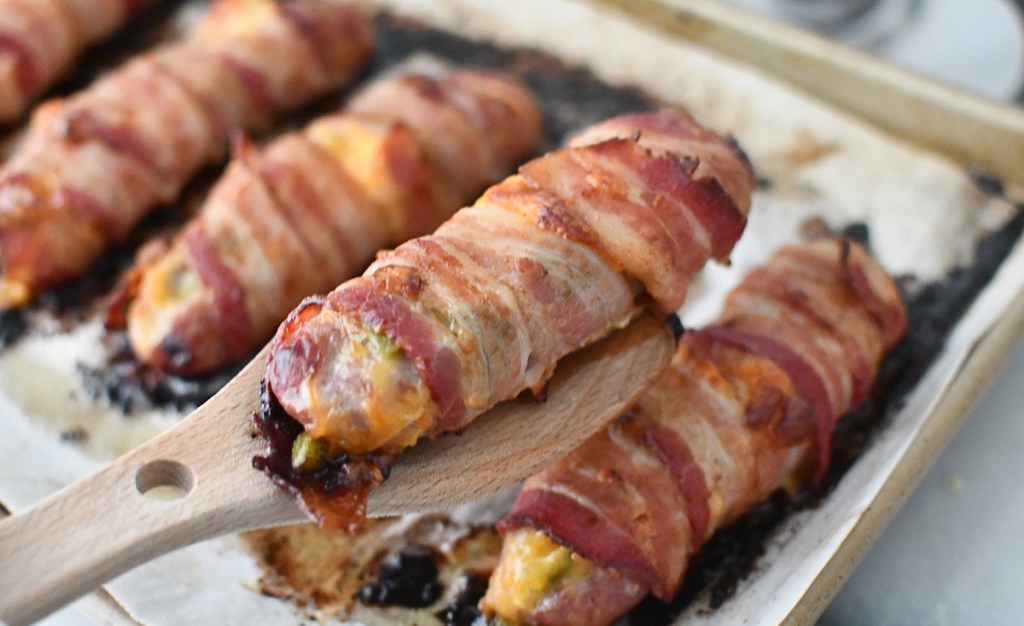 This spicy, cheesy, savory goodness is so brilliant!
Sausage, bacon, cheese, and jalapeños are all you need to make this meal. Bacon makes everything better, especially when you're overstuffing it with sausage and cheese. Three of my favorite foods!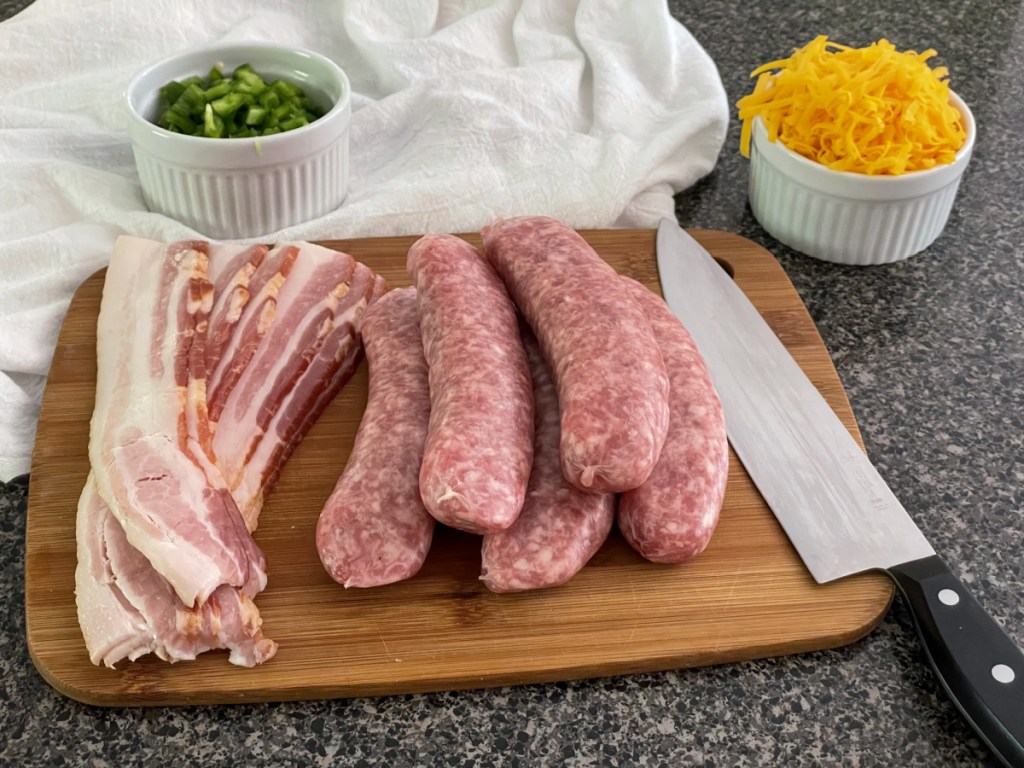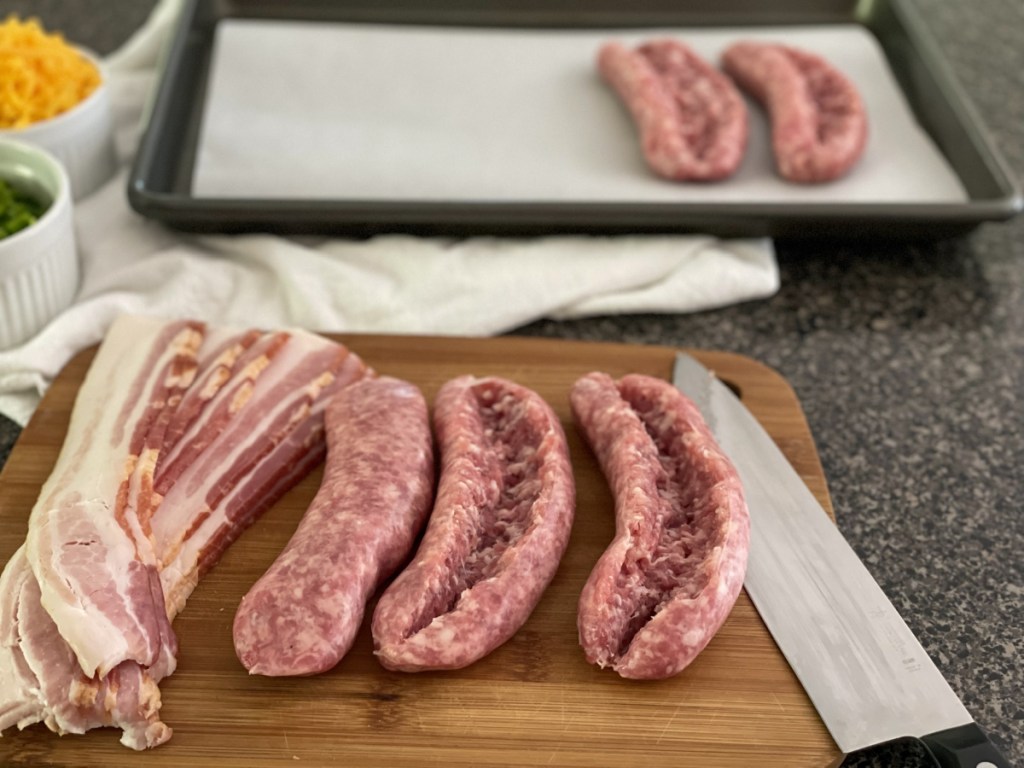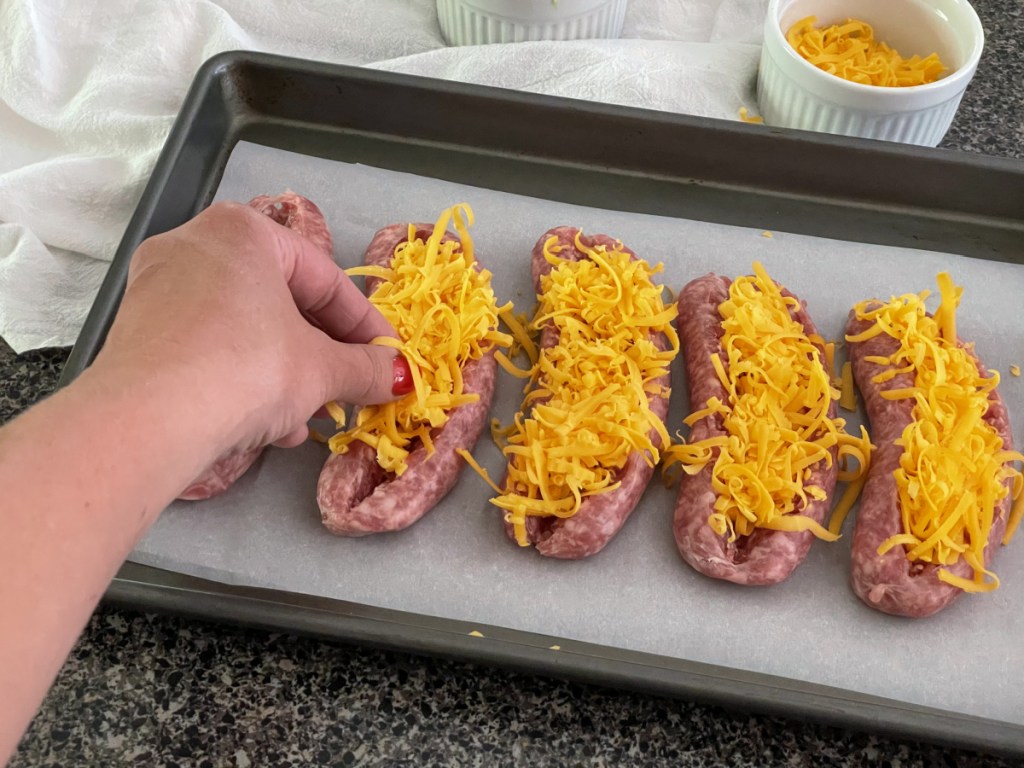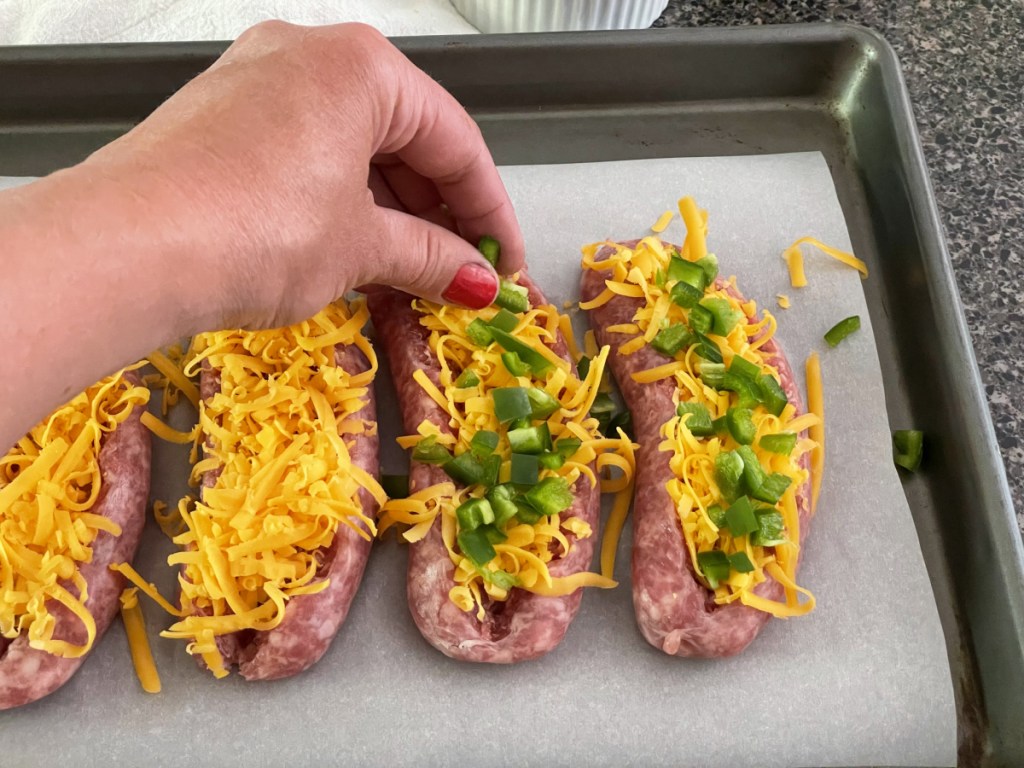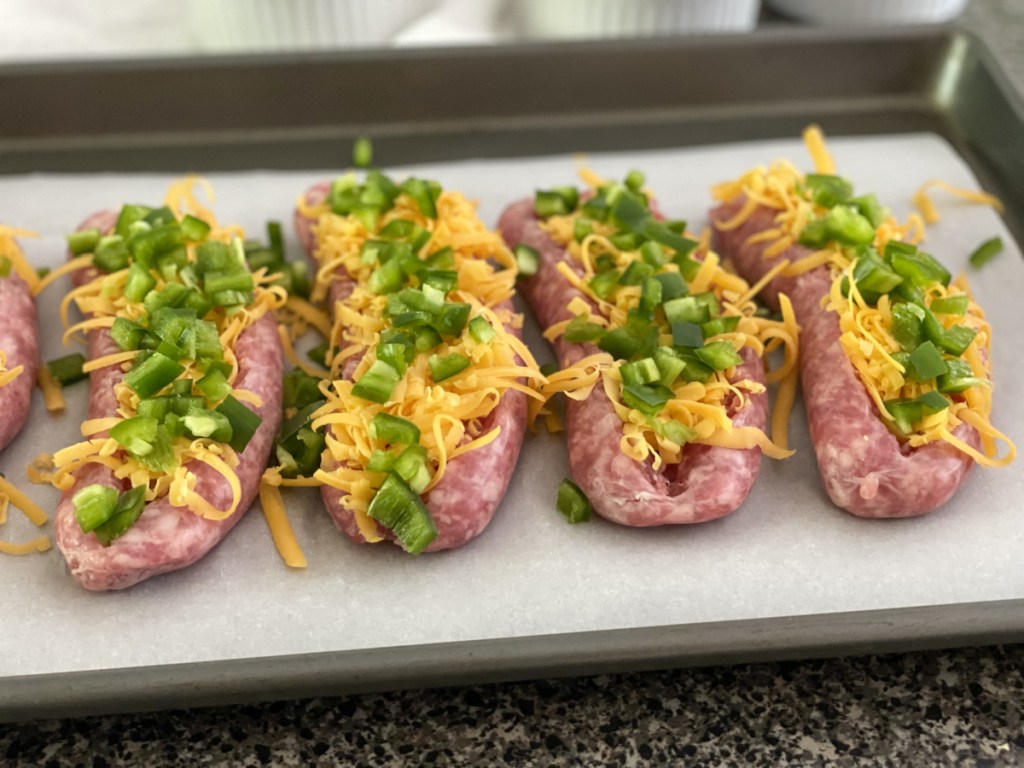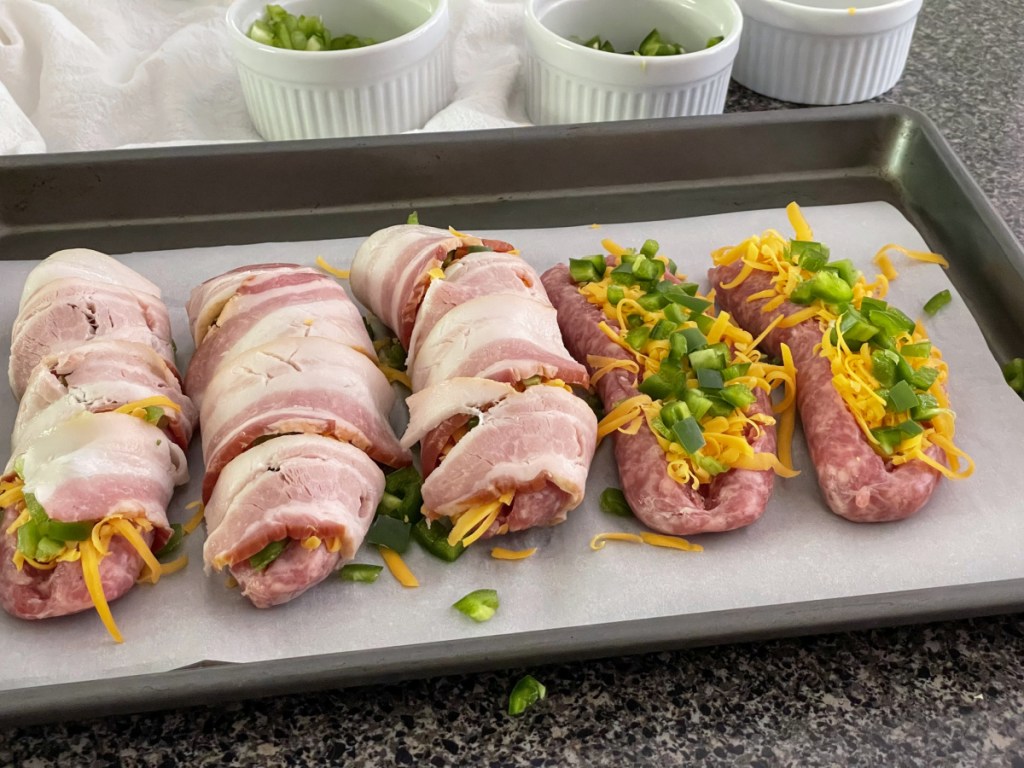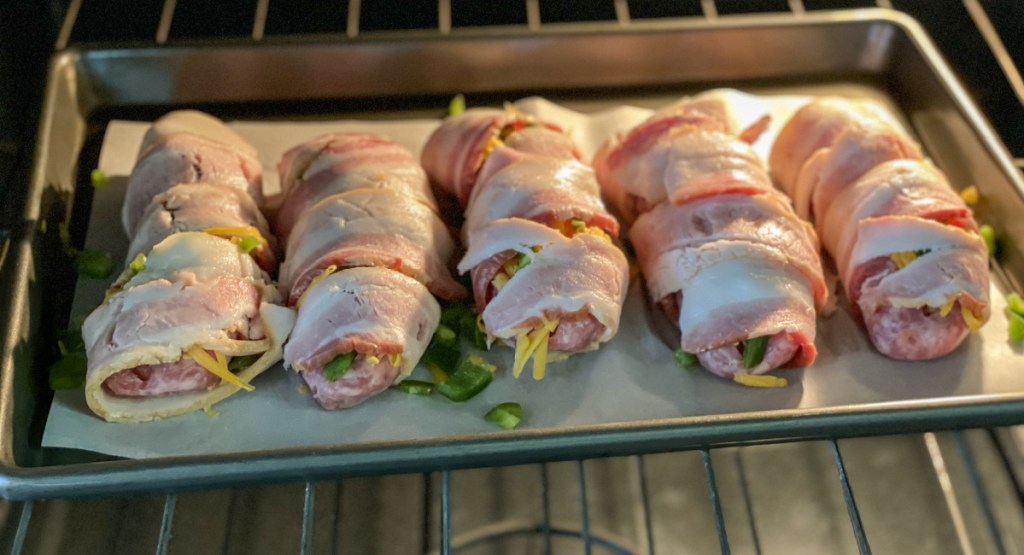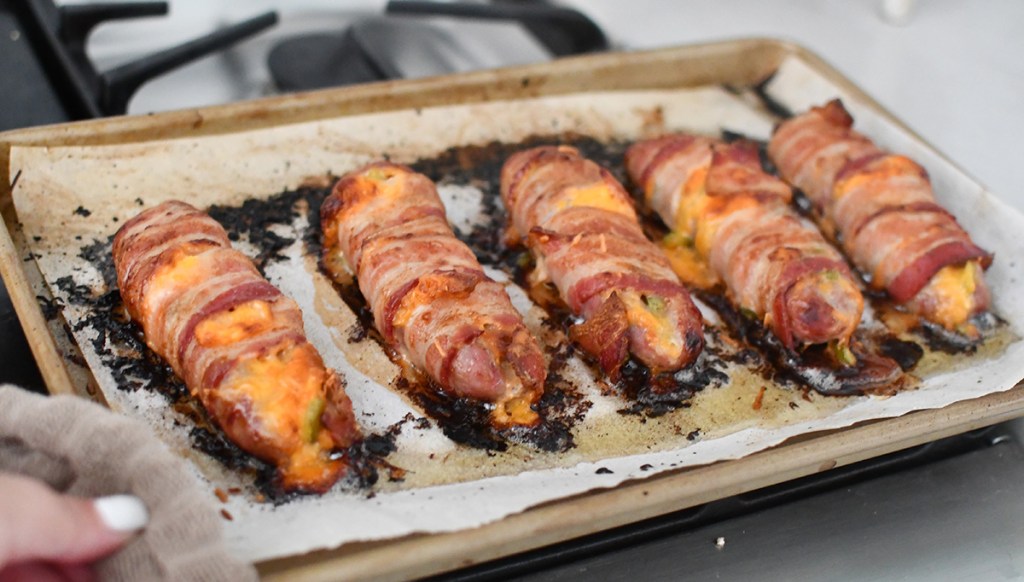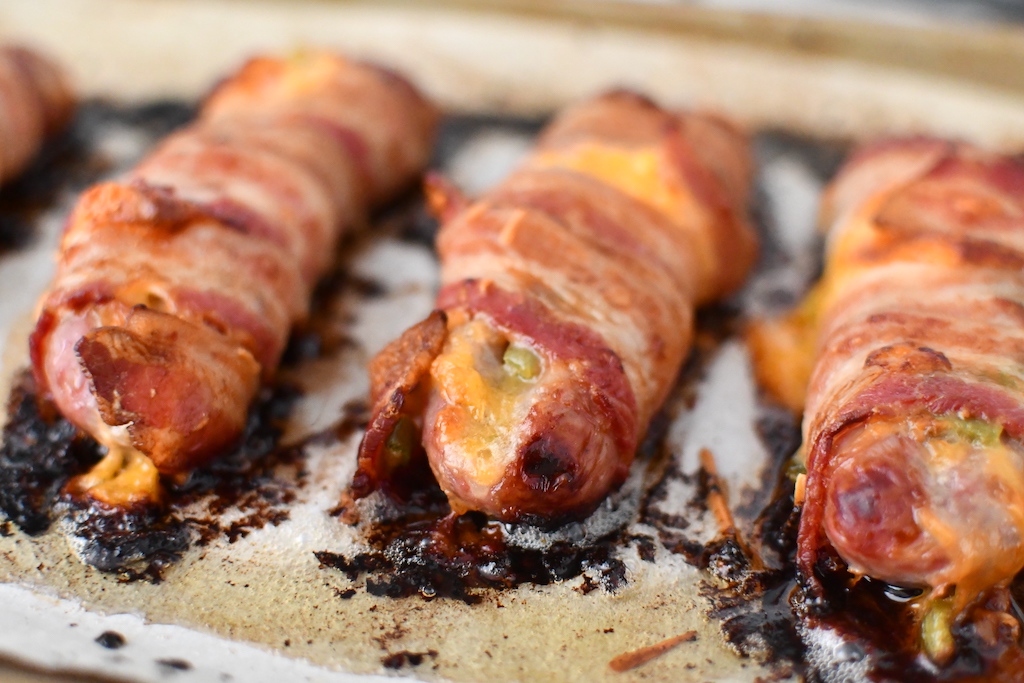 ---
Print
Bacon Wrapped Sausage Stuffed w/ Cheese and Jalapeños
yield: 5 SERVINGS
prep time: 5 MINUTES
cook time: 45 MINUTES
total time: 50 MINUTES
Simply slice open a sausage, stuff it with cheese and jalapeños, wrap it in bacon, and then cook it for the ultimate keto dinner!
Ingredients
1 package of Bratwurst or sausage (5 links)
1 cup shredded cheddar cheese
1-2 jalapeños, minced (or 1/2 bell pepper)
10 slices regular cut bacon
Directions
1
Preheat the oven to 375 degrees.
2
Slice brats open lengthwise. Stuff each with about 3 tablespoons of shredded cheese and 1 to 2 teaspoons of minced jalapeño.
3
Carefully wrap each stuffed brat with two sliced of bacon, tucking the ends of the bacon underneath the sausage if possible. You can secure the bacon with toothpicks if needed.
4
Place the bacon wrapped sausages on a baking sheet and bake for 30 to 35 minutes. At the end of the cook time, increase the oven temperature to 450 and brown the bacon for an extra 5-10 minutes, until desired crispiness. Enjoy!
Nutrition Information
Yield: 5, Serving Size: 1 bacon wrapped sausage
Amount Per Serving: 728 Calories | 62.6g Fat | 6.6g Total Carbs | 0.1g Fiber | 3.8g Sugar | 32.6g Protein | 6.5g Net Carbs
---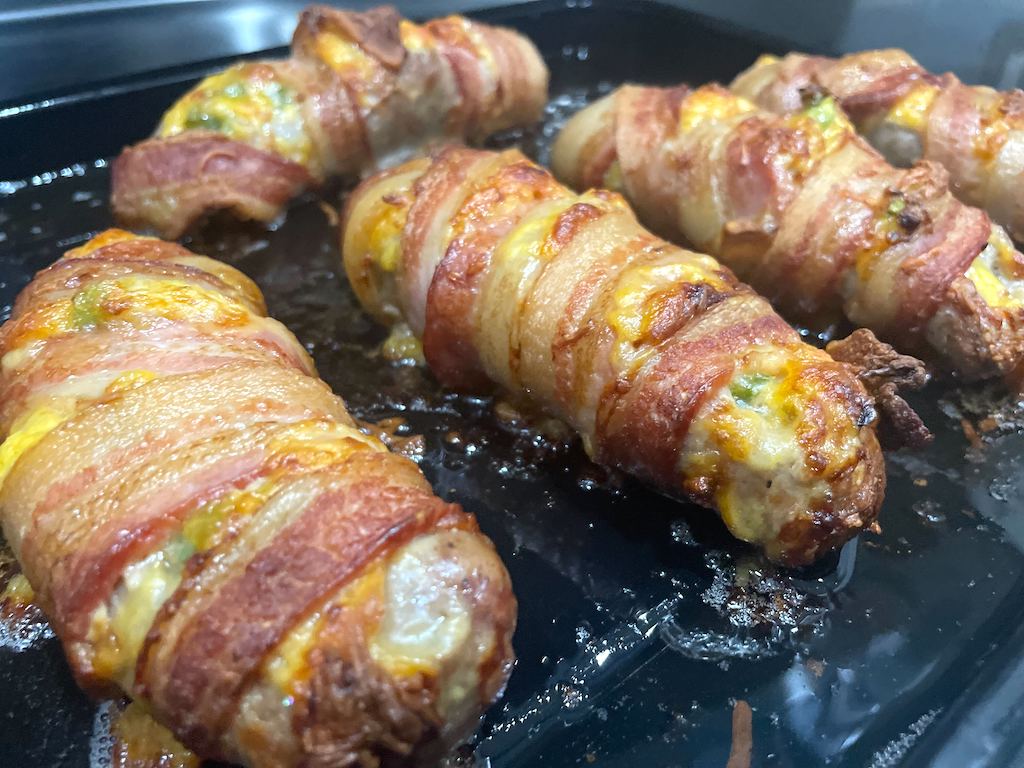 Tips for making the best bacon wrapped sausage stuffed with cheese and jalapeños:
You can use any type of sausage – brats, Italian, spicy Italian, chorizo, etc. Just make sure it's raw and not a pre-cooked sausage.
Not a fan of jalapeños? You can use chopped green bell pepper instead.
Wrap each sausage with two slices of bacon. You should be able to tuck the ends of the bacon underneath the sausage to hold it in place. If not, secure the bacon with toothpicks. I noticed some of the bacon was unraveling during baking and added toothpicks halfway through cooking.
You can cook these in the air fryer like Erica did! She cooked them at 415 degrees for about 13 minutes.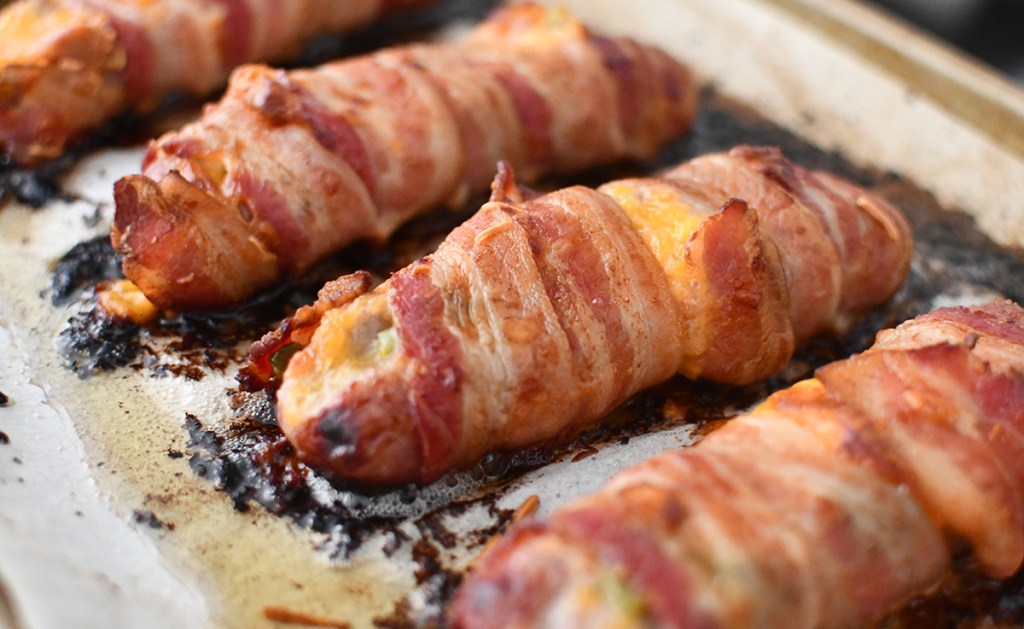 No more excuses for not knowing what to make for dinner!
If you've been eating keto for a while, the ingredients to make bacon wrapped sausage are probably some of your staple grocery items. I always have cheese and bacon on hand. I probably buy brats or sausage every other week. And there's usually a pepper of some sort hanging out in the fridge.
Here's what my Hip sidekick Erica had to say about this bacon wrapped sausage recipe:
"This was the easiest and best dinner I've made recently with stuff I already had on hand! I had to make these brats before they went bad so I chopped up jalapeño, put it in the brat, along with some cheese, and air fried it for about 13 minutes! It was so so so GOOD."
Lina even tried out this recipe as well!
"These are very delicious! I love easy meal ideas and anything covered in bacon. Great flavor with the cheese and jalapeños!"
---
Looking for more amazing keto dinner ideas? Check out our recipe for cream cheese and chicken stuffed bell peppers!