Make This Keto Instant Pot General Tso's Chicken and Get Dinner on the Table Quickly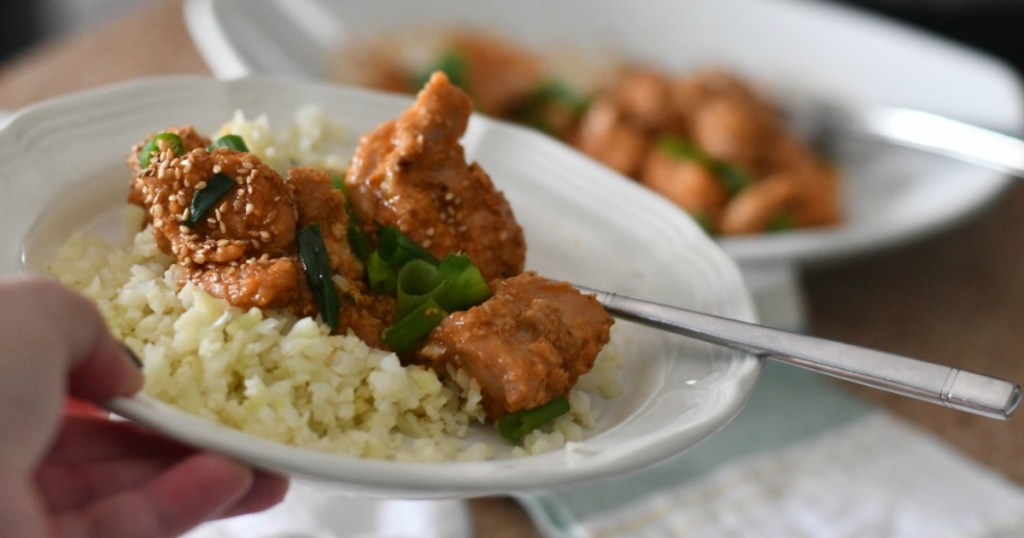 Love easy, family-friendly Instant Pot meals?
You've gotta try out this sweet and spicy keto Instant Pot Asian-inspired General Tso's chicken. It's so much healthier than takeout, but you'll get the same satisfying chili, ginger, and garlic flavors with this tasty chicken and sauce, especially when served over cauliflower rice!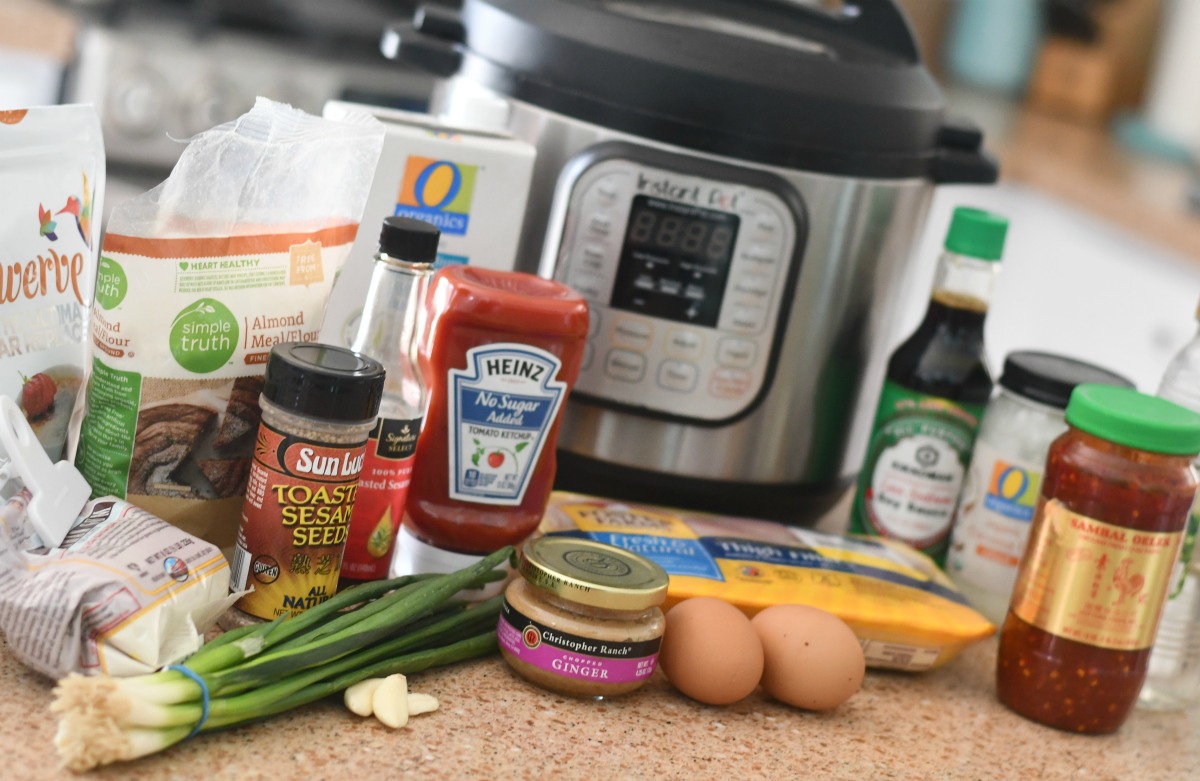 Keep it keto with these easy ingredients!
Instead of frying the chicken, we are going to coat it using egg and almond flour, and then you can brown it right on the bottom of the Instant Pot using the handy saute mode.
Whisking up a flavor-packed sauce is easy to do using chili paste, soy sauce (or Tamari for a gluten-free option), garlic, ginger, and no sugar added ketchup. The sauce gets poured over the chicken and then pressure cooked. Once it's done, simply whisk in a little xanthan gum to thicken the sauce.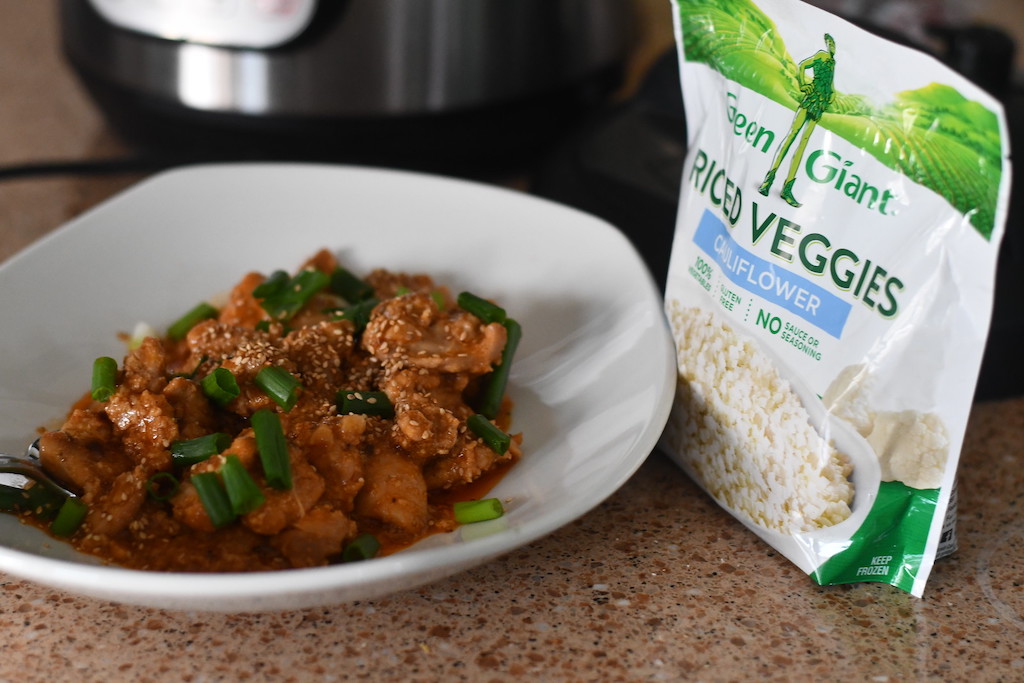 The result is a flavorful, coated chicken and thick sauce to serve over rice. I just steamed a bag of frozen riced cauliflower in the microwave for a few minutes, and I served my chicken over that. Super easy and YUM.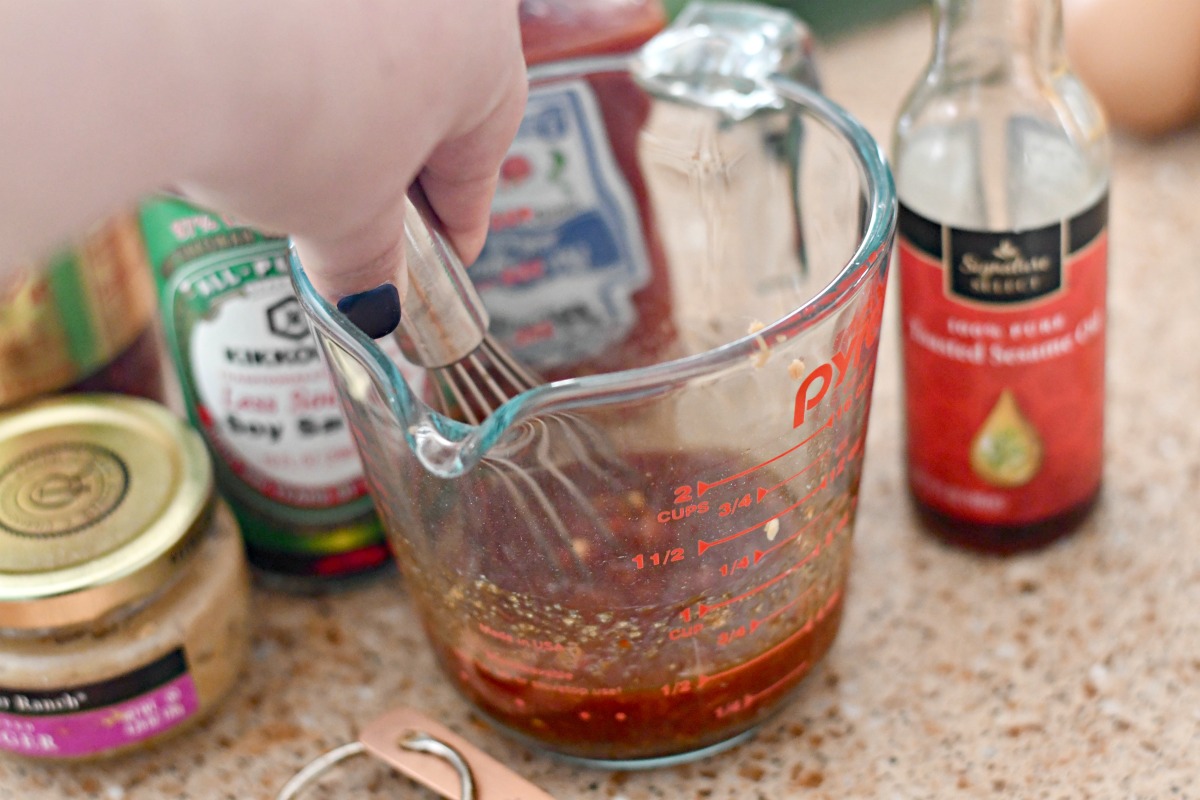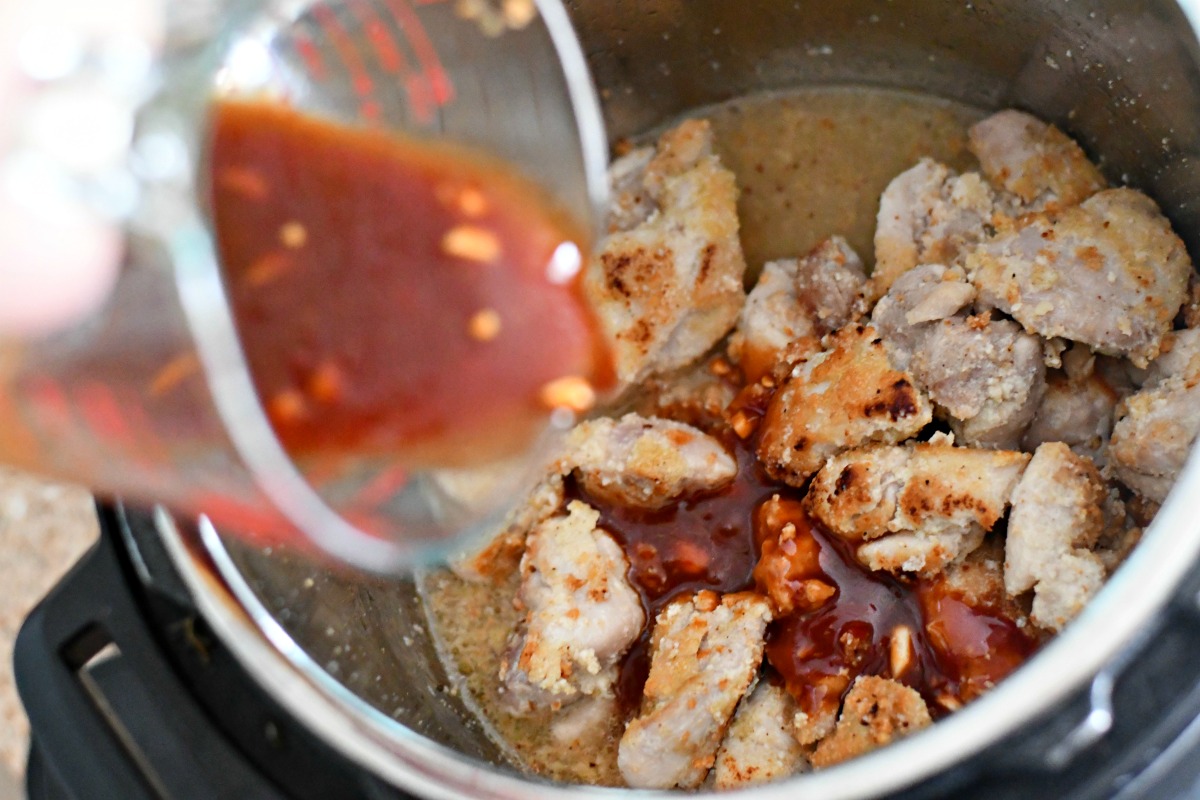 ---
Print
INSTANT POT GENERAL TSO'S CHICKEN
yield: 4 SERVINGS
prep time: 20 MINUTES
cook time: 4 MINUTES
total time: 24 MINUTES
A sweet and spicy Asian inspired chicken dish the entire family will love, made conveniently in the Instant Pot!
Ingredients
For the Sauce::
5 tablespoons less sodium soy sauce (or tamari for a gluten free option)
2 tablespoons no sugar added ketchup
1 teaspoon chili paste
1/2 teaspoon minced ginger (from the jar)
1 teaspoon sesame oil
1 teaspoon Swerve granular sweetener
3 fresh cloves garlic, minced
For the Chicken:
1.5 pounds boneless chicken thigh meat
1/4 teaspoon salt
1/4 teaspoon pepper
2 egg whites
1/2 cup almond flour
2 tablespoons coconut oil
1/2 cup chicken broth
1/2 teaspoon xanthan gum
optional garnish: green onion and sesame seeds
Directions
1
Whisk sauce ingredients together and set aside.
2
Cut chicken into smaller bite-sized pieces, and season with salt and pepper.
3
Place almond flour in one small dish, and egg whites in the other. Dredge each piece of chicken in the egg and then the flour to coat.
4
Heat coconut oil in the Instant Pot on saute mode. Saute outside of chicken in the Instant Pot. It all may not fit, so you may have to do a couple of batches.
5
Deglaze the bottom of the pot with broth and use a spoon to get all the small stuck on bits off the bottom of the pot, so it won't have an issue coming to pressure.
6
Add in the sauce over the chicken. Seal the lid, and set to 4 minutes on high, or manual mode to cook.
7
Carefully do a quick release with the pressure. I use the back of a wooden spoon, so my hands don't touch the valve.
8
Whisk in xanthan gum to thicken the sauce. Serve on top of a riced cauliflower. I warmed up a frozen bag in the microwave and served my chicken over that for convenience. Garnish with green onion and sesame seeds if desired.
Nutrition Information
Yield: 4 servings,
Amount Per Serving: 427 Calories | 30g Fat | 7g Total Carbs | 2g Fiber | 1g Sugar Alcohol | 35g Protein | 4g Net Carbs
---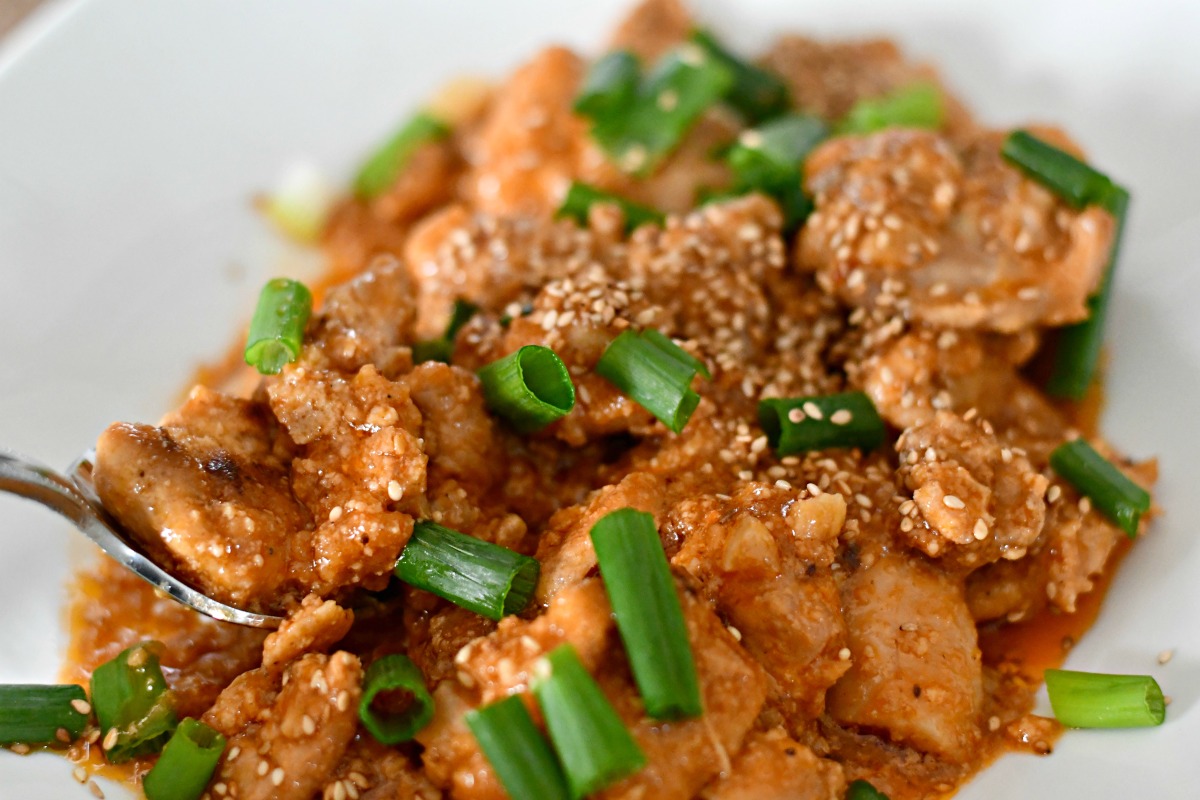 Don't have an Instant Pot? No problem!
To make this delicious recipe in your slow cooker, I would first coat and brown the chicken in a skillet with oil and then transfer to the slow cooker. Then make the sauce and pour over the chicken along with the broth. Then, cover and set the slow cooker on the low setting for 4 hours.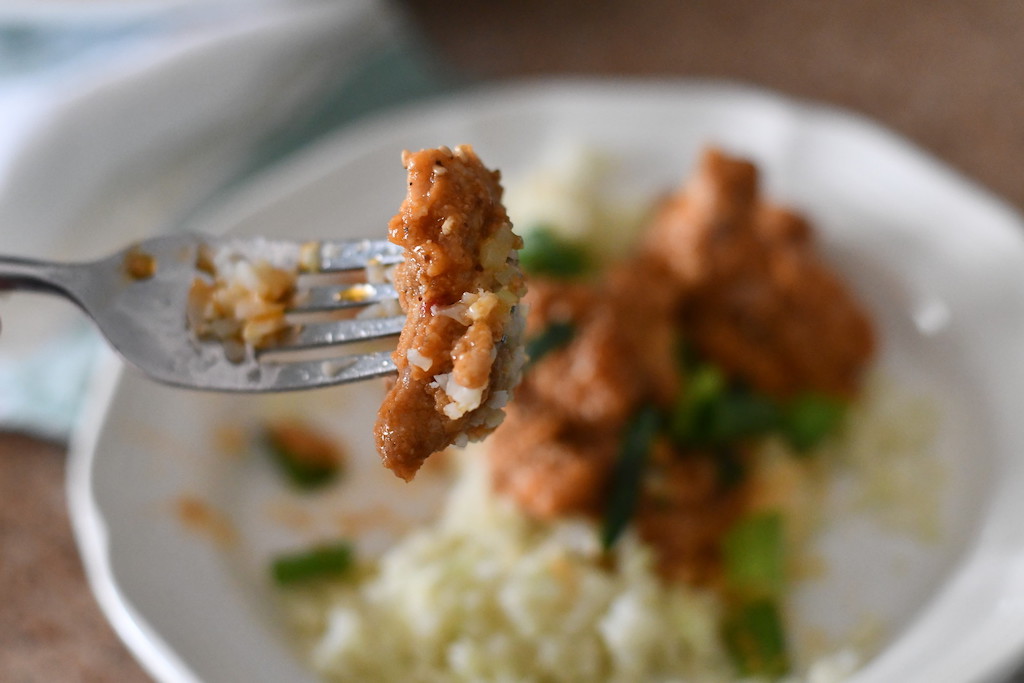 Instantly yummy results!
I really love this sauce. It's super flavorful and yet not too spicy. My family enjoys this dish for takeout, and now I can make it at home as an easy keto dish! YUM!
---