Keto Halloween Cookies – Filled with Sugar-Free Candy!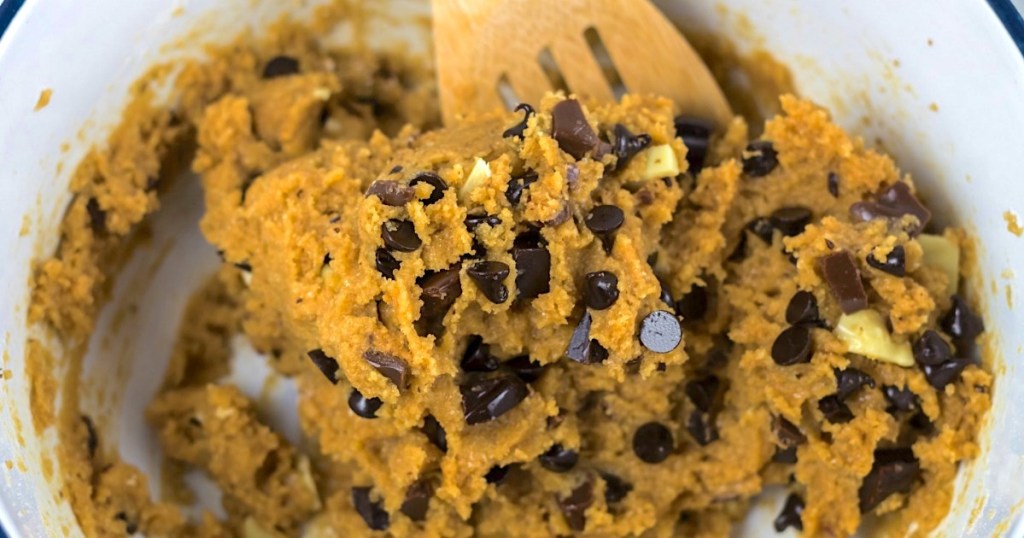 Don't be afraid of these yummy Halloween cookies!
Oh, how I love Halloween and all of the fun tricks and oh so delicious treats! Today I'm sharing with you a recipe for keto Halloween cookies that are filled with ChocZero Keto Halloween Candy. These cookies are so good that your family will never guess they're keto!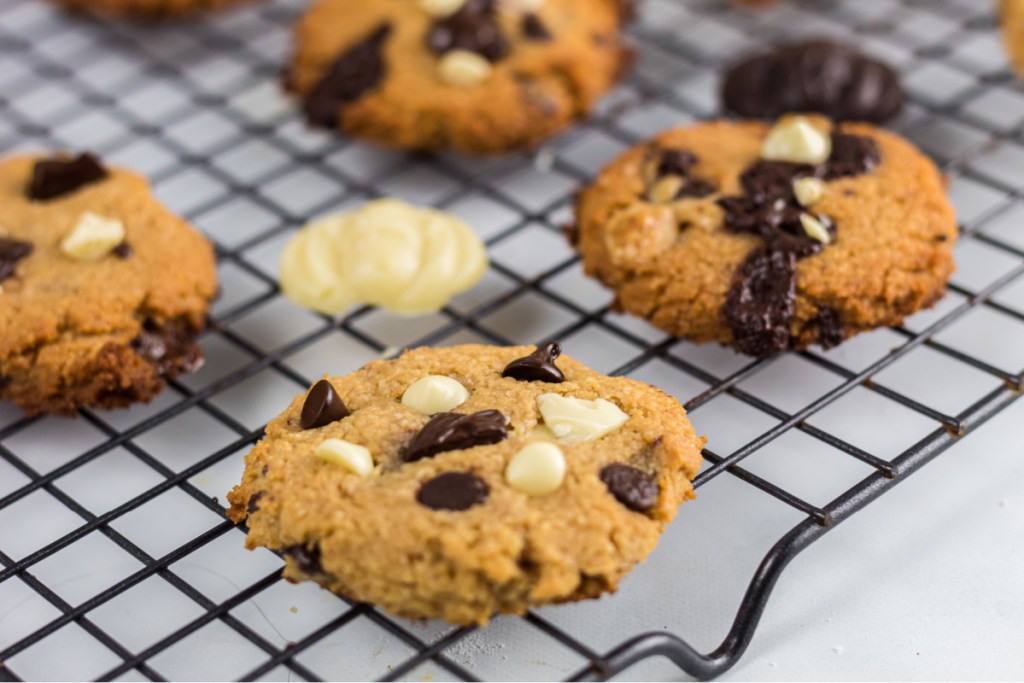 These low carb cookies really bring the flavor with hints of caramel, chocolate, and peanut butter – all of my favorite things in one cookie! My boys loved making these with me and were begging for more after we ate them all. 😋
Tips for making the best keto Halloween cookies:
After scooping your batter onto the baking sheet, make sure you press down a little with the back of a spoon. These cookies do not spread as much so pressing down to flatten them out helps the center of the cookies to fully bake.
Why 3 different types of sweetener? It may seem excessive, but the real trick to getting keto desserts to come out with no bitter aftertaste or cooling effect lies in the perfect blend of some of my favorite keto-friendly sweeteners, which I achieved by blending ChocZero syrup with erythritol and monk fruit.
To really make these cookies monstrous, I've added a few extra chocolate chips and chopped candy to the top of the cookies after removing them from the oven. This is totally optional, but so worth it in my opinion!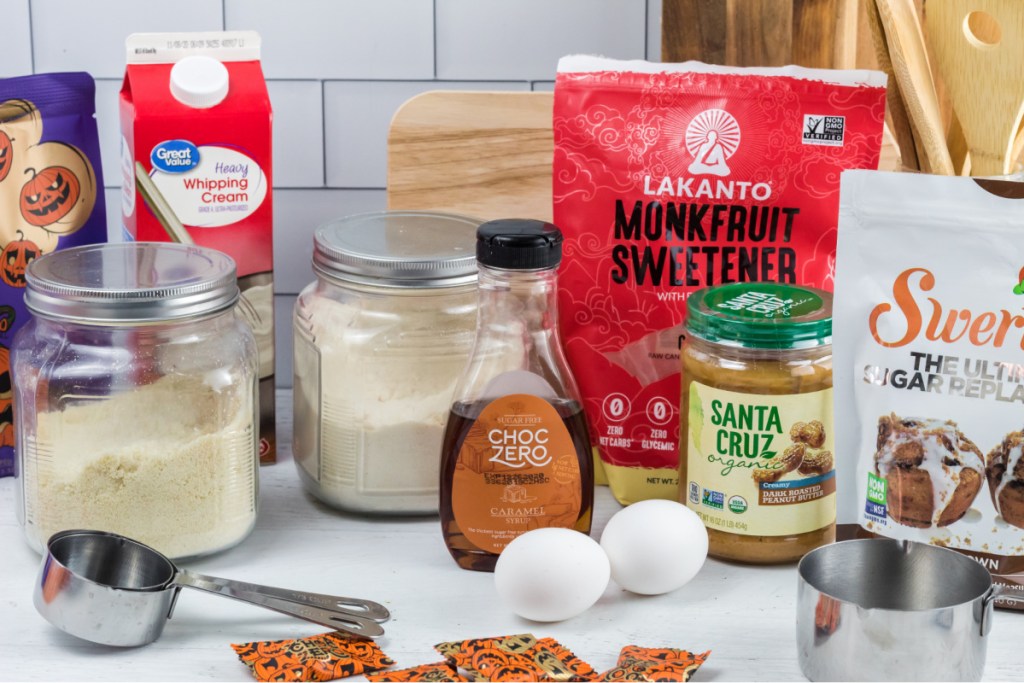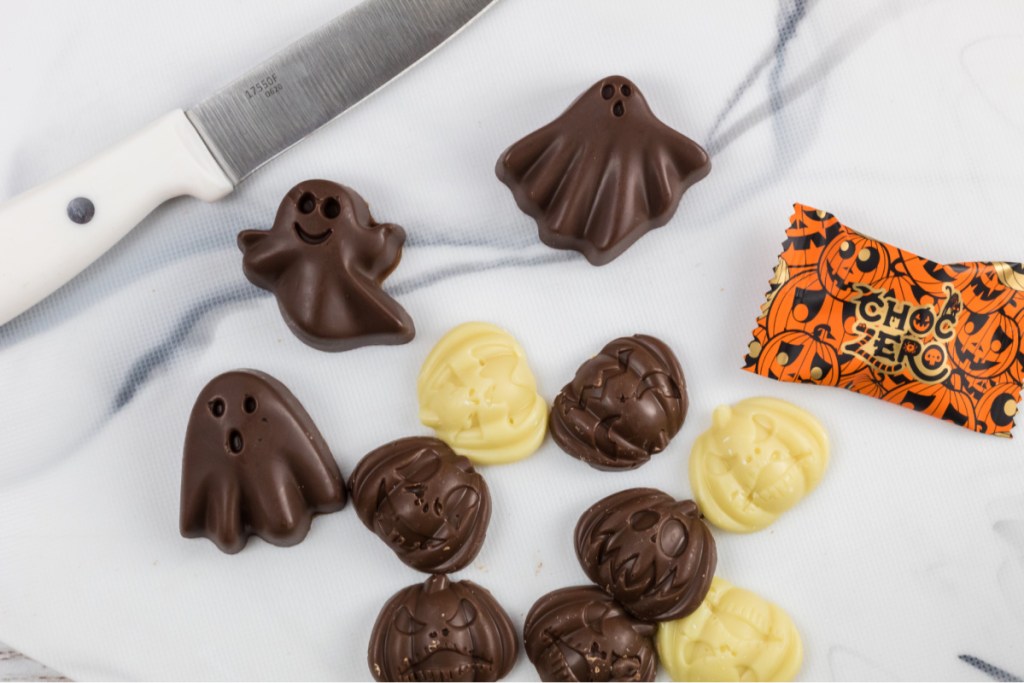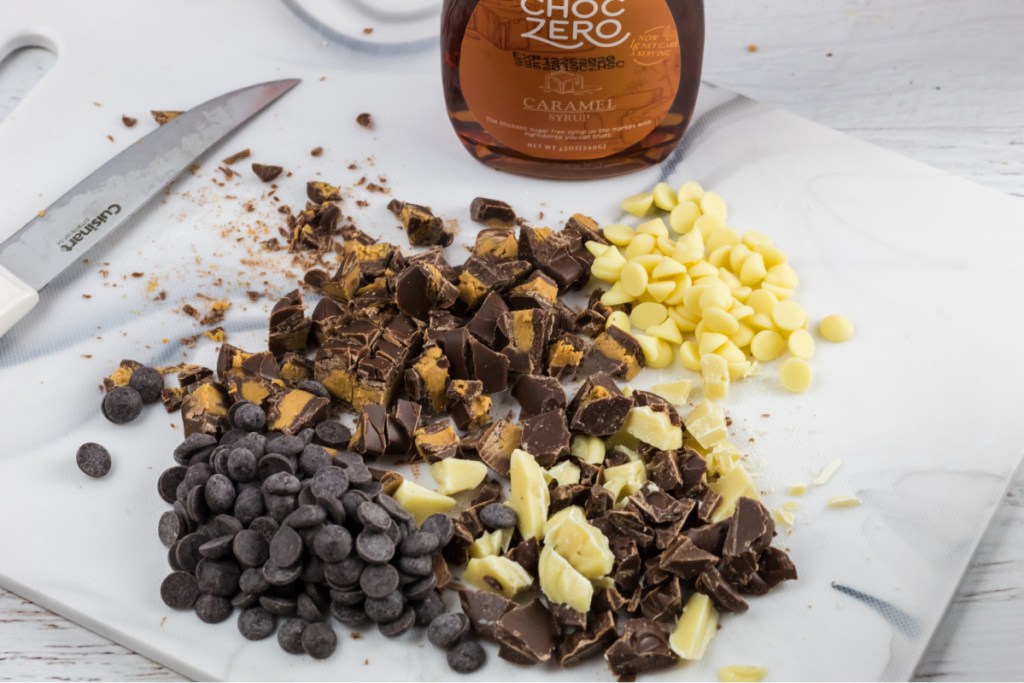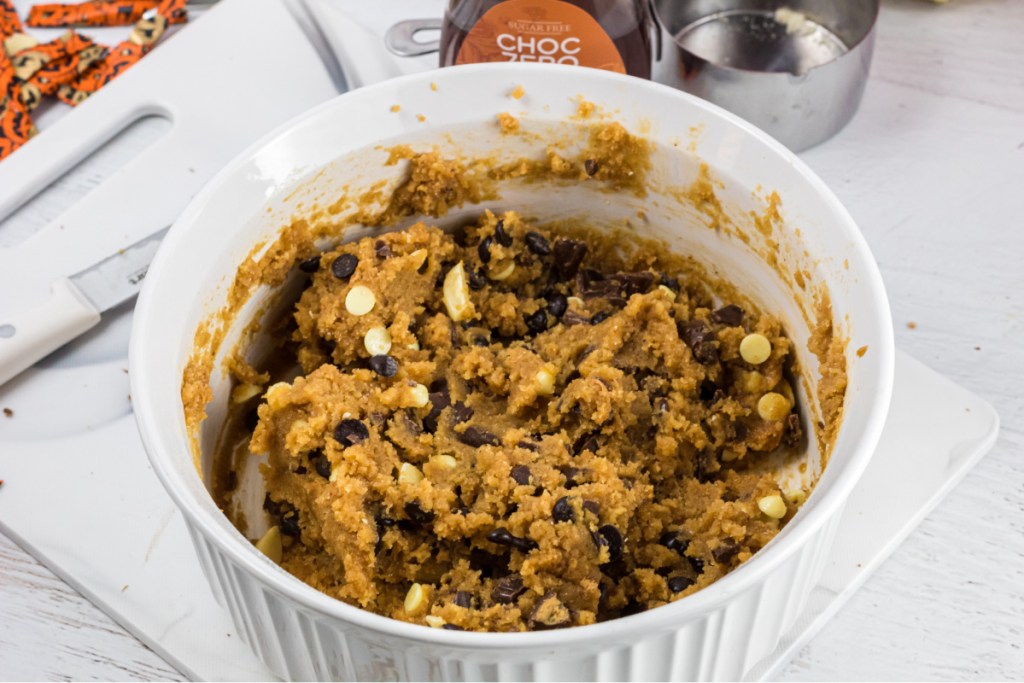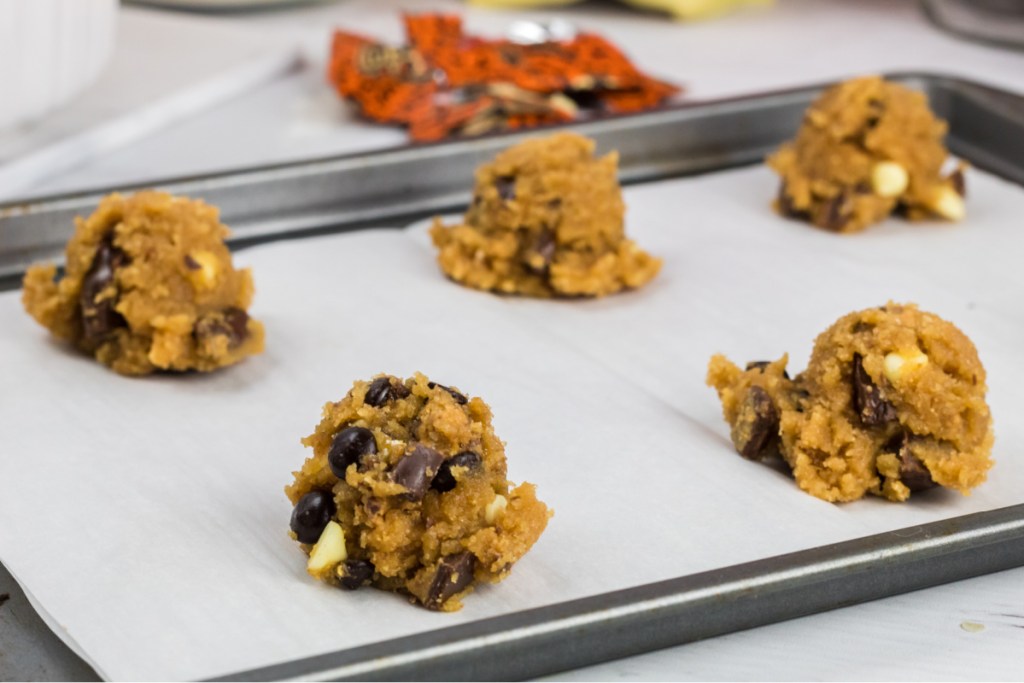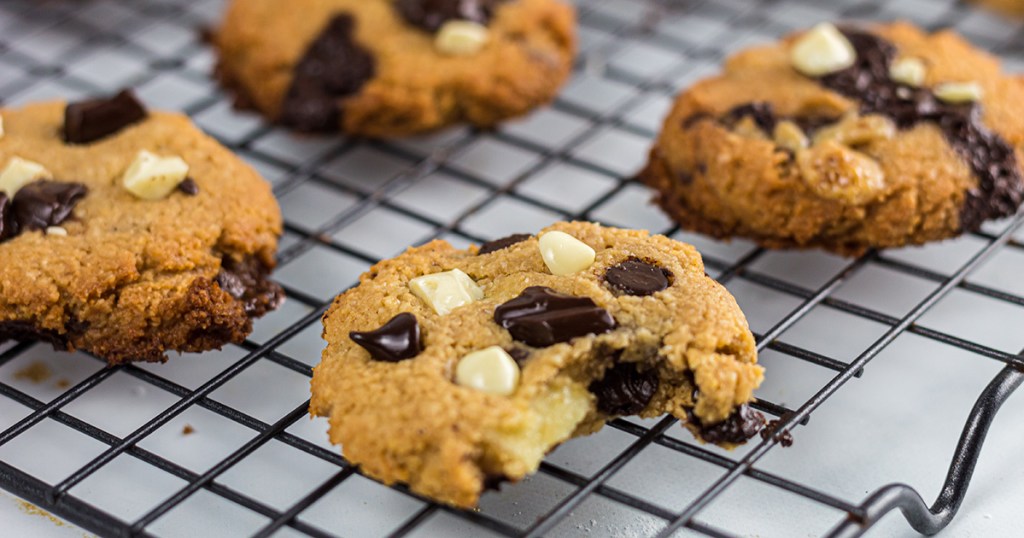 ---
Print
Keto Halloween Cookies
yield: 12 SERVINGS
prep time: 15 MINUTES
cook time: 15 MINUTES
total time: 30 MINUTES
Fun keto-friendly Halloween monster cookies made with delicious ChocZero chocolate candy!
Directions
1
Preheat oven to 325 degrees. Line a baking sheet with parchment paper and set aside.
2
In a mixing bowl, add in eggs, brown Swerve, and golden monk fruit sweetener. Beat together with a hand mixer until creamy. Then add in peanut butter and ChocZero caramel syrup.
3
In a separate bowl, mix coconut flour, almond flour, baking powder, and salt.
4
Mix in dry ingredients with wet ingredients in one bowl. Once the batter has been combined well, add in chopped ChocZero chocolate pumpkins, ChocZero chocolate chips, and chopped ChocZero ghosts (or any other keto-friendly candy you'd like). Optional, save some extra pieces to top the cookies once they're out of the oven.
5
Scoop batter out with ice cream scooper (about 1 larger tablespoon worth in size) and place it on the lined baking sheet. Press down on cookie batter with a spoon flattening it a bit as this will help the cookie bake evenly. Bake in a preheated oven for 20 minutes.
6
Remove from the oven. Add a few pieces of candy and chocolate chips to the top of the cookies and let cool for 5 minutes before removing from the baking sheet.
7
Store Halloween cookies in a sealed container. Enjoy!
Nutrition Information
Yield: 12 cookies, Serving Size: 1 cookie
Amount Per Serving: 232.7 Calories | 19.6g Fat | 26.2g Total Carbs | 6.7g Fiber | 16.0g Sugar Alcohol | 7.7g Protein | 3.6g Net Carbs
---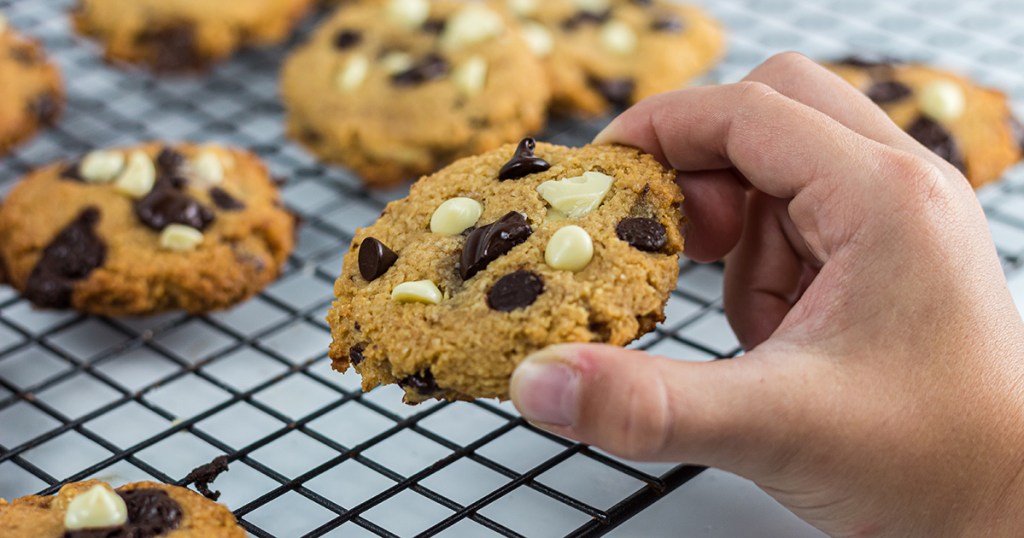 All treats, no tricks with these keto Halloween cookies!
I surprised the boys by adding these cookies to their lunch the day after we made them, and they were so excited! I think it would be fun to make a batch for a Halloween party or to share with a keto friend.
Here's what my Hip sidekick, Jenna, had to say about these cookies:
These are perfectly chewy and perfectly baked! I love the flavor and the added sweetness of the ChocZero chips and candy – so fun! They are golden and fully baked through, while the candy is nice and melty if you can't resist enjoying shortly after they come out of the oven like me.
---