Sugar-Free Keto Chocolate Bark, Three Ways (Almond Joy, Orange Hazelnut, & Peppermint)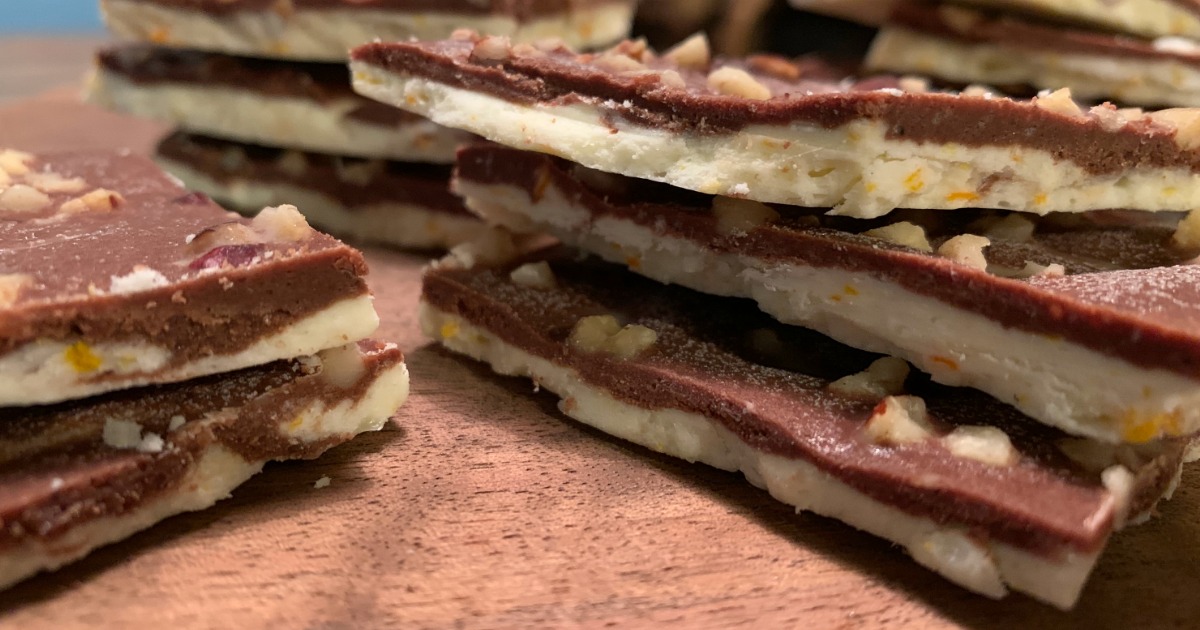 Ready for a simple keto chocolate bark recipe with three crowd-pleasing variations?
Regardless of your cravings, you'll love this keto chocolate bark recipe any of these three ways: Almond Joy, Orange Hazelnut, and Peppermint – they're all SO good!
Choose classic Peppermint Bark if you're a sucker for the sweet minty crunch of a Christmas candy cane. Or if you love the winning combination of coconut and almond, heavenly Almond Joy is sure to be your bestie. Have a sophisticated palate? Orange Hazelnut not only looks beautiful with bright bursts of orange rind, but the taste is also pretty momentous!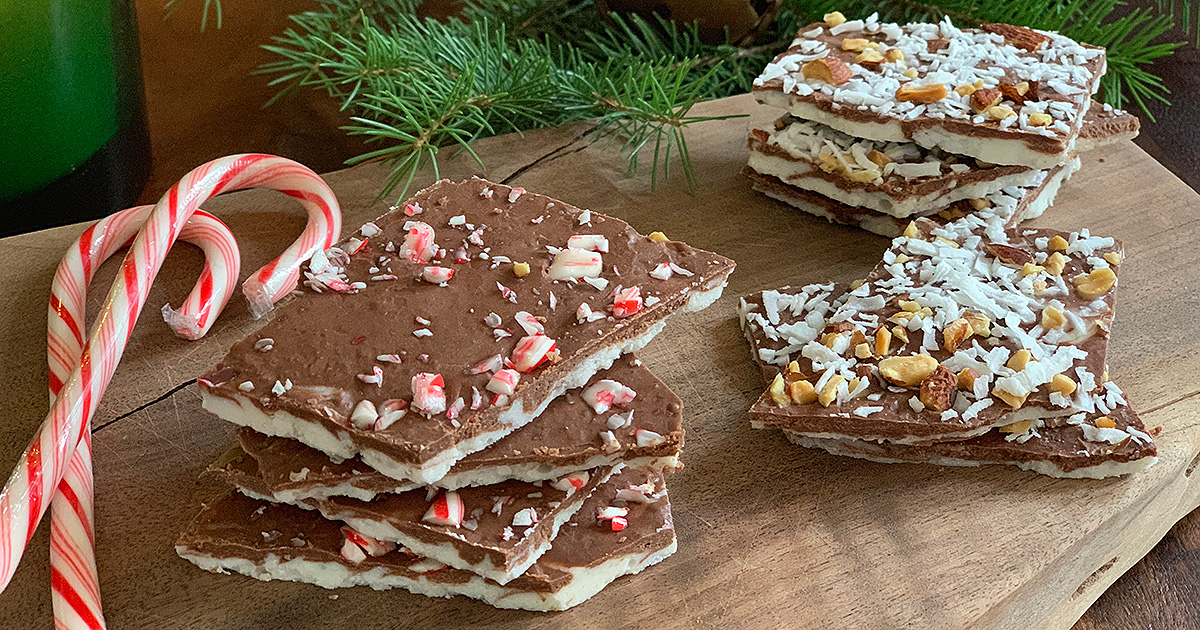 Our basic recipe allows for easy customization.
One of the coolest things about our keto chocolate bark is that you can use our basic recipe as a platform to experiment with your own custom holiday bark creations. The sky is the limit when it comes to fun and unique combos that would work fabulously together. Brave chocolatiers have gone as far as to add sugar-free gummy candies, keto marshmallows, rosemary, and even bacon. Duh—I suppose the latter is a keto no-brainer!!
If you come up with a winning combo, we'd love for you to share it with us in the comments section.
I bet you already have most of the ingredients on hand!
The basic recipe is made up of eight fairly common keto pantry items. In fact, the only thing that I didn't already have available was the unsweetened Baker's chocolate.
For the Erythritol: I tried budget-friendly So Nourished powdered erythritol—Not bad for the price! For the granular erythritol, I used HaleFresh. The 3 lb. bag from Amazon is a great value! Woohoo!
---
Print
Sugar-Free Keto Chocolate Bark
A festive chocolate bark recipe with three simple and delicious variations.
Ingredients
Cream Layer:
5 tablespoons block cream cheese (brought to room temperature)
5 tablespoons coconut oil
6 tablespoons erythritol, powdered
1/8 teaspoon vanilla extract (If you're not using a variation, then add an additional 1/8 teaspoon.)
Chocolate Layer:
2 tablespoons salted butter
2 tablespoons coconut oil
2 tablespoons heavy whipping cream
1 ounce unsweetened baking chocolate bar
3 tablespoons erythritol, granular
1/4 teaspoon vanilla extract
Variation #1, Classic Peppermint Bark:
1/8 teaspoon peppermint extract
3 tablespoons sugar free peppermint candy, crushed (used for topping)
Variation #2, Almond Joy:
1/4 teaspoon almond extract
3 tablespoons coconut flakes, unsweetened (used for topping and in cream layer if desired)
3 tablespoons roasted almonds, crushed (used for topping)
Variation #3, Orange Hazelnut:
1/4 teaspoon pure orange extract
1/8 teaspoon vanilla extract
1 tablespoon freshly grated orange rind (used in cream layer)
3 tablespoons hazelnuts pieces (used for topping)
Directions
1
Cover a sheet pan with parchment paper. Use coconut oil to lightly grease the parchment paper.
2
In a medium-size mixing bowl, add cream cheese (already brought to room temperature), coconut oil (also room temperature), powdered erythritol, and vanilla extract. Depending on the variation you choose, in this step, you will also add the additional extract as well as any cream layer mix-ins (if applicable). Using an electric hand mixer, blend the ingredients together until fully combined and creamy. Set aside.
3
Heat a double boiler over medium to medium-high heat. To the bowl of your double boiler, add chocolate baking squares, butter, and coconut oil. Whisk continuously until all items are fully melted and combined. Add the granular erythritol. Continue whisking a minute or two until the sweetener has completely dissolved. Turn off heat. Then add heavy cream and vanilla extract, whisking until all items are fully incorporated.
4
Now comes the fun part! Grab the cream mixture and scoop it out onto your already prepared parchment paper. Using a spatula, spread the mixture (as evenly as possible) into a 12x12 inch square.
5
For the chocolate layer—Using a spoon or small ladle, pour the mixture over the top of the cream layer. It doesn't have to be perfect. You can choose to completely cover the cream layer until nothing is showing or you can leave areas of white here and there by pouring stripes, a basketweave, or zigzags. If desired, you can use a butter knife to drag through the two layers, creating a bit of a swirly or zigzag pattern. There really are no rules. No matter what you do, it will look and taste fabulous.
6
Topping time! Assuming you've chosen a variation, sprinkle your topping onto the chocolate layer. You can use as much or as little as you like. If necessary, give the pan a little shake or softly press your hand on your topping layer to ensure all the goodies will stick in place.
7
Pop the pan onto a flat surface in your freezer for one hour. This should allow enough time for your bark to fully set.
8
Remove bark from the freezer. Using a large chef's knife, cut into desired shapes and sizes.
9
Store in an airtight container in the freezer. Enjoy!
Nutrition Information
Yield: 12 servings, Serving Size: 1/12 of bark sheet
Amount Per Serving: 132 Calories | 14g Fat | 1g Total Carbs | 1g Fiber | 1g Protein | 0g Net Carbs
---

Hip Tips:
1) If you don't own a double boiler, simply stack a metal or glass bowl on top of a saucepan. Be sure the bowl fits nice and snug. Put 1 to 2 inches of water in the bottom pan. Heat the pan on medium to medium-high heat. Make sure that the bottom of the bowl is not touching the water when it's inserted into the pan. Now you're ready to rock and roll!
2) When spreading your layers onto the parchment paper, don't try to be a perfectionist. Once the toppings go on and the bark is cut, it will look beautiful. I promise!
3) For the best eating experience, I highly recommend munching on your bark straight out of the freezer. When brought to room temperature, the bark will soften a bit and lose the hard, classic texture of traditional chocolate bark.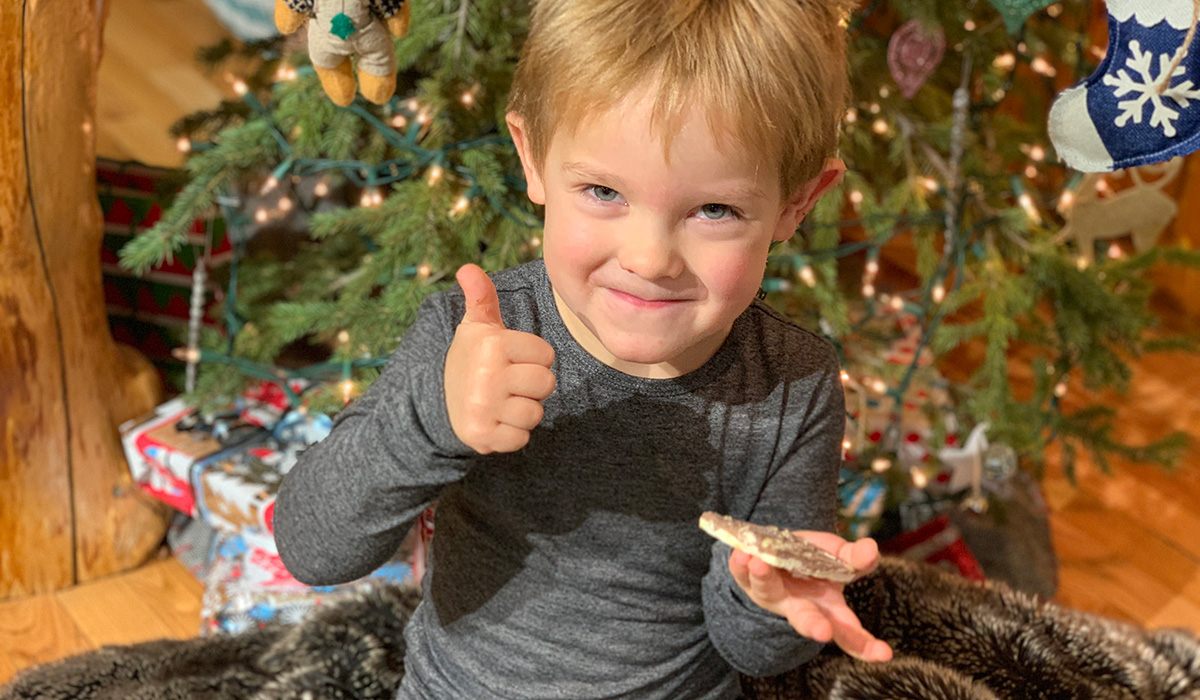 Score! A thumbs up from our picky eater!!
Hmm… Suddenly our freezer is getting a whole lot of action!
Don't forget to share your own bark combinations with us. We can't wait to see what all you creative confectioners come up with.
---
Nutritional Breakdown per serving: (recipe makes 12 servings) *Please note all sweeteners have been already deducted.
– Plain Chocolate Bark: 132 calories | 14g fat | 1g carbs | 1g fiber | 1g protein
– Variation #1, Classic Peppermint Bark: 135 calories | 14g fat | 1g carbs | 1g fiber | 1g protein
– Variation #2, Almond Joy: 144 calories | 15g fat | 1g carbs | 1g fiber | 1g protein
– Variation #3, Orange Hazelnut: 144 calories | 16g fat | 1g carbs | 1g fiber | 1g protein
---
Up Next: Bake these snowball cookies!