Easy Keto Sheet Pan Pancakes for a Crowd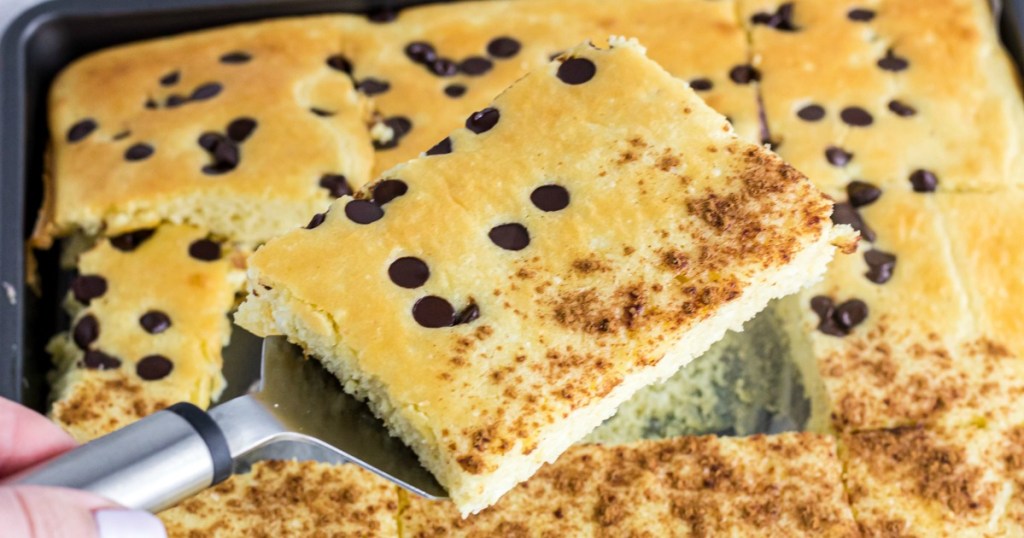 Making a yummy keto breakfast has never been easier!
Keto pancakes are a highly requested breakfast on the weekends in my house, but as simple as pancakes are, it can still be a time-consuming cooking process.
Not these pancakes though!
Our keto sheet pan pancakes use a single sheet pan to cook a large batch of pancakes all at once. Better yet, this method allows for multiple toppings to suit every family member's taste.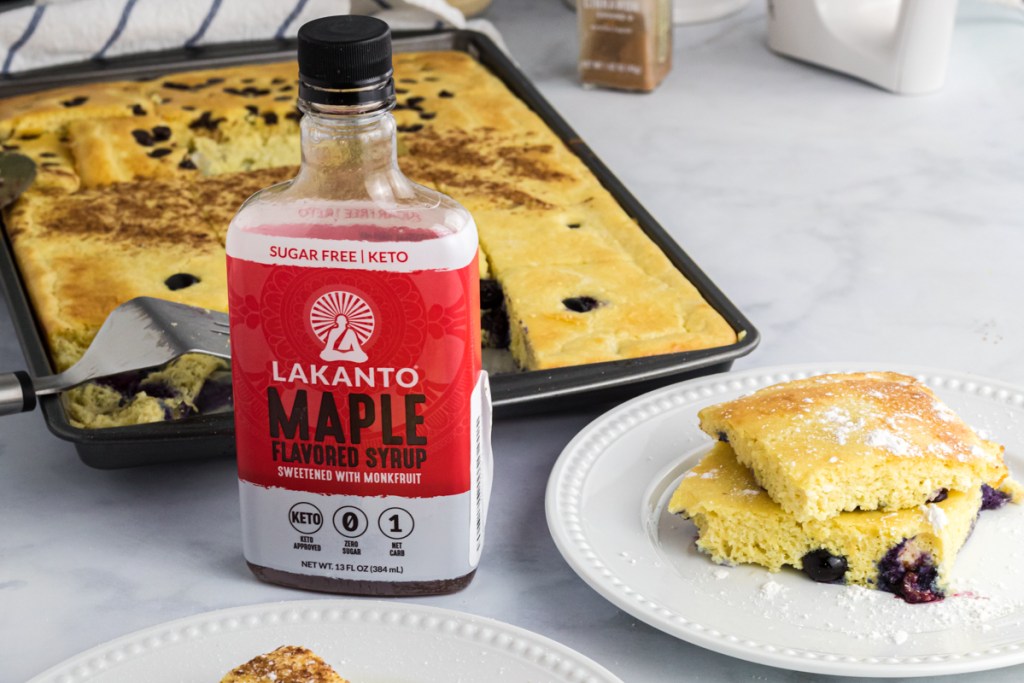 Hip Tips:
If you have a large blender, you can toss all your ingredients in and let the blender do the mixing for you. Easy peasy!
Go crazy with your favorite low-carb toppings such as blueberries, cinnamon, no sugar added chocolate chips, or even bacon. 😋 I made my sheet pancakes using my family's favorite add-ins.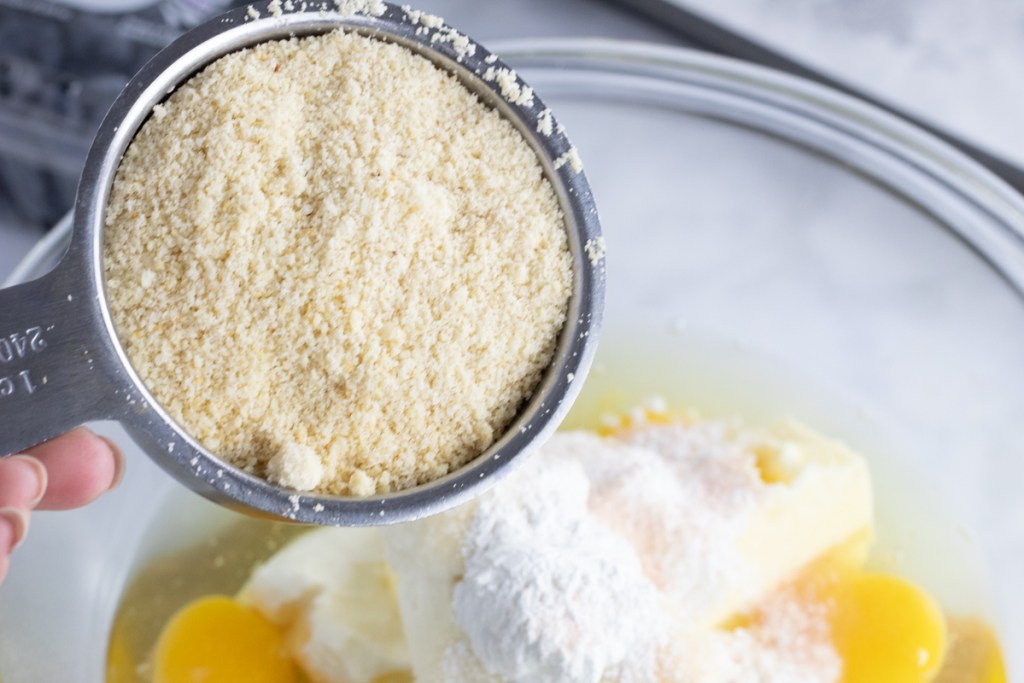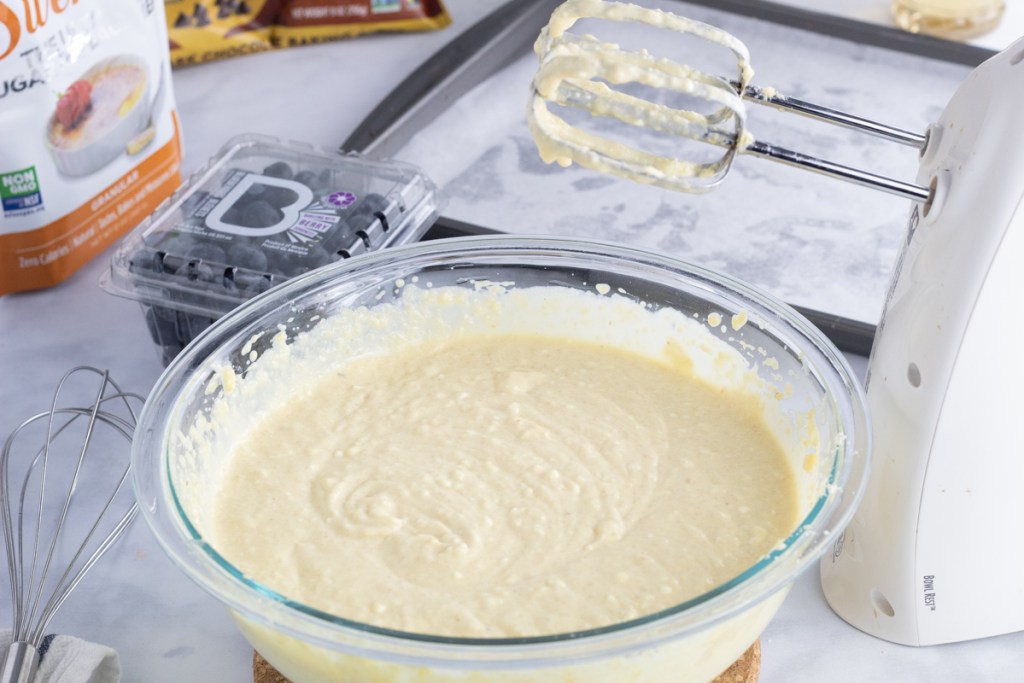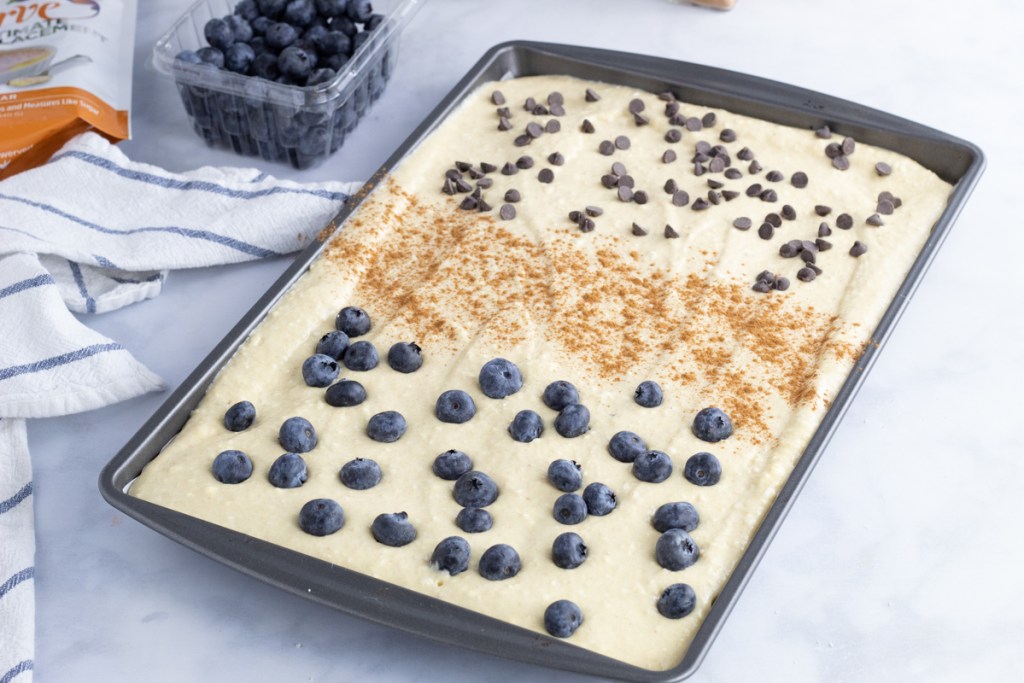 ---
Print
Keto Sheet Pan Pancakes
yield: 12 SERVINGS
prep time: 10 MINUTES
cook time: 25 MINUTES
total time: 35 MINUTES
This easy cooking method creates an entire batch of keto pancakes to serve up all at once!
Ingredients
Pancake Batter:
8 large eggs, room temperature
10 oz cream cheese, softened
2 1/2 cups almond flour
6 tablespoons salted butter, softened
3 tablespoons Swerve granular
2 1/2 teaspoons baking powder
3/4 teaspoon salt
3 teaspoons vanilla extract
Topping ideas:
Blueberries
Cinnamon
No sugar added chocolate chips
Directions
1
Preheat oven to 350 degrees.  Line a 12"x16" sheet pan with parchment paper and set aside.
2
Add all pancake batter ingredients to a large bowl and mix with a hand mixer for 2 minutes.
*If you have a large blender, you can add all ingredients and mix for 1 minute in the blender.
3
Pour batter onto the sheet pan and spread out evenly with a spatula.
4
Add any keto-friendly fruit, spices, or other add-ins to your pancake to create your own perfect slices. We love the idea of using blueberries, raspberries, pumpkin spice, or Lily's chocolate chips. YUM!
5
Bake in the oven for 25 minutes or until the center is done and edges are golden brown.
Nutritional Information
Yield: 12 squares, Serving Size: 1 square
Amount Per Serving: Calories: 305, Total Carbohydrates: 7g, Fiber: 3g, Sugar Alcohols: 2g, Net Carbohydrates: 2g, Total Fat: 26g, Protein: 10g
---
Breakfast is served… no flipping required!
I'm telling you, this is the easiest way to prep a batch of keto pancakes for the whole family! And everyone gets the exact flavors they want. Try this out for a simple way to get breakfast on the table and happily feed a bunch of people all at once.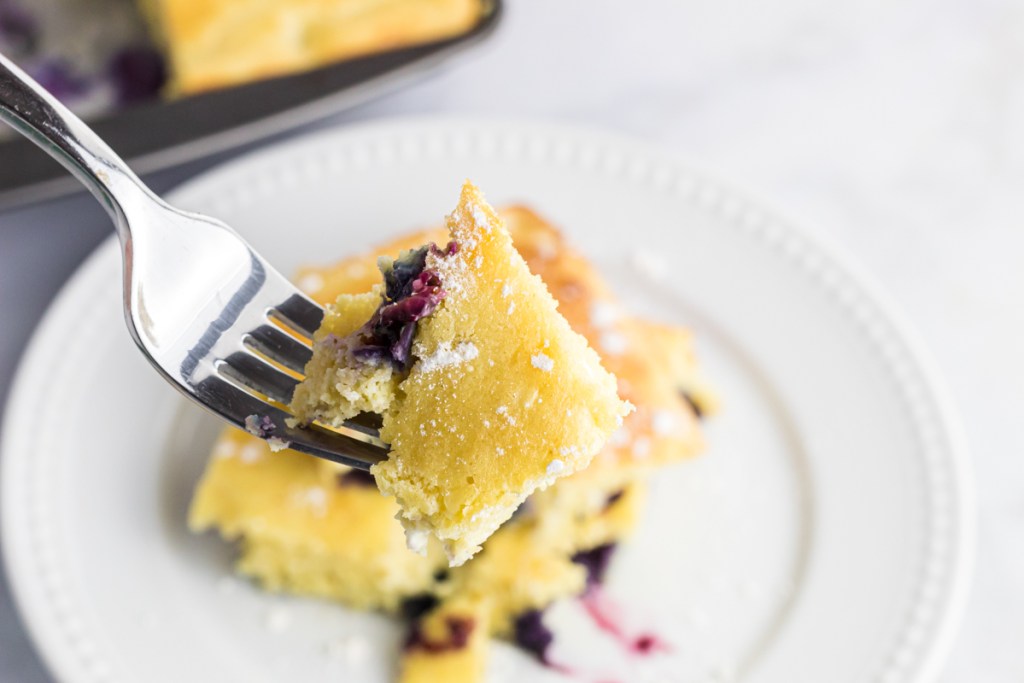 ---