This is the Best Cauliflower Pizza Crust Recipe!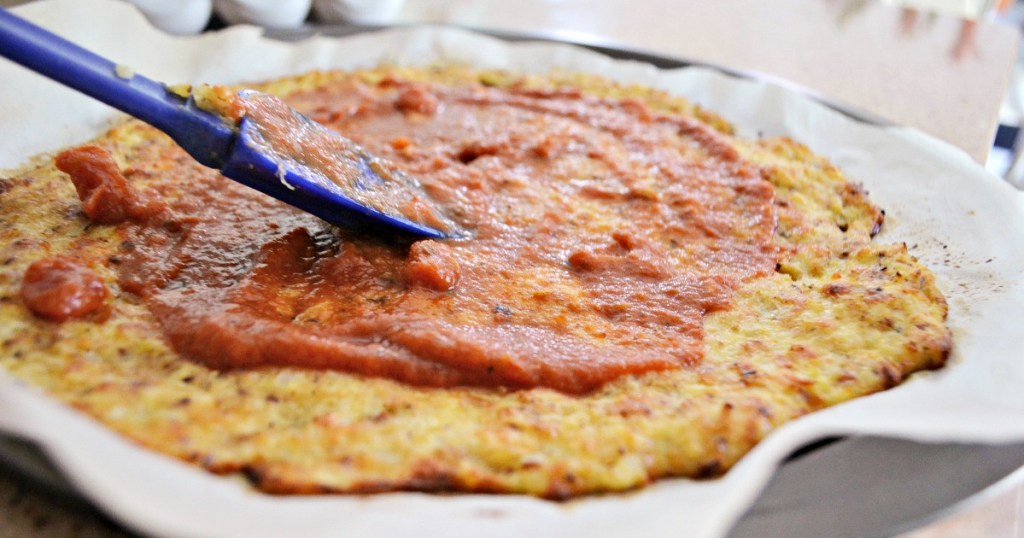 Want a delicious and EASY keto pizza crust idea?!
Try turning a bag of frozen riced cauliflower from the store into the best, most delicious cauliflower pizza crust we've tried yet! Making a crust out of cooked cauliflower is definitely not a new idea, but I recently tried the shortcut of using riced cauliflower, and it was super FAST. No need to get out your food processor with this simple cauliflower pizza crust recipe!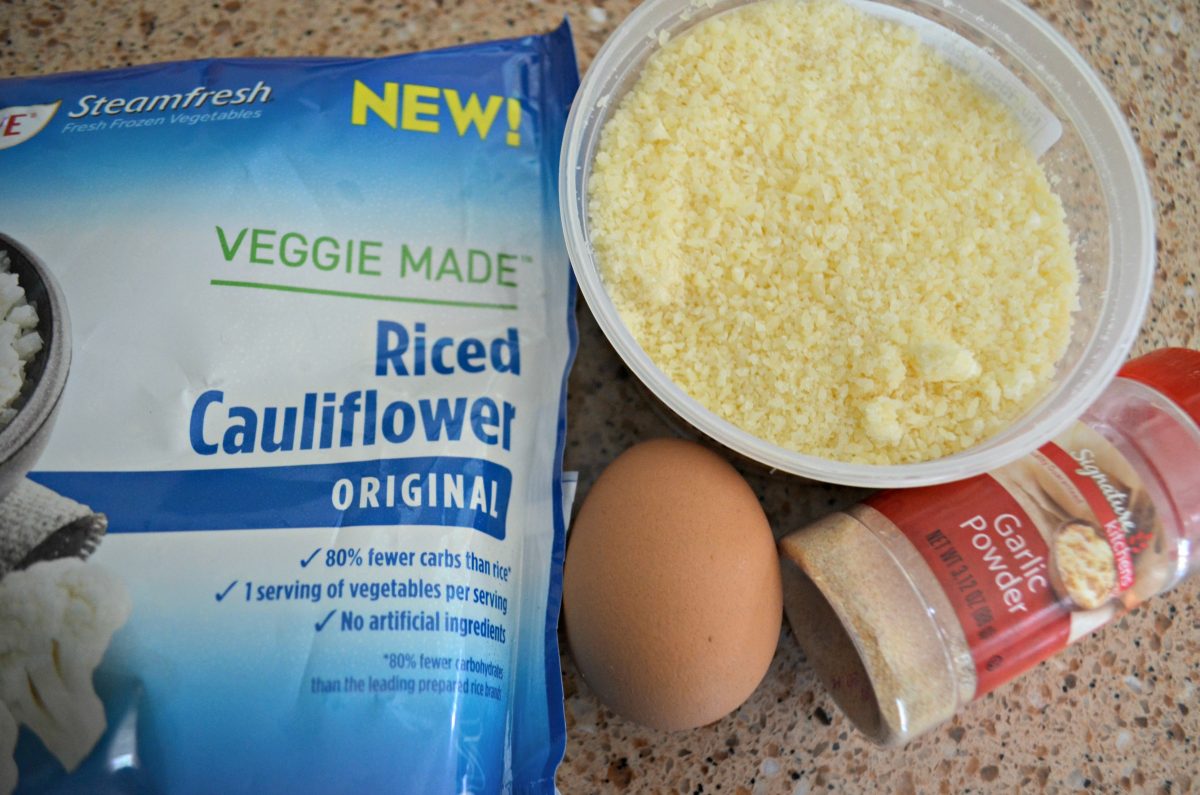 You'll be able to complete this homemade meal even on the busiest of weeknights! To show just how easy it is, Collin made this yummy pizza on a Facebook Live video.
---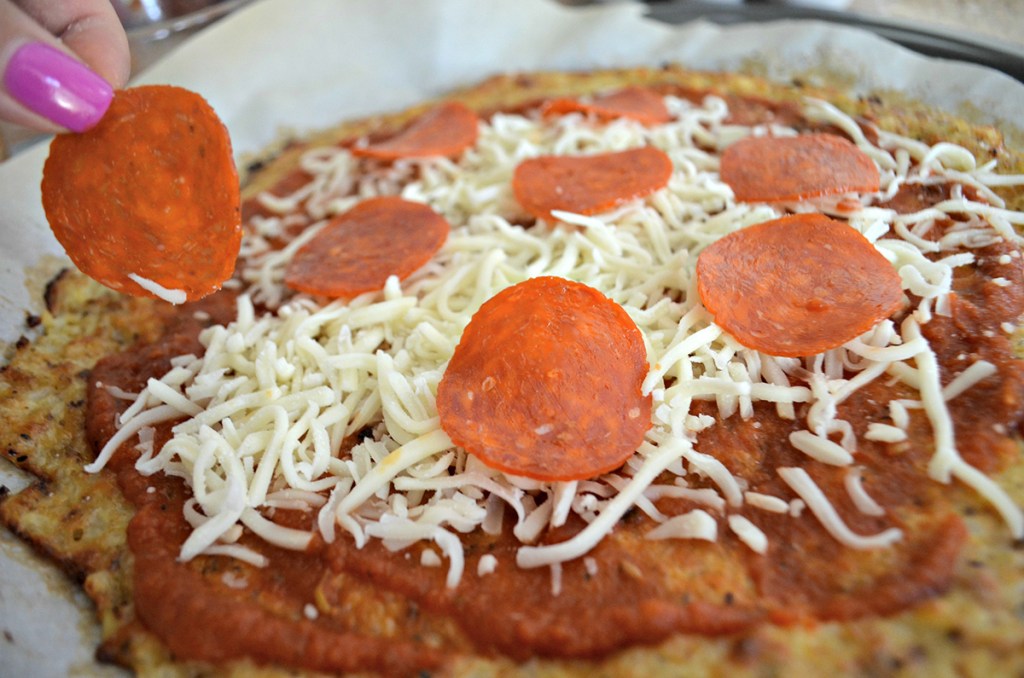 Collin's recipe tips:
If you have multiple options for frozen riced cauliflower at your store, go with Green Giant. The "rice" granule size is smaller with Green Giant which works better for this cauliflower pizza crust recipe.
Make sure to get all the water out of the cauliflower when cooking it down to optimum crispiness.
Add seasonings (like garlic powder, Italian seasoning, and salt) to the crust to add a burst of additional flavor.
Flatten out the dough on parchment paper, then put a lightly oiled piece of parchment paper over the top of the dough and press down with your hands versus a rolling pin. This helps to get the crust nice and thin which makes for a crispier crust.
Cook the crust to the point where it's well done (not burnt, but brown in spots) to make sure the base will be firm enough to support your favorite toppings.
When your pizza is done, be sure to let it rest for at least 10 to 15 minutes. The longer it rests, the easier it is to pick up like a pizza.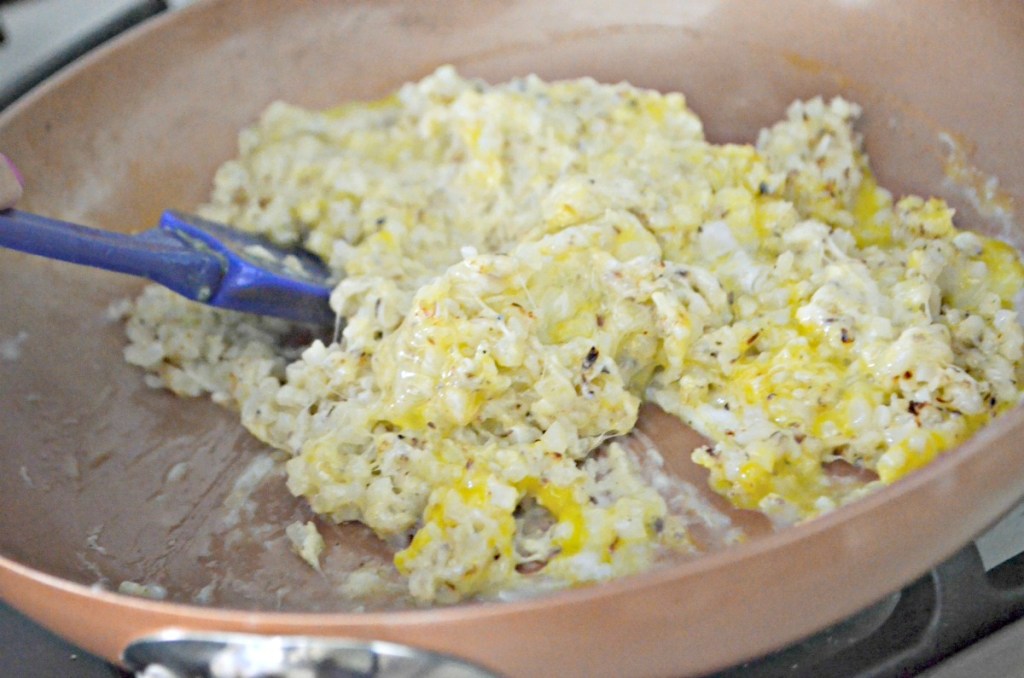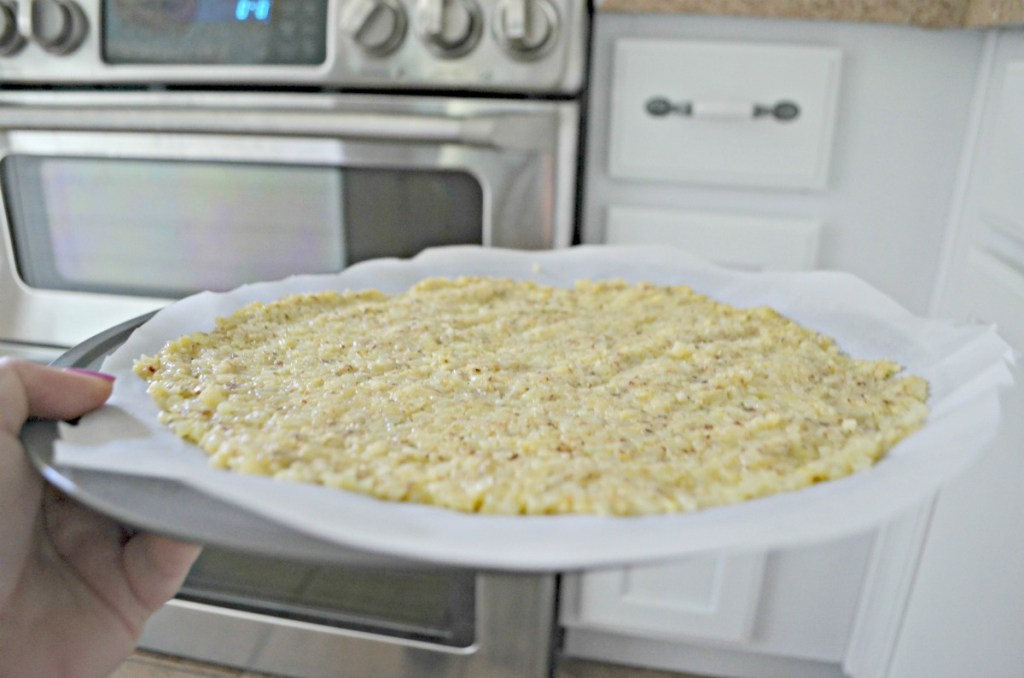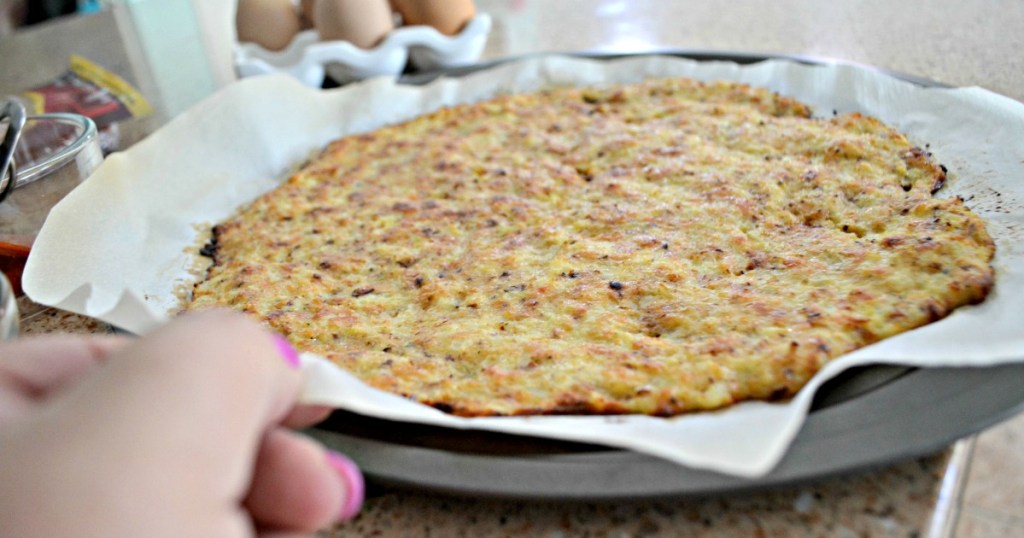 ---
Print
Keto Cauliflower Pizza Crust
yield: 4 SERVINGS
prep time: 10 MINUTES
cook time: 30 MINUTES
total time: 40 MINUTES
Easily make a robust and delicious pizza crust out of a bag of frozen riced cauliflower!
Ingredients
10 oz. bag frozen riced cauliflower
1 cup Parmesan cheese, grated
1 large egg
1 teaspoon garlic powder
salt & pepper, to taste
Directions
1
Preheat oven to 400 degrees.
2
Heat a skillet on the stove to medium-high heat. Cook riced frozen cauliflower until tender and the water is cooked off, about 6-8 minutes.
3
Remove skillet from heat and stir in parmesan, egg, and season with garlic powder, salt, and pepper to taste. It should all get melted together nicely.
4
Press mixture onto a baking sheet or a 12-inch pizza pan covered with parchment paper.  Consider covering the dough with a second piece of parchment paper and roll out the dough with a rolling pin or use your hands.
5
Bake for 20 minutes at 400 degrees.
6
Remove from the oven and top with desired toppings like mozzarella cheese, pepperoni, etc. Bake for another 10 minutes or so until golden brown. Let rest for 10 to 15 minutes before serving.
Nutritional Information
Yield: 4 servings (8 slices), Serving Size: 1/4 of pizza crust (2 slices)
Amount Per Serving: Calories: 155, Total Carbohydrates: 6g, Fiber: 2g, Net Carbohydrates: 4g, Total Fat: 9g, Protein: 12g
---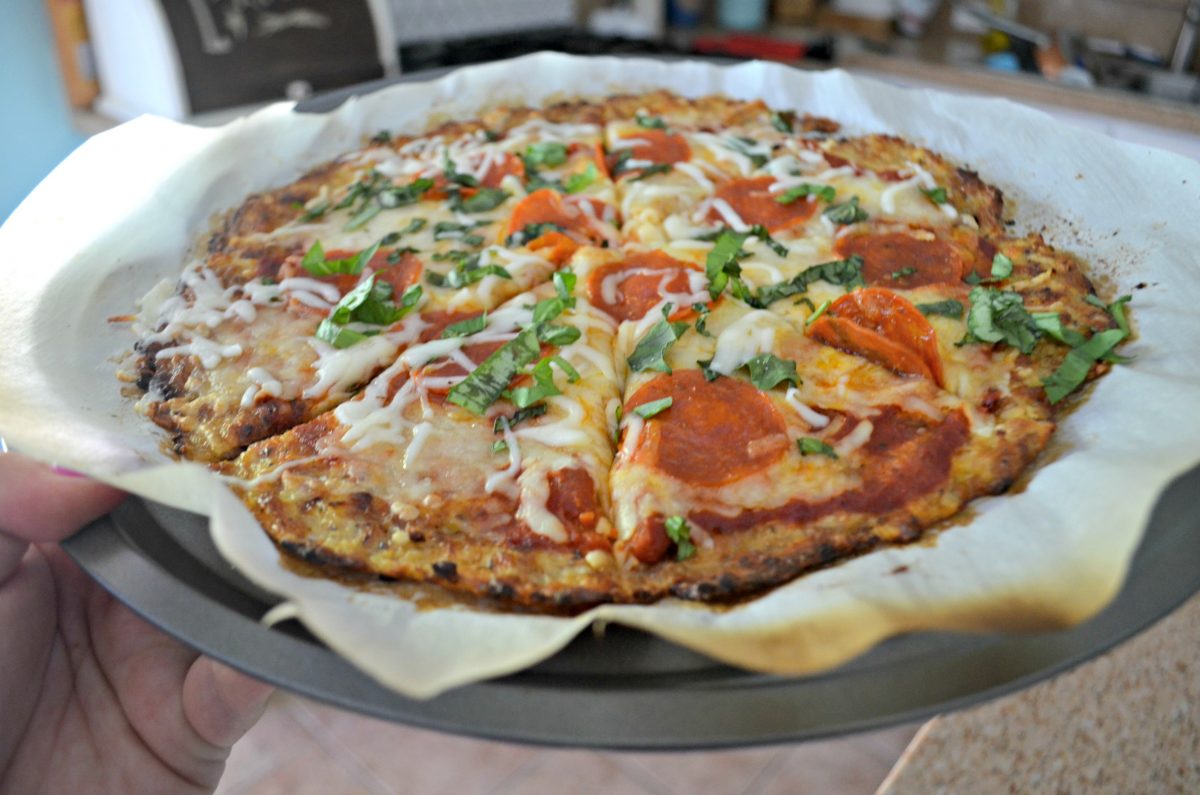 Yum! What a tasty pizza!
I loved the taste and texture of this cauliflower pizza. It didn't have a strong cauliflower taste and wasn't watery at all (that has been an issue for me in the past when making a cauliflower crust). It was also both chewy and crisp around the edges. Perfect!
I think you and your family will definitely enjoy this idea. And of course, it's easy to top your pizza with whatever toppings you love.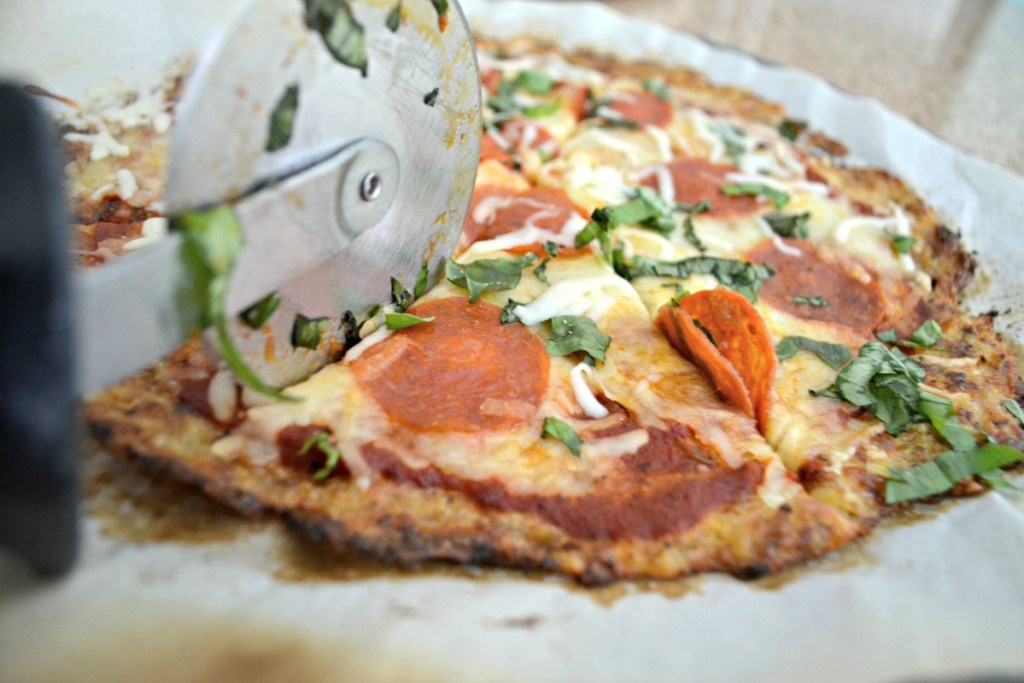 ---
Here's how to turn a bag of cauliflower rice into an easy skillet meal (3 ways)!